Fun Swimsuit Made Out of Old T-Shirts
I was thrilled when one of our readers sent in this CUTE idea! It is SO perfect for SUMMER!! I almost stayed up super late last night JUST to create my own….to show all of you…but then I decided I treasured my sleep WAY too much! {lol}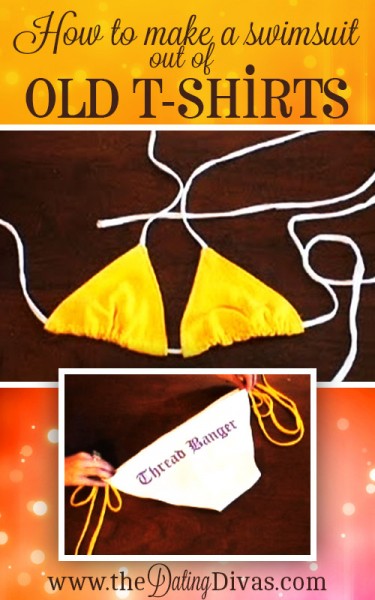 Here is the email that Savannah sent in:
Hey Divas,
I have been reading your blog lately and it has improved our marriage! My husband says it is his favorite blog I check..wink wink! I loved doing fun exciting dates when we were dating but why does that have to stop? Just reading your blog makes me come up with fun ideas on my own. This week I planned this date and my husband loved my creativity.
We went "hot-tubing" in our backyard. We have an inflatable kid pool, I filled it up with water in the afternoon, and let it warm up in the sun. During the day I made this swim suit out of old t-shirts! Since I am never going to buy a bikini, and thought my modest tankini wasn't sexy enough for a hot date with my hubby, I improvised. HERE is a link to a site that showed me how to make a easy bikini. I took a pic of the new swim suit laying on the floor and texted it to my husband asking, "Do you want to go hot-tubing later?"–He found it hard to concentrate on school after that…oops;)
After we put the kids to bed we got dressed and head out to the backyard. He had surprised me and got us each our own mini containers of ice cream on his way home from school. We lit the citronella candle, hopped in the pool, and ate ice cream under the stars! It was wonderful.
Thanks for the inspiration!!–Savannah
Isn't that the CUTEST idea!! I about died when I checked out that link she sent us…and LOOK at the top…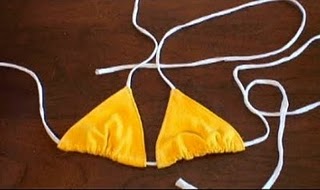 …YEP…and the bottom….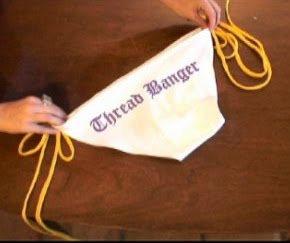 SoooooOOOOooo stinkin' cute! I cannot believe it's made outta T-SHIRTS!! Auuugghhh! I am so gonna do this one! Thanks again, Savannah!