Spouse Sexercise Workout for Superior Sex
Get physical with this sexercise workout date with your sweetheart! Why? Because here's a little secret… Sexy is not determined by waist size, but getting active with your spouse can lead to GREAT sex! 😉 And, since summer is all about getting active and in shape, why not do it while getting intimate with your spouse?! In short, this fitness sex date will include exercises for better sex, fun exercises you do while naked, as well as some exercise ideas that actually help strengthen your muscles to have better sex. In a private setting, what could be wrong with all that? So, what are you waiting for? Let's SEXERCISE! (Because couples that sweat together, stay together! ;))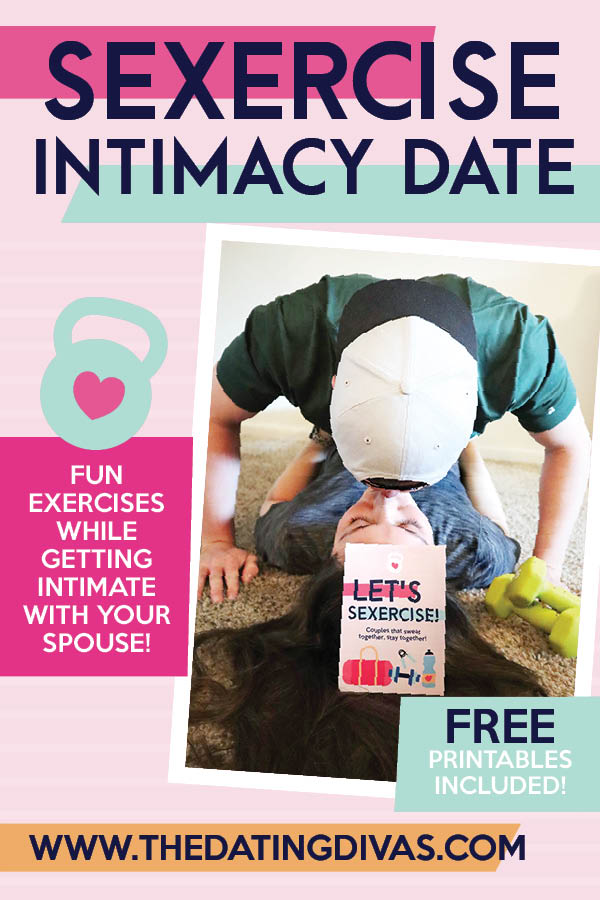 Disclaimer: This post contains affiliate links. To learn more about 'em, click here.
But first, we could not have created this exercise sex date without the help of our talented Courtney from Paparelli. Also, The Dating Divas created these flirty and free printables, and you will die when you see them! Without question, these will make for one amazing Sexercise Intimacy Date!
Sexercise Invite
Begin by getting flirty and inviting your sweetie to a physical date with you using this fun and free Sexercise printable! Your spouse may even be sweating before you even get to the workout! 😉 Now, we know that exercising alone can be boring at times. That being said, it is our belief that anything is more fun with your spouse, including exercise! This date is all about teaming up with your other half to do workout sex routines in the comfort of your home. Not only will you be exercising with sex in mind, but it will also create meaningful memories with your sweetheart! Don't forget: Couples that train together, remain together!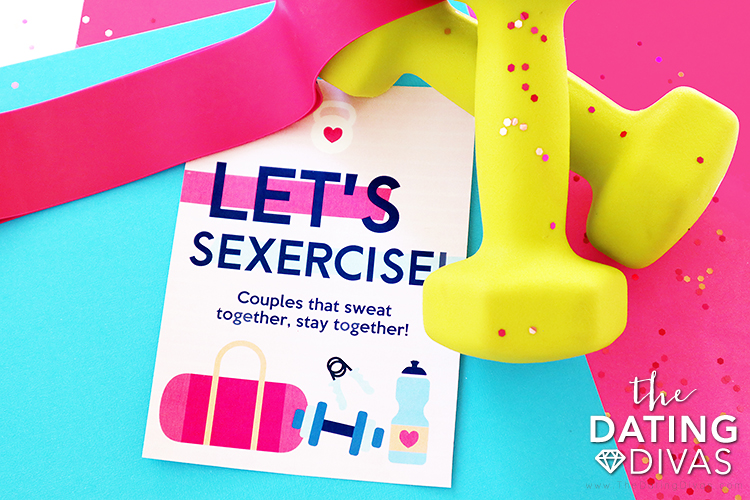 Breathing Sexercise
To start off your Sexercise Date right, you must take in these breathing sexercise stretching ideas found in the printables below. The reason for this is because stretching keeps the muscles flexible, strong, and healthy! But, how does this help with sex-related workouts? Well, stretching increases the circulation of blood and oxygen to your muscles. This can also help increase your energy levels and your stamina! And, everyone knows the difference between okay sex and amazing sex is stamina, wink! 😉 All that to say, we must have the flexibility to maintain a range of motion in the joints. Without it, the muscles shorten and become tight. And let's be honest, nobody likes to cramp up during sex. Yikes! Check out the printables below to find some breathing sexercise ideas!
Straddle Stretch
Seated Inner Thigh Stretch
Chest Stretch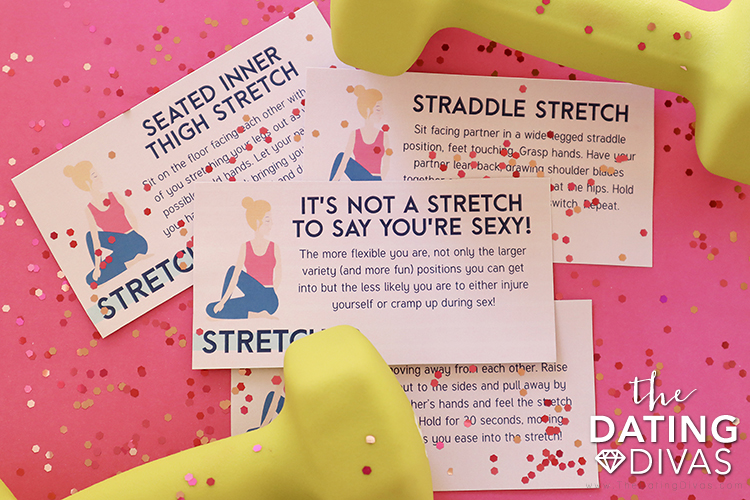 Fitness Sex
Weight for it! This sexy date is just getting started. After your breathing sexercise stretches, it is now time to actually sexercise! Once you are warm and feeling loose, take turns choosing out a work out card from the printables below!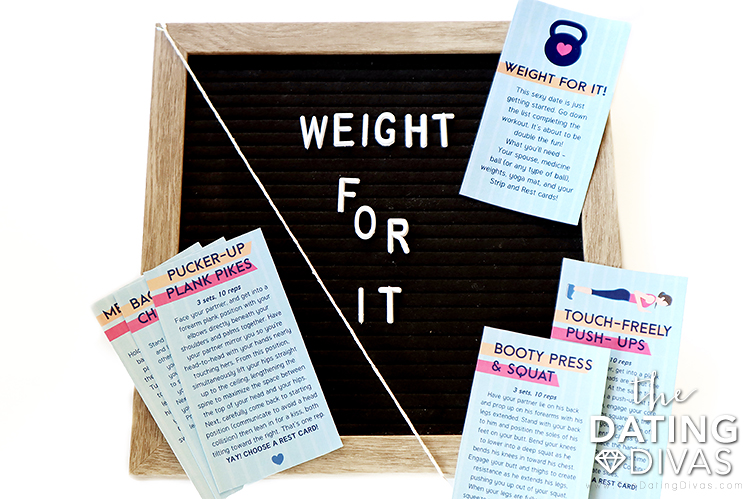 Take your time doing 3 sets of 10 reps of each of the sex-related workouts.
Booty Press and Squat
Touchy-Feely Push-ups
Medicine Ball Pass
Back-to-Back Chair Squats
Pucker-up Plank Pikes
In the picture below is an example of one type of sexercise, the PUCKER-UP PLANK PIKES. This specific sexercise will target your chest and core. Additionally, having good upper body strength is key for maximizing sexual enjoyment, for both of you. So, this sexercise is a good one! 😉 All of these workouts are specifically for strengthening your muscles for better sex and even include some fitness sex moves that can correlate to sex positions. If you're wondering if "fitness sex" will better your love life, the answer is absolutely yes!
Workout Sex
To us, it makes total sense as to why your spouse is the ideal workout partner. After all, it's true that couples who sweat together stay together! So that being said, grabbing your spouse for a physical work out that may or may not lead to closer intimacy as a couple is never a bad idea! In fact, past research has indicated that couples who exercise together have better sex. Bam! Why not do a few moves with your guy every night? Additionally, exercising together provides an opportunity to create such a connection, benefiting both your health and your relationship.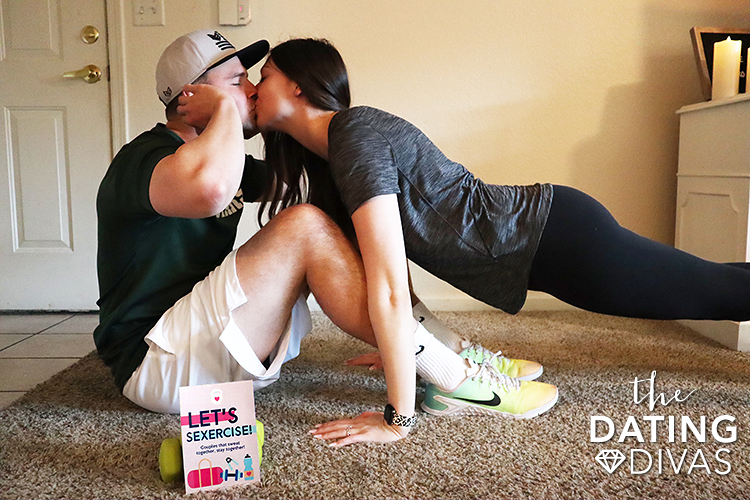 Because we know it can be hard to find exactly what type of exercises are considered "sexercise," we found some for you! Here are ten exercises that can be done to create a better sex and how to do them properly!
Is Sex Good Exercise?
Let's start with the question "who doesn't love a good workout?" Even if exercise isn't a passion or hobby of yours, if fitness sex is apart of it, doesn't that make it better? Here at The Dating Divas, we created a sexy twist on an exercise date. It's called a Sexercise Date! After you have finished a workout card, you will grab one of the rest strip paper and literally begin to STRIP! If you grab the strip UNDERWEAR, you must take off your sweetie's UNDERWEAR! You will then continue on to the next workout, naked or not! But don't worry… If your goal is to work out for sex, you will eventually get there! 😉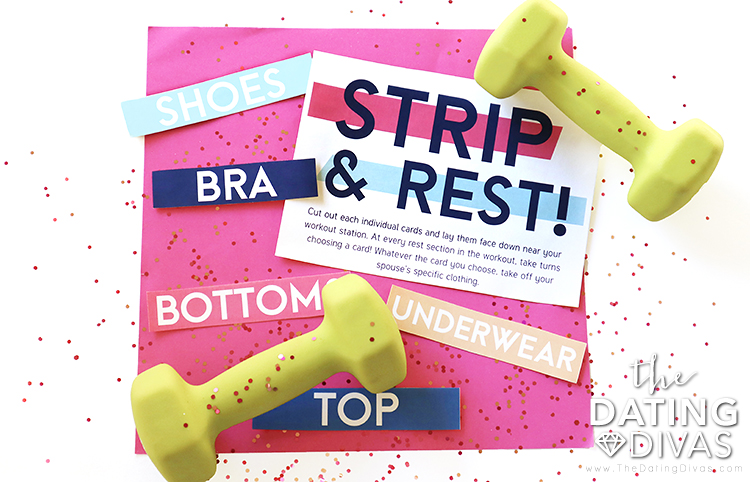 From Sweaty to Steamy
By the way, you can go about a sex workout in many ways. However, here at The Dating Divas, we recommend ending this exercise sex date with a good old fashioned couples shower. Go from sweaty to steamy in a matter of minutes! Now, is sex good exercise? YES! Not only are you burning calories and lowering cortisol levels, but you are also connecting with your love! But to continue on with the connection even after your workout into the shower, now THAT'S a good date! If you question whether sex is a good exercise or not, just wait until you try this Sexercise Intimacy Date!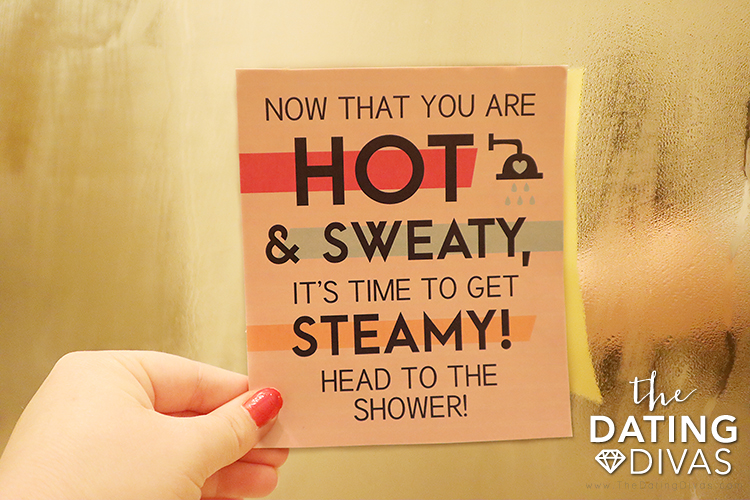 Free Sexercise Date
Not only is this Sexercise Date a great way to connect and burn calories, but so is SEX itself! Having sex is a great exercise for you and your sweetheart. For your information, on average women burn about 69 calories during sex while men burn about a hundred! If you are needing to burn more, don't fret! This Sexercise Intimacy Date will only enhance the sexual tension and help you burn more calories! So, as you take turns completing a sexy workout and exercise for better sex, don't be surprised when things get steamy between you and your sweetie!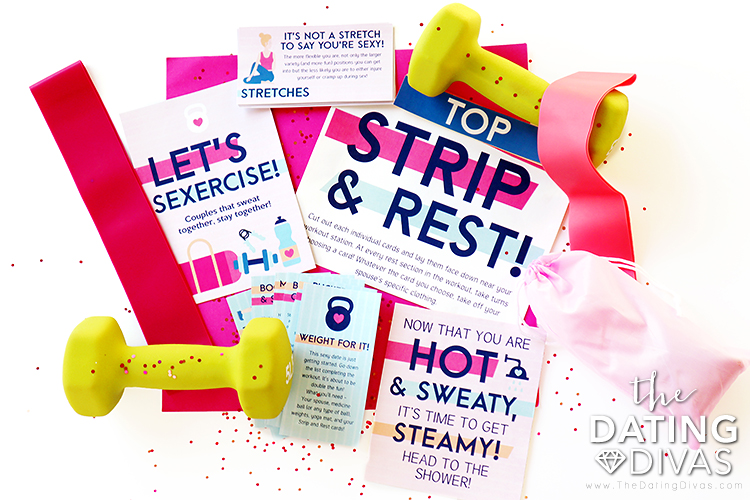 Interested in more sexy and steamy dates? Come check out our Make Out Kisses In Car and Aphrodisiac Blind Taste Test! Both will rock your world with fun and steamy connection!
Enjoy!