A Meal That Works For Any Special Occasion
I wanted to plan a special meal for my husband after he had a really rough day at work.  I was already cooking up a roast (one of his favorites – ah, again) so I had an idea to make our dinner a little more special than usual.  I pulled out our rose petals and sprinkled them around our plates on the table, added my grandmother's crystal candle holder and voila!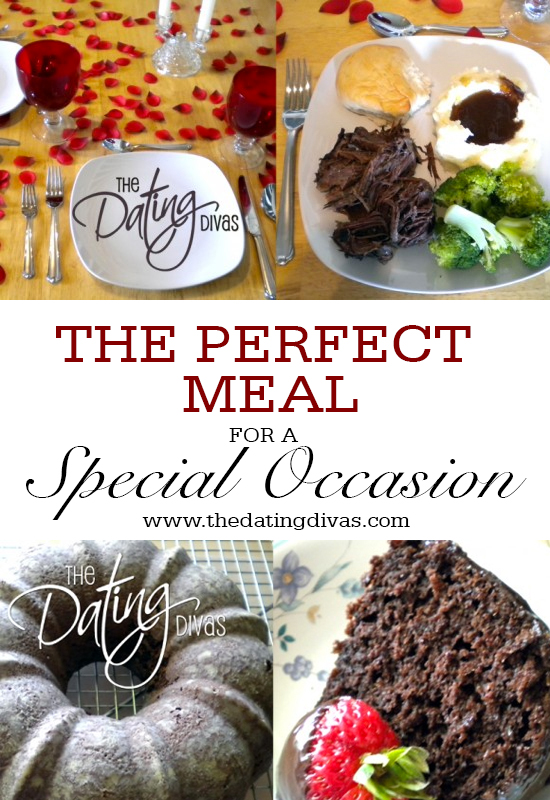 It didn't really take much effort on my part, but it turned out much better than I had expected.  Another added touch?  I fed the kids beforehand and then sent them to my office to watch some kid movies on Netflix.  This kept them happy and entertained so that mommy and daddy could have some much needed alone time.  It just goes to show that you can turn an every day meal into something
romantic and intimate
.  For other great ways to set the mood with rose petals check our Kiirsten's Intimate Moments post
Not Just For 'Da Garden
.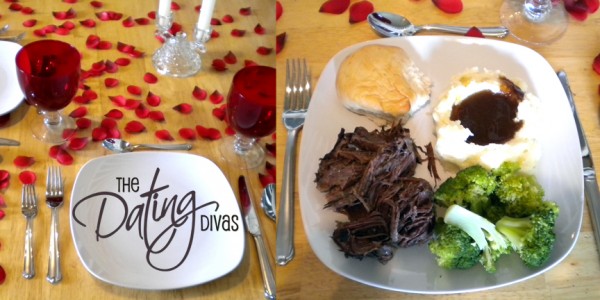 1 large roast
meat tenderizer
1T. olive oil
6 cloves garlic, peeled & diced
1 large onion; diced
2 limes, squeezed
2 beef bouillon cubes
 *Tips to picking out a tasty roast:
 1)
I do not skimp on my roast purchases because the quality of meat you buy will reflect greatly on the taste of your finished product.  Either find a really good butcher in your area or I would purchase from a grocer that butchers their own meat.  Personally, I go to a small mom & pop grocer in my town that butchers their own so I get an excellent cut and I know that it will be well worth my money.
2) I know that we all like to veer away from fatty meats (I'm probably the worst out of everyone! lol), but the real key to getting an excellent roast is the fat.  Fat equals flavor.  You don't have to eat the fat, but it will make your roast taste fantastic if you cook it with the fat instead of cutting it off (which I have done before).  Also, making sure that the roast you pick has a very marbled look (as in the fat all over in it).  You can see in the picture below that the roast I picked is a good cut and has a marbled look to it.
 One you get the PERFECT roast home – poke holes in the meat and sprinkle with meat tenderizer.  Heat up olive oil in skillet or deep frying pan then add meat, garlic, and onion in either a slow cooker or (preferably) a Magnalite cooking pot.  Add lime juice.  Cook, covered, at 300 degrees or on high for 4 hours.  Check meat after 1 1/2 hrs. – flip meat and add bouillon cubes with 1/2 to 1 cup water.  Salt and pepper to taste (remember that salting does make the meat shrink down, so do it lightly!).  Add water as needed during the rest of the cooking process.  After 3 hours turn down heat to 250 degrees for the remaining hour or so.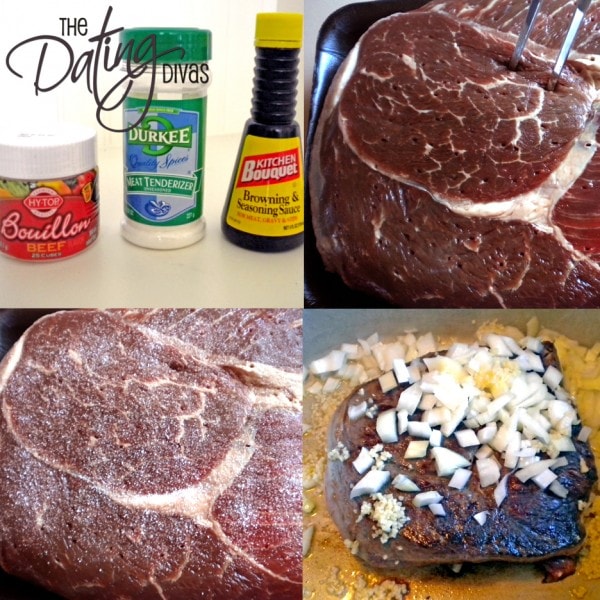 You don't have to make the gravy and potatoes below if you don't want to, this is just an option.  I generally don't make the gravy unless it's a special occasion or we're in the mood for it.  What we 
usually
 do is strain the onions and garlic (my husband will put them on top of his roast) and then we use the juice as
A
u Jus
for french dip or roast beef sandwiches.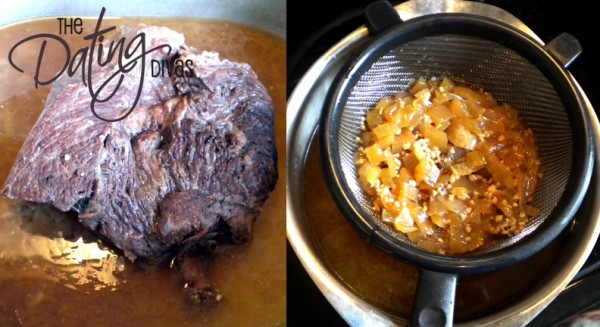 Gravy
Juice from Roast above
2-3 T. corn starch
1 T. Kitchen Bouquet
Optional: strain out onions and garlic before you make the gravy.  (Pictured above on the right.)
To make gravy, put meat in tin foil to keep it warm and set it aside.  Add 2-3 cups of water to juices remaining in Magnalite pan and bring to a boil.  (If you are using a slow cooker, empty juices into a sauce pan and bring to a boil).  Thicken with 1/2 cup water and 2-3 t. corn starch.  Add Kitchen Bouquet.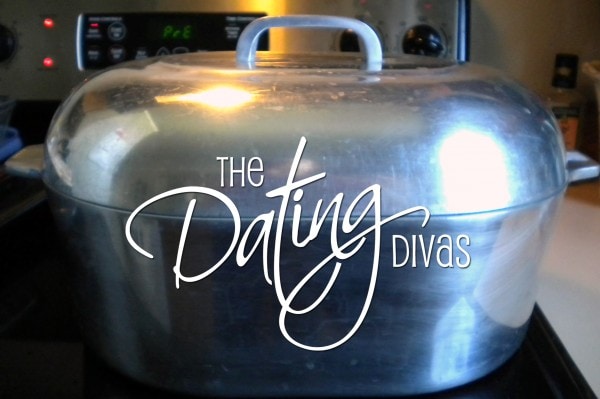 Potatoes
 6-8 potatoes; peeled and cut
1/2 cup heavy whipping cream
 1/4 cup milk
garlic salt
Boil peeled potatoes (cut in half or fourths) until fork tender.  Drain water and mash potatoes until lumps are either gone or very minimal.  Add butter and mash it into the potatoes.  Add about 1/2 cup of heavy whipping cream and 1/4 cup milk to potatoes.  Using a hand mixer, whip mixture together until potatoes are fluffy. Add garlic salt to taste.  You can add butter, whipping cream, and butter until desired consistency (the whipping cream is what will make your potatoes nice and fluffy).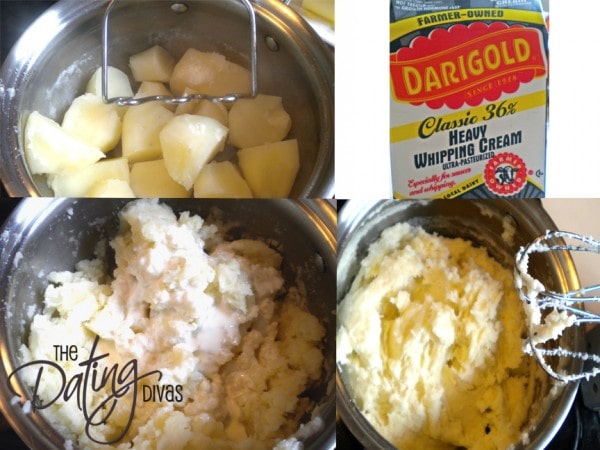 Chocolate-Dipped Berry Bundt
1 qt. strawberries, divided
1 Devil's food cake mix
16 oz. semisweet chocolate chips
1 cup heavy cream
1 cup white chocolate, melted (optional)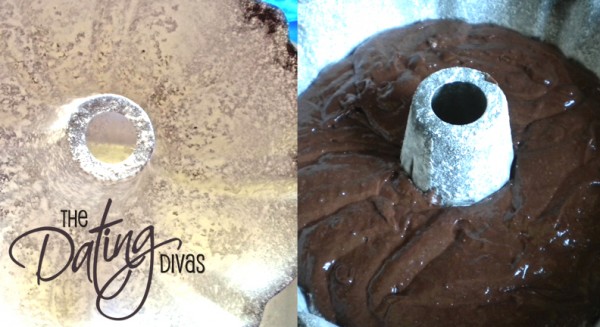 Heat oven to 350 degrees.  Trim strawberries.  In blender, puree 1 cup strawberries.  Prepare cake mix according to package directions, reducing water to 1/3 cup and adding pureed strawberries.  Pour batter into 11-cup Bundt pan coated with baking spray and flour.  Bake 40 minutes, or until toothpick inserted in center comes out clean.  Cool on baker's rack set over waxed paper.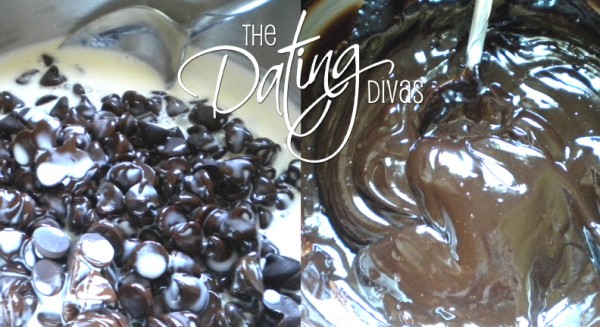 Place semisweet chocolate chips or squares in bowl.  In saucepan, bring cream to a boil; pour over chocolate.  Let sit 1 minute; stir until smooth.  Reserve 1/4 cup.  Pour remaining ganache over the cake to coat.  Dip half remaining strawberries in reserved semisweet chocolate; place on waxed paper.  Repeat with remaining strawberries and white chocolate.  Spoon remaining chocolates into separate resealable plastic bags; snip corners.  Drizzle opposite-colored chocolate over strawberries.  Arrange berries in center of cake.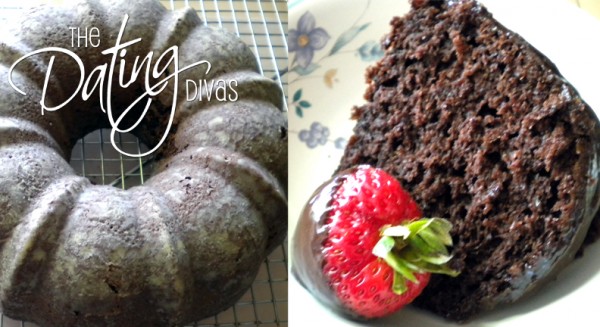 "Just Because"
My husband has been working so hard lately that I decided to do a little something "just because." I love "just because" presents because they are so unexpected that it just brings a smile to your face. I hit a great sale at Kohl's and found my hubby some clothes that he's been needing anyway. I set them on our shoe bench next to our kitchen with a little note letting him know how much I love and appreciate him. I would have purchased these anyways, but setting them out as a "just because" gift and adding the note just stepped it up from normal to thoughtful.