Spook Service – A Breakfast In Bed Idea  
Halloween is a great holiday for adding a little out-of-the-ordinary fun to your home! With this sweet Halloween idea, you can turn your home into a "Dead and Breakfast Inn" and surprise your spouse or kids (or both!) with a Halloween-themed breakfast in bed! In typical Dating Diva fashion, we have gorgeous printables to make planning and implementing your Halloween breakfast in bed easy! It is the perfect way to celebrate the holiday as you serve and show your love for your family!

Disclaimer: This post contains affiliate links. To learn more about 'em, click here.

This Halloween breakfast in bed idea could be done Halloween morning, but it could be done any time in the month of October! With our printable download created by the talented Leah at January + May, putting together your own breakfast in bed is super easy!
Start by surprising your family members with a unique breakfast menu. Family members will "Pick Their Poison" from a printable Halloween-themed breakfast in bed menu. Our menu fits perfectly into a printable door hanger that can be left on their door in the morning to find. To make this spectacular meal all come together, be sure to grab a great quality paper cutter and nice cardstock.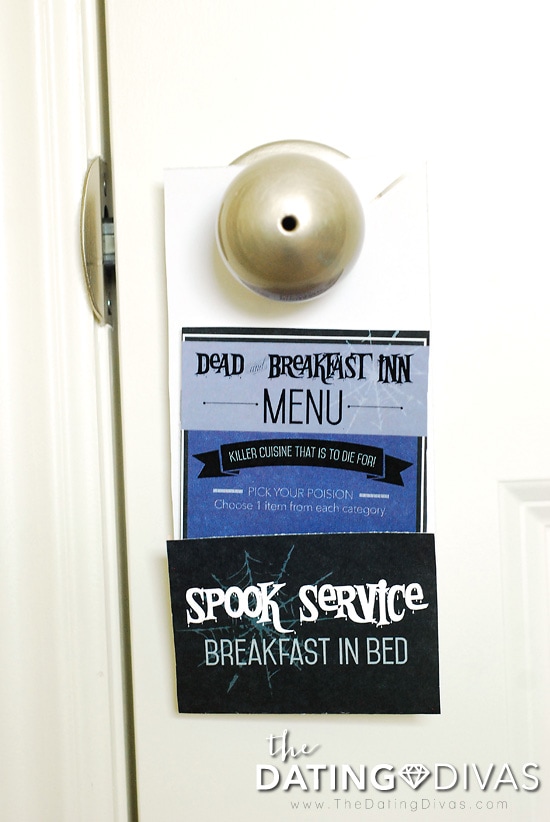 For each of the four breakfast categories (drinks, side, main dish and special treat), your family member will choose between the two options listed beneath them. The trick? The menu items have secret Halloween code names. Will they choose to drink Goblin Drool or Slug Slush? Would they prefer Monster Munch or Graveyard Grub? Have them circle the item of choice and then wait in anticipation – not knowing exactly what they ordered!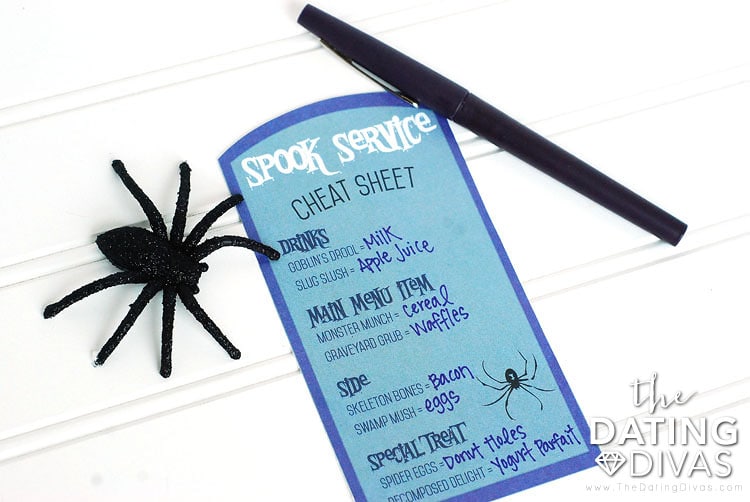 What you serve for each of the coded menu items is completely up to you! You can use our printable cheat sheet to organize what you would provide for each of the menu items listed. Remember to keep it simple and use what you have on hand. Here are some ideas:
DRINKS 
Goblin's Drool – milk or hot cocoa with whip cream topping
Slug Slush – some form of juice (apple juice, grape juice, cranberry juice)
SIDES
Skeleton Bones – bacon or sausage
Swamp Mush – eggs, hashbrowns, muffin or fruit
MAIN DISH
Monster Munch – cereal, granola, toast or oatmeal 
Graveyard Grub – pancakes, waffles, crepes, omelet, or french toast 
SPECIAL TREAT 
Spider Eggs – powdered sugar doughnut holes, pastry or cinnamon roll
Decomposed Delight – yogurt parfait or smoothie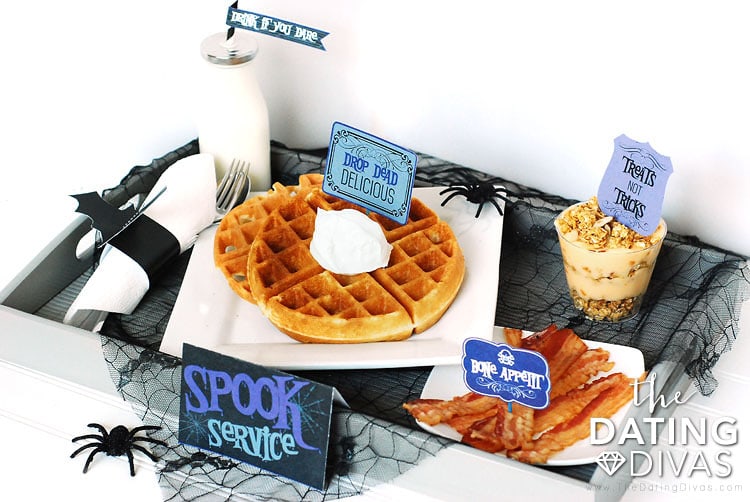 Now is the fun part! Prepare the chosen meal and present it to the lucky family member! They are guaranteed to be surprised!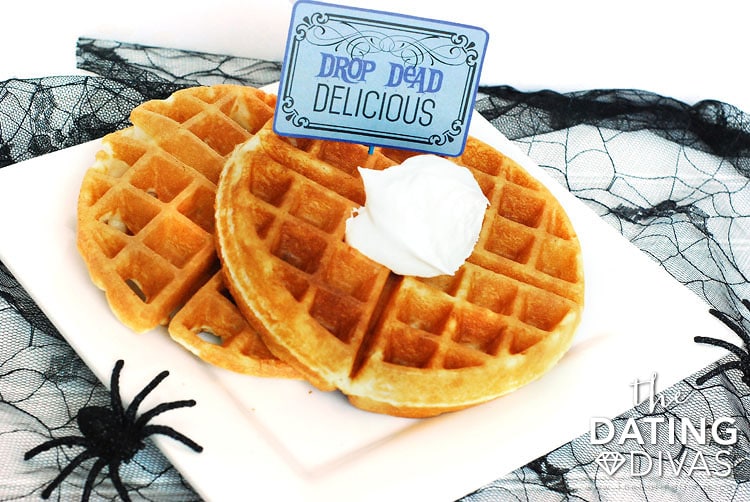 As usual, we have unique printables to add extra flair to the meal presentation including these clever treat toppers!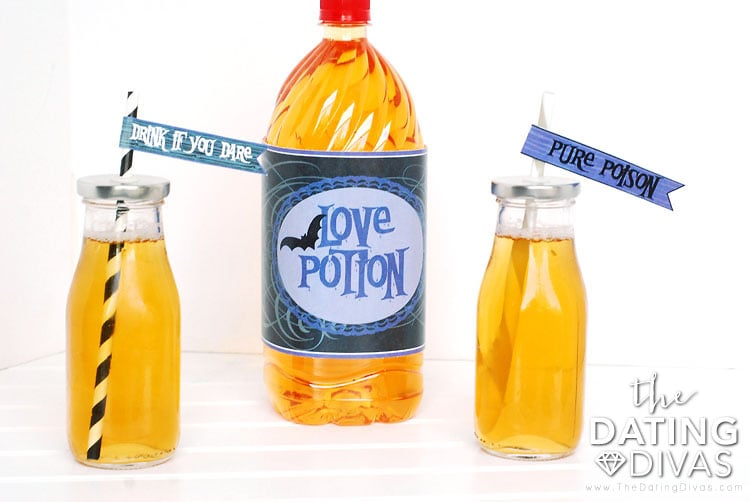 Or these fun drink wraps and straw flags!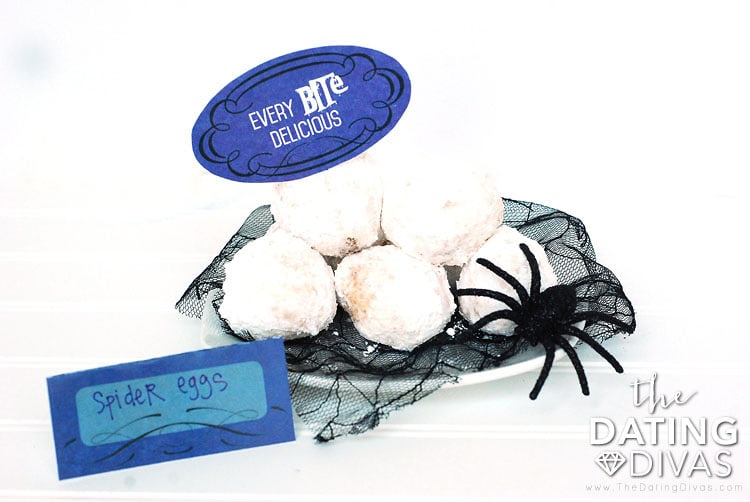 We even have some blank food tents so you can let your family know what each item they ordered was!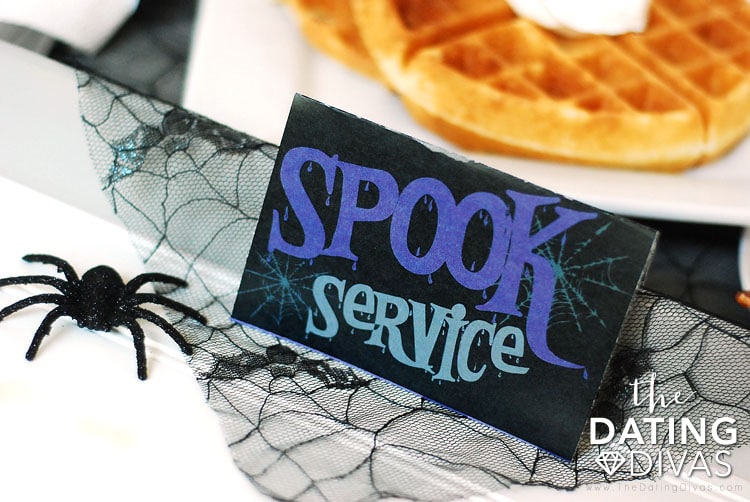 And there you have it! A unique Halloween Breakfast in Bed idea to surprise your whole family! This could even be a great tradition for many Halloweens to come!
Spook Service Breakfast In Bed
Printables Designed by Leah @ Leah Aldous Design Exclusively for The Dating Divas