It's GAME TIME with this creative date night idea, perfect for those hot summer nights!
Summer Date Night Idea
Water Balloon Basketball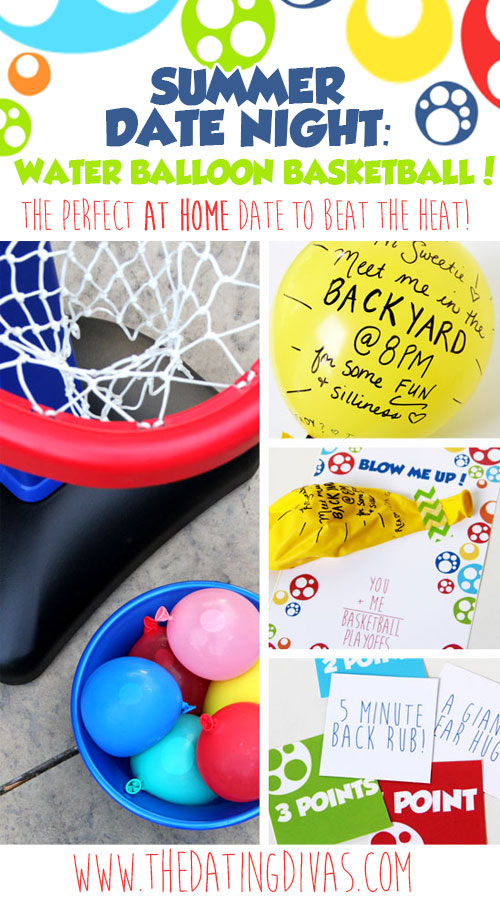 Disclaimer: This post contains affiliate links. To learn more about 'em, click here.
This date night has it all: an interactive invitation, adorable love notes, and a fun activity that might involve a little competition with your better half!  Even better news?  This cheap date can be completed at home after the kiddos go to bed!
UNIQUE INVITATION
To get started, alert your spouse of what's to come with a fun invitation designed by Kristin at CdotLove.  Kristin's whimsical design includes a space for you to attach a balloon that contains the WHEN and WHERE details of your easy and fun date night.  To assemble this memorable invite, print and cut out Kristin's awesome design.  Then, find a balloon and blow it up to a medium size, securing the tail with a binder clip.  Write out your unique message and then deflate it.  The last step is attaching it to the center of the invite using colorful washi tape.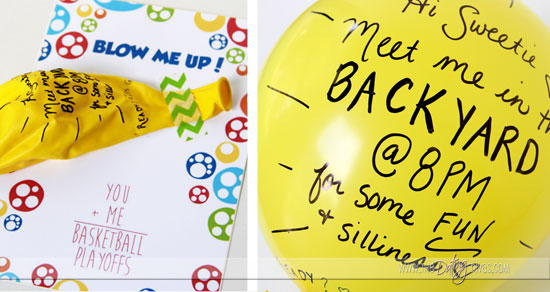 Note: If you use a Sharpie, the ink tends to liquify when you deflate the balloon.  This article had a great tip on finding a pen where this won't be an issue!  For me, using a Fine Tip Sharpie produced the least amount of smudges.  (I wasn't too concerned about smearing the ink since this project wasn't going through the mail!)
LOVE NOTES
Next, on the day of your date, leave some love for your hubby with Kristin's collection of fabulous love notes.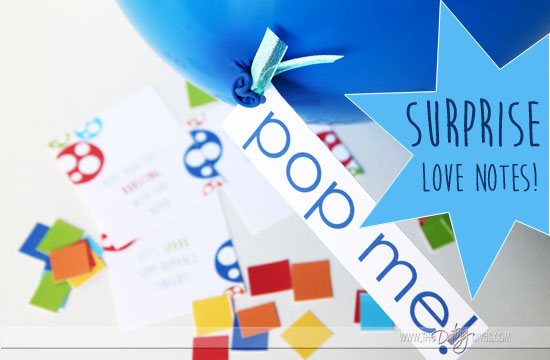 To make this even more fun, roll these notes up and place them in a balloon along with some paper confetti.  Attach our adorable "Pop Me" tags and sprinkle these love notes around the house for your husband to find in his favorite places.
BASKETBALL GAME CARDS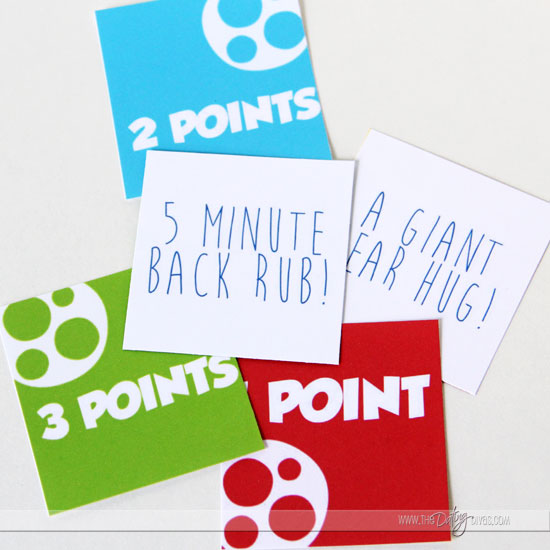 Finally, the time has come for your own Water Balloon Basketball Playoffs!  We used my daughter's Little Tyke's Basketball Hoop
for our game- it was hilarious!  To make your summer date night even MORE FUN, we've also included game point cards.  First, designate distances that will correspond to 1 point, 2 point, and 3 point values (we marked ours with painter's tape on the patio).  Then, when you make a shot, you can redeem a card!  Kristin included several blank cards to write down your own sweet and spicy rewards (wink, wink!).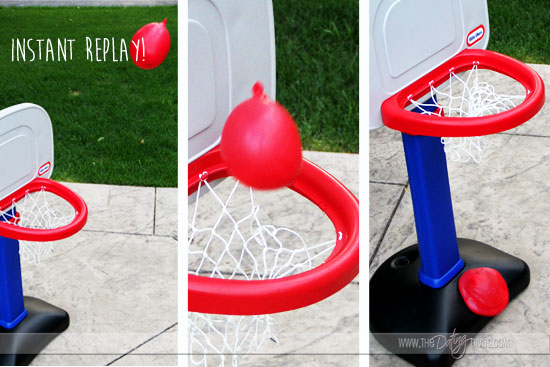 Note: When my hubby and I completed this date, I didn't have actual water balloons
in stock so we just used regular party balloons.  They worked just great and had the added effect of bouncing off the hoop and patio.  It was a fun challenge to figure out what we would need to do to make them pop!  (I did see cute little packs of water balloons in the dollar section of my local Target on my last shopping trip.)