Water Balloon Games Date
If you're looking to make a splash with some cool summer date ideas, you've come to the right place! Our Water Balloon Basketball date is the PERFECT way to get your fix of water balloon games for adults, while also turning those hot days into some steamy nights… Sound too good to be true? It's not! With a printable invite, point markers and cards, plus a super sexy point menu, this date is packed with fun games for two people and is about to become a new hot-weather favorite. Ready to score BIGTIME? Let's take a look!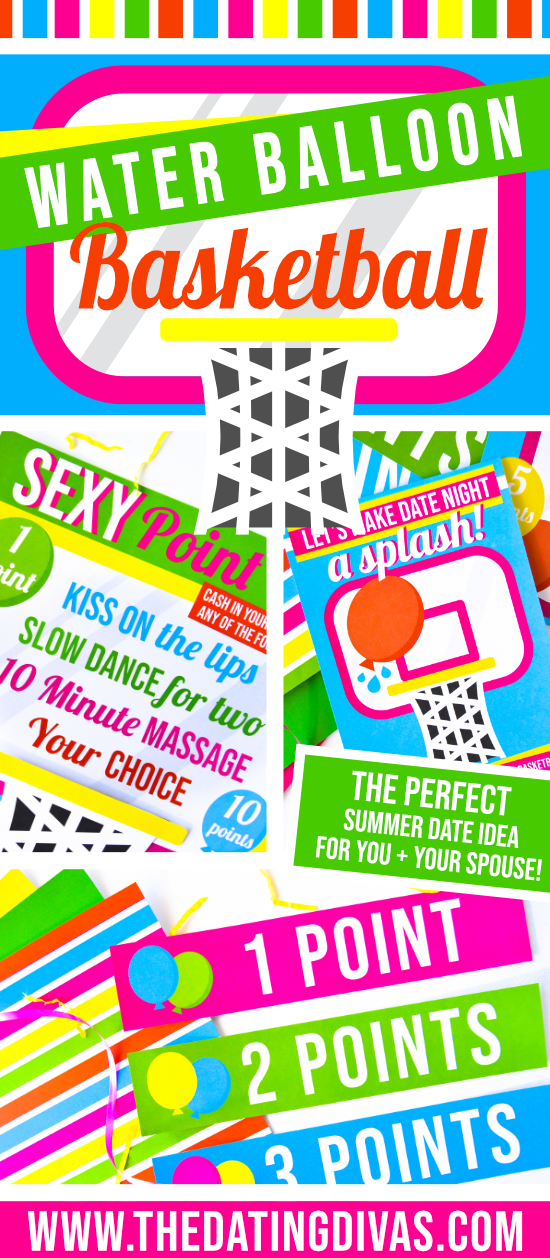 Disclaimer: This post contains affiliate links. To learn more about 'em, click here.
Before we get going on the water balloon games though, we have to give a shoutout to our own Diva Elizabeth. She designed these printables for us and has totally taken summer date ideas to a whole new level! You go, girl!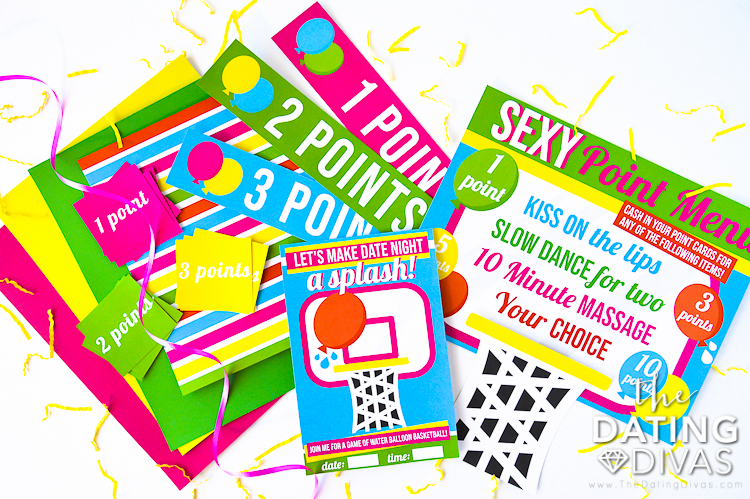 When it comes to summer date ideas, this date night has it all- a super clever invitation and everything you need for some crazy fun water fighting games. Plus, it includes a healthy dose of competition with your better half! Even better news? This cheap date can be completed at home after the kiddos go to bed!
Water Balloon Games Invite
To get started, alert your spouse of what's to come with a super fun, water balloon basketball inspired invite! We're obsessed with the backboard design as it's the perfect way to kick off these summer date ideas. To assemble, simply print, cut, and fill in the deets. Leave it somewhere for your sweetie to find (or hand-deliver it in person!) and get ready for some fun outdoor activities like never before. It seriously doesn't get much easier than this.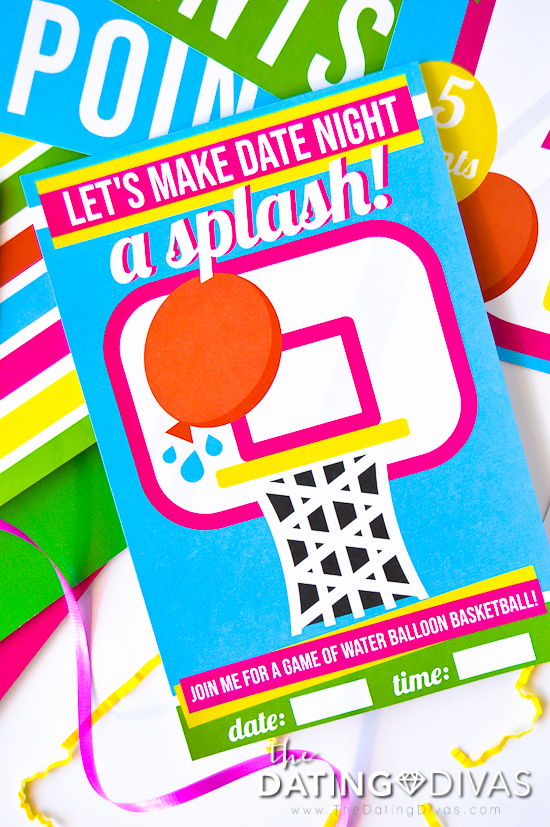 Basketball Water Balloon Games Setup
On the day of your date, be sure and set the stage! We've included everything you need to create your 'court' and will tell you exactly how to use each item. All you need to get your hands on is a hoop or bin of some sort. You might consider going with a child-sized basketball hoop, but you could also use a full-sized one. A trash can or bin makes for a great substitute if you're in a pinch!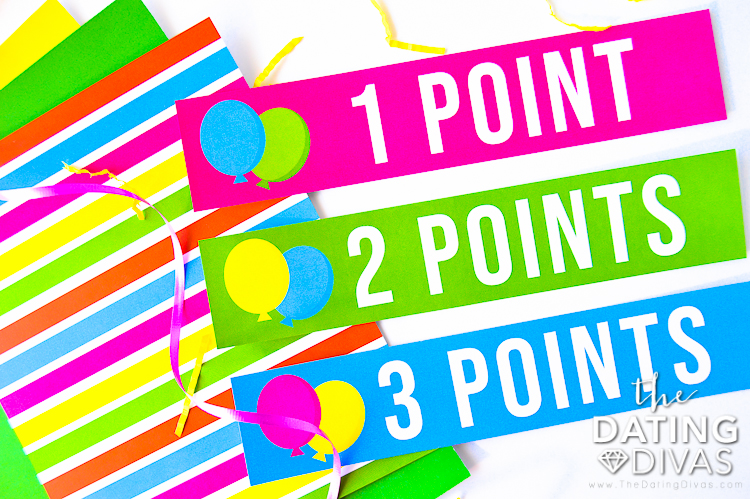 Grab your point-line markers and place them across from the hoop at varying distances. Remember- the 3 point line should be much more difficult to shoot from than a 1 pointer! Next, get a little wet and wild by filling those balloons! We won't judge you if the water fighting games get a little out of hand at this point… Once you're ready for even more action, grab your darlin' and get shooting! We'll teach you exactly how we like to play Water Balloon Basketball below, but feel free to come up with your own balloon games for adults or water fighting games. The opportunities (for a good soaking!) are endless.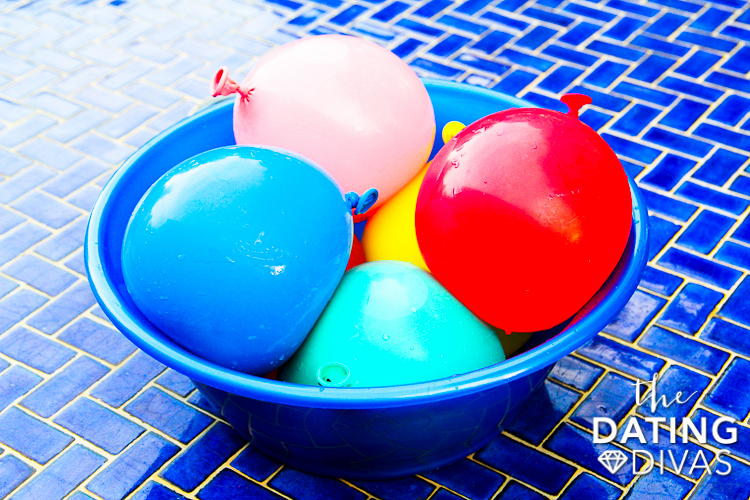 HOW TO PLAY WATER BALLOON BASKETBALL:
Divide the filled water balloons evenly between you and your sweetheart.

Take turns shooting from the various point line markers – don't be afraid to unleash your inner NBA star!

Each time you make a basket, you'll receive a corresponding point card. Rake in as many as you can as you'll be cashing in these bad boys for some seriously sexy treats.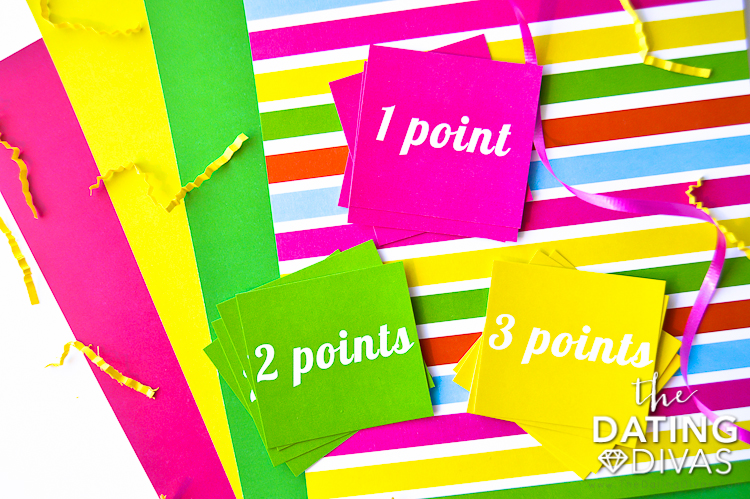 You could also try playing basketball favorites such as one-on-one, HORSE, or Knock-Out. Whatever you choose to play, keep rewarding those point cards! Do those sound like some fabulous summer date ideas or what?!
Water Balloon Games Sexy Point Menu
No date is complete without a little MORE one-on-one (wink!) and we've made that seriously easy with the following idea. If you've been wondering how you're going to redeem those water balloon games point cards, the wait is over! Our printable point menu is not only beyond adorable (I mean, how on-theme is THAT?!) but will also help you turn your point cards into something a little more…inspiring.
Assembling your Sexy Point Menu is oh-so-easy and we'll tell you exactly how to do it. Simply print the backboard portion of the menu as well as the corresponding hoop (found on the same page as your invite). Cut out the hoop and affix it to the designated spot on your menu. Voila! You've just created a one-of-a-kind hoop that your sweetie is going to DIE for!  Wondering how to use your sexy point menu? Simply grab the point cards you earned during your basketball game and take a peek at the menu. Each sexy item is worth a certain number of points and that amount is listed on the balloon across from it.
1 point = Kiss on the Lips
3 points = Slow Dance for Two
5 points = 10 Minute Massage
10 points = Your Choice
Cash in your point cards for any of those goodies and get ready score even more.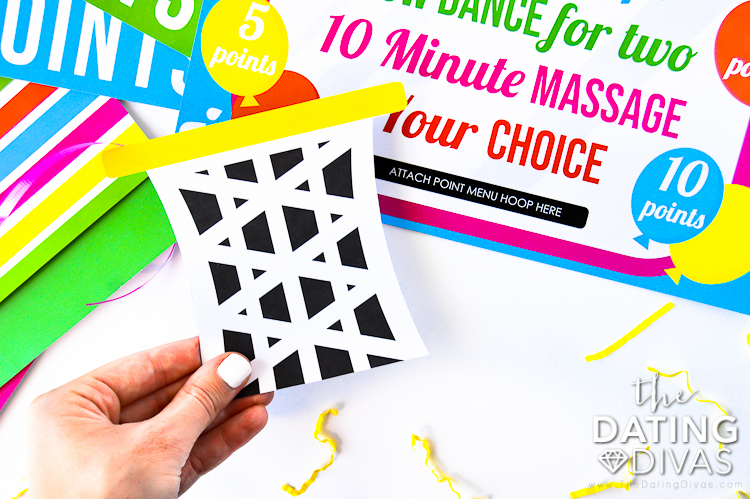 More Water Balloon Games for Adults
We're obsessed with the basketball water balloon games up above but if you're looking for even more water fun, take a look at the following 5 water balloon games:
Water Balloon Spoon Race – Similar to the classic egg & spoon race, each of you will place a water balloon on a spoon and the race is on! Whoever drops their balloon is automatically out.

Water Balloon Volleyball –

No explanation necessary for this one. Don't let that balloon break!

Water Balloon Toss –

Stand across from your spouse and take turns throwing a balloon back and forth. With each successful catch, you must take one step backward. See how far apart you can get before the balloon drops!

Water Balloon Target Practice –

Pick an exact spot on the side of your house or the ground and take turns aiming and throwing. You could even work in your point cards with this one!

Water Balloon Roll –

Try rolling a water balloon on the ground as far and fast as you can without it breaking. Bonus points for beating your spouse!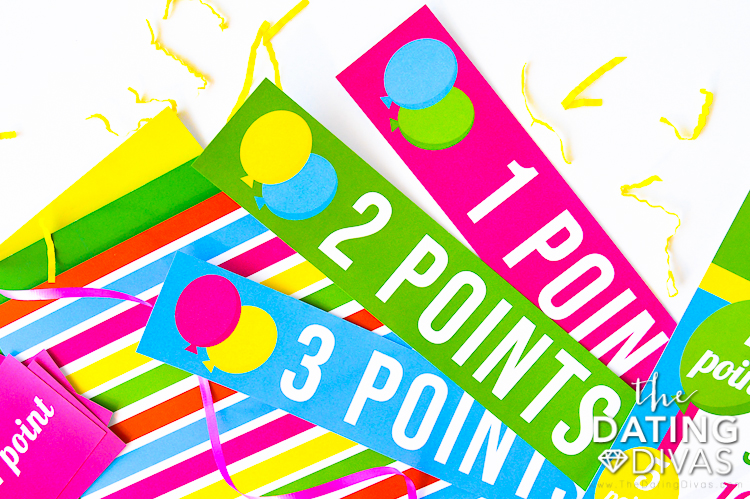 When you're looking for summer date ideas that are a slam dunk, THIS is the date for you! Grab some water balloons, your free printables, and your sweetheart for a night of fun outdoor activities that are wet, wild, and totally worth it.
Water Balloon Basketball
Printables Designed by Elizabeth Edwards Exclusively for The Dating Divas