Letter Pancakes
Easy and Edible Morning Messages With Pancakes!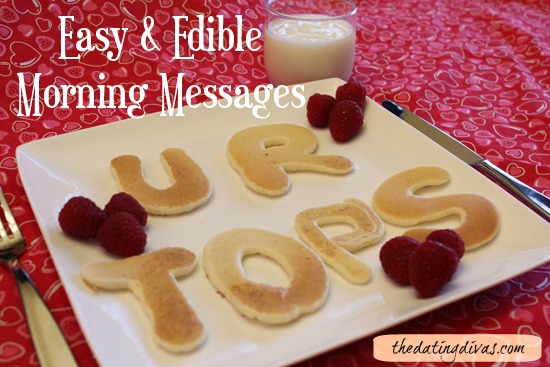 Disclaimer: This post contains affiliate links. To learn more about 'em, click here.
Mornings in most houses are nothing short of crazy. Usually a quick good-bye kiss on the way out the door is all anyone has time for.  This tasty idea is great for a weekend morning, or for a morning when you set your alarm just a few minutes early. In the short amount of time it takes to make pancakes, you can give your husband or wife a tasty start to their day. 
Your favorite pancake mix made according to its directions
A pre-heated pan (I like to use my electric skillet, but use whatever you have handy)
A squeeze bottle to put your pancake mix in (The squeeze bottle we have is called a Tovolo Pancake Pen and it works really well!)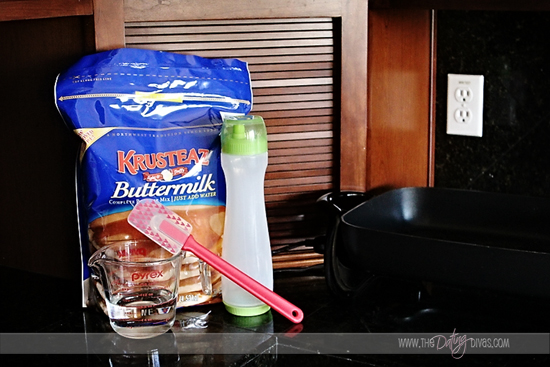 There are 4 ways I like to do this: they are the basic, the word scramble, the foreign language, and the coded message.
The first and simplest way you can do this is just write out exactly what you want to say with your pancake batter, cook it, and serve it.  Easy, cute, and sweet.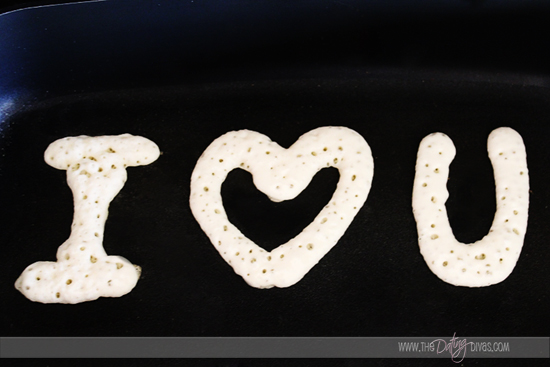 The word scramble is a little more fun.  Write out what you want to say with your pancake batter, but this time when you serve it, mix up the letters so your honey has to do a bit of work to figure out what the message is.  Their mouth will be watering in anticipation of eating the pancakes, and with this message, their mind will be wandering in anticipation of what TONIGHT will bring.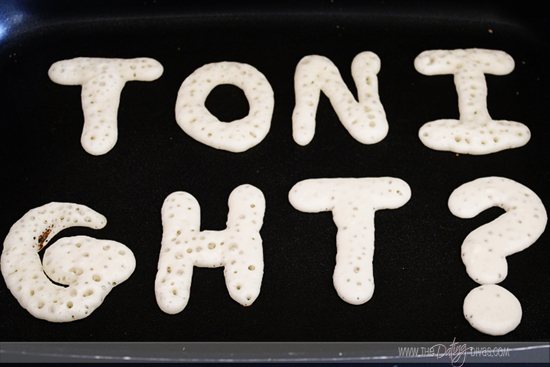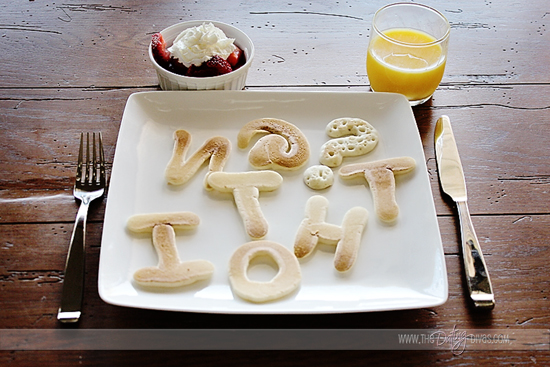 Remember all those hours you spend studying for your foreign language tests? Now is your chance to bust out that foreign language you learned back in your school days and so seldom get to use.  I studied the romantic language of French, so my husband's breakfast said  "ce soir" (tonight) and I added the candle onto the table with the intention of it being used -ce soir!  It was an easy addition but something totally unexpected at breakfast.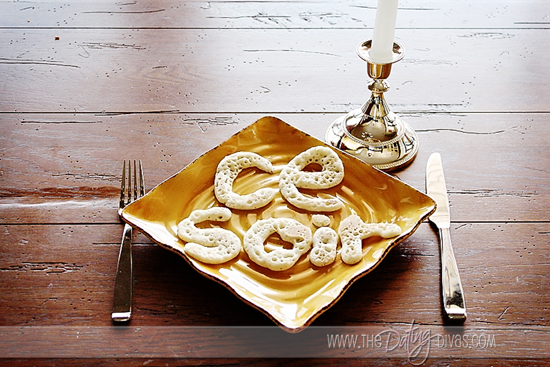 You are going to love making up a pancake code.  This is perfect if you have older children that you don't want figuring out your private pancake messages, or a husband or wife who enjoys a bit of a challenge.  Make a code as simple or complex as you want (mine was an easy one A=B, B=C, and so on), give your spouse the key and then let them decipher your message.  I would not recommend mixing the letters up with this one since it is early in the morning and you want your love having success, not frustration.

The message on this one says "Kiss Me", that way when my husband figured it out, it was a win-win for both of us! I did add some kisses as a clue and his favorite drink, chocolate milk!
As you can see any one of these ideas could easily be done in the morning (or any time of day!) in 15 minutes or less. Add your favorite syrups, jams, sauces, fruit, sprinkles, and whipped cream to make it a tasty breakfast your man will be thinking about all day long.  If you love to use codes then check out Stephanie's
Secret Love Note
idea or go all out and try Tara's
CSI date
.