Thanksgiving Conversation Starters
 Get the conversation focused on the meaning of Thanksgiving with these unique Thanksgiving conversation starters! When your family is gathered at the dinner table on Thanksgiving day, add this easy to make jar with Thanksgiving questions to ask around the table. You're sure to get the entire family talking – together! The included Thanksgiving conversation starters all center around gratitude and the Thanksgiving holiday. This gives your family a chance to really focus on the purpose of the day – instead of just the food!

Disclaimer: This post contains affiliate links. To learn more about 'em, click here.

These Thanksgiving conversation starters are the perfect festive addition to your Thanksgiving table and will look amazing thanks to the design talents of Leslie at Nina Bean Design. I am so in love with the gorgeous fall colors that she incorporated into the design of the conversation starters. She is seriously wonderful! Just look at what she has created for us: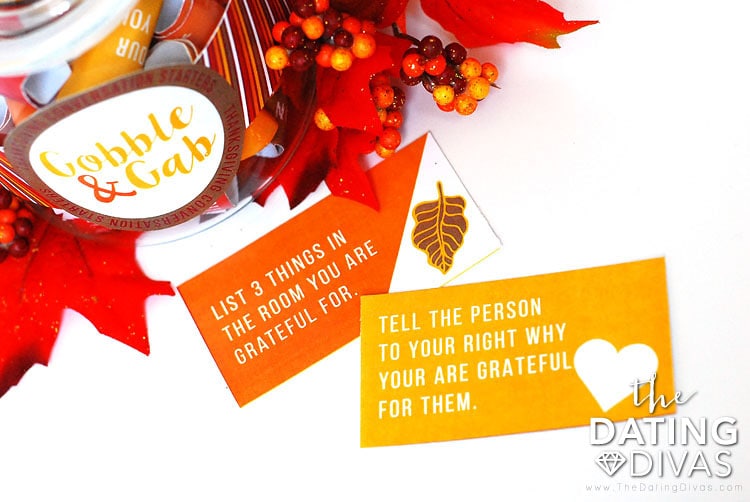 A  Closer Look at Your Thanksgiving Conversation Starters
We have 25 different Thanksgiving conversation starters to use as prompts for your family to discuss over the dinner table. These Thanksgiving questions to ask around the table range from classic conversation starters such as:
"What are you grateful for this year?"
to more in-depth questions such as,
"Who is someone you need to show more gratitude for and why?"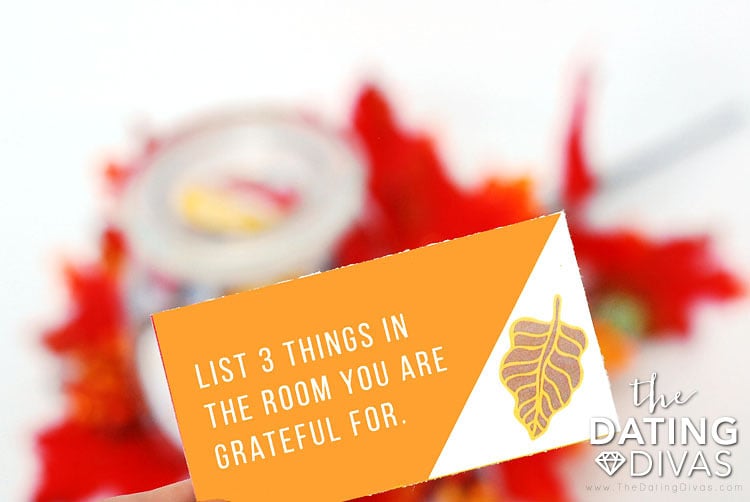 As mentioned above, each card contains a stunning fall-themed design. No two conversation starters are the same and each adds an extra dose of Turkey Day charm. Also included in your printable pack is a gorgeous Gobble and Gab jar label- the perfect touch to your jar (more on that below!).
Assembling Your Thanksgiving Conversation Starters
Your conversation starters are not only gorgeous but are also super easy to assemble! Take a peek at the following 3 simple steps to learn just how to do it:
Download your Thanksgiving Conversation Starters printable pack below.
Print on high-quality cardstock. Since these cards will be handled frequently, we want to make sure they're sturdy and durable!
Cut around each of the cards and the jar tag. You're almost ready to go!
Thanksgiving Conversation Starters Jar
After cutting out the Thanksgiving conversation starters and question cards, just add them to a jar and attach the Gobble and Gab label (we love using these to make sure things stick and stay)! We Divas just love creating gorgeous products that add beauty to our homes and these conversation starters are no exception! The label and jar packed with Thanksgiving conversation starters will go perfectly with your Thanksgiving dinner decor. Consider placing it among some faux fall foliage like we did for even MORE great Thanksgiving goodness.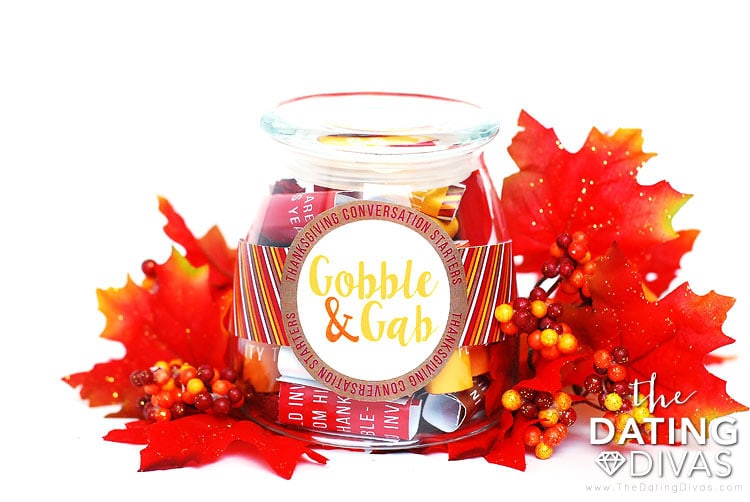 How to Use Your Thanksgiving Conversation Starters
When the whole family is gathered together at the table, take turns pulling different Thanksgiving conversation starters out of the jar. You can either choose one Thanksgiving question to ask around the table and have everyone answer it OR have each person choose different conversation starters to answer. It's up to you! The whole point is to get people connecting.
We absolutely LOVE these Thanksgiving conversation starters in our family and we think this could be a fun family tradition year after year! After all, what better way to spread the love than by getting to know the innermost thoughts of the people you care about? Be sure and grab your Thanksgiving conversation starters right now and see if they can be a wonderful new tradition for your family as well. Happy Thanksgiving!
And if you need even more topics to pull out around the feast table, check out the
Chatting with your kids about their fears, hopes, dreams, ideas, & memories is the best way to get into that little head of theirs, and get closer to them! This kit has 300 conversation topics of fun family questions & prompts to get you talking together, ready to be printed (double-sided on cute convenient and easy-to-use cards!)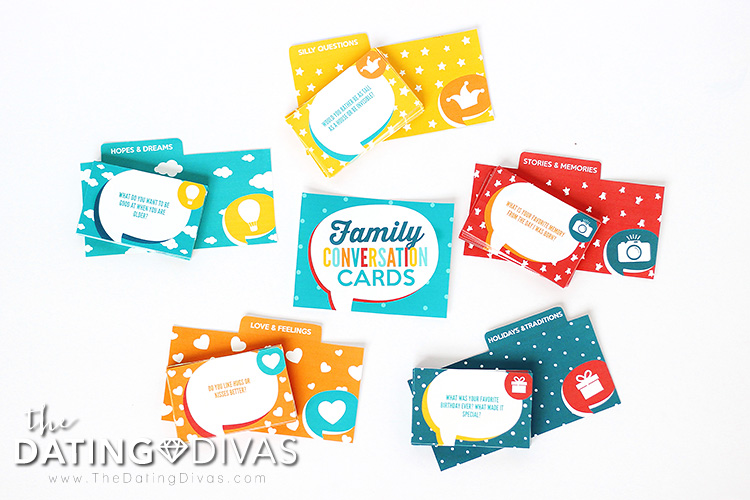 Thanksgiving Conversation Starters
Printables Designed by Leslie @ Nina Bean Design Exclusively for The Dating Divas