Think back for a minute…to the first time you ever received an invitation.  This invitation may have been to a birthday party, some type of celebration, or a special event.  Can you recall the feelings you had upon receiving something that was specifically created for you?  I still remember the time I was invited to a neighbor's birthday party when I was six.  Oh, I was so excited!  I kept the invitation on my mirror and each morning and night, I would look at the invite and I just knew that great things were coming my way!  In the spirit of feeling special and having something exciting to anticipate, I decided to create an invitation!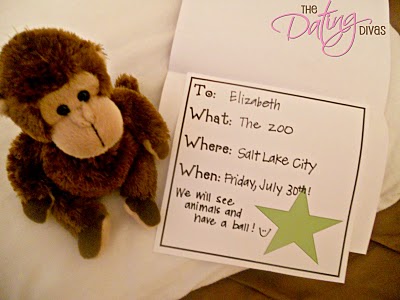 My little girl is three.  She now gets anticipation and excitement to the greatest extent.  I was planning on taking her to the zoo and I thought…."Why not make it a little more fun?"  I headed to the grocery store where I found a monkey beanie baby.  (I have noticed in the ads that often times grocery stores run awesome deals on beanie babies!)  I then came home, printed the invitation, and left both the invite and the monkey on her pillow.
When she went to bed that night, she was SO EXCITED.  First for the monkey, and then for the invite that promised a fun filled day at the zoo on Friday!  Each day when she woke up we had a countdown to the zoo.  The invitation made the whole thing special, personal, and exciting.  Instead of just announcing we were going to the zoo, the invitation made it an event!
If you are doing anything fun with your family, download the skeleton invitation below and leave it on your child's pillow.  It will give that extra pizazz to any outing!
What special things do you do for your kids?