Epic Date Night Sleepover Ideas 
Pull out the pajamas and get that popcorn popping because it's slumber party time! We've come up with the perfect at-home date for you and your sweetheart that's all about the snuggles and filled with sleepover activities you'll LOVE. From a darling sleeping-bag-themed invite to printable checklists and a truth or dare game that will leave you chuckling 'till dawn, these adult sleepover ideas are almost too fun to handle. So what are you waiting for? Dim the lights, pass the snacks, and get ready for a night to remember!

Disclaimer: This post contains affiliate links. To learn more about 'em, click here.
But before we unleash the slumber party fun, we need to give a huge "Thank you!" to Carisa from Messes to Memories for designing such fabulous printables for us! Seriously, could these be any cuter?
Spouse Sleepover Invitation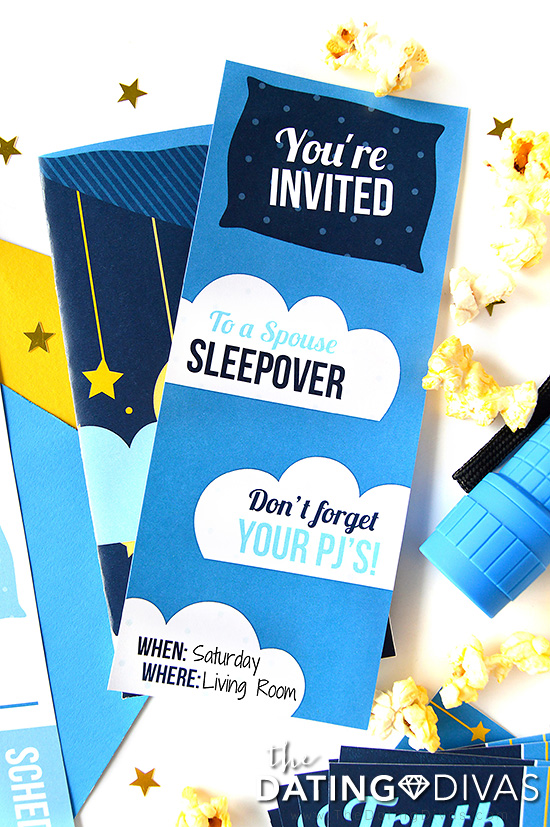 No list of sleepover activities would be complete without a little prep item and we've got just the thing! Your printable slumber party invitation will get your spouse ready for the fun to come in a super creative way that's totally slumber party worthy. But are you ready for the ultimate cuteness factor? Check this out: Your printable invite is crafted to look (and work) similar to a sleeping bag and houses the invitation insert beautifully. How's that for fabulous?! Assembly is easy as pie (or should we say popcorn?) and we'll walk you through just how to do it!
How to Assemble Your Spouse Sleepover Invitation
Begin by printing your Sleeping Bag Pouch and Sleeping Bag Invitation Insert on the high-quality paper of your choosing. We recommend a good cardstock for best results and ultimate date night satisfaction.

Cut carefully around the individual edges, sides flaps, and tab.

 Fold along the thin, white lines of the Sleeping Bag Pouch and secure main flap edges and the bottom tab with adhesive—thereby creating your perfect, pocketed pouch.

Next, you'll want to grab your Sleeping Bag Invitation insert and fill in the day and place of your slumber party for two.

Slide the card into your newly formed Sleeping Bag Pouch and voila! Leave it somewhere for your honey to find and to give them a sneak peek of the night's adventures.

Color the first step of your sleepover prep done-zo (OR make sure to save these easy steps to your Date-Night Pinterest Board right now, so you can come back them soon and you'll know exactly what to do)!
Sleepover Ideas to Set the Stage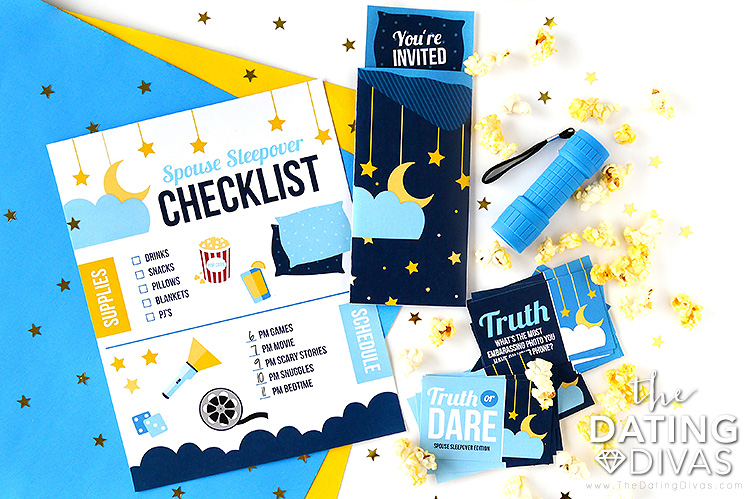 Once the invitation has been delivered you'll be itching to get this party started, am I right? Well, lucky you because it's time to set the stage ie to transform that ordinary living room or den into a sleepover party land like no other! Take a look at the list of ideas below to help spice up your living space and really help make your night the BEST that ever was. The best part of all, these sleepover ideas are tried and true which means your spouse is sure to love them too.
Date Night Sleepover Ideas:
Pull your mattress or a couple of sleeping bags into the living room.
Build a blanket fort or teepee around your mattress/sleeping bags to keep any ghosts away!
Get your hands on an electric lantern, flashlights, glowsticks, and other items to help light up the night.
Gather the materials on your Spouse Sleepover Checklist and set them up on a picnic blanket in a central area.
Grab a selection of movies, scary stories, and games to keep the fun going for hours!
Things to Do at a Sleepover with Your Spouse

It's almost go-time. Are you ready for this? Included in your printable pack is a one-of-a-kind checklist to help keep your sleepover activities not only fun but totally fresh. We've included five fantastic sleepover ideas for you to choose from and schedule according to your own timetable, but don't be afraid to add a few extras for good measure! Take a look at the list below for an expansion of the ideas you two will absolutely love.
First up! Games. Try your hands at a few rounds of your included printable version of Truth or Dare (more below) followed by cards or a board game the two of you love!
Next is movie time! Watch a film you've been dying to see or go for a classic. We'll either be watching this or this.

Time to get your fright on! Take turns telling scary stories, making sure to hold a flashlight under your face for an added creep effect!
Get rid of those thrills and chills with some much-needed snuggles. Talk about your hopes, wishes, dreams, and plans for the future or reflect on memories of the past (This activity might just be our favorite part).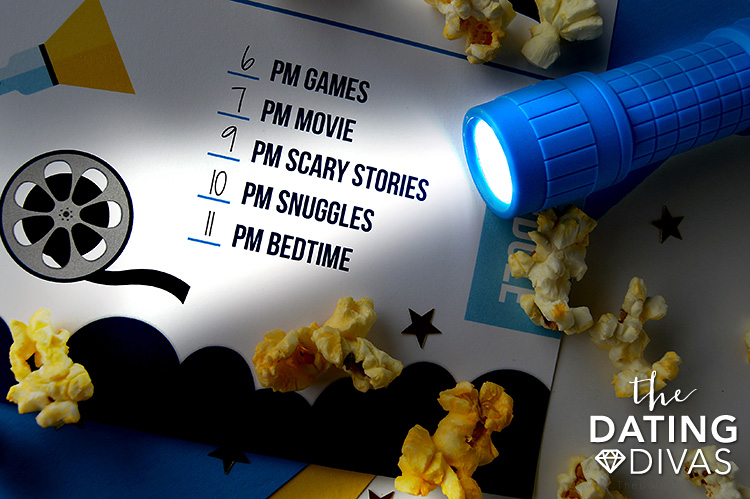 During all of the above sleepover activities, be sure to snack, snack, and oh did we mention snack? Have at it!
Fun Sleepover Games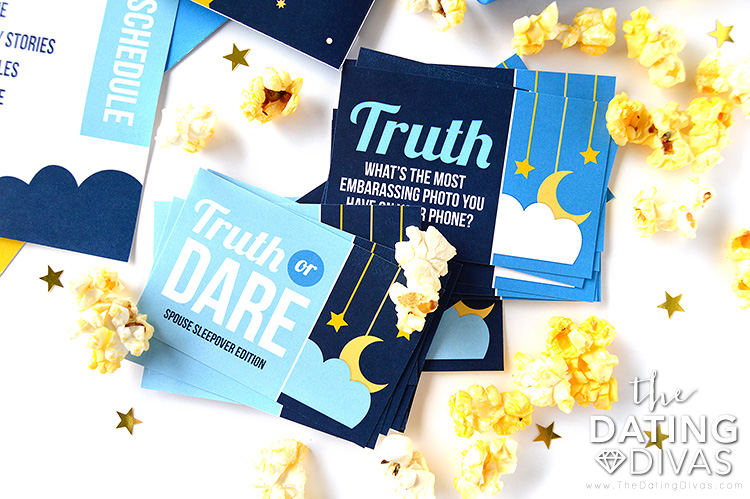 In addition to the card and board games mentioned above, your printable Truth or Dare game is a doozy and will unleash the giggles in no time flat! Your last set of printables in your downloadable pack activities, it's nevertheless an activity you DON'T want to miss. With wild and crazy items such as prank calling your mom or identifying the most awkward date you and your spouse have ever been on (Eeep!) this is one wild time that makes for the perfect beginning or end to your sleepover games. For a refresher on how to play this great and goofy game, keep reading!
  

How to Play Truth or Dare: Spouse Sleepover Edition
Separate your Truth or Dare cards into two separate piles.

Decide who is Player #1 and Player #2.

Player #1 then asks Player #2, "Truth or dare?"

If Player #2 chooses 'Truth,' they must select a card from the 'Truth' pile and answer the question- no lying allowed!

If they chose 'Dare,' the same rule applies but with the 'Dare' pile. No passing, switching, or failing to comply allowed!

Once they answer their question or complete their task, it's Player #1's turn to choose!

Continue to play for as many rounds as you like, making sure to shuffle the Truth and Dare decks after each round.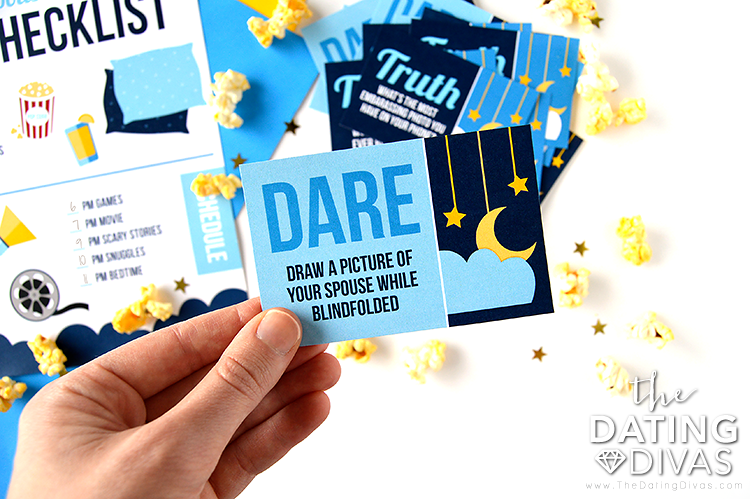 What did we tell you?! This date idea is packed full of some of the most awesome sleepover ideas around and is sure to turn an ordinary night into a night to remember! Happy Slumbering!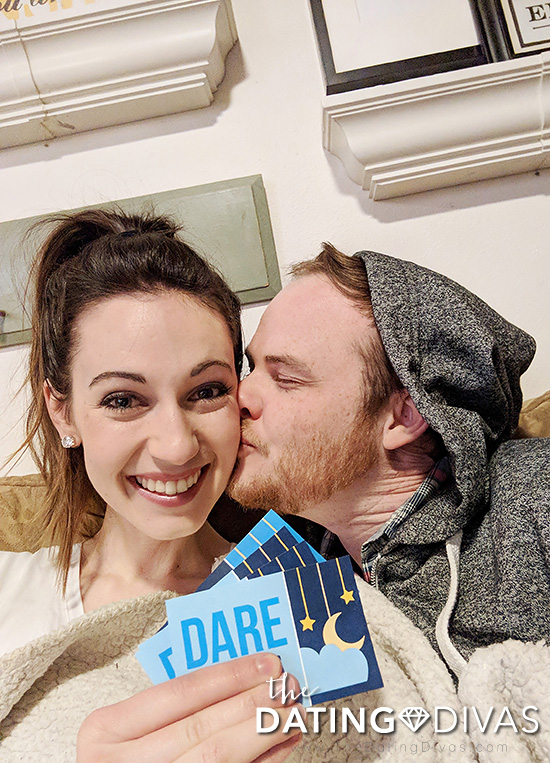 SaveSave
Spouse Sleepover Date
Printables Designed by Carisa @ Messes to Memories Exclusively for The Dating Divas