Tech-Free Date Night
Disconnect to Enjoy Reconnection With Your Sweetheart!
Ever feel like your devices are coming between you and your spouse? Make a plan to put all technology out of sight and out of mind – spend a night where it really is just the two of you.
Let's take some time for simple fun that requires absolutely no technology – no cell phones, no televisions, nothing that requires electricity – it's time to unplug! Spend the ultimate kind of quality time with your spouse and reconnect with them by disconnecting yourself from the world of social media and work emails. Yep, we know, technology is amazing and we can't imagine (or remember) what life was like without smart phones, but every once in a while, it's important to make sure that your only priority is your one and only love.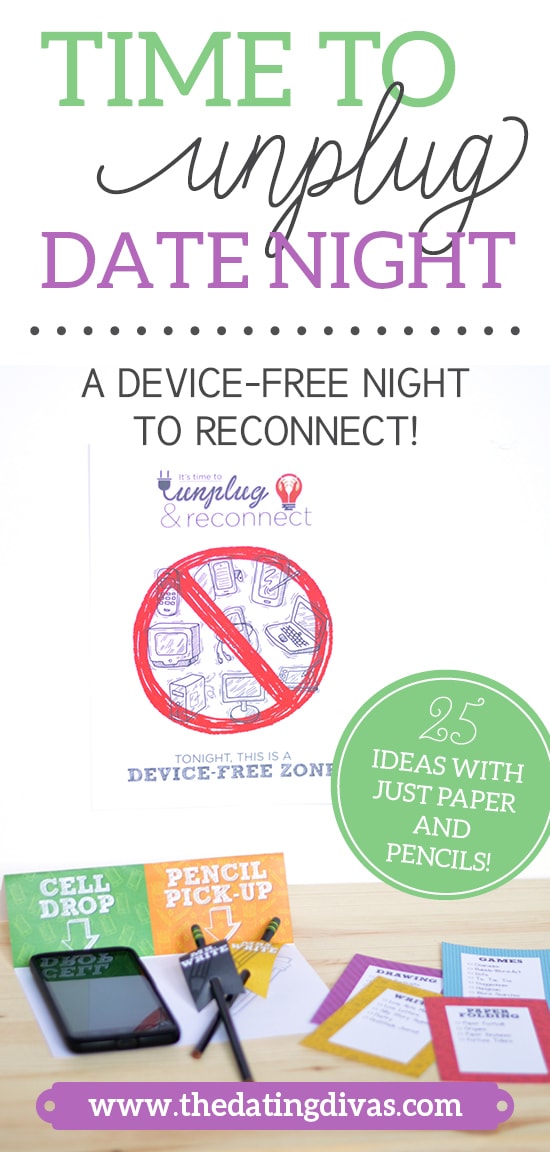 Disclaimer: This post contains affiliate links. To learn more about 'em, click here.
You're going to absolutely LOVE this date idea because it's totally back to basics – all you need is pencil and paper. And while you don't necessarily need these printables to make the date night spectacular, they are totally free and totally adorable, thanks to Joanna at JAB Creative Australia, so I think you're going to want to grab them. I love all the little doodle patterns! Check out some of her other amazing work and give her some love!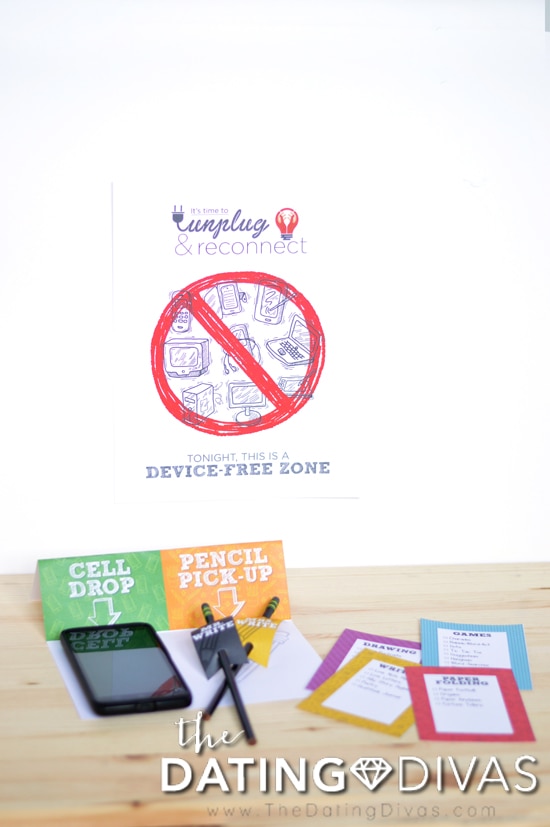 Start by posting the "Device-Free Zone" sign as a reminder to you and your spouse that all technology is off-limits! Remember, this is a time to unplug everything!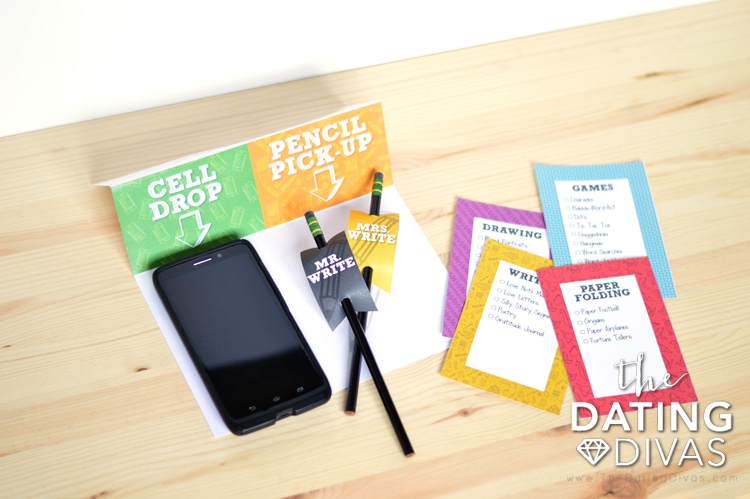 Add your cell phones to the Cell Drop and grab something to write with from the Pencil Pick Up! I am seriously loving all these adorable and clever pencil toppers to make the night just a little more fun – pick your favorite pencil or grab more than one!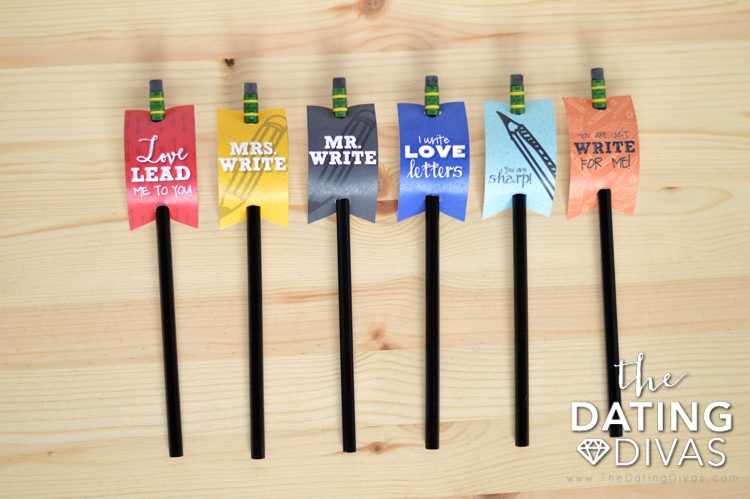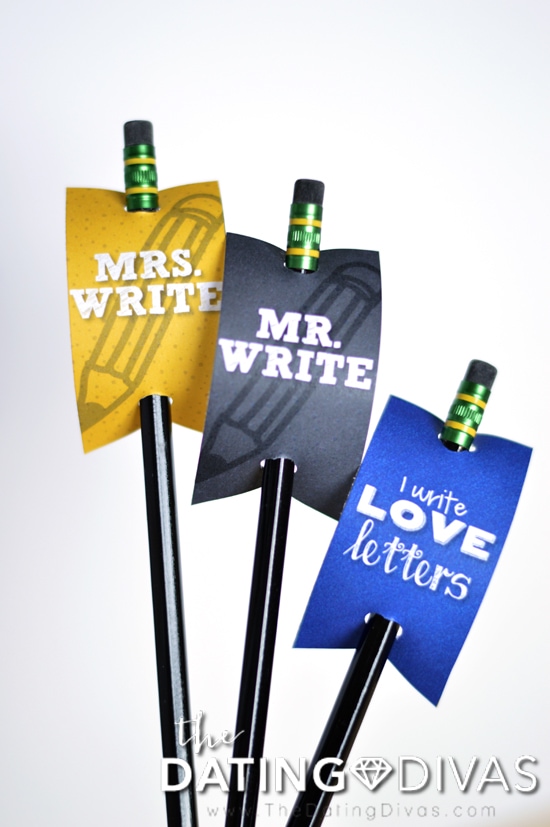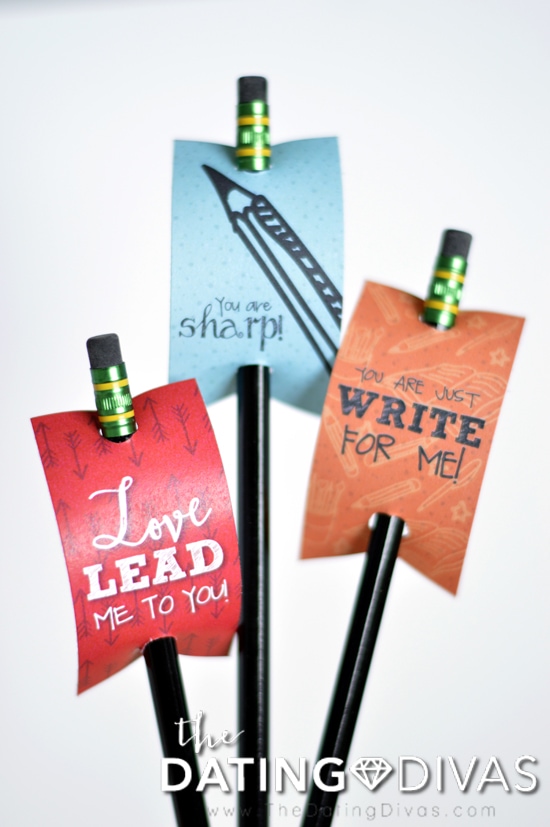 Now it's time to let the fun begin! We've got 25 ideas that require just paper and that super cute pencil! So pick your favorites and get started!
To help you pull off an unplugged date night with basically NO planning, use these ideas that require only a pencil and paper – or sometimes nothing at all!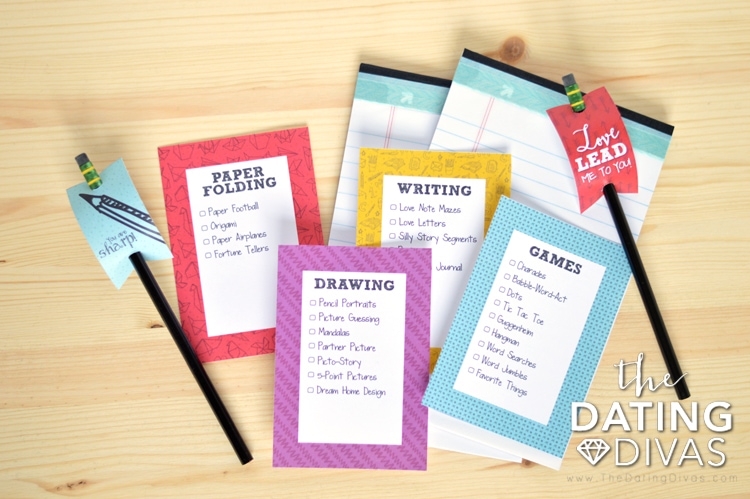 Love Note Mazes – Draw your own maze (or print a few off before date night), then add letters all over the maze that connect (when you solve the maze) to be a secret love message!
Word Searches – Create your own word searches (using grid paper makes this super easy). We love the idea of including words that describe your favorite things about your spouse.
Love Letters – Set aside some quiet time to write each other sentimental love letters. If you need help getting started, have our Love Letters Kit ready to go!
Silly Story Segments – Take turns writing only parts of a story… Have one person write the first sentence and then pass the paper for the other person to write the next sentence and see what happens!
Charades – The classic miming game, where you can only use visual clues to get your partner to guess the movie, song, place, person or object! Try using a theme – like places you've traveled together or meaningful songs.
Babble-Word-Act – A celebrity twist on charades – write down the names of ten celebrities each and use the same cards for all three rounds. In the first round, you can say almost anything to get your partner to guess the person on the card. For round two, you can only use one word and in the last round you can't say anything at all. The board game version of this is called Time's Up.
Paper Football – Anyone remember this classic from school? Just fold your paper to make a triangle football and try to shoot it through your opponent's fingers as they make a field goal shape. Our Football Movie Date Night includes a fun (and sexy) way to play this game, too!
Origami – You might need to do a little prep work for this to be technology-free. Just grab a book from the local library or print off a few ideas for step-by-step directions.
"Self" Portraits –  Test out your artistic skills and try to recreate your spouse on paper. For an even funnier twist, use your non-dominant hand to draw!
Picture Guessing – There are tons of ways to play this drawing game – try using your finger to draw a picture on your spouse's back, draw on paper with your eyes closed or just the original way, draw a phrase for them to guess (like Pictionary).
Mandalas – These are fun and creative drawings where you just go with the flow of the patterns that come to your mind. Here's a tip: They don't have to be perfect, there's no right answer and they come out different every time!
Poetry – Writing limericks are my favorite because they're totally silly and nonsensical, but you could really feel the love on date night and write some sweet sonnets to each other. If you want to go beyond paper and pencil, you could grab some word magnets to make poetry writing even more fun!
Dots – It doesn't get more simple than drawing a grid of dots on paper. Set up a game board and then connect the dots, one person at a time. When you connect two dots that complete a square, you "win" that square (put your name or initial in the box you created). Once the entire grid is finished, count up and see who has the most boxes! Add some hearts inside some squares for extra points!
Tic Tac Toe – A truly classic and simple game! You could even try this fun, sexy version!
Fortune Tellers – Make up your own or print off this cute one ahead of time from the Best Friends Date Night.
Gratitude Journal – Work together to start filling a notebook with all the things you're most thankful for.
Favorite Things –  Make a list of YOUR favorite things (color, candy bar, song) then give your spouse the categories and see if they know the things you love!
Guggenheim – It's like Scattergories. Create a few categories and then try to fill in an example for each category that begins with the same letter! We even have a Spouse Scattergories version that's perfect for you and your sweetheart if you want to print it before date night!
Paper Airplanes – If you need some ideas to get you started, check out Michelle's Plane Crazy about You Date.
Dream Home Design – Start creating a blue print of your dream home. Remember, it's a fantasy, so don't leave ANY details out!
Hangman – Try to guess your partner's word or phrase one letter at a time. For each letter you guess that doesn't appear in the phrase, your partner draws a body part – if they complete the man (or woman), before you figure out the phrase, they win!
Partner Picture – Draw a picture one line at a time, taking turns to draw each line. Don't talk to each other about what you're drawing, just see what begins to take shape.
Picto-Story – Write a story using pictures in place of as many words as you can.
5-Point Pictures – Draw five random dots on a page and have your spouse turn them into a picture.
Word Jumbles – Choose a word that describes how wonderful your spouse is and scramble up the letters. See if they can guess the word! OR write an entire love note, with jumbled up letters – that's a real challenge!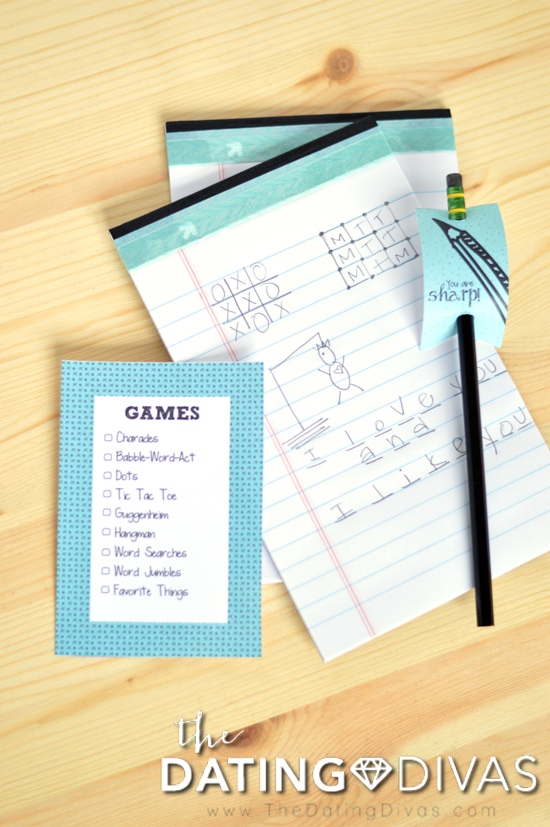 Other Fun Technology Free Ideas
If you've exhausted all of your paper-pencil ideas and want some other ways to have a great time while you're in the "Device Free Zone," then check out these other fantastic ways to reconnect:
Board Games for Two – You might have a few of these games in your closet already, in which case, the only thing you need is your spouse!
Card Games for Two – Just grab a deck of cards and you'll be busy for hours!
Mad Libs – Silly, fill-in-the-blank stories and love notes will have you in fits of laughter!
Adult Coloring Books – A relaxing idea because there's something so soothing about going back to your childhood love of coloring!
Conversation Starters – Chatting is the easiest way to reconnect with your spouse and these are perfect ideas to get the conversation flowing!
Time to Unplug Date Night
Printables Designed by Joanna @ JAB Creative Australia Exclusively for The Dating Divas