Play-date Ideas for Your Kids
It's WINTER, which means it's COLD outside and a time when my kids are going insane because they can't go outside. To help with their insanity, I love to plan play-dates for them. Some of the play-dates are just for the kids, but the ones that are my favorite include a bunch of kids AND their moms! Sometimes I have a hard time coming up with ways to keep the kids entertained, so I found 10 FUN play-date ideas that are easy to replicate and will, for sure put smiles on your kids' faces!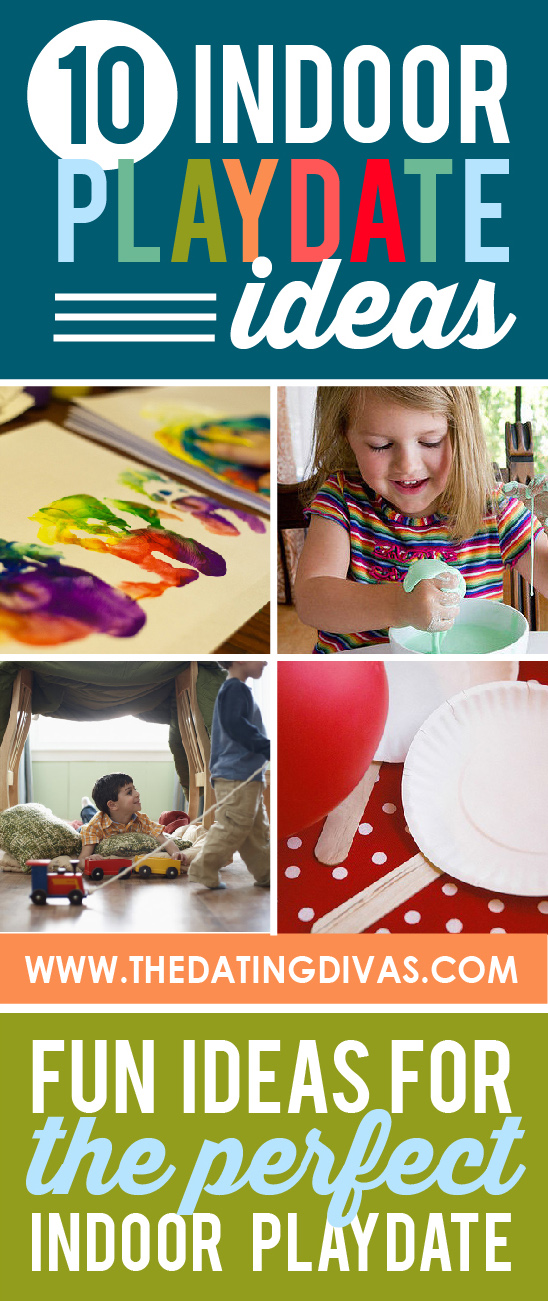 Disclaimer: This post contains affiliate links. To learn more about 'em, click here.
Having play-dates already planned is a HUGE help and sometimes a must have. Below you will find 10 play-dates already planned for you and perfect for the winter weather!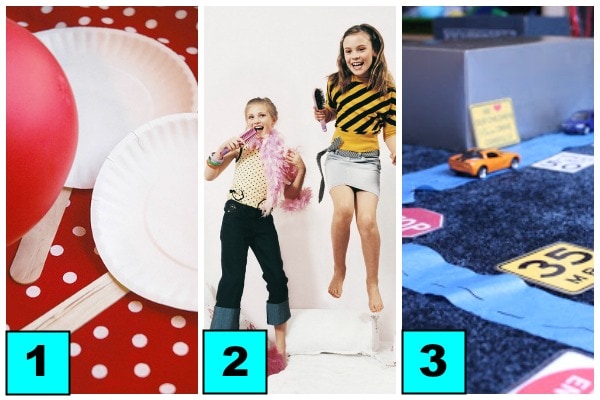 1- Balloons via Tip Junkie: Tip Junkie has done a wonderful job gathering up some amazing activities for kids to do with balloons. You will find craft ideas, games, and much more to keep your kiddos entertained!
2- Dance Party by Pop Sugar: Turn up the heat with a fun dance party. Have your kids' friends come dressed up, let them be the DJ for 5 songs each, play musical dance chairs, etc. The possibilities are endless and will be a huge hit.
3- Cars, Trucks and More by Muffin Tin Mom: Make your own car track (road) using painters tape and objects you have around your house. Be sure to incorporate toys that you have that get the imagination running… toy animals, blocks for buildings, etc. To begin the play-date, you can also have the kids make their own traffic signs for their cars and trucks as they 'drive' around town. That will definitely get their creative juices flowing.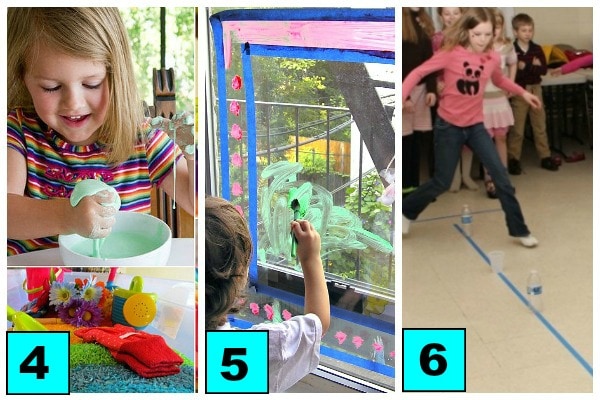 4- Hands-on/Sensory Activities by Popsugar: Hands-on activities are so popular. Not only are they FUN they are also great for your child's development. Let your kids get silly with jello jigglers, fingerpaints, noodles, and so much more!!!
5- Art Themed by What do We do All Day?: Art is a great way to have fun with your kids. The possibilities are endless. Turn your kids into painters with painters tape, paint, and using the windows as their canvas. There are also a TON of different art themed ideas that are listed at the end of her post or click HERE.
6- Olympics by The Real Thing with the Coake Family: The winter Olympics hold some of my favorite events to watch. The bobsled is amazing, ski jumping is fantastic, and you can't leave out the wonderful figure skating. Let your kids 'compete' in their own winter Olympics with this fun play-date idea. You can even hand out medals at the end of the day for an added bonus.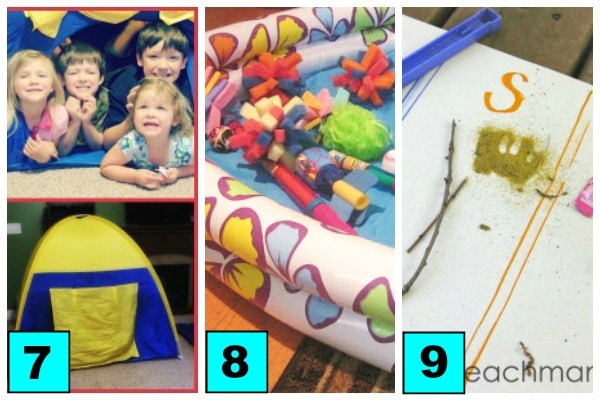 7- Indoor Camping by Pichea Place: Let's be honest, camping is always a hit with kids. Have the kids show up with camping clothes on and ready for some fun adventure. Create your own glow stick lanterns, have camping food (hot dogs and hamburgers), you can set up a tent or a fort in your family room and have the kids watch a movie, make s'mores in your broiler or microwave, the list goes on and on. There are lots of different ideas so be sure to check them out!
8- Water Play Date by Homespun with Love: I know, this doesn't sound like an indoor winter activity at all, but you have to open your imagination! Blow up the small kiddie pool, fill it with balloons and beach balls, and get ready to have some fun WITHOUT getting wet!
9- Alphabet Scavenger Hunt by Teach Mama: Get some awesome banner paper
or use some scrap paper you have around the house. Lay it out, and divide it into 26 sections, with a different letter of the alphabet to each section. When the kids arrive, have them go on a scavenger hunt around your house looking for items for each letter of the alphabet. Not only will they have a blast, but you will be building their language skills as well!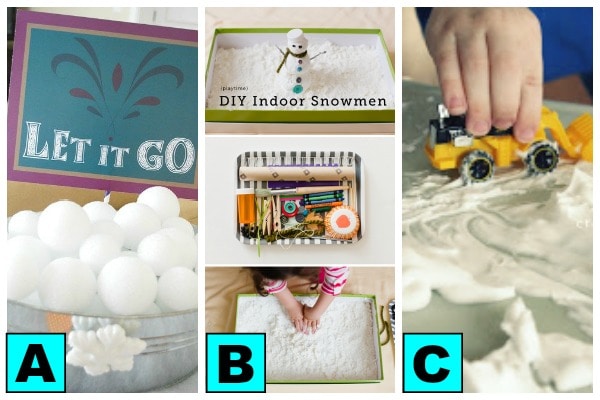 10- Snow Themed – I found some fun snow themed ideas that would be awesome for any play-date. Check out the 3 different ideas below.
A-

Frozen (the movie) by We Heart Parties: Frozen is so

BIG

right now and every kid loves it! Why not have a whole play-date based around the movie? Have Frozen themed food, some yummy Frozen themed treats, pin the nose on Olaf, build a snowman like Ana would want, and maybe even have a snowball fight that Elsa would love.

B-

Indoor Snowman by Modern Parents, Messy Kids:

Have the kids make their own snowman using cornstarch and other household items.

C-

Shaving Cream Snow by Crayon Freckles:

Transform your kitchen counter into snow with shaving cream. Then take your kid's toys and play in the snow… you can shovel tracks with trucks, get people 'snowed' in their house, etc. This will put your kid's imagination to the test and they will have a blast!
Aren't these ideas so much fun? Now you have lots of different ideas to keep your kids happy throughout the winter.
If you are looking for more fun kid ideas, check out this indoor drive in movie or these 101 winter boredom buster ideas.