Technology is an amazing thing!  With smart phones, tablets, and the internet – there are so many incredible resources right at our fingertips.  Living in the digital age definitely has its perks when it comes to parenting and motherhood, too.  There are so many teaching tools available, if you know where to look.  And what mom wouldn't love a little help teaching and entertaining her kids?  Am I right?  So to honor ALL moms out there, we decided to round up…
The BEST Apps, YouTube channels,
& Websites for Kids!
Yep, we've gathered all the BEST fun AND educational resources for kids into one place.  Because we love you.  And we want to make YOUR life as a mom a little bit easier.

Disclaimer: This post may contain affiliate links. To learn more about 'em, click here.
 So just pin this bad boy to your mommy Pinterest board for future easy access.  Then whenever the kids are crying "I'm booooored," (or whenever you just want to teach them something new) you can pull this sucker up lickety-split and save the day.
To make browsing easier, we've divided this post into categories and sections.  That way you can just scroll down to exactly what you're looking for when you need it.  Below you'll find…
60  Apps for Kids

Language Apps
Math Apps
Science Apps
Social Studies Apps
Art Apps
Music Apps
Fun Apps

25 YouTube Channels For Kids

Educational YouTube Channels
TV YouTube Channels
Music YouTube Channels
Baby YouTube Channels

15 Websites For Kids
Something for everyone!  So whether you're looking for help teaching your child to read, or just want to have some fun singing songs together online – you'll find what you're looking for.
Ready?  Set…  SCROLL!
60 Fun & Educational Apps for Kids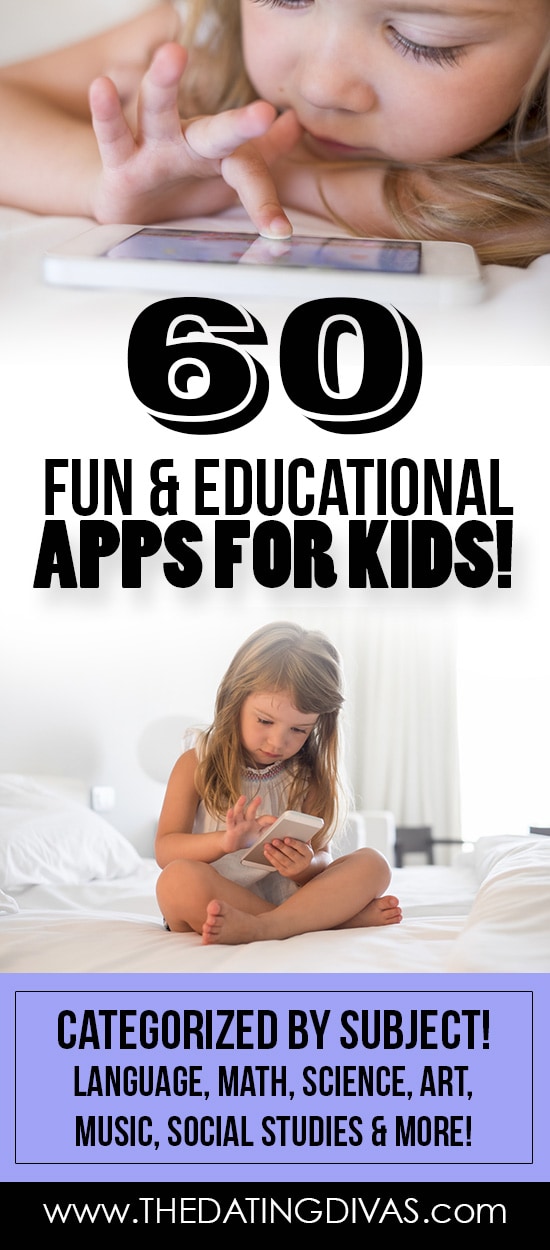 We were seriously blown away with all of the amazing apps that are out there.  If you haven't checked out the app store recently – you are missing out!  It really is true – whatever you're looking for… well, there's an app for that!  BUT we know that browsing through allllll those apps can be overwhelming.  So we gathered up our very favorites and divided them into categories for you.  These are the apps that we love, our fellow mom friends love, AND our kids love!  Now you don't have to worry about reading through all those reviews and weeding out the bad ones.  You're totally welcome.
***FYI, we know that apps get updated or discontinued all the time. We try to keep our list as up-to-date as possible! Luckily, there are others out there also compiling quality resources! Check out this list of 20 of the Best Websites to Help Children Learn from Home in 2021.
Before we get started – here are a couple of quick tips.   If you have an iPhone make sure to check out Guided Access.  It's a built-in feature that allows you to disable external buttons and select parts of the screen that cannot be clicked on.  It's pretty much a life-saver if you have little ones using your phone.  Just enter a pass code to turn it off when they're done.  And here's some good info about how to child-proof your iPad.    Finally, if you're going to let your little one play with your mobile devices, you might consider getting a durable, kid-proof case.  I've heard great things about this Fisher-Price Laugh & Learn iPhone case and the Fisher-Price Laugh & Learn Apptivity iPad case.
Okay, now that that's out of the way, let's get started…
Language Apps for Kids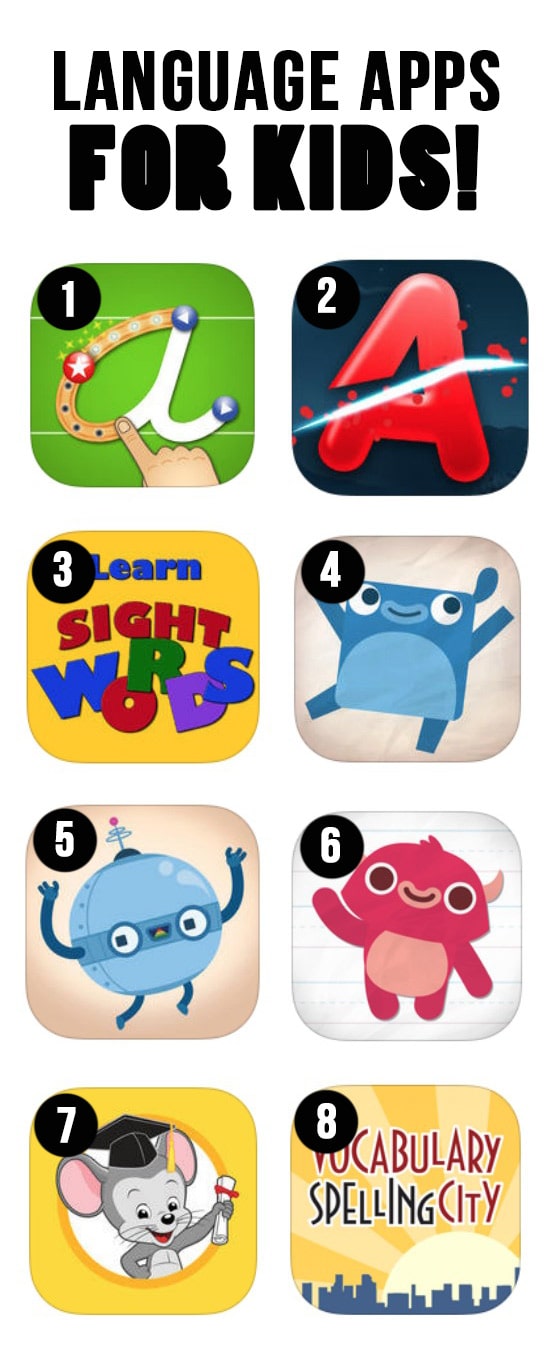 1.  LetterSchool–  A fun tracing app to help kids learn to write their letters and numbers. The different drawing options make learning to write fun. 
2.  ABC Ninja–  An exciting educational game that helps kids rapidly learn their letters by sight, sound, and touch, ninja-style. 
3.  Learn Sight–  See and hear over 300 sight word flashcards. In most schools, children are expected to learn these "high-frequency" words by sight, without sounding out, by the end of the first grade.
4.  Endless Alphabet–  A fun way for children to learn their letters and the sounds they each make.  My sister recommended this one to me, and it's one of the apps my 3 year old could play forever.  
5.  Endless Wordplay–  A great app for expanding your child's vocabulary and improving spelling.  I love the fact that you can try the first few words for free before deciding whether or not to purchase the expansion pack.  (We totally did.)
6.  Endless Reader–  What can I say?  We love the Endless apps!  Endless Reader is a follow-up to Endless Alphabet and sets the stage for early reading success by introducing sight words for reading fluency. 
7.  ABC Mouse–  You can subscribe to ABCmouse.com from within this app, and have different accounts for each of your children.  If you haven't heard of ABC Mouse, you should definitely check it out.  It's the #1 learning program from ages 2-7.
8.  Spelling City–  A fun way to learn spelling and vocabulary words by playing engaging games using any word list.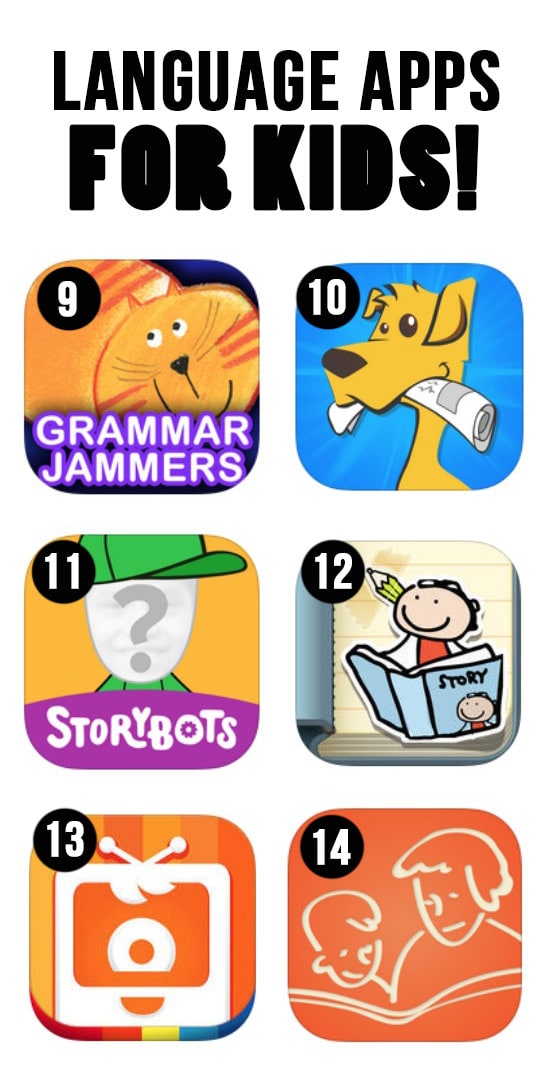 9.  Grammar Jammers-  This game is no longer available 🙁
10.  News-O-Matic–  New articles every day to inspire kids to love reading the news — and understand what's happening around the world. 
11.  StoryBots–  The StoryBots app makes storytelling even more magical by making your child the star of a beautifully illustrated and animated storybook that features their face and name.
12.  Kid in Story Book Maker–  A great way to create personalized stories with your kids.  You can use the provided story templates, change the photos, and listen to your own recording.
13.  TeleStory–   Kids can write, direct, and star in their own TV show!  Pick a theme, then mix and match over 30 animated scenes to film your own story.
14.  Kindoma Storytime– Share a bedtime story with your child long distance over video chat!  Great for military families, grandparents who live far away, or whenever you have to be apart from your little ones.
Math Apps for Kids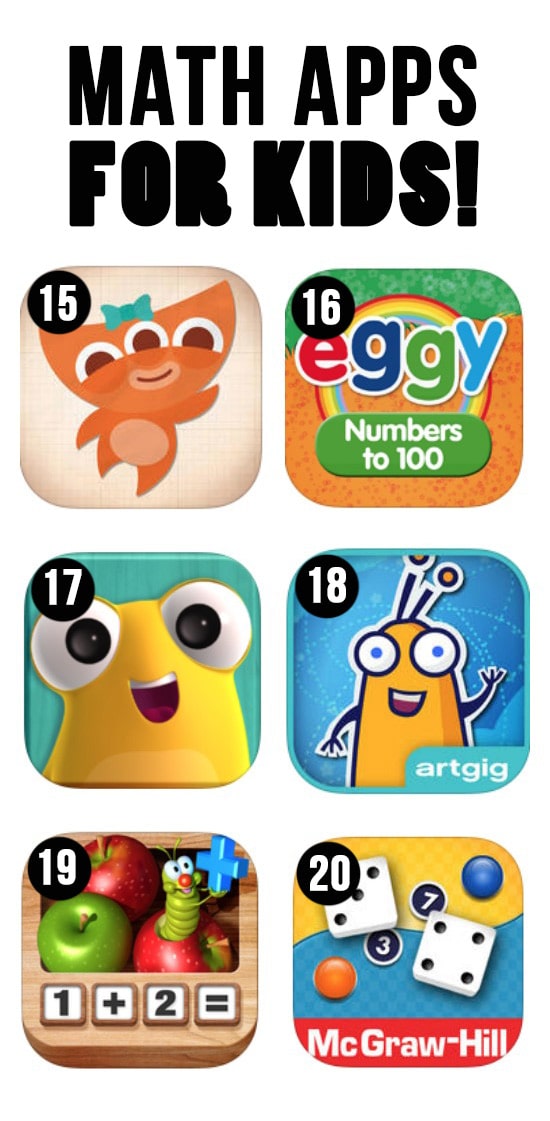 15.  Endless Numbers–  A great app for teaching your child numbers.  The free version is limited but every little kid I know loves it,  so I think it's well worth the money for the full version in the long run!
16.  Eggy Numbers to 100–  A fun app that teaches children aged 6–8 addition skills for numbers up to 100 in 6 different interactive games.
17.  BeBop Blox- Darn this fun puzzle is no longer available 🙁
18.  Alien Buddies–  Fun activities like matching games, puzzles, and dot-to-dot reinforce colors, shapes, numbers and letters for ages 3-7.
19.  Adding Apples–  A great hands-on learning tool for children who aren't yet ready to move onto abstract addition and still need objects to count up with.
20.  Everyday Mathematics–   A competitive two-player game to practice addition facts.   This game is perfect for parent-child or child-child pairs.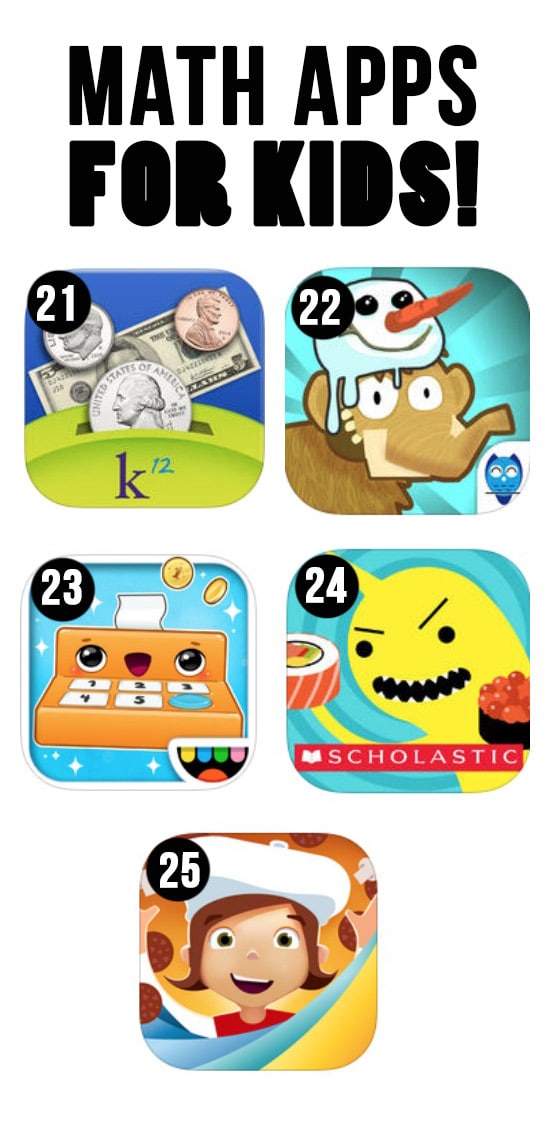 21.  Counting Bills & Coins–  Helps children practice money skills by identifying and solving math problems with money. Count, match, and make change with coins up to quarters and bills up to $20.
22.  Slice Fractions–  Slice through ice and lava to clear the mammoth's path, unraveling the mystery of fractions!  A great way to teach math without it feeling like a lesson.
23.  Toca Store–  Toca Store lets the players try out the roles of storekeeper and customer. It is preferably played by two players, but works fine for a single child, too. 
24.  Sushi Monster–  Children can strengthen their reasoning strategies for whole number addition and multiplication by helping monsters make a target sum or product. They earn points with each correct answer… but have to watch out for distractions!
25.  Motion Math: Pizza!-  This math game app is no longer available 🙁
Science Apps for Kids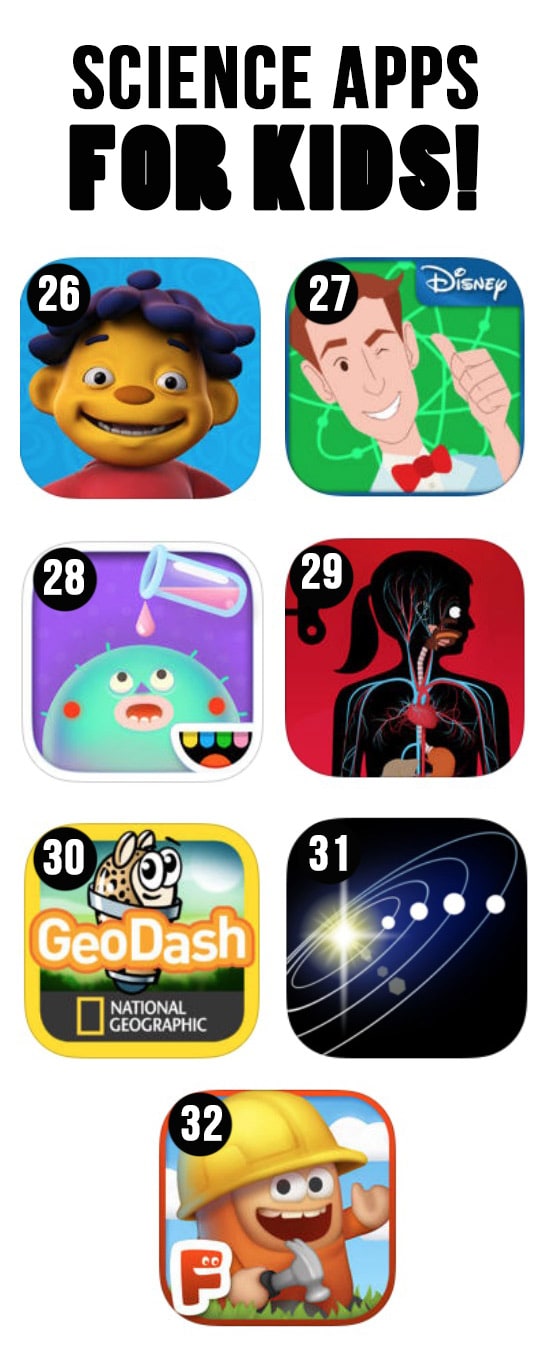 26.  Sid's Science Fair-  This fun app is no longer available 🙁
27.  Bill Nye the Science Guy-  Darn, this Bill Nye app is no longer available!
28.  Toca Lab–  Explore the colorful and electrifying world of science and meet all 118 of the elements from the periodic table.
29.  The Human Body–  Explore a working model of the body. Every part is animated and interactive: the heart beats, guts gurgle, lungs breathe, the skin feels, and eyes see. Designed for young kids to discover what we're made of and how we work. 
30.  GeoDash: Wild Animal Adventure-  This app isn't available anymore 🙁
31.  Solar Walk – Planets of the Solar System–  This 3D solar system model lets you navigate between planets, see their positions on a specific date, and explore how they move and why.
32.  Inventioneers–  An interactive game that lets kids create their own crazy, fun inventions!  They can even share their inventions with their friends, too.
Social Studies Apps for Kids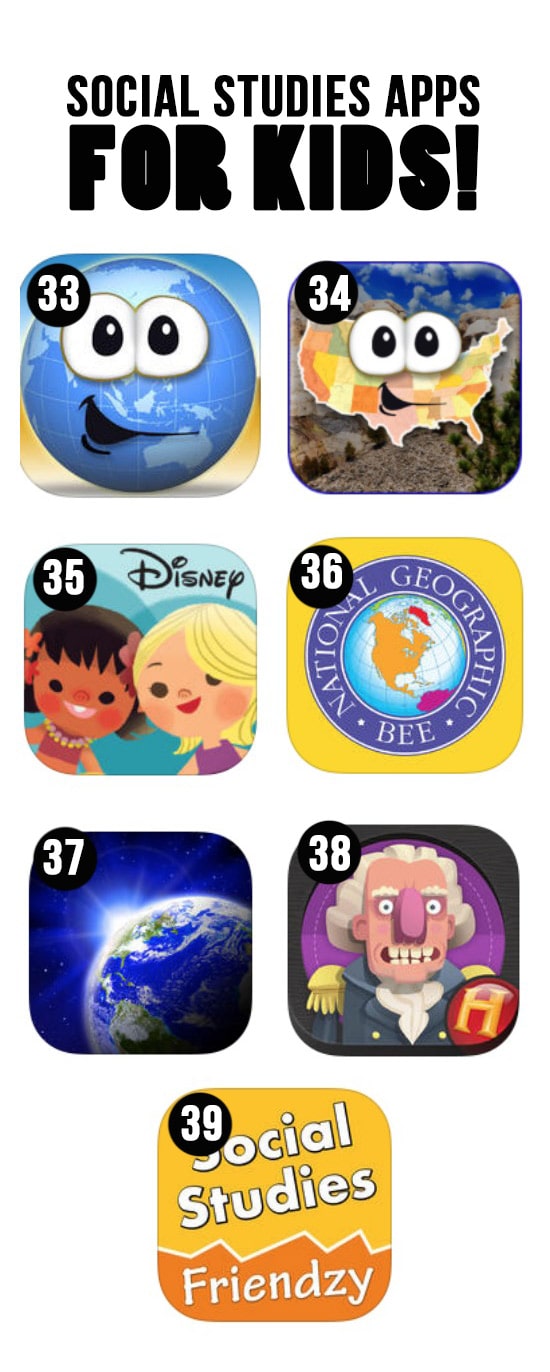 33.  Stack the Countries–  As your child learns country capitals, landmarks, and geographic locations, he  can actually touch, move, and drop the animated countries anywhere on the screen. Once he builds a stack of countries that reaches the checkered line, he wins and moves on to the next level.
34.  Stack the States–  A fun geography game for kids to learn state capitals, shapes, map locations, flags, and more.
35.  It's a Small World-  This fun app is no longer available 🙁
36.  GeoBee Challenge–   An entertaining and challenging test of your child's geographic knowledge.  This is a challenging game, so it's not for beginners.  It's meant for kids in grades 4-8.
37.  Back in Time–  Back in Time takes children on an exploration of the history of our Universe, Earth, Life and Civilization. 
38.  Frontier Heros-  This app is no longer available 🙁
39.  Social Studies Friendzy–  Kids can learn Social Studies lessons playing alone, with friends, or with other kids around the world. Parents can view their child's Social Studies scores as well as the time they've spent playing.
Art Apps for Kids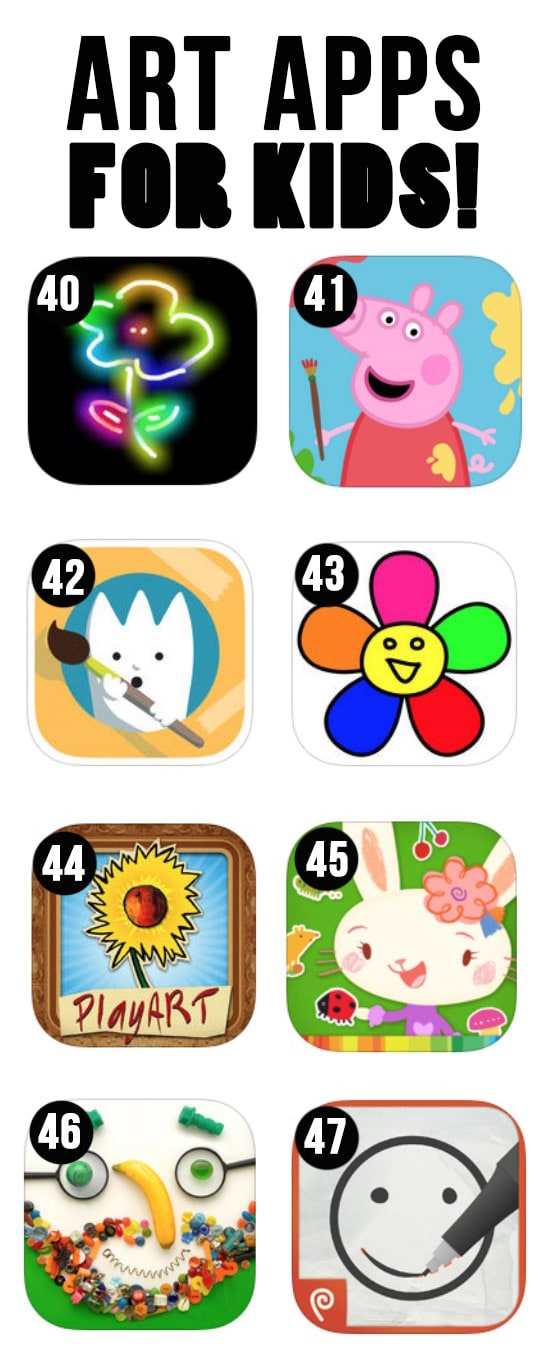 40.  Kids Doodle–  A simple, easy-to-use painting app specifically for little kids to enjoy doodling. It has more than 10 different brushes!
41.  Peppa's Paintbox-  This app is no longer available 🙁
42.  Coosi Box–  A fun app for drawing and sharing pictures and stories with children all over the world.  Children can pick a theme and then use their imagination to fill the screen.

43.  My Coloring Book–  Coloring pages for all ages.  The app has 244 different, hand drawn pictures to choose from.
44.  PlayART–  Your child can play, learn, and create their own masterpiece with elements taken from the original works of 8 masters: Katsushika Hokusai, Paul Cézanne, Claude Monet, Henri Rousseau, Vincent Van Gogh, Gustav Klimt, and Paul Klee e Amedeo Modigliani.
45.  Lazoo's Magic Stickers-  This fun app is no longer available 🙁
46.  Faces iMake–  A modern version of Mr. Potato Head that encourages kids to be creative and express themselves. 
47.  Let's Learn How to Draw–  An app of interactive drawing lessons that teaches your child by breaking everything down into simple pieces.
Music Apps for Kids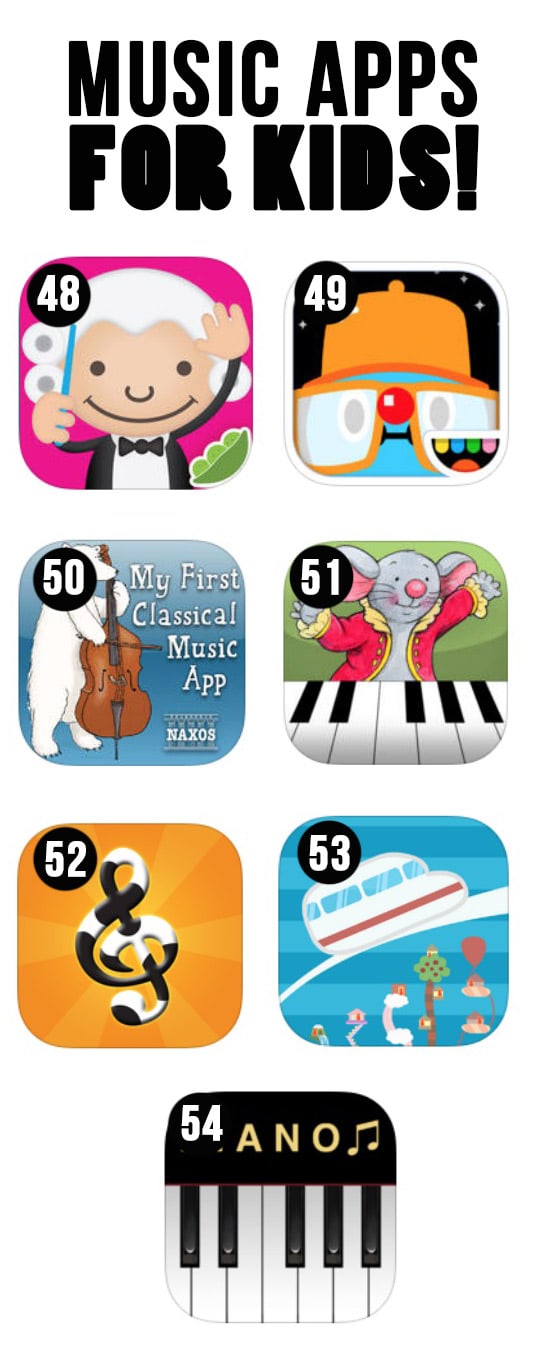 48.  ABC Music–   Lets your child explore a world of pianos, violins, maracas & more through beautiful pictures, lively videos, and interactive scenes.
49.  Toca Band–  Toca Band encourages children to explore music in a new creative way! Choose from 16 different characters – each with their own unique sound and rhythm. Put your band members on stage to get the music started – then move them around and see what happens!
50.  My First Classical Music App–  A full album of music includes Mozart's Magic Flute, Williams's Harry Potter and the Sorcerer's Stone, Prokofiev's Peter and the Wolf and many more.
51.  Music for Little Mozarts–  Your little one gets to go on an adventure with Beethoven Bear and Mozart Mouse as they learn about music!
52.  Moozart-  This barnyard-themed app is no longer available 🙁

53.  Tune Train–  The universe of TuneTrain is completely governed by musical rules. The various heights that people live at represent different pitches and the distance between people represent note lengths.
54.  Piano–  A free interactive piano with animated songs.  Children can tap to play 50 different songs with background music. The keys light up in rhythm with the song so they always know which note to play.
Fun Apps for Kids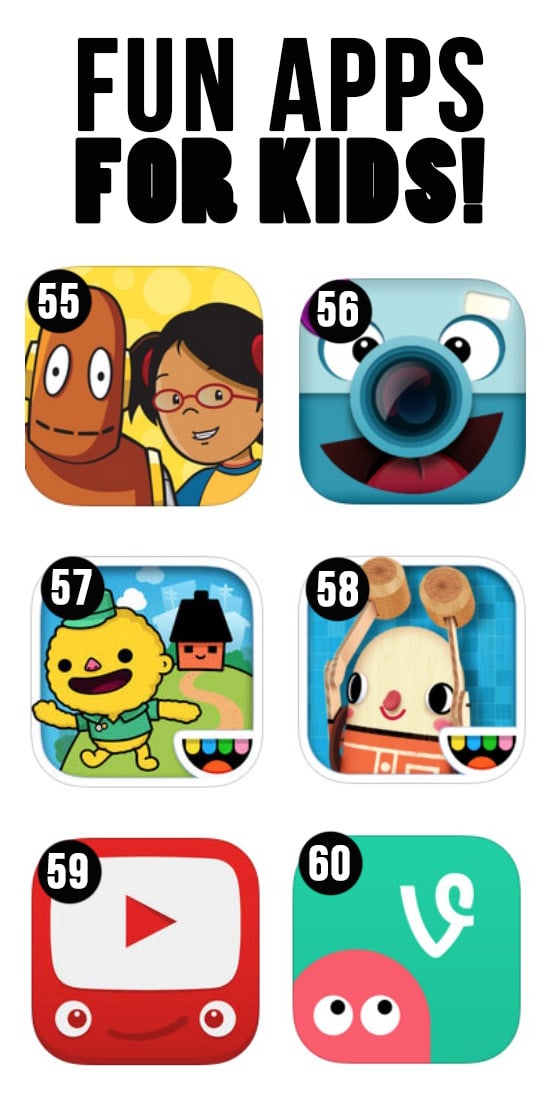 55.  BrainPOP Jr.–  Get a different animated movie every week and check out related quizzes and educational activities – free!  Perfect for kids in Kindergarten through 3rd grade.
56.  ChatterPix Kids–  Chatterpix Kids can make anything talk — pets, friends, doodles– whatever!
Just take any photo, draw a line to make a mouth, and record your voice.
57.  Toca Town–  Move around in Toca Town! Visit the store to buy groceries, stop by the restaurant to cook lunch, or head home to watch movies with friends.
58.  Toca Builders–  Kids can drop, spray, smash, and lift blocks to construct new objects.  They can even join builder friends and create a whole new world with blocks – whatever they can imagine!

59.  YouTube Kids–  This app has a kid friendly interface with sound effects that only allow videos suited for younger age groups.  My favorite part is that it allows parents to disable the search feature for safety, and it also has a built-in timer to let your kids know when it's time to stop.
60.  Vine Kids-  Darn, this fun link is no longer available 🙁
25  Fun YouTube Channels For Kids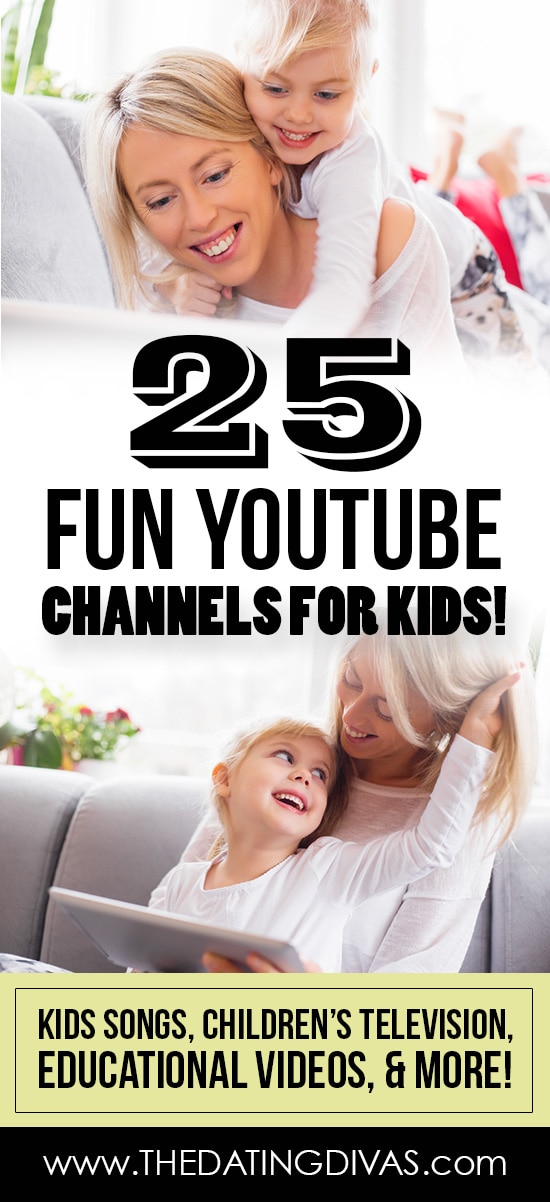 You've probably seen lots of funny and inspirational YouTube videos as you've scrolled through your Facebook feed, but did you know there there are whole YouTube channels dedicated to kids?  I don't know about you, but I'm pretty picky about what I let my kids watch online.  And we all know that searching on YouTube can sometimes pull up inappropriate ads and videos.  That's why I love being able to subscribe to our favorite, kid-friendly channels.  My girls love singing along with the kid songs and the TV channels have saved me from a couple of toddler melt-downs during long road trips.
Educational Kid YouTube Channels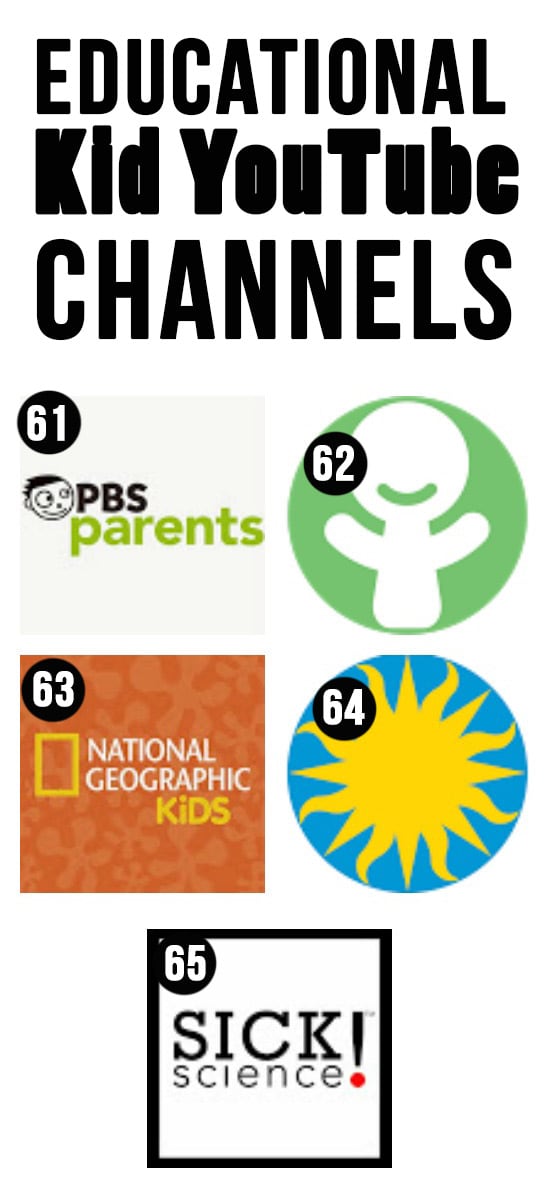 61.  PBS Parents–  Fun and simple ideas to enhance your child's math, literacy, and social emotional skills at home. 
62.  Have Fun Teaching–  Free educational songs and videos for teachers, parents, and kids!
63.  National Geographic Kids–  Hosted by kids for kids, they've created fun playlists on animals, science, pets, and more. And they add a new playlist every week.
64.  Smithsonian–  The smithsonian is collection of 19 museums — plus a zoo & 9 research centers.  Learn from experts in art, design, history, culture, science and technology.
65.  Sick Science– Really cool science experiments that the kids are sure to love.
Kid TV YouTube Channels

66.  Disney Junior– Kids can watch videos from Sofia the First, Jake and the Never Land Pirates, Doc McStuffins, Mickey Mouse Clubhouse and more!
67.  Sesame Street– Kids can watch videos from Elmo, Cookie Monster, Big Bird, Grover, Oscar, Bert & Ernie, Telly, Zoe, Rosita, Baby Bear, and Snuffleupagus.
68.  The Muppets– Short clips, trailers, and music videos from everyone's favorite muppets.
69.  Jim Henson Family TV-  Looks like this channel is no longer available 🙁
70.  The Magic School Bus- This channel isn't available anymore 🙁 
71.  PBS Kids– Kids can watch popular PBS shows like Super Why, Daniel Tiger's Neighborhood, Dinosaur Train, Wild Kratts, and more.
72.  Kids TV–  Kids can enjoy classic nursery rhymes, Aesop's Fables, Play Doh videos, and much more.
73.  Bored Shorts TV–   My kids think this channel is CRAZY hilarious.  If you haven't watched it before, they take kids talking and then have adults act it out.  Seriously funny and family-friendly.  You should check it out.
74.  Art for Kids Hub–  Kids can follow along with the videos and learn how to draw fun cartoons and characters.  
Kid Music YouTube Channels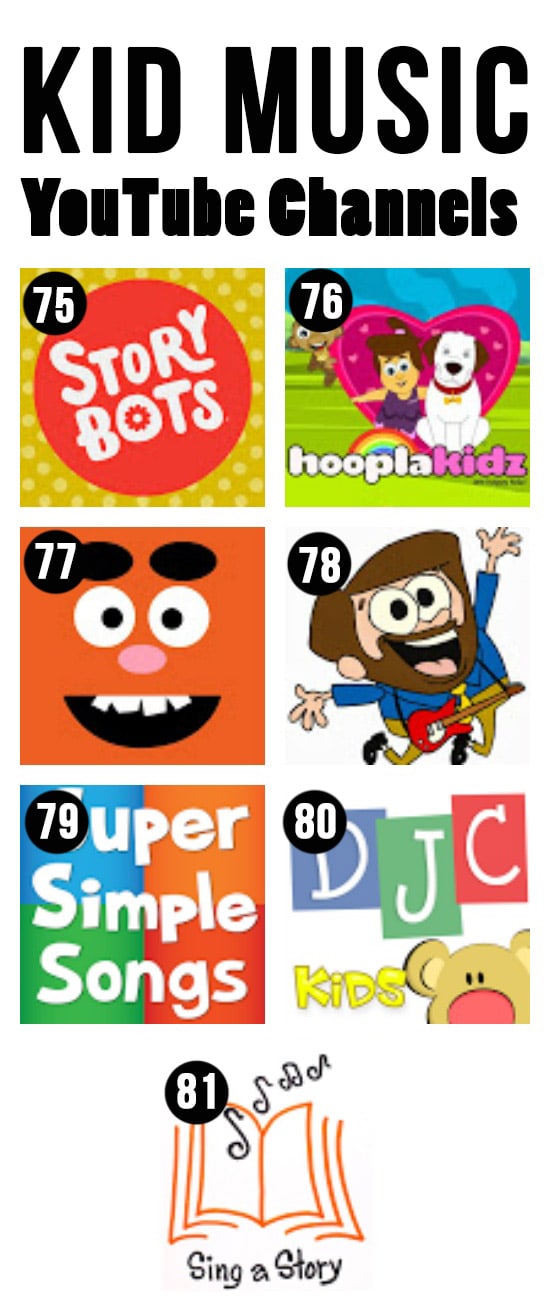 75.  StoryBots–  From books that make your child the star of the show, to rockin' ABC videos, the StoryBots offer a large collection of videos designed to entertain grown-ups as much as kids.
76.  Hoopla Kidz–  HooplaKidz is one of the most popular YouTube channels for preschoolers featuring the cutest characters in town singing and dancing to popular nursery rhymes and original songs!
77.  Pancake Manor–  A mix of classic nursery rhyme songs for kids (Itsy Bitsy Spider, Old McDonald, Wheels on the Bus, Five Little Monkeys) and originals made fun and simple for toddlers.
78.  Eric Herman Music– Award-winning, catchy songs and videos for kids.
79.  Super Simple Songs– Children's songs that are easy-to-teach, easy-to-learn, and super fun.  New uploads every Wednesday!
80.  DJC Kids–  Fun children songs, nursery rhymes and animated stories perfect for kids!
81.  SingAStory–   Sing-along children's books that help turn story time into singing time! They feature everything imaginary, educational, and just plain fun!
Baby YouTube Channels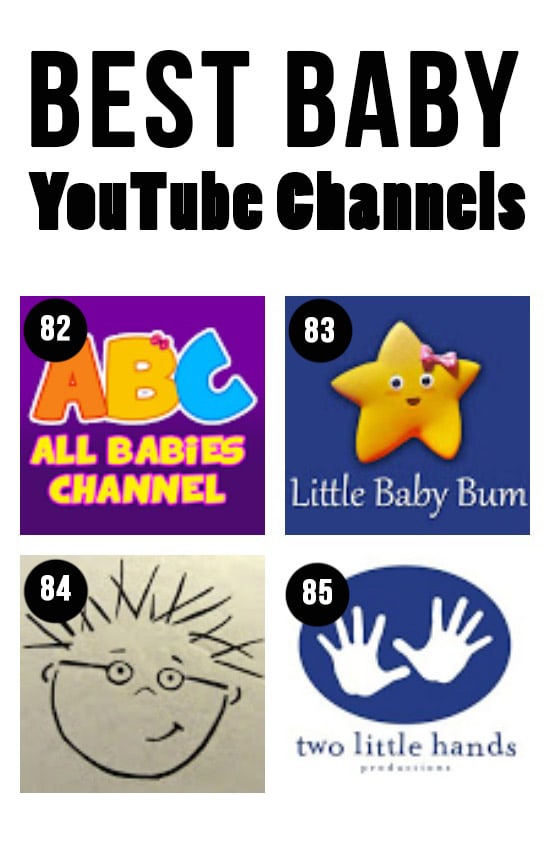 82.  All Babies Channel– Colorful animated videos specially designed for babies including, phonics songs, lullabies, and fun cartoon series.
83.  Little Baby Bum–  The best nursery rhyme videos for children on YouTube.  There's a new video every week!
84.  Baby Einstein- Darn this channel is no longer available 🙁
85.  Signing Time–  Wonderful videos to teach your little ones sign language!
15 Educational Websites for Kids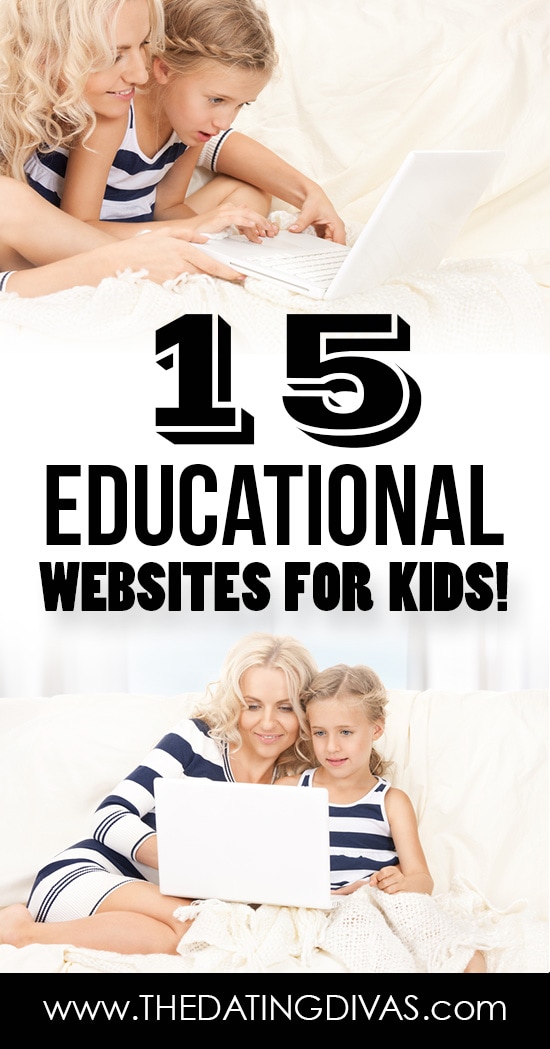 It amazes me how early kids are learning to use computers these days.  I remember going to the computer lab once a week at school to do typing lessons and play Oregon Trail.  But my first grader uses the computer every day and knows how to log-in to her classroom website to review her math lessons and study for a test.  I love that there are so many great resources online.  And I love that kids can use them to have fun AND learn at the same time.  Here are some of our favorite educational websites.  Some of them are great for you to use with your pre-schoolers getting ready for Kindergarten.  And some of them are great for school-aged kids for after school fun OR to keep them busy and learning during the summer months.

86.  ABC Mouse– ABC Mouse is a paid subscription, but it's well worth the price!  They offer a full curriculum in a carefully designed program of more than 450 lessons in six levels. As your child completes each lesson, he or she is guided to the next one and is motivated to continue learning by a ticket and reward system.
87.  Star Fall– Help your child learn the alphabet and practice phonics skills with fun songs and read-along stories.
88.  Into the Book– Kids can play lots of different games to practice several different reading strategies.
89.  Storyline Online–  Kids can listen to their favorite celebrities reading children's stories.  
90.  Fun Brain–  Lots of different math and reading arcade games.
91.  ABCYa–   Free educational kids computer games and activities for elementary students to learn on the web.
92.  National Geographic for Kids–  Kids can explore the depths of the ocean or the far reaches of space with fun online games and activities. 
93.  Wonderopolis–  Wonderopolis  is an informational site that asks and answers interesting questions about the world. Every day, a new "Wonders of the Day" question is posted, and each is designed to get kids and families to think, talk, and find learning moments together.

94.  Discovery Kids–   An educational site that covers topics such as natural disasters, growing up, machines, continents, space, and much more.
95.  Highlights Kids–   Highlight Kids is the companion website to the classic children's magazine, Highlights.  Their site features a nice blend of kid activities including games, recipes, crafts, and science projects. 
96.  Switch Zoo– Kids can watch videos, play games, put together puzzles, and even go on a "zoo quest" to learn about different animals.
97.  PBS Kids–  A website specifically designed for preschoolers. Kids will love the games and activities featuring their favorite characters from popular PBS shows like Sesame Street and Curious George.
98. Seussville–  Dr. Seuss lovers will love Seussville!  The fun, interactive site has books, games, videos, and even character profiles.
99.  Scholastic– An educational site where kids can spend hours learning something new. A lot of the information is separated by age, which makes the site's content really age-appropriate.  
100.  Brain POP–  A pay site that creates online animated curriculum-based content that is aligned to state education standards. 
Did we miss any of your favorites?  If you have a favorite, tried-and-true kids app, YouTube channel, or website that we didn't list – let us know in the comments below.  We're always looking for more!
For more kid fun, make sure to check out these popular posts…
60 Spring Break Boredom Busters for Kids