Christmas Dinner Ideas 2022
It's the most wonderful time of the year–time to drink hot cocoa and snuggle by the fire, time to watch ALL the Christmas movies, and especially time to eat scrumptious food! So if you're wondering what Christmas food you will make this year, we've got you covered! Keep reading for 50 fun and festive Christmas dinner ideas for 2022!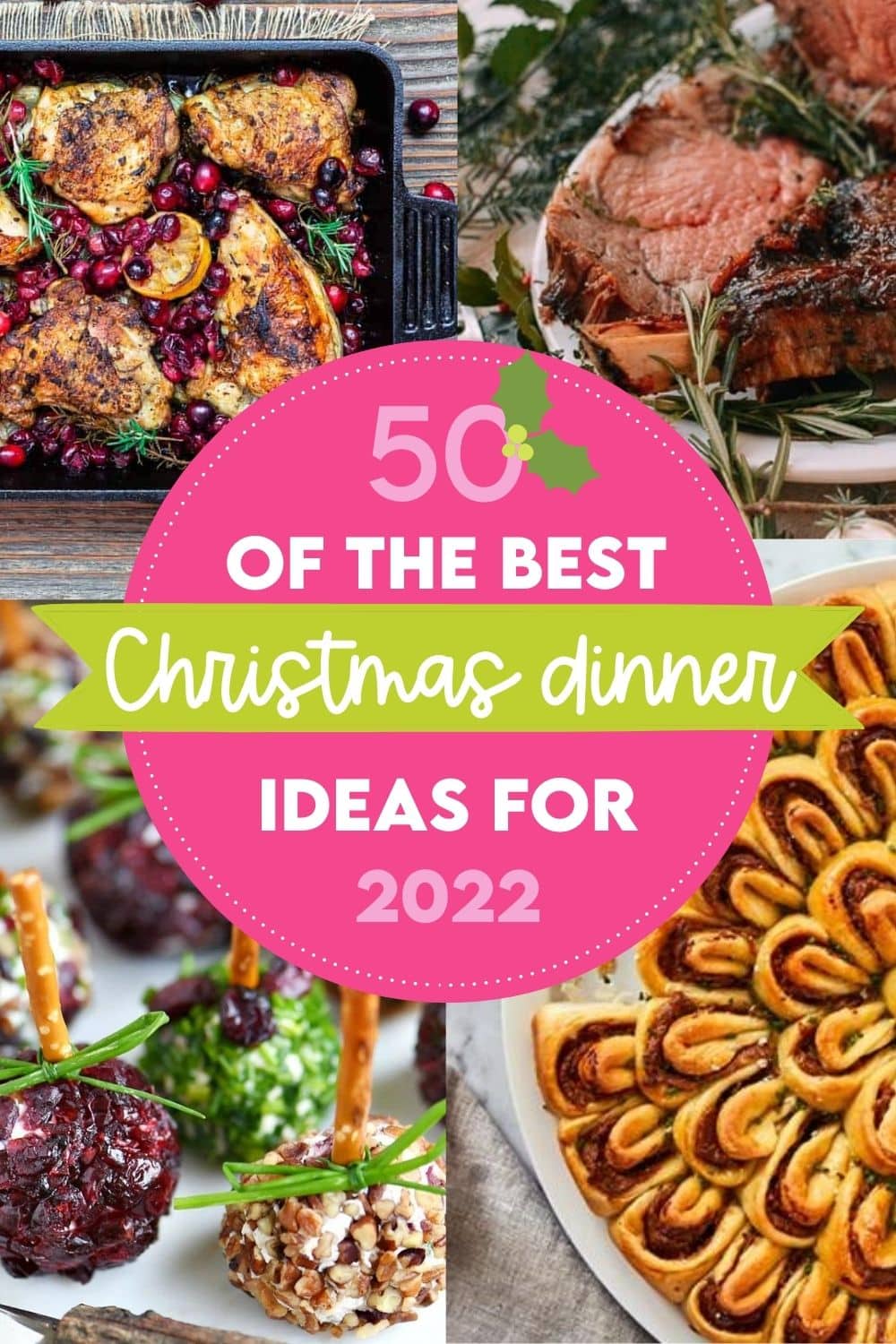 Disclaimer: This post contains affiliate links. To learn more about 'em, click here.
To help navigate the yummy Christmas dinner recipes, we've broken them down into categories for you. Below you will find ideas for appetizers, main dishes, dishes to feed a large crowd, dishes to make in under 30 minutes, side dishes, and fun dinner ideas for kids! So, what are you waiting for? Go ahead and take a look!
Table of Contents
Christmas Dinner Ideas: Appetizers
Appetizers… the warm-up to what you are actually going to eat for dinner. Everyone loves a good appetizer, so make sure your guests don't get antsy waiting for dinner to be served. We have a good variety for you to choose from!
1. Perfect Holiday Cheese Board (Damn Delicious): How gorgeous is this holiday cheese board? The garnishes make it look extra festive! Take a peek at these adorable Christmas-themed boards!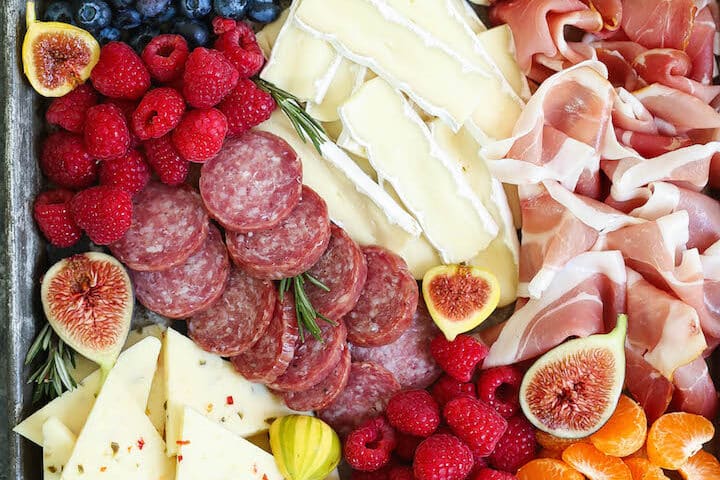 2. Brown Sugar Bacon Wrapped Smokies (Dinner Then Dessert): Li'l smokies wrapped in bacon… do we really need to say anything else? 😉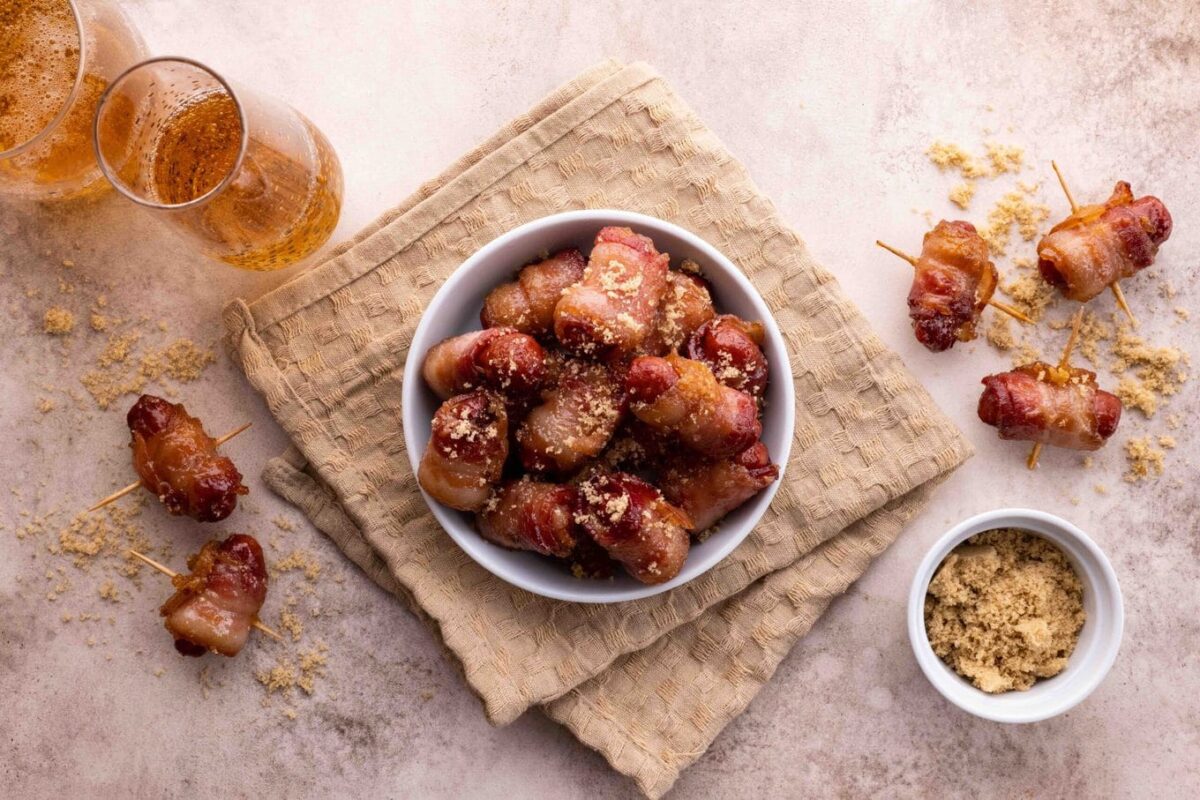 3. Apple Cranberry Brie Bites (Tidbits): Cranberry is definitely one of the must-have Christmas foods! We just love the deep ruby red of this appetizer.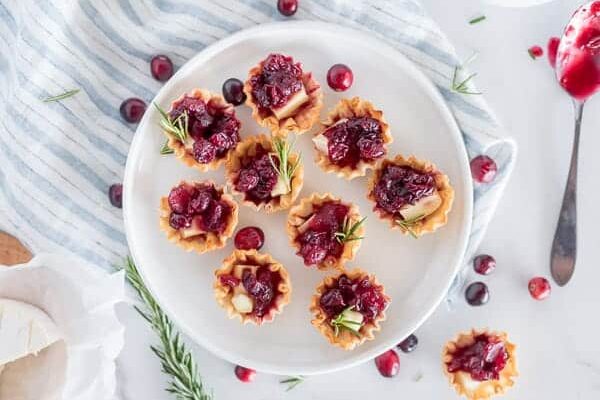 4. Baked Biscuit Wreath Dip (Delish): This spinach ring dip will have everyone going for seconds!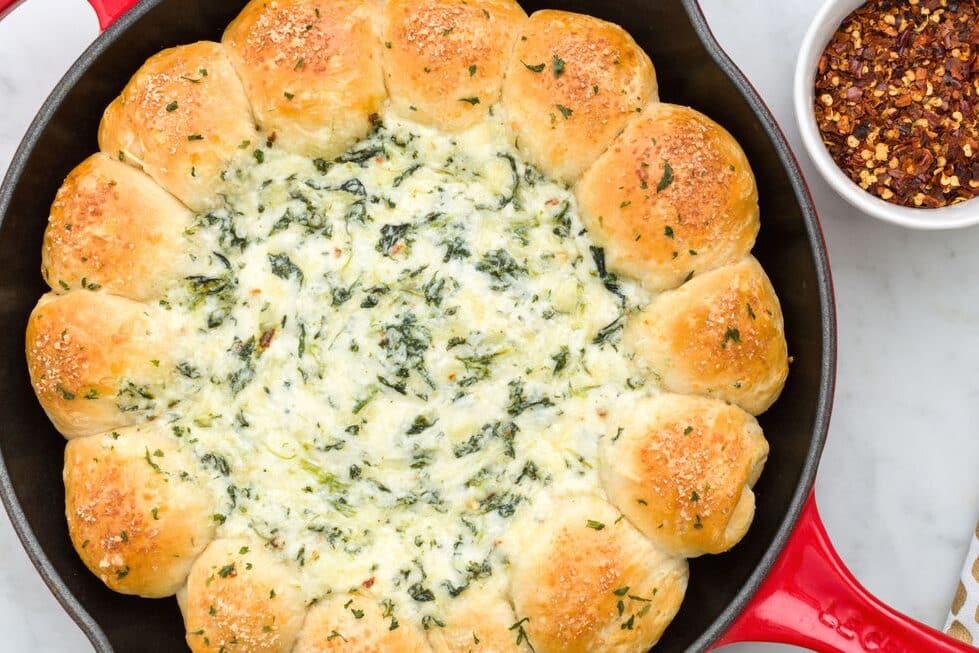 5. Cranberry Pecan Mini Goat Cheese Balls (Mom On Timeout): Not only are these goat cheese balls simply beautiful, but you can easily make them in advance, giving you time to make more Christmas Dinner recipes!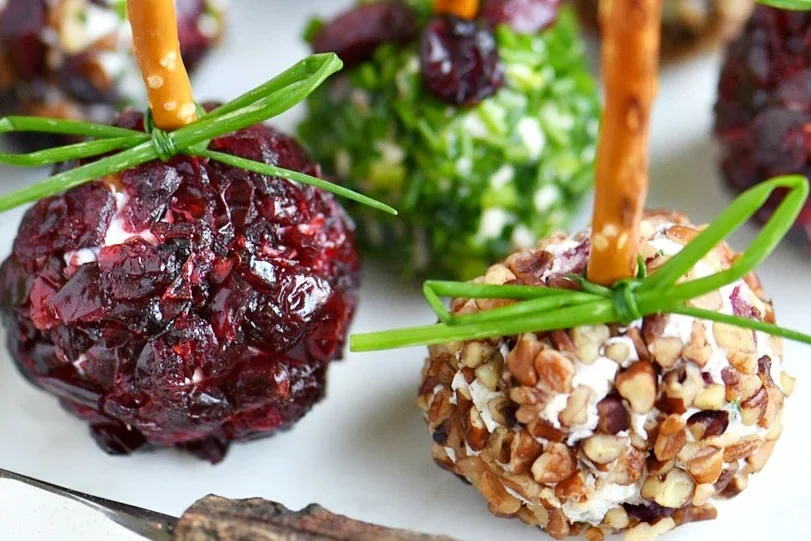 6. Bruschetta Bread (Cupcake Diaries): The bruschetta can be made in advance, making this Italian classic a very convenient appetizer.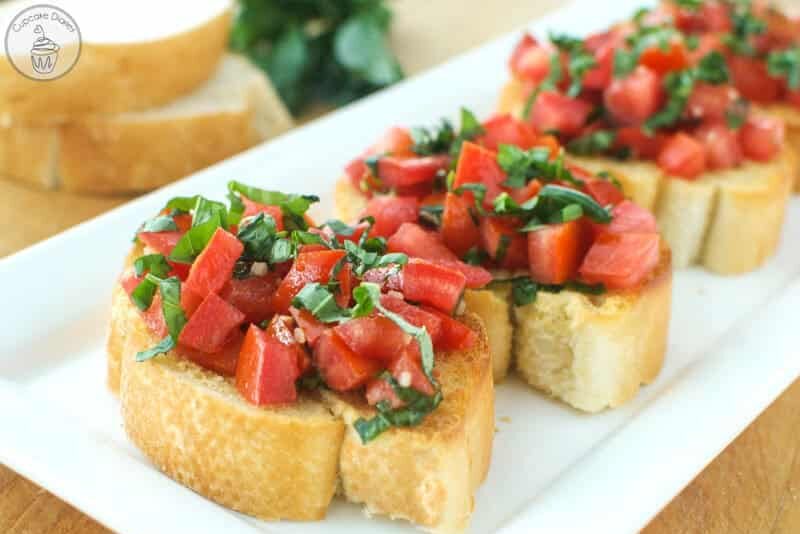 7. Slow Cooker Cocktail Meatballs (Damn Delicious): Put these in your crockpot and forget about them until it's time to celebrate!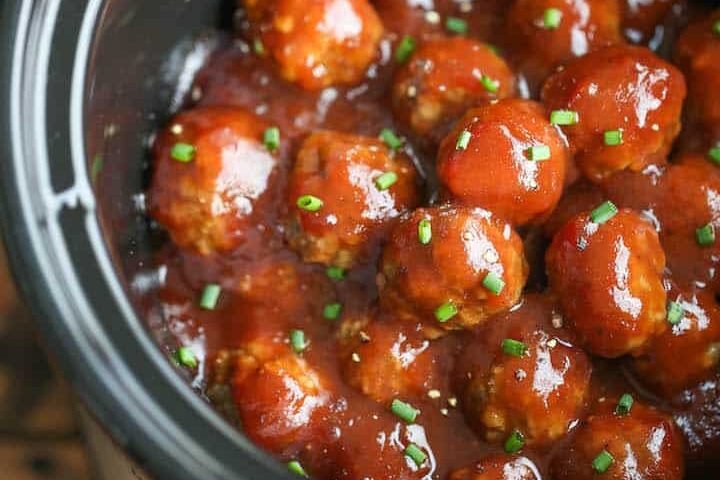 8. Pomegranate Jeweled White Cheddar Cheeseball (How Sweet Eats): Have you ever seen such a beautiful cheeseball? We definitely haven't! It almost looks too pretty to eat… almost.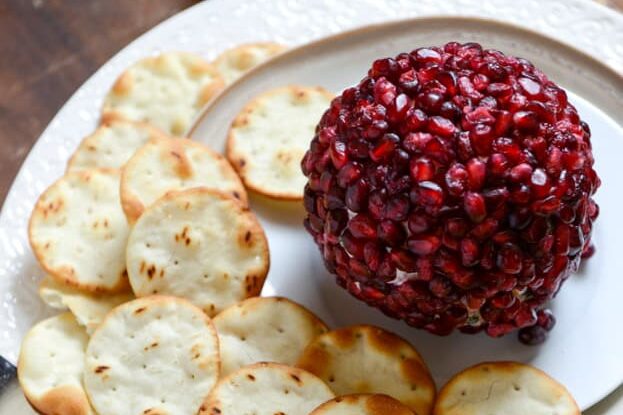 9. Cocktail Wieners with Smoky Chipotle-Orange Sauce (All Recipes): These festive appetizers definitely have a kick to them. Don't forget the toothpicks!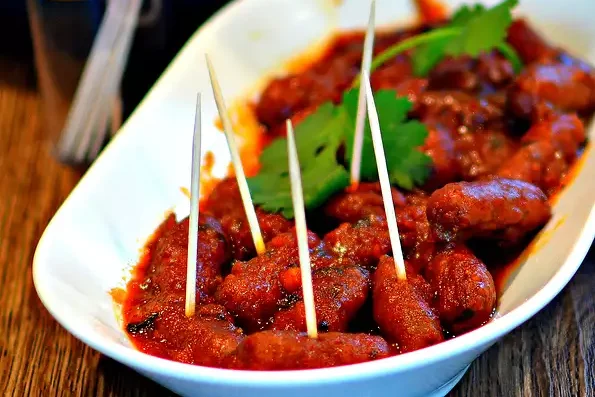 10. Pull-Apart Bread with Caramelized Onions and Goat Cheese (PureWow): Meet Monkey Bread's savory and much more elegant cousin! This Christmas dinner recipe looks amazing!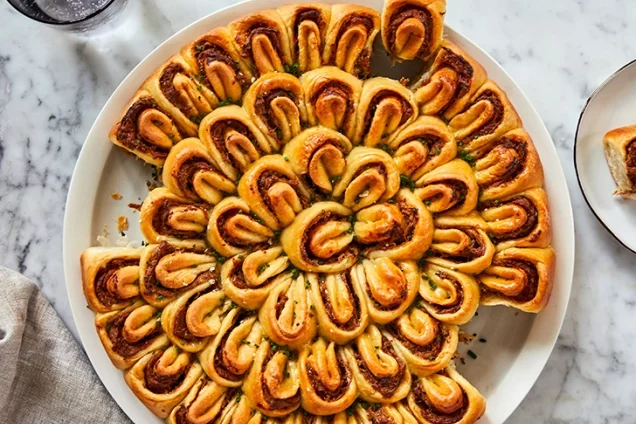 Traditional Christmas Dinner Ideas: Main Dish
The main dish is like the centerpiece of your dinner, so make sure you pick a good one. We've got lots for you to choose from!
11. Baked Cranberry Chicken (The Mediterranean Dish): Doesn't this look like Christmas in a dish? Rosemary, garlic, cranberries, and citrus… don't pass this one up!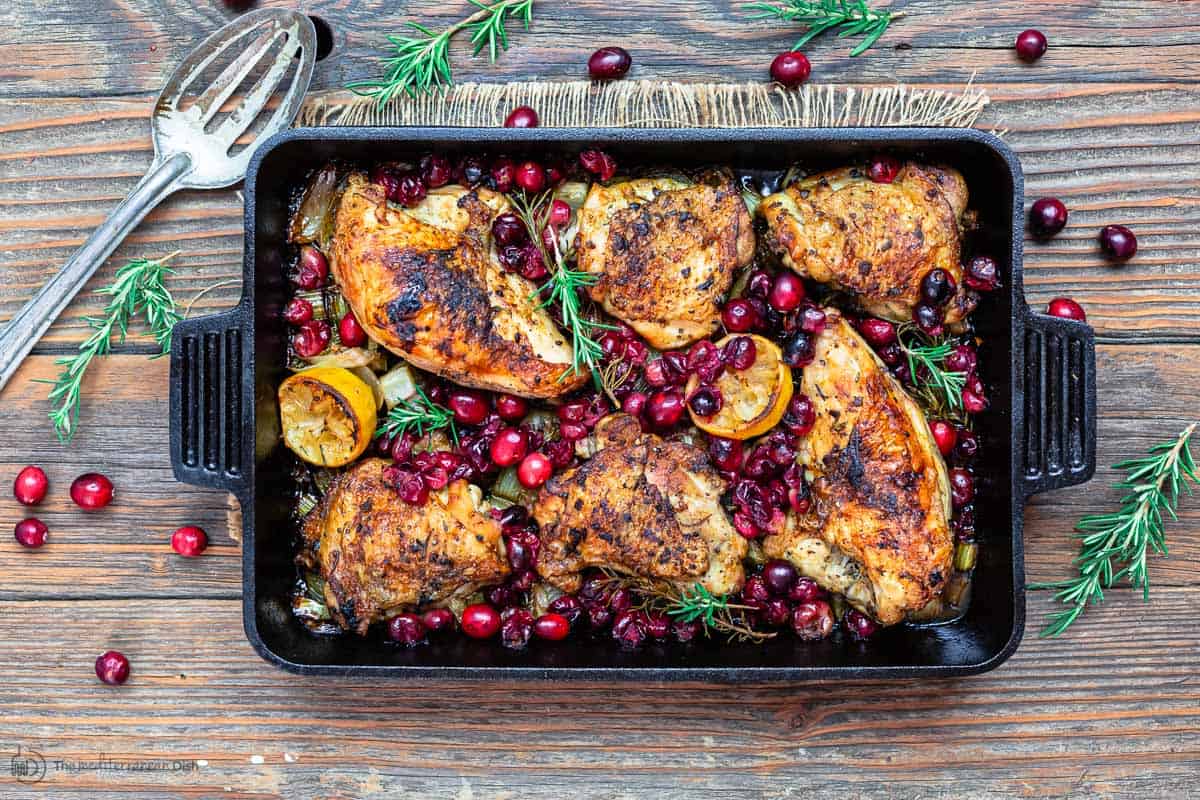 12. Brown Sugar and Pineapple Glazed Ham (Yellow Bliss Road): Still looking for Christmas Eve dinner ideas? Sweet and savory, this glazed ham would be the perfect main dish.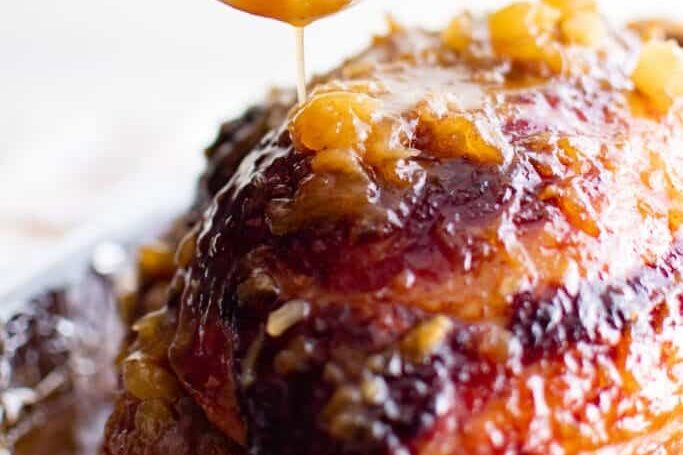 13. Perfect Prime Rib Roast (The Woks of Life): This prime rib roast is perfect for those who want something different than the traditional turkey or ham.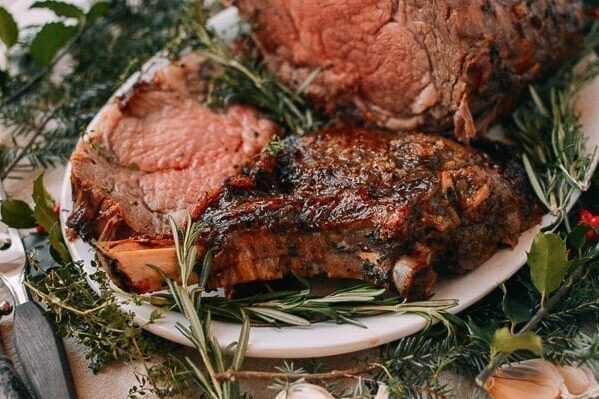 14. Roast Turkey with Herb Butter (Yellow Bliss Road): Trust us, the garlic herb butter is what dreams are made of!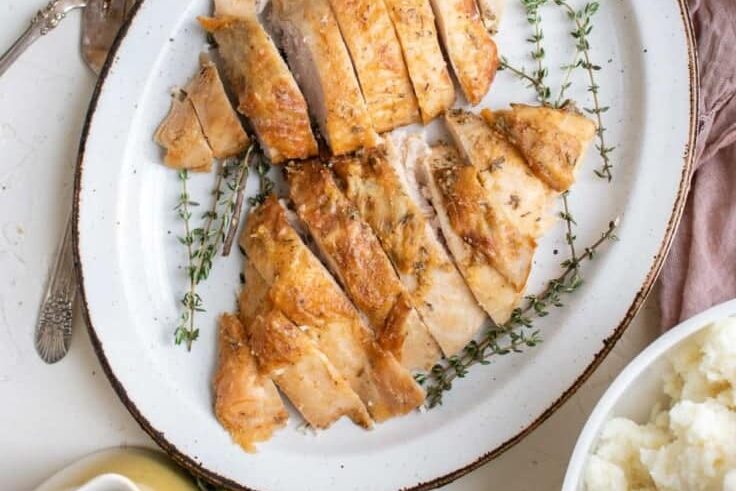 15. Braised Beef with Cranberries (Art From My Table): This braised beef Christmas dinner recipe is so juicy and tender, and it's super easy to make! Plus, it's so beautiful! We could just stare at it all day.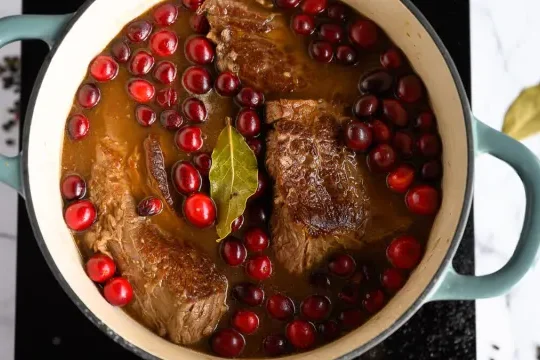 16. Pomegranate-Sumac Chicken with Roasted Carrots (PureWow): This looks like something on a Hallmark Christmas movie! We can only imagine how scrumptious it smells!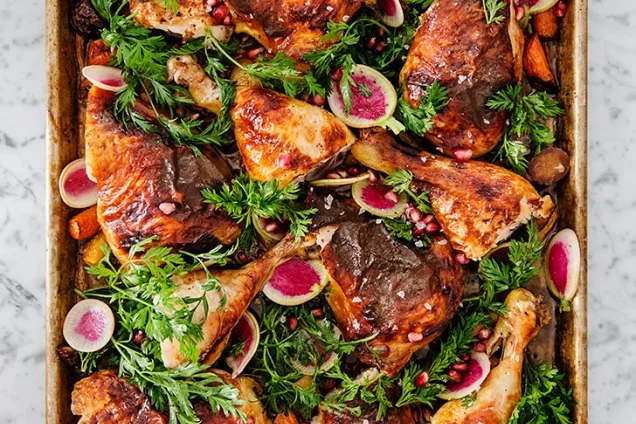 17. Lasagna (Taste of Lizzy T): Classic lasagna is one of the best comfort foods, and what can be more comforting than Christmas dinner with those you love most? This ceramic bakeware set would make your Italian dish even more festive!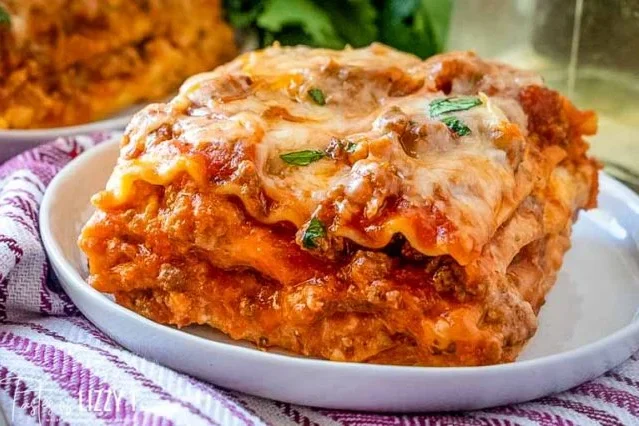 18. Mexican Tamales (Tastes Better From Scratch): Known as a traditional Christmas Eve dish for many centuries, these Mexican tamales will help you throw a festive fiesta for your family. Feliz Navidad!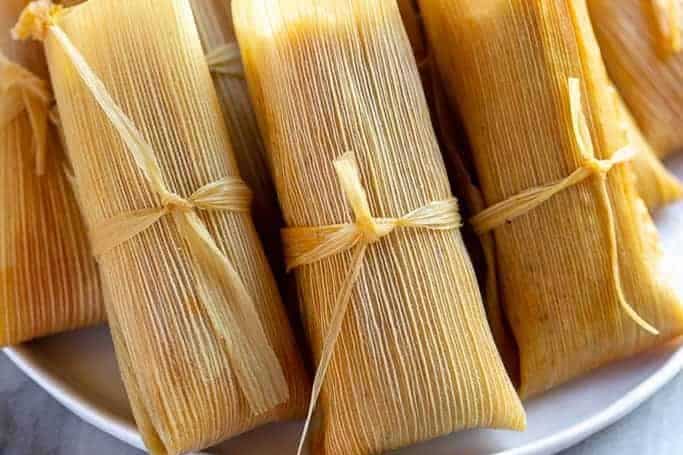 Christmas Dinner Ideas for Large Groups
Do you have a crowd coming for Christmas dinner this year, or are you hosting a big Christmas party? Not to worry, we have some great crowd-pleaser recipes for you to peruse. Just make sure to check the serving size and double or triple the batch accordingly!
19. Tortellini Soup with Italian Sausage (PureWow): We love the rich red and green colors of this soup. So festive! Not to mention, pasta filled with cheese is sure to please even the pickiest of eaters! Try using a ceramic dutch oven for your soup.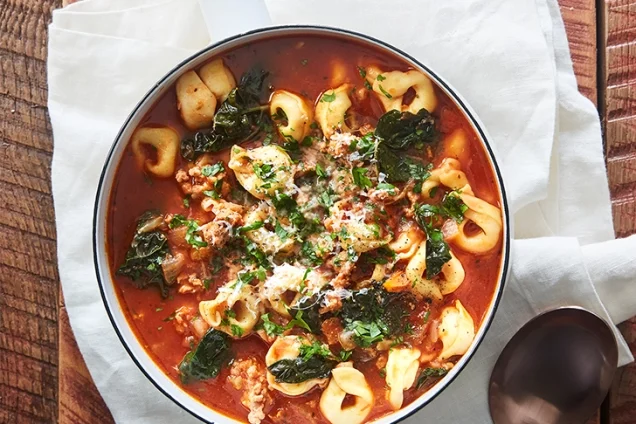 20. White Pesto Spinach Lasagna (Half-Baked Harvest): This dish is perfect for making ahead of time and popping it in the oven before your guests arrive. Make a few pans of it for larger groups!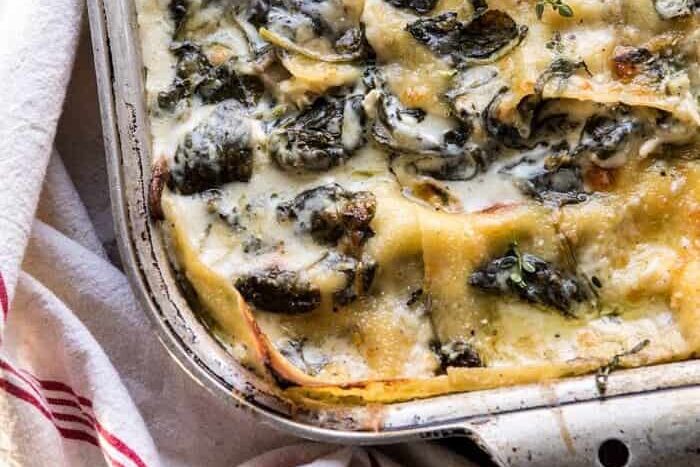 21. Slow Cooker Crispy Carnitas (The Modern Proper): Let your slow cooker do all the hard work for you. Everyone will love the taste of this delicious Mexican-style pulled pork!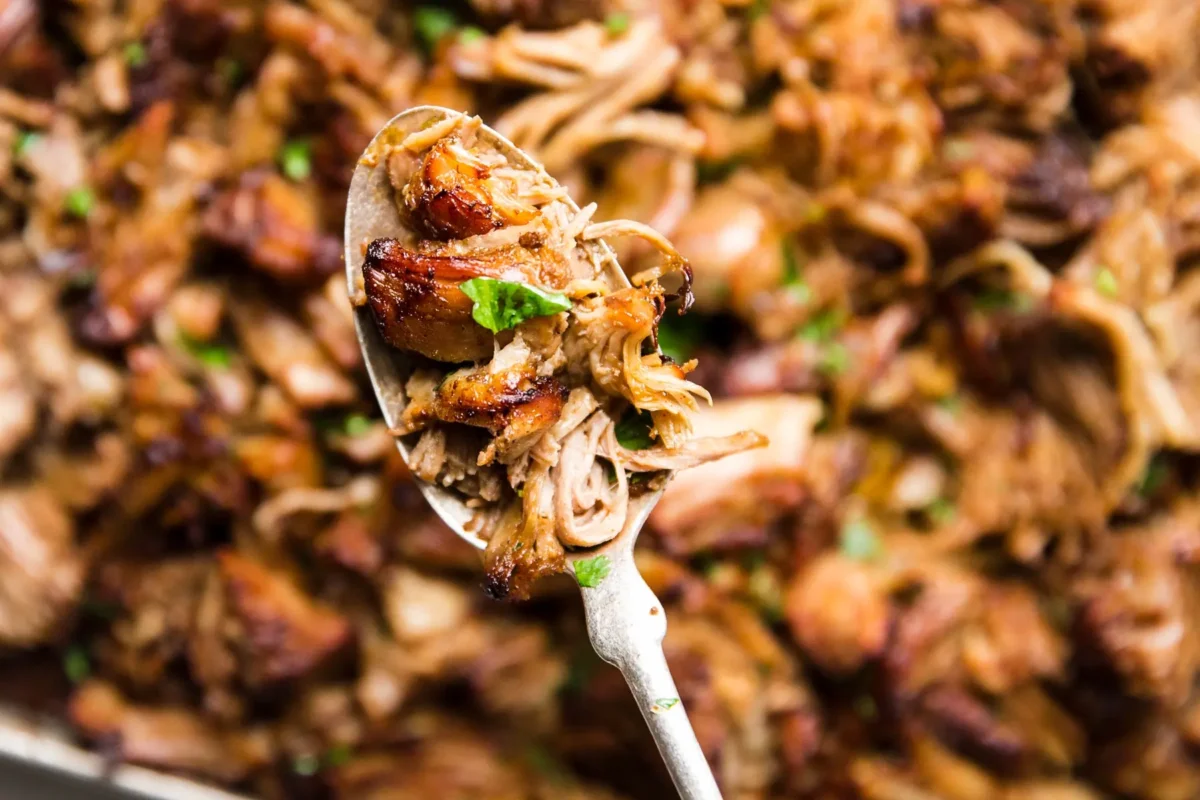 22. Chicken and Dumplings (Two Peas and Their Pod): Often touted as the ultimate comfort food, this yummy dish will fill everyone up!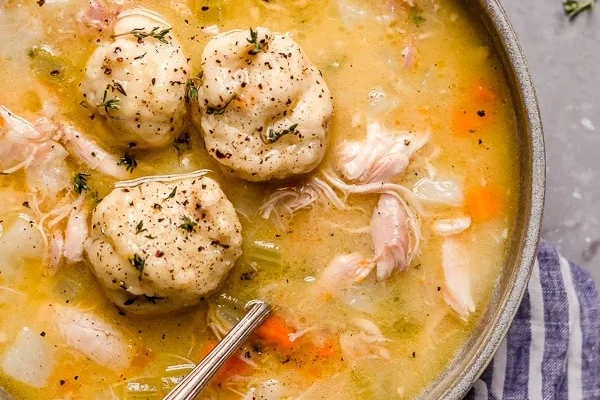 23. Korean Grilled Steak with Toasted Sesame Chimichurri (Half-Baked Harvest): All of your family and friends will rave about this Korean grilled steak. The toasted sesame chimichurri wraps the dish up nicely!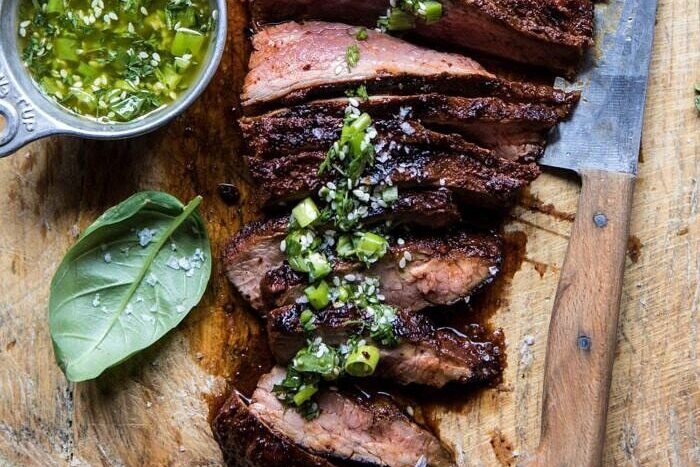 24. Ravioli Lasagna (PureWow): Why spend time cooking lasagna noodles when you can just use frozen ravioli? You probably won't want to eat traditional lasagna ever again after eating this tasty dish!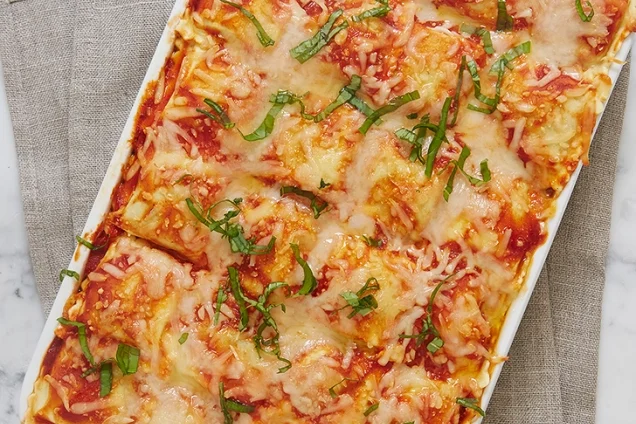 30 Minute Christmas Dinner Ideas
So, your Christmas is jam-packed with gift wrapping (and unwrapping), snowball fights, cookie baking… the list goes on and on. The last thing you want to squeeze into your busy day is making a festive dinner for your family. Why not try Christmas Eve dinner ideas you can make in 30 minutes?
25. Garlic Butter Brazilian Steak (Whisk It Real Gud): Steak, garlic, butter, and parsley. That's it! Four ingredients and 15 minutes are all you need to whip up this amazing dish!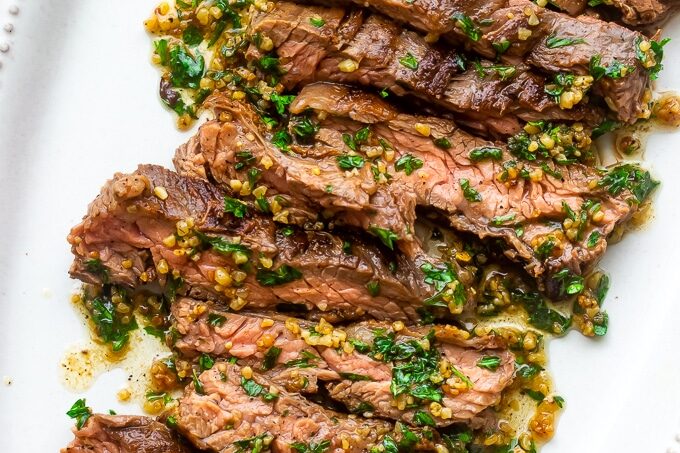 26. Instant Pot Sour Cream Pork Chops (Wholesome Recipe Box): Instant pot to the rescue! Don't you just love how quickly you can make dinner with a pressure cooker? These sour cream pork chops come out so tender, and they are finished in under 30 minutes!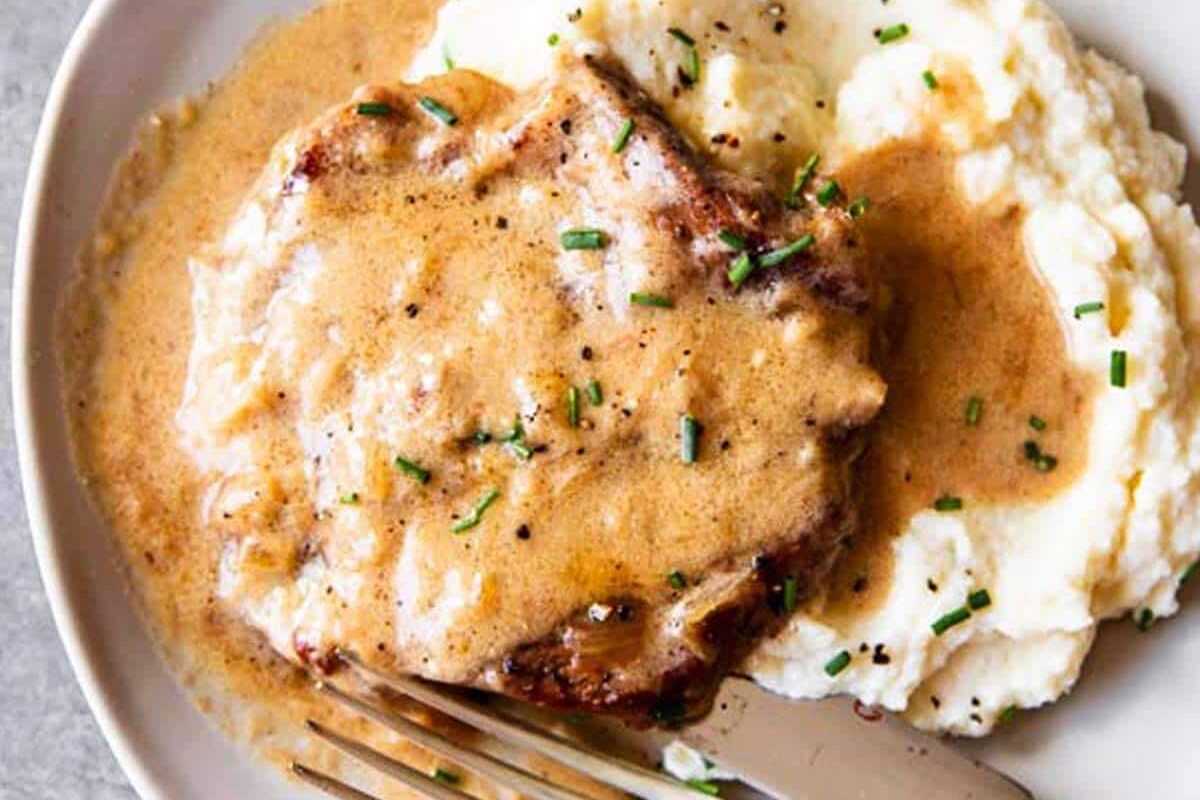 27. Instant Pot Turkey Breast (Soulfully Made): Tender and moist, this turkey breast cooks in only a fraction of the time. This recipe also includes directions to make savory turkey gravy.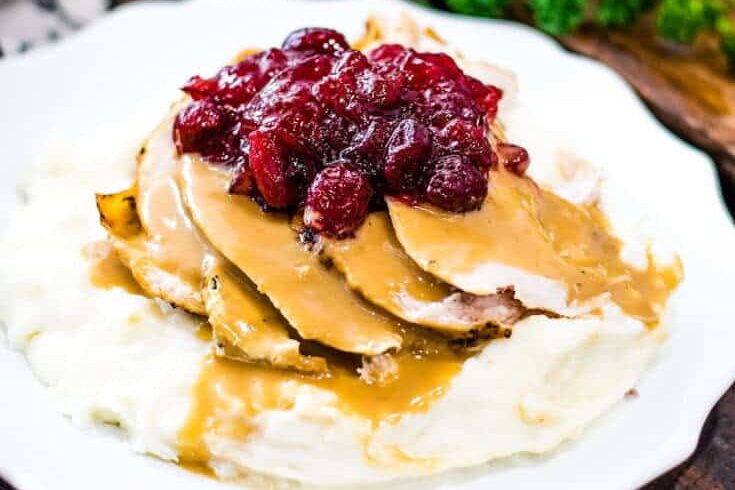 28. Instant Pot Salt Potatoes (Tidbits): You can use baby potatoes (Yukon, red, purple, or all three) to make this side dish that is salty on the outside and delightfully creamy on the inside!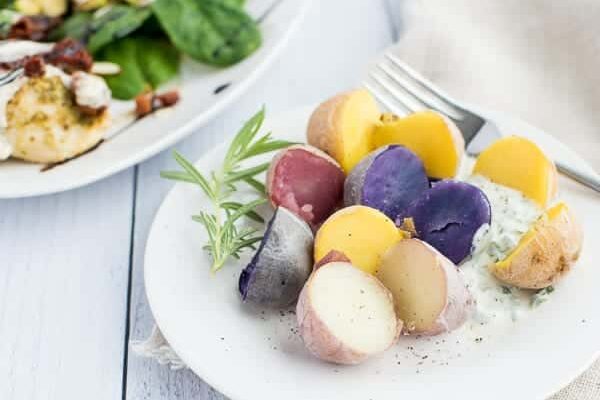 29. Instant Pot Sweet Potato Casserole (Bake Me Some Sugar): Make this tasty side dish before your family even knows you were gone! This casserole takes only 18 minutes from start to finish. That's what we're talkin' about!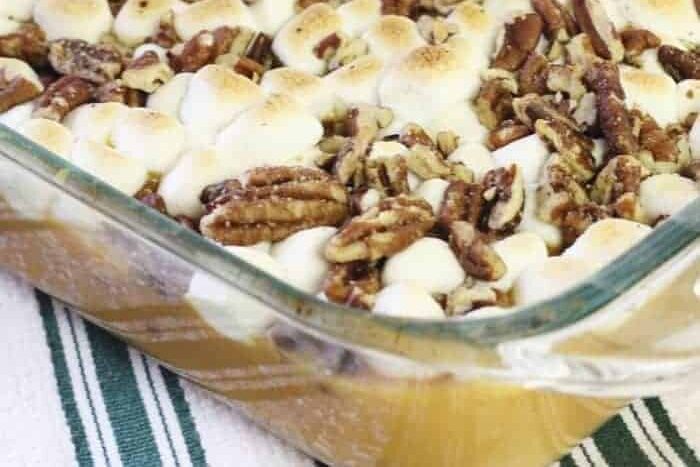 30. Garlic Butter Steak and Scallops (Damn Delicious): Surf and turf, baby! You can really get in the spirit by cranking up the volume on some Beach Boys Christmas music! Ooooooo… Merry Christmas, Saint Nick!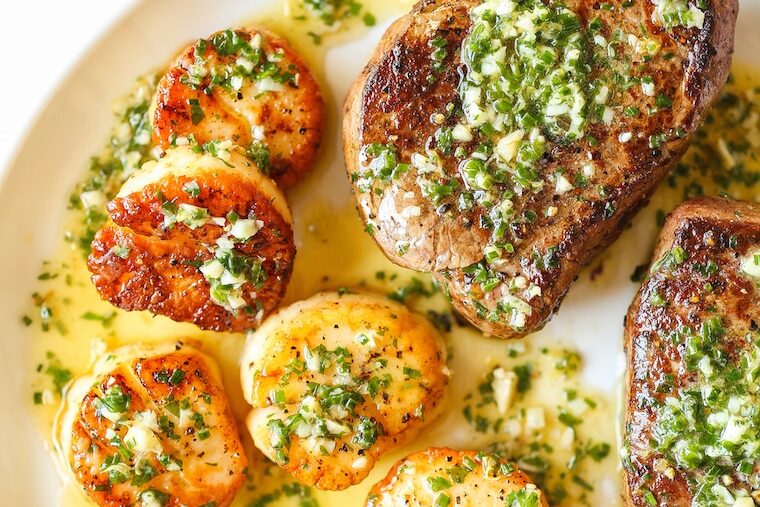 31. Pistachio Crusted Salmon (The Endless Meal): It's healthy, only has five ingredients, and takes 20 minutes to make. We call this a Christmas food win!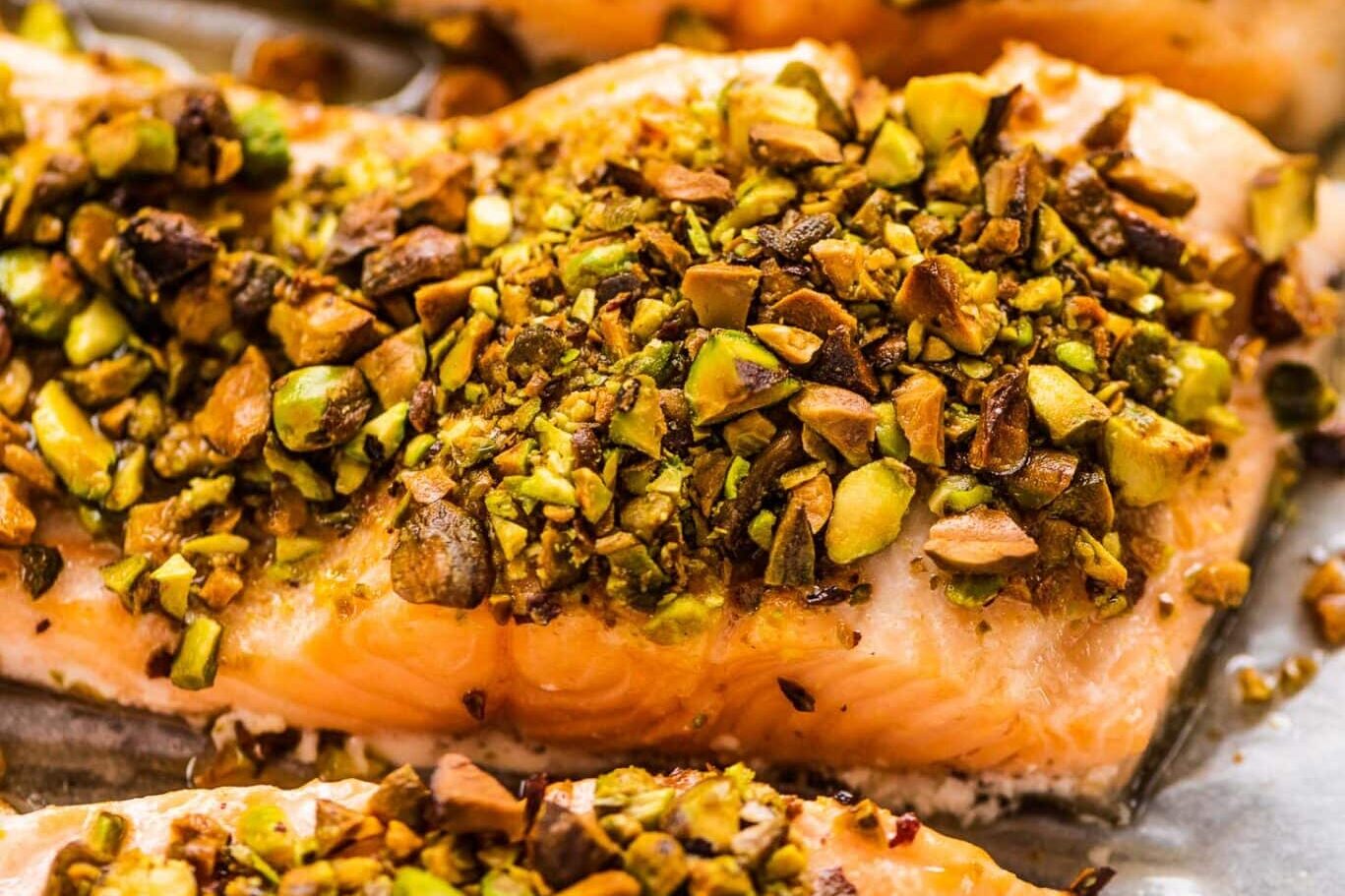 32. Instant Pot Beef Stew (Little Spoon Farm): Though this comforting stew tastes like it has been simmering all day, it really takes barely any time to cook. This is a great option especially if your family needs something to warm up with after playing in the snow!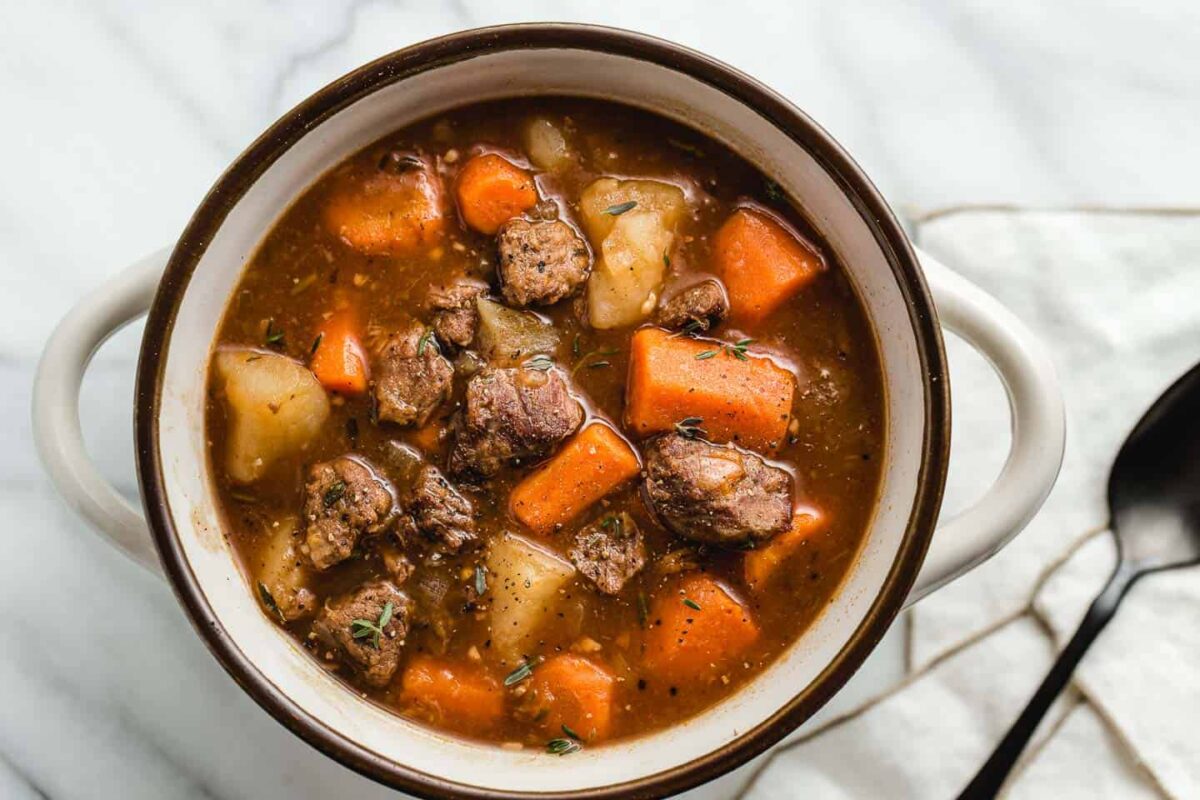 33. Instant Pot Cranberry Sauce (Pressure Cook Recipes): Wow your family and make homemade cranberry sauce in under 20 minutes!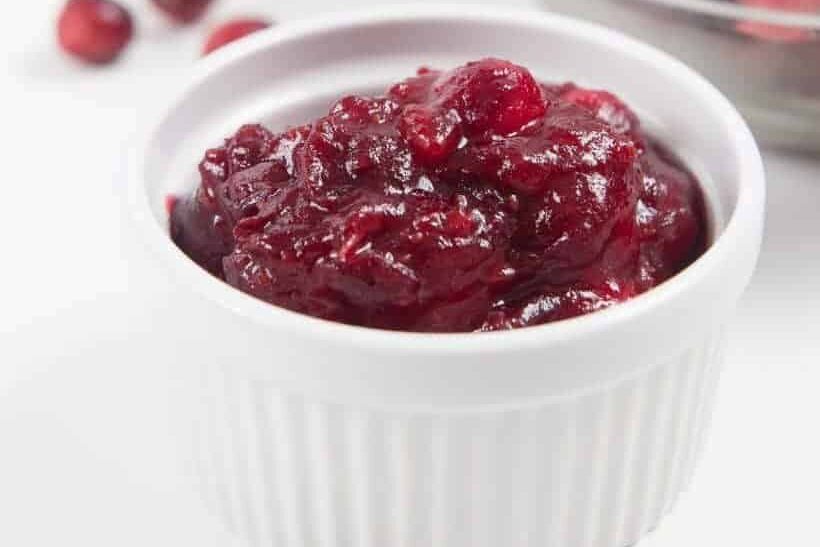 Christmas Dinner Ideas: Side Dishes
Complement your ah-mazing main dish with some appetizing sides. Make sure to put these on your "Christmas dinner ideas 2022" list. They're sure to get your mouth watering!
34. Parmesan Rosemary Dinner Rolls (Yellow Bliss Road): These rolls look complicated and fancy, but they are made from canned crescent rolls! Beautiful and simple–that's our kind of side dish!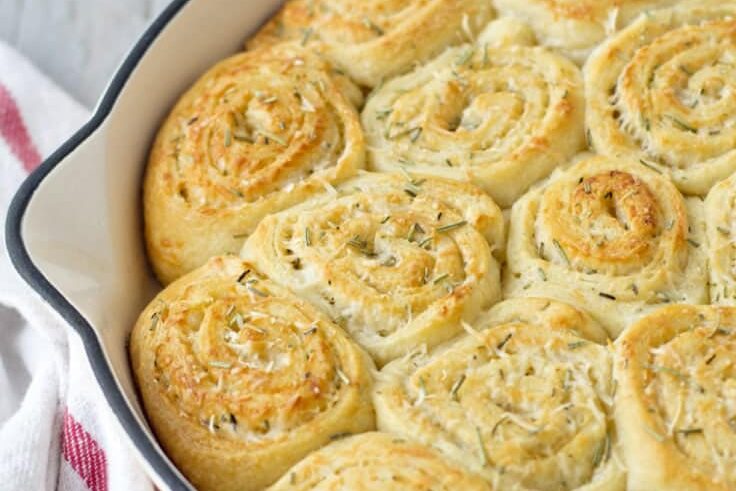 35. Garlic & Herb Baby Potatoes (Yellow Bliss Road): You better believe these boiled baby potatoes are bursting with flavor! Just look at them!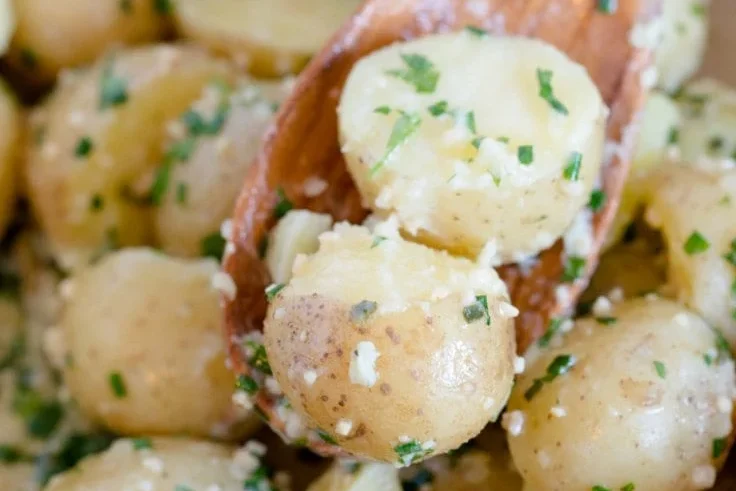 36. Green Bean Casserole (Crave the Good): The key to this recipe is using raw, fresh green beans! And fried onions make everything taste better!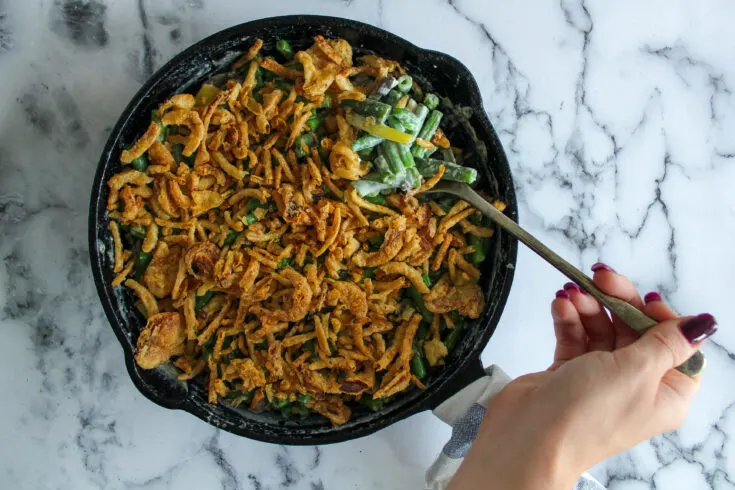 37. Brown Sugar & Bacon Mashed Sweet Potatoes (Yellow Bliss Road): This savory and sweet combo is a perfectly unique side dish to add to your list of Christmas dinner ideas.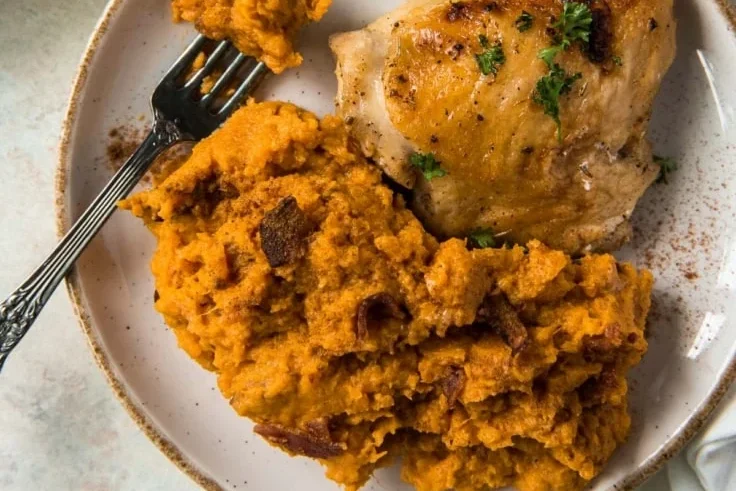 38. Stovetop Bacon Creamed Corn (Damn Delicious): Forget the canned or frozen corn seasoned with plain ol' salt and pepper! Try this bacon-creamed corn and never go back to boring corn ever again!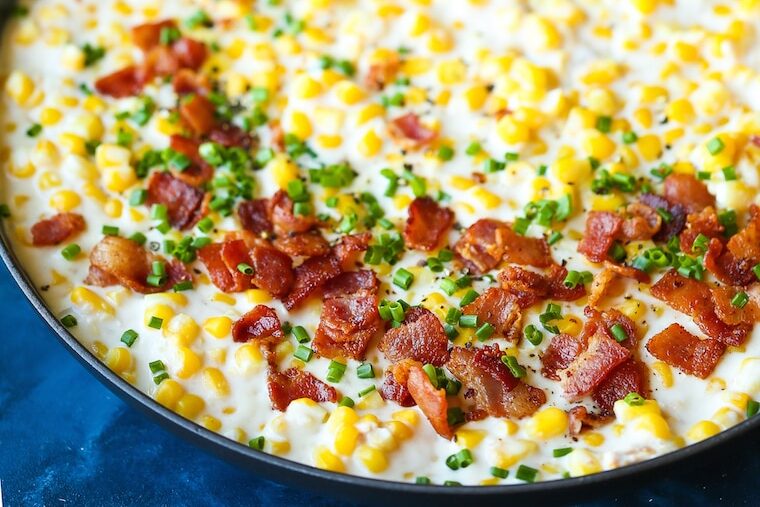 39. Homemade Turkey Gravy (Yellow Bliss Road): Of course, you'll need a great homemade turkey gravy recipe! This gravy is so simple and yummy you'll want to pour it on everything!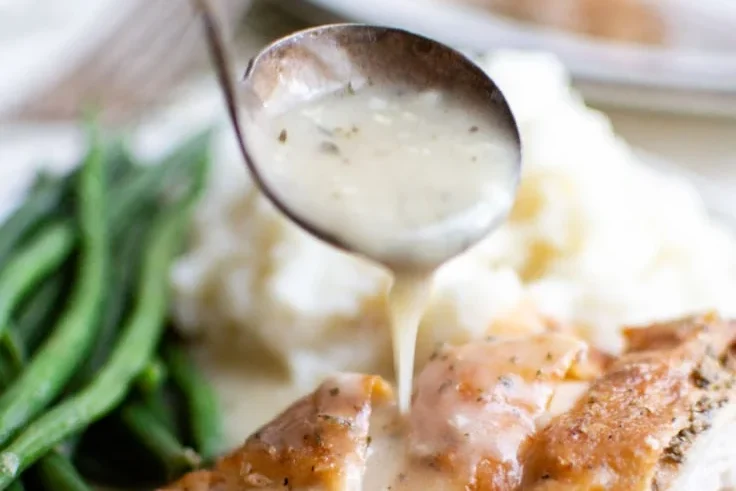 40. Crockpot Orange, Honey and Herb Glazed Carrots (Culinary Ginger): Slow-cooked in butter, orange, honey, and herbs, these carrots will taste and look lovely on your Christmas table!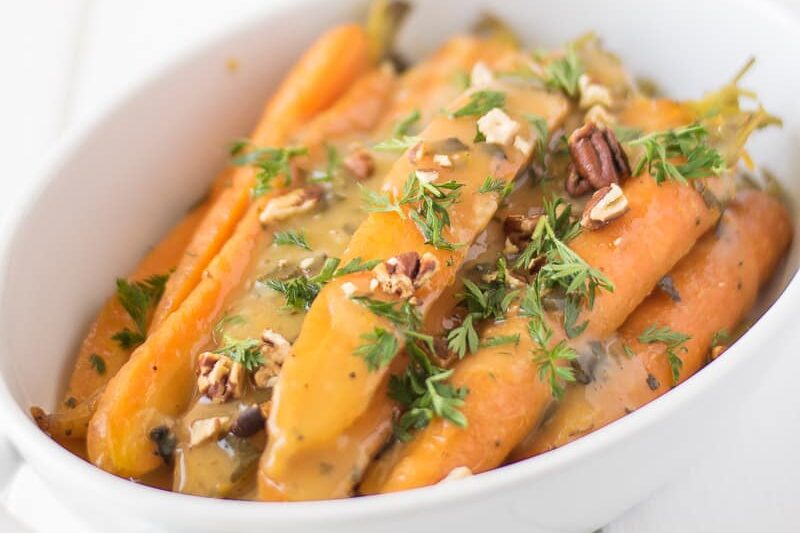 41. Sausage Stuffing With Apples and Cranberries (The Welcoming Table): Whether you call it dressing or stuffing, this Christmas food will be your new go-to side dish. We love the mixture of savory sausage and sweet apples and cranberries!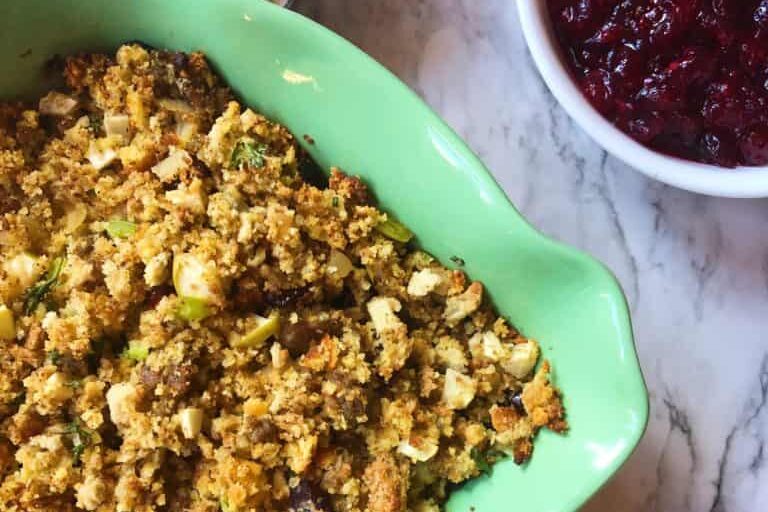 42. Roasted Vegetables (Yellow Bliss Road): It's almost too pretty to eat, don't you think? Just make sure you pick a variety of colored vegetables!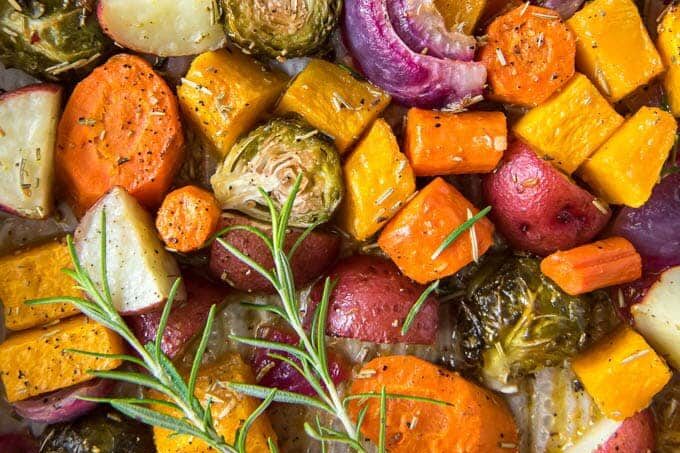 Christmas Dinner Ideas for Kids
Sometimes your family isn't in the mood for something fancy, and isn't it so fun to eat something shaped like a Christmas tree or a snowman? We think so! Here are some festive Christmas dinner ideas for you and your kiddos!
43. Christmas Tree Mini Pizzas (Hello, Yummy): Grab a Christmas tree cookie cutter and have your kids help make these cute mini pizzas. Add other toppings as "ornaments" for your trees!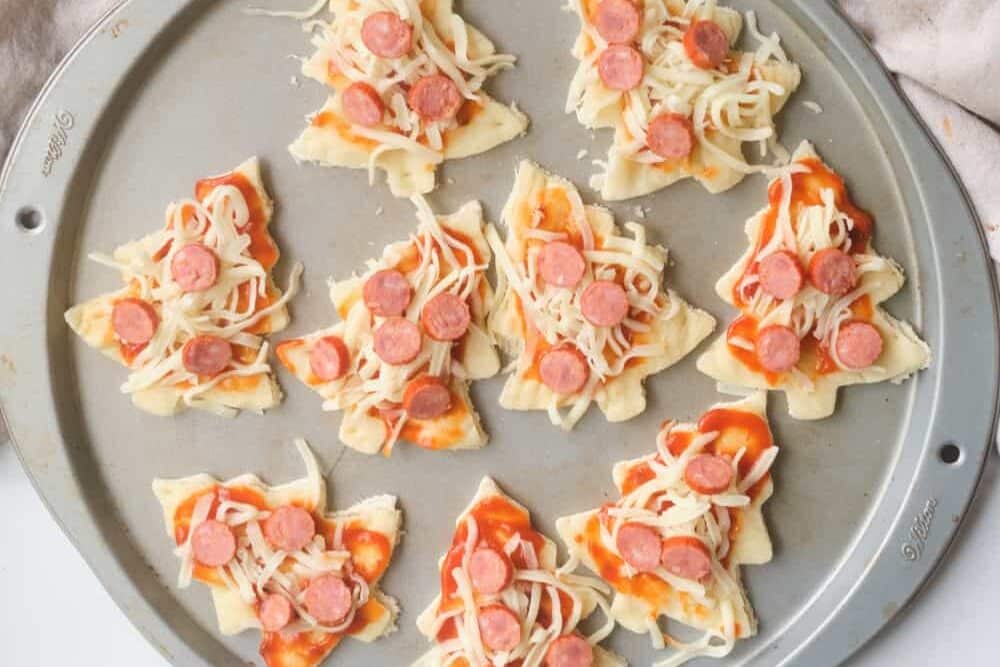 44. Mini Snowman Pizzas (Tablespoon): More pizza? Yes, please! Aren't these snowman so happy? We love the onion slice smiles!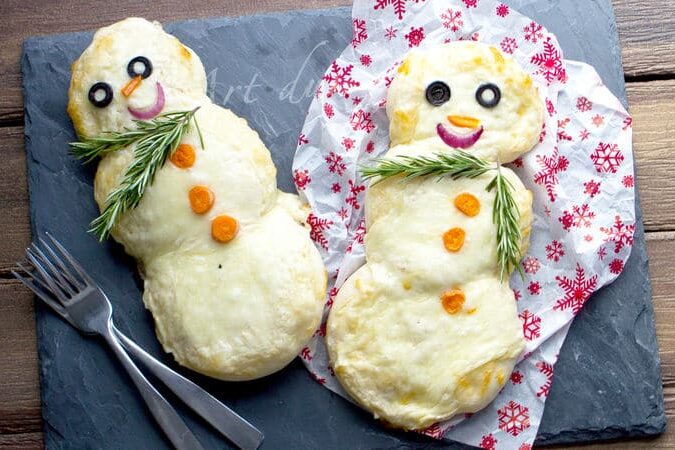 45. Reindeer Quesadillas (Eats Amazing): Quesadillas are usually a staple in any house with kids, and your kids will just love these delightful reindeer. Don't forget to give Rudolph a red nose!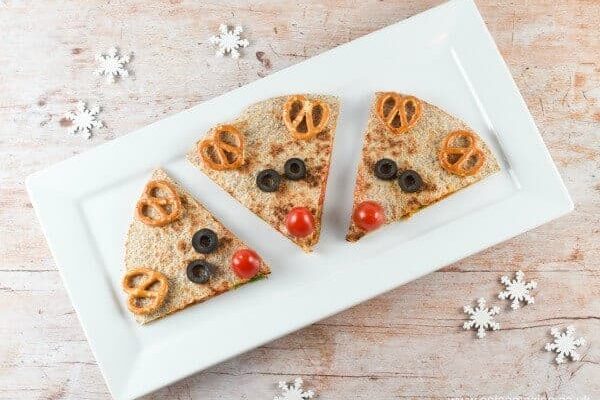 46. Christmas Veggie Tray Snowman (Eating Richly): Your kids won't skip this veggie tray! Who would've thought Frosty the Snowman would help your kids eat their vegetables?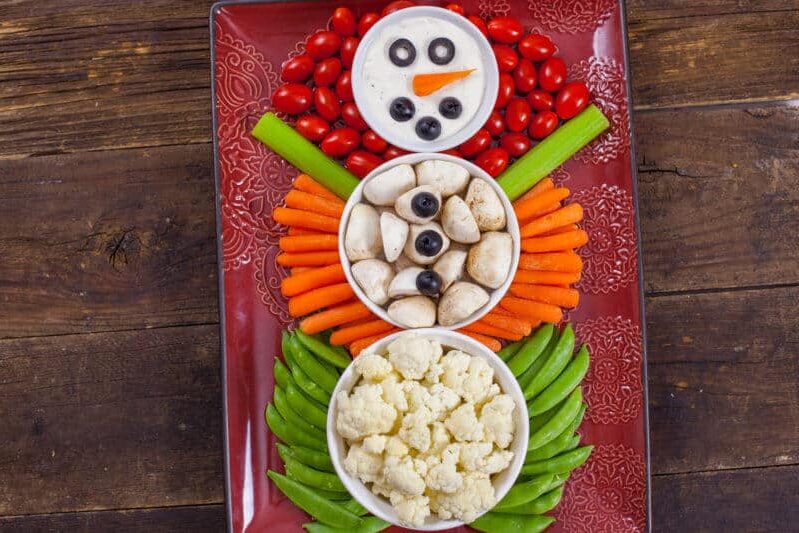 47. Kid's Christmas Tree Snack Board (The Baker Mama): Run out and get yourself some Babybel Cheese right now! This snack board is to die for!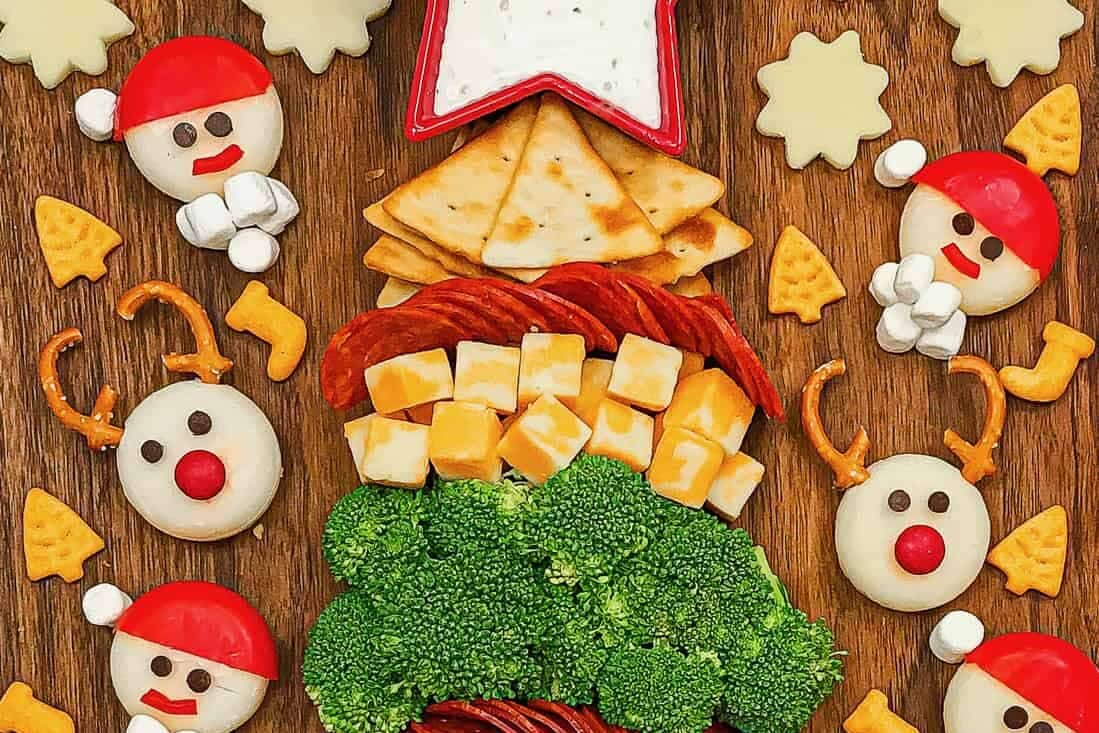 48. Skillet Dip Snowman (Hungry Happenings): Who comes up with this stuff?! Your kids will adore this cute snowman… just before they devour it!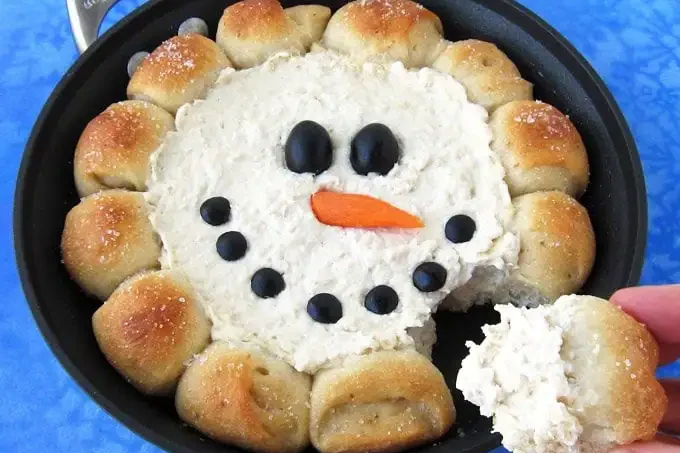 49. Christmas Tree Pasta (Moran Manages Mommyhood): What a cute way to serve up your kid's plate of pasta! The Parmesan cheese snow at the bottom is a nice touch!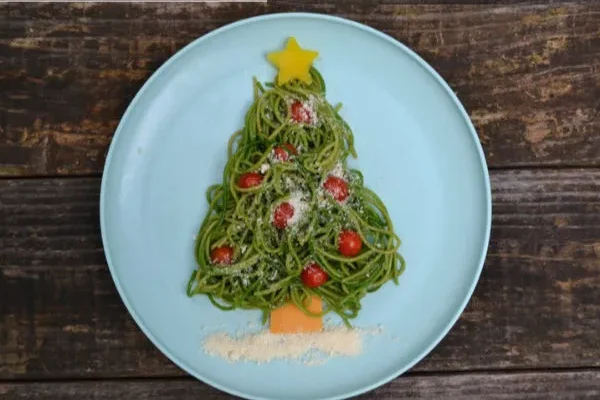 50. Reindeer Sloppy Joes (Kitchen Fun With My Three Sons): Made with King's Hawaiian Rolls, these festive sloppy joes will be a hit with your little ones!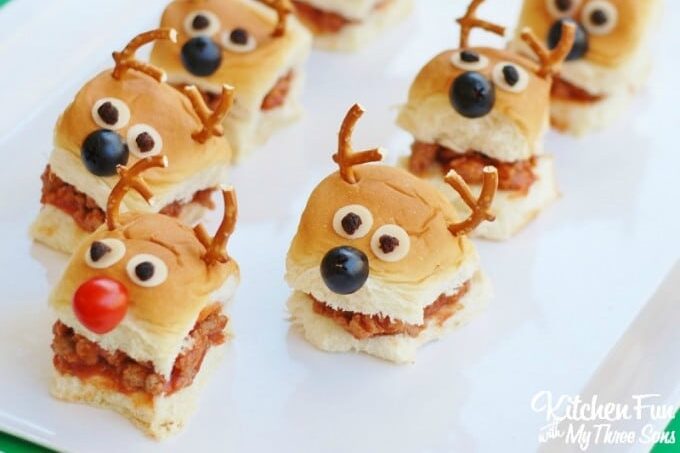 We sure hope this list helped you find fun and festive Christmas dinner ideas for your family this year. And, don't forget about Christmas Breakfast, too! We rounded up the most scrumptious ideas for your family on Christmas morning.
Looking for food ideas for other holidays too? Check them all out below:
We wish you a very merry Christmas! May your holidays be filled with love, family, friends, and food!