Family Picture Outfits
When someone says the words "family pictures," do you instantly cringe? Finding the perfect family picture outfits can cause anxiety, stress, and dread if you're not prepared. The pressure is on for every woman to wrangle the kids and hubby together into trendy, coordinating (but not too matchy) outfits – in an attempt to capture (ever elusive) natural smiles for a "picture perfect" holiday card. It is not easy! BUT, The Dating Divas are here to rescue you because WE GET IT. No one wants to be scrounging last minute to find matching outfits for their whole family! We've taken care of that for you by providing the BEST family picture outfit ideas for you all in one place. Simply find the style you like below, duplicate it for your family, and voila! No more stress! Ready to tackle family photos now?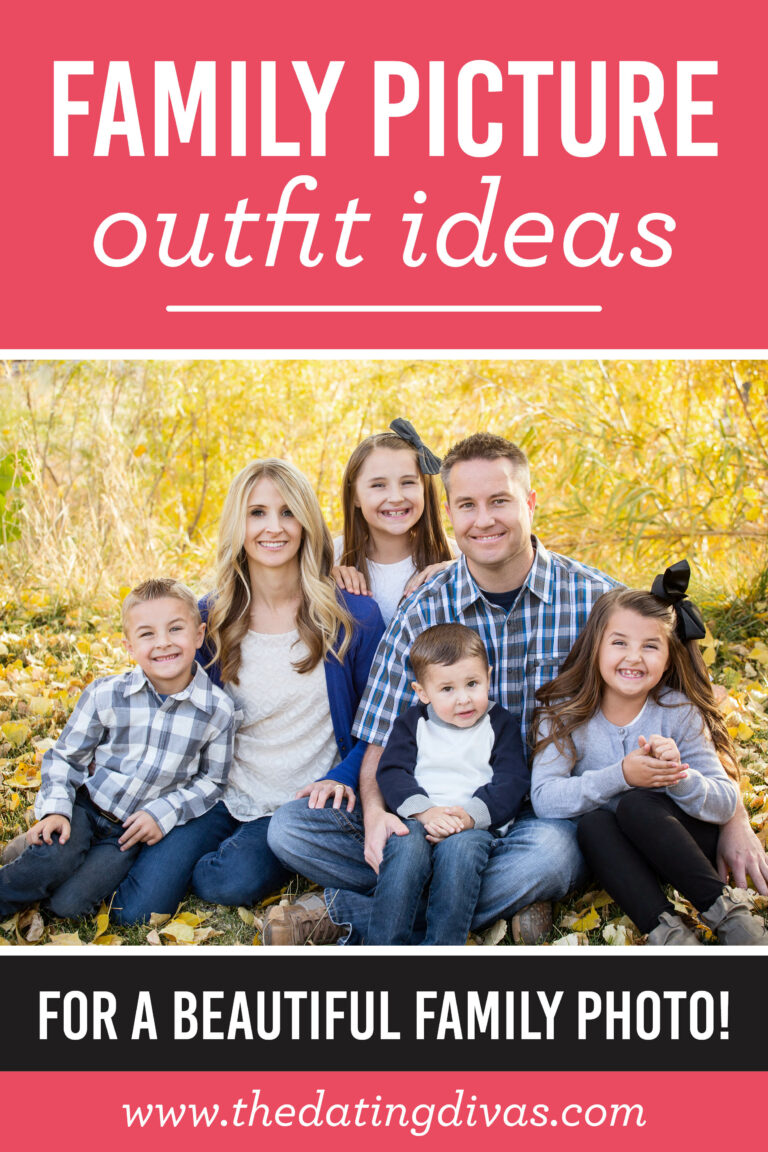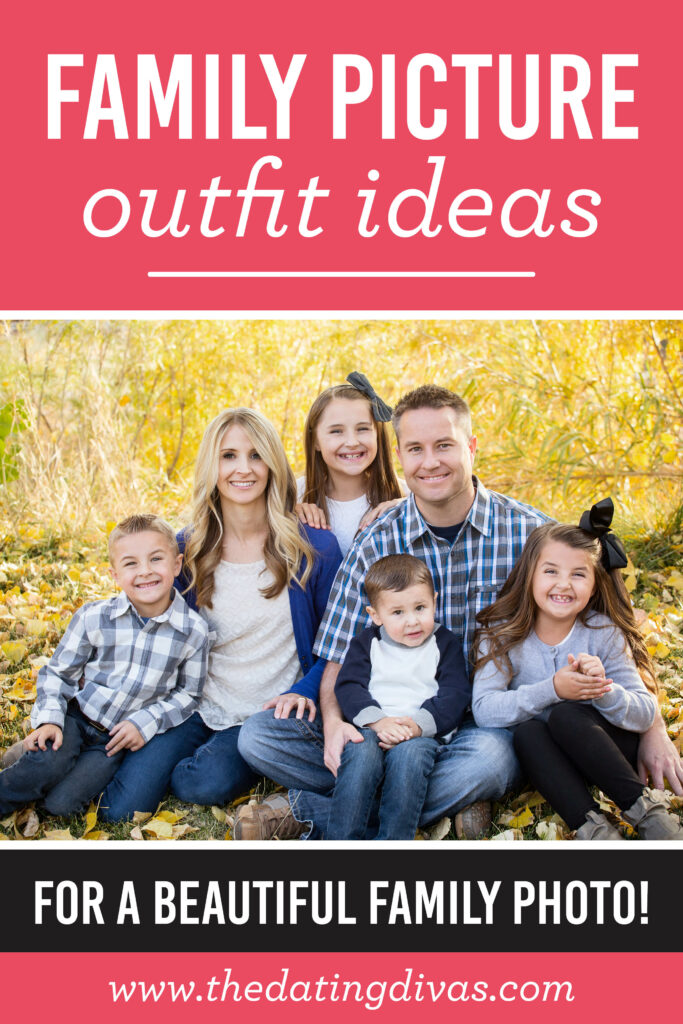 Before we dive in, we must say that we're pretty confident you're going to find a perfect set of carefully matching outfits for your family pictures below. BUT, if not, don't fear! There is nothing wrong with going totally casual and un-matched for a family photo! We just know that some people really love the little details of each outfit going together. If that's you, this list is actually going to make you excited for family photos! Now, lets check out these tips for endless outfit and color inspiration…
Tips on What to Wear for Family Photos
By the way, we understand that your purpose for taking a family photo may range from holiday cards to celebrations to pictures hangings in your home. No matter! These ideas should work for almost all family photoshoots, but adapt to them how you think best for your individual purpose. Regardless of what it's for, we are confident that you and your family will look fantastic in any of these family photo outfits!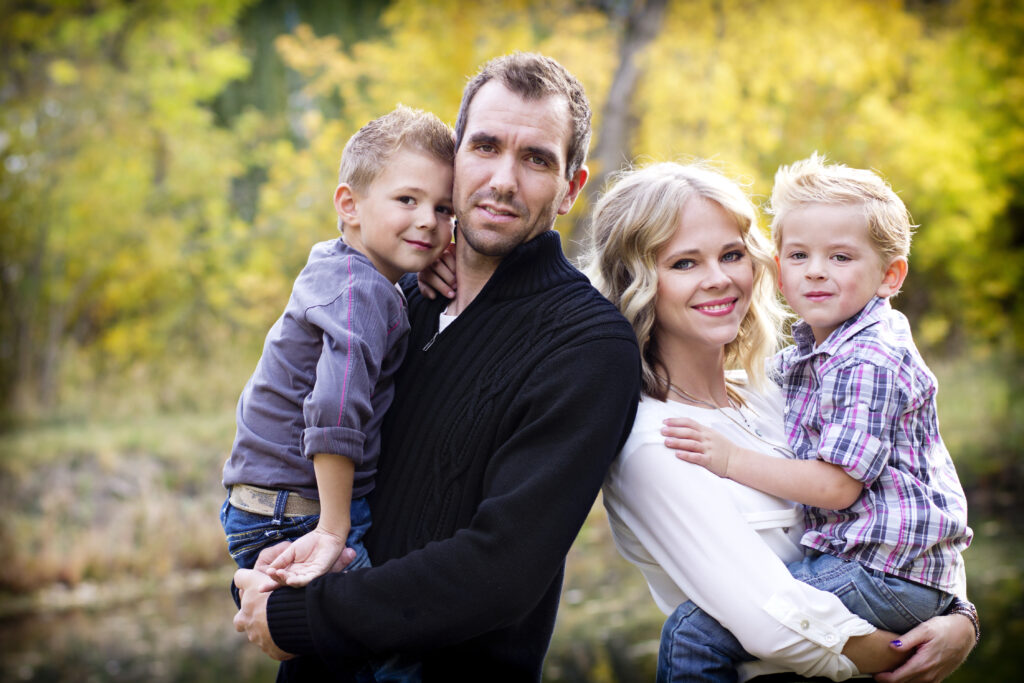 Coordinate the style and color of your clothing with your location in mind.
When choosing a color palette, consider what will go well with the colors of your home.  After all, most people plan to hang their pictures up!
Try to avoid clothing that is super seasonal. Unless you're planning on using them only for Christmas cards, red and green scarfs may not be the best choice. Pick a style, color, and location that you don't mind displaying in your home year-round.
Don't be afraid of color and pattern. While you may not want everyone to wear a bold color or a busy pattern, a pop or two of color and design adds interest to the picture.  Check out some great examples at Click it Up a Notch and Kristen Duke photography.
Layer! Adding layers to your outfit not only adds texture to the picture but also allows you to shed layers later on for different looks in different pictures.
For a photo that stands the test of time, opt for clothes that are classic rather than super trendy. The perfect family picture outfits should be timeless!
While a little bit of pattern can be a good thing, it's best to avoid clothing with large graphics and logos.
Gone are the days of identical blue jeans and white shirts! Instead of matching colors, coordinate them. Stick to a color palette, but don't feel like you have to match color values exactly.
For color palette inspiration, try these online tools:  Design Seeds, Big Huge Labs, and DeGrave.
For more outfit inspiration for your next family picture, do a simple Image Search on Google for "What to Wear Photography" and you will get more outfits and color combinations than you know what to do with!
Our Favorite Family Picture Outfit Ideas
You could literally spend HOURS browsing family picture outfits online. No shame in that! But for your convenience, we've rounded up some of our favorites. Using the tips above and these inspirational photos below, we think you'll land on the PERFECT family photo!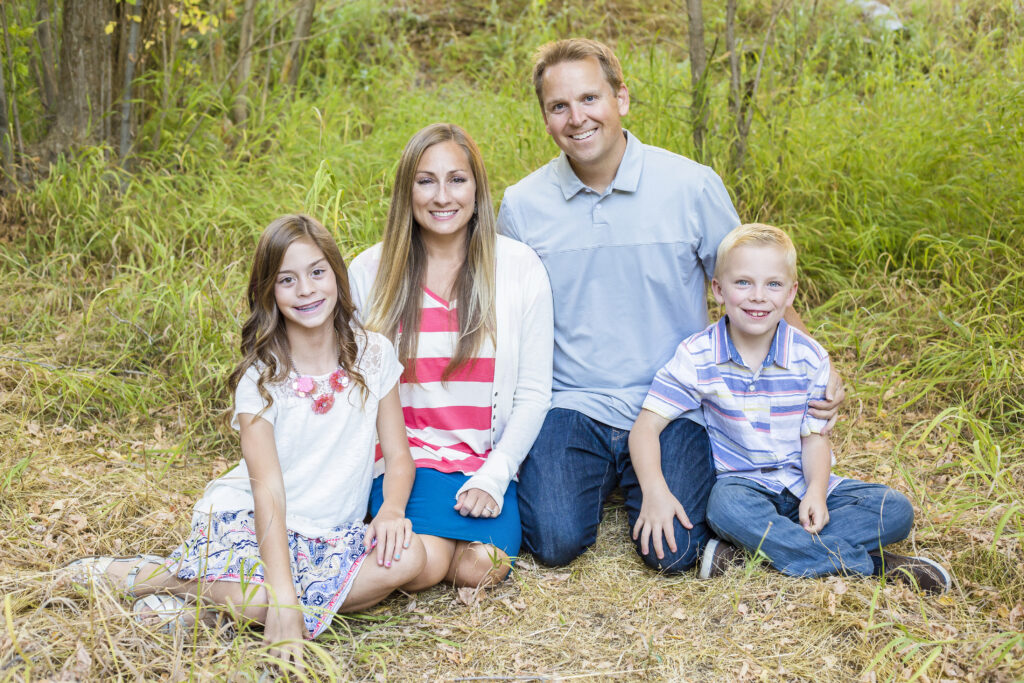 Grey With a Pop of Red – This cool-temperatured color combination gives us all the heart eyes! Classic and bold! We love it!
All the Blues – This blue-based family (and maternity) shoot is so bright and beautiful! We love how the tones of the blue don't match perfectly but go together!
Plaid – I've never seen plaid look so adorable!! This family accented their outfits with black and red plaid and it worked 100%!
Coats – Due to rain and colder weather, this family photoshoot required coats and umbrellas! Lucky for them, the extra layers and props made this shoot turn out amazing!
Yellow and Navy – This gorgeous color combination made for perfect family photo! I love the added touch of the baby's hat!
Cream and Grey – We'll take one of each outfit, please! This gorgeous family pulled off a light cream and grey combo and we're obsessed! They nailed their family picture outfits!
Light Blue and Lace – Oh my lanta. This is just stunning beyond belief. The delicate lace with the light and airy blues go so perfectly. This would be ideal to recreate!
Jeans and Cream – Jeans for a family photo? Yes you can! This family makes it look casual AND put together, especially with the pops of cream on everyone!
Pink and Blue – This family of boys and girls looks so good in their gender-appropriate clothing!
Chambray with Pink – The cutest little boys in chambray button-ups plus a mother in a full-length pink dress. Could you get any cuter?
On top of all these family picture outfit ideas and tips, we just KNEW you'd be looking for any way to make this entire process easier. We've created for you the ultimate "Family Picture Planner" Printable to help keep everything organized! And did we mention it's FREE? Carisa from Messes to Memories designed this gorgeous printable to help you plan ahead and make your picture day a success! Thanks so much, Carisa!
And last but not least, we highly recommend checking out our Family Photo Date which makes the picture taking process a full-on family date!
Happy picture taking!
Family Picture Planner
Printable designed by Carisa @ Messes to Memories Exclusively for The Dating Divas