Our Favorite Pressure Cooker Recipes for Success
Unless you've been hiding under a rock, you've probably heard about the Instant Pot (and if you haven't, then come on out from under that rock and we'll fill you in). The instant pot is a slow cooker, pressure cooker, rice cooker, steamer, yogurt maker, sauté/browning pan, and warming pot all in one. If you've already got one, you're probably madly in love with it like all of us are and that's why you're here, because you want to cook every meal EVER in this thing. If you haven't jumped on the bandwagon yet, what are you waiting for?! Maybe you're just not sure it's worth it, or you're scared of the stories of failure, or maybe you just haven't had time (which is no excuse, this baby WILL save you time)! Let me just ease your fears while you hop over and grab your very own Instant Pot and then come right back for all the details—EVERYTHING you need to know, our absolute favorite instant pot recipes to get you started and a few tips and tricks we've learned along the way. The Divas are Instant Pot fanatics, Diva Heather Lee even chatted about hers live on Facebook.

Disclaimer: This post contains affiliate links. To learn more about 'em, click here.
Stick with us and we'll give you lots of insider info to make using your Instant Pot your new favorite hobby! We've scraped and scoured (which you won't have to do with your Instant Pot) to find you:
So first, do I need to convince you of the genius of Instant Pot? What if I told you it saves time AND money? Make inexpensive meals in a matter of minutes and they'll taste like you've been working on slow cooking them for hours. Tender, juicy meats and super quick rice. Saute and do your 'slow' cooking all in the same pot. It's brilliant, I'm telling you, you will not regret it. If you're ready for some starter recipes, we've got 20 simple ideas that you are going to love incorporating into your normal dinner routine…
20 Basic Instant Pot Recipes
The perfect recipes for the Instant Pot beginner, these delicious ideas will be yummy and easy so you can get started right away.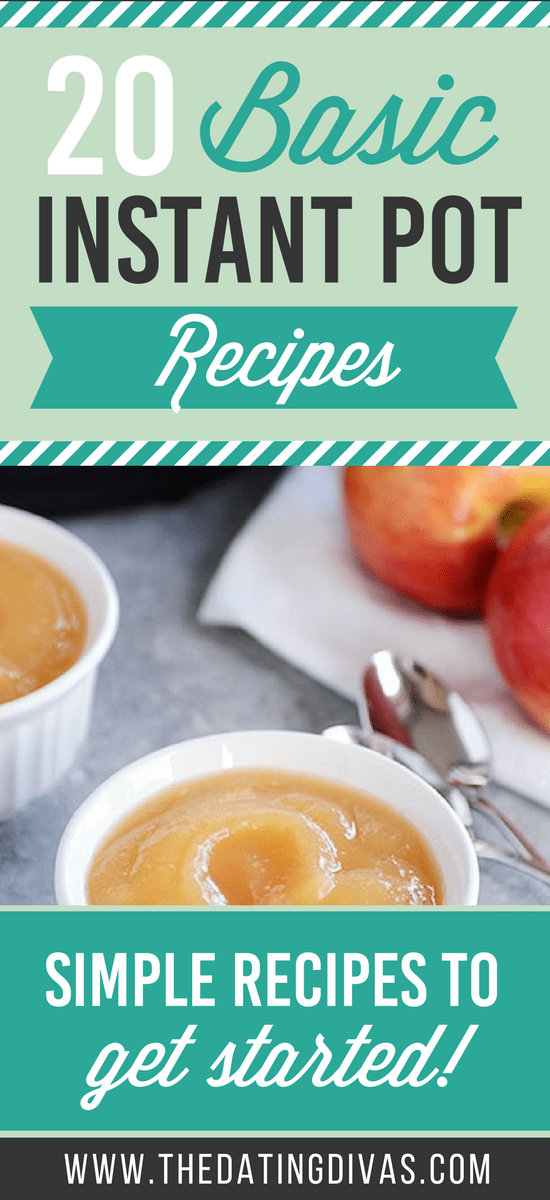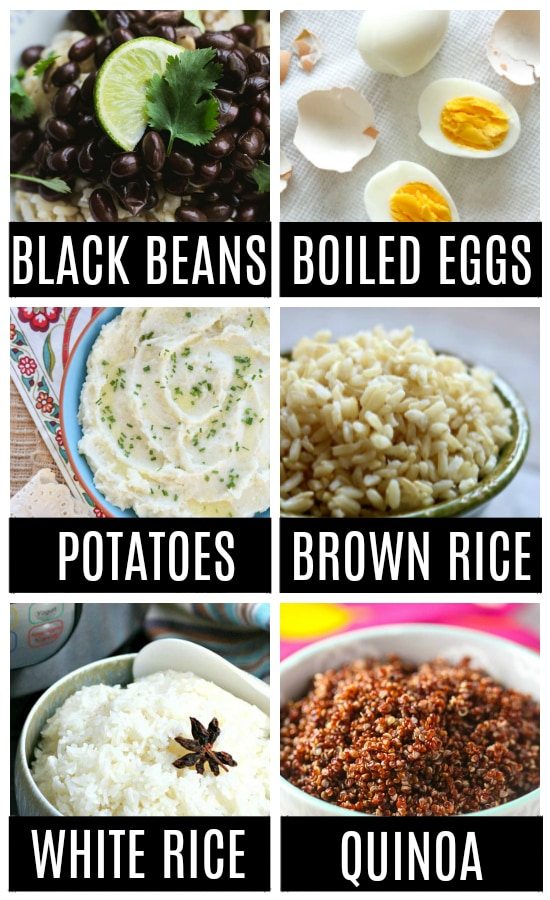 1. Black Beans (Skinnytaste) – A simple and easy side dish to go with any southwestern dish.
2. Hard Boiled Eggs (Skinnytaste) – Make deviled eggs in a heartbeat with perfectly cooked eggs or just make a bunch at the beginning of the week for breakfast, salad toppers or egg salad sandwiches!
3. Mashed Potatoes (Our Best Bites) – The staple side dish that really goes with every kind of meat—everyone loves potatoes!
4. Brown Rice (365 Days of Crockpot) – We eat a lot of rice and I love the nuttier flavor of brown rice but that cook time kills me… enter the Instant Pot version!
5. White Rice (Everyday Maven) – Want that perfect, fluffy, soft rice? Here's the solution in just 15 minutes!
6. Quinoa (Our Best Bites) – The superfood of the century! A perfect "grain" for completing a meal and it's so simple.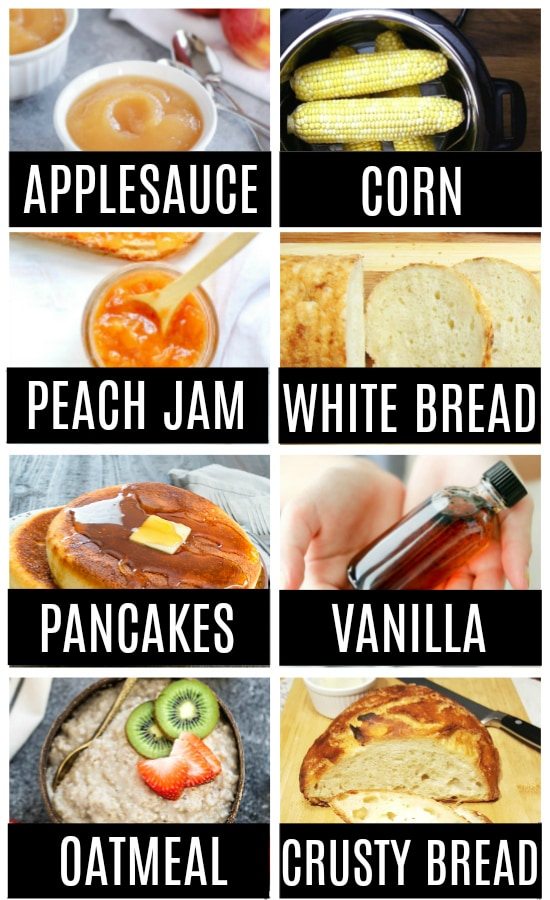 7. Applesauce (Mel's Kitchen Cafe) – I got rid of my slow cooker, which is how I used to make applesauce, so I'm excited to try it in my Instant Pot!
8. Corn on the Cob (Pressure Cooker Recipes) – I love that it keeps the nutritional value in the corn and it keeps the corn juicy and tender.
9. Peach Jam (Marisa Moore) – If you've never made jam before, don't be intimidated because this one is SO easy and doesn't include any weird ingredients. She even includes tips on freezing it! If you're not into peaches, you can totally modify it to use your favorite fruit!
10. Bread (Hip Pressure Cooking) – Your basic (delicious) white bread that can be used for essentially anything – think the most amazing sandwiches, fabulous french toast, and even mouth-watering bread pudding.
11. Giant Pancake (Kirbie's Cravings) – Top it with fruit, cinnamon streusel, or just pour on the syrup and you will not be disappointed.
12. Vanilla Extract (Tidbits) – Once you've had homemade vanilla, you'll never go back to store bought and everyone will drool over your baked goods.
13. Oatmeal (Life Made Sweeter) – Even though I know they're healthier, steel cut oats basically never happen in my house because they just take too long BUT now it's such a cinch!
14. Crusty Bread (This Old Gal) – For a beautiful crunchy bread to dip in olive oil or smear with that homemade jam, this is the recipe for you!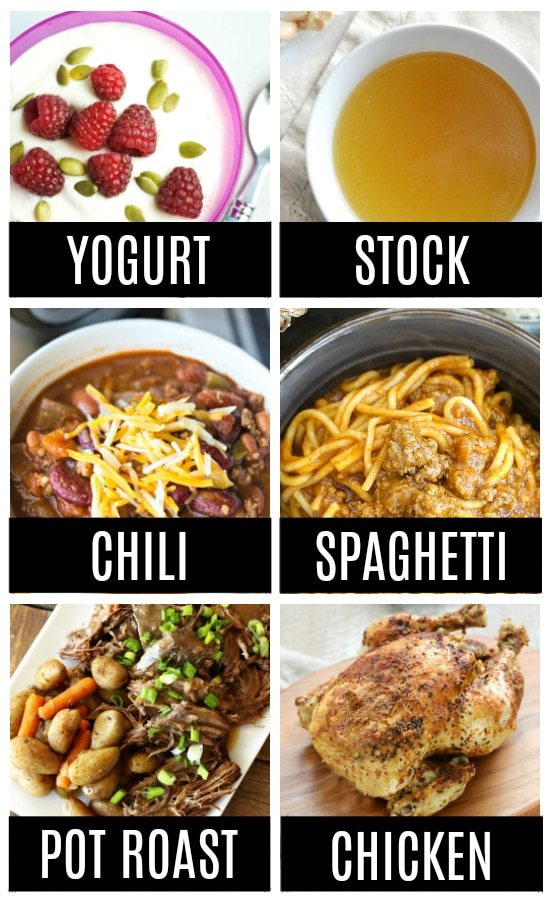 15. Yogurt (Super Healthy Kids) – Because even though there is a "Yogurt" button on the Instant Pot, it's still super intimidating. But don't worry, apparently it really is just two ingredients and a few steps to homemade!
16. Chicken Stock (Budget Bytes) – Start with a rich broth and all your soups will be so impressive. (You can check out our favorite Instant Pot Soup Recipes, too!)
17. Chili (A Night Owl) – For that classic, savory warmth that tastes like it's been simmering all day, try this version that's ready in under 30 minutes!
18. Spaghetti (Temecula Blogs) – A perfect introduction to pasta in your pressure cooker, start here and the pasta-bilities are endless!
19. Pot Roast (Fav Family Recipes) – A staple for any crockpot, this "Sunday" version is perfect to have in your cooking arsenal.
20. Faux-tisserie Chicken (Cooking with Curls) – Cook a whole chicken and put all those parts to good use… you can even use the bones to make broth in the Instant Pot later! We use this chicken for multiple meals in a week.
10 Instant Pot Appetizer Recipes
Fabulous for parties, these finger foods, and snacks will make any guest ooohhh and ahhh over your pressure cooker skills!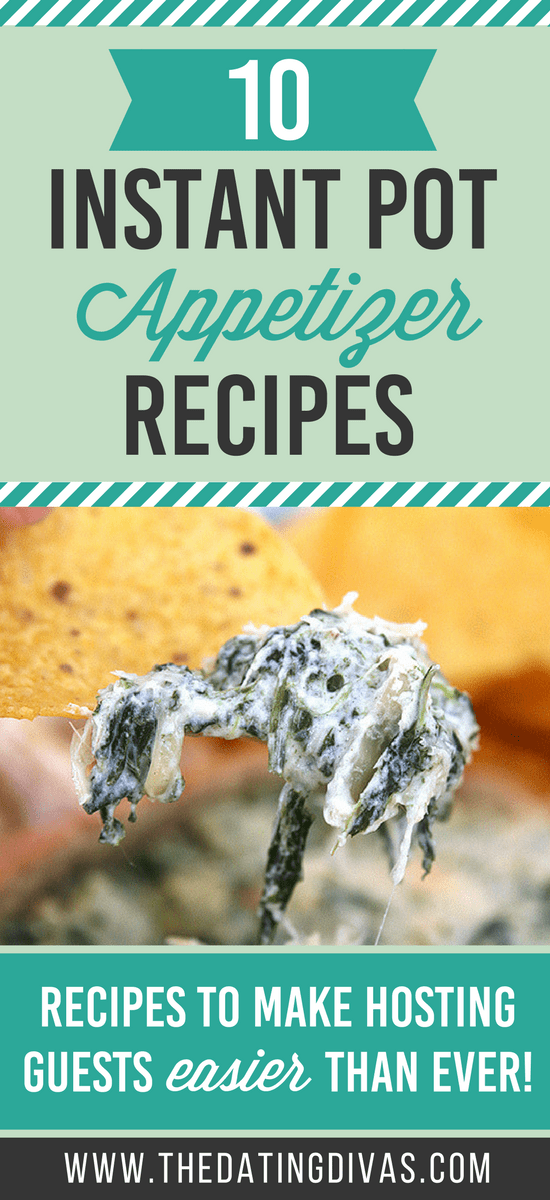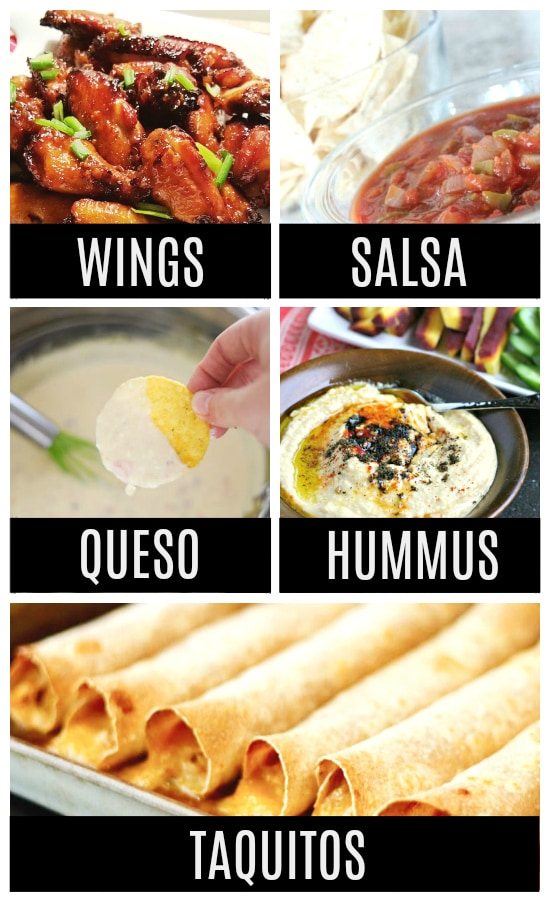 21. Chicken Wings (This Old Gal) – Perfect for football season, but also great for finger-licking any time of year!
22. Salsa (Passion for Savings) – Easy to make and freezer friendly!
23. White Queso (Clarks Condensed) – There's just something so delicious about warm, flavorful white cheese being scooped up with chips.
24. Hummus (Everyday Maven) – Loving this healthier dip alternative that's sure to get devoured on pita chips, pretzels or veggies.
25. Taquitos (Thriving Home Blog) – Technically these are a dinner item, but I love to snack on taquitos enough that I'm not sure I could wait until mealtime to eat them anyway.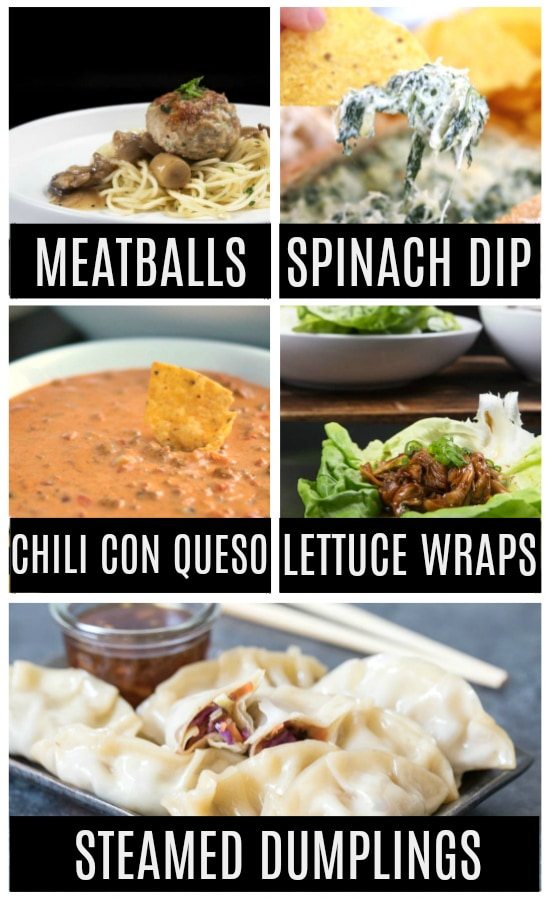 26. Meatballs (Pressure Cook Recipes) – My all-time favorite appetizer is meatballs in a creamy sauce, make them mini to make a higher sauce to meat ratio and you've stolen my heart.
27. Spinach Artichoke Dip (Living Locurto) – Yeah, you just can't beat a 10-minute dish.
28. Chili Con Queso (Aunt Bee's Recipes) – Have the entire pot of queso, including the chopping and browning, and cooking from start to finish, ready in under 20 minutes.
29. Lettuce Wraps (Pressure Cook Recipes) – Inspired by those delicious restaurant-style lettuce wraps, these will certainly impress guests.
30. Steamed Dumplings (Pressure Cooking Today) – Try this Asian-inspired dish that everyone will love, this appetizer's even on the healthy side!
10 Instant Pot Soup Recipes
Perfect for cold weather, no-fuss recipes. Add grilled cheese to basically any soup and it's the perfect meal.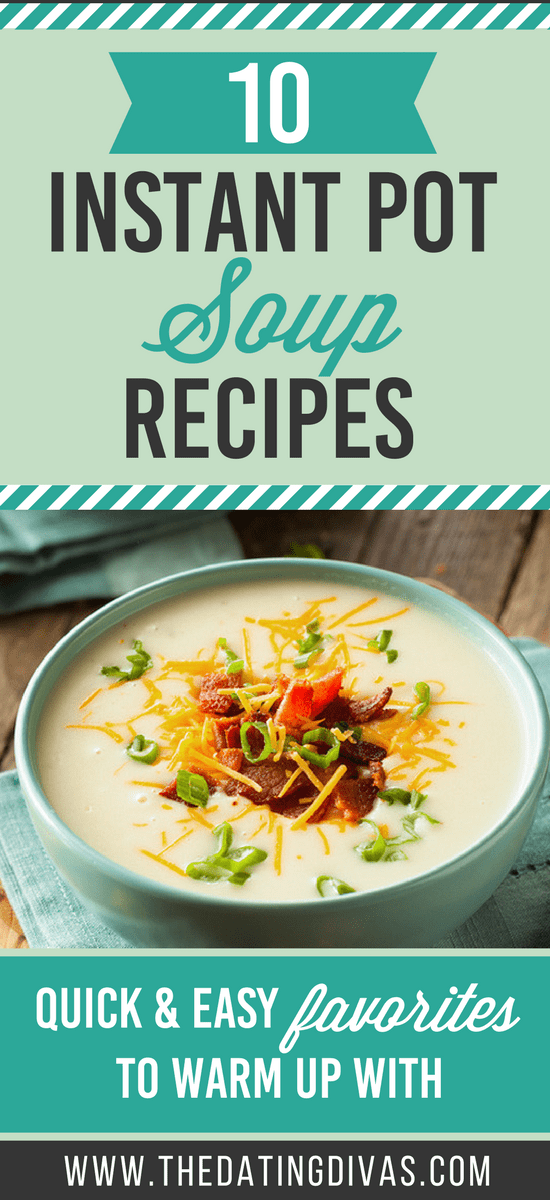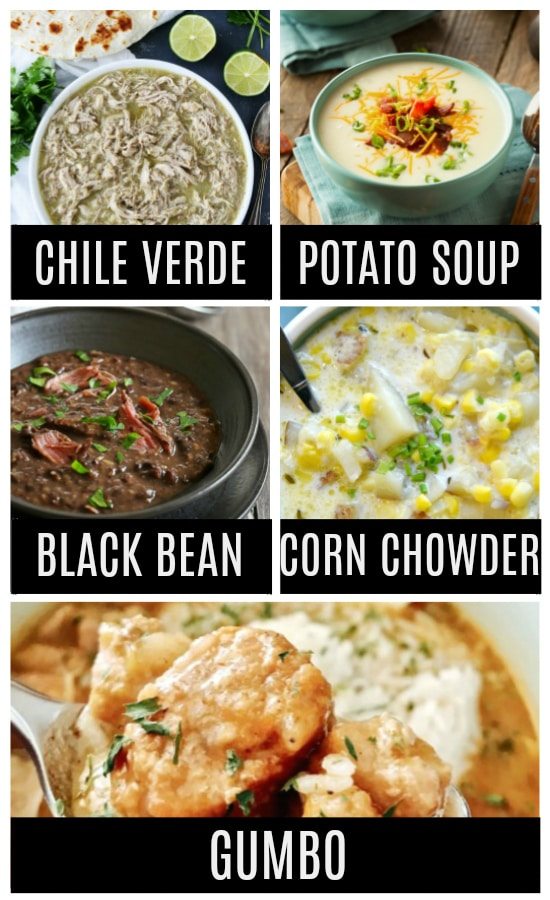 31. 4-Ingredient Chile Verde (Skinnytaste) – I love anything with minimal ingredients, it means it's quicker and inexpensive.
32. Baked Potato Soup (Living Locurto) – Creamy and hearty, this soup is the ultimate meal for cooler days.
33. Black Bean Soup (Skinnytaste) – We had the BEST black bean soup on our honeymoon and this super easy version is the closest we've ever come to replicating it!
34. Potato Corn Chowder (Temecula Blogs) – We love, love, love corn chowder and the addition of potatoes makes this super filling.
35. Easy Gumbo (Little Family Adventure) – A little taste of Louisiana right in your own home!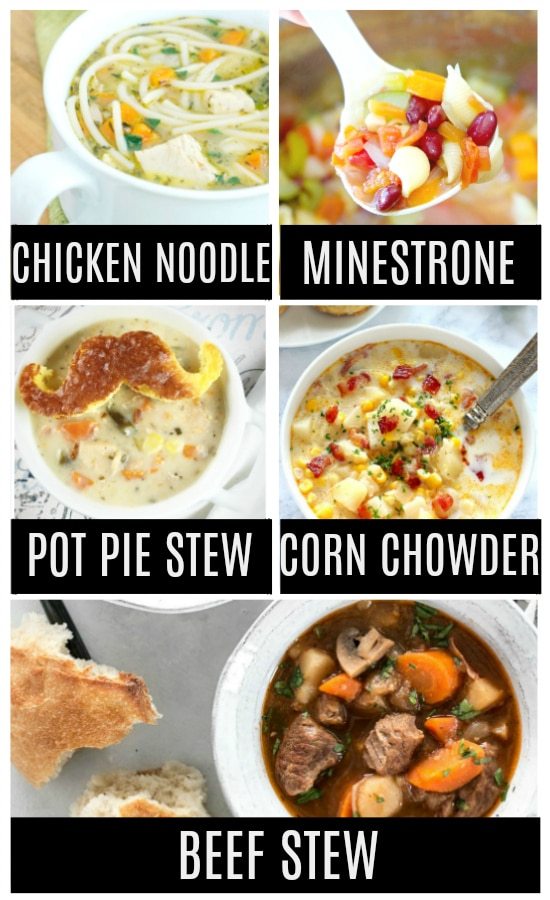 36. Chicken Noodle Soup (Live Simply) – When you just want some comfort food but don't want to put in the work, just dump in a few ingredients to make homemade chicken noodle soup.
37. Minestrone Soup (Temecula Blogs) – The veggies make this soup such a great choice and it's easy to just swap out whatever you've already got in the fridge to make this one work without even going to the grocery store. 
38. Chicken Pot Pie Stew (Farm & Foodie) – Making an entire pie just seems like such a chore, so if we can get all those flavors with the ease of a pressure cooker meal, you can bet there are some happy faces in our house.
39. Corn Chowder with Bacon (Crunchy, Creamy, Sweet) – Let's face it, everything is better with BACON!
40. Beef Stew (Budget Bytes) – For all the guys who want 'hearty' dishes, we've got you covered with this filling soup.
10 Instant Pot Sides Recipes
Maybe you've already got a plan for the main course or you're just bringing a side dish to a potluck or you're using stackable inserts to make two dishes at once, whatever the reason you're looking for sides, you've found the best list right here!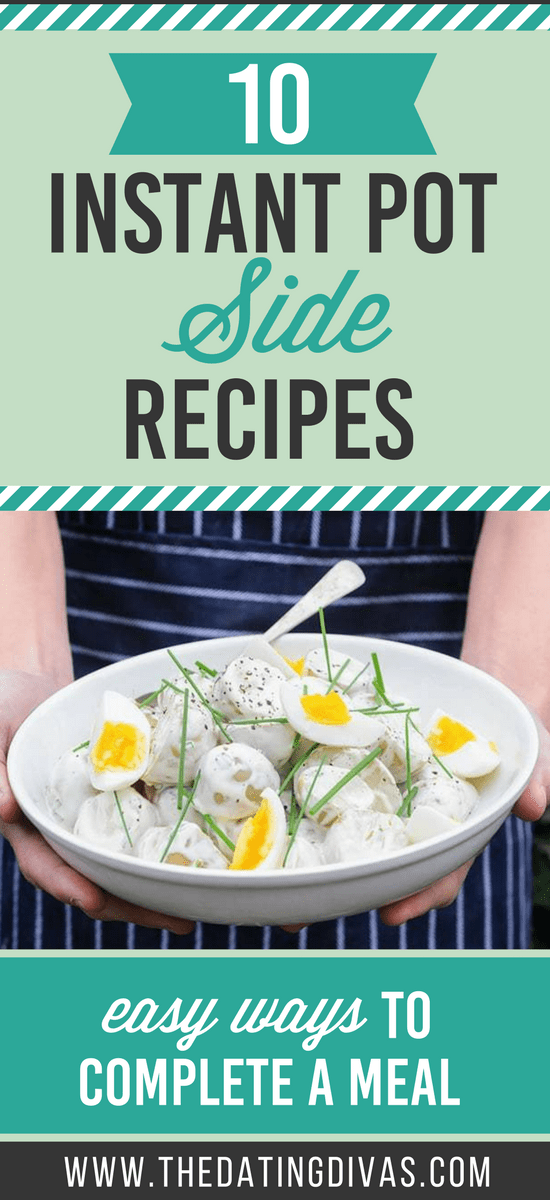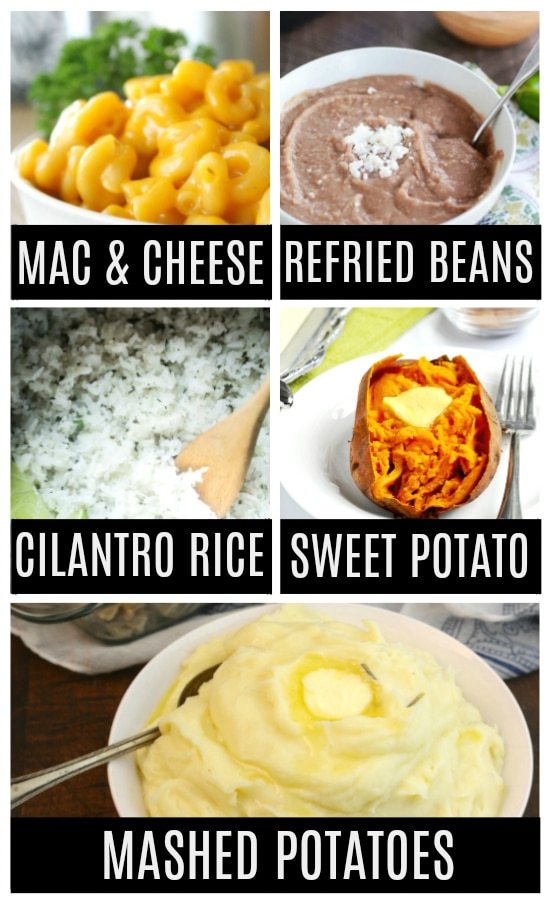 41. Mac & Cheese (Six Sisters' Stuff) – Gooey, cheesy goodness that's the perfect complement to almost any entreé.
42. Refried Beans (Mel's Kitchen Cafe) – Southwestern meals (ahem… tacos!) were made to be served with this easy side dish. (We make a giant batch of these and freeze them in smaller portions for future meals!)
43. Cilantro Lime Rice (Food, Faith, Fitness) – When plain, white rice just doesn't cut it, this easy version saves the day.
44. Sweet Potatoes (A Pinch of Healthy) – Simple and super healthy (well, depending on how you top them).
45. Garlic & Rosemary Mashed Potatoes (Adventures of  Nurse) – There is never, ever enough garlic or potatoes, so when these two ingredients come together you know it's going to be delicious.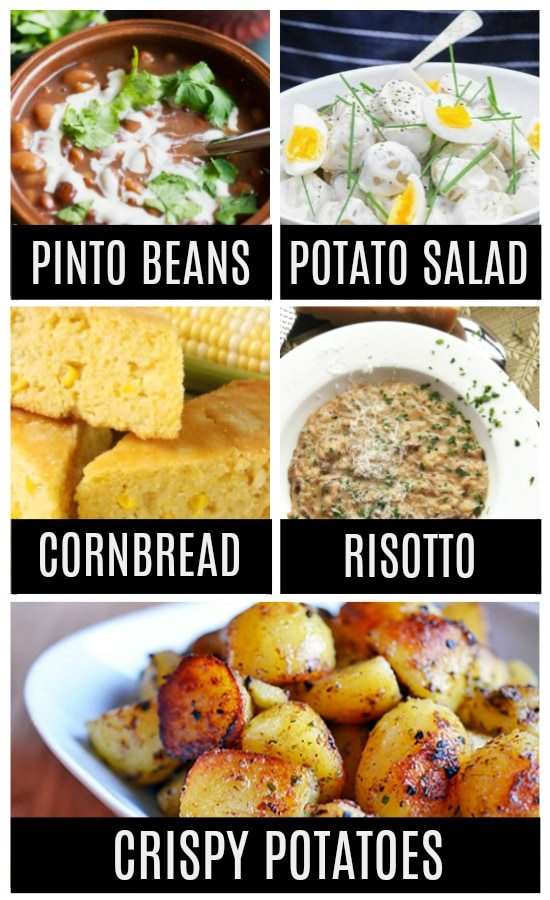 46. Pinto Beans (Eat Within Your Means) – Pinto beans are a brilliant way to pinch pennies and save on dinner costs, so add them to your list right away.
47. Potato Salad (Instant Pot Eats) – Cook the potatoes and eggs at the same time! What?! Love these 10 different ideas for variations, too!
48. Cornbread (Recipe 4 Living) – Perfect with chili, southern meals or well, anytime.
49. Mushroom Risotto (Serious Eats) – For fancier meals that you still want to cook quickly, risotto is a great addition.
50. Crispy Potatoes (Nom Nom Paleo) – I've never met a potato I didn't like, but if I can get that perfect fluffy inside, crispy outside texture down then I'm in heaven for sure.
20 Instant Pot One Pot Dinner Recipes
When you need to throw together a meal in no time at all but still want it to be delicious, these are your go-to, dinner time staples. You can prep any of these in less than 30 minutes and most are ready even quicker!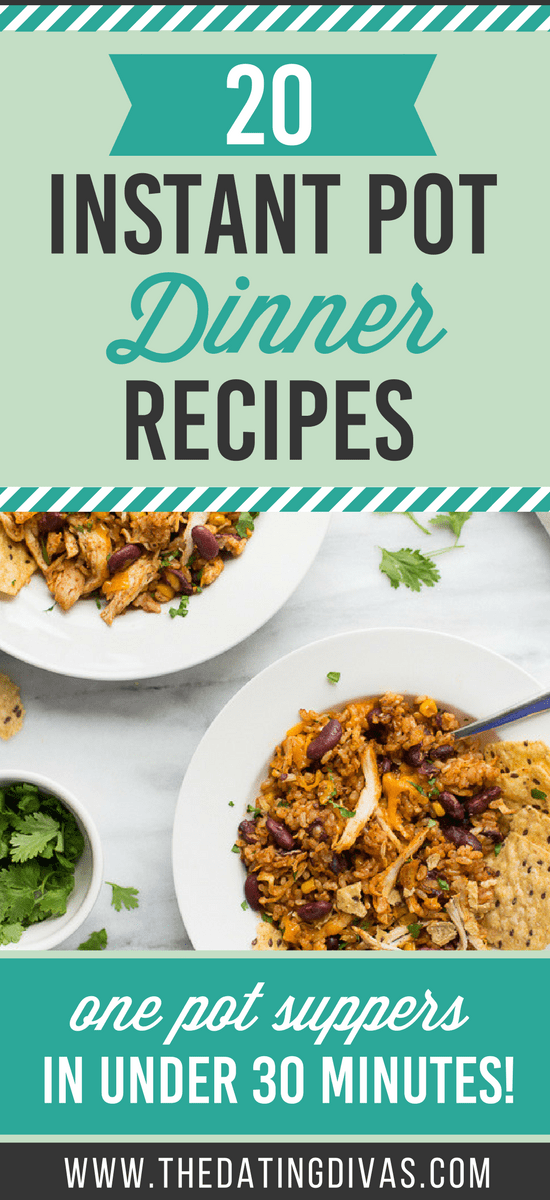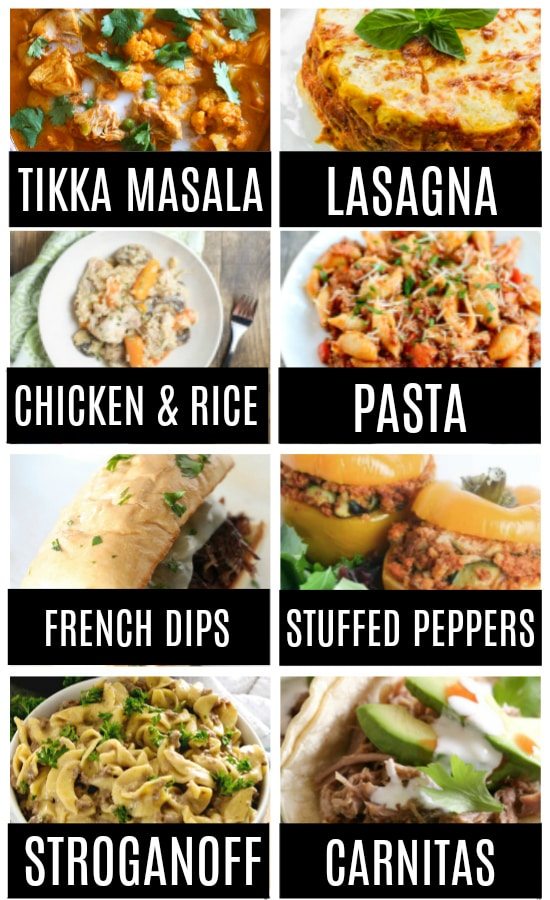 51. Chicken Tikka Masala (Skinnytaste) – I love that there's added veggies in this version of my favorite Indian dish!
52. Lasagna (The Wicked Noodle) – The quickest way to make lasagna is in the pressure cooker, plus it's a circle so it's, even more, fun than rectangular-shaped lasagna!
53. Chicken and Brown Rice (Super Healthy Kids) – A simple, healthy favorite everyone will love.
54. Pasta with Meat Sauce (The Lean Green Bean) – I skip the meat step but this is the only way I make pasta now!
55. French Dip Sandwiches (Number 2 Pencil) – Don't these look like something you'd order at a fancy (ahem… expensive) little bistro?!
56. Chorizo Stuffed Peppers (Once a Month Meals) – Spicy and delicious, these easy peppers are overflowing with deliciousness.
57. Hamburger Stroganoff (Julie's Eats and Treats) – Here's one the kiddos will be requesting over and over and unlike the boxed varieties, you know exactly what you're putting into your bodies.
58. Pork Carnitas (Skinnytaste) – It's my family's favorite version of "Taco Tuesday" ever!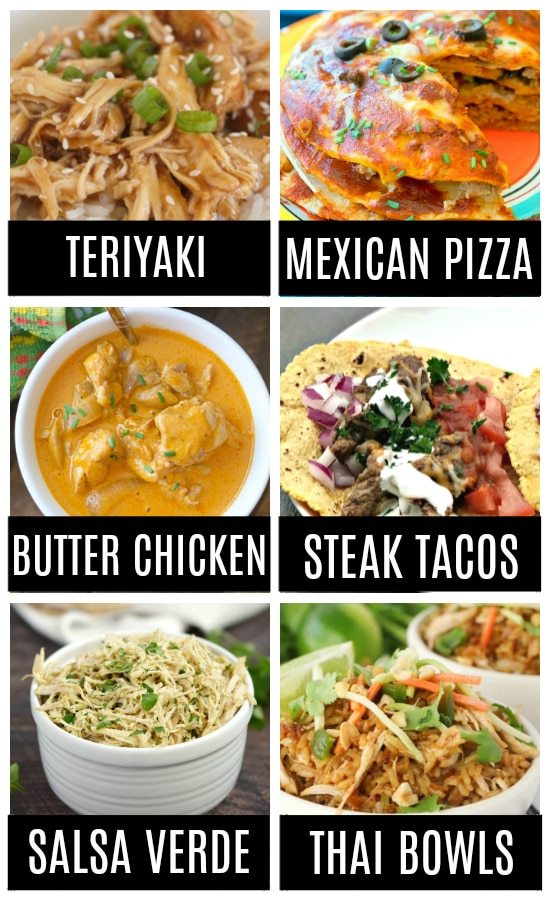 59. Teriyaki Chicken (Fabulessly Frugal) – Instead of dining out at your favorite Asian restaurant, try this homemade version and you will not be disappointed.
60. Mexican Pizza (Temecula Blogs) – An even easier way to do tacos, turn those flavors into a "pizza."
61. Butter Chicken (Temecula Blogs) – One of the most universally loved Indian dishes, this one makes plenty for huge portions or even better leftovers.
62. Steak Tacos (Stay Snatched) – 10-minute tacos? You had me at "hello!"
63. Salsa Verde Chicken (Cooking with Curls) – You'll just love the versatility of this chicken – try it with rice, tortillas, chips or even all alone!
64. Thai Chicken Rice Bowls (Wonder Mom Wannabe) – Sweet, spicy and jam-packed FULL of flavor!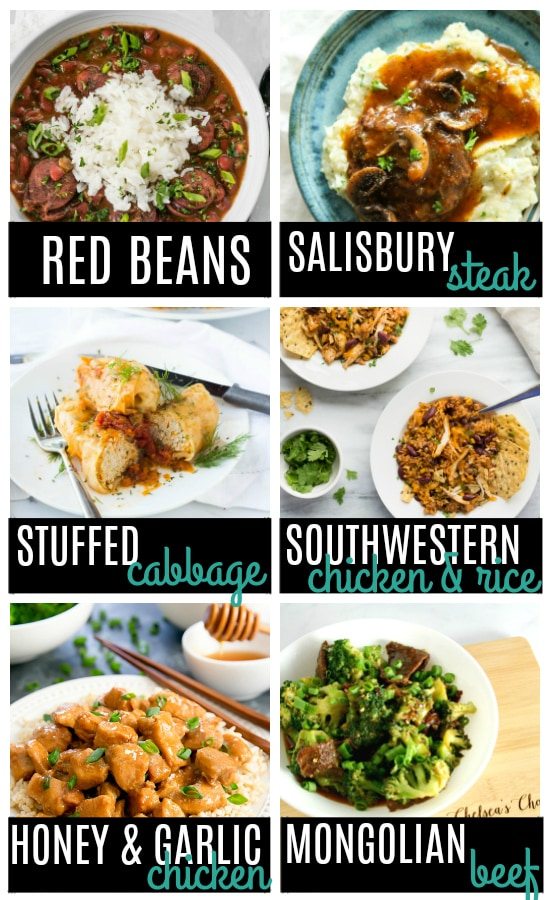 65. Red Beans (Budget Bytes) – Beans make this dinner a budget-friendly recipe, add to that a 10 minute prep time and you've got a new family favorite.
66. Salisbury Steak (Live Simply) – Southern comfort food at its absolute finest, pour on that gravy!
67. Stuffed Cabbage (Girl and the Kitchen) – A unique option when you want to try something a little different than your average pressure cooker recipe.
68. Southwestern Chicken and Rice (Meaningful Eats) – One of those amazing recipes where all you have to do is throw everything in and press a couple buttons before your meal comes out like magic!
69. Honey Garlic Chicken (Kirbie's Cravings) – I've never met a garlic recipe I didn't love. And I LOVE honey chicken. What's not to like?!
70. Mongolian Beef (Chelsea's Choices) – No need to order take out, like ever again. Just whip up this dish!
20 Instant Pot Dessert Recipes
Let's face it, nothing matters more than the sweets. Save the best for last by making indescribably delicious desserts in your Instant Pot.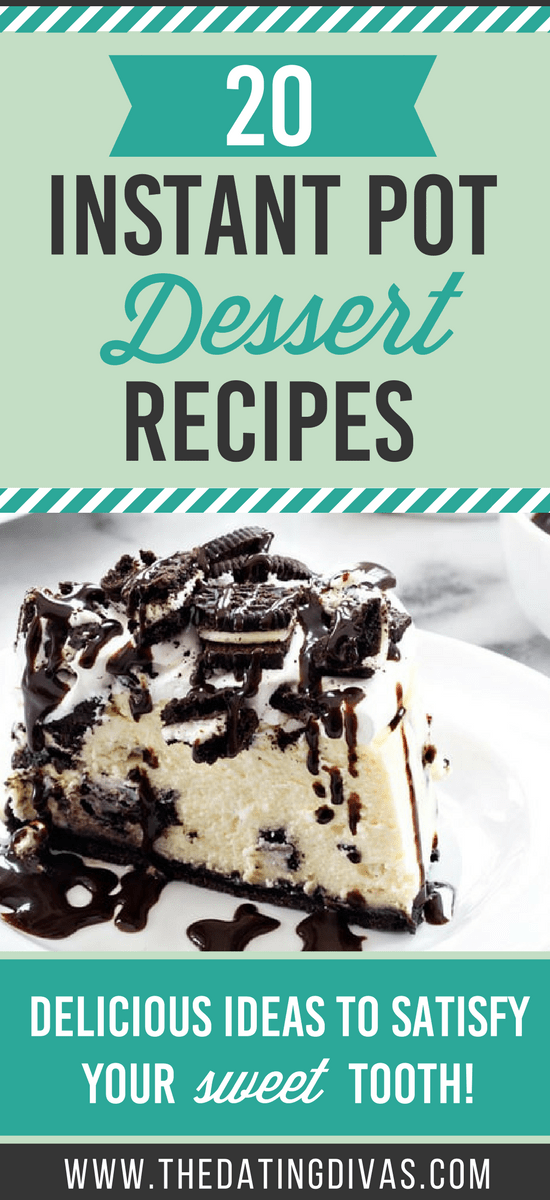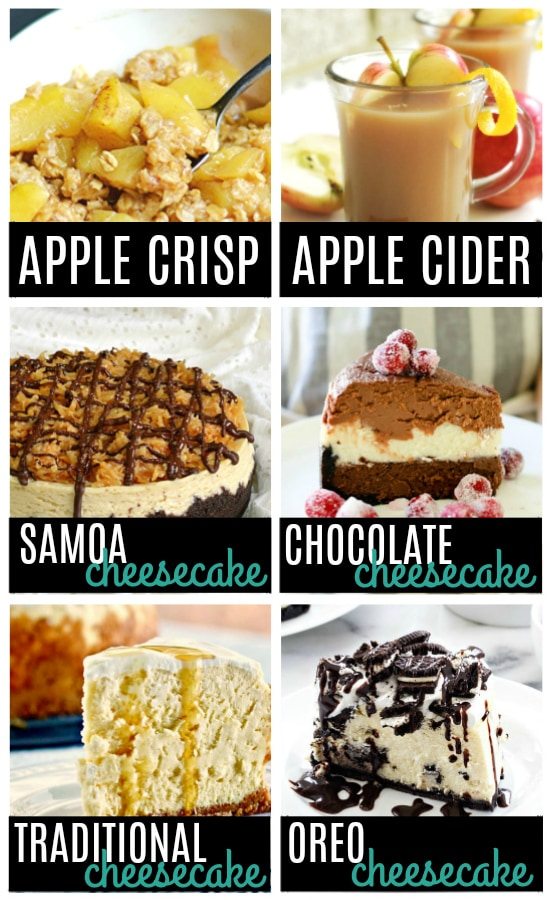 71. Apple Crisp (Center Cut Cook) – Top it with a scoop of vanilla ice cream for the perfect flavor combo!
72. Spiced Apple Cider (Recipes to Nourish) – Not just for after your meal, warm up with this treat any time you want!
73. Samoa Cheesecake (Lady Behind the Curtain) – Caramel and chocolate come together and remind me of my favorite Girl Scout cookie. Yes.
74. Triple Chocolate Layered Cheesecake (Pressure Cooking Today) – Chocolate lovers unite… behind this sinful version of cheesecake.
75. Traditional Cheesecake (Homemade Food Junkie) – Super thick and perfectly creamy, you can add your own delicious toppings to make this cheesecake irresistible!
76. Oreo Cheesecake (My Baking Addiction) – Everyone loves Oreos in their baked goods so this is sure to be a total crowd pleaser any day of the week.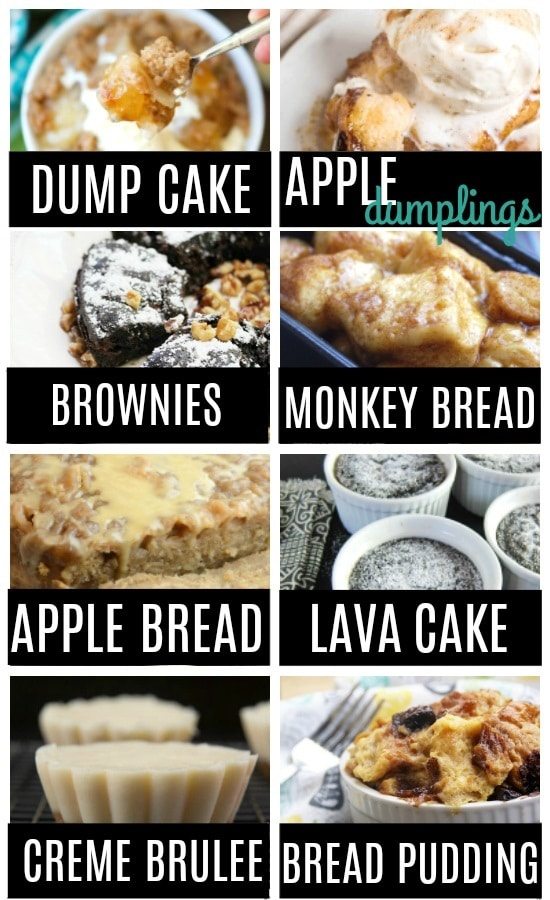 77. 3-Ingredient Dump Cake (Temecula Blogs) – When you just need the easiest dessert of all time, you have the perfect go-to option.
78. Apple Dumplings (Taste of Lizzy T) – The perfect taste of fall is this cinnamony, sugary, buttery goodness.
79. Brownies (Home Pressure Cooking) – Not so much a recipe as directions for using your Instant Pot to make boxed brownies, but even as a baker I just cannot seem to beat what's in the Ghiradelli box so I love this idea.
80. Monkey Bread (Food N Service) – I love a dessert I can eat with my hands, even if it is still super messy.
81. Apple Bread with Caramel Icing (Adventures of a Nurse) – No dry bread in these parts, just gooey, caramel amazingness.
82. Lava Cake (Paint the Kitchen Red) – Gooey, chocolate decadence has me convinced to try this recipes ASAP.
83. Creme Brulee Bites (Pressure Cooker Recipes) – Make an elegant dessert even more beautiful by making it miniature!
84. Bread Pudding (Food N Service) – Look no further for a simple, fool-proof recipe with almost no prep time and sweet results.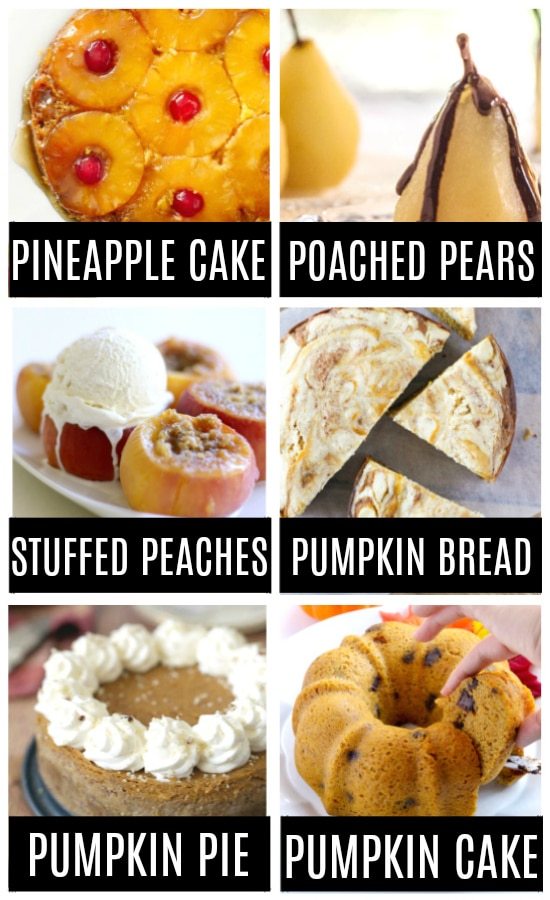 85. Pineapple Upside Down Cake (Betty Crocker) – A classic dessert that never gets old.
86. Poached Pears (Pressure Cooking Today) – I love how fancy these are and I always love a dessert where I get my very own, instead of having to share.
87. Stuffed Peaches (Recipes to Nourish) – Can't you just smell the deliciousness already? My mouth is seriously watering!
88. Pumpkin Bread (Number 2 Pencil) – Make this bread and you just might be able to pass it off for breakfast in the morning too, I mean there is pumpkin in it which is a vegetable—right?!
89. Pumpkin Pie (Pressure Cooking Today) – When the oven is totally filled with turkey and fixings on Thanksgiving, put your pie in the Instant Pot!
90. Pumpkin Chocolate Chip Bundt Cake (A Pinch of Healthy) – Because you've literally never had anything pumpkin that wasn't delicious, right?!
11 Instant Pot Resources
The ultimate list of tips, tricks and extra tools to make your Instant Pot work for YOU!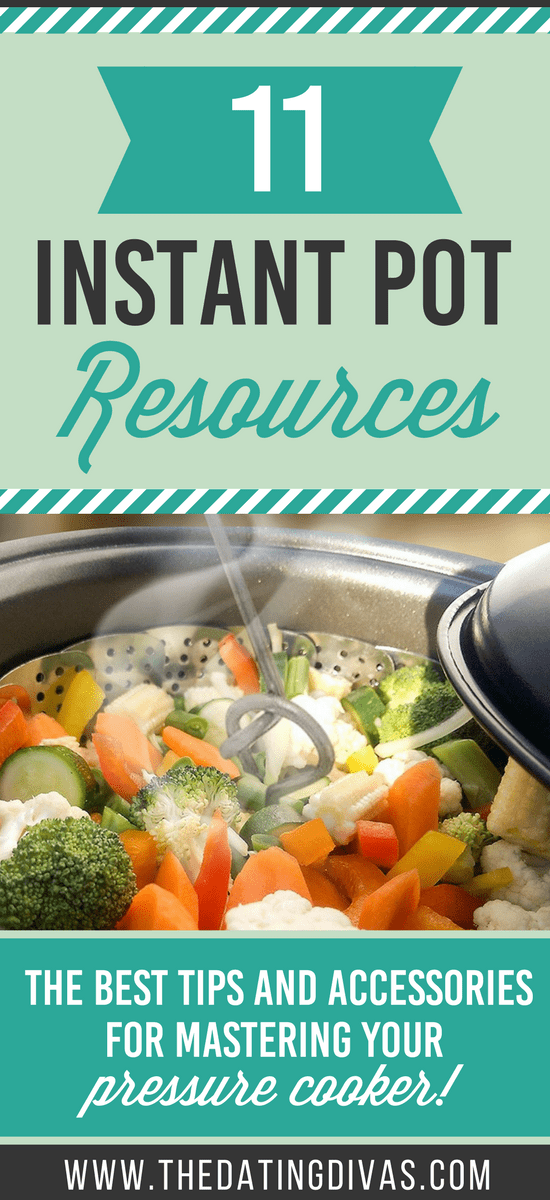 91. Cook Time Charts – Straight from the source, these cook times will help give you a good place to start when you want to cook simply without a recipe. Instant Pot includes times for cooking everything from specific vegetables to rice to meats. You're definitely going to want to bookmark these links!
92. Social Media Resources – It can be super intimidating to get started, but JUST TRY IT – open that box, read the instructions, and just do it. Use YouTube for SUPER helpful starter tips, our Pinterest Board for even more great recipes, and join a Facebook Group for help along the way!
93. Instant Pot Guide – Lots of really helpful tidbits and troubleshooting tips for beginning users. If you're feeling wary, this is a great place to start!
94. Freezer Meals – Who doesn't love freezer meals?! Here are 14 great meals to start using your Instant Pot for meal prep and even more time-saving!
95. Stackable Inserts – Making true one-pot meals is such a breeze if you've got these containers.  They also work great if you're wanting to try out cheesecake! AND if you really want to multi-task and plan ahead, you could make two dinners at the same time – it's the perfect idea for couples!
96. Cooking Bands – These are a handy little accessory for any chef and can double to be used for all kinds of things around the house, but they're perfect for the Instant Pot if you plan ahead just a tad. Wrap them around roasts, whole chickens or even baking dishes that you put directly into the pressure cooker and taking those items back out after cooking becomes super simple!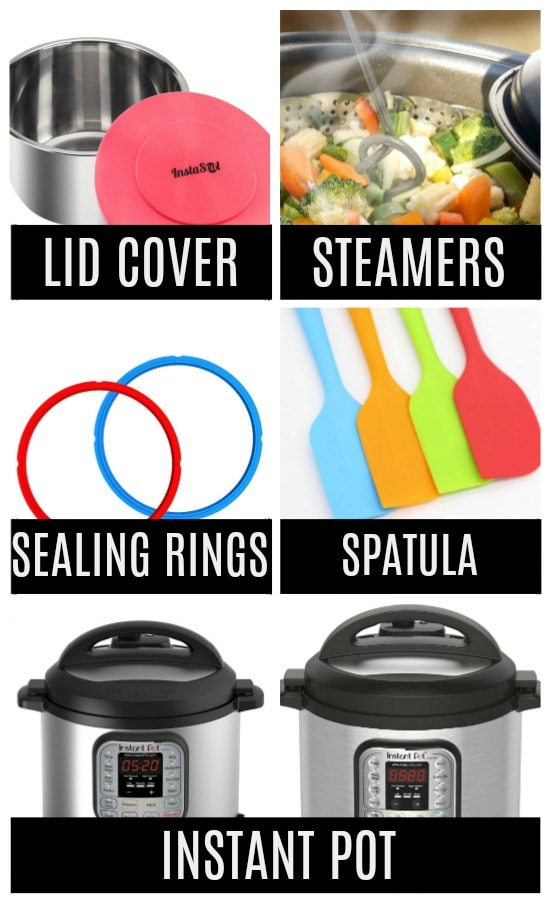 97. Silicone Cover – Perfect for taking your meal ANYwhere, even if it's just to the kitchen table. Yep, we've definitely used it for that before!
98. Steamer Basket – Want healthy recipes? This is your go-to for steaming anything without adding lots of fats and oils!
99. Color-Coded Sealing Rings – The only minor downside to cooking everything in your Instant Pot means smells that linger could interfere but there's a super quick, simple and inexpensive solution. If you grab an extra set of sealing rings you can switch them out when you're doing sweet and savory items and these colored rings make it super easy to know which ring is which!
100. Spatula – When doing quick release be aware it will let out A LOT of steam all at once and will be loud. I like to use a spatula to knock the toggle to "vent" so that I'm far away from the steam.
101. 6-Quart Instant Pot – Kick the slow cooker to the curb! Most of the Divas are pretty content with the 6-quart version, but if you've got a large family or like to feed crowds you might want to upgrade to the 8-Quart Instant Pot. And remember, your Instant Pot can double as a slow cooker with the slow cooker setting! As if you needed another reason. 
So let's be honest, you're drooling, right? Well, don't let the oogling stop here, take a peek at more incredible, delectable goodies with 101 Ways to Feed a Crowd and these 50 Warm Drink Recipes. If you want to turn your new cooking ideas into an entire night of fun, check out this Freezer Meals Challenge Date or host a Soup Swap Party!