Last Minute Christmas Gift Ideas
Fa-la-la-la-Uh oh! It seems like you forgot a Christmas gift or two! Do you panic?? Never! Behold, our list of over 100 last minute Christmas gifts – the PERFECT solution for gift-giving procrastinators everywhere (don't worry, we're totally in that boat!). From easy-to-make items to quick Christmas treats, we'll help make crazed, last minute shopping a thing of the past! This is one list that will give Santa's a run for his money. Ready to check it twice – or maybe a few dozen times?! Let's get gifting!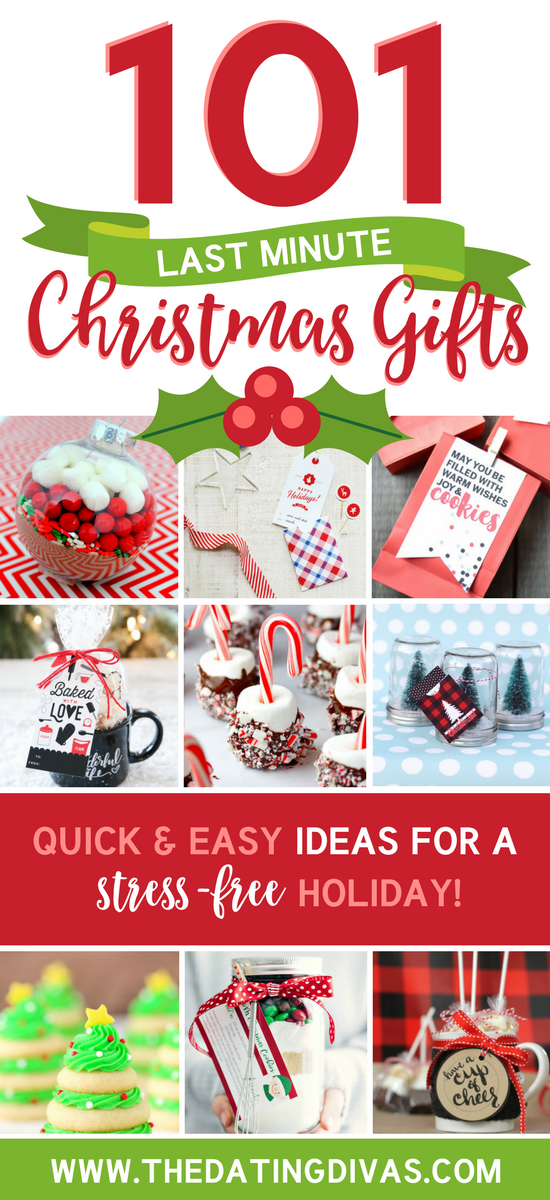 This post contains affiliate links. To learn more about 'em, click here.
It ain't easy being Santa, but we'll help make it as painless as possible with four easy-to-navigate categories! Plus, here's an extra tip for making shopping easier than ever: PIN these ideas so you can come back and use them year after year!
32 Last Minute Christmas Gifts
22 Last Minute Stocking Stuffers
24 Last Minute Christmas Treats
23 Last Minute Christmas Wrappings
Alright, alright, make way for Santa!
32 Last Minute Christmas Gifts
Perfect for neighbors, friends, and family, these last minute Christmas gifts are easy to prep and even better to give!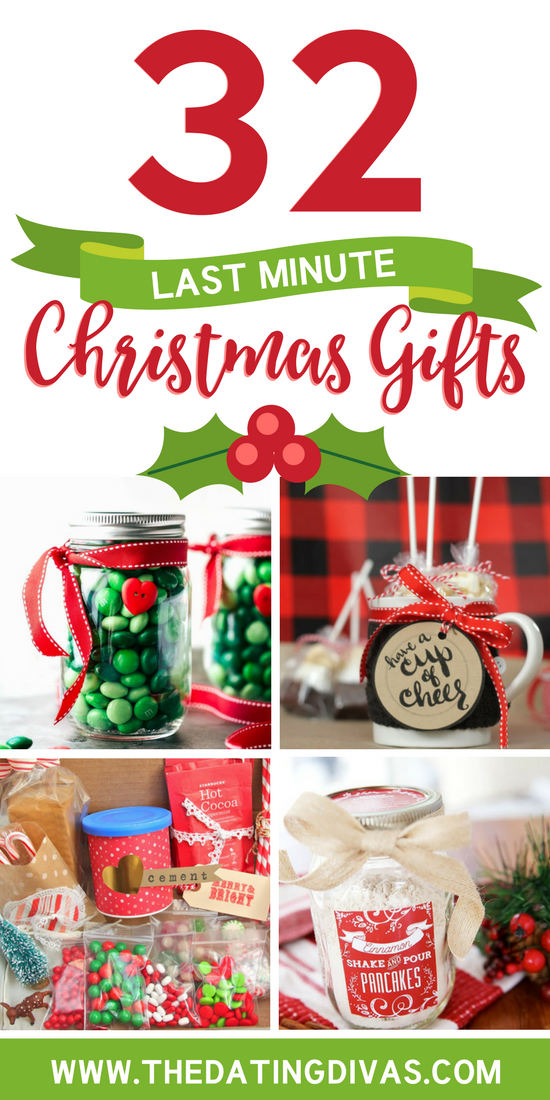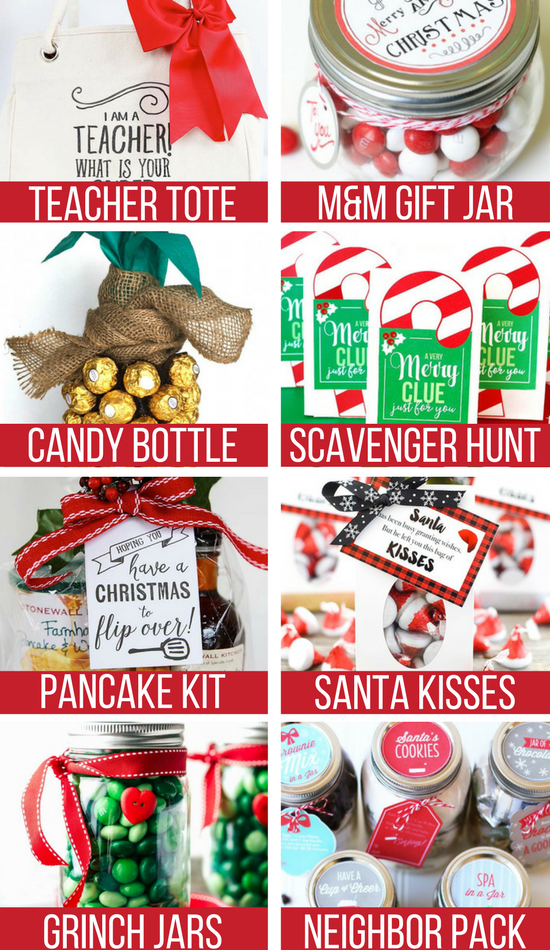 1. Teacher Tote (Skip to My Lou) –  Show the teacher in your life a little Christmas love with this quick and inspiring idea!
2. M&M Gift Jar (Infarrantly Creative) – A dash to the store is practically all it takes to whip up this candy-filled concoction. 
3. Chocolate Bottle (Redefined Mom) – Adorned with everyone's favorite chocolate ball treat, this idea is perfect for wine and sparkling cider lovers alike!
4. Scavenger Hunt (The Dating Divas) – A Christmas gift and activity all in one – we call that a win!
5. Pancake Kit (Skip to My Lou) – Throw a little breakfast into the 'mix' (so punny!) with this clever gift idea.
6. Santa Kisses (A Pumpkin & A Princess) – A treat idea and printable tag make this practically done-for-you gift idea a total breeze.
7. Grinch Jars (Chelsea's Messy Apron) – We're dying over how adorable these jars are! Take a peek!
8. Neighbor Pack (The Dating Divas) – Behold neighbor gift-giving BLISS! Once you try this pack, you'll never go back.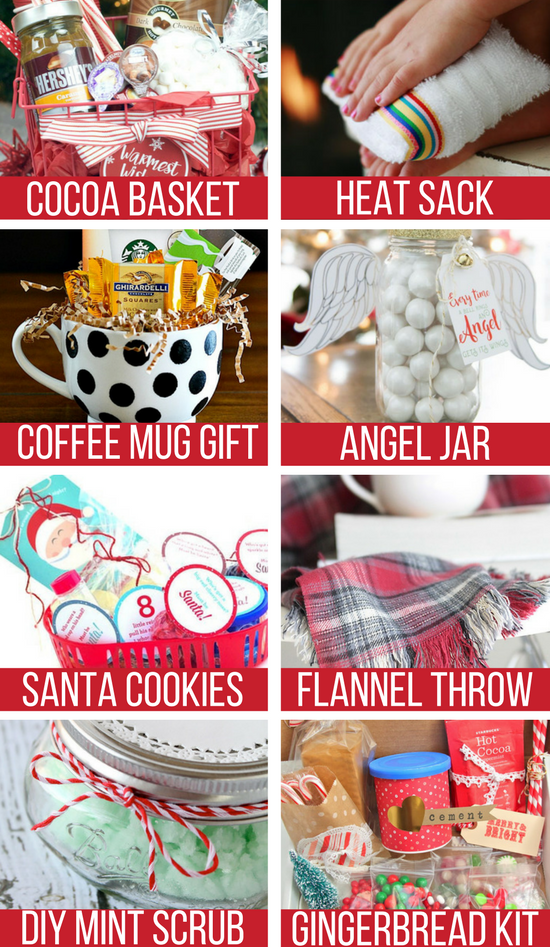 9. Cocoa Basket (Fun Squared) – Find yourself a basket, toss in your favorite cocoa go-to's and you've got yourself a gift that's not easy to part with!
10. Heat Sack (How Does She?) – You don't need to be a genius with the needle to whip up these warm and wonderful goodies!
11. Coffee Mug Gift (A Pumpkin & A Princess) – Warm their hearts (and bellies!) with this cutie patooty gift that works for coffee and cocoa lovers alike!
12. Angel Jar (Polka Dot Chair) – Any It's a Wonderful Life fans out there? Well, get yourself ready for cuteness overload!
13. Santa Cookies (The Dating Divas) – Give the gift of cookie decorating goodness with this darling kit!
14. Flannel Throw (It's Always Autumn) – Give the gift of snuggles this year with this minimal-sew throw!
15. DIY Mint Scrub (Love Grows Wild) – You love to get pampered and chances are your friends do too!
16. Gingerbread Kit (Smashed Peas and Carrots) – You'll score SERIOUS gift-giving points with this party in a box that's oh-so Christmas-y.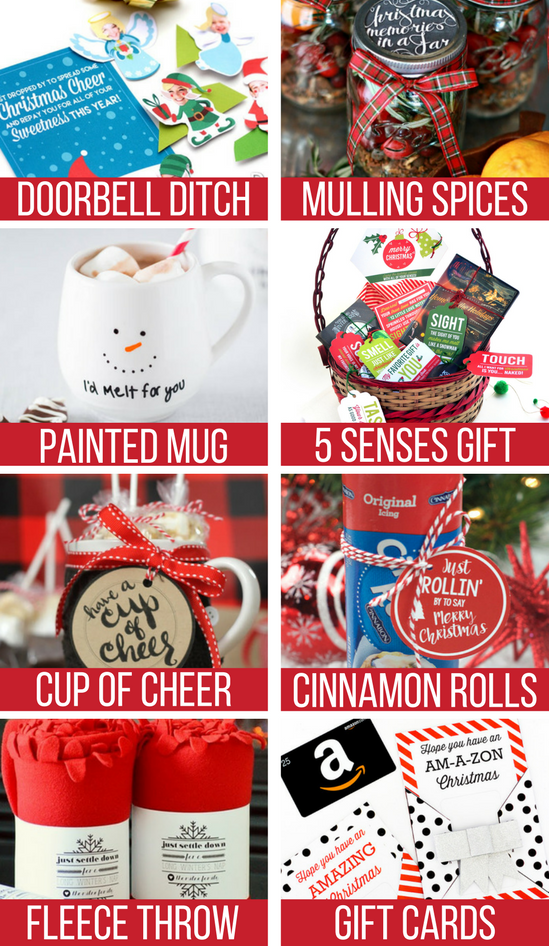 17. Doorbell Ditch (The Dating Divas) – For an extra dash of whimsy and awesomeness, check THIS out!
18. Mulling Spices (Nest of Posies) – The gift of fragrance is always a good idea and this DIY spice blend will turn anyone's home into Christmastown.
19. Painted Mug (I Heart Naptime) – Sweet, sensible, and perfect for snow-lovers and non-snow lovers alike!
20. 5 Senses Gift (The Dating Divas) – Why give one gift when you can give five?!  
21. Cup of Cheer (Persia Lou) – We're just dying over this 'Christmas in a cup!'
22. Cinnamon Rolls (Fun Squared) – Okay, does it get any easier than this? We don't think so.
23. Fleece Throw (Sarah M Style) – Snatch up a couple of inexpensive throws, attach this fabulous tag and you've got yourself a gift in no time flat!
24. Gift Card Holder (I Heart Naptime) – Gift cards are ALWAYS a good idea and this printable holder will add that extra dash of holiday magic.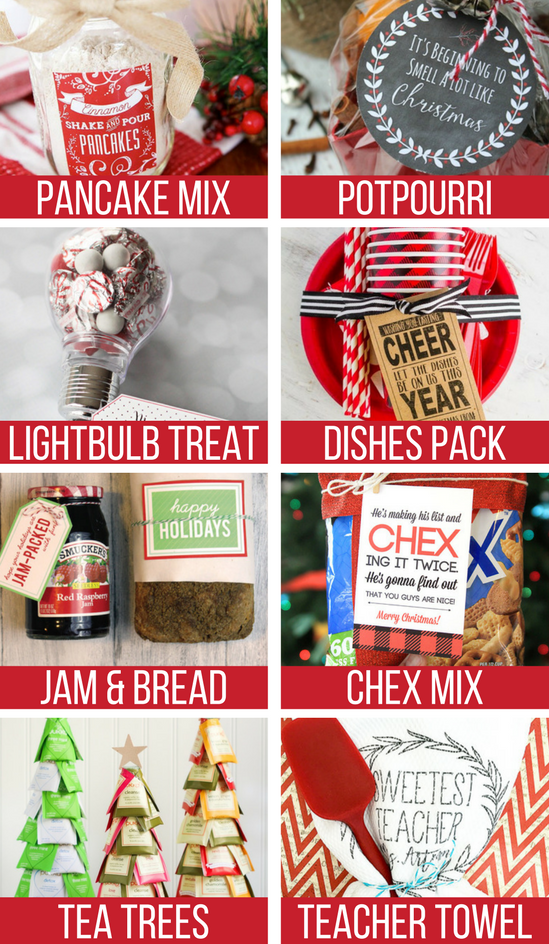 25. Cinnamon Pancake Mix (Skip to My Lou) – This mix-in-a-jar gift is perfect for foodies (and procrastinating gift givers).
26. Potpourri (Clean & Scentsible) – Citrus and spice ingredients combine to make this potpourri mix that is the perfect addition to any Christmas kitchen.
27. Lightbulb Treat (Landeelu) – Get the thrill of the craft without the hassle with these quick and cute candy-packed bulbs.
28. Dishes Pack (My Name is Snickerdoodle) – Be everyone's favorite friend with this service-oriented gift that grants the receiver a dish free night.
29. Jam & Bread (Inspiration Made Simple) – A jar of jam and a store-bought (or homemade!) loaf make for the perfect last minute present.
30. Chex Mix (It's Always Autumn) – This punny and edible treat is a win in our book! 'Chex' it out!
31. Tea Trees (Thirsty for Tea) – Tea lovers will adore this DIY Tea Tree!
32. Teacher Towel (The Gracious Wife) – We're obsessed with iron transfers and this educator-themed design is so cute we can hardly stand it! 
22 Last Minute Stocking Stuffers
Clever, cute, and easy to create, these bits and baubles make for the PERFECT stocking stuffers.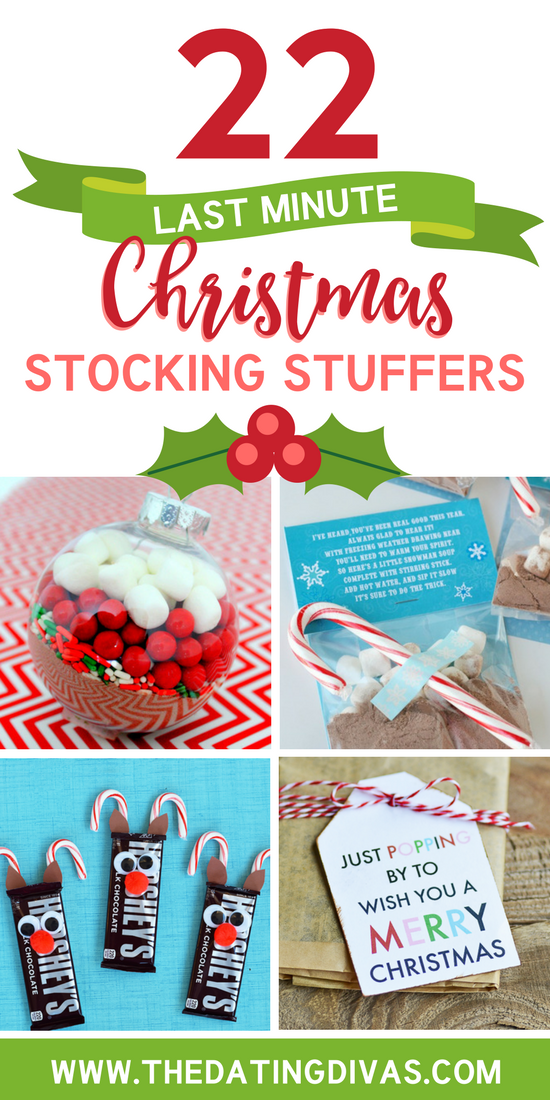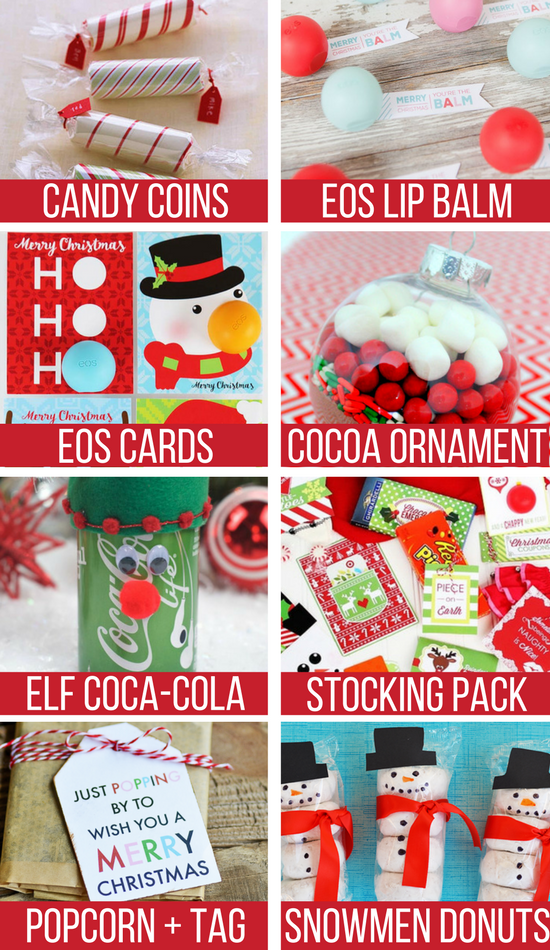 33. Candy Coins (Martha Stewart) – A trip to the bank and some super sweet wrappings are all that's needed for this stocking stuffer.
34. EOS Lip Balm (Simple As That) – Banish chapped lips and scrooges with this nifty gifty!
35. EOS Cards (Skip To My Lou) – What can we say? We love our EOS! Check this idea out for even more inspo on how to gift them!
36. Cocoa Ornament (Sweetly Chic Events) – A stocking stuffer, treat, and souvenir all in one? Sign us up!
37. Elf Coca-Cola (Fun Squared) – Soda lovers will love these Christmas themed drinks!
38. Stocking Pack (The Dating Divas) – Behold, the goldmine of all things stockings.
39. Popcorn + Tag (Simply Kierste) – A clever tag turns an ordinary bag of popcorn into the easiest gift!
40. Snowmen Donuts (I Heart Arts n Crafts) – Make way for snowflakes! And donuts too…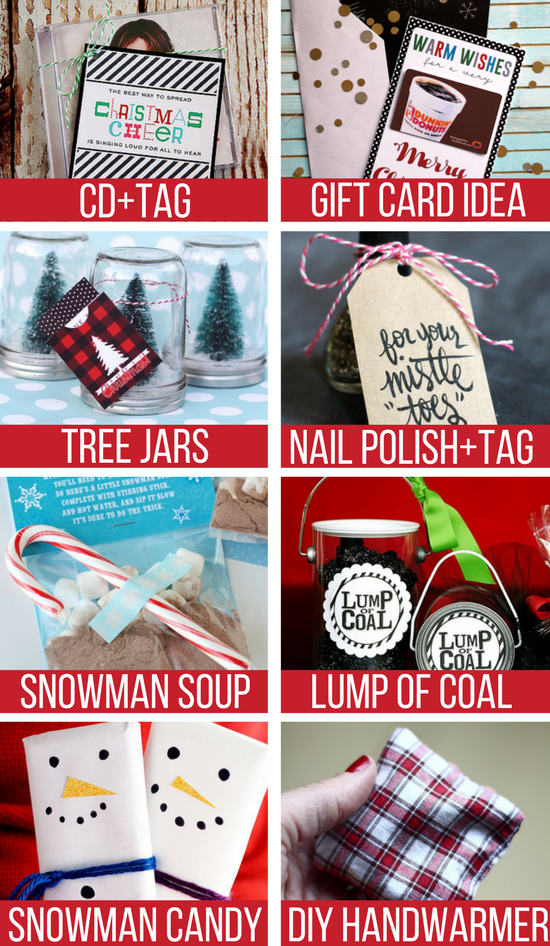 41. CD + Tag (Eighteen25) – Affix this printable tag to your CD of choice and that sock is ready to be stuffed.
42. Gift Card Idea (The Girl Creative) – When all else fails, choose a gift card and use these beyond adorable holders to jazz things up!
43. Tree Jars (the 36th Avenue) – Like a snowglobe but better, these sweet trees will continue lifting hearts long after Christmas.
44. Nail Polish + Tag (Persia Lou) – Give the gift of pretty with this clever tag that turns polish into perfection.
45. Snowman Soup (Glorious Treats) – Forget veggies, this is OUR kind of soup!  
46. Lump of Coal (Eighteen25) – Unleash a little naughtiness and give this sassy stocking stuffer a go!
47. Snowman Candy (The Gracious Wife) – White paper and a little imagination are all that stand between you and these oh-so-cute candy bars!
48. DIY Handwarmer (Swoon Studio) – A little rice and a spare 20 minutes or so will help you create these little buddies that will warm the heart and hands – literally.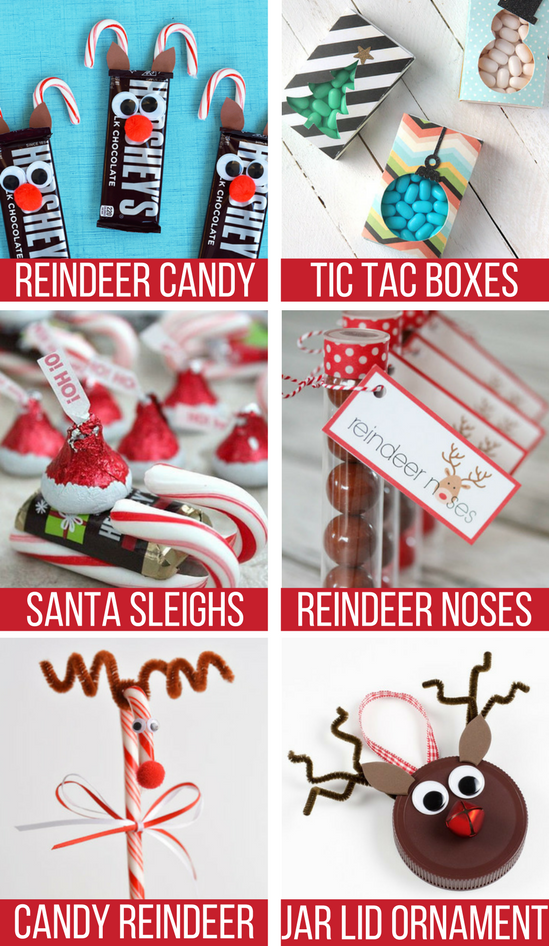 49. Reindeer Candy (I Heart Arts n Crafts) – A little antler power never hurt anybody.
50. Tic Tac Boxes (It's Always Autumn) – Give store-bought Tic Tacs a makeover with this fun idea.  
51. Santa Sleighs (Life With My Littles) – Everyone's favorite Christmas candies combine to make one adorable stocking stuffer!
52. Reindeer Noses (Create Craft Love) – How cute are these?!
53. Candy Reindeer (One Little Project) – Twist up some fun with these pipe cleaner topped candies.
54. Jar Ornament (Fireflies + Mudpies) – Give the gift that keeps on giving with this DIY ornament that's too adorable for words! 
24 Last Minute Christmas Treats
If kitchen crafted gifts are more your speed, these quick and simple goodies are for you!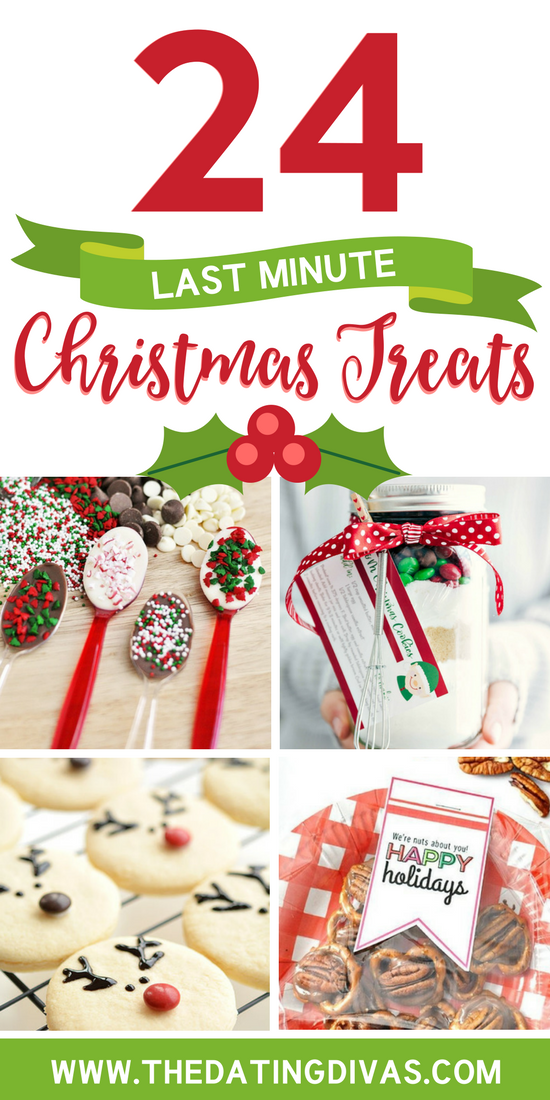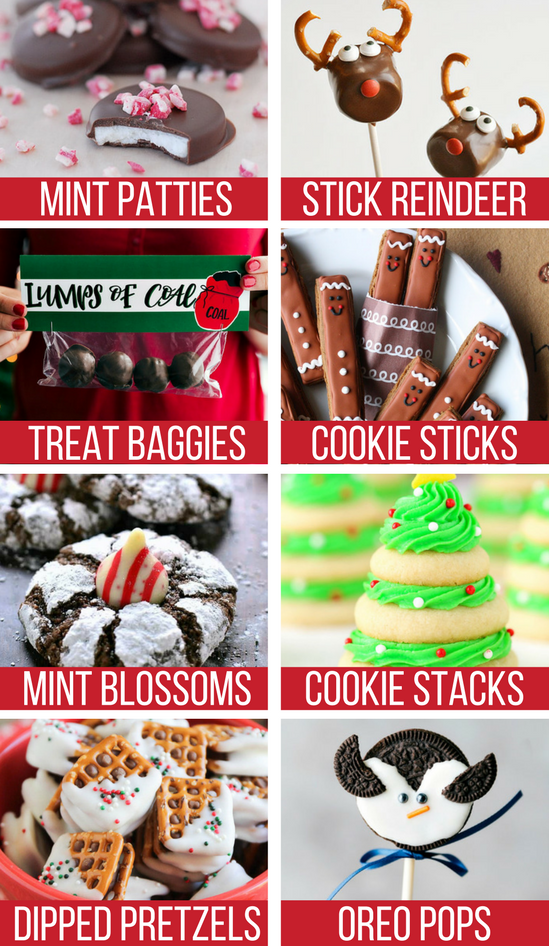 55. Mint Patties (The Gunny Sack) – Minty fresh and covered in goodness, these easy treats won't last long!
56. Stick Reindeer (One Little Project) – Cute, easy, and super unique, little ones especially will love these treats on a stick!
57. Treat Baggies (Chelsea's Messy Apron) – Give these portable treats a go when you're pressed for time!
58. Cookie Sticks (Munchkin Munchies) – Gingerbread men are so ten minutes ago. Give these sweet crunchy treats a try instead!
59. Mint Blossoms (Lemon Tree Dwelling) – We think chocolate and peppermint is a match made in dessert heaven and you will too!
60. Cookie Stacks (Delish) – We're obsessed with these treats that are almost as fun to make as they are to eat.
61. Dipped Pretzels (I Heart Naptime) – White chocolate nibs and Rolos combine to make these bite-sized treats that make the perfect last minute gift!
62. Oreo Pops (Chelsea's Messy Apron) – Never have we ever seen Oreos SO cute!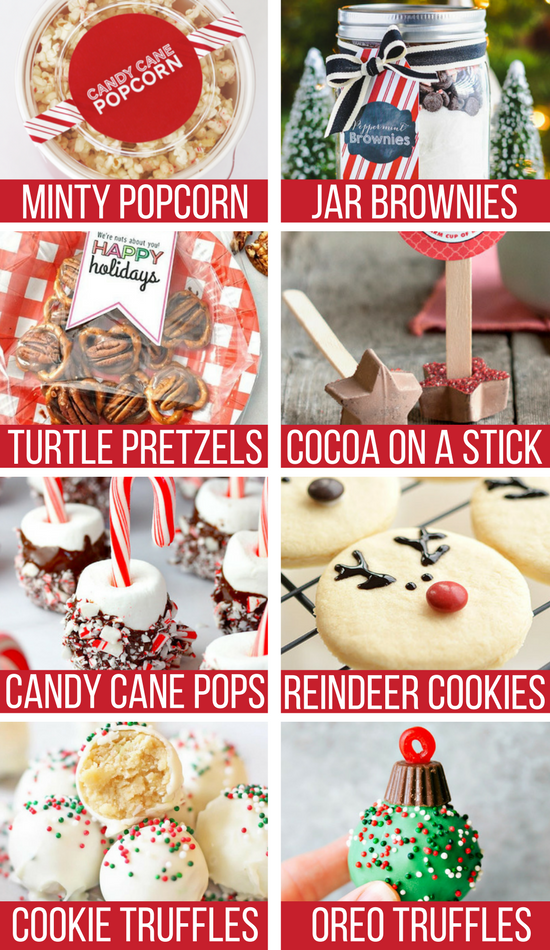 63. Minty Popcorn (Paging Supermom) – Pop up some fun (and one fantastic gift) with this candy-cane infused batch of goodness.
64. Jar Brownies (A Pumpkin & A Princess) – Just dump and give! It doesn't get much easier than this treat in a jar.
65. Turtle Pretzels (Thirty Handmade Days) – A clever tag and a tasty treat make this snazzy gift a yes, yes, yes!
66. Cocoa on a Stick (Evermine Occasions) – Hot chocolate lovers will be all sorts of obsessed with this clever idea.
67. Candy Cane Pops (Liv Life) – This fabulous idea takes everything good about Christmas treats and combines it into one tasty concoction!
68. Reindeer Cookies (One Little Project) – Um, how cute are these?! We'll take a handful or two!
69. Cookie Truffles (If You Give a Blonde a Kitchen) – Sugar cookies or truffles? Now you don't have to choose!
70. Oreo Truffles (Chelsea's Messy Apron) – Crush, crumble, and mix with cream cheese for ultimate truffle perfection.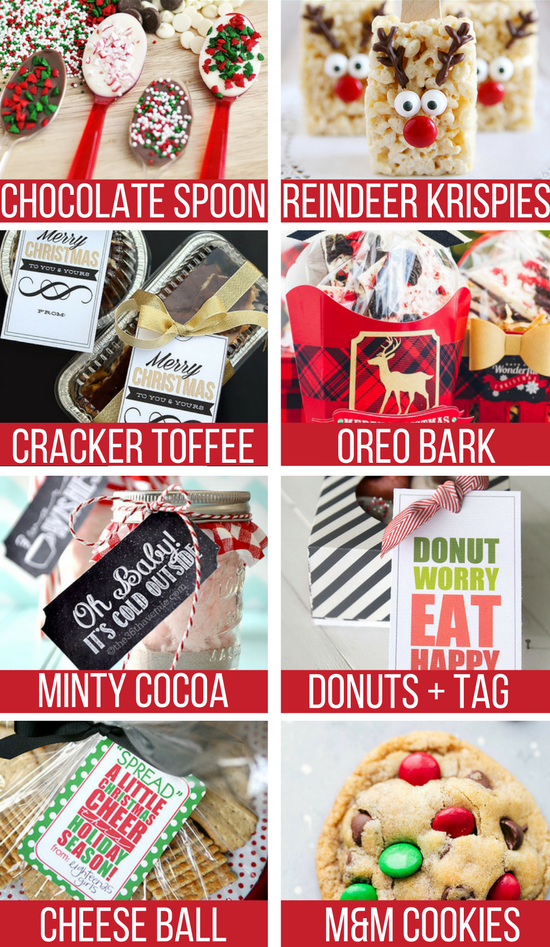 71. Chocolate Spoon (Cherished Bliss) – Perfect for licking, dipping, or dunking, these chocolate spoons are almost too cute to eat.
72. Reindeer Krispies (Thirty Handmade Days) – Let Rudolph the Red-Nosed Rice Krispie steal the show this year!
73. Cracker Toffee (Eighteen25) – Oh, cracker toffee how you've stolen our hearts!
74. Oreo Bark (A Pumpkin & A Princess) – Raise your hand and open your mouth if you love Oreos as much as we do!
75. Minty Cocoa (The 36th Avenue) – Cotton candy lovers will adore these portable treats.
76. Donuts + Tag (It's Always Autumn) – Even extra-pressed-for-time folks have great gift idea with this snazzy tag + treat.
77. Cheese Ball (Eighteen25) – Friends and family not much of dessert people? This is the goodie for them!
78. M&M Cookies (Chelsea's Messy Apron) – We think Christmas M&M's are ALWAYS a good idea. 
23 Last Minute Christmas Wrappings
Whipped up a gift but got nothing to wrap it with? We've got you covered! You'll probably also want to make sure you saved these ideas on Pinterest so you know exactly where to find them!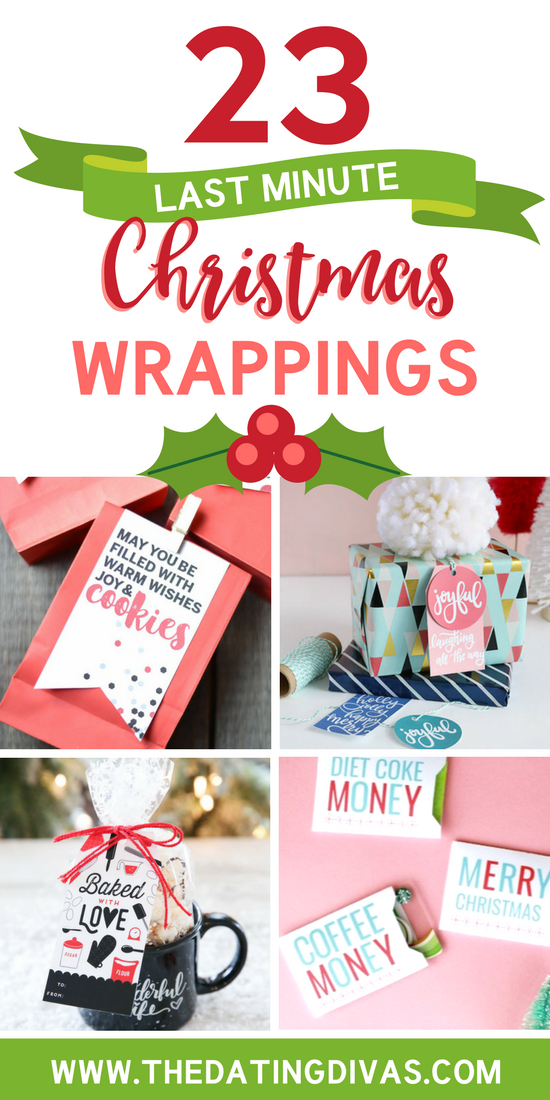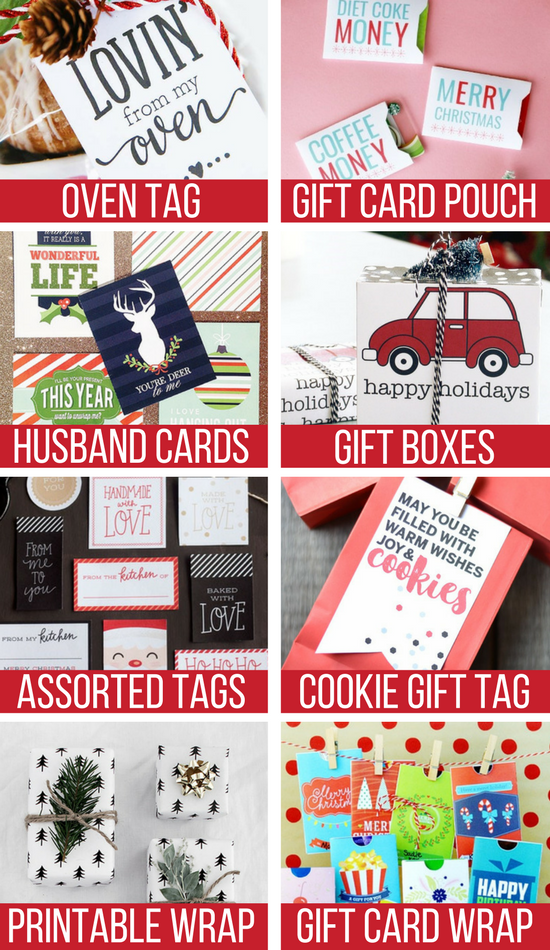 79. Oven Tag (Skip to My Lou) – The perfect addition to homebaked goodies, this printable tag will add that extra dash of style.
80. Gift Card Pouch (Pretty Providence) – Looking for a way to spice up that gift card? You've found it!
81. Husband Cards (The Dating Divas) – Give your hunky man a fabulous holiday card with these ideas created especially for him!
82. Gift Boxes (Lolly Jane) – The perfect addition to smaller gift ideas, this printable treat box is almost too cute for words! 
83. Assorted Tags (Paper Crave) – Chic and unique, you'll find the perfect tag for your needs.
84. Cookie Gift Tag (Balancing Home) – Give this cookie-themed tag a try for ultimate gift satisfaction.
85. Printable Wrap (Homey Oh My) – Who has time to search for costly store-bought wrapping paper?! Not us!
86. Gift Card Wrap (The Dating Divas) – With ten unique designs to choose from, you'll find the perfect printable holder for your gift cards.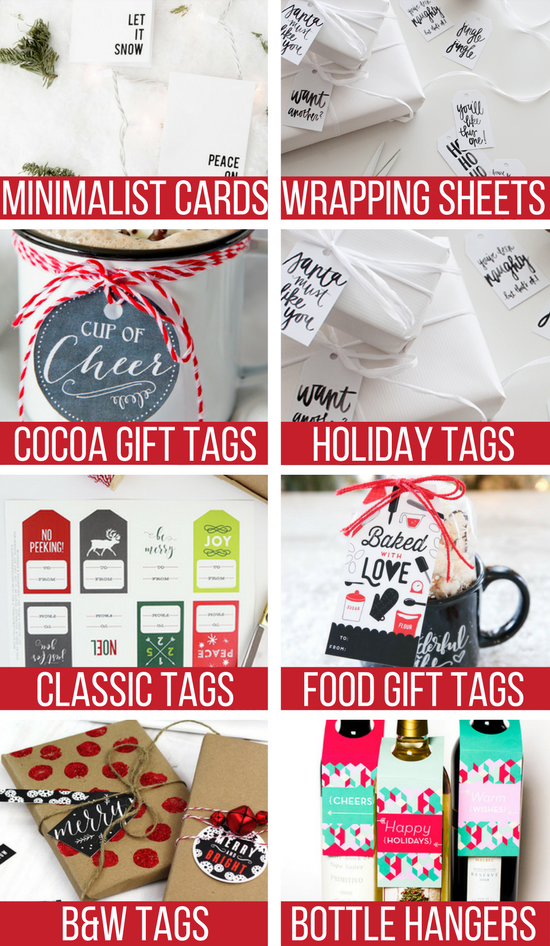 87. Minimalist Cards (The Beauty Dojo) – Embrace the minimalist movement head-on with these stylish and sleek printable Christmas cards.
88. Wrapping Sheets (My 3 Monsters) – Santa's coming to town! Download these printable wrapping sheets to make his job a little easier (wink wink).  
89. Cocoa Gift Tags (Yellow Bliss Road) – Giving the gift of cocoa this year? You're gonna want to see this.
90. Holiday Tags (Almost Makes Perfect) – This sassy black and white Christmas tag set is at the top of our lists. 
91. Classic Tags (Today's Creative Life) – We're all sorts of obsessed with these classic tag designs that are sure to jazz up any present.  
92. Food Tags (Our Best Bites) – PERFECT for foodies, this gift tag set adds an extra dose of something special to those edibles.  
93. B&W Tags (Celebration Shoppe) – Black, white, and red all over (remember that joke?!) these tags will help you celebrate in style.
94. Bottle Hangers (Sarah Hearts) – Dress up wine bottles, sparkling cider, or flavored vinegar and olive oils with these fun and fabulous hanging tags.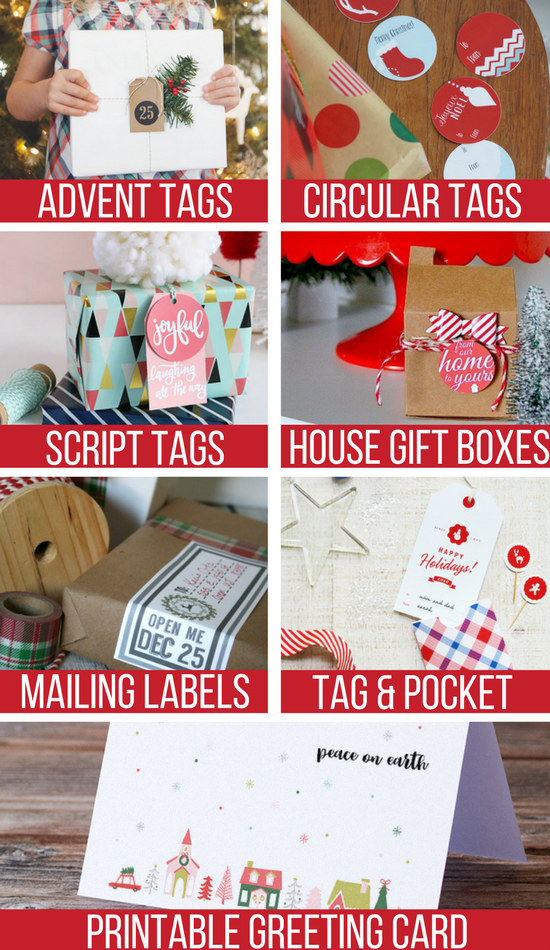 95. Advent Tags (Simple as That) – Let this printable do advent calendar/gift tag double duty!
96. Circle Tags (The Caterpillar Years for Yellow Bliss Road) – Don't be a square! Give these circular tags a try instead!
97. Script Tags (Persia Lou) – Hand-lettered, colorful, and perfectly lovely, these script font tags will spice up any gift in no time at all.
98. House Gift Boxes (Tatertots & Jello) – Is there anything more festive than a Christmas House Gift Box?!
99. Mailing Labels (Today's Creative Life) – Even mailed gifts and goodies get a special dose of holiday cheer with these beautiful labels.
100. Tag & Pocket (Eat Drink Chic) – An adorable tag (and a pocket too!) this is one wrapping element you don't want to miss.
101. Printable Greeting Card (Yellow Bliss Road) – Slip a little Christmas note in with that present and spread the love even more!
See? We told you we'd help you make the holidays stress-free! And speaking of staying stress-free, make sure to stay away from any unwanted gifts as well. 
For even MORE Christmas fun, be sure and check out our big ol' list of Stocking Stuffer Ideas and our Subscription Gift Ideas! Now go deliver those gifts and goodies and enjoy the smiles. Merry Christmas!
Who loves free goodies?! We sure do! Be sure and grab your 'Merry Kiss-mas and a Chappy New Year' printable below!
Merry Kiss-mas and a Chappy New Year!
Printable Designed By Whimsical Design Studio Exclusively for The Dating Divas