Christmas shopping is one of my very favorite things! Giving gifts is one way to show someone how much you love and care for them and I'm all about making someone's eyes light up with excitement and if I can pull together some DIY Christmas Gifts that's even better since they are often more meaningful!
However, there is one person on my list who has become increasingly difficult to shop for! You got it, my husband! And let's face it, he's probably the most important person on my list! Finding the perfect gift for him is an absolute must! I love him so much and nothing I buy seems to be perfect enough. This year I want to give him something extra special! Something from the heart… The perfect Christmas gift for him is definitely on this list!
Handmade Christmas Gifts for Him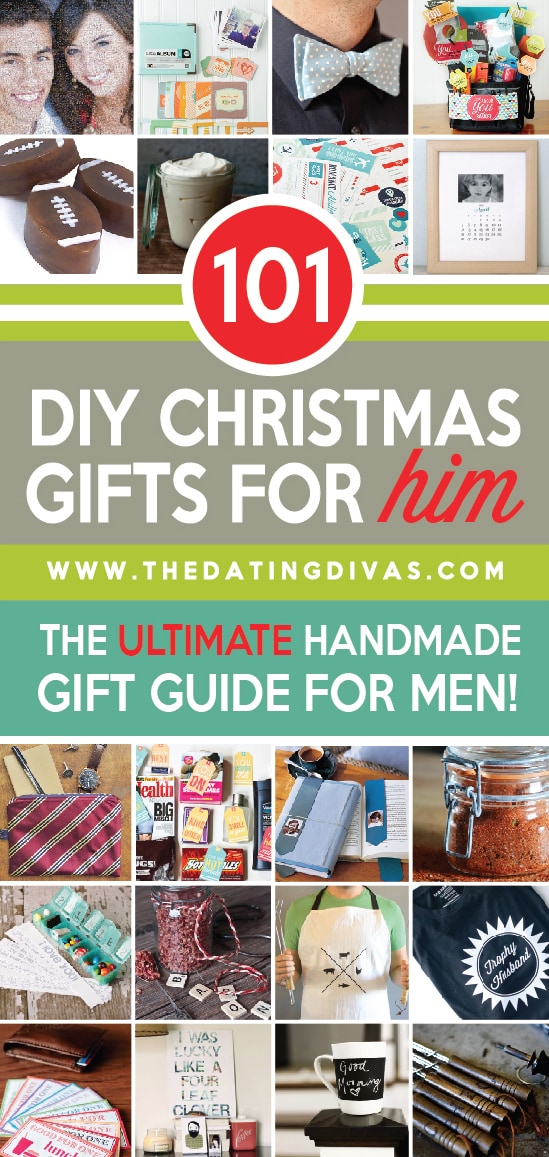 Disclaimer: This post contains affiliate links. To learn more about 'em,
click here
.
Making something that you know your husband will treasure and you can tailor specifically to his likes and needs is the BEST way to show him how much you love him this season! DIY Christmas gifts are THE best!
If you're searching for the perfect gift for him, we've got a multitude of ideas here to choose from…
To help make your search a little easier, let me show you what we've got lined up in this Gift Guide for Him!
8 DIY Clothing Gifts for Him
10 DIY Snack Gifts for Him
11 DIY Gift Baskets for Him
13 DIY Personalized Gifts for Him
9 DIY Picture Gifts for Him
13 DIY Romantic Gifts for Him
10 DIY Sexy Gifts for Him
16 DIY Stocking Stuffers for Him
11 DIY Sports Gifts for Him
DIY gifts are my favorite because I can take an amazing idea and put a little touch of me into the gift! Then it truly becomes a gift from me! With most of these gifts, you can take them and make them your own… which is extra special! Enjoy!
DIY Clothing Gifts for Him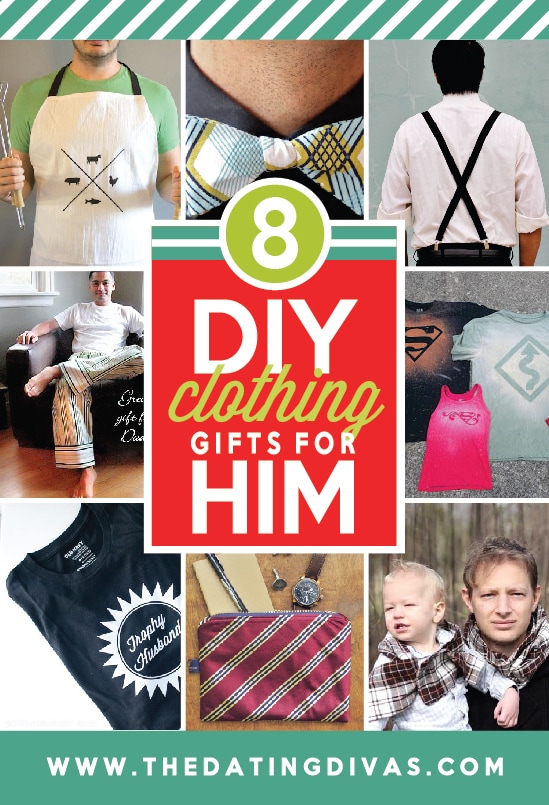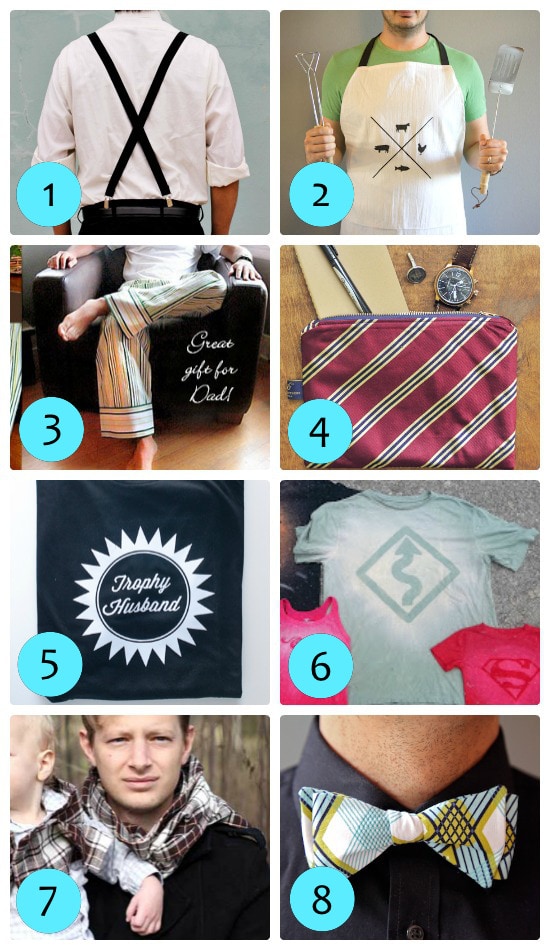 1.
Men's Suspenders
: These are clever and fun! Just grab some
elastic
and
suspender clips
along with your sewing machine, and you are good to go!
2. DIY Manly Man Apron: The perfect gift for the man who loves to help out in the kitchen using a simple sack towel!
3. Comfy PJ Pants for your Man: Making matching pajamas for the kids… I'm sure the husband would love some too! PS – you are going to want one of these!
4. Necktie Pouch: A simple homemade pouch to keep personal belongings safe using a 7″ metal zipper, some shape-flex woven interfacing, and some fusible fleece.
5. Trophy Husband T-Shirt: Let your husband know that he's your "Trophy Husband with a simple t-shirt and this heat transfer starter kit."
6. DIY Bleach T-Shirt: Love these fun matching bleached shirts! The sky is the limit here!
7. Plaid Scarf: Here is a fancy plaid scarf that would be great for pictures or a date night out. You could even make matching ones for the boys!
8. Bowtie: A handsome addition to Christmas pictures.
DIY Snack Gifts for Him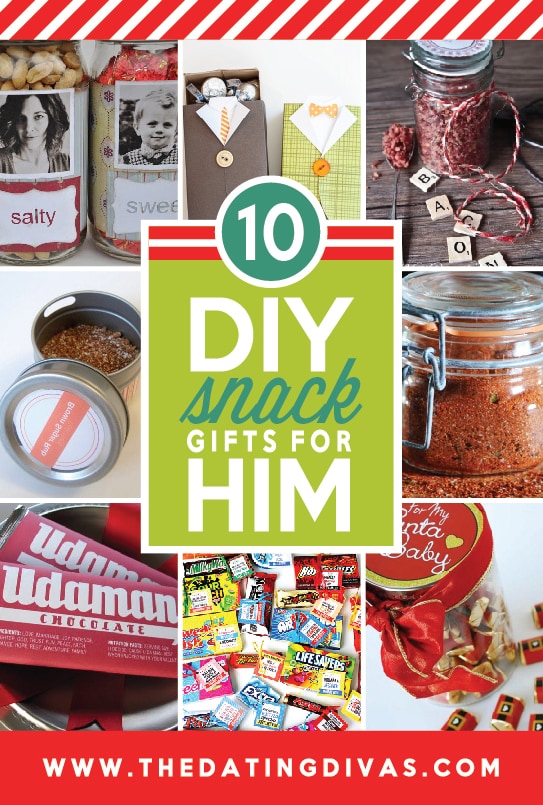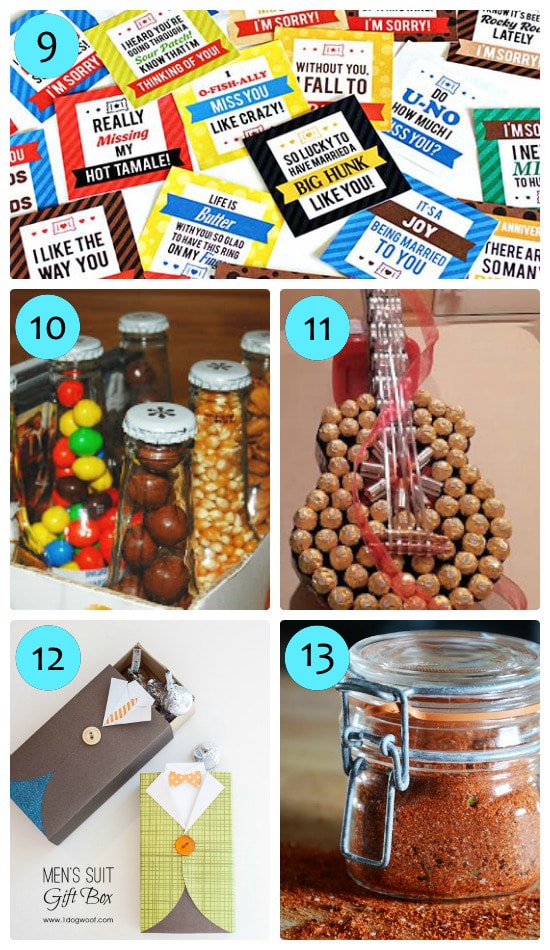 9.
Clever Candy Tags
: You can say almost anything with these clever candy tags. I love being able to send a message with chocolate.
10. Snack Six Pack: Snacks on the go! This is totally customizable and you could fill it with all your husband's favorite snacks! These bottles would give it that vintage touch!
11. Candy Guitar: For the music lover (and chocolate lover), this candy guitar will definitely bring a smile to your husband's face!
12. Men's Suit Gift Box: These are just too cute for words! A gift box just for dad!
13. Magic BBQ Rub: A sweet and spicy BBQ rub in a handy glass jar for the man that loves to grill!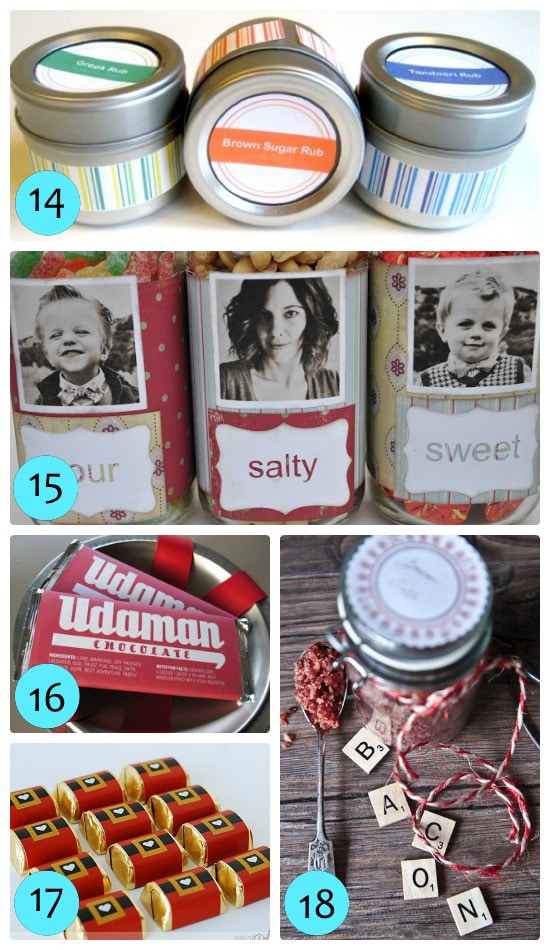 14. Grill Rubs: Even more options for the man who likes to grill… Including Brown Sugar Rub, Tandoori Rub and Greek Rub. Mmm…
15. Cubicle Snacks: My husband would love these! He's always forgetting his lunch and I would feel much better knowing he had some kind of snacks that he could eat at work!
16. Udaman Chocolate Bar Wrapper: This is a fun way to send a message through chocolate!
17. Santa Baby Chocolate Wraps: And yet again… MORE chocolate! Check out how this gift can become a flirty invite as well!
18. Bacon Salt: What man wouldn't be tempted by this delicious treat! You could top almost anything with Bacon Salt!
DIY Christmas Gift Baskets for Him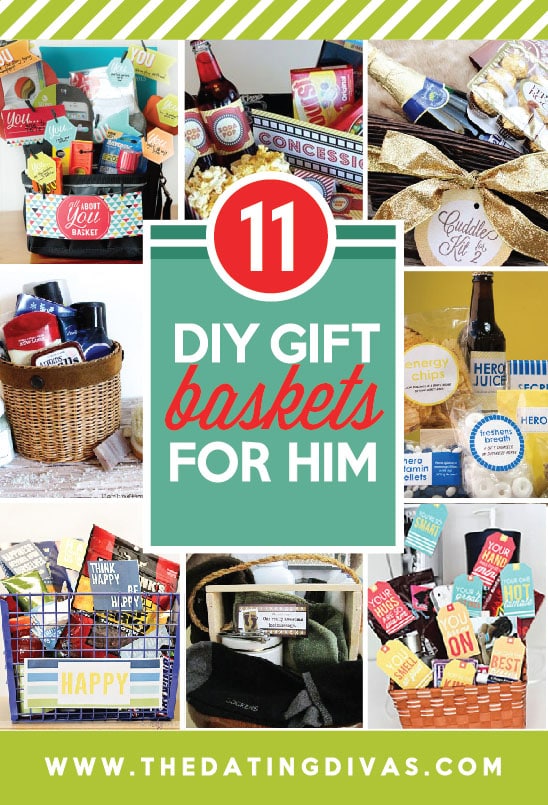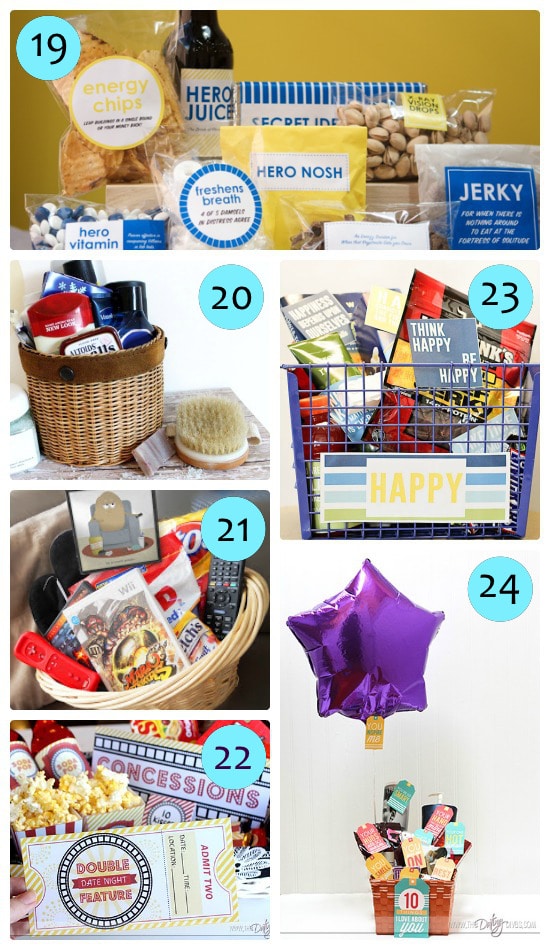 19.
Superhero Kit
: Let your husband know he's your hero! This could be a great gift coming from the kids as well!
20. A "Scent"sible Gift Basket: I love this! This basket is filled with things that smell good and your husband already uses all of them. Totally practical and super clever too!
21. Couch Potato Gift Basket: Does your man work hard and need some down time? This is the perfect gift for him!
22. Movie Night Date Basket: Movie lovers, this gift idea is for you!
23. Happy Husband Kit: If your husband makes you happy, let him know with this gift basket featuring some things that make HIM happy!
24. 10 Things I Love About You Kit: A fun gift basket with cute printables and plenty of options for customization!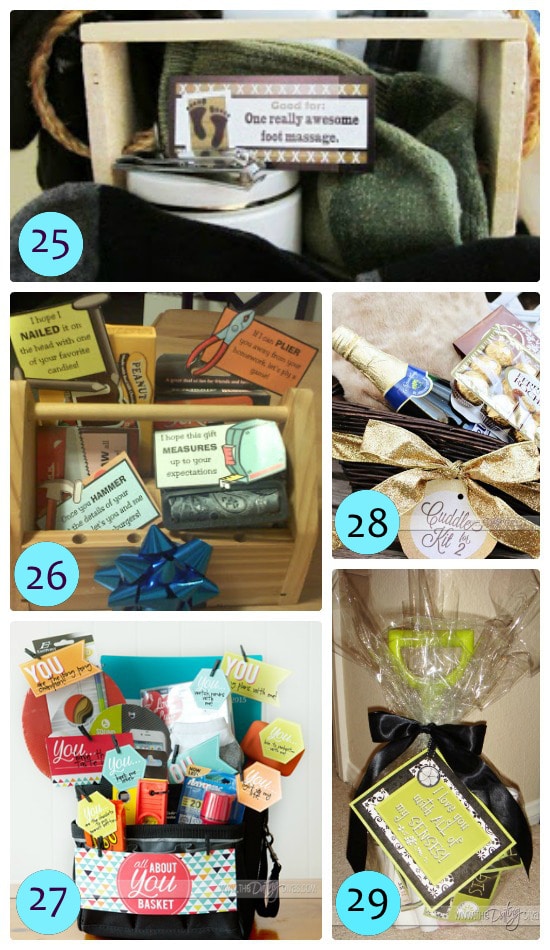 25.  "Sock" it to Him: Pamper your husband with this fun gift basket…
26. Tool Kit Gift Basket: For the men who love to play with tools, this is a fun little twist! Here's a great tool kit you can use!
27. All About You Basket: Another basket that you can customize just for your hubby! Make sure to include the adorable "manly" printables!
28. Cuddle Kit for Two: Give your husband a gift that you both will enjoy. This gift basket will help bring you closer together 😉
29. The 5 Senses Gift Basket: This gift basket is totally unique and you can take it and make it your own!! Let your man know that you love him with ALL your senses!
DIY Personalized Gifts for Him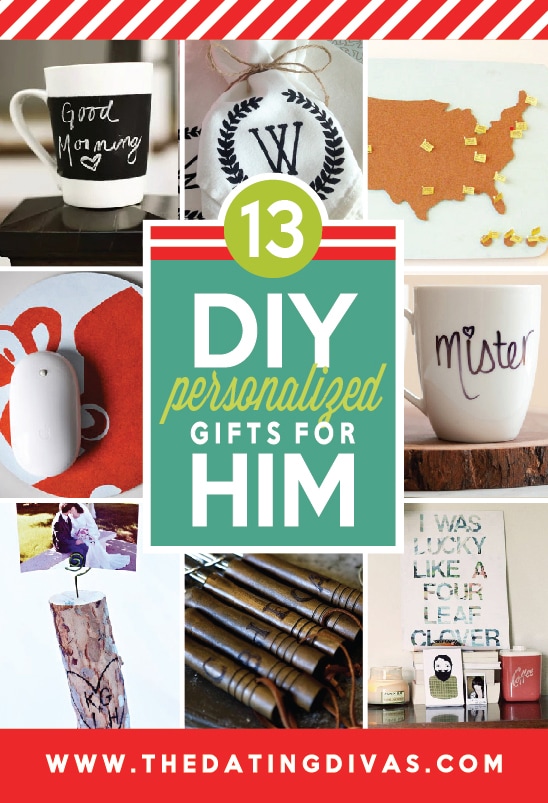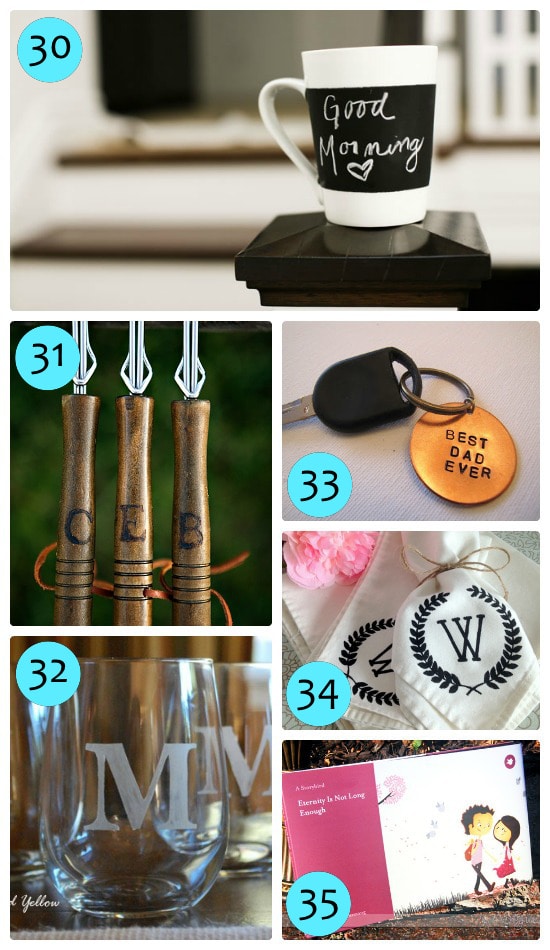 30.
Chalkboard Mug
: Send a message to you hubby each morning on this adorable chalkboard mug! Don't feel like making it but love the idea? You can get a done-for-you on
here
!
31. DIY Camping Skewer Set: My husband would love these! Personalize some new camping skewers and promise him a camping trip!
32. Etched Glassware: These glasses are beautiful and the etching makes it just a touch more personal! The possibilities are endless with this gift.
33. Stamped Keychain: A little reminder for your husband to take with him everywhere he goes.
34. Monogram Handkerchief: I can't even believe that you can do this yourself and make a simple napkin become a whole lot more meaningful!
35. Create Your Own Storybook: A beautiful storybook to tell your story! This is a gift you and your husband will be able to treasure forever.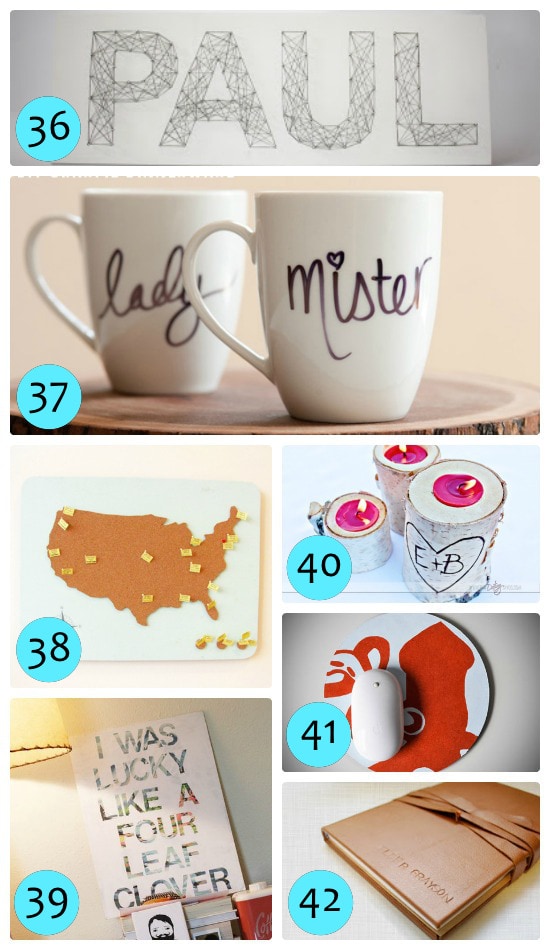 36. Name String Art: This artwork looks so cool and would definitely be a fun surprise!
37. Matching Mugs: Super simple, but perfect for and evening sip of hot cocoa… together!
38. Travel Map: If you love to travel this would be such a neat gift. You can have a visual reminder of all the places you've been and all the places you would like to go… with your hubby! Here's another great version of it that would also make a great addition to any wall!
39. Love Lyrics Art: Another completely customizable and fun way to share a message with your spouse. You choose the song and make a beautiful piece of art!
40. Carved Candle Holders:  These candle holders would be the perfect addition to make the bedroom an even better sanctuary for you and your hubby!
41. Hand Printed Mouse Pad: Doesn't seem like much, but if your hubby sits at a desk, he sees his mouse pad everyday! Make it special!
42. Leather Journal: These journals last forever and look so sophisticated!
DIY Picture Gifts for Him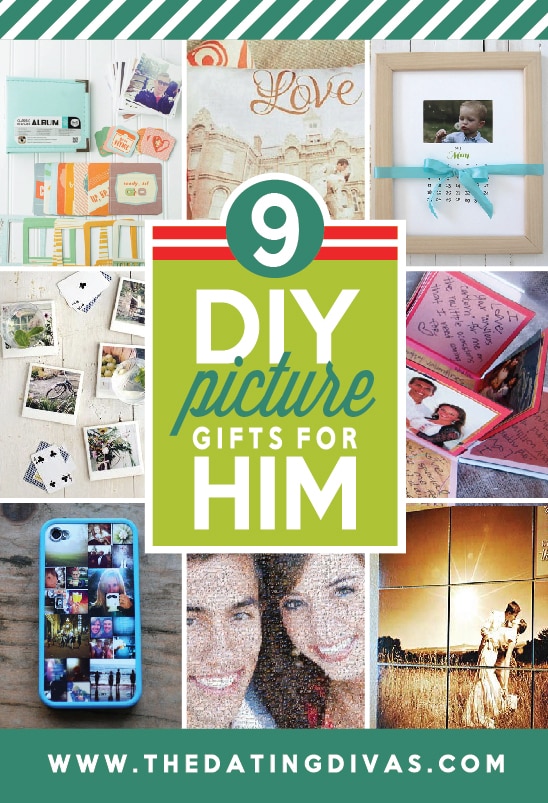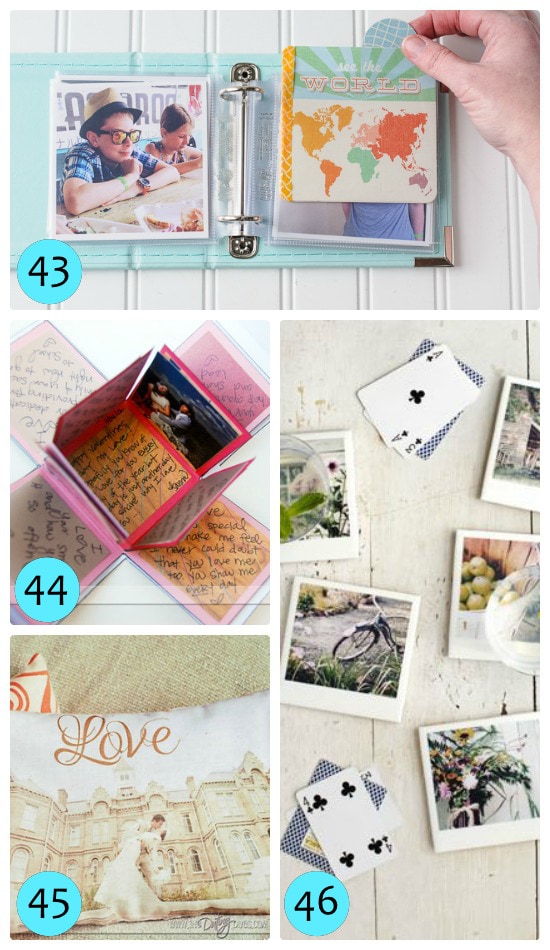 43.
Instagram Mini Album
: These mini photo books are beautiful and so fun to look back at all the treasured memories.
44. Exploding Love Box: This is such a fun and unique way to write a love letter. Each page brings you to a new thought or idea and you can add beautiful pictures to make it even more special!
45. Picture Pillow: Pick a favorite photo to print on a pillow. This is such a fun idea and the possibilities are endless.
46. Picture Coasters: Another unique way to use pictures and make memorable gifts that you'll use all the time!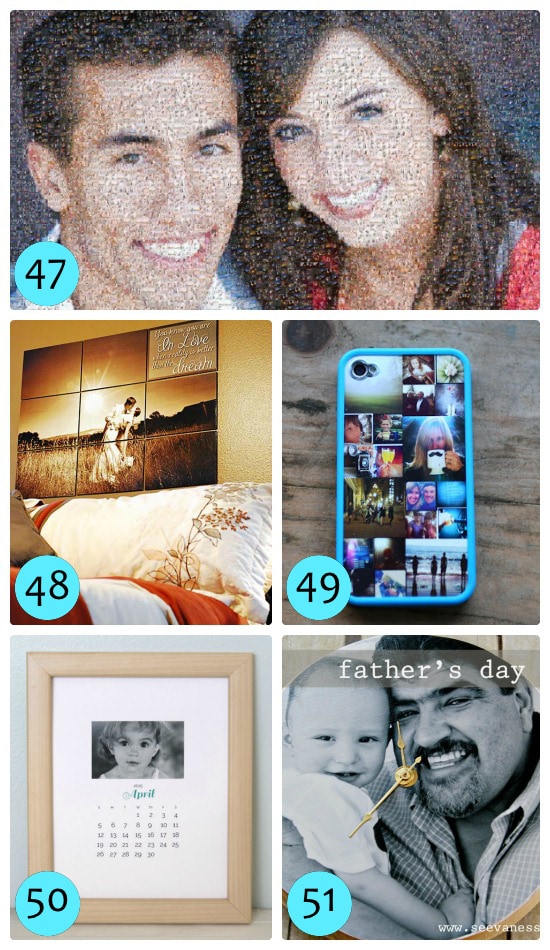 47. Photo Mosaic: This is so cool! You use thousands of pictures to make up one overall picture! What a beautiful gift!
48. Family Poster Picture: This exact post is no longer available but take a look at this darling heart-shaped picture poster!
49. iPhone Photo Case: If your husband is anything like mine, he takes his phone everywhere. This is a beautiful way for him to carry you with him!
50. Photo Calendar: A visual reminder each month of how much you love him… also a huge help in keeping him up to date!
51. Photo Clock: A timeless gift!
DIY Romantic Gifts for Him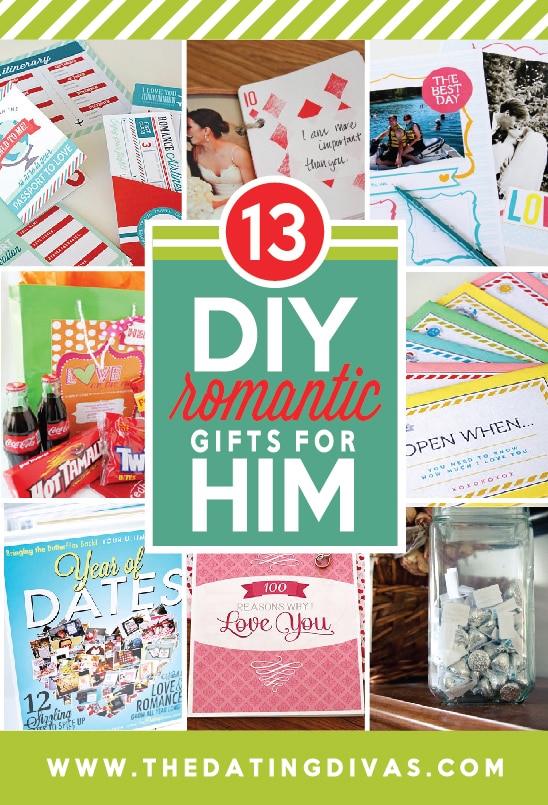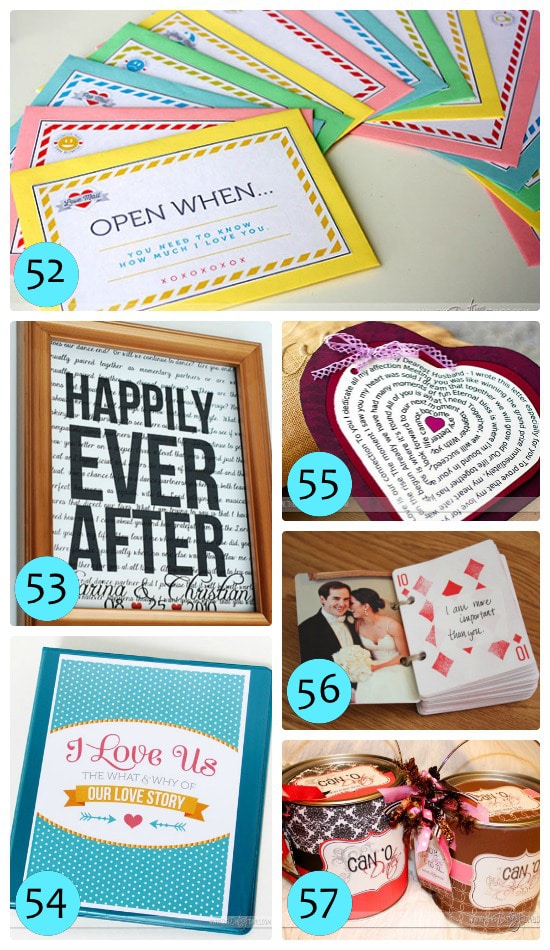 52.
Open When Letters
: These letters are for every occasion and will be something that your husband will be able to use all year!
53. Framed Love Art: A beautiful way to capture your feelings for your hubby that he'll see all the time!
54. "I Love Us" Book: Let him know what you love about him and why with this gorgeous book.
55. Love Poem in an Instant: Generate a poem in just a couple of minutes… This is something you can do even if you aren't a poet!
56. 52 Reasons I Love You: Using a card deck, share 52 reasons you love your husband. This is definitely a more unique way to tell him!
57. Can of Dates: Giving a gift that helps with the creative side of date night takes a lot of pressure off your man! And gets him excited to spend time with you in the future!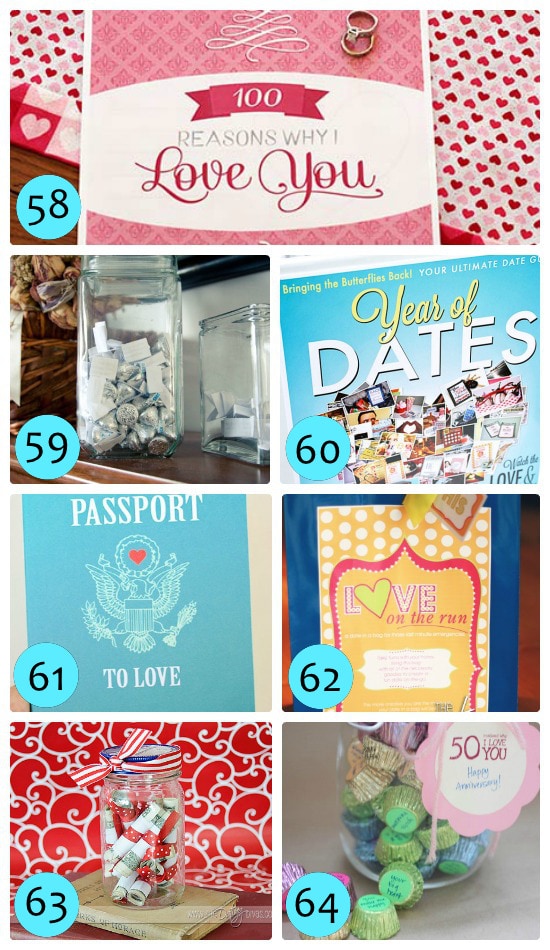 58. "100 Reasons Why I Love You" Book: If 52 reasons isn't enough… create this book of 100 reasons why you love your man!
59. A Gift That Lasts All Year: Chocolate and love notes! Sounds like a thoughtful way to let your hubby know you love him!
60. Year of Dates Binder: Another date that keeps on giving all year!
61. Passport to Love: If you and your hubby love to travel, this is the perfect gift for your man! Take him all around the world with this Passport to Love!
62. Date Night in a Bag: Another fun gift to make date night easier in the future!
63. Date Night Money Jar: If money is tight, this is a fun and creative way to let him know you want to go out with him… and still keep to the budget.
64. "50 Reasons Why I Love You" Jar: This is a different way to share all the reasons you love your husband!
DIY Sexy Gifts for Him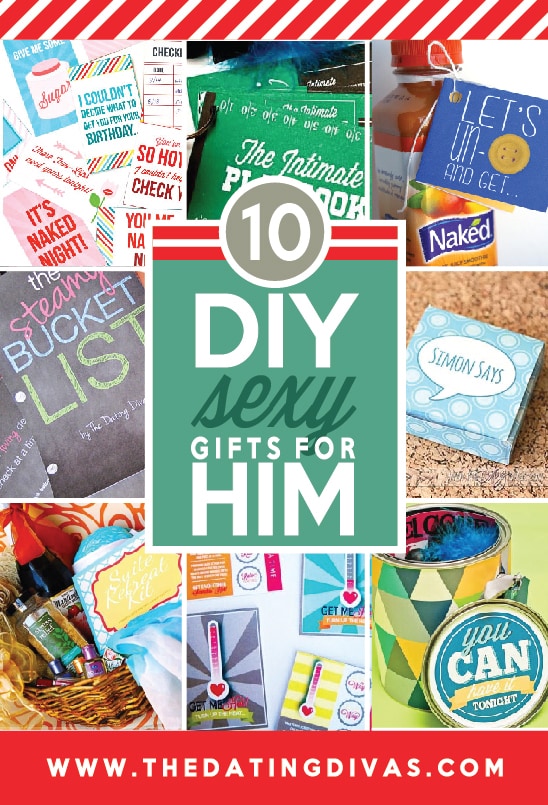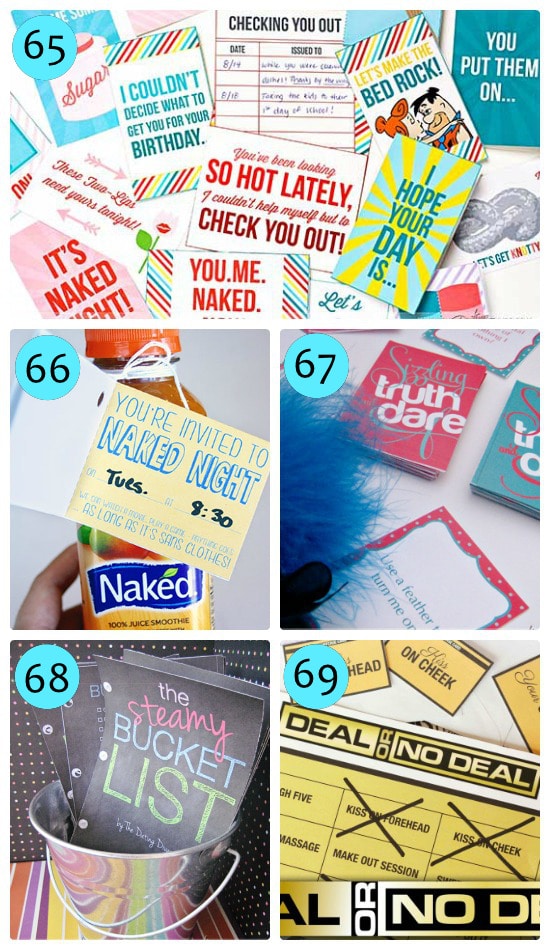 65.
25 Sexy Love Notes
: These love notes are a great way to let your spouse know he's on your mind!
66. Naked Night Invite: A fun gift… invite your spouse to have a naked night!
67. Sizzling Truth or Dare: Gift a fun game that you and your hubby can play anytime. See how daring he really is!!
68. Steamy Bucket List: This is a really great gift idea. After giving him this gift, you can sit down together to make this bucket list.
69. Deal or No Deal: Another fun game… see how risky your man is!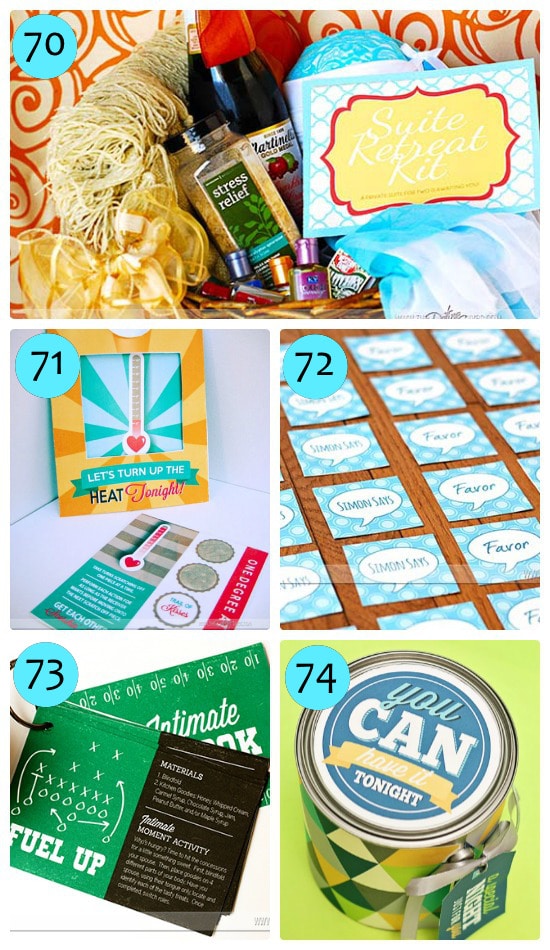 70. Suite Retreat Kit: This gift is a great way to get some extra cuddle and relaxation time for (and with) your hubby!
71. Hot Scratch-Off Tickets: This is a super fun and unique card that will definitely put a smile on his face.
72. Simon Says: Give another fun game to play in the bedroom for "game" night. This is definitely a game you'll want to play over and over again!
73. Intimate Playbook: This is for all football loving husbands and will definitely get them thinking about something other than football.
74. The Man Can: This is the perfect gift for any man!
DIY Stocking Stuffers for Him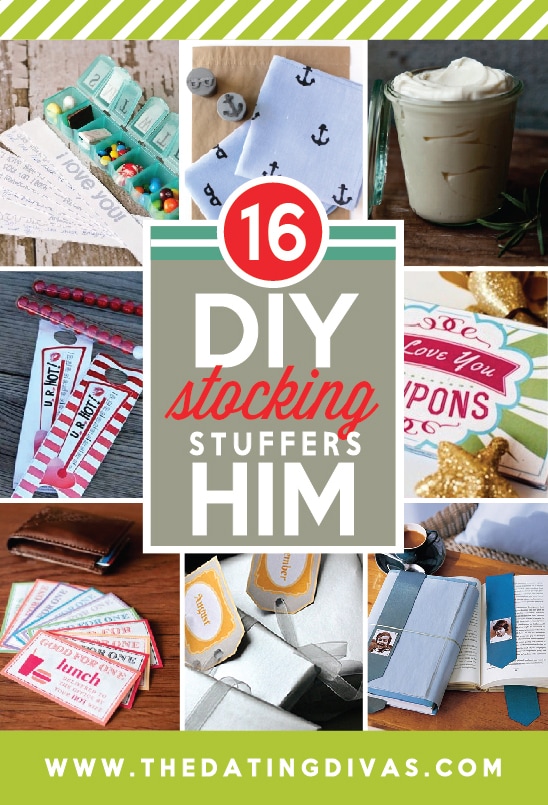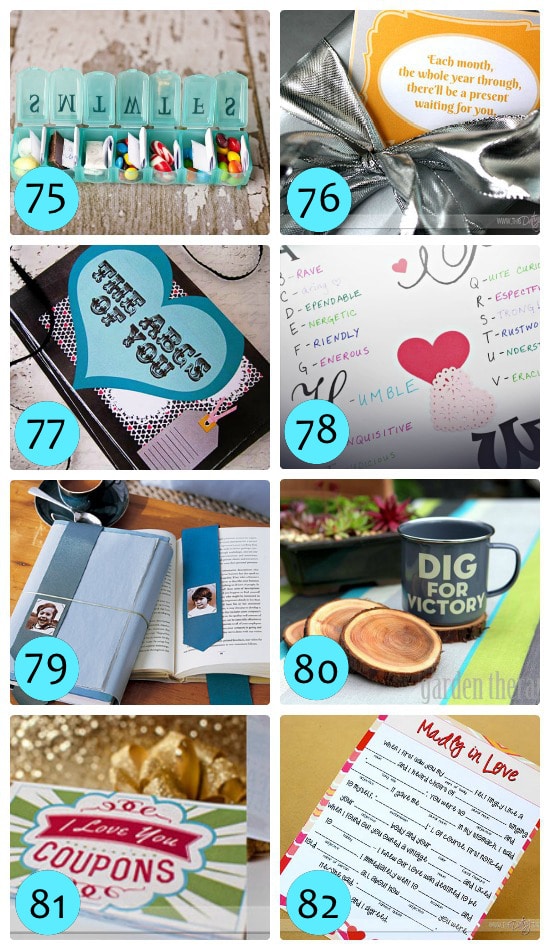 75. 
7 Days of Love
: This is a unique gift that you can refill again and again to help your husband feel loved 7 days in a row…
76. Gift of the Month Club: A gift that keeps on giving throughout the year! Invite your husband to join the gift of the month club.
77. The ABC's of You: This is a beautiful book that is easy to put together with these printables. All you have to do is think of 26 things starting from letters A to Z.
78. I Love You from A to Z: Another A to Z gift to let your man know that you love him!
79. Tie Bookmark: Personalize a tie bookmark so that he can always find his place.
80. Natural Branch Coasters: This beautiful coasters will bring a little bit of nature indoors.
81. I Love You Coupons: A man can never have too many coupons… Am I right?
82. Madly in Love Madlibs: A fun little spin on how to say "I love you!"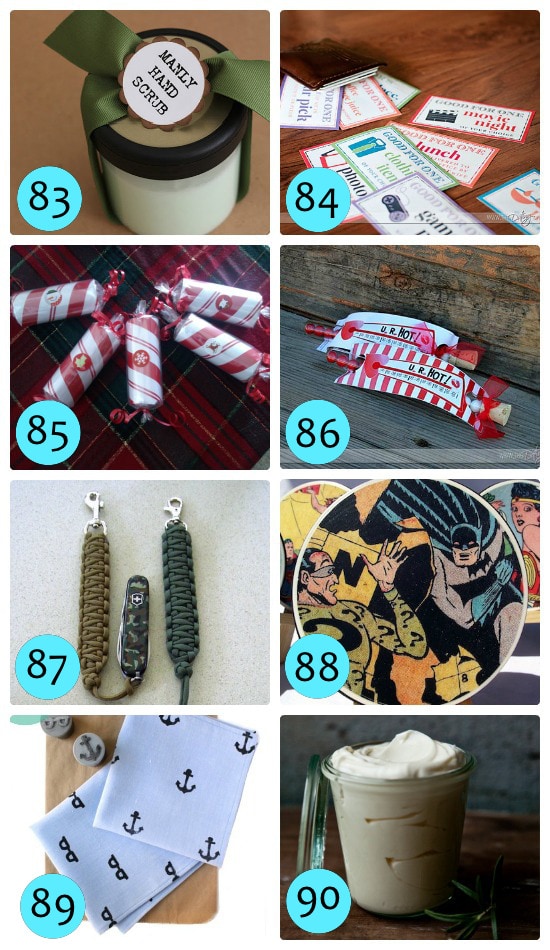 83. Manly Hand Scrub: This is an easy homemade hand scrub that will help your man's hands both feel and smell good!
84. Wallet Surprise: Give your hubby a variety of gift options in this wallet surprise.
85. Candy Cane Rolls: Fill these candy cane rolls with your husband's favorite treat!
86. "U R Hot" Thermometer Love Note: A creative and clever love note to leave in his stocking with a cute and delicious treat!
87. Paracord Keychain: A homemade keychain to spice up your husbands keys!
88. Comic Book Coasters: This is a fun and unique gift that will make your hubby smile while reminding him of his younger comic book loving years.
89. Hand Stamped Handkerchief : Personalize a handkerchief to make it super fancy for your hubby!
90. Rosemary Mint Shaving Cream: Help your husband feel pampered with this homemade shaving cream.
DIY Sports Gifts for Him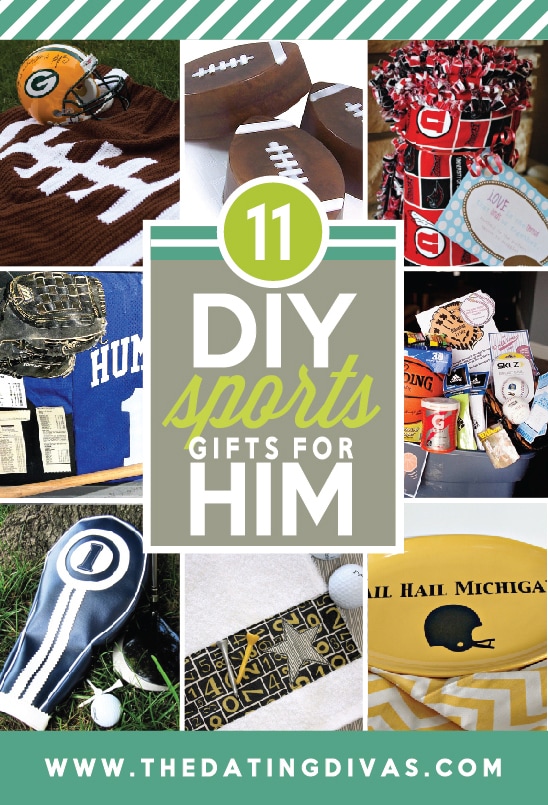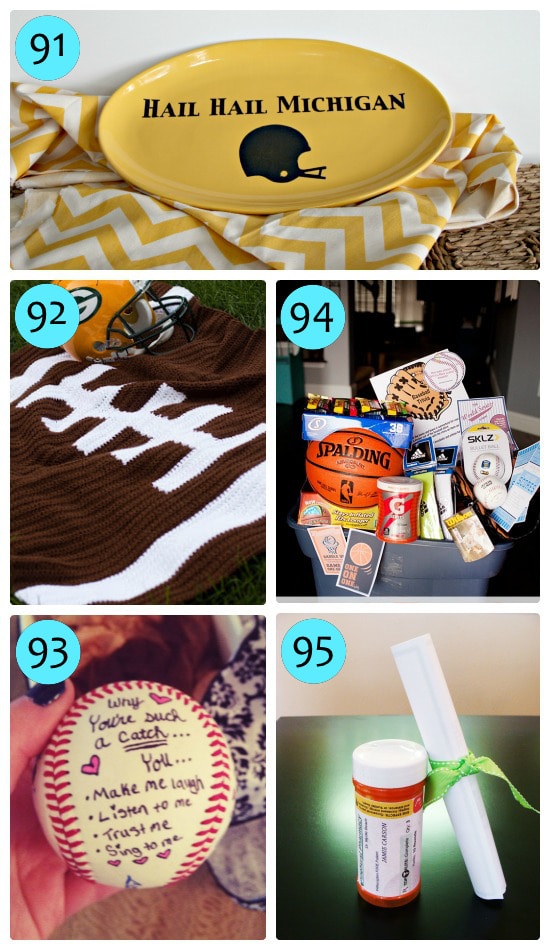 91.
Team Platter
: Make a cool team plate for your hubby's favorite team!
92. Crocheted Football Blanket: If you are skilled in the art of crocheting, this is a beautiful gift that you can make for your husband.
93. "Why You're Such a Catch": Let your baseball fan know why he's such a catch!
94. Sports Themed Date Basket: If your hubby loves all sports, he will be sure to love this gift idea.
95. Golf Pills: To help the golf-loving spouse excel in his game, make him these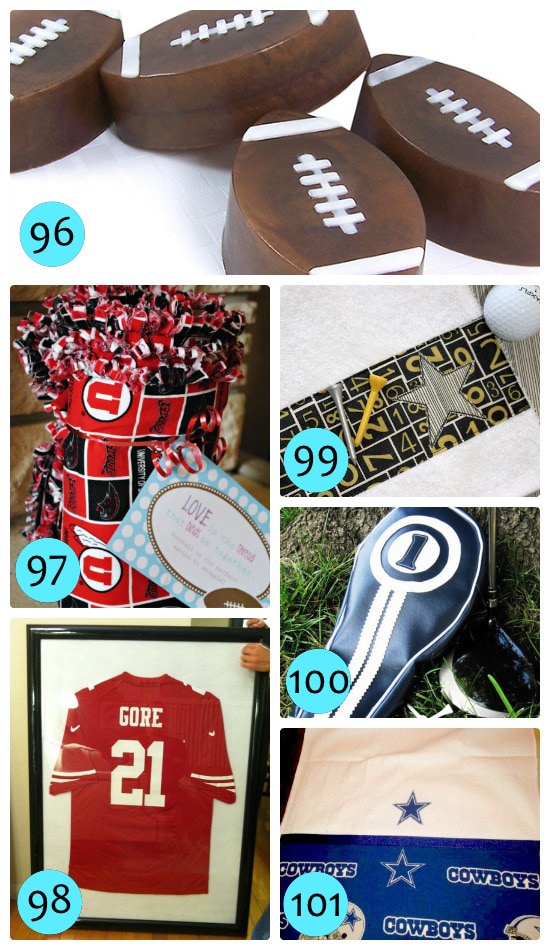 96. Football Soap: This fun soup can be made from home and customized with any scent that your hubby loves.
97. DIY Sports Blanket: If you make your husband a football blanket, you can cuddle while watching the game!
98. Framed Jersey: Is your husband a former athlete, frame his jersey so he can remember the glory days.
99. Golf Towel: This is another perfect gift for the golf lover.
100. Golf Club Cover: If your husband loves golf, you have to see this very cool DIY project that you can make if you're skilled with a sewing machine.
101. Sports Team Towel: Personalize your hubby's towel with his favorite sports team.
And there you go! 101 amazing DIY Christmas Gifts for Him! I'm sure your brain is buzzing with all the creative ways to show your man you love him this Holiday season! Now go make the perfect gift for him! I know he'll love it!!
If you are looking for some more Christmas inspiration. Check out these 3 Last Minute Gift Ideas that will work for anyone on your list, 12 Daytz of Christmas (for your spouse), or for the whole family put together a Win It In a Minute–Christmas Edition.