Birthday Gift Ideas
Hip-hip-hooray! Someone's having a birthday! But what do you do when you're out of ideas and in need of some special birthday presents? You come HERE where we give you over one hundred birthday present ideas for the entire family! We have birthday gift ideas for her, for him, for boys and girls – we've literally got a gift idea for everyone on your list! The best part? Each item can be purchased from the comfort of your computer! So grab yourself some chocolate, settle on down, and get ready for a birthday gift list that's guaranteed to please – and birthday presents that will please them!

Disclaimer: This post contains affiliate links. To learn more about 'em, click here.
To make your birthday buying a bit easier, we've divided our list into four simple categories including:
29 Birthday Presents for Him




25 Birthday Presents for Her




24 Birthday Presents for Boys




23 Birthday Presents for Girls
Ready to shop? Let's go!
29 Birthday Presents for Him
For the guy who has everything, we've got you covered! With our expansive list of man-approved birthday presents, we'll help you narrow it down to a few good birthday present ideas he's sure to love.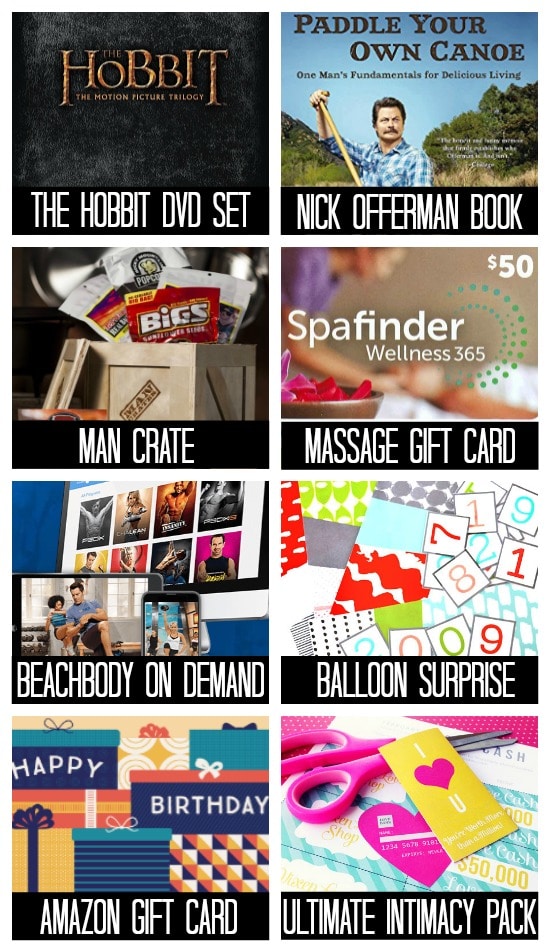 1. The Hobbit DVD Set – Infuse a little Mordor into your man's day with this DVD series he's sure to go nuts for!
2. Nick Offerman Book – Nick Offerman, aka Ron Swanson, is larger than life in his tell-all book – perfect for the literary lovin' man!
3. Man Crate – Don't know what birthday presents to give? Don't even worry! These done for you crates are packed with goodness and are a perfect birthday present for ANY guy!
4. Massage Gift Card – Gift him the gift of relaxation with this massage gift card he's sure to love!
5. Beachbody On Demand – Is your guy looking to lose a few pounds? He'll be all over this Beachbody On Demand gift that will have him movin' and a groovin' whenever he wants!
6. Balloon Surprise – Time to get your huffin' and puffin' on! This 100% free printable balloon birthday present surprise will have your guy grinning from ear to ear!
7. Amazon Gift Card – When in doubt, we say a gift card to Amazon is ALWAYS a good idea!
8. Ultimate Intimacy Pack – Wanna give a gift that's a little bit sassy and a lotta bit sexy? As far as good birthday gifts go, this one is the top of the list – our Ultimate Intimacy Pack really spices up birthday night!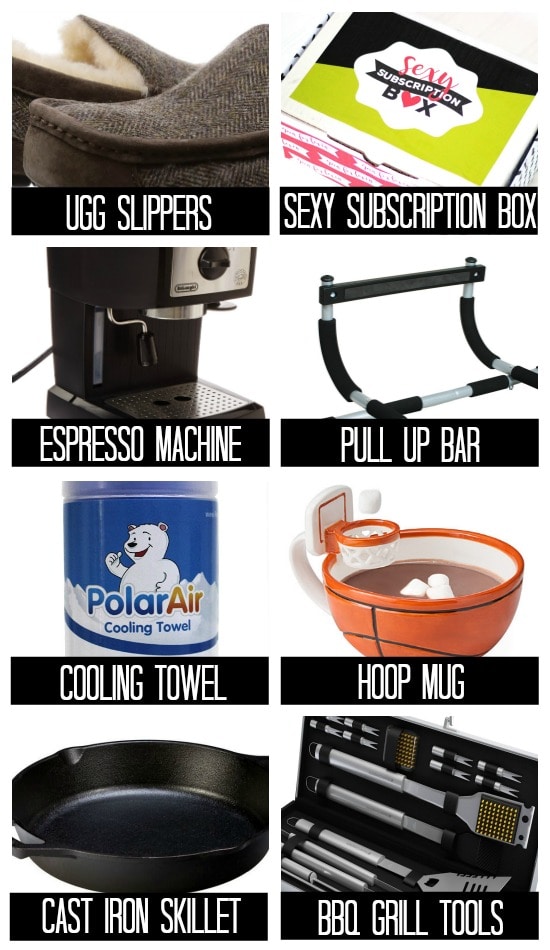 9. Ugg Slippers – Help his toes be roasty-toasty with these sleek and snuggy Ugg brand slippers.
10. Sexy Subscription Box – Why not give a gift that keeps on giving?! With our sweet and sassy subscription kit, your guy gets 12 solid months of sexy! 
11. Espresso Machine – Give him the gift of a soothing hot beverage – a perfect gift for those cold winter months! 
12. Pull Up Bar – Fitness lovers will be thrilled by this upper body workout bar that can be used on essentially any door frame.  
13. Cooling Towel – Help him cool down after a long, hard workout or fun in the sun with this self-cooling towel!  
14. Hoop Mug – Who says you shouldn't play with your food? Not us! 
15. Cast Iron Skillet – For the man who loves to cook, this gift is a sure-fire win! 
16. BBQ Grill Tools – Help his inner grill chef to shine with this complete set of stainless steel tools. Tools are always great birthday presents – and you will benefit from this grill upgrades!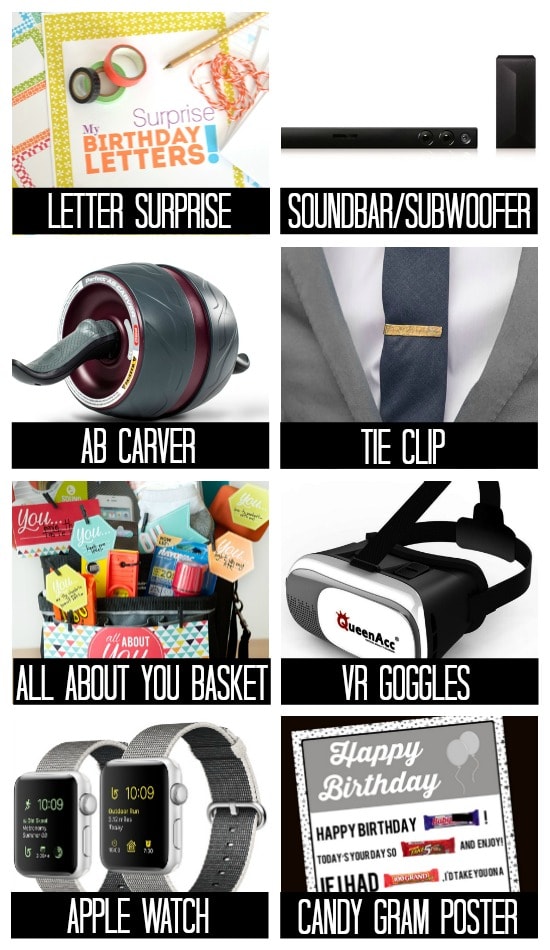 17. Letter Surprise – Unleash your inner writer and keep your sweetheart feeling the birthday love with our Birthday Letter Kit!
18. Soundbar/Subwoofer – Your man is sure to love the 'sound' of this gift and you will too!  
19. Ab Carver –  Help him get that six-pack just a little bit faster with this unique workout tool that helps to strengthen, tone, and define.
20. Tie Clip – Keep him looking sleek and suave with this unique brass tie clip that makes for the perfect addition to any suit. 
21. All About You Basket – Sometimes we stress about finding the "good birthday presents," when really he just needs your love! Remind him just how much you love him with our DIY gift basket, catered specifically to him! 
22. VR Goggles – Let him escape into a world of adventure with his own pair of VR goggles. 
23. Apple Watch – A surefire hit for the techie guy in your life, you simply can't go wrong with an Apple Watch! 
24. Candy Gram Poster – Shout the birthday love loud and proud, with a healthy dose of something sweet, with our printable Candy Gram Poster!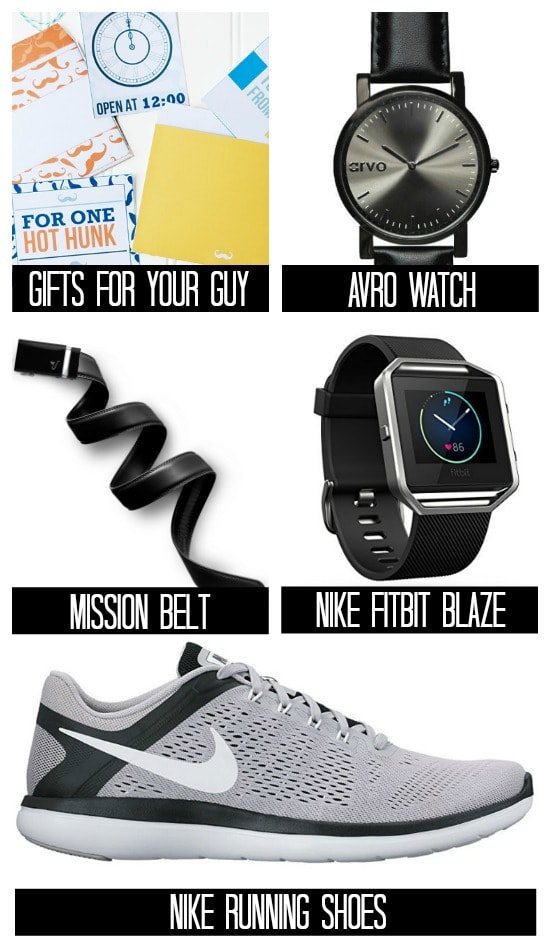 25. Gifts for Your Guy – You know your guy the best so why not put that knowledge to good use with our one-of-a-kind gift kit that is perfect as a birthday present!
26. Avro Watch – Crank up the style factor, and keep him on time, with an Avro watch to call his own. 
27. Mission Belt – Available in a host of colors, this genuine leather belt will have your man looking studlier than ever (and Mission Belt is offering our readers an exclusive 15% off with the code: DIVAS15 )!
28. Nike FitBit Blaze – Sleek and stylish, the FitBit Blaze will not only help him track his fitness goals, but also makes a great fashion statement. 
29. Nike Running Shoes – Help him hit the pavement in style with these Nike brand running shoes!
25 Birthday Presents for Her
That lovely lady in your life deserves a little something special, which is why we've come up with a host of birthday gift ideas for her that are guaranteed to please!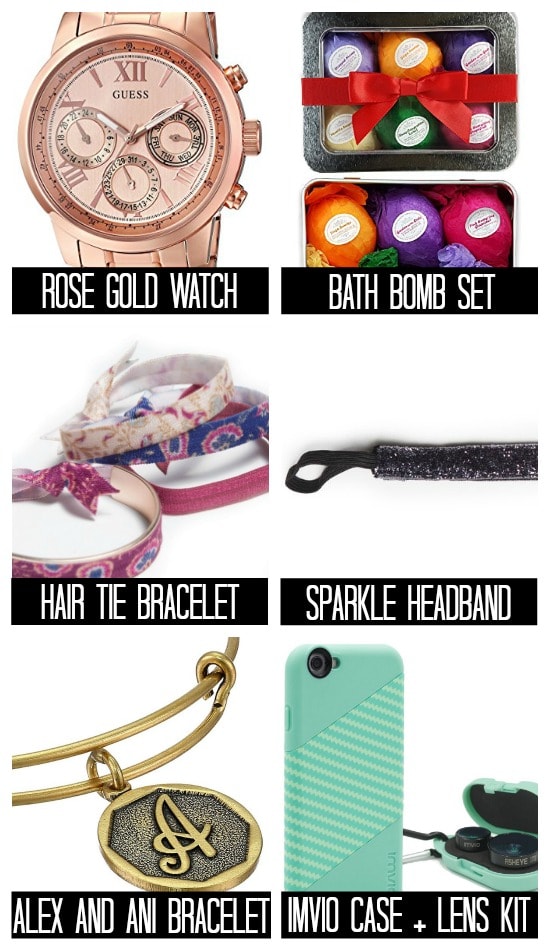 30. Rose Gold Watch – We're obsessed with rose gold and she will be too – especially when it's featured on a Guess brand watch that is as dazzling as she is!
31. Bath Bomb Set – Help her unwind and relax from her crazy days with a colorful and complete bath bomb gift set!
32. Hair Tie Bracelet – Fashion meets function in this paisley printed hair tie/bracelet!
33. Sparkle Headband – She sparkles and shines so shouldn't her hair accessories? We say yes to this bright birthday present for her.
34. Alex and Ani Bracelet – Add a special touch with this initialed bangle bracelet from Alex and Ani – they have great birthday gifts for any lady in your life .
35. IMVIO Case + Lens Kit – Help her take better photos with just her phone with this unique case and lens kit!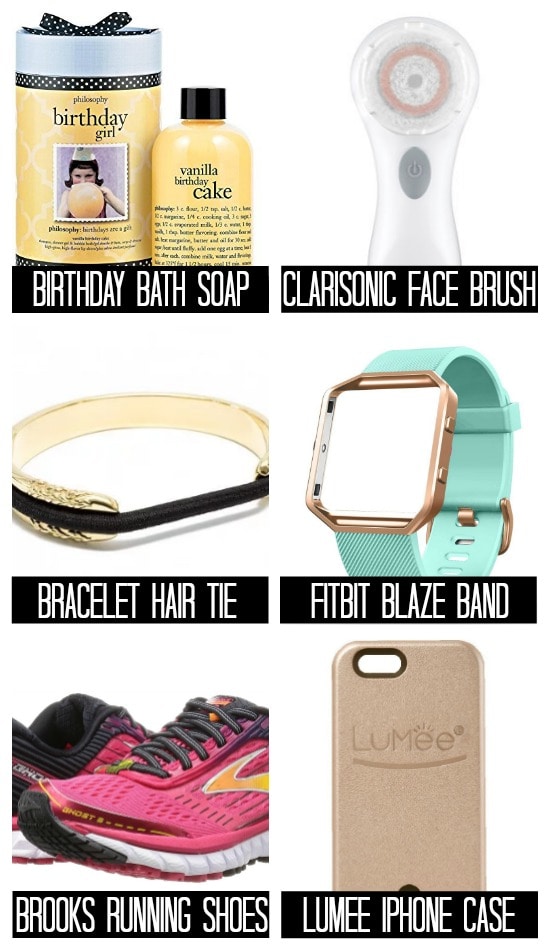 36. Birthday Bath Soap – The name of this soap set says it all! Celebrate how special she is with this brilliant birthday present for her.
37. Clarisonic Face Brush – Help her achieve the skin of her dreams with this Clarisonic cleansing brush, engineered to remove dirt and impurities while feeling like a mini face massage! 
38. Bracelet Hair Tie – Keep her ponytails sleek and her wrists even sleeker with this combination bracelet/hair tie. 
39. FitBit Blaze Band – Swap out that boring band for something a bit more stylish with this band option – available in a multitude of colors!   
40. Brooks Running Shoes – Cushion her feet and help her hit the ground running (literally!) with these Brooks brand running shoes. 
41. LuMee iPhone Case – Let her iPhone speak for itself with an impact resistant case from LuMee. Fun cases are always great birthday gifts.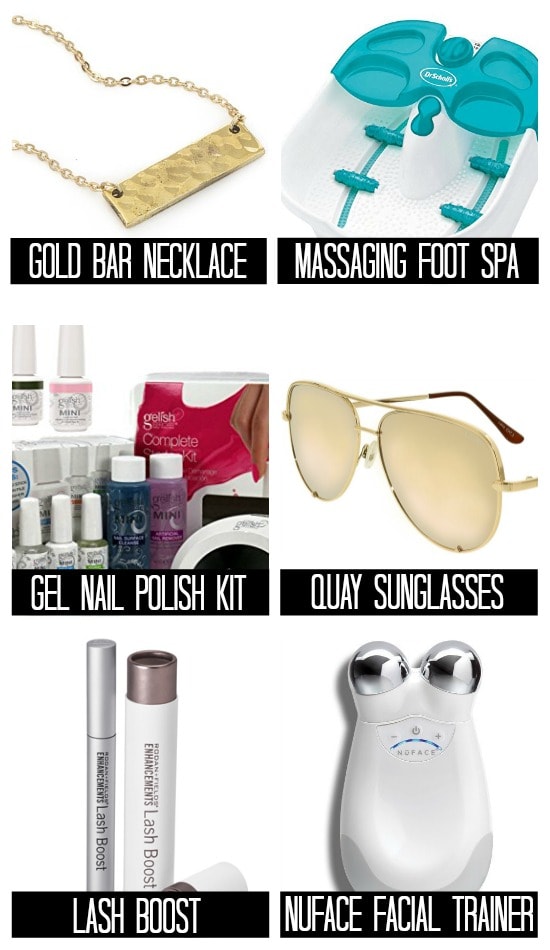 42. Brass Bar Necklace – We're in love with this chic, brass bar necklace for a birthday present and she will be too!
43. Massaging Foot Spa – Total relaxation will be just a soak away with this combo massaging/soaking foot spa!
44. Gel Nail Polish Kit – Keep those fingers looking pretty with this complete gel polish set that contains five fabulous colors! 
45. Quay Sunglasses – Guaranteed to help her have some fun in the sun, we can't wait to get our hands on a pair of these fabulous shades.
46. Lash Boost – Sparse lashes will be a thing of the past with this lengthening and thickening serum from Rodan + Fields. 
47. NuFace Facial Trainer – If younger looking skin is on your woman's wish list, this gift is a must-have birthday present for her!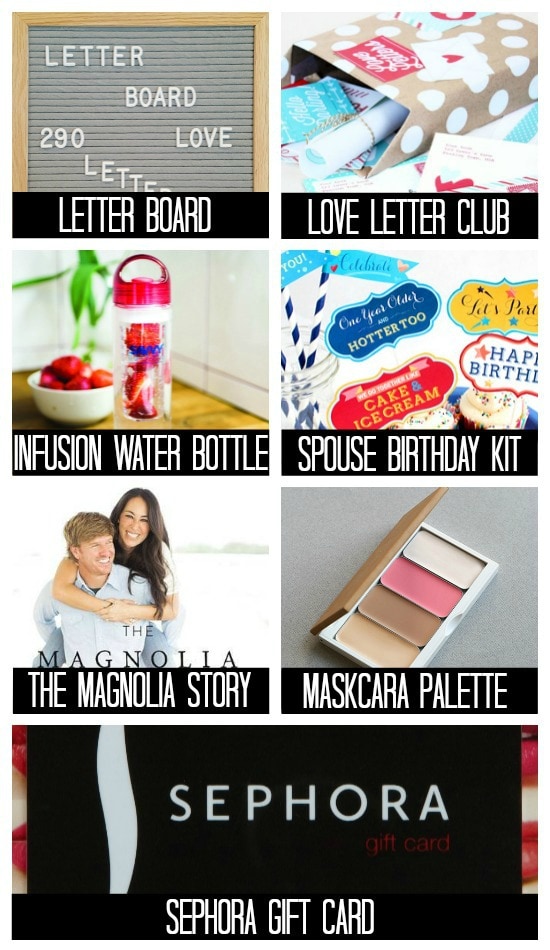 48. Letter Board – A fun and functional addition to any space, this interactive letter board will be the perfect spot to leave appointments, reminders, and those sweet little love notes!
49. Love Letter Club – Keep surprising her month after month with a heartfelt letter! This is one of the birthday gift ideas for her that keeps giving all year long! 
50. Infusion Water Bottle – Plain water is such a thing of the past! This infusion water bottle contains a special chamber to be filled with fruit, herbs, and other tasty blends! 
51. Spouse Birthday Kit – Wanna really crank things up a notch? Our practically done-for-you Spouse Celebration Kit will knock her socks off! 
52. The Magnolia Story – That literary lady in your life will be all over one of this year's hottest reads, penned by the husband and wife team of HGTV's Fixer Upper. 
53. Maskcara Palette – Makeup lovers will love the one-stop idea behind this makeup palette! 
54. Sephora Gift Card – Let her shop for what she REALLY wants with a gift card to every woman's wonderland – Sephora. 
24 Birthday Presents for Boys
Filled with energy, and a whole lotta fun, these little men are in need of birthday presents that are entertaining, creative, and fun! Our birthday present ideas list has all three!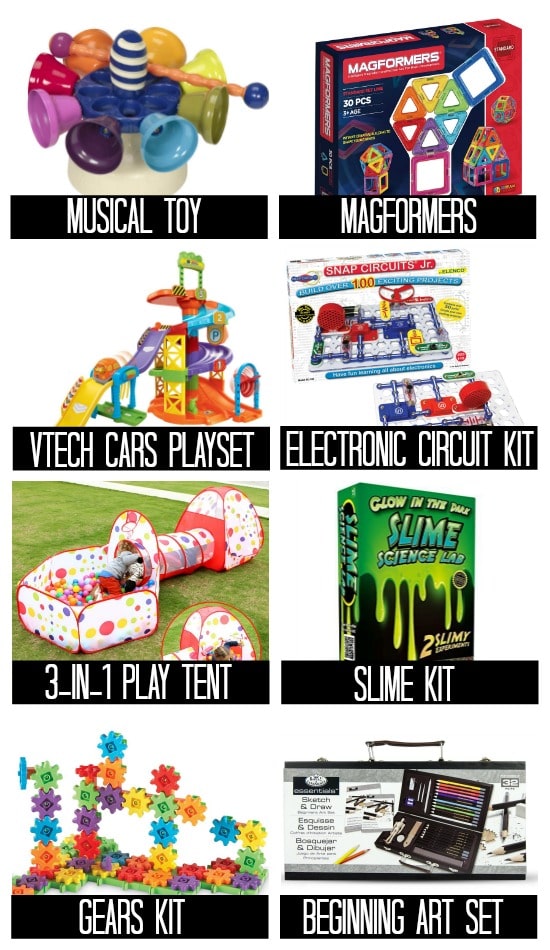 55. Musical Toy – Little musicians will have a blast with this musical toy to keep them busy!
56. Magformers – The perfect birthday present for little guys ages 3+, this building set will have them creating in no time.
57. VTech Cars Playset – Beep Beep and Vroom Vroom! Little tykes will be entertained for hours with this all-inclusive car set from VTech!
58. Electronic Circuit Kit – Set their scientific curiosity on fire with their very own circuit kit! Anything that creates and inspires curiosity = great birthday gifts.
59. 3-in-1 Play Tent – Tents, tunnels, ball pits – what more could they ask for?!
60. Slime Kit – Squeezable, squishy, and a little bit icky, this slime kit is every boy's dream!
61. Gears Kit – Have them designing and building the day away with their very own gears kit from Learning Resources.
62. Beginning Art Set – The budding artist in your life will be all sorts of in love with this beginner art set!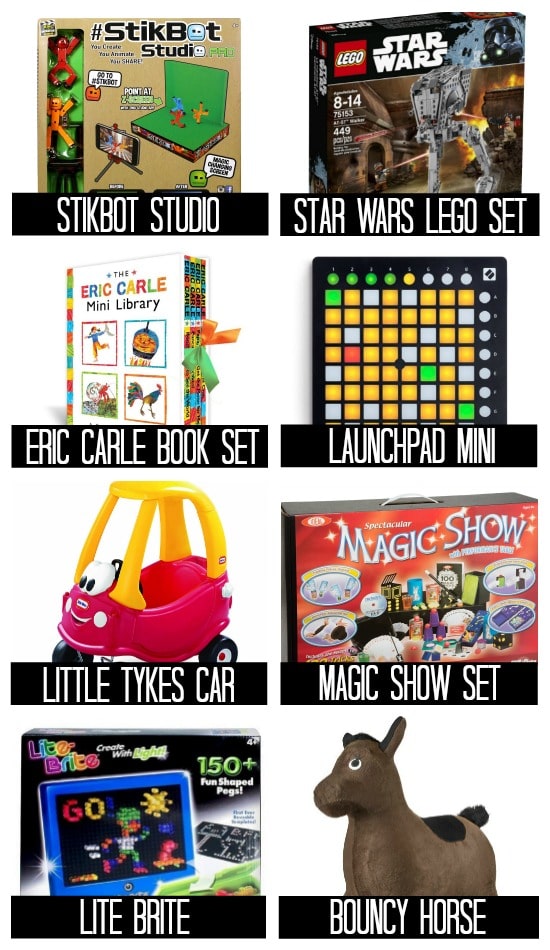 63. Stikbot Studio – Encouraging creativity through play, this Stikbot Studio includes practically everything they need to shoot and record their own Stikbot stories!
64.  Star Wars Lego Set – Good birthday presents for boys can seem difficult to find, but Star Wars fans will be all over this Lego set which lets them build their very own AT-ST Walker. 
65. Eric Carle Book Set – Bedtime stories will be a lot sweeter with this Eric Carle Book Set. 
66. Launchpad Mini – Let them unleash their inner sound artist with this miniature version of Novation's Launchpad. 
67. Little Tikes Car – Perfect for backyard play or a family stroll, little ones will love driving their very own car! 
68. Magic Show Set – Abracadabra and alakazam! Get ready for magic shows with this birthday present!
69. Lite Brite – Fun in the dark is coming their way with the classic glowing gift that has wowed generations! 
70. Bouncy Horse – The perfect gift for children ages 1-3, 'Bouncy' the inflatable horse will keep young cowboys happy and ready for their next big adventure!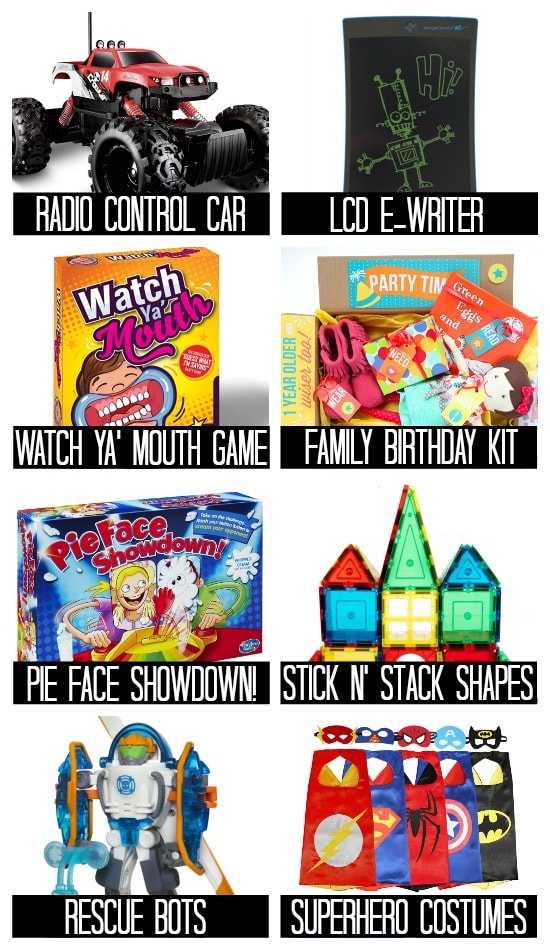 71. Radio Control Car – Let them zip and zoom their way through around with a radio controlled, two motor vehicle that's as cool as they are!
72. LCD E-Writer – Mess free and totally portable, you might just find yourself giving this LCD drawing pad a go or ten.
73. Watch Ya Mouth Game – This mouth-stretching based fiasco is going to illicit some SERIOUS laughs! Make it the best birthday present that can actually be used at the party!
74. Family Birthday Kit – Show them just how special they are with our DIY printable birthday kit that will have them feeling on top of the world! 
75. Pie Face Showdown! – A crazy fun game the entire family will enjoy, this pie-throwing showdown will have you playing again and again!
76. Stick N' Stack Shapes – This award winning set of magnetic shapes will have little ones designing and building their own unique creations all the day long!
77. Rescue Bots – Capable of changing from a Rescue Bot to a helicopter, these transforming bad boys are about as cool as birthday present ideas come!
78. Superhero Costumes – Let them unleash their inner superhero with this set of capes and masks that guarantee hours of creative play. 
23 Birthday Presents for Girls
Sugar and spice and everything nice, these little ladies deserve a birthday present that's as special as they are! You're sure to find the perfect birthday present ideas for girls here!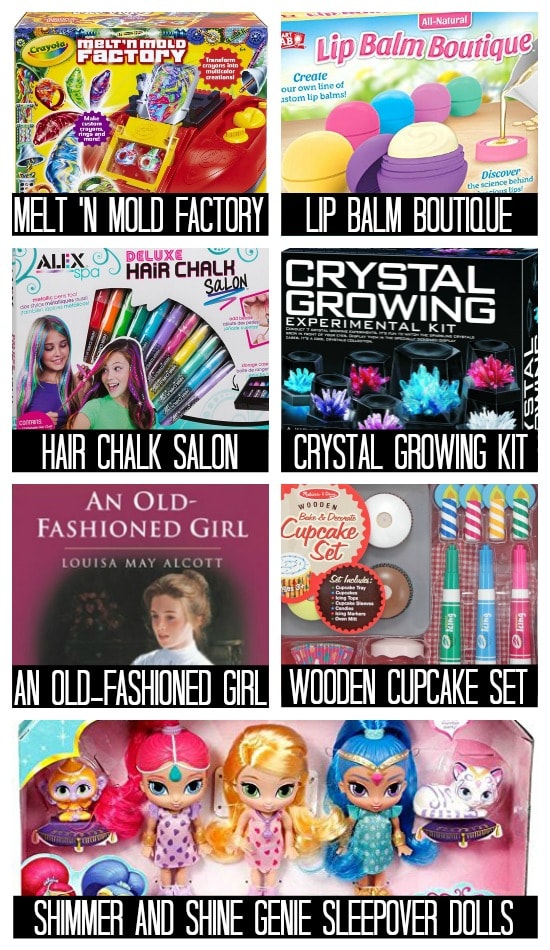 79. Melt 'N Mold Factory – Why buy crayons when you can make them?! With this kit, she can harness her own creativity and craft uniquely shaped and colored Crayola crayons.
80. Lip Balm Boutique – Pucker up and let her craft her very own, all-natural lip balms, maybe sneaking a few for yourself… Hey! Who said a birthday present only had to benefit 1 person! 😉
81. Hair Chalk Salon – Let her doll up her tresses with this colorful and washable hair chalk set that will help her create her very own rainbow 'dos!
82. Crystal Growing Kit – Little scientists will loving learning about the crystal growing process while watching their very own crystals take shape! 
83. An Old-Fashioned Girl – Penned by beloved children's author Louisa May Alcott, this book will be cherished for years to come. We love a birthday present with staying power! 
84. Woodeen Cupcake Set – Forego the mess of traditional baking with this fully decoratable wooden cupcake set she's sure to love! Clean birthday present ideas are our favorite!
85. Shimmer and Shine Genie Sleepover Dolls – Shimmer and Shine lovers will adore this Genie Sleepover Set, complete with five figurines and a whole lot of fun!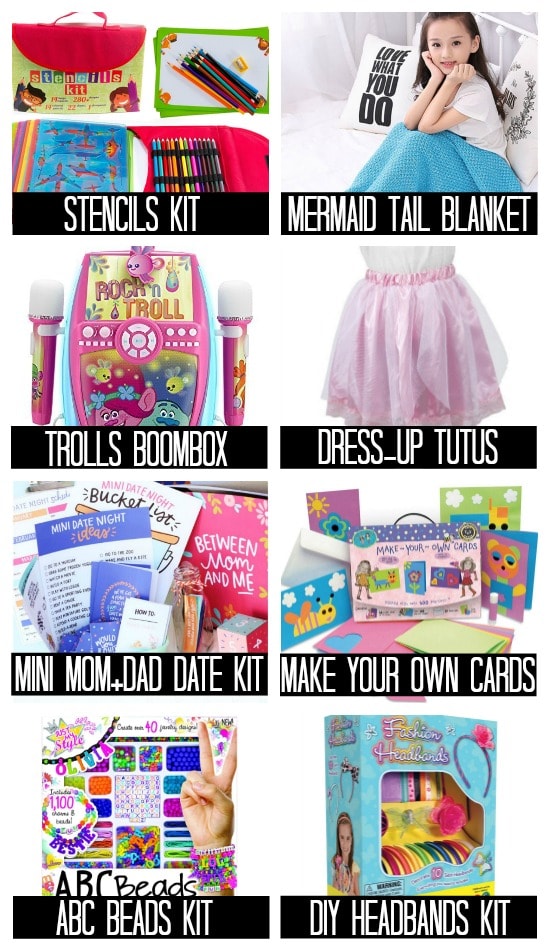 86. Stencils Kit – Art lovers will love this kit packed with all the materials needed for a successful stenciling sesh. 
87. Mermaid Tail Blanket – Keep her warm while encouraging imagination with her very own mermaid tail blanket!  
88. Trolls Boombox – Unleash her inner disco diva with this Trolls-themed boombox that will keep the entire family entertained!
89. Dress-Up Tutus – Every little princess deserves her own set of tutus and she's sure to love this 4-pack of just that!
90. Mini Mom and Dad Date Kit – Show her just how much Mom and Dad love her with a one-of-a-kind, done-for-you family night!
91. Make Your Own Cards – Good birthday gifts encourage learning and creativity – this is perfect!  With this adorable DIY cards kit, she'll need some penpals STAT! 
92. ABC Beads Kit – With over 1,000 beads and charms, this kit contains everything she'll need to craft bracelets, necklaces, and more!  
93. DIY Headbands Kit – Encourage her love for all things fashion with this DIY headband kit, guaranteed to provide hours fun!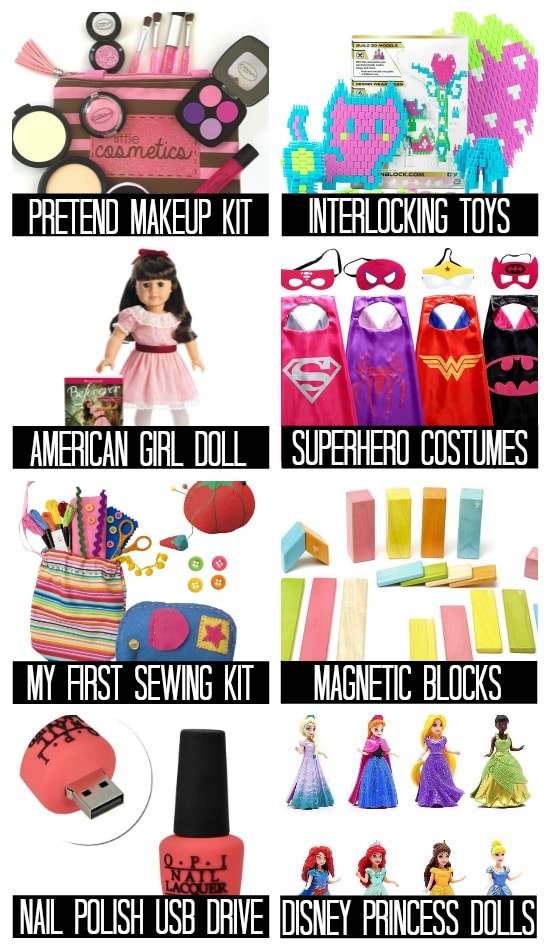 94. Pretend Makeup Kit – Get ready together with her very own pretend makeup kit. Products feel real but with none of the mess = the best birthday present!   
95. Interlocking Toys – This 'princess'-themed pack of interlocking toys will let your little princess build her own 3-D art pieces.  
96. American Girl Doll – American Girl always has good birthday present ideas and now everyone's favorite doll/book combos are better than ever with more character choices and bundle options! 
97. Superhero Costumes – It's Wonder Woman to the rescue (and a few others as well) with this set of girly superhero masks and capes! 
98. My First Sewing Kit – Showcase those early stitches with this beginning sewing kit that's about as cute as can be! 
99. Magnetic Blocks – Stack 'em tall and strong with these pastel colored magnetic blocks that encourage creative play! 
100. Nail Polish USB Drive – Give boring USB drives the boot and present her with her very own nail polish themed thumb drive! 
101. Disney Princess Dolls – Help bring her favorite Disney fairy tales to life with this 8-piece doll set, containing Disney's most beloved princesses. Everyone loves Disney birthday presents! 
Was that a blast or what?! For even more birthday partying, be sure to check out our list of 100 Birthday Decorations, 100+ Birthday Party Themes, and our list of 101 Birthday Treats! And let us know some of your favorite birthday presents and birthday present ideas below!