Long-Distance Birthday Gifts
Are you in a long-distance relationship and are in need of a thoughtful birthday gift for your loved one? Well, challenge accepted! Here at The Dating Divas, we created the cutest and may I add, FREE Long-Distance Birthday Gifts printables just for you and your sweetheart. Because being in a long-distance relationship brings on its own unique challenges and not being able to spend a birthday together is definitely one of them. But not anymore! Bridge the gap with these awesome long-distance birthday ideas, presents, and more! So what are you waiting for? Let's get started on this "party in a box!"
Now we must give a huge thank you to the amazing Courtney from Paparelli designs for designing these adorable printables! Because here is what we have for you in these free printable download:
This pack includes:
Printable Box Flap Covers
Birthday Box Gift Tags
Birthday Card
Happy Birthday Banner
Long-Distance Presents
Let your sweetheart know they are your favorite notification! Surprise them with this adorable Long-Distance themed birthday package to show how much you love and appreciate them! But why should you send a gift? Well, when you give a birthday gift it shows you value the relationship. It also shows the message behind a birthday gift, by giving them something that they want or need, we are, in a way, taking care of them! Take care of your loved one by surprising them in the mail with this happy birthday long-distance gift!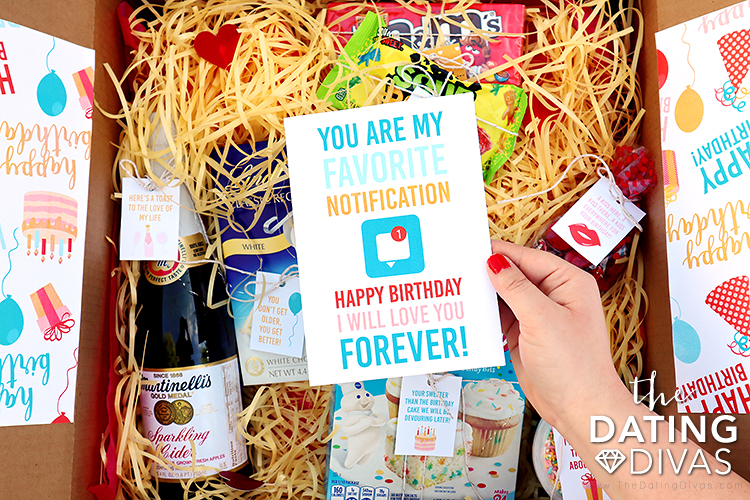 Long-Distance Birthday
Take it a step further from a text message or a facetime call by saying happy birthday to your loved one with this epic birthday gift. The Dating Divas wants you to enjoy your loved one's birthday together as much as possible! First, download, print, and cut out these free printables. Second, add your sweetheart's favorite things. Depending on the gender – you can add a cake box, frosting, candy, snacks, or even favorite video games or lipstick! The world is yours with these long-distance birthday ideas. Listed below are so many fun ways to make your long-distance present even better!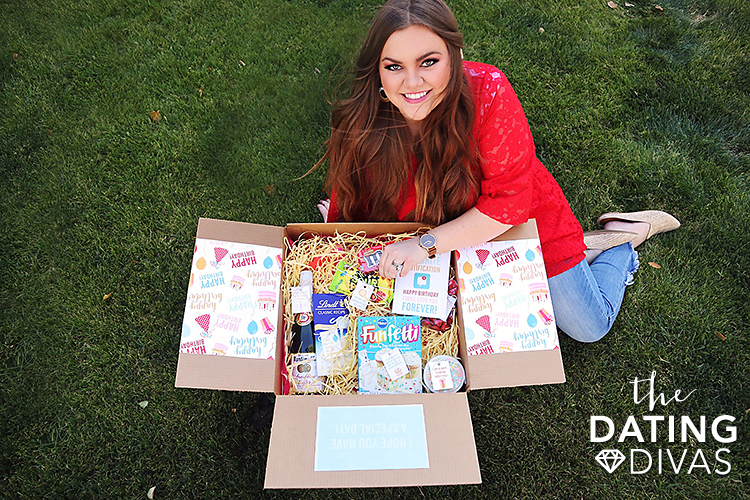 Taking video footage and sending a DVD.
Video of loved ones saying why they love them.
Having everyone bring a small gift to mail in the package.
A mug filled with candy.
A book they might enjoy.
Chapstick with a note saying "You're the balm!"
Card game or any board games.
Hat.
Wallet.
Shoes.
Relationship Birthday Gifts
Long-distance relationships can be challenging, but when it's meant to be, you'll do whatever it takes to keep that special someone close to you no matter the distance. When you can't be together in person, sending gifts is a special way to show your partner how much you love and miss them especially on their birthday! This long-distance present will turn their birthday from okay to GREAT the moment the package arrives at their door. Let's make a toast to the love of your life with these Long-Distance Birthday Gift! Cheers!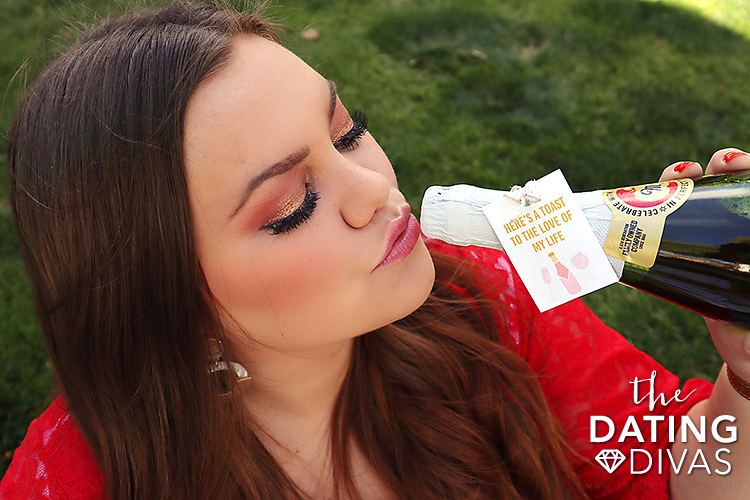 Speaking of making their day great, another way to make your connection even stronger during a long-distance relationship is with a Talsam Charm. You guys, these are AMAZINGLY beautiful and PERFECT for long-distance couples. In short, one of you wears the charm (as a bracelet or necklace) which is technologically powered to an app to send and receive messages. How cool is that? Not to mention, it includes GPS technology so you can send your physical coordinates. Seriously, THIS would make a great long-distance birthday gift!
Another fantastic option is a photo blanket with a picture of the two of you on it. There's seriously something comforting about being wrapped in a blanket that literally pictures the person you miss the very most! The photo blankets from PrinterPix are fantastic! Not only are the soft and cuddly, but the print quality is amazing!
Love Notes
Now, remember, it's the thought that counts, so any long-distance relationship birthday gift you send is sure to bring a smile to your loved one's face. You will truly be the sunshine in their life! However, if you're finding it somewhat difficult to come up with a meaningful and creative gift, this list of long-distance relationship gifts will make it so much easier. Because we love you, we created numerous gift ideas that could be used for a long-distance birthday celebration! Check it out below!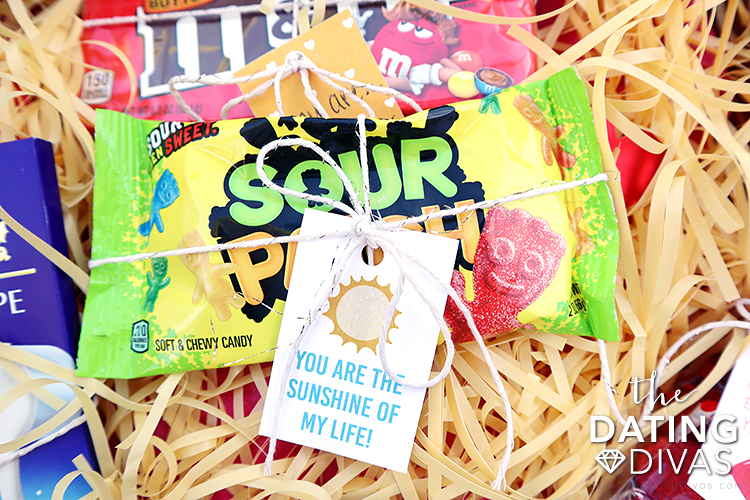 Happy Birthday!
Being away from your loved one on their birthday is difficult. Because you want them to feel special and loved. What better way to show that than to send them this party in a box – The Long-Distance Birthday Gift! Surprise your sweetheart with a special delivery filled with creative gifts and love notes. Show your loved one how much they mean to you by surprising them with this happy birthday package! This year will surely be something they won't forget!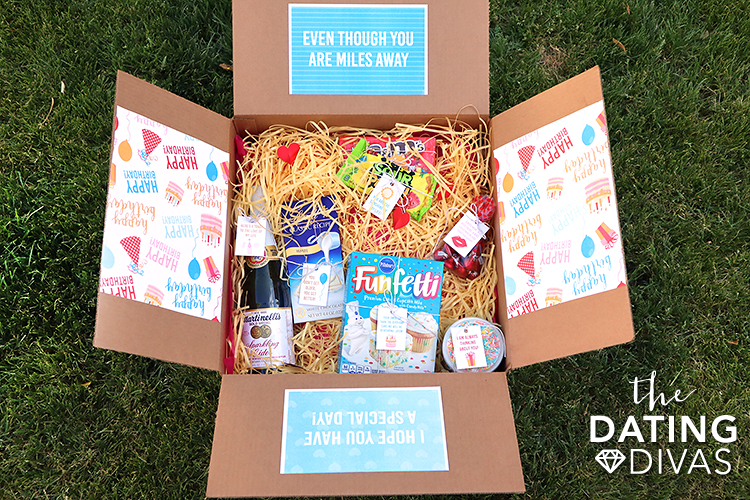 Long-Distance Love Kit
Our Long-Distance Relationship Gift Ideas Kit will definitely create special memories, even though you're far apart. First, fill a box with all of your sweetie's favorite things, add a long-distance relationship date in a box, and use the long-distance relationship gift ideas. Certainly, with so many long-distance presents all in one kit, you are sure to find the best long-distance relationship gifts that suit your individual relationship. Nonetheless, if you're in a long-distance relationship – you should totally check out our Long Distance Love Kit!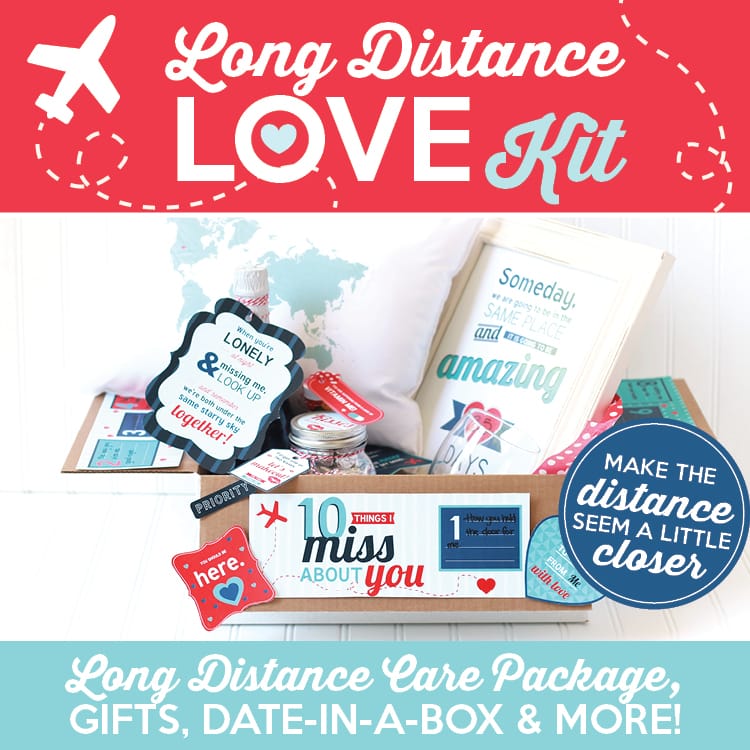 A long-distance relationship care package, long-distance date in a box, a countdown tracker, long-distance prescription gift, AND some long-distance romance tips! CHECK IT OUT!
However, are you looking for more fun ways to strengthen your long-distance relationship? Our Cheer Up Kit care package is sure to brighten your sweetie's day. Love Text Message 2.0 Pack is also such an easy way to connect to your spouse at any time, too!
Long Distance Birthday Gifts
Printables Designed by Courtney @ Paparelli Exclusively for The Dating Divas