Happy Birthday Printables
Use our list of adorable free birthday printable cards to send warm wishes on someone's special day! When celebration time is in full swing, we think the cost of supplies is the last thing you should worry about. That's why we've put together a list of the latest and greatest free birthday printables, guaranteed to make b-day time an absolute smash! From cards and gifts to decorations and party supplies, this is one list that's not only worth saving but one that you're sure to use again and again! Say goodbye to stressed-out party planning and get ready to throw a fun and fab celebration that's sure to be remembered!

Disclaimer: This post contains affiliate links. To learn more about 'em, click here.

To make things as simple as possible for that special day, we've divided our list into five categories:
23 Free Printable Birthday Cards
30 Free Printable Birthday Gifts & Treat Tags
16 Free Printable Birthday Decor
32 Free Printable Birthday Party Supplies

We're so excited we can hardly wait! Let's get going!
Free Printable Birthday Cards
Ready to wish that special someone a delightful day?! All you need is a printer and a little inspiration from these free printable cards!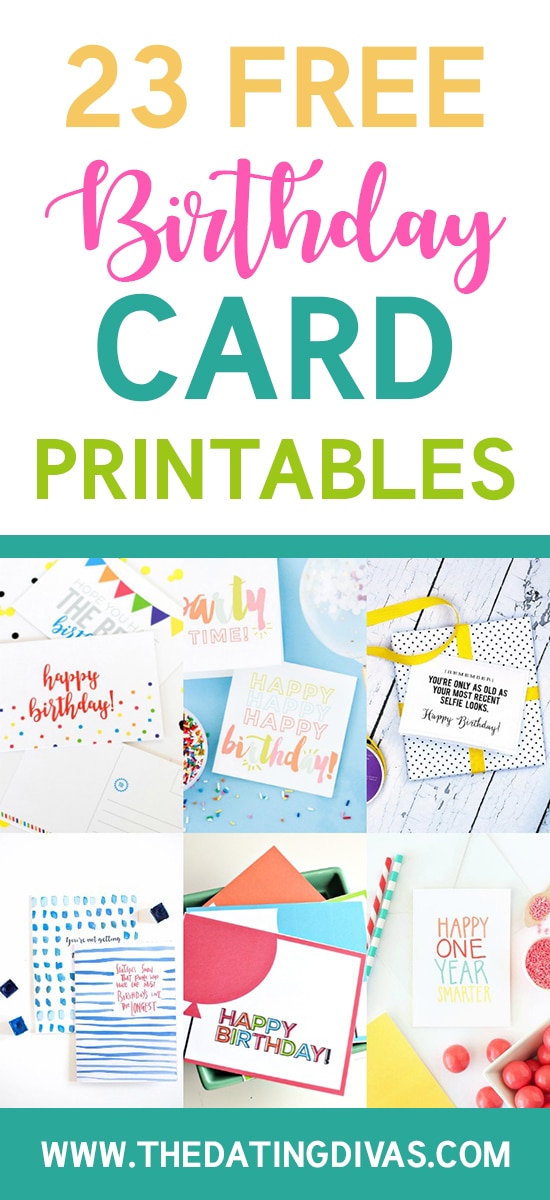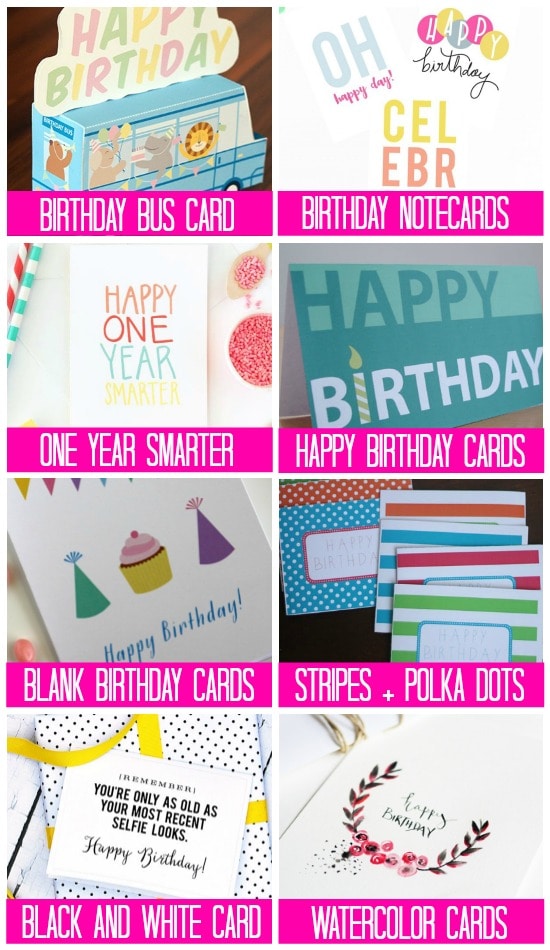 1. Birthday Bus Card (M. Gulin) – Vroom, vroom, and a big ol' beep beep! This oh-so-unique card is as fun to make as it is to give!
2. Birthday Notecards (WhatThePrint for Eighteen25) – Colorful and bright, these printable birthday notecards make for a quick and easy birthday greeting!
3. One Year Smarter (Design Eat Repeat) – Remind that special someone that they're not only older but wiser too! It would be cute to pair with some Smarties.
4. Happy Birthday Cards (Creative in Chicago) – Pick your favorite out of a set of cards – perfect for any birthday boy or girl!
5. Blank Birthday Cards (Catch My Party) – Cupcakes and banners make for a darling design with these blank cards!
6. Stripes + Polka Dots (The Crafting Chicks) – Perfectly patterned cards and envelopes combine for a birthday note set that's simply adorable!
7. Black and White Card (Chickabug) – Super chic and oh-so-snazzy, these black and white cards are the perfect addition to anyone's bday!
8. Watercolor Cards (Capturing Joy With Kristen Duke) – Give these elegant cards a go when you're looking for something that's truly special!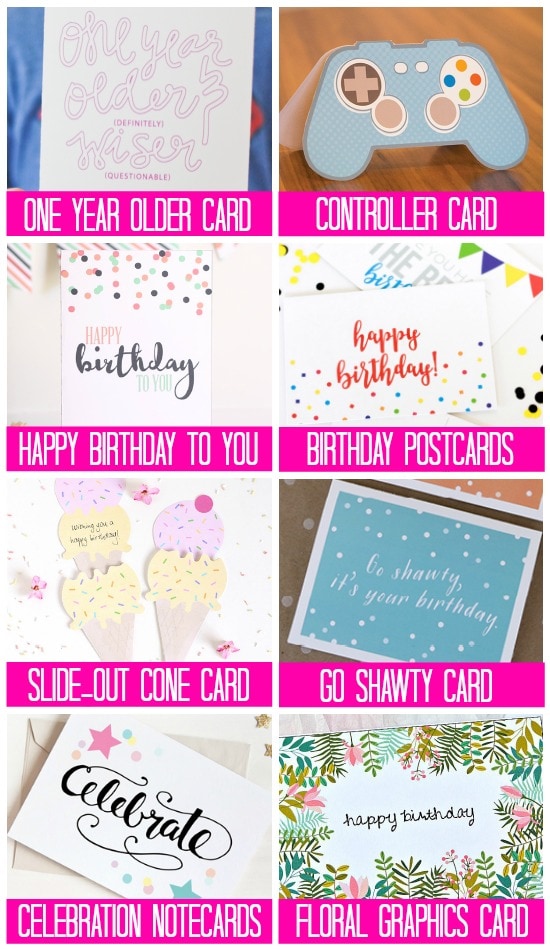 9. One Year Older Card (Brenda Bird) – With a witty message and a chic design, this card is definitely one to sneak a peek at!
10. Controller Card (M. Gulin) – Gamers will be all sorts of in awe with this themed controller card!
11. Happy Birthday To You (Liz On Call) – Confetti reigns supreme in this cutie patootie of a card.
12. Birthday Postcards (I Heart Naptime) – Show your birthday buddy a little creative postcard action and you're guaranteed a win!
13. Slide-Out Cone Card (Make And Tell) – Sweet and spectacular, this interactive card is one to be proud of.
14. Go Shawty Card (Elegance and Enchantment) – Go Shawty! It's Yo Birthday! This card will tell them that – it's their birthday.
15. Celebration Notecards (Dawn Nicole Designs) – Good times will definitely be celebrated with these fun and flashy notecards.
16. Flower Graphics Card (My Someday in May) – Flower power takes on a whole new role with these floral designs.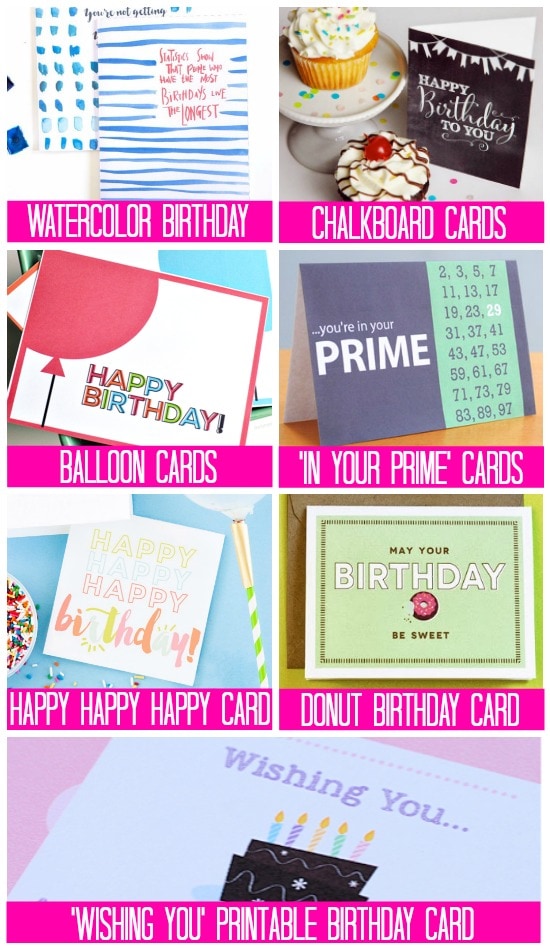 17. Watercolor Birthday (Inkstruck Studio) – Sweet messages and a watercolor backdrop combine to make a printable card that's definitely worth giving! 
18. Chalkboard Cards (Pen + Paper Flowers) – Know a lover of chalkboard art? This is the card for them! 
19. Balloon Cards (Thirty Handmade Days) – Bring on the birthday with a classic birthday symbol and a joyful birthday wish! 
20. In Your Prime Cards (Creative in Chicago) – These prime number cards are not only creative but oh so cute! Perfect for anyone turning a prime number! 
21. Happy Happy Happy Card (I Heart Naptime) – Bright, cheery, and a whole lot of fun, we can't wait to give these cards to our birthday pals!  
22. Donut Birthday Card (How About Orange) – Donut lovers will be all sorts of excited by these sweet cards (with an even sweeter message!). 
23. 'Wishing You' Printable Birthday Card (Crazy Little Projects) – Let everyone know your birthday wishes with this sweet card, ready to print and ready to party! 
Free Printable Birthday Gifts & Treat Tags
Birthday gift giving is no longer a hassle with these free, done-for-you treat tags and gift ideas!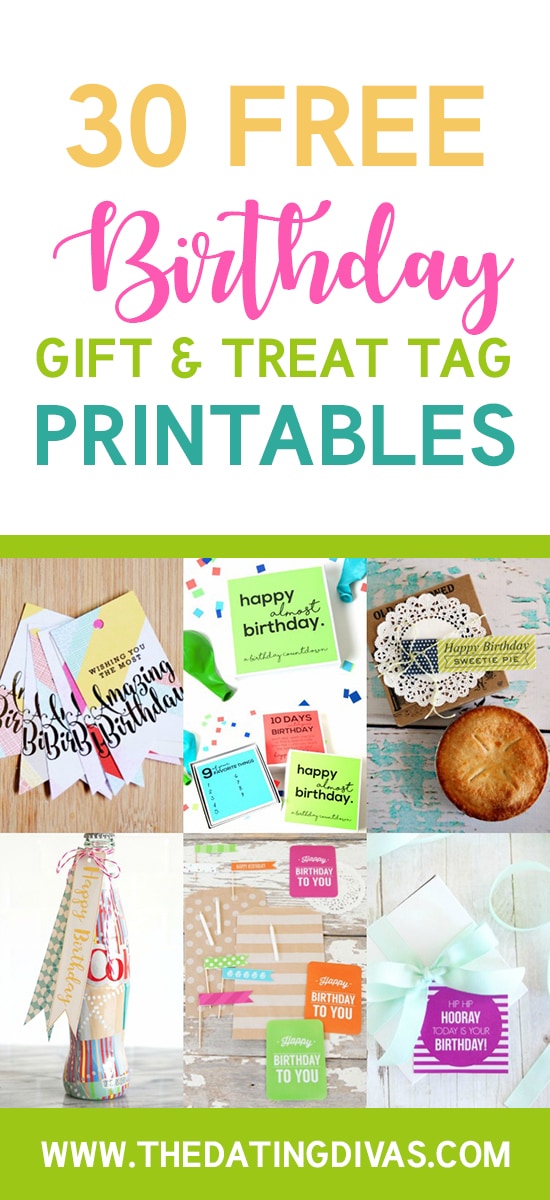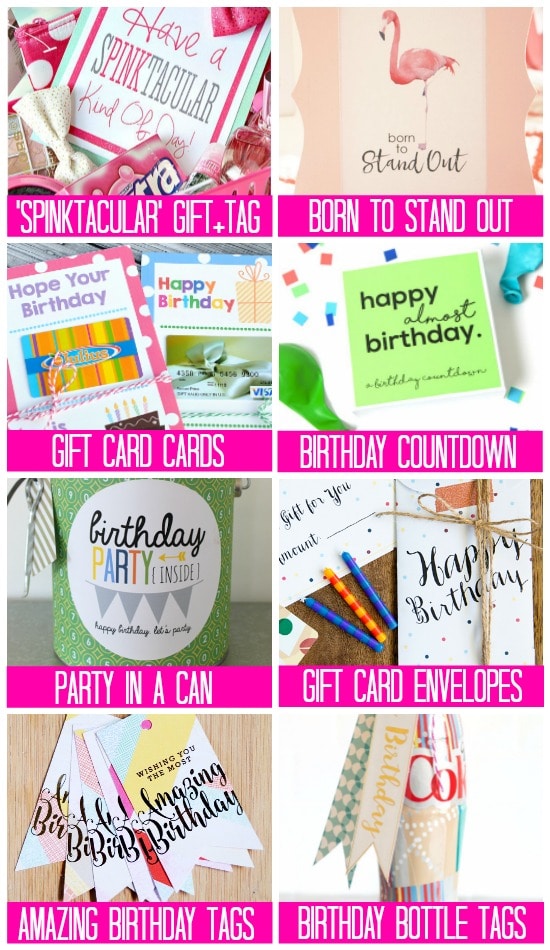 24. "Spinktacular" Gift+Tag (The 36th Avenue) – Get a basket of pink and this printable tag and you've got the perfect gift for the birthday girl.  
25. Born To Stand Out (Lolly Jane) – Gift this motivational print and share a reminder of staying true to yourself! 
26. Gift Card Cards (Crazy Little Projects) – Got yourself a gift card and nowhere to put it?! Take advantage of these printable holders and you'll be good to go! 
27. Countdown Gift Box (Eighteen 25) – Give the gift of days of fun with this printable countdown box! 
28. Party In a Can (Ginger Snap Crafts) – Did someone say it's time to party?!  Just package it up and party on! 
29. Gift Card Envelopes (Yellow Bliss Road) – Package those gift cards with these snazzy envelopes we're dying over! 
30. Amazing Birthday Tags (Minted Strawberry) – These fabulously fun tags can be presented one of two ways – as is, or as the product of a gold foil tutorial! 
31. Birthday Bottle Tags (The Polka Dot Chair) – Celebrating a soda sipper? They'll adore these birthday bottle tags that will dress up any drink with a birthday greeting!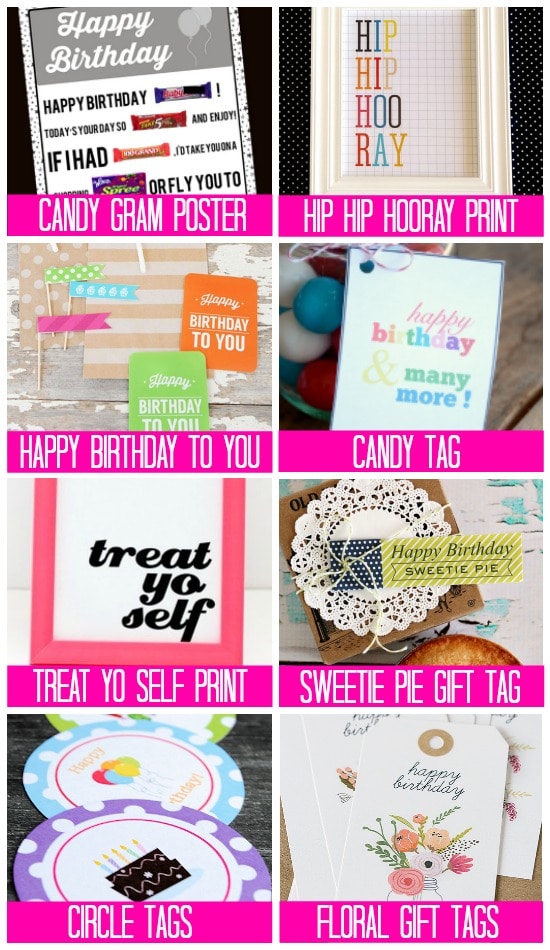 32. Candy Gram Poster (The Dating Divas) – Give a truly sweet treat with this printable candy gram poster! 
33. Hip Hip Hooray Print (Eighteen 25) – Print it, frame it, and flaunt it! This birthday-themed print makes for a great (and easy) surprise! 
34. Happy Birthday To You (Simple As That) – This birthday tag gift set is your one stop spot for birthday treats! 
35. Candy Tag (The Idea Room) – Affix this tag to their favorite sweet treat and they'll be smiling for days! 
36. Treat Yo Self Print (Girl Loves Glam) – Parks & Rec fans will love this printable inspired by an oh-so-quotable quote from the show.  
37. Sweetie Pie Gift Tag (Eighteen 25) – Pie, anyone? Anti-cake folks will be all over this combination gift + treat tag. 
38. Circle Tags (Crazy Little Projects) – Who says treat tags have to be square? Not us!  
39. Floral Gift Tags (Live Laugh Rowe) – These flowery tags are as pretty as they are perfect!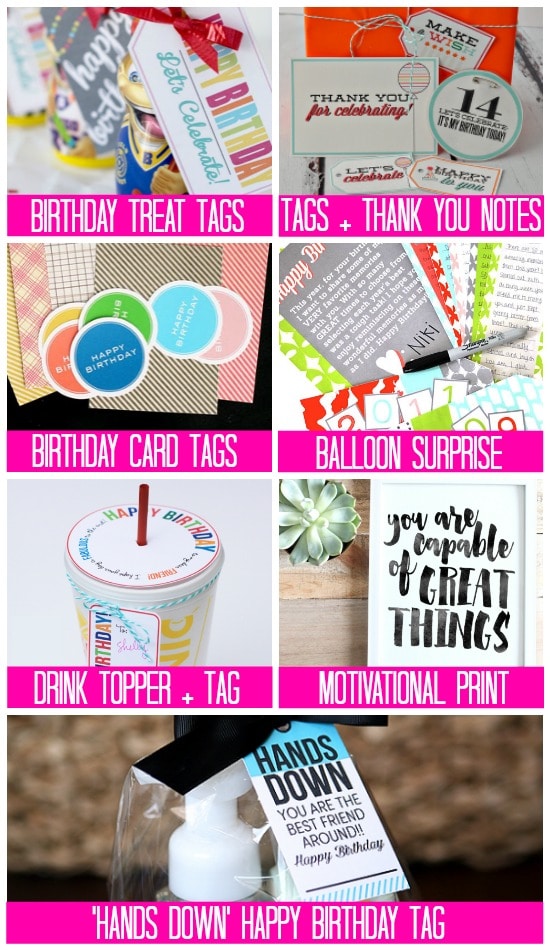 40. Birthday Treat Tags (Craving Some Creativity) – Perfect for the classroom (or any group setting!) these printable tags are fun and fab! 
41. Tags + Thank You Notes (Thirty Handmade Days) – This printable birthday pack has everything you need for big birthday wishes! 
42. Birthday Card Tags (Eighteen 25) – Affix these tags to blank birthday cards or use them on their own for a dash of pizzazz. 
43. Balloon Surprise (The Dating Divas) – The huffing and puffing will be well worth it with this one of a kind balloon surprise! 
44. Drink Topper + Tag (Landeelu) – Give them something sweet to sip, along with a birthday wish, with this printable drink topper and tag. 
45. Motivational Print (Mantraband) – Remind the birthday boy/girl just how special they are with this printable wall art – designed to inspire! 
46. 'Hands Down' Happy Birthday Tag (Eighteen 25) – Be it soap, sanitizer, or lotion, this tag makes for the perfect birthday addition!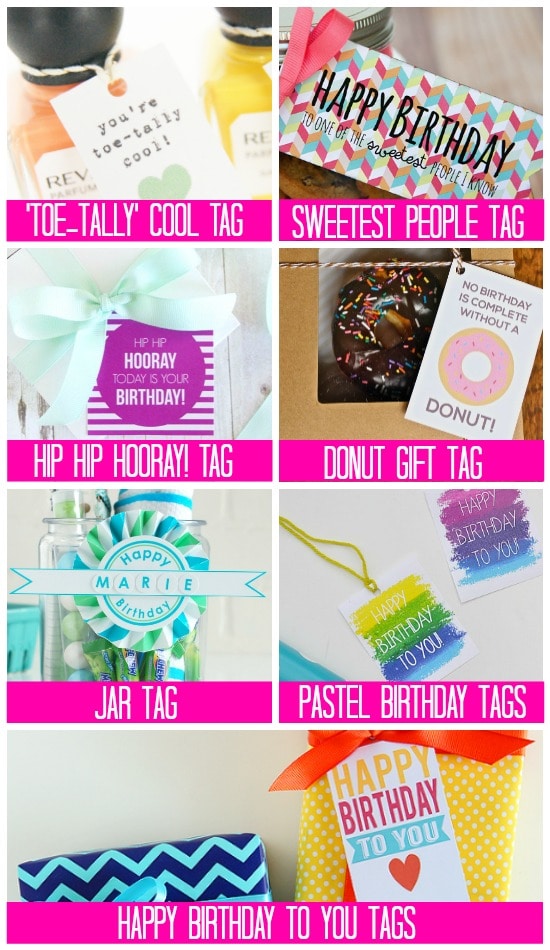 47. 'Toe-tally' Cool Tag (Simply Designing) – Giving a 'polished' gift isn't hard at all with this themed tag! 
48. Sweetest People Tag (Eighteen 25) – Show them they're the sweetest with this printable birthday tag! 
49. Hip Hip Hooray! Tag (The Crafted Sparrow) – Bright, bold, and perfect for birthdays, this is one tag you won't want to miss.  
50. Donut Gift Tag (Pretty Providence) – Gift giving has never been sweeter with this donut themed tag!  
51. Jar Tag (No Biggie) – Fully customizable and fully fab, this printable jar tag is at the top of our list!  
52. Pastel Birthday Tags (Hey There, Home) – Sweet and subtle, these pastel tags are oh-so darling!  
53. Happy Birthday To You Tags (Eighteen 25) – Cute and colorful, these tags make for the perfect addition to any birthday gift! 
Free Printable Birthday Decor
Give the party space a healthy dose of pizzazz (with none of the stress!) with these free printable birthday decorations!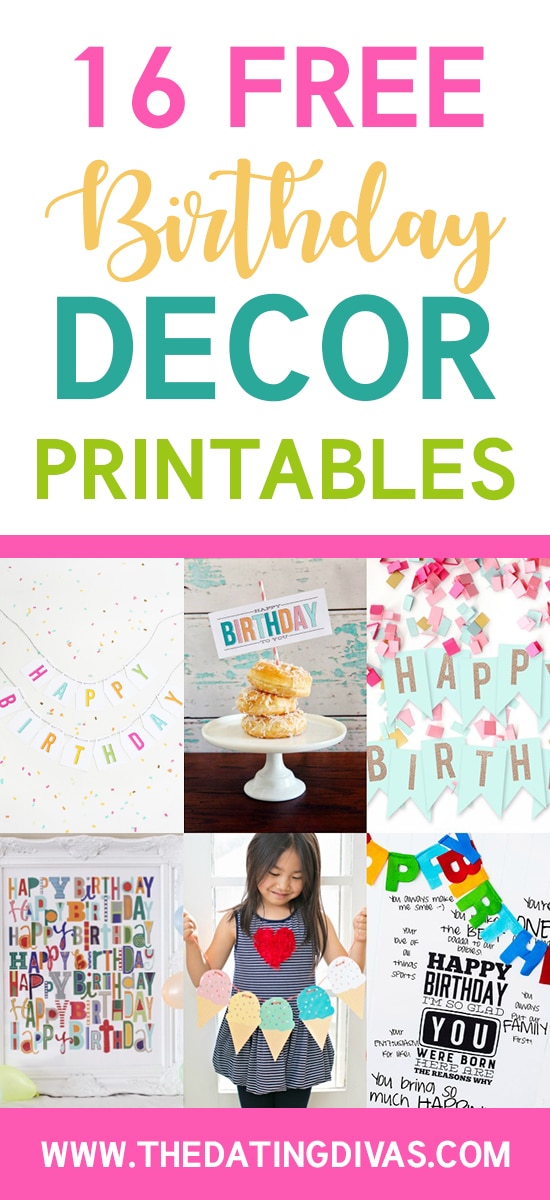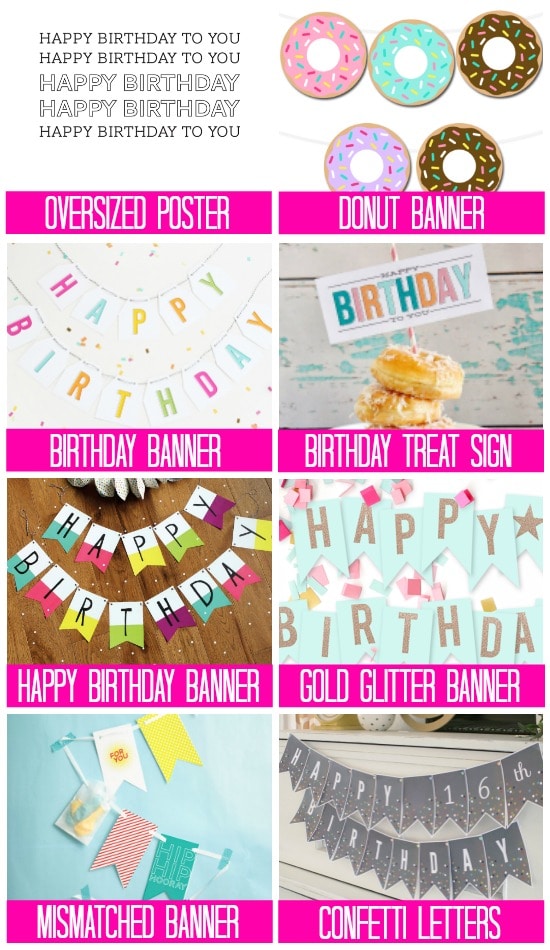 54. Oversized Poster (Paging Supermom) – Show everyone it's a day to celebrate with this over-sized poster print! 
55. Donut Banner (Chicfetti) – We think this printable banner looks good enough to eat! 
56. Birthday Banner (The Crafted Sparrow) – Colorful letters make for a sweet and simple banner that will add a touch of fun to any space! 
57. Birthday Treat Sign (Eighteen 25) – Pop it in a pie, or drop it in some donuts, this birthday treat sign is taking the cake! 
58. Happy Birthday Banner (Crafts Unleashed) – Colorful, bright, and just about right, this happy birthday banner is a cheery reminder for everyone! 
59. Gold Glitter Banner (I Should Be Mopping the Floor) – Snazzy and swanky, this gold glitter banner makes for the perfect touch to your party room! 
60. Mismatched Banner (Pizzazzerie) – String this bad boy up for instant party charm. 
61. Confetti Letters (Lolly Jane) – Fully customizable and filled with confetti, we simply adore this birthday banner!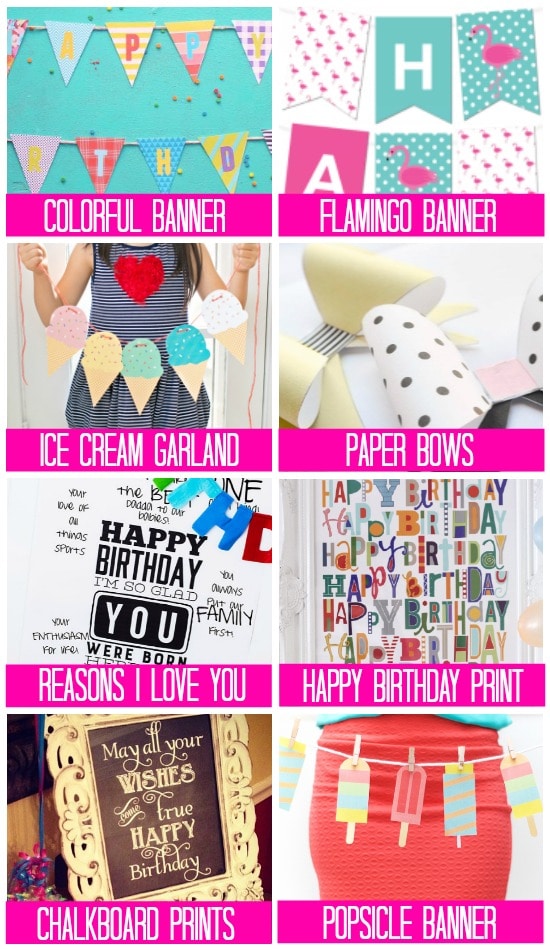 62. Colorful Banner (A Girl and a Glue Gun) – We're crazy for color so this banner is right up our alley!  
63. Flamingo Banner (Chicfetti) – Add a little flamingo power to your party with this bird-themed banner. 
64. Ice Cream Garland (Hello Wonderful) – A touch of cool, and a dash of fun, this cone-themed garland is a great addition to any birthday gathering. 
65. Paper Bows (The Tiny Honeycomb) – Pop 'em on presents or slip 'em near sweets, these paper bows add a simple, yet elegant touch. 
66. Reasons I Love You (The Dating Divas) – A combo poster and card, this customizable sign will help spread the love! 
67. Happy Birthday Print (I Heart Naptime) – Display this colorful print for instant celebration! 
68. Chalkboard Prints (Nest of Posies) – The perfect touch to any home, these printable chalkboard prints will spice up the day in no time flat! 
69. Popsicle Banner (Color Me Meg) – A fabulous addition to any space, this sweet and summery paper banner will totally set the mood!
Free Printable Birthday Party Supplies
Time to glam up your party game! From treat toppers to birthday crowns, these items will help you party loud and proud.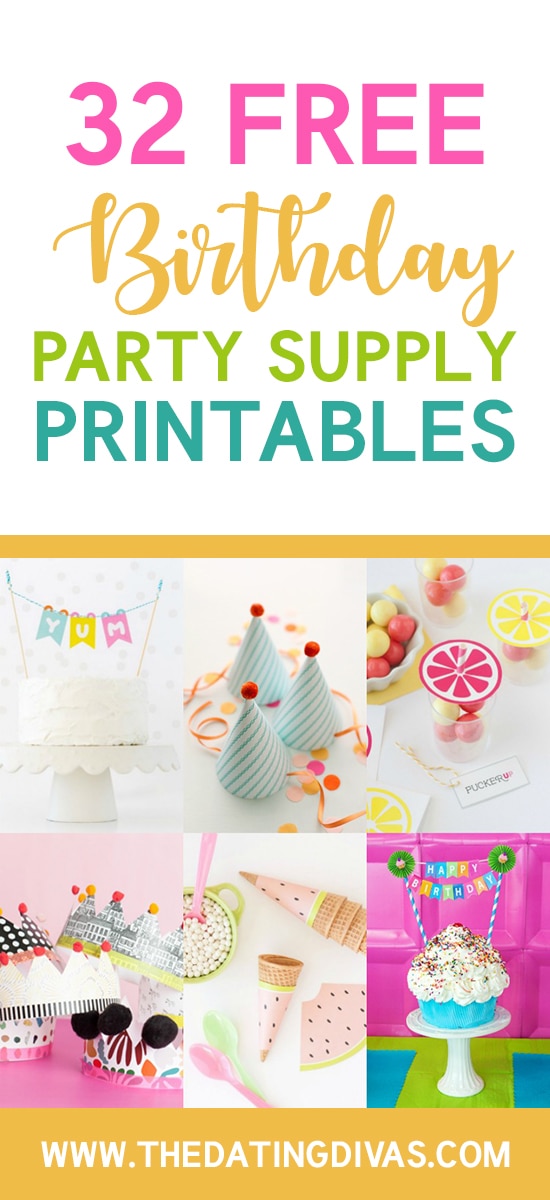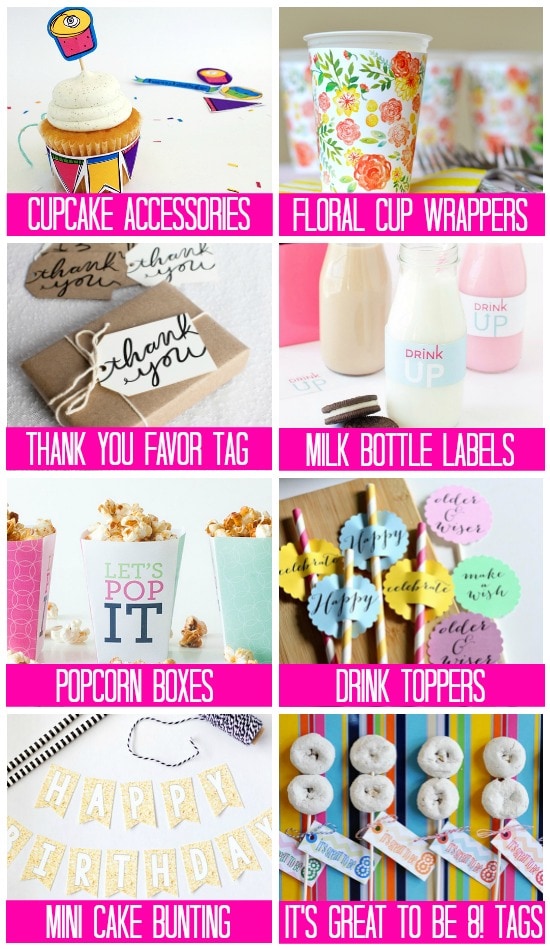 70. Cupcake Accessories (100 Directions) – Pop 'em on top of a simply sweet cupcake and you've got yourself a birthday treat that can't be beat! 
71. Floral Cup Wrappers (Pizzazzerie) – Turn ordinary paper cups into extraordinary works of art with these floral wrappers. 
72. Thank You Favor Tag (The Pretty Blog) – Show guests your gratitude with these chic and elegant favor tags. 
73. Milk Bottle Labels (Design Eat Repeat) – Got milk? With these fun bottle wrappers, you'll definitely want some of these! 
74. Popcorn Boxes (Simple As That) – Print and fill with popcorn for instant party power.  
75. Drink Toppers (Nest of Posies) – Liven up those boring drinks with these birthday-themed toppers and party on! 
76. Mini Cake Bunting (Yellow Bliss Road for Tatertots and Jello) – The perfect size for a birthday cake, this mini bunting adds a touch of fun and glamor! 
77. It's Great to be 8! Tags (Dixie Delights) – Got an eight-year-old to celebrate? They'll be all sorts of excited with these clever tags!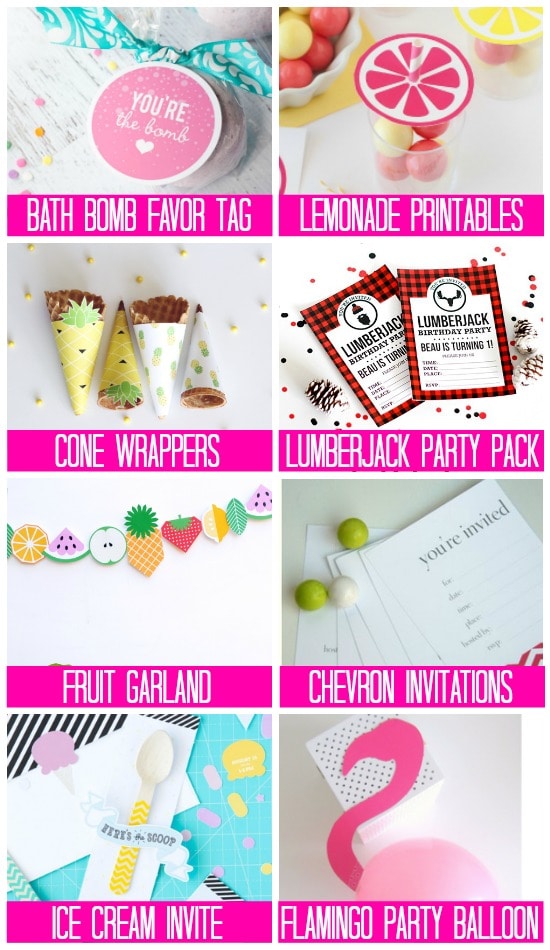 78. Bath Bomb Favor Tags (Frog Prince Paperie) – Send away your guests with a little pampering power with these homemade bath bombs and favor tags! 
79. Lemonade Printables (Design Eat Repeat) – Summer birthday soirees will be the hit of the season with these lemonade prints. 
80. Cone Wrappers (The 36th Avenue) – Turn an ordinary cone into an extraordinarily fun conversation piece with these themed fruit wrappers! 
81. Lumberjack Party Pack (Printable Crush) – We're in awe over this printable party pack that has us wanting to wear plaid for days! 
82. Fruit Garland (Minieco) – Turn blah and bland into fresh and fruity with this party garland – perfect for Summer! 
83. Chevron Invitations (The TomKat Studio) – Invite your guests with a burst of color! 
84. Ice Cream Invite (Design Eat Repeat) – Having an ice-cream shindig? These invites are the way to go! 
85. Flamingo Party Balloon (Flicker and Flock) – Let this beautiful bird welcome your guests and set the tone for a day that's totally pink.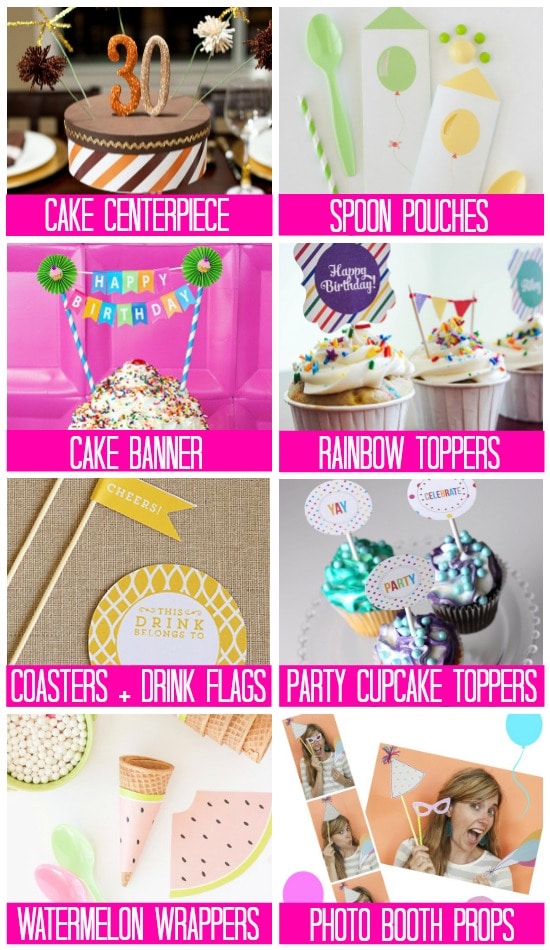 86. Cake Centerpiece (Hostess with the Mostess) – Let this centerpiece be the 'center' of attention at your birthday shindig!
87. Spoon Pouches (Design Eat Repeat) – Add a touch of pizzazz to your flatware with these printable pouches and get ready to scoop up some fun! 
88. Cake Banner (Skip To My Lou) – Need a cake topper and need it STAT? You've come to the right place! 
89. Rainbow Toppers (Printable Crush) – Fabulous and fun, little ones will be especially fond of these rainbow printed toppers. 
90. Coasters + Drink Flags (Elegance and Enchantment) – Let your beverages do the talking with these birthday-themed printables. 
91. Party Cupcake Toppers (Kori Clark) – Simple and sweet, these cupcake toppers make the perfect birthday dessert addition.  
92. Watermelon Wrappers (Design Eat Repeat) – Bid boring cones be gone and say hello to ultimate cuteness. 
93. Photo Booth Props (Capturing Joy with Kristen Duke) – Guests will be saying "cheese!" all the day long with these clever photo booth props!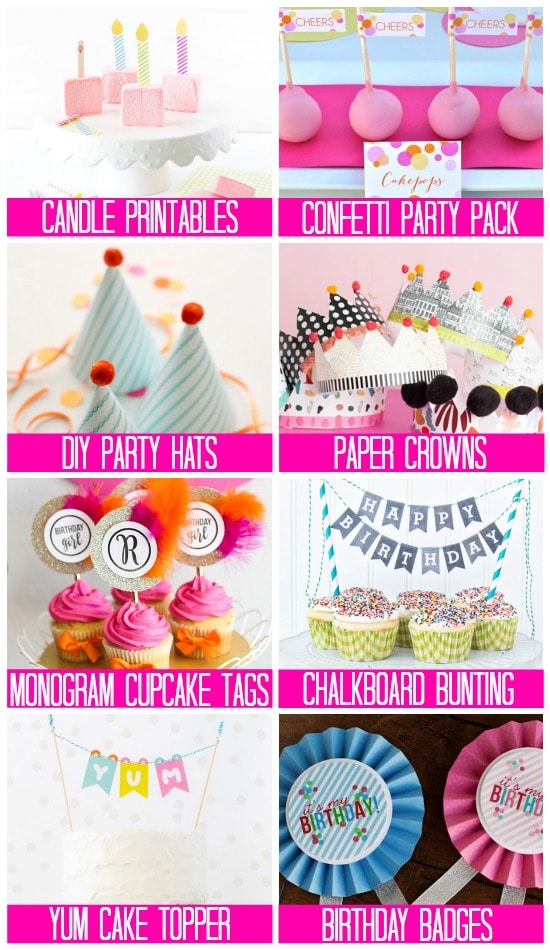 94. Birthday Candle Printables (Design Eat Repeat) – Make a wish and print these birthday candle cake accessories for a super sweet time. 
95. Confetti Party Pack (I Heart Naptime) – Let this complete confetti pack add the perfect dose of fab to your birthday gathering! 
96. DIY Party Hats (Minted) – Store bought birthday hats are a thing of the past! Let these DIY printables don your head and crank up the fun! 
97. Paper Crowns (The House That Lars Built) – Crown that birthday VIP with a touch of elegance and get ready for the greatest party in all the land. 
98. Monogram Cupcake Tags (Printable Crush) – Personalize your cupcakes with the help of these bad boys and you've got yourself some cupcake toppers to be remembered.  
99. Chalkboard Bunting (Yellow Bliss Road) – Popped atop your dessert of choice, let this chalkboard bunting set the party mood. 
100. Yum Cake Topper (Design Eat Repeat) – Let everyone know just how delish that cake is going to be with this perfect pastel 'Yum' topper. 
101. Birthday Badges (Eighteen 25) – No hiding here! Show off the birthday lad or lass with their very own b-day badge. Totally free and waiting for you! 
Is this a list to remember or what?! For even more birthday fun, be sure to check out our Birthday Letter Surprise and our 101 Quick & Easy Birthday Gift Ideas. Best of birthdays to you!