60 Life Hacks to Make Life in the New Year Easier
Life hacks have taken the internet by storm, and for good reason! We don't know about you, but we'd rather use a cool hack to accomplish something versus doing it the hard way.
If you're like us, check out this list of 60 genius life hacks that will make your 2024 so much easier!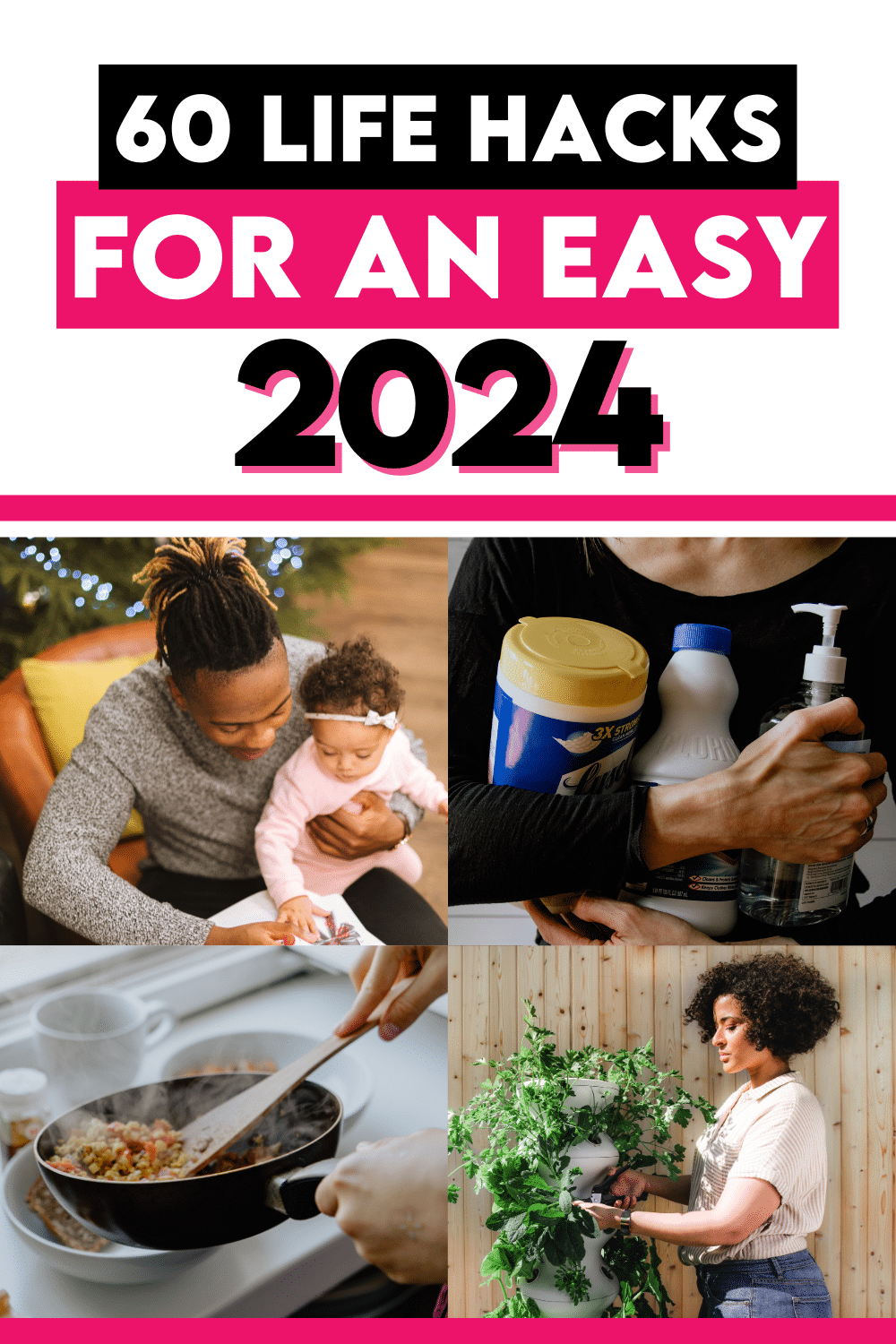 Disclaimer: This post contains affiliate links. To learn more about 'em, click here.
Table of Contents
18 Life Hacks for Making Parenting Easier
Being a parent is one of the toughest (but most rewarding!) jobs in the world. So why not make your job easier by working smarter, not harder?
We've got 18 awesome life hacks for kids and parents that will make both of your roles much easier, guaranteed!
1. You can place a small piece of tape over your child's noisy toy to make it quieter.
2. Stick your kiddo's popsicle through a cupcake liner so any melting drips are caught in the liner, not on their clothes.
3. Use a pizza cutter to quickly and easily cut up their meals into age-appropriate bites.
4. Save your cardboard boxes for some fun rainy-day art. Give your kids a large cardboard box, some crayons, and stickers. They'll be occupied for a while!
5. Make long car rides easier by using these backseat car organizers. It can hold snacks, toys, drinks, and anything else your kids may need during a car ride.
6. Additionally, use this car seat cup holder to easily store drinks and small snacks on your daily trips.
7. Are your kids scared of ghosts or monsters, especially during bedtime? Get a spray bottle, label it as Ghost Spray or Monster Spray, and spray their room before putting them to bed. Tell them that this spray scares away any ghosts or monsters. (This tip is Diva approved—one of our Diva mamas does this nightly!)
8. Hang bibs on the back of a highchair with a command hook.
9. Use two fitted sheets + two mattress protectors on your child's bed. If they ever have an accident at night, simply remove the top sheet and protector, and the next sheet is already on the bed and ready to go. You'll both be back in bed faster!
10. Cover a pack-n-play with a fitted bed sheet to keep bugs and the sun off your baby while you're outside. This hack works great for camping, too!
11. Keep portable chargers or even car chargers with (extra long cords!) in the car at all times. That way, if your child's tablet or other device dies, you can simply plug it in rather than have them feeling upset for the rest of the ride.
12. Cover the holes on bath toys with hot glue to keep water from getting inside.
13. Use these squeeze-proof and flow-controlled tops for those applesauce pouches. This will keep the applesauce inside the pouch, even if your child decides to give the pouch a squeeze!
14. Buy or prepare special snacks that your child can only eat while they're doing homework. This will keep them from using the "I'm hungry" excuse while they're working, and it will hopefully give them something to look forward to since they can only enjoy these snacks while doing homework.
15. Help your child say bye-bye to the binky by inviting the Binky Fairy to visit. Simply have your child "plant" their binky outside, and in the morning, it will have turned into a fun toy from the Binky Fairy!
16. Lay out your child's clothes the night before, especially during the school week. This will make your morning routine much easier!
17. Make mealtime fun! Kids love to play, and playing makes nearly every experience with kids easier. Buy some fun dinner winner plates, serve your child's meal in muffin tins, or have an indoor picnic for mealtime.
18. Last but not least, one of the best life hacks for kids: Prep your kids before doctor appointments, school, big changes, etc., to make it easier on you AND them. Prepping your child by telling them what they can expect can make them feel more confident and secure about the experience. For example, if you're taking them to the dentist, try practicing going to the dentist in the weeks leading up to the visit. You can use some play dentist tools, talk to them about why a dentist is important, and have them pretend to be the dentist on you. When it's time for the appointment, they'll feel less scared because they already know what to expect.
12 Life Hacks for Cleaning & Organization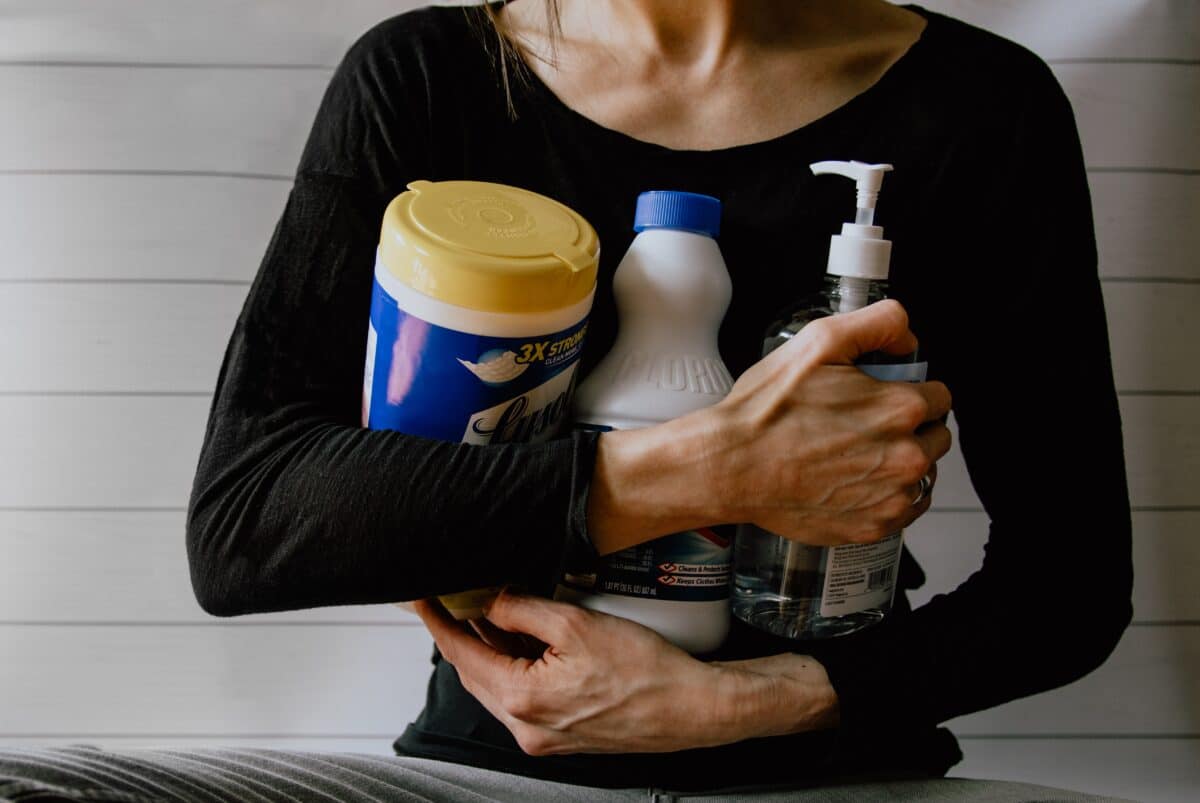 Cleaning isn't something any of us looks forward to, and that's probably due to how long it takes. Fear not! We've scoured the internet for the best life hacks to reduce your cleaning time and keep your home super organized.
19. Have a designated junk drawer or cupboard. This will help keep your counters and other living areas clutter-free while also helping you remember where you "put that thing" that you use once in a blue moon.
20. Use furniture that comes with built-in storage. Some popular trends are beds with drawers underneath, a fashionable bench that doubles as a toy box, and cube organizers for shoes and other small items.
21. Store all those grocery sacks in a sack organizer. This particular one can hold over 50!
22. Did you know there is a specific way to vacuum a room? We didn't, either! Apparently, the correct way to vacuum a room is to start by going horizontally and then back over the same area vertically. This ensures that the most dirt and dust is vacuumed up in one session. In need of a new vacuum? The Shark NV356E Navigator was voted one of the best vacuums of 2023.
23. Keep your washing machine clean and smelling fresh by using cleaning tabs at least every three months.
24. Clean your mattress at least twice a year, minimum. A mattress that is well cared for can last much longer than one that is neglected. Not to mention, it's good to get rid of all the dust mites, pollen, loose particles, dead skin, etc., that build up on your beloved furniture. This tutorial is really helpful!
25. Use a Swiffer with wet pads to easily and effectively clean your walls.
26. Buy a jar of The Pink Stuff(and thank us later!). This stuff is amazing and can help you tackle even the toughest cleaning job, including removing grease. It's scratch-free, so you can use it on nearly every surface, too. One of our Divas uses it for removing hard water stains from her stainless steel sink!
27. Ditch the elbow grease and get your grimy-looking grout looking brand new with this Grout Pen.
28. It's important to clean your toilets daily, but make it less of a chore by using toilet tank tablets. These tablets clean your toilet with every flush, which will make your job 1,000 times easier when it comes to scrubbing!
29. Baking soda, vinegar, and lemon peels are all you need to clean your garbage disposal and make it smell incredible.
30. Did you know that you can use a toothbrush for more than just your teeth? Consider purchasing a toothbrush (electric or standard) to clean those hard-to-reach places like the underside of a toilet bowl, around a faucet, and other areas where grime builds up quickly. Be sure to store this toothbrush away from the ones you use for your teeth!
15 Simple Life Hacks for Cooking & Baking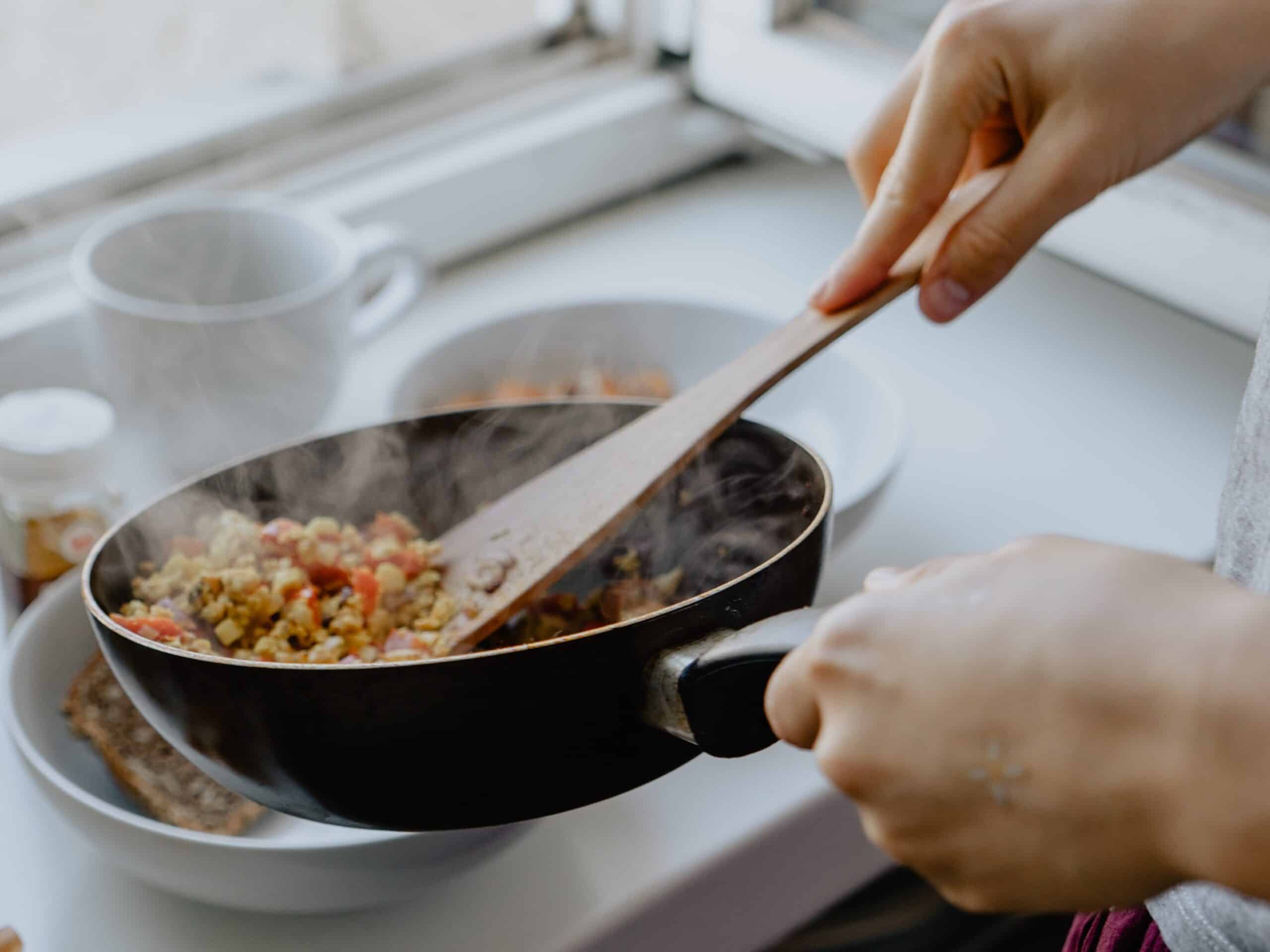 We don't know about you, but we're always on the hunt for cool life hacks that simplify cooking and baking. It seems that we aren't the only ones because Instagram and TikTok are filled with tons of neat kitchen hacks!
We're sure you'll use at least one of these 20 hacks for the kitchen!
31. Put a slice of bread in with freshly baked cookies to keep them soft.
32. Get more juice out of your citrus by microwaving it for 10 seconds and then rolling it back and forth on a hard surface.
33. Keep your fresh herbs from wilting by putting the stems in water and then placing the grocery sack (like the one you put the herbs into when you picked them at the store) over the top.
34. Consider using a meal service like HelloFresh to simplify meal prep.
35. Swap out sour cream and cheese for plain Greek yogurt if you're trying to cook healthier dishes.
36. Frozen berries make great homemade jam! Simply heat the berries on the stove until they break down and turn into a chunky liquid. If you want it a little sweeter, add some sugar.
37. Garlic is much easier to peel after microwaving it for a few seconds! You can also use a garlic press instead of taking the time to mince it.
38. Before freezing any of your meat, separate it into bags. That way, you don't need to defrost the entire package of meat for one recipe.
39. You can cook bacon in the oven for less of a mess and more crispiness. Simply line a baking sheet with foil, lay the pieces of bacon on the foil in a single layer, and put it in the oven! Once the bacon is done cooking, you can let the fat harden on the tin foil and then throw it away. Easy!
40. Spray your measuring cups with nonstick cooking spray before measuring sticky ingredients like peanut butter, honey, molasses, etc. This will ensure that the ingredients slide right out!
41. Use baking mats instead of cooking spray, oil, or parchment paper. Baking mats are reusable, food-safe, and easy to clean!
42. Don't throw out the butter paper/wrapping once you've finished a stick of butter. Use it to grease your baking dish!
43. Clean up kitchen messes like spilled sprinkles, sugar, or spices with a lint roller.
44. Bring stale bread back to life by running the bottom of the loaf in water and then placing the loaf in a hot oven. The steam will soften the stale parts of the bread!
45. For perfectly round cookies that keep their shape and don't expand while baking, use a muffin tin! Simply place the cookie dough in the muffin tin and bake as usual.
10 Simple Life Hacks for Plants & Gardening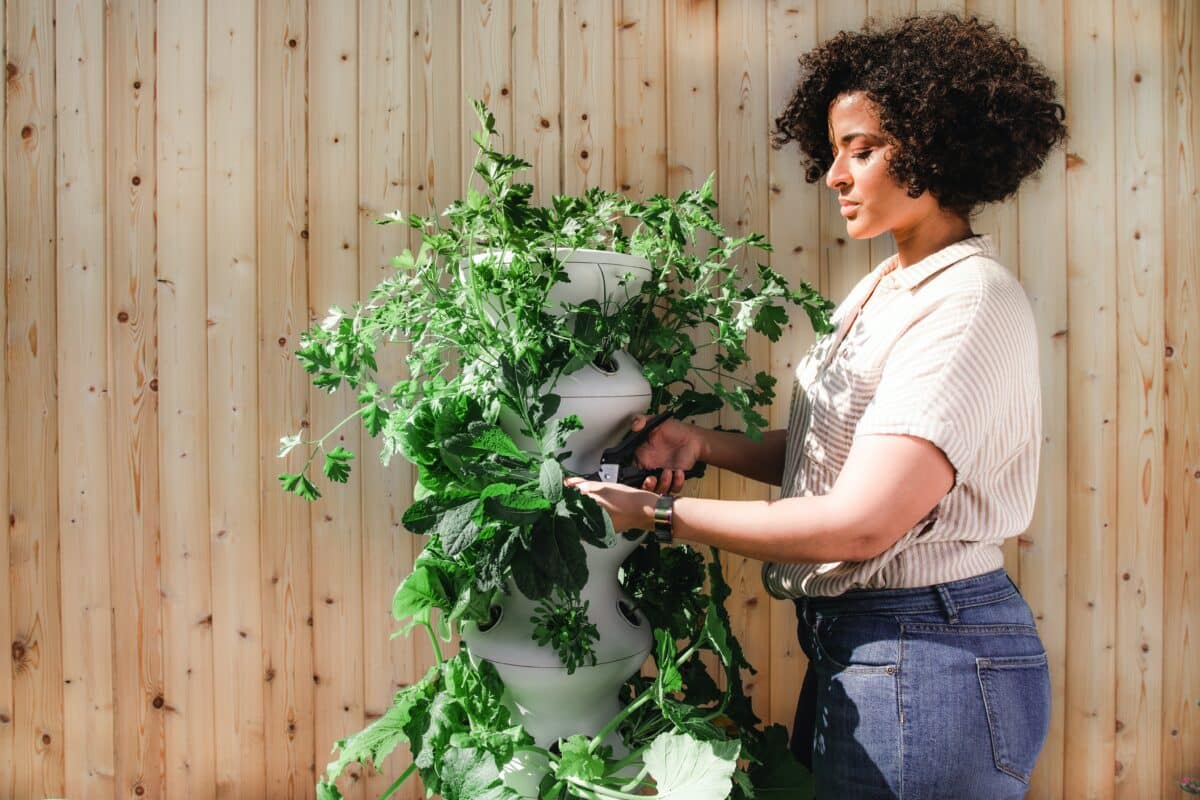 Gardening has become increasingly popular, especially now that groceries are becoming so expensive.
Whether you're a seasoned gardener or a beginner, these tips will take your gardening to the next level!
46. Fill deep planters/pots with empty aluminum cans before adding the soil. This will assist in using less soil to fill the pot, as well as improving drainage and aeration.
47. Use zip ties to control where your plants grow.
48. Placing an old window screen on top of seeds will keep birds from picking at the seeds while they're trying to grow. Once the seeds have germinated, remove the screen and watch them grow!
49. No yard? No problem. Use grow bags on your porch, deck, or even in your garage to grow your own produce. You can also grow your own herbs and produce by using a vertical garden.
50. Soaking hydrangea blooms in cold water will help revive the blooms and make them look like they were just picked from the garden.
51. Instead of purchasing a watering can, turn an empty milk carton into a DIY watering can. Heat a needle and poke holes in the lid, then screw the lid back onto the carton. Voila!
52. Coffee grounds will repel snails, ants, and slugs. It also acts as fertilizer!
53. To keep house plants healthy, ensure they are getting the proper amount of water and sunlight. Too much or too little of both will harm your plants.
54. Not all soils are the same. To have a successful harvest or keep potted plants happy, be sure to use the appropriate soil.
55. Make your own weed killer with dish soap, vinegar, and salt. It's not only safe for pets and kids, it's really effective! (Psst … this tip is also Diva tested and approved!)
5 Best Pieces of Life Advice for Married Couples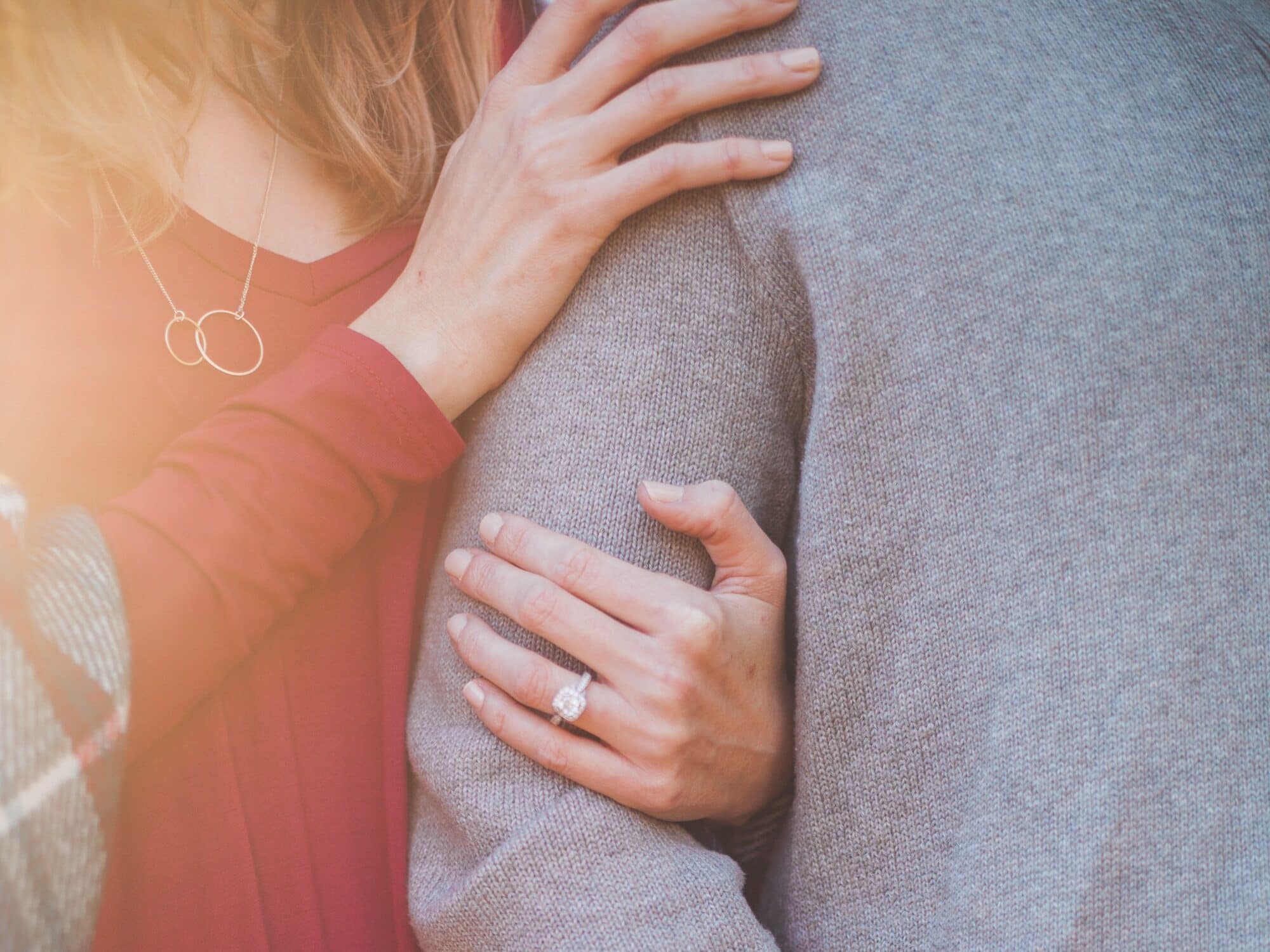 Nearly all married couples have received unwanted or unnecessary life advice. Raise your hand if you've been there!
However, we're sure that in between all that unwarranted advice, there were some pretty useful bits thrown in. Well, we've got five tips that are Diva-approved as well as tried and true.
56. It's okay to go to bed angry. You read that right! It's the exact opposite of what most people will tell you when you get married, but hear us out: sometimes, sleeping off an argument is the best thing you can do because it helps you "press pause" without things escalating too horribly. You'll both wake up feeling refreshed and maybe even less emotional than you did the day before.
57. Never leave the house without saying goodbye, and practice "look up and light up" when they get home. Whenever your spouse gets home from work, pause what you're doing, look at them, and smile. Acknowledging that they are home and showing them that you are happy to see them will set the mood for the rest of the evening. If you're able, completely stop what you're doing and consider giving your spouse a "welcome home" hug or kiss.
58. Put your phone away. Whether it's date night or you're just watching your favorite TV show together before bed, put your phone (and all other distractions) away. You and your spouse deserve each other's full attention, especially when it's just the two of you.
59. Don't throw around the word "divorce." If divorce isn't on the table, then it doesn't need to be brought up, especially if it's being used just to end an argument. This will do nothing but cause hurt to your spouse and your marriage.
60. "Move toward each other." This advice comes from John Gottman and his wife, Julie Schwartz Gottman (co-founders of the Gottman Institute). In their studies, they have determined that in any given situation, a married couple has three choices regarding how to respond or react: they can move away from each other, against each other, or toward each other. We highly suggest reading this article to fully understand their research and to help you implement it in your marriage!
Now that you've been armed with some awesome life hacks, who's ready to tackle 2024?!
Before we forget, check out our other posts filled with helpful and cool life hacks!