75 Easy Organizing Ideas
It's a new year! You made it and I am so proud of you! I'm pretty proud of myself too, but I am not proud of the state of my house… Towards the end of the year events happen so quickly, work picks up, and I lose steam. 
If this sounds familiar, use our list of 75 organization ideas for each room of the house to help you out of the end – of – year mess.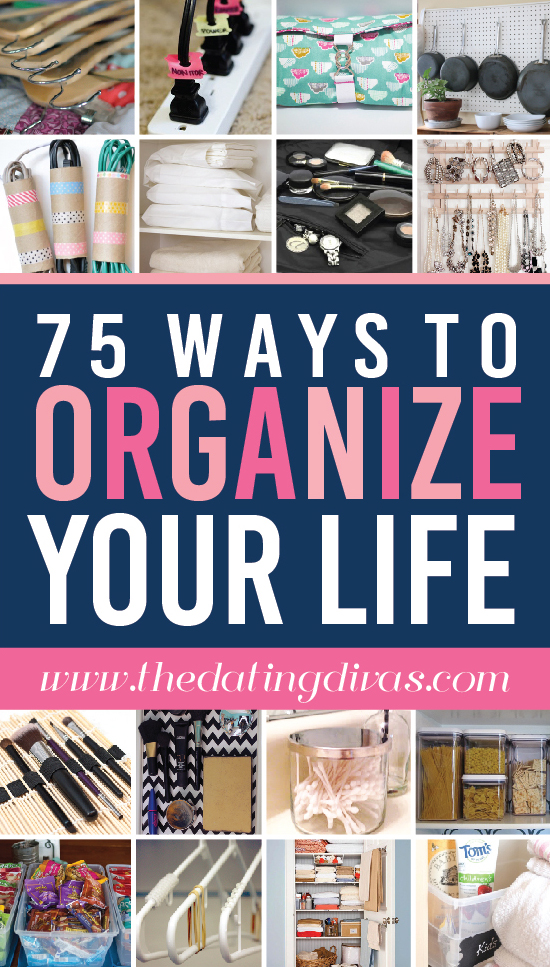 Disclaimer: This post contains affiliate links. To learn more about 'em,
click here
.
Who's ready to welcome the new year with a freshly organized house!? Let us help you out with:
12 ways to organize beauty supplies

12 ways to organize bathrooms and linen closets

12 ways to organize kitchens

12 ways to organize bedrooms and closets

12 ways to organize electronics

15 ways to organize finances and paperwork
12 Beauty Organization Ideas
Cords, brushes, makeup, they all have their place, and it shouldn't be the counter… fix it with 12 beauty supply organization ideas.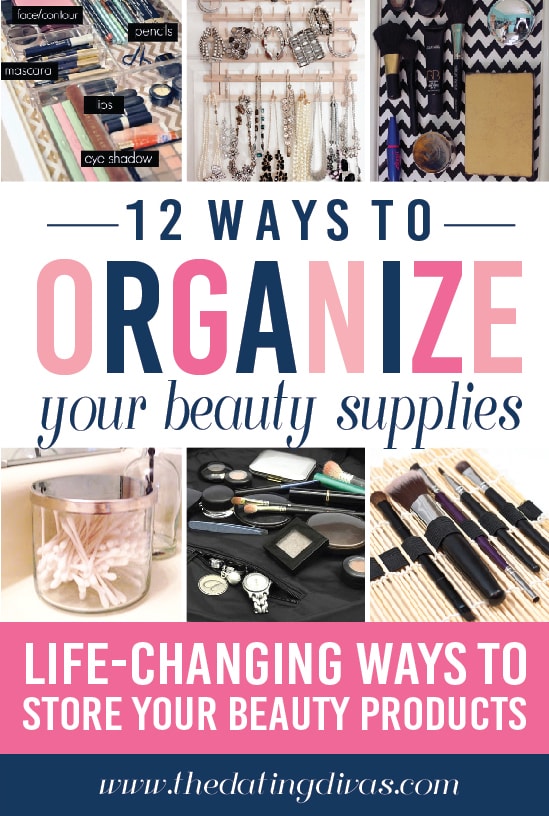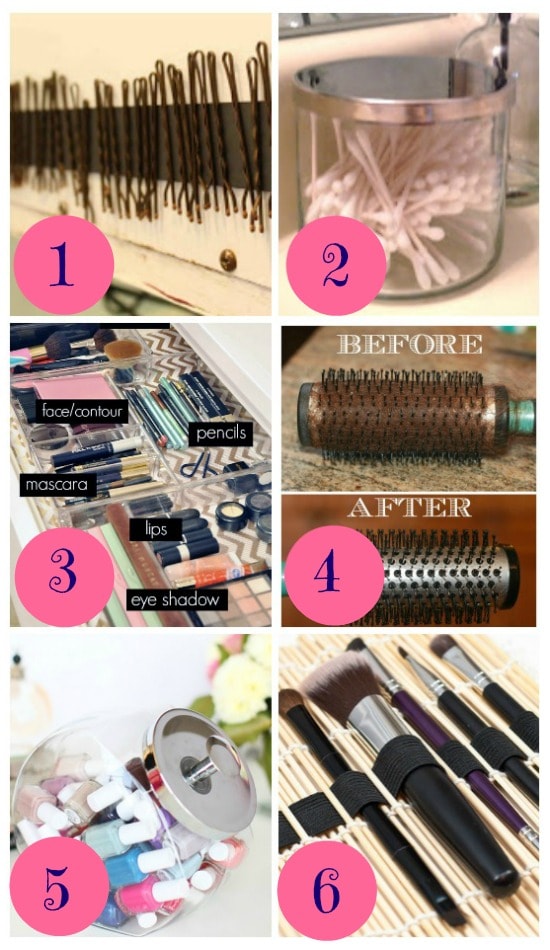 1. Bobby Pin Magnetic Strip – Tired of losing 100 bobby pins

in 100 seconds? Try this smart idea with an easily applied magnetic strip
.
2. Q – Tip Storage – Old candle jars are reused to attractively display cotton swabs
.The original idea we had here no longer exists, so we found another option for you!

3. Makeup Drawer Organizers – Commit to just one drawer for your makeup supplies using pretty acrylic dividers
 or whatever you have on hand.
4. Clean that Brush – Cleaning brushes is important and will make you feel fresh! The original idea we had here no longer exists, so we found another option for you!

5. Nail Polish Storage – A cute jar like this becomes decor and storage. The original idea we had here no longer exists, so we found another option for you!

6. Makeup Brush Storage – DIY your own brush storage with this quick tutorial and a bamboo mat
.
.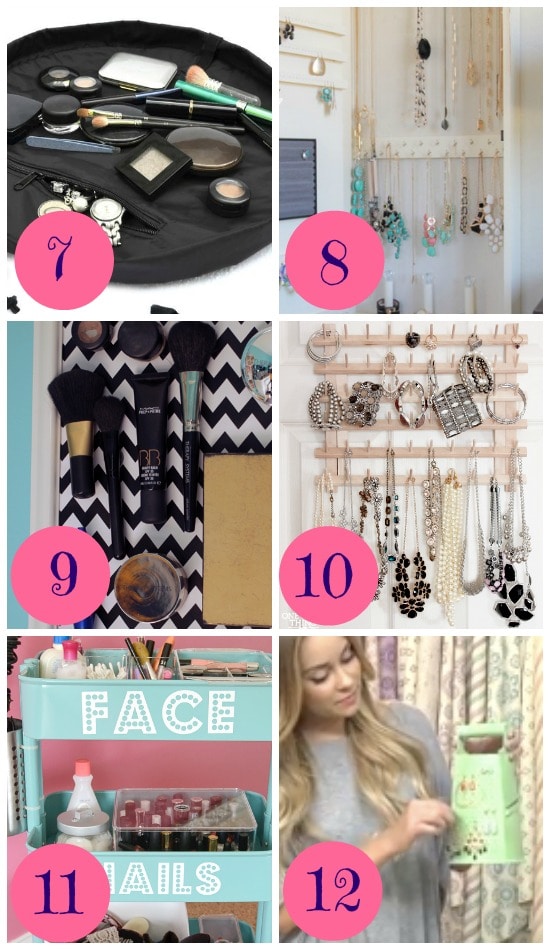 7. Lay Flat Cosmetic Bag – This grab and go solution will have you cleaning up every day in seconds flat! Thank you Lay-N-Go
!
8. DIY Mirrored Jewelry Organizer – DIY a beautiful and functional storage solution.
9. DIY Magnetic Makeup Board – Organize your makeup on the wall with this DIY Magnetic Makeup Board.
10. Thread Rack Jewelry Organizer – A new twist on an quilter's classic. Hang your jewelry on these easily customizable thread racks
. 
11. IKEA Beauty Rolling Cart – I love this cart
! Add a little vinyl and you have an original, rolling, beauty cart to hold all the supplies you need. 
12. Box Grater Earring Holder – This easy craft by Lauren Conrad only requires a  box cheese grater
and some spray paint
!
12 Bathroom and Linen Closet Organization Ideas
These DIY storage ideas will help your bathroom go from sty to spa in no time.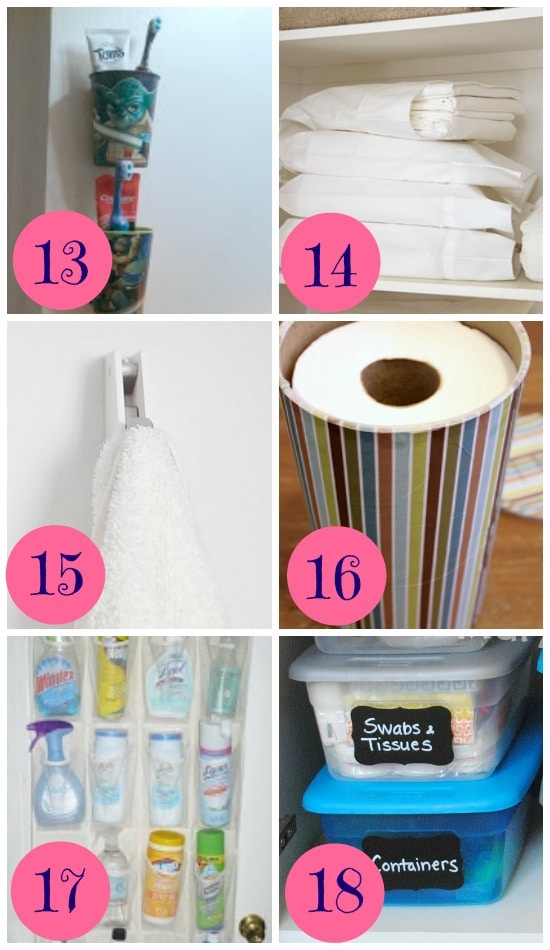 13. Kid's Toothbrush Storage – Character cups and matching toothbrushes come to the rescue.
14. Linen Closet Sheet Storage – Why did it take this long to think of putting sheets in the pillowcases!?
15. "Catchy" Towel Hooks – Fancy hooks
 snatch towels and won't let them fall to the floor.
16. Toilet Paper Holder – Everybody needs extra TP in the bathroom, Let's make it presentable. 
17. Shoe Hanger for Cleaners – Repurpose those hanging shoe holders
 to keep your cleaners organized in the linen closet and away from little hands. 
18. Under Sink Bins – Adding cute labels
 helps under sink storage look fashionable and functional.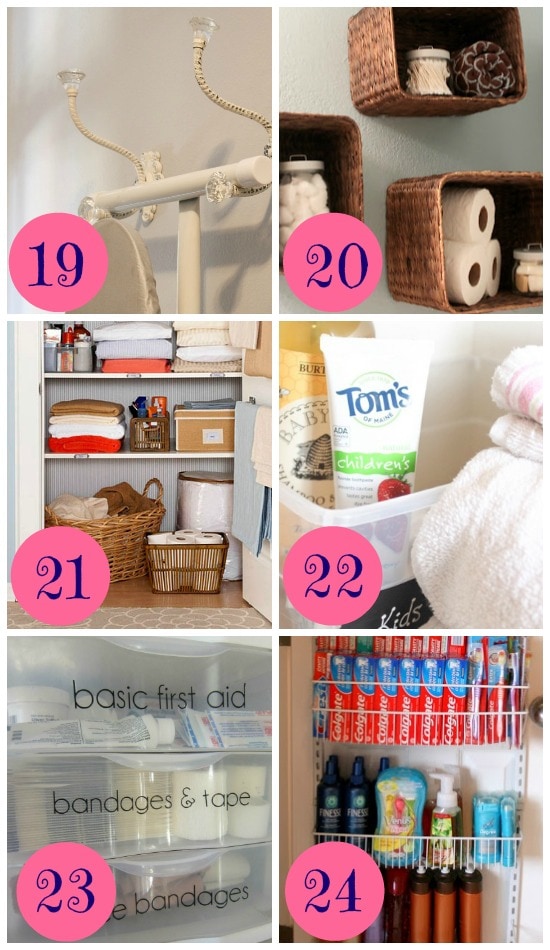 19. Ironing Board Storage – 2 decorative towel hooks
 and you've got yourself cute ironing board
 storage! 
20. Baskets as Shelves – There are never enough (or sometimes any) shelves in a bathroom… Add them yourself with baskets
.
21. Corral that Closet – Linen closets seem to be the junk drawer of the closet world, corral that mess with these tips. 
22. Linen Closet Organization – Start your new year with a decluttering spree, start with these linen closet tips.
23. Medication Organization – We have medications spread out over three rooms in our house, these medication organization tips are sure to help. 
24. Door Racks – This small-space wire door rack
 helps keep you organized and clutter free. 
12 Kitchen Organization Ideas
The kitchen is the gathering place of the home, let's keep it clean with these 12 kitchen organization ideas.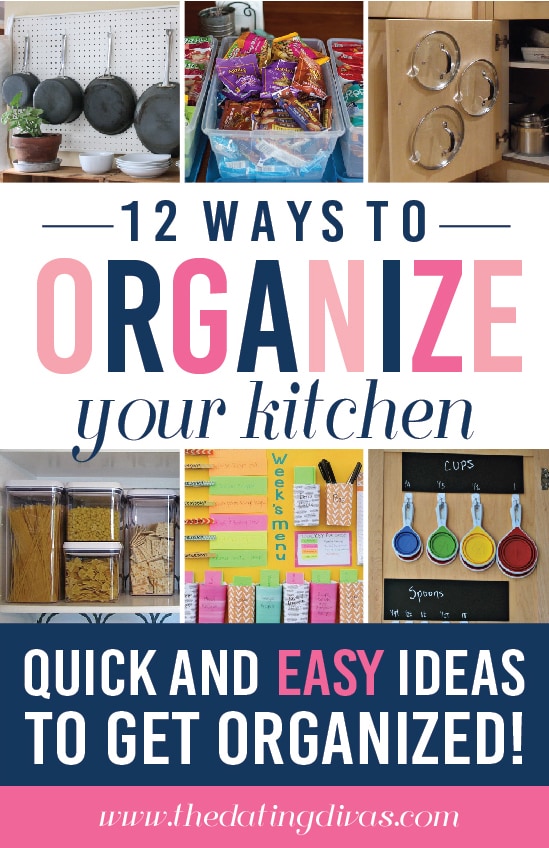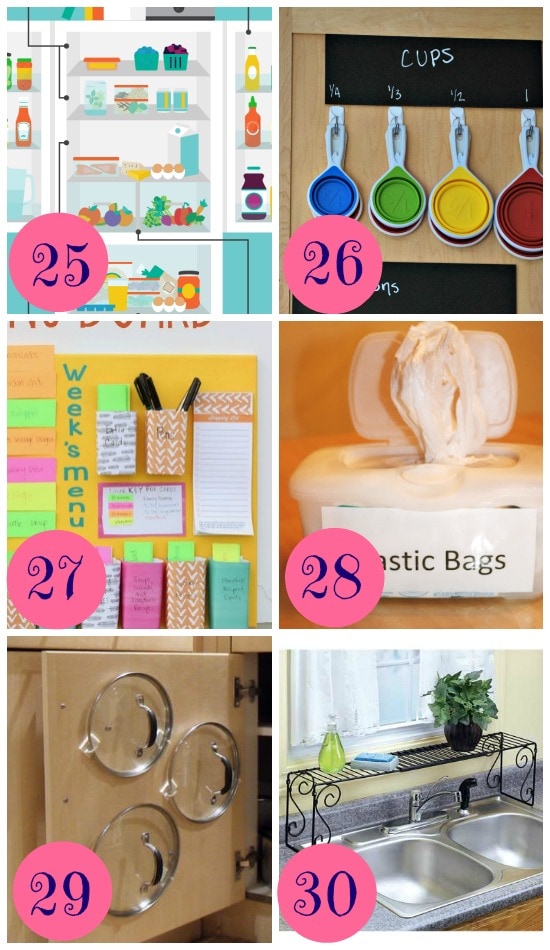 25. Organize Your Fridge – This infographic will keep your fridge tidy and keep food lasting longer
26. Functional Measuring Cup Storage – Those cups are generally as tall as the drawer, kick them out with this cupboard door storage idea. 
27. Menu Board – One of the best ways to organize mealtime is to have a plan. Use this easy menu board to plot your week. 
28. Plastic Bag Storage – Those grocery bags are always shoved into random spots in my cupboards, let's find them a home. 
29. Lid Storage – Lids. You love them but you hate how the don't stack and prevent pots from stacking. Here's an easy solution. 
30. Over the Sink Shelves – A kitchen can never have enough shelves. This over the sink
 one is brilliant for storing dish washing supplies.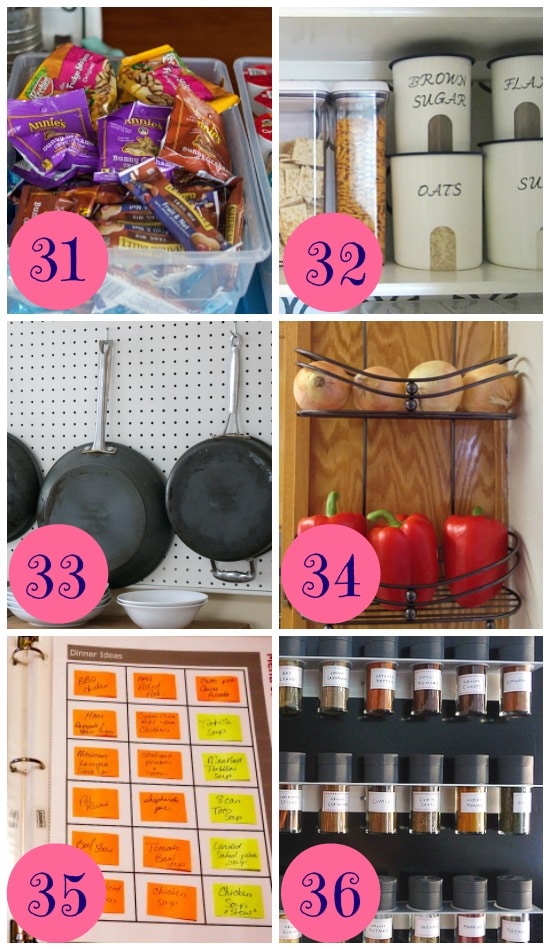 31. School Lunch/Snack Organization – Make lunch packing and snack snatching easy with this bin method. 
32. Pantry Organization – Get inspired with this beautiful and doable pantry organization project. 
33. Pot Peg Board – Peg boards are such a fun and functional option for storage. The original idea we had here no longer exists, so we found another option for you! 
34. Shower Caddy Produce Hanger – I would have never thought of storing produce this way! It's pretty and totally accessible. 
35. Meal Planning – This binder method will have you planning your menus a month in advance. 
36. Spice Storage – Behind the cupboard door spice storage is an excellent solution to being able to see and store each spice. 
12 Bedroom and Closet Organization Ideas
It's hard to feel the love if all you feel are dirty clothes on the bed. Clean up with 12 bedroom and closet organization ideas.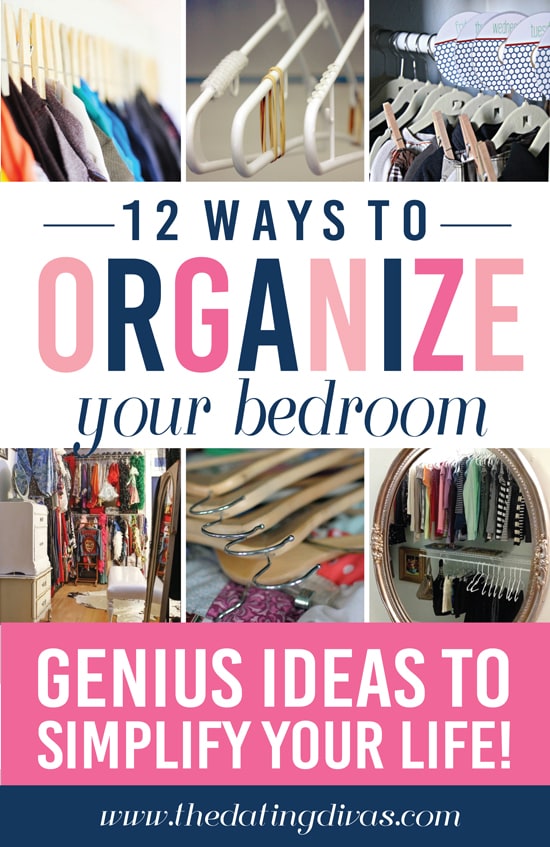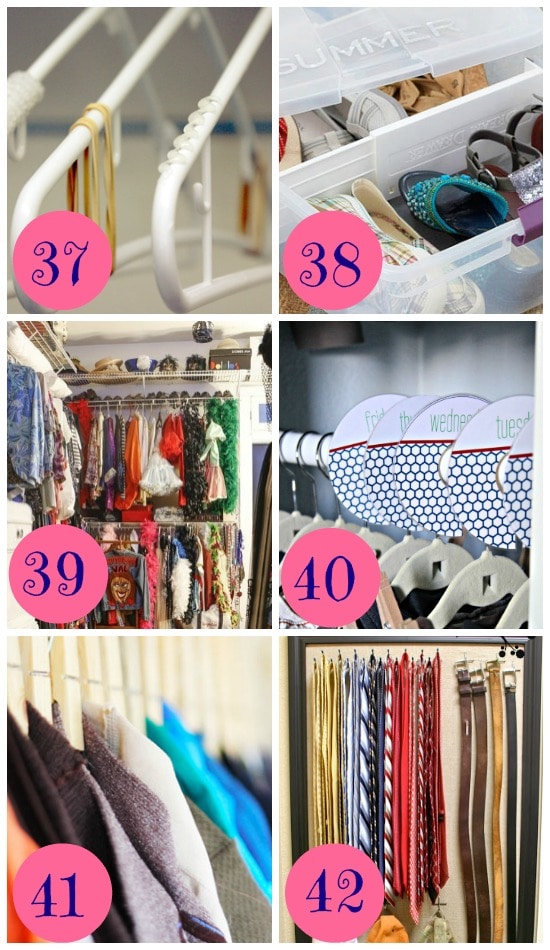 37. DIY Non-Slip Hangers – These three DIY solutions will keep clothes on the hangers – not the floor!
38. Under-Bed Rolling Storage – Under-the-bed is prime storage space, keep it from going to waste with some rolling drawers
. 
39. Deep Clean Your Closet – Part of organizing is purging. Use these tips to deep clean your closet. 
40. Closet Tags – Organize your wardrobe with similar tags: day of the week, season, type. Or make tags for the kiddos so they know what they are wearing each day of the week.
41. Tidy Tights – Keep tights from getting lost in the depths of the drawers with clothespins. It's adorable to see all the bright colors!
42. Closet Organization for HIM – Ladies aren't the only ones who need help in the organizing game. This is a great way to keep your man's accessories in one place. The original idea we had here no longer exists, so we found another option for you!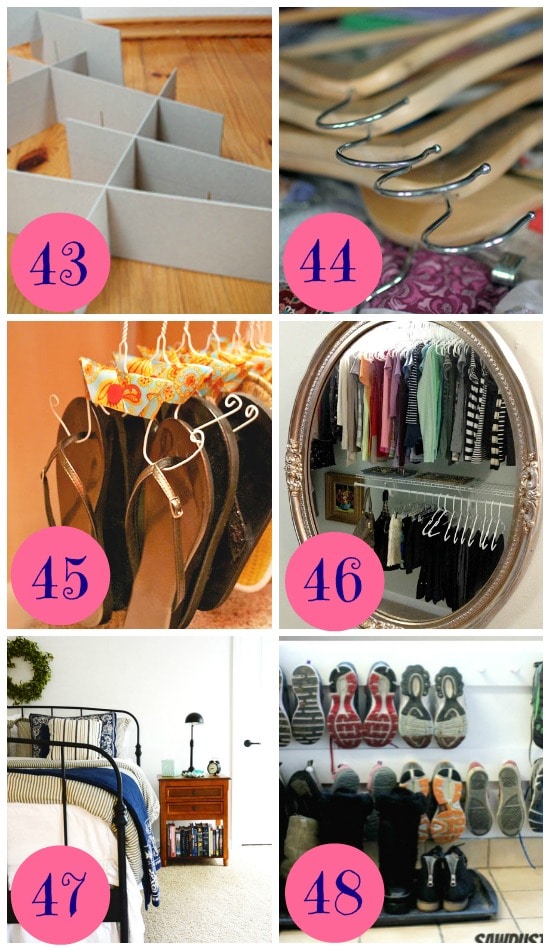 43. DIY Drawer Organizers – Save those cereal boxes to make some drawer dividers on the cheap. 
44. Small Closet Organization Tips – A professional organizer shows how to make the most of a small clothes closet. 
45. Flip Flop and Flats Hanging Solution – How do you store your flip flops and flats? If throwing them in a bin leaves a bit to be desired, try this handy DIY solution. 
46. Dressing Room Re-Do – Take a walk-in closet and make it into a serene dressing room. The atmosphere alone will discourage the daily clothing floor drop. 
47. Bedroom Organization – "Containerize" your bedroom with these great ideas. 
48. Shoe Pegs – Conquer your shoe mountain with shoe pegs in your closet or entry way. 
12 Electronic Organization Ideas
In this age we all have multiple electronics and even more power cords! Test some of these 12 electronic organization ideas out to hide the cord nest, or actually keep straight what belongs to who.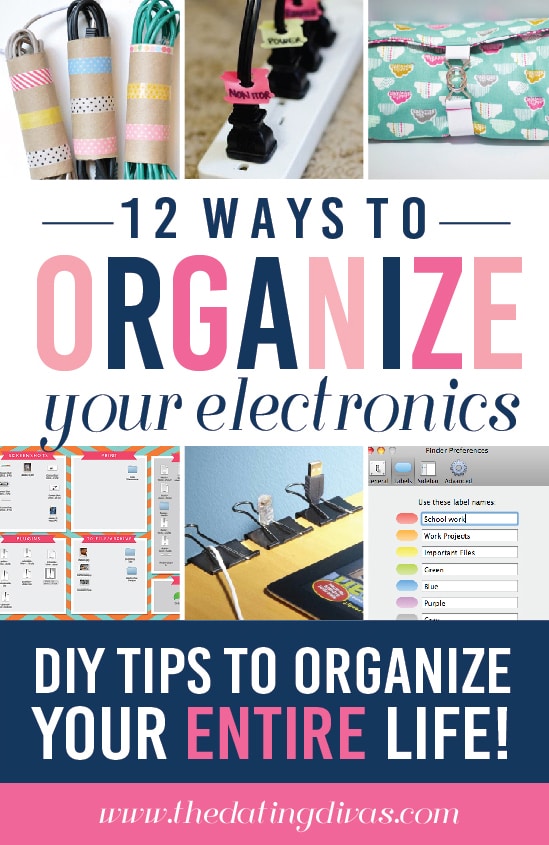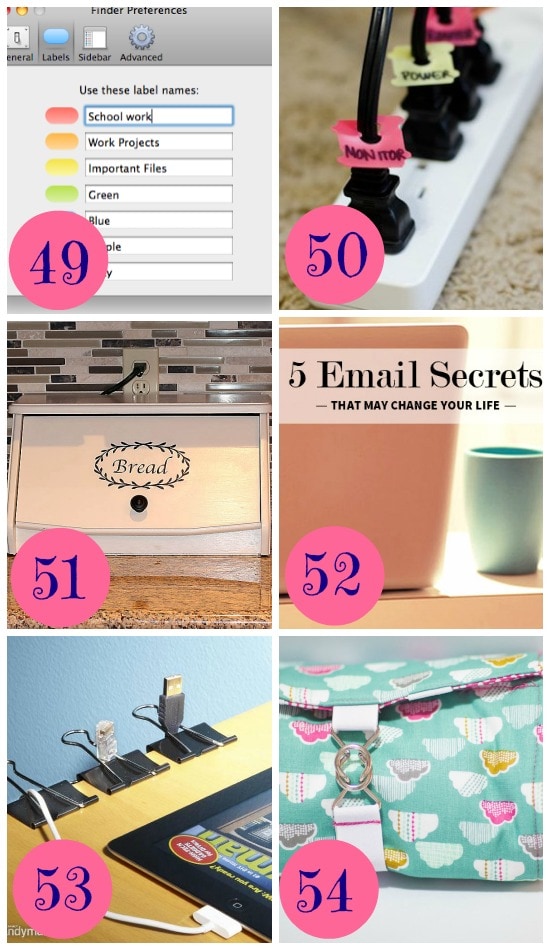 49. Organize Your Mac – Apple has some amazing organizational features, learn how to put them to good use. 
50. Cord Organization – Do you have a rats nest of cords? Get a handle on the jumble with this brilliant idea. 
51. Breadbox Storage – Hide your electronics while charging in a decorative way with this DIY storage solution. 
52. Email Organization – Seeing 132 unread emails is just a little too much for me. Take the advice given here to help organize your email. 
53. Charger Clips – Need to keep charging cords close by? Use this everyday office supply to help you out.
54. DIY Cord Cozy – This tutorial will help you make a cord cozy to keep your cords safe and tidy while traveling or not in use.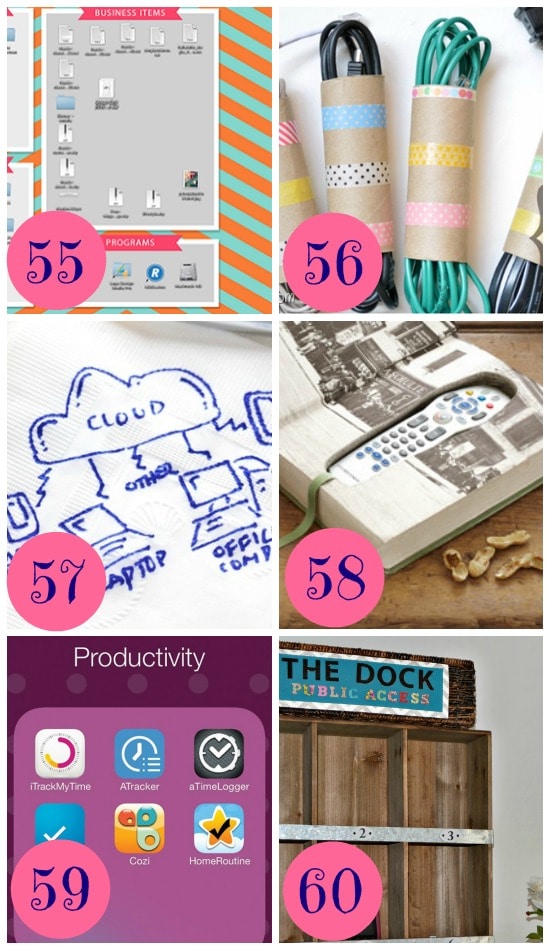 55. Desktop Organization Template – Keep your computer's desktop looking clean and pretty with these organizing templates. The original idea we had here no longer exists, so we found another option for you! 
56. Recycled Cord Keepers – Wrap some washi tape around leftover toilet paper rolls for a recycled cord keeper. 
57. Use "The Cloud" to Organize – Find your way around "The Cloud" and help it, help you with these great instructions. 
58. Remote Control Container – Avoid losing your remote with this adorable book box. 
59. Apps to Organize – These apps are sure to help you find more time and keep life linear. 
60. The Dock – This is a wall mounted semi-DIY solution for multi-device charging, it's even easy access for guests!
15 Paperwork and Finance Organization Ideas
Running a household is no joke! Get some help with these 15 ideas to organize your finances and paperwork.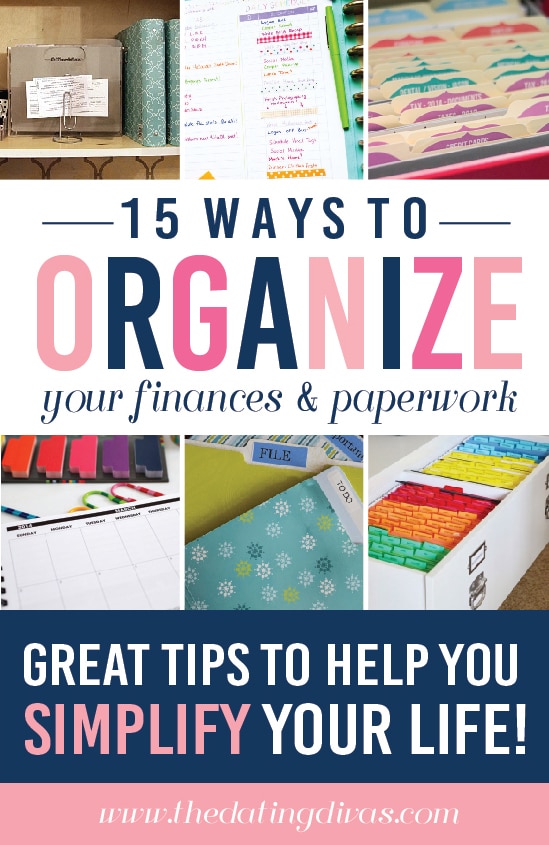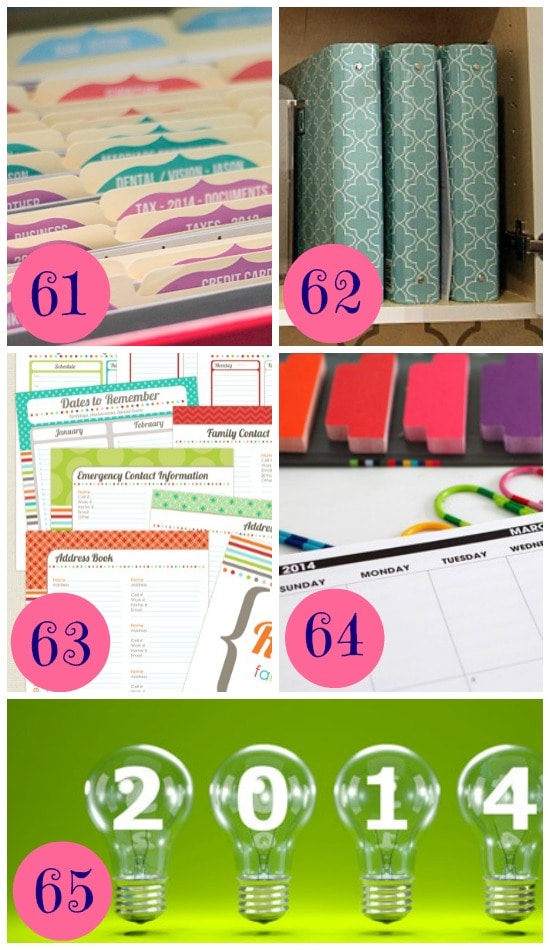 61. File Organization – Keep those important docs in a pretty filing system found here. 
62. 3 Family Binders – 3 binders for the 3 F's: Family, Finances, Fun.
63. Home Finance Printables – This free printable will get your finances organized in no time. 
64. DIY Planner Organization – New year, new planner. Get it together with these tips.
65. Organize Finances for a New Year – This handy post shows the percentage breakdown of where your money should go this new year.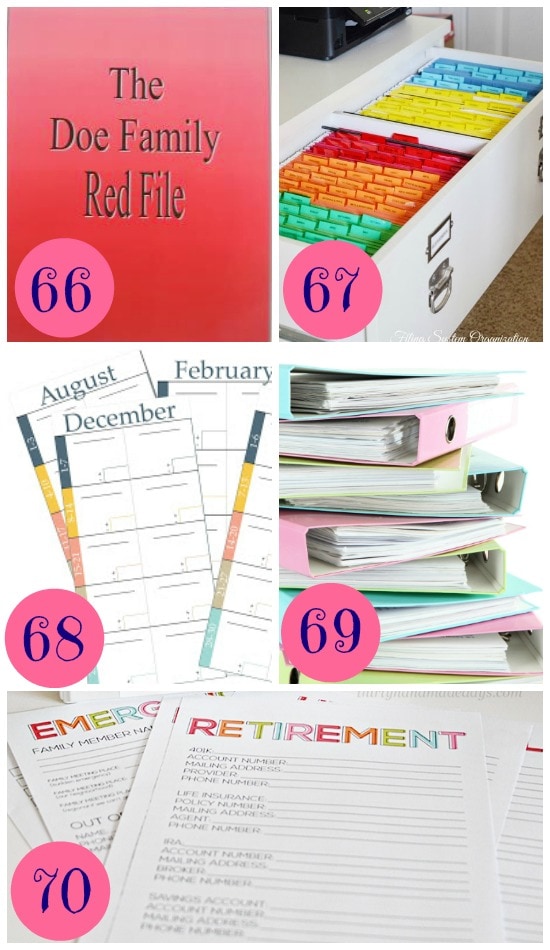 66. Red File/Binder – Put all the pertinent emergency information in one easy place.
67. Color Coordinated Filing System – Pretty and organized, a filing cabinet to pattern yours after. 
68.  Easy Budget Tracker – Similar to the popular envelope system, this is a free printable to track your budget.
69. Paperwork Organization Habits – If you're a newbie to organization, try these ideas out to get settled.
70. Printable Family Binder – This blog is a goldmine for family organization, here's one of our favorite printables.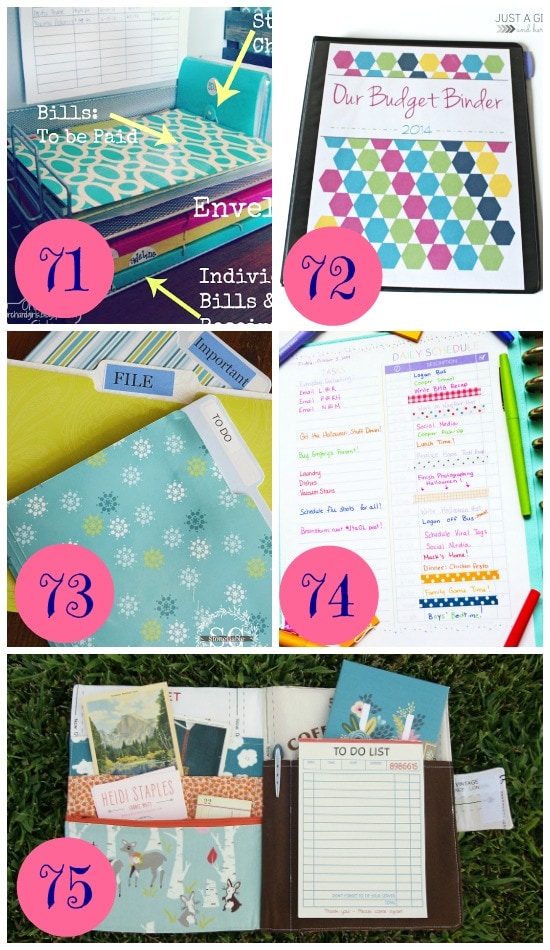 71. Bill Tracker – This bill tracker is a fabulous idea for keeping track of upcoming bills. 
72. Budget Binder – This family budget binder will make budgeting fun and easy to find.
73. Conquer Paper Clutter – A file system to get rid of your desk's paper mountain range. The original idea we had here no longer exists, so we found another option for you!

74. Time Management Tips – A great idea for those of us who spend too much time scrolling or reminiscing while trying to organize.
75. DIY Organizer Tutorial – If you want a customizable organizer to carry around, this is for you!
Good luck taking your organization to the next level. Be sure to check out Sarina's amazing post about our
These gorgeous printables will provide you with resources and tools to set up your own customizable family binder and create a central command center that is completely personalized to your family!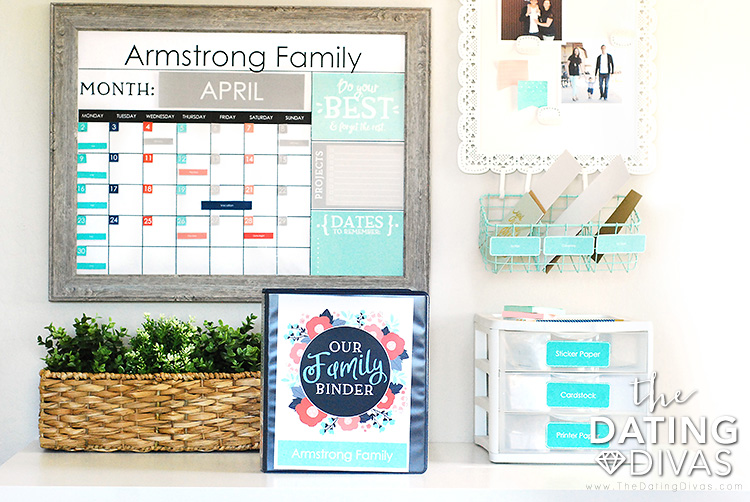 Also, take a peek at our guide which is full of fabulous organizational tips plus even more links for space-saving items you can use!