fun things to do for Your anniversary
Awww, your anniversary! The sweetest day of the year! You probably have the most romantic date set up and fully equipped with dinner plans, yummy desserts, and the perfect gift for your sweetie. Wait–this doesn't sound accurate? All right, well if you're struggling to come up with things to do for your anniversary, we have the ultimate anniversary date planned for you.
And since we have done a lot of the prep work already, you can just print, cut, and get to the most important part of the day–celebrating your marriage!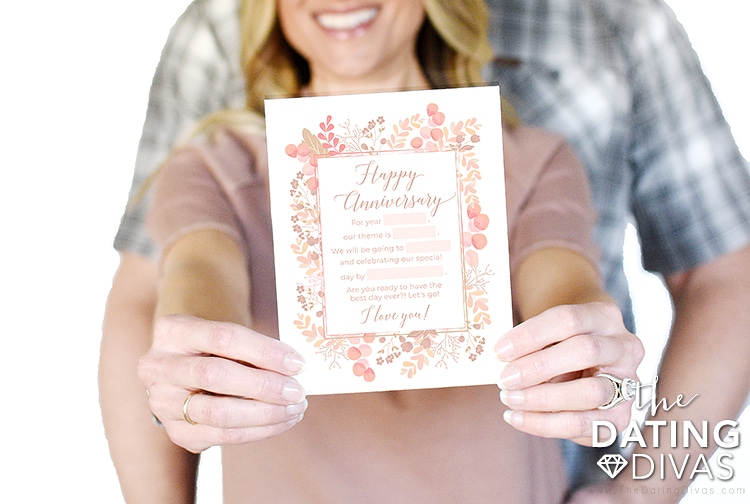 Disclaimer: This post contains affiliate links. To learn more about 'em, click here.
What's included in your anniversary date
Whether you have been married for 2 years or 20 years, it's not always easy to come up with special and romantic anniversary date ideas that reflect the amazing relationship you and your spouse share together. This is especially true if you are limited on budget, time, or even logistics.
So, in order to help you have the best anniversary experience EVER, we have planned out an entire anniversary date for you! Take a look at the FREE printables below, and keep reading for a closer look at how to use them.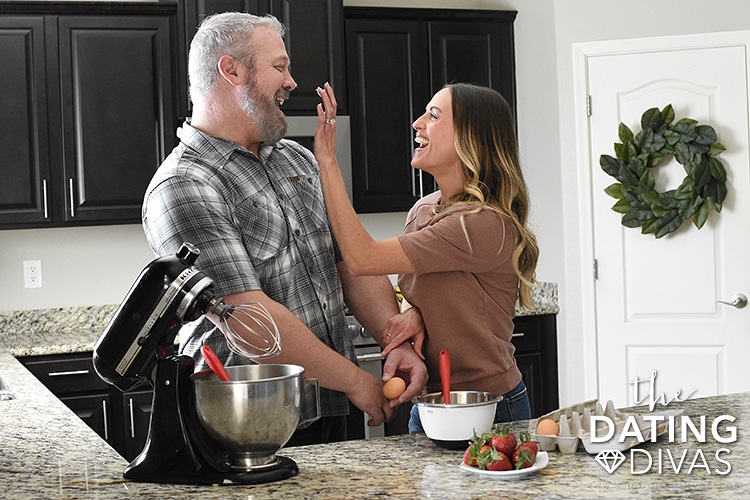 Anniversary Day Date plan
First up on the list is an epic daytime date that is perfectly tailored to the anniversary you are celebrating! You and your spouse will head out for a date that corresponds with the traditional anniversary theme or gift of that year! You can decide on your plans together, or surprise your husband or wife with these anniversary date ideas.
Here are some things to do for your anniversary based on how long you've been married:
Year 1: For year 1, the theme is paper. Head to a bookstore and celebrate your special day by picking out a new book on marriage or intimacy.
Year 2: For year 2, the theme is cotton. Find a mall to visit and celebrate your special day by choosing date night outfits for each other.
Year 3: For year 3, the theme is leather. Take a trip to a motorcycle dealer and celebrate your special day by test driving some bikes while wearing leather jackets.
Year 4: For year 4, the theme is fruit and flowers. Take a stroll through a farmer's market and celebrate your special day browsing for some fresh berries to take home.
Year 5: For year 5, the theme is wood. Head to the local hardware store and celebrate your special day by purchasing supplies for a fun wooden DIY project.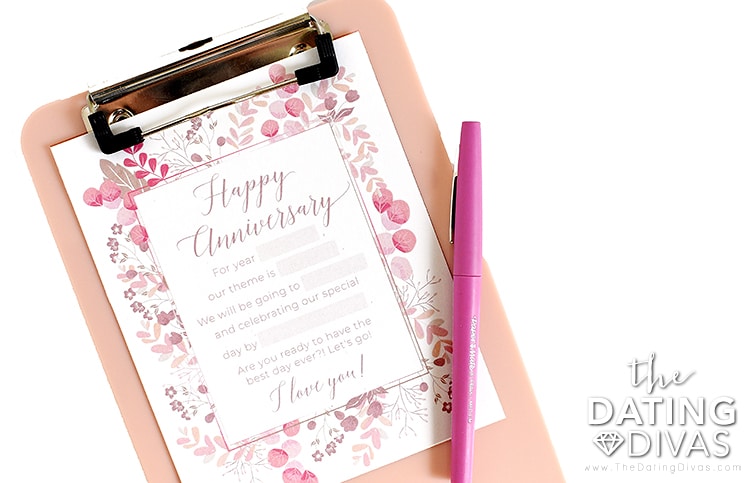 love letter template
Anniversaries are a perfect time to write out how you feel about your spouse and your time spent together. So, we've also included a darling love letter template for you and your spouse to use!
You can choose to write one to your spouse and surprise them with it, or you can print one out for the both of you! It would be so sweet for each of you to write a letter to one another, and hide it away for next year's anniversary!
You can share what you love most about your spouse, what your favorite part about marriage is, where you see yourselves in 5 years, or even just a silly, playful message. There's no doubt about it… your spouse will love whatever you choose to say!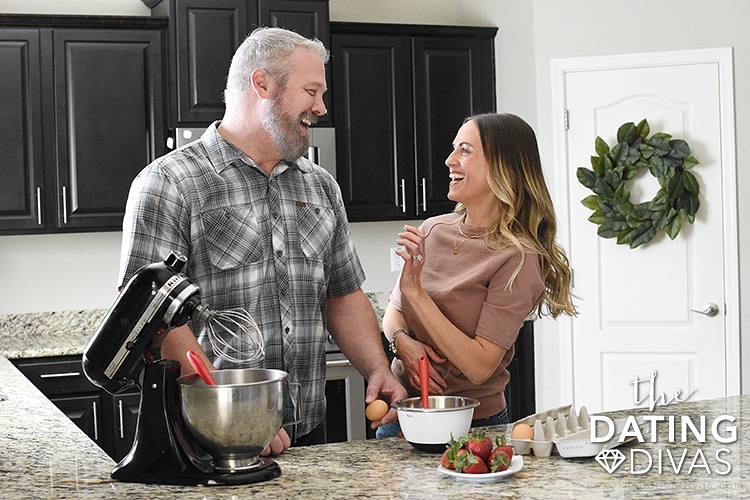 dessert for two Anniversary Date
After you and your sweetheart have finished a romantic dinner together–(What did you have? Sushi? Steak? A big slice of pizza?)–it's time to indulge in a little something sweet! Break out the mixing bowls, spatulas, and measuring cups, because it's time to bake up some treats!
To end your anniversary date, you and your spouse are going to bake a dessert together that is a recreation of your wedding cake! For example, you could bake cupcakes in the same flavors as your wedding cake. Or, you can show off your decorating skills, and attempt to decorate an actual cake! You choose!
We've even included a printable dessert topper for you to pop onto your finished creation. Simply attach some toothpicks to either end, and place it on your treat-of-choice!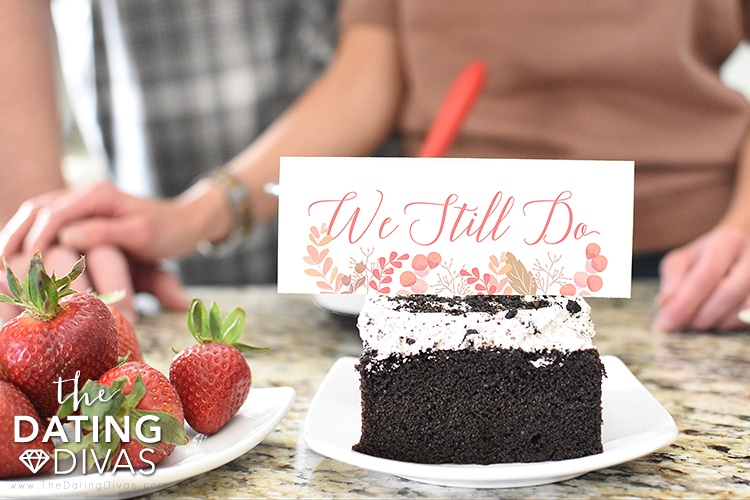 Sexy Anniversary Activity
Because no special date night would be complete without a bit of lovin', we've planned out a fun bedroom idea for you as well! Well… most of it, at least! What comes after the printable invitation is up to you. 😉
To start, slip this flirty invite to your sweetie after you have wrapped up your evening plans, and invite them to join you for some dessert deconstruction in the bedroom! They will be instructed to round up some of the ingredients from your anniversary dessert and deconstruct it… on you!
Don't forget to fill out the ingredients list before passing it to them! For example, if you made chocolate cupcakes with strawberry filling, you could list chocolate, frosting, and strawberries!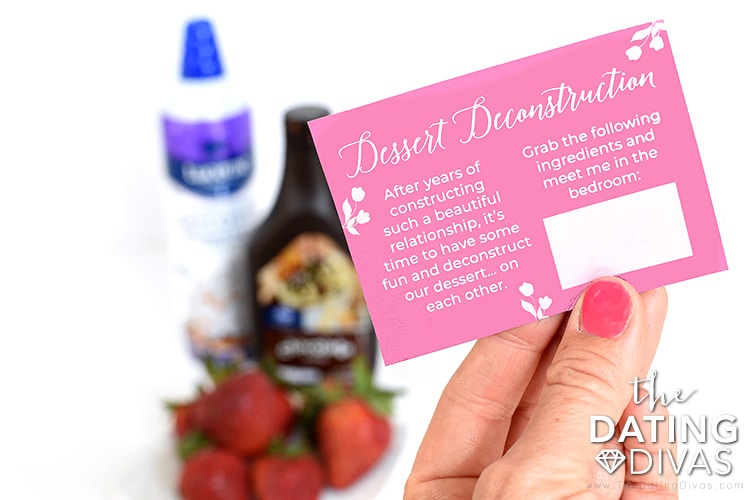 additional things to do on your anniversary
If you're looking for a few finishing touches to make your anniversary extra special, check out these additional anniversary ideas! Whether you try one or try them all, they are guaranteed to sweep you off your feet!
Break out your wedding china: Pull out your wedding china to use for your anniversary dinner. Even if you only plan on ordering pizza, this will be such a fun way to add a bit of romance to your dining experience!
Reenact your wedding dance: Whether you slow danced to Ed Sheeran or got down to Maroon 5 (guilty 🙋🏼‍♀️), set aside a few minutes with your sweetie to dance to your wedding song on your anniversary. I'm sure those sweet tunes will bring back all the memories of that special night!
Read or recite your wedding vows: Okay seriously, how sweet would it be to read off your wedding vows to each other again? SWOON!
Return to the scene of the crime: Think of the spot where you had your first date, shared your first kissed, got engaged, or tied the knot, and try reliving one of these special memories. It is sure to bring back all the feels.
Dust off your wedding album: Alright, let's be honest… when was the last time you peeked through your wedding album? Well, there's no better time than your anniversary! Bonus points if you have a wedding video to watch as well!
If you're still searching for more anniversary ideas, check out our anniversary archives for tons of ideas on how to celebrate your special day! I especially love these printable anniversary kits!
Happy Anniversary to all you love birds out there!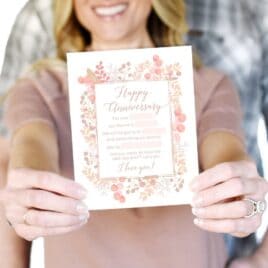 Anniversary Date
Printables Designed by Courtney from Paperelli Designs Exclusively for The Dating Divas