Family Ping-Pong & Trivia Tournament
We love how ping-pong is gaining popularity once again! Since this family-friendly game can be enjoyed by nearly all ages, we thought it would be fun to create a family game night centered around this timeless game!
The best part about ping-pong? You can play indoors or outdoors, and there are several different ways you can play.
Our ping-pong family game night includes a trivia tournament that will have your family laughing and enjoying themselves the entire time!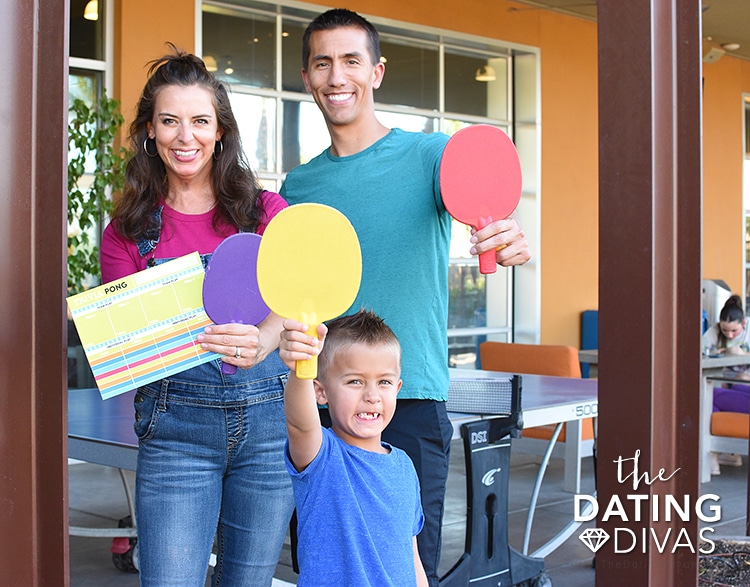 Disclaimer: This post contains affiliate links. To learn more about 'em, click here.
Table of Contents
Ping-Pong Tournament Printables
Before we jump into the rules of the tournament, let's take a look at these amazing printables! Did we mention they are FREE?!
Don't forget to scroll down to the bottom of this post and click the big pink DOWNLOAD button to get your free printables!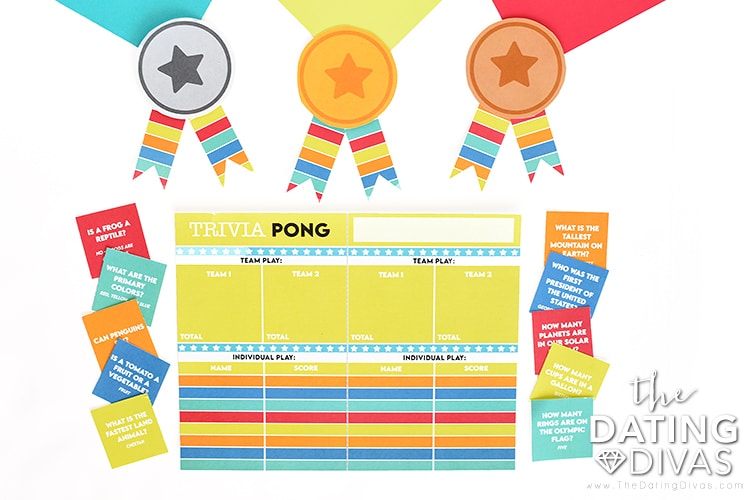 Your printable pack will include:
One Trivia Pong Score Card (with both team play and individual play options)
20 Trivia Cards
Three Medals (one gold, one silver, one bronze)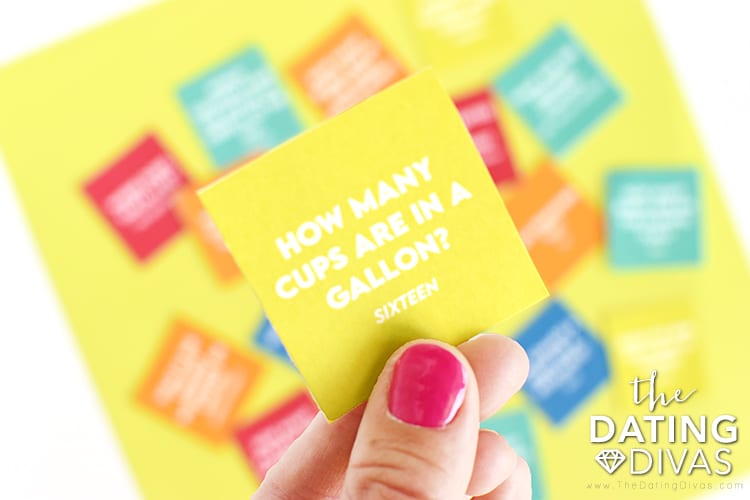 Aren't these printables fun?!
What You'll Need for Your Table Tennis Tourny
Now that you've seen the printables, let's talk about what else you will need for this family-friendly game night!
In order to play the game you will need:
Prizes (optional)
A pen or pencil
Our ping-pong printables
If you don't have a ping-pong table, don't fret! Check out this Table Top Table Tennis Set. This portable set instantly transforms any type of table (dining table, picnic table, etc) into a ping-pong table! The set also comes with two ping-pong paddles and two ping-pong balls.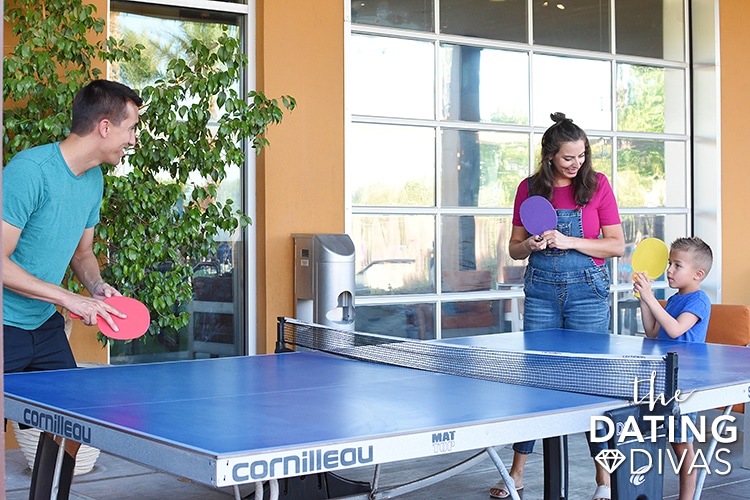 Next we'll talk about how to play!
Trivia Pong Rules & How to Play
Below is our version of Trivia Pong that we created specifically to use with our own printables. However, you're welcome to find other versions that best suit you and your family! In fact, we found another fun trivia pong game from Play Party Plan!
How to play Trivia Pong as a team: Split up into two teams. One person from each team goes up to the table to represent their team. Choose one person to read the provided trivia questions.
When the players are ready to start, have the trivia reader select the first question and read it out loud for everyone to hear. The players will now begin to pong back and forth. You have four "pongs" (the ball going back and forth) to answer the question correctly. You can't miss a ball and you can't get a question wrong.
If you miss the ball or give the wrong answer, a new player from your team takes your place.
The goal is to be the first player to answer the question correctly. Once the trivia question is answered you can either choose to remain at the ping-pong table or you can have another player from your team take your place. This is up to you!
When you answer a question correctly, put a tally on your team's section of the score card.
If you want to shake things up a bit, you can play with the rule of losing a point whenever a player misses a "pong!"
How to play Trivia Pong as an individual: The same rules as above but you will be representing yourself at the table rather than an entire team. If you miss a pong or answer a question incorrectly, you are "out" and another individual will replace you at the table (representing themself). Once it is your turn again you can resume earning points.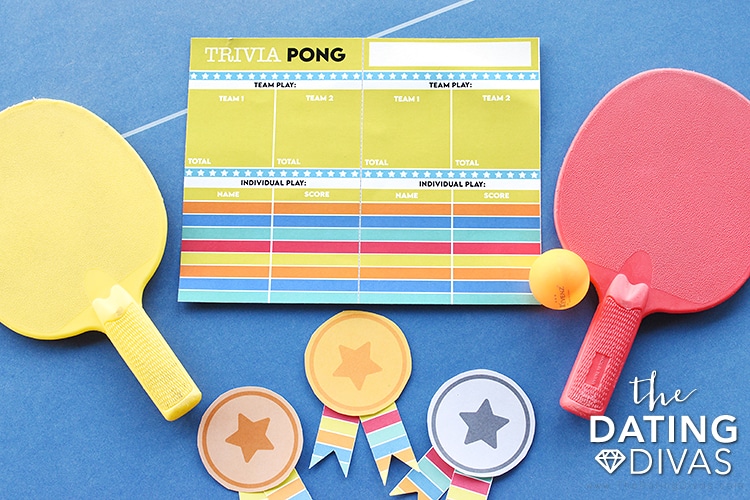 You will keep track of your points under the "individual" section of the score card.
Additional way to play: You can also keep track of individual points even if you're on a team. Whoever answers the most trivia questions correctly within your team wins.
We have provided 20 trivia cards for you to use. If you are looking for more, check out the Family Trivia Game for All Generations or the I Should Have Known That! trivia stack.
Ping-Pong Tournament Prize Ideas
Prizes make tournaments more fun! Right?! Your printable pack includes three medals that you can use to show off the champions, but here are some family-friendly prize ideas for your ping-pong tournament: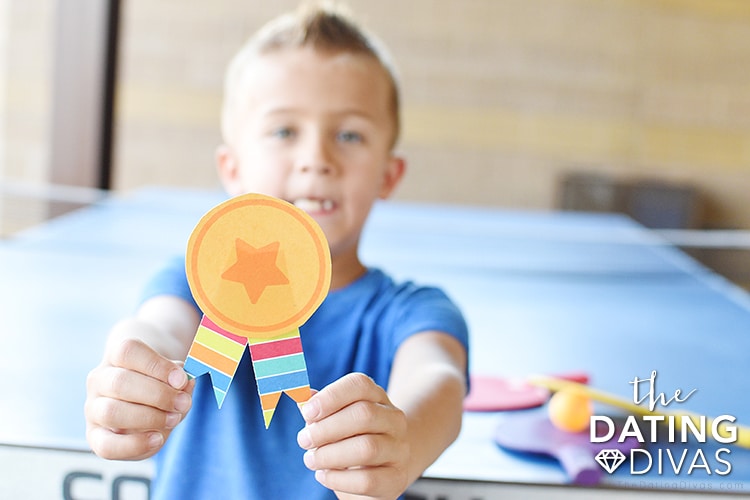 Ping-Pong Night of Fun
So to sum up, print off your trivia cards, score card, and medals, gather the family around the ping pong table, and enjoy a fun night of trivia, ping-pong, and ultimately, winning prizes and having fun!
Or, if all you want is a little healthy competition between you and your spouse, you can never go wrong playing ping-pong just against each other for a fun date night! 😉
We hope you and your family enjoy this ping-pong game night! If you're looking for some of our other favorite family game night ideas, check out our Water Sports Date, Family Bake-Off Date, or Bowling Date.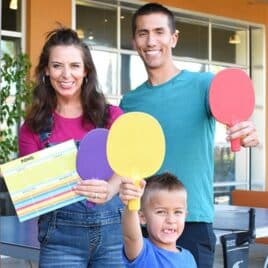 Ping-Pong Tournament
Printables Designed by Dawn at Lock Paper Escape Exclusively for The Dating Divas