A Bake-Off Technical Challenge for the Whole Family
It was a typical day of flipping through Netflix shows, trying to find something to watch, when I turned on The Great British Bake Off and said to my husband, "Don't worry … if it's boring, we'll find something else."
Three hours of binge-watching later, we were ankle-deep in loaves of bread that were underproofed (it's a shame, really) and melted ice cream fiascos that have lived in my head rent-free ever since.
If you haven't caught The Great British Bake Off fever (or Disney Magic Bake Off for the kiddos), now is the time to go turn on an episode. After you've binged all the seasons, come back here for a fun, technical challenge Bake-Off-inspired date for the whole family!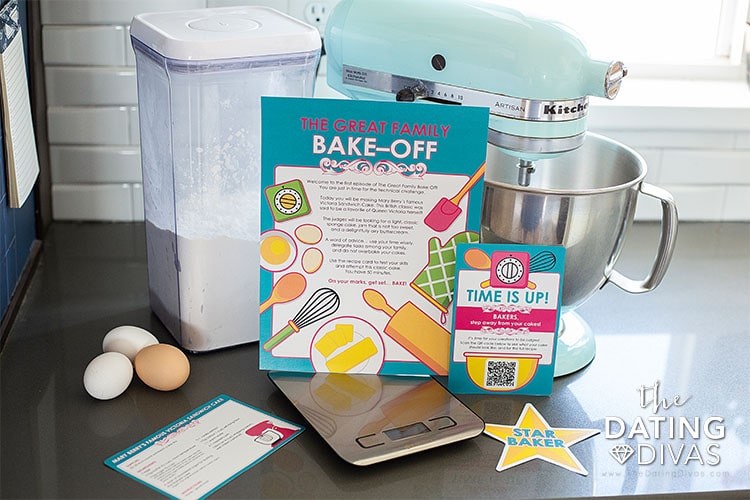 Disclaimer: This post contains affiliate links. To learn more about 'em, click here.
A Dating Divas Bake-Off Challenge
The Great British Bake Off, Disney Magic Bake Off—there is just something addictive about baking shows! One of the best parts of a Bake-Off is watching the bakers totally fail when a cake just goes completely wrong, or a tent is too hot for the chocolate week. (The DRAMA!) So, of course, we're going to put you right in the hot seat for this date night!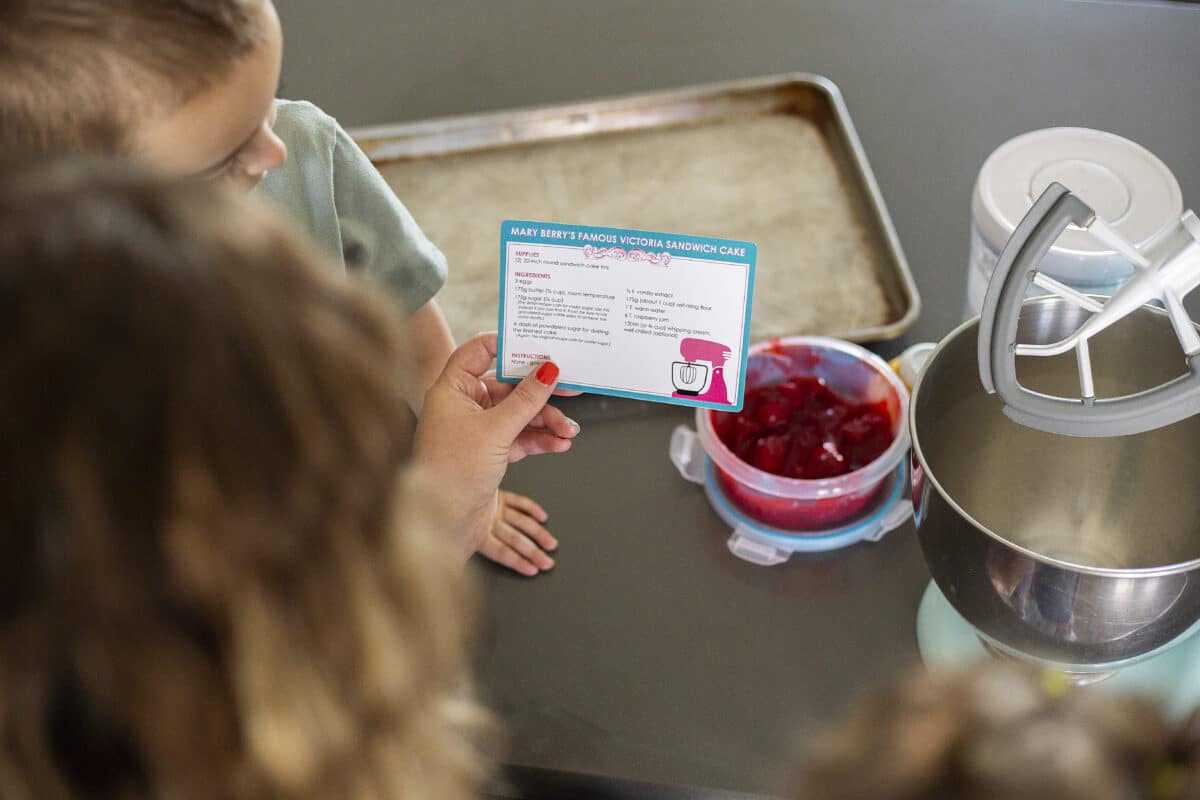 For the actual show, each episode of the baking competition is split into three challenges: a signature, a technical, and a show-stopper challenge. Originally, I wanted this date to include all three challenges—until my husband pointed out that you may not want to spend eight hours in the kitchen for this date. Weird.
Instead, you will get to focus on arguably the most difficult: the technical challenge!
What makes the technical challenge so exciting is that it requires the bakers to use only their technical skills and knowledge – no instructions provided. During this date, that's exactly how you'll play! You'll be given a recipe with ingredients and measurements, but no instructions on HOW to create the final result. Think you can handle it?
Welcome to the Bake-Off Tent
Our printables include everything you need for this fun baking competition family date night, and my favorite part is that you can adjust them to fit the ages of your kids. Let younger kids help with mixing and measuring, while older kids can muddle through the mess alongside you.
Here's how it works and what you'll get when you click "download"!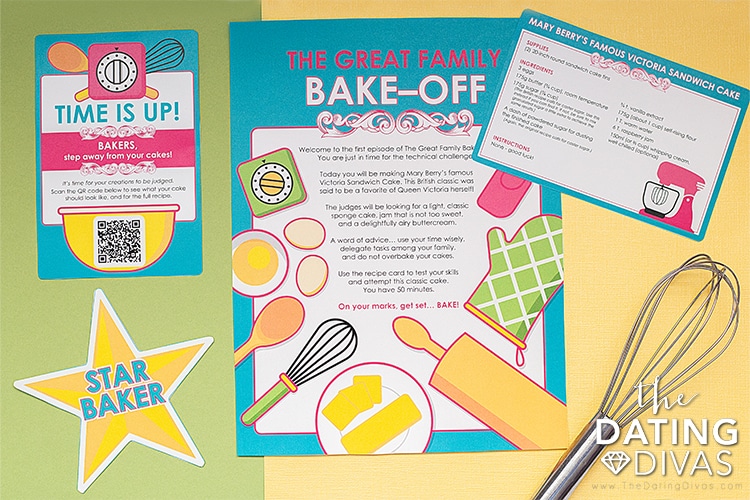 Instructions – These might be handy to have around throughout the date, although we tried to keep it fairly simple. Use the recipe card to first, round up all of the ingredients needed, and second, test your technical skills! Set a timer to make it more challenging (Is there anything more stressful than hearing, "Bakers, you have one minute?"), or simply see how close you can get to the real recipe with the pared-down recipe we gave you.
Recipe Card – For this challenge, you will be making Mary Berry's famous Victoria Sandwich Cake! Never made one before? Even better! Just like the show, your results may be incredible or a total disaster. Either way, you're going to want some pictures! (A little hint: the recipe uses weight measurements. If you don't have one, you will definitely want a kitchen scale, just like the pros on the show use. We've also included rough conversions on the recipe card if you'd rather avoid using a scale.)
Grand Reveal Code – When your recipe is done and ready to present to the judges, scan this QR code to be taken to a photo and the complete recipe. How close did you get? Judge it as a family, or deliver to a friend and let them be the judge! Hopefully, you will get the star baker, or at least avoid being sent home in week one!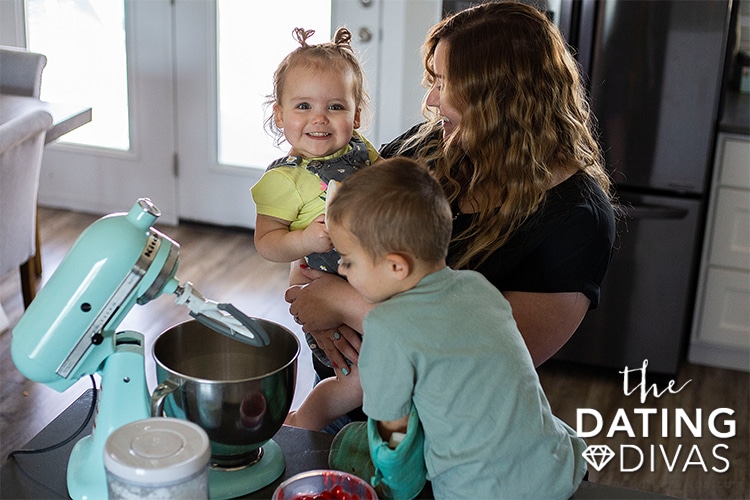 On Your Marks, Get Set, Bake!
We do a lot of dates around here. So trust me when I say, if you are fans of Bake-Offs, you are going to love (pretending) to star in your own baking show for one night!
Go make some memories with your family, and hopefully whip up something delicious in the process!
For even more fun date challenges in the kitchen, try our Cupcake Wars Date or our Cookie Taste Test Date. For our all-time favorite (read: sexiest) kitchen recipes, make sure to check out our famous Sexipes book!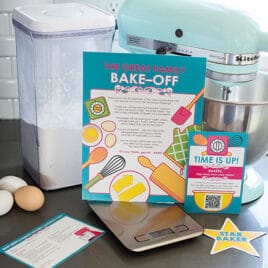 The Great Family Bake Off
Printables designed by Lucette Campbell Exclusively for The Dating Divas