A Sexy foreplay game For Two
Remember the early dating days where foreplay still seemed like an exciting idea? I recall overhearing a woman walk through the lingerie section of the store and saying to her friend, "Why bother? It just ends up on the floor!"
While we can all totally relate, we also want to bring back some of the FUN of foreplay ideas! Enter … a fresh new foreplay game that you'll be returning to over and over again!
All you need is a can of whipped cream.
Are you intrigued yet?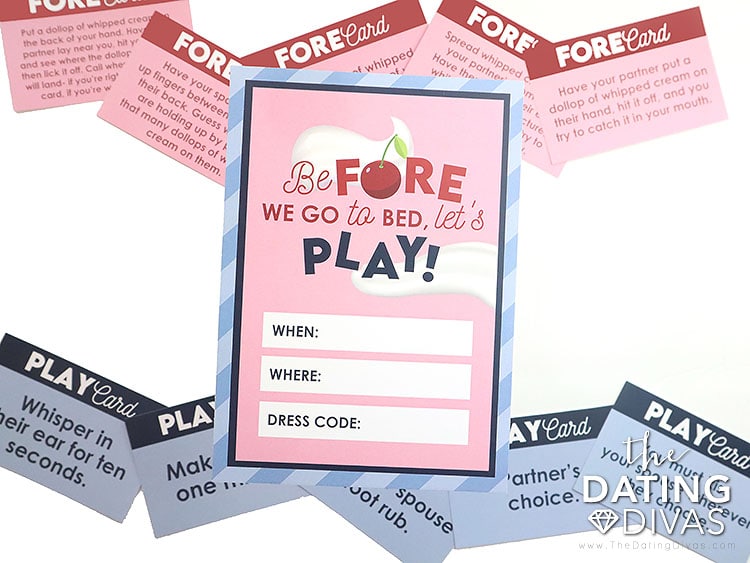 Disclaimer: This post contains affiliate links. To learn more about 'em, click here.
foreplay meaning
Before we go much further, let's pause and go over what we're referring to with this sexy activity.
Foreplay Meaning & Definition: Any sexual activity that precedes intercourse.
Foreplay is a great way to warm up and feel closer before intimacy, and this sexy foreplay game is perfect, whether you're a foreplay newbie or a seasoned veteran! What happens afterward is all up to you!
FYI, if you love this game, you'll also love our Guess the Flavor: Kissing Game and our fun and unique Room Service App. Give any of them a try to add some fireworks to your night!
how to play this sexy foreplay game
If you're looking for foreplay examples, this game is a winner! The cards are full of simple foreplay ideas so you don't have to try to think them up! But before you jump into the game, make sure to give your sweetie the darling invitation to a steamy night ahead to get them excited. They will love it!
Now on to the game. Follow these steps to play!
Print out the free printables below.
Cut out and separate the FORE and PLAY cards into separate piles.
Take turns drawing a card from the FORE pile.
Do the challenge on the FORE card. If you succeed, your partner draws a PLAY card. If you fail, you pick the PLAY card and then do whatever that card tells you.
(Hint: It might help to think of the PLAY cards as consequences that you have to do when you fail a challenge, or your partner succeeds. Don't worry though, the PLAY cards are what you're really here for. If you want to just pretend to be bad at the challenges, we won't blame you.)
And of course, the challenges themselves include some fun foreplay examples that are meant to spice things up a little!
Note: Our free printables (linked below!) include a handy rule sheet, or you can refer back here if you need to!
Two important rules to remember:
Make sure you BOTH do the challenges on each FORE card.
Any whipped cream that is put on must be licked off. (You heard me! 😉 )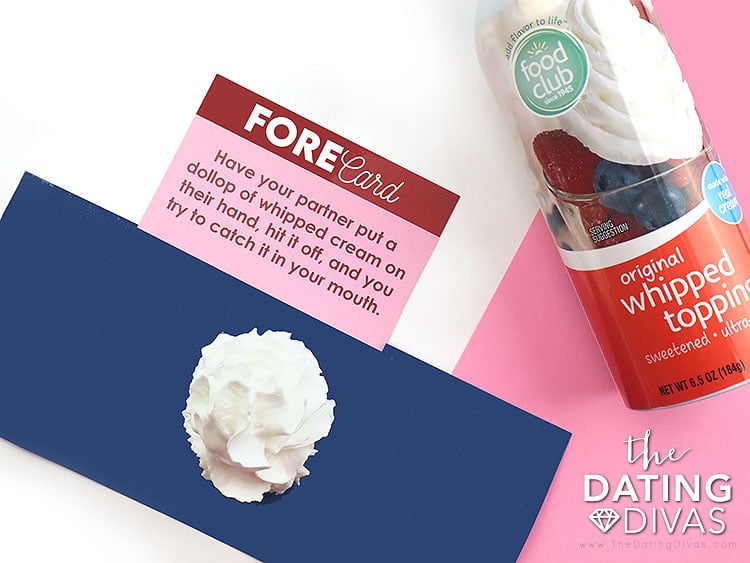 set the mood
Dim the lights, light some candles, and turn on this sexy playlist we made just for this game! Dress appropriately (or, you know, inappropriately) in your favorite lingerie or your hubby's t-shirt. You can also add a bowl of strawberries or your favorite pie to go along with your whipped cream. Better yet, pair this with our Fondue Date Night.
Remember, the whole night is about foreplay – there is no reason to rush, just enjoy the game and the time spent together!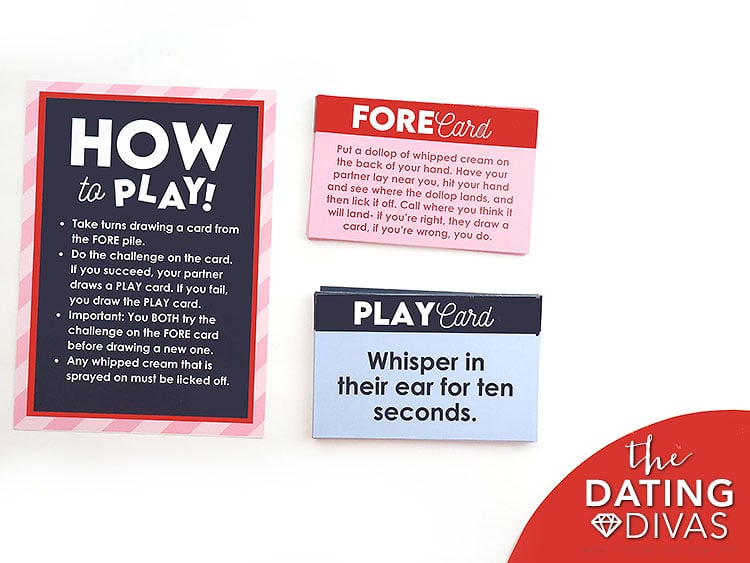 free printables
This sexy activity comes with everything you need (except the whipped cream) free of charge and easy to prep! Simply click the PINK download button below.
The download includes:
Sexy Date Night Invite
Handy How to Play Card
10 FORE Cards
20 PLAY Cards
Grab your free printables below and let the games begin!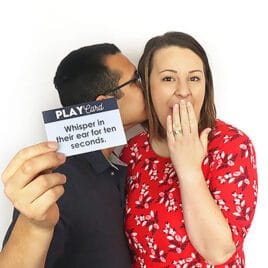 Sexy Foreplay Game
Printables Designed by Nichelle Exclusively for The Dating Divas