Epic and Creative Car Scavenger Hunt
Scavenger hunts are so fun in general, but this is an even better twist on your average scavenger hunt. In short, you're taking your man on a scavenger hunt… through their CAR. And of course, we have created the most exciting and adorable printables to take it to the next level! 😉 This car scavenger hunt would be the perfect way to kick off celebrating ANY occasion. Additionally, it would make a perfect Father's Day scavenger hunt, as well! Whether it's your lover's birthday, or you just want to lead them to a fun date night you have planned, this car scavenger hunt is the way to go. Let's check it out, shall we?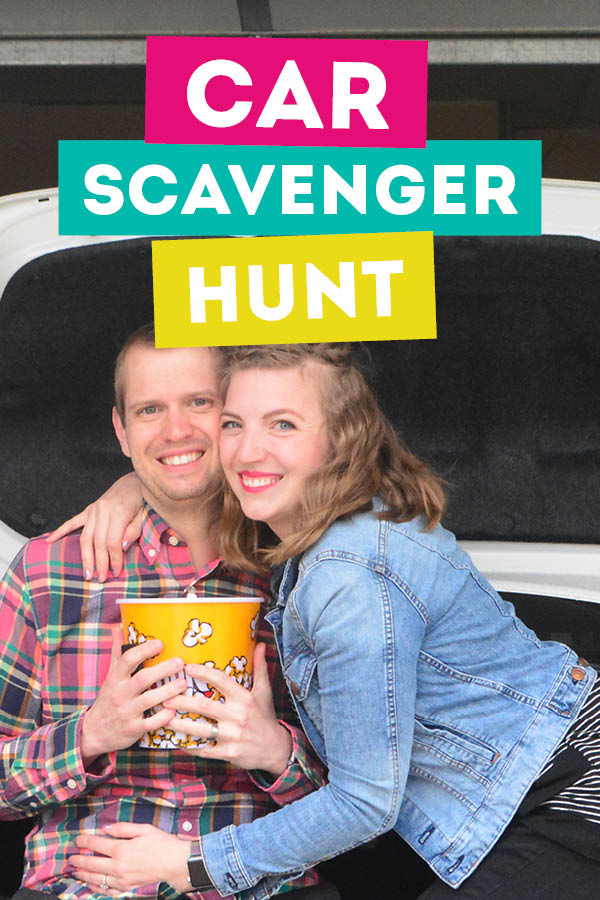 Disclaimer: This post contains affiliate links. To learn more about 'em, click here.
Basically, if you're looking for a fun and inexpensive idea for your man- then this car scavenger hunt seriously is the one for you! You will not be disappointed, and trust us – neither will your sweetie! 😉
Also, did we mention it comes with these gorgeous printable clue cards? (DUH, we are the Dating Divas after all- it's what we do!) This means that most of the work is already done for you! This makes this car scavenger hunt so much easier!! Go ahead and take a peek at these lovelies designed for us by Courtney from Paperelli.
Car Scavenger Hunt Preparation
Let's dive in to how you prep this bad boy. There are 5 cards to guide your babe through the car. They are so simple to prep, too – just print and make some easy cuts! Then, each car scavenger hunt clue card has a clever little rhyme that leads to the next one until your babe finds his "treasure" in the trunk. What is the treasure, you ask? Everything you need for a cozy drive-in movie for 2!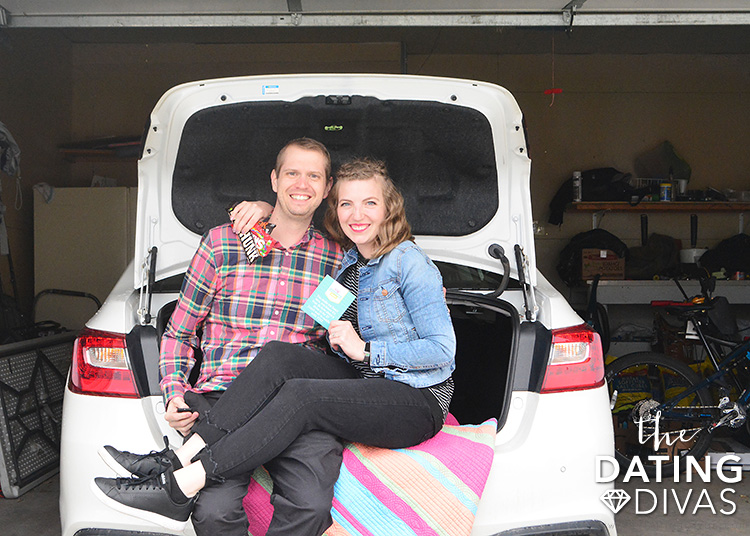 You could go to a real drive-in OR just charge your laptop, grab one of his favorite DVD's, and find a quiet place to park. (If you need to stay close to home and make this an at-home date night after the kids are in bed, you could even just park it in the garage and grab the baby monitor!)
So, here's exactly what you need to pull off this epic car scavenger hunt:
Our free "Car Scavenger Hunt" printables (found at the bottom of the page)
Scissors
Tape
Super Soft Plush Blanket
Popcorn (You could add some drinks or candy if you want as well!)
Tickets to your local drive-in OR a charged laptop and a DVD
Now, this car journey scavenger hunt is so easy to pull off. We will show you exactly how it's done!
How-to Set Up the Treasure Hunt
First things first, start your car scavenger hunt off by attaching Clue #1 to your sweetheart's keys. The clue reads:
"You have the KEY to my heart. This key leads to where the hunt starts."
How cute is that?! This first clue is sure to spark some excitement!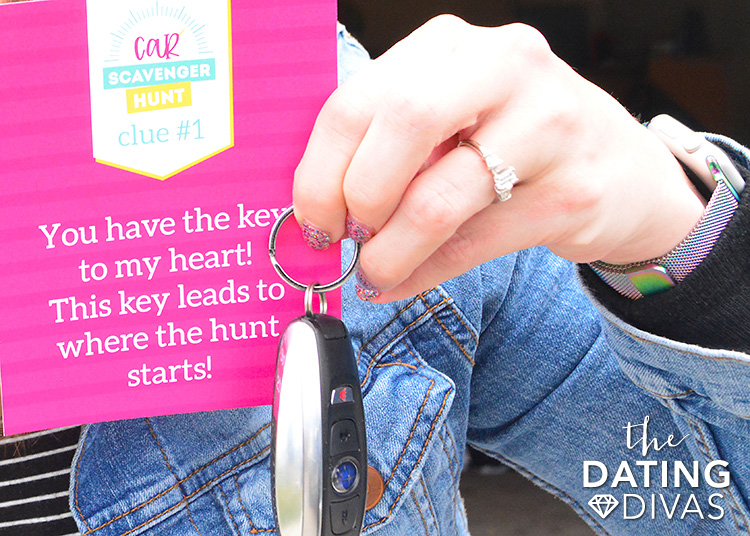 Second, place Clue #2 somewhere by the driver's seat. This clue reads:
"You DRIVE me crazy and always bring the heat. Find the next clue in the backseat."
Now, your sweetheart may just want to stop there and revisit your backseat make-out days… 😉 but tell him to keep searching!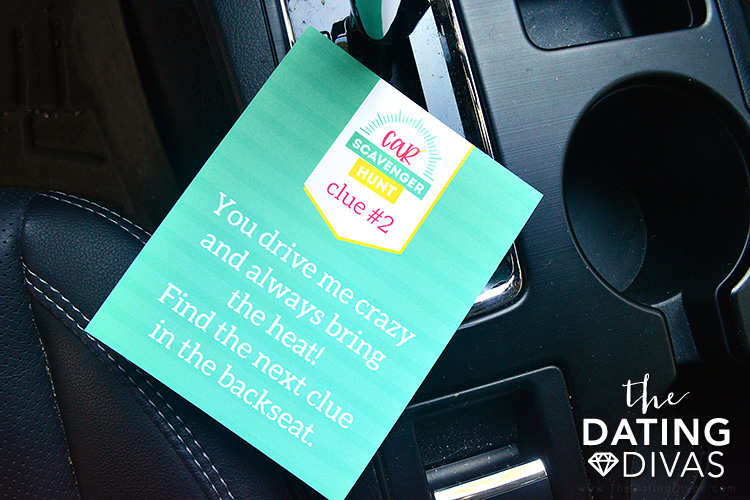 Third, your sweetie will find Clue #3 on the backseat. We thought it would be cute to buckle it in! This clue reads:
"Start your engine for a night that rocks! You'll soon see why in the GLOVEBOX."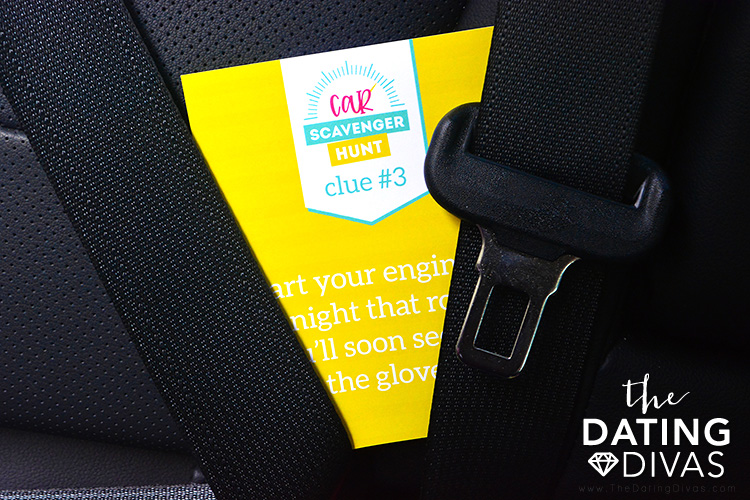 Fourth, you are going to hide Clue #4 in the glovebox to present the next message to your spouse. It will say:
"You fill me up and FUEL my fire.  Check your gas tank to see what's going to transpire."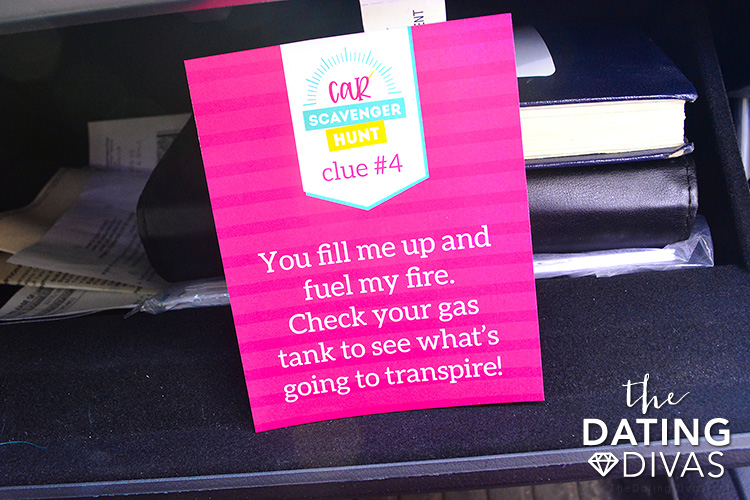 Fifth, tape Clue #5 to the lid of the gas tank. This is the last clue and will lead your sweetie to the big reward! It says:
"I'll never tire of looking at you, hunk! Now zoom on over & look in the TRUNK."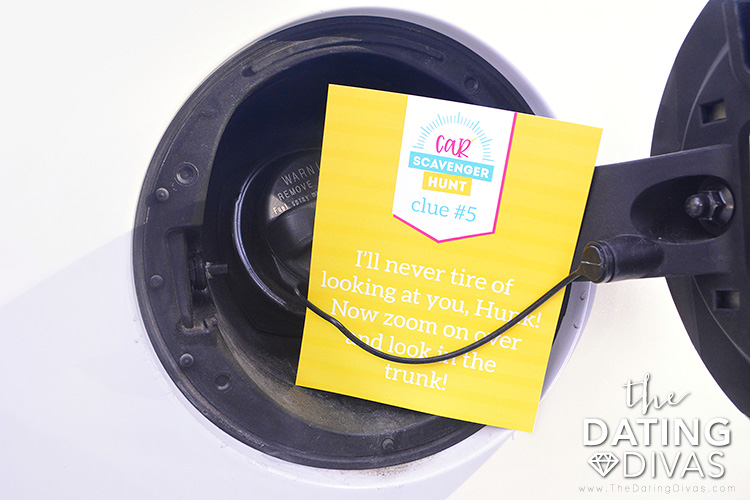 Finally, hide the final card & goodies in the trunk (the BEST part of this car scavenger hunt)! The final card will read:
"You make my heart race, you know it's true. So how about a drive-in for two?! I can't wait to cuddle with YOU!"
Then, have the trunk all set up with a blanket, popcorn, treats, and a movie! It will be a sweet surprise that will leave you both smiling!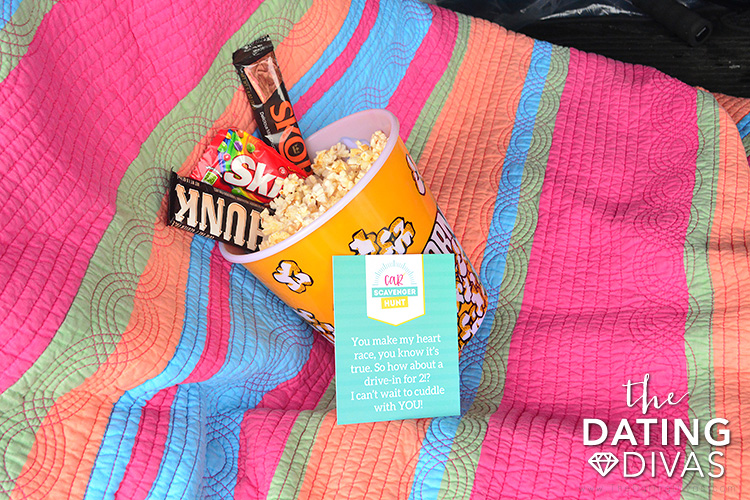 Wouldn't this cute scavenger hunt make the most perfect date night?! We are confident that it will not disappoint!
Make It a Father's Day Activity
Like we mentioned, this car scavenger hunt would be perfect for ANY occasion. But, we were thinking, how DARLING would this be for a Father's Day scavenger hunt?! Without question, this would make any father feel extra appreciated on such a special day! Although this is geared towards couples (especially the cute printable clue cards,) you could totally have your kiddos help you hide the clues around the car and the surprise in the trunk. They would have SO much fun being involved, don't you think?
Then, when the kids are in bed, the romantic activity between mom and dad can begin! Because, you know, mom needs to spoil dad now! 😉 Seriously, what a perfect way to celebrate your hard-working husband and father to your kiddos!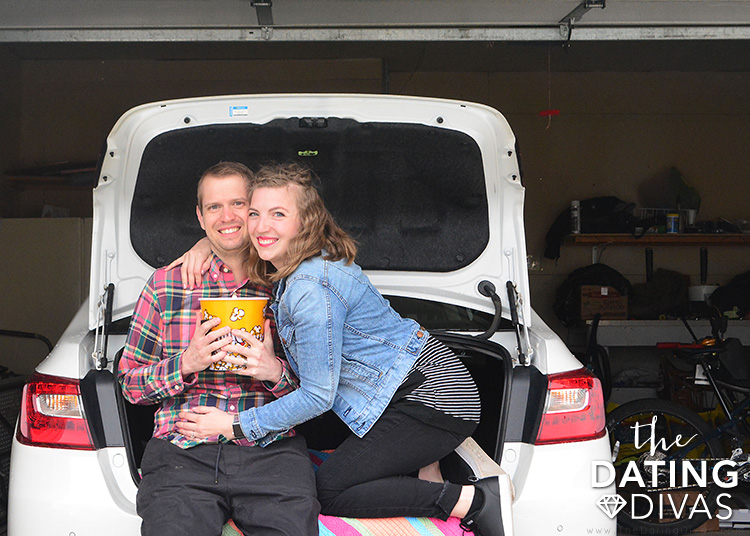 Without a doubt, this special date will ABSOLUTELY make your lover's day! Not only that, but they will be smiling from ear to ear with the cute love notes written on the clue cards.
And, if you want even more activities to do in the car, then you should check out our cozy car date night! We even have a make-out version that's extra sweet! 😉
Have fun!
Car Scavenger Hunt
Printables Designed by Courtney @ Paperelli Exclusively for The Dating Divas