Thanksgiving Photo Props
This month is all about gratitude and we want you, our readers, to know that we are SO grateful for YOU! We seriously feel like we have the best readers EVER!! And we know that it is because of YOU that we can do what we do. So we thought we'd GIVE our THANKS to you with a fun, free download of…Thanksgiving photo booth props!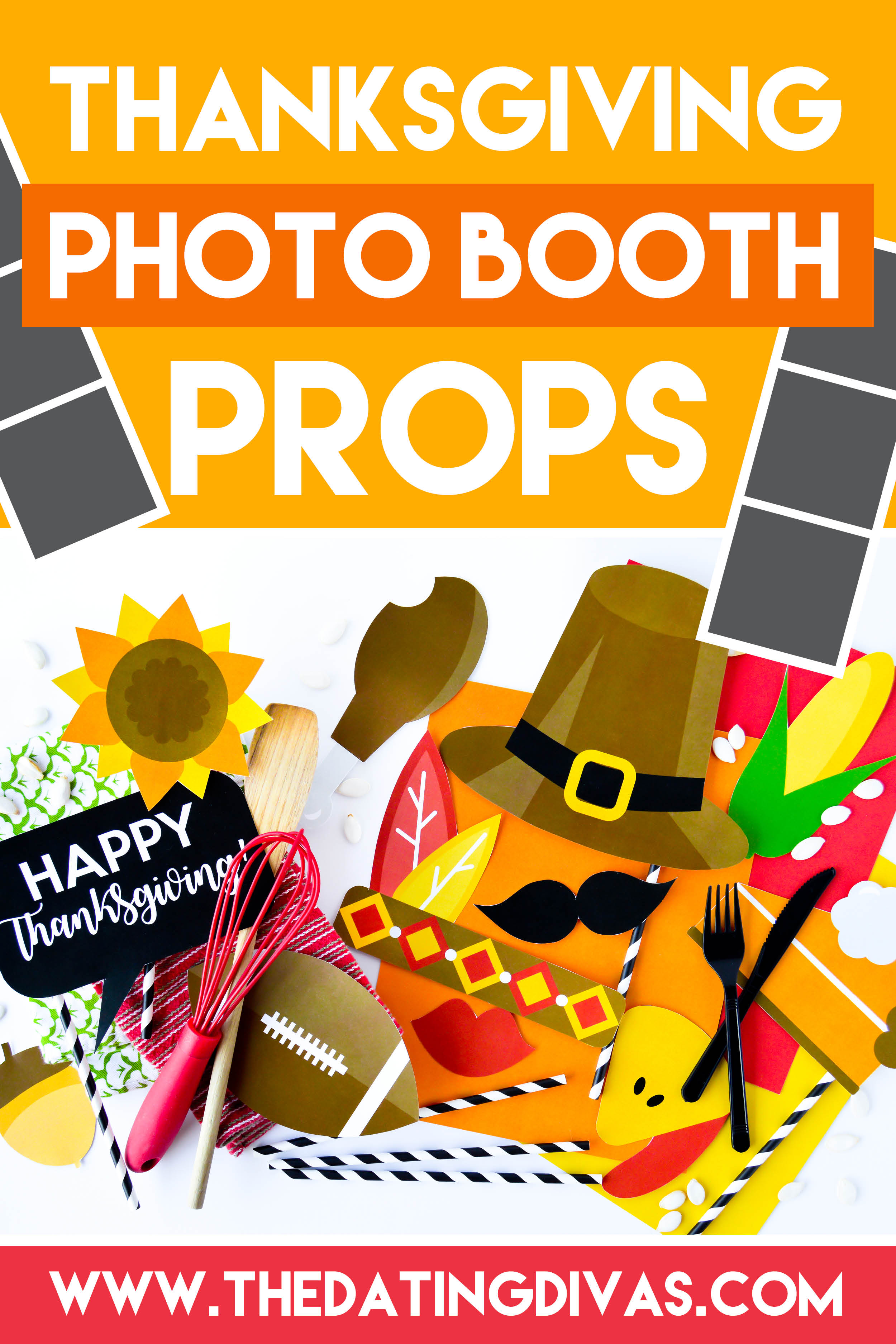 This post contains affiliate links. To learn more about 'em, click here.
We love getting together with our families for Thanksgiving, but it can be HARD keeping so many people entertained. That's why we're obsessed with these Thanksgiving photo booth props. They're easy, they're fun, and everyone loves them. Let's take a look and help you get your gobble on!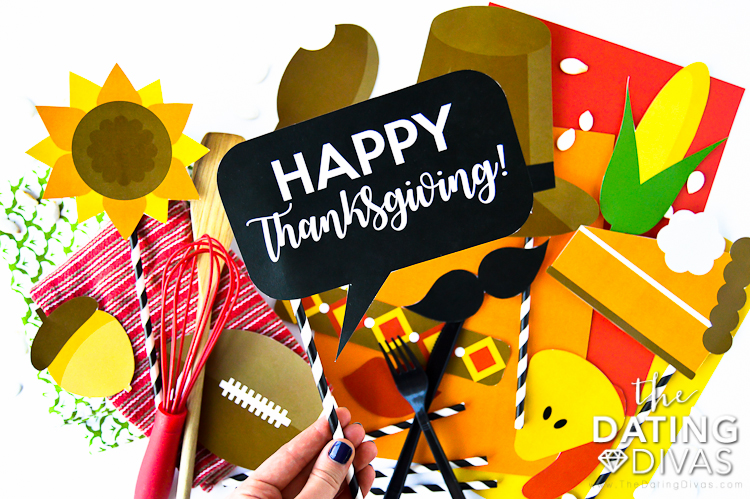 Thanksgiving Day Photo Booth Props Printable
We are ALL about Turkey Day and that's why we think these Thanksgiving photo props are the BEST! Whether you're obsessed with pumpkin pie or dying to be a pilgrim, there's a prop for you. Yes indeed, your Thanksgiving Photo Booth Props printable download has over ten different designs so there's really something for everyone. They're bright, colorful, full of whimsy, and are guaranteed to make your holiday gathering one to remember. Take a look at what specific Thanksgiving day photo booth props are included below!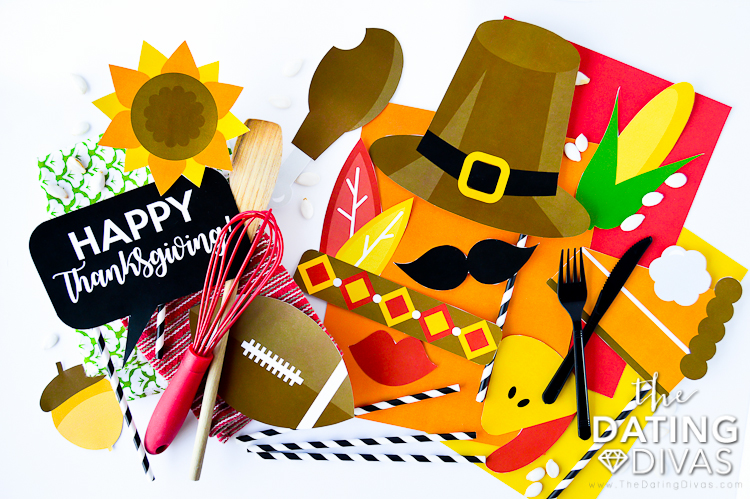 Sunflower
Acorn
Corn Husk
Pilgrim hat
Mustache
Indian Headdress
Lips
Turkey Beak
Drumstick
Pumpkin Pie
"Happy Thanksgiving!" Sign
Football
So many adorable Thanksgiving photo booth ideas are already coming to mind!
Assembling Your Thanksgiving Photo Booth Props
Before you bust out the camera and get to clicking, you'll need to assemble your Thanksgiving photo props. But don't worry! We promise it's fast, easy, and fun. Just look over the following supply list and instructions, and you'll be good to go!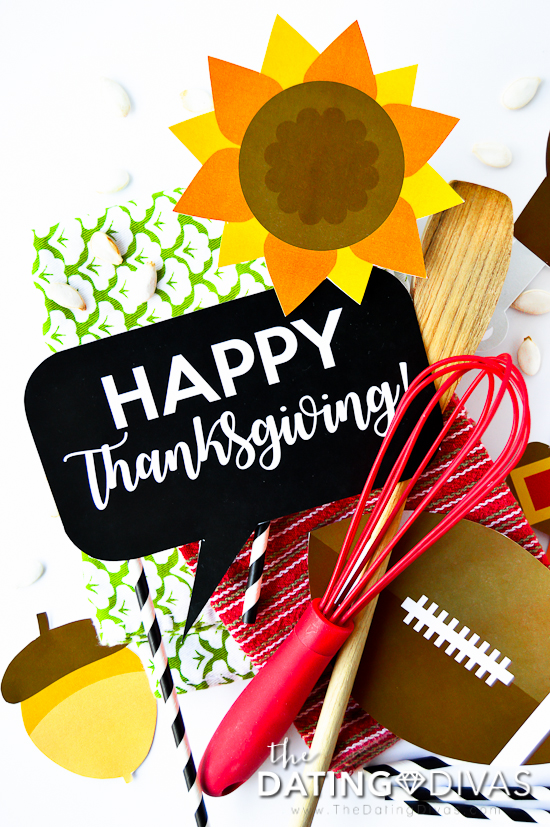 Supplies needed for your Thanksgiving day photo booth props:
High-Quality Cardstock
Scissors
Straws or Skewers
Tape
Instructions to assemble your Thanksgiving day photo booth props:
Print your Thanksgiving photo booth props (download below!) on high-quality cardstock. Because these printables will be touched and handled so much, you'll want to go for the good stuff. This heavy-duty paper will keep them in great shape throughout all your photo adventures and also helps the color pop!
Cut around the edges of each of the photo props. Each edge is designed to be simple and easy to cut so this shouldn't take too long at all.
Affix a straw, skewer, or another stick-like item, to the back of each prop using tape. You may want to double up on the tape to ensure everything is strong and secure.
Get ready to have some serious fun!
Thanksgiving Photo Booth Ideas
Once assembly is complete, it's time to get underway! We went with a neutral colored door/wall as our backdrop but any simple background will work. Some other Thanksgiving photo booth ideas include creating a special photo backdrop using wrapping paper, cardboard, chalkboard or a garland. It's up to you! Take turns posing with your props in front of the camera and creating all sorts of memories.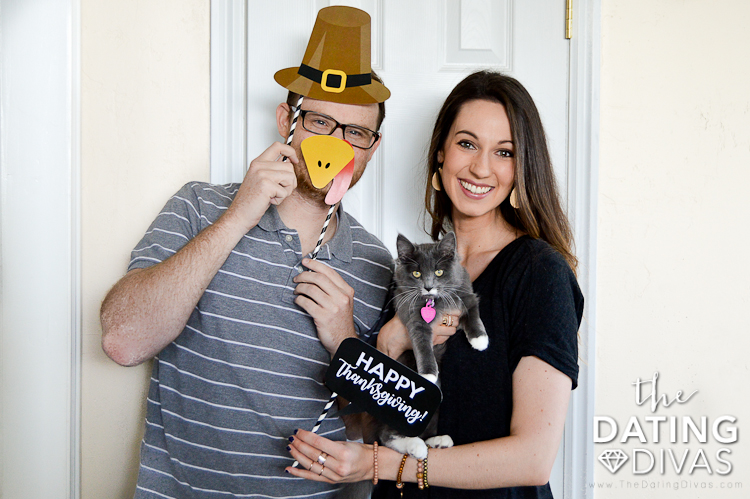 Aren't these Thanksgiving photo props so totally turkey-licious?! Go download and print these photo booth props and know that you are appreciated and we are so grateful for YOU! Then go snap some fun pictures with your family this Thanksgiving and capture some holiday memories! You'll have so much fun dreaming up the perfect Thanksgiving photo booth ideas!
For more Thanksgiving-themed family fun, check out our You've Been Gobbled Thanksgiving service idea, our Thanksgiving Scavenger Hunt, and our Turkey Bowling Game for the whole family.
Thanksgiving Photo Booth Props
Printables Designed by Elizabeth Edwards Exclusively for The Dating Divas