quickie sex survey
Let's face it, sometimes all you want (or have time for) is a quickie, right?! Whether you have a jam-packed calendar at the moment or you're just looking for some swift lovin', there's no denying the satisfaction of perfectly executed quickie sex! Well, now you can have the ultimate quickie experience with this fun and simple quickie sex date!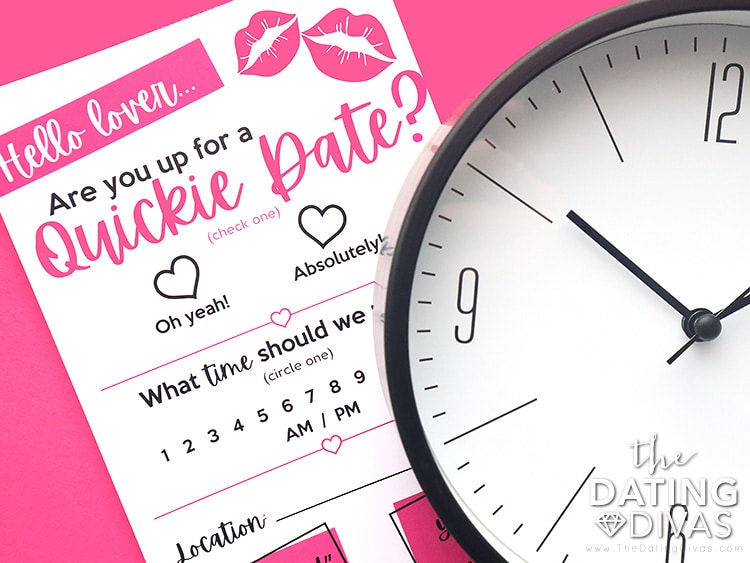 All right, all right, I know what you're thinking… just how long is a quickie anyway?! Well, you'll be happy to hear that there is definitely no right or wrong answer! The most important thing is that you and your spouse keep the line of communication open to fully understand each other's needs, desires, and expectations!

How to: simple quickie date
The best part about this sexy quickie date is the fact that it takes very little prep! We've already done most of the work for you to ensure this date stays super simple and in fact…quick! 😉
We've created a fun and flirty invitation along with a matching envelope for you to slip to your spouse! With this invitation, you can invite them to join you for a quickie date while also prompting them to fill out a quick survey on how you want your sexy meet-up to play out!
Simply click the pink download button at the end of this post to access your FREE printables! Then all you have to do is print, cut, fold, and you're ready to go!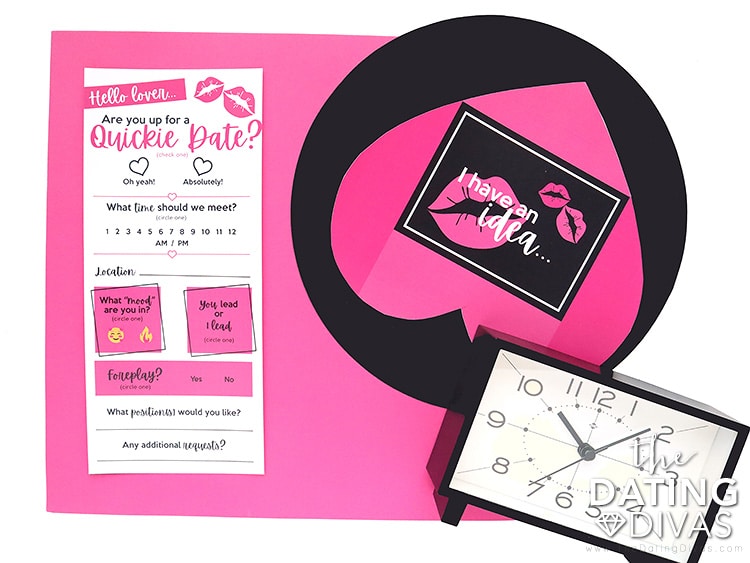 quickie date invitation
This flirty invite will allow you to have the ultimate quickie date with your spouse! You can hand this off to your sweetheart and let them fill out the survey, which will reveal what they are hoping for during your sexy rendezvous!
Then, when you two finally meet up for your sexy date, no one will have to waste time asking questions. You definitely won't have to wonder what will *ahem* fulfill the other person's needs–thus enhancing the quickie experience!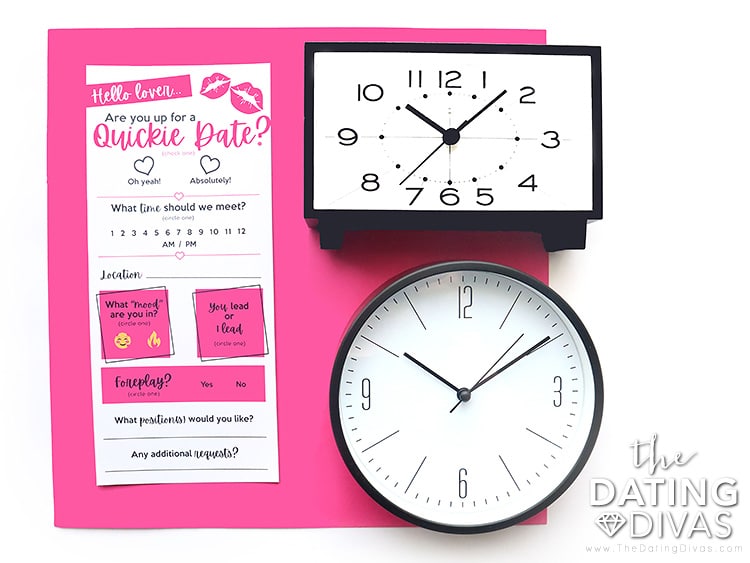 Don't worry! If you are in too much of a hurry to get things moving, we have created a digital version you can send to your sweetie instead! Just text them the invite (it's free to download at the bottom of the post), have them fill it out on their phone, and ask them to send it back to you!
Quickie Date Invitation envelope
For the utmost level of discreetness, we have also included a super cute envelope you and your spouse can use to house your invitation while you're passing it to each other! Because you wouldn't want anyone else sneaking a peek at what's written inside, now would you?!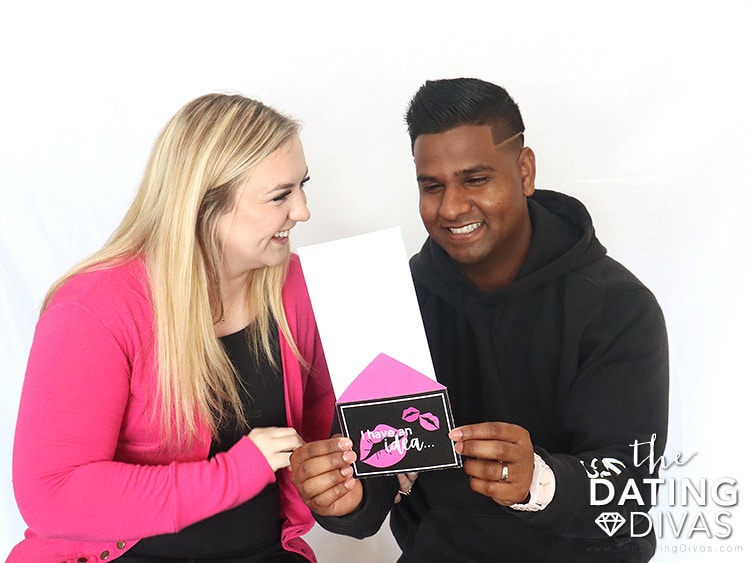 This heart-shaped envelope is SO quick and easy to put together. Simply fold the two sides inward along the lines. Follow that up by folding the top of the heart down along the black line. Lastly, the point of the heart will serve as the top of your envelope! After you have slipped your invite inside, fold the final piece down and secure it with a small piece of tape! Et voilà!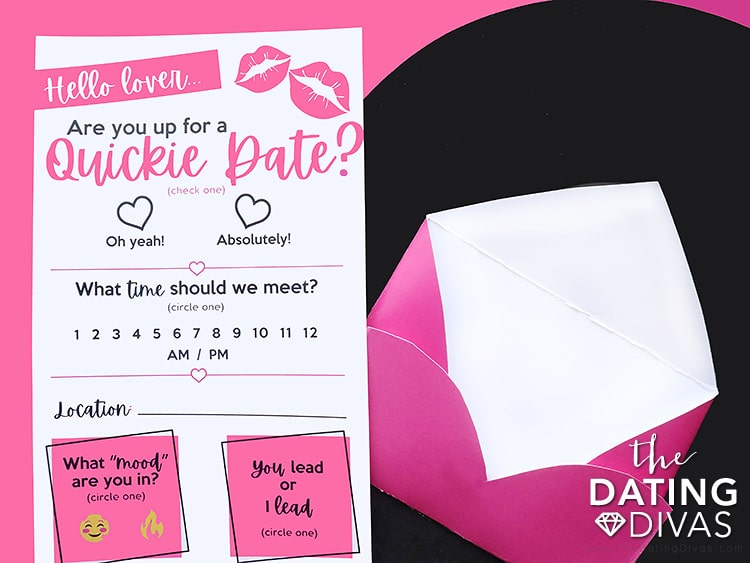 So, just how long is a quickie supposed to last? Data suggests a quickie would be anything LESS than 5 minutes. But it's TRULY up to you!
Now that you have everything you need to pull off this quick and sexy date, what are you waiting for?! Go have a fun little quickie!
If you loved this post, you'll definitely love our sex survey and intimate questions list for couples! It's a great way to open the line of communication with your spouse on intimacy topics! Or, in case you're looking for ideas on the complete opposite topic, we have an entire post dedicated to tips on how to last longer in bed! 😉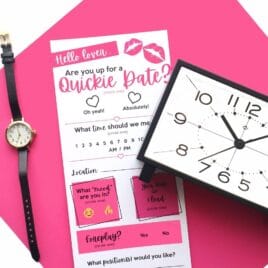 Quickie Date
Printables Designed by Lucette Campbell Exclusively for The Dating Divas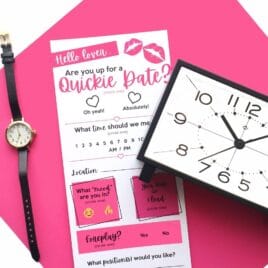 Quickie Date Digital
Printables Designed by Lucette Campbell Exclusively for The Dating Divas