Day of the Dead Activities & Party
We think family is SO important and we're betting you do too. That's why we're over the top excited about this Day of the Dead family activity! This unique Mexican holiday is celebrated right around the same time as Halloween but has a very different goal and vibe, centering on remembering and honoring one's deceased ancestors. We promise you'll want to be starting your own Day of the Dead traditions in no time, even if you're totally unfamiliar with the holiday. The best part of all is that we've included practically everything you need, from Day of the Dead activities and invites to decor and food items. Are you ready to learn how to celebrate Dia de los Muertos with your friends and family? Let's take a look!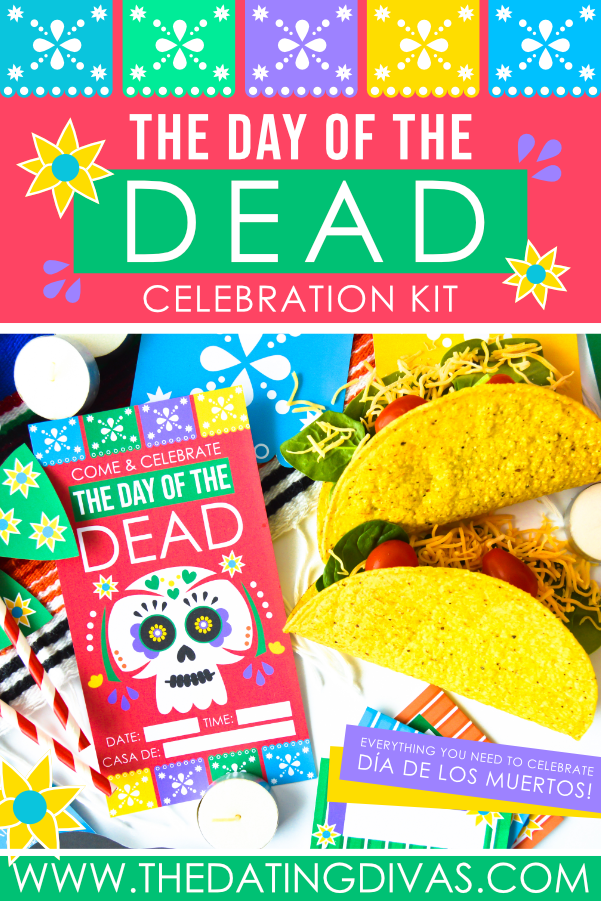 Disclaimer: This post contains affiliate links. To learn more about 'em, click here.
Before we explore more about this fantastic holiday, we HAVE to give a huge designer shoutout to Diva Elizabeth. She helped make these Day of the Dead traditions a reality with her fabulous designs!
What's Included in Your Printable Download?
Your own Day of the Dead activities and party is super easy to put together and will put the perfect spin on this holiday! Think of it as a more laid back fiesta with the goal being to remember your ancestors. Take a look at the included items below, and keep reading through the post for a more detailed description of how to use each of them:
Day of the Dead Invite
Papel Picado Banner
Day of the Dead Food Tents
Sugar Skull Treat Toppers
Day of the Dead Activities
How amazing are those?! Keep on reading to take an even closer look at each of the items and for tips and tricks on how to assemble them. Don't forget to grab some quality cardstock!
What is the Day of the Dead?
Día de los Muertos, otherwise known as the Day of the Dead, is a traditional Mexican holiday that centers on remembering and honoring one's ancestors. It is typically celebrated over a period of three days (October 31st-November 2nd) and often involves visiting the graves of deceased relatives, creating altars (also known as ofrendas) by which to honor them, and offering up their favorite foods, gifts, beverages or other items. Other popular symbols of this time include flowers, sugar skulls (a symbol viewed as a celebration of death), and paper decorations such as the classic papel picado banner. It is believed that the souls of the deceased relatives may come back to visit during this time, but it isn't fearful or frightening. Instead, it is a warm and joyous occasion in which memories are shared, traditions are practiced, and family bonds are strengthened by focusing on the past.
Day of the Dead Invite
Get everyone ready for the fun to come with this uniquely designed invite! Featuring both the sugar skull and the papel picado banner, this invite hearkens to a few classic Day of the Dead symbols. Plus it's super cute! Simply print, fill in the info and send one to everyone on your guest list.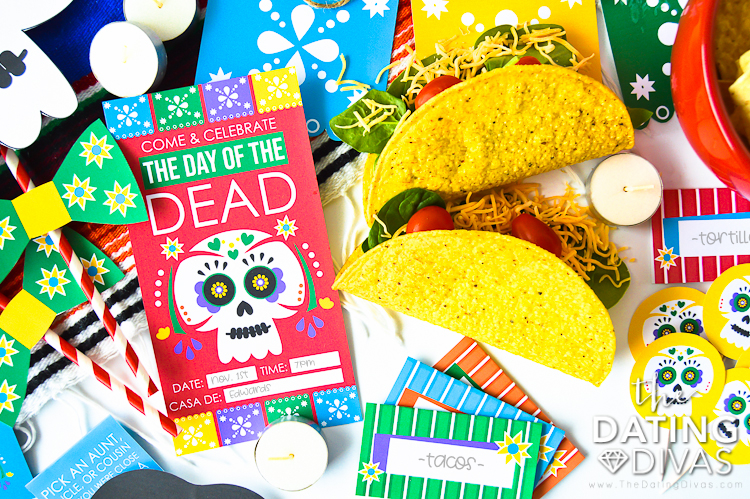 Day of the Dead Papel Picado Banner
Loosely translating to 'confetti' or 'perforated paper', this style of banner is quite common when it comes to Dia de los Muertos. For instance, it's often seen decorating both streets and the graves/alters of loved ones. Your included version will add the perfect touch to your party! Just print, cut, and attach to some string or twine. Feel free to print as many pages as you need to create the perfect length of banner.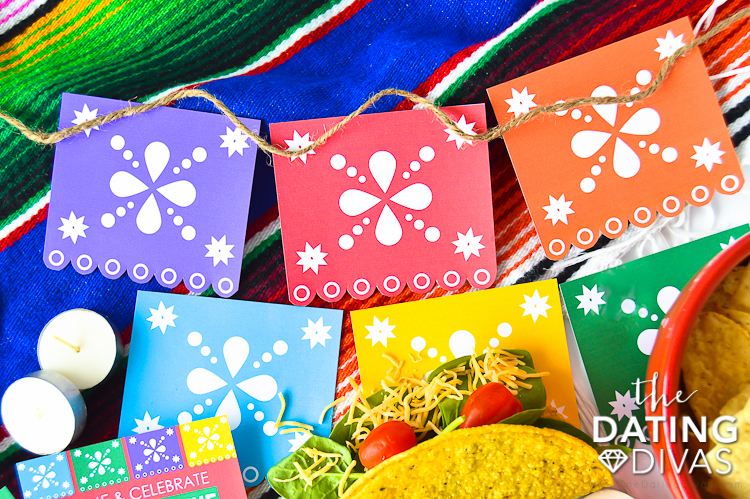 Day of the Dead Food Tents & Toppers
No gathering is complete without food, right? It definitely plays a part in the traditional Dia de los Muertos altar and festivities. You can choose any type of food you like for your event! We went with Mexican classics such as tacos and tortilla chips for a quick and easy option.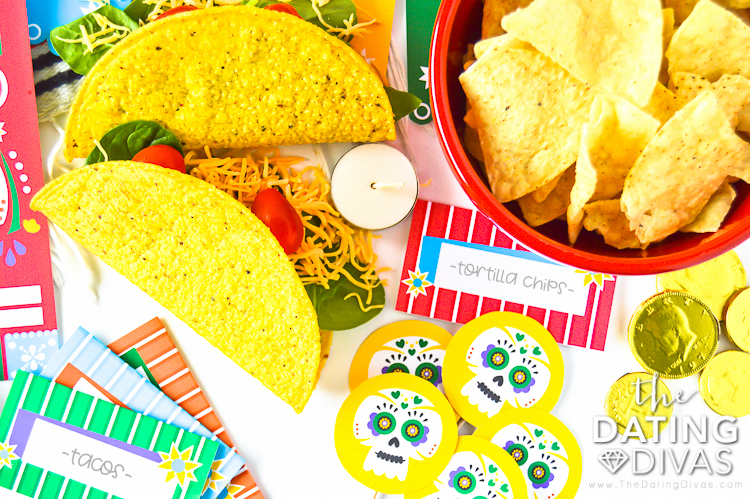 Other ideas include a dip bar with such favorites as queso, salsa, and guacamole, or you might consider doing tamales, burritos, or Pozole– a rich Mexican soup that's perfect for colder weather. Be sure to use the included food tents and treat toppers to add an extra dose of fun! To assemble your treat toppers, cut out the sugar skulls and affix a toothpick to the back with tape.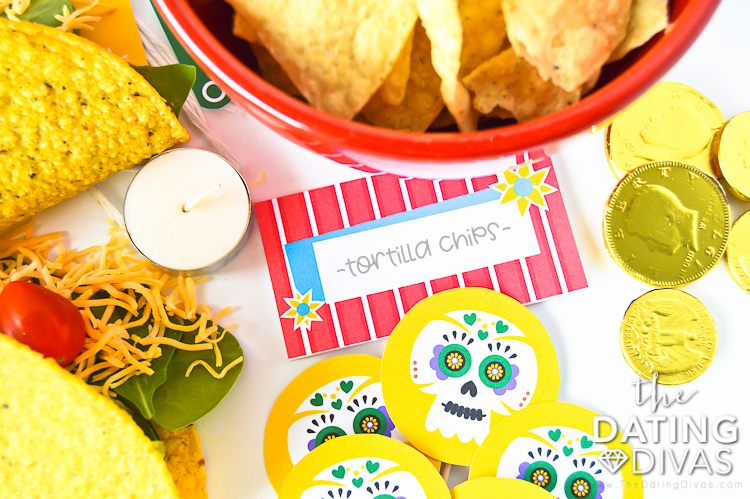 Day of the Dead Activities & Photo Booth
While some skulls are frightening, the sugar skull isn't! Bring a little sugar skull action to your party with the included photo booth props! Simply print, cut, attach to a straw or skewer of some kind and snap some quick pics of the fun. You could even take things one step further and create a designated photo backdrop. For example, your papel picado banner would be a great addition to this!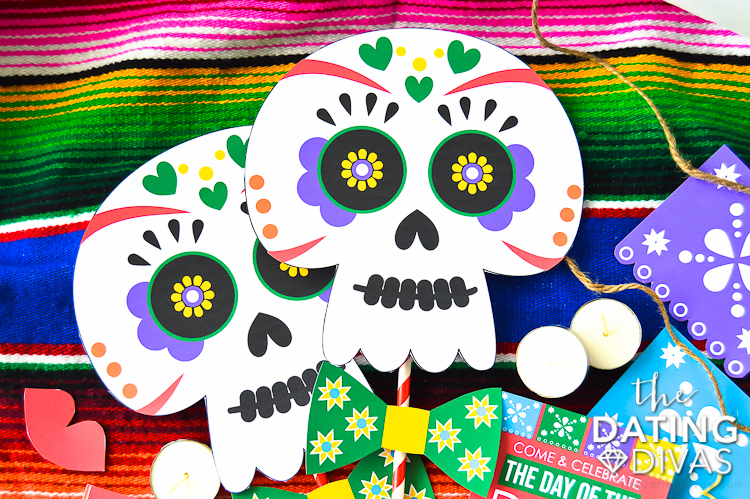 Dia de los Muertos Conversation Cards
You might consider building your own ofrenda using candles, photos, or other items. It's definitely a great way to honor departed loved ones. But if you're looking for something a little less labor intensive, be sure and use the included conversation cards! The prompts and questions will help you remember all of the wonderful things about your family then and now. Take turns drawing from the pile or add to the fun by coming up with your own questions.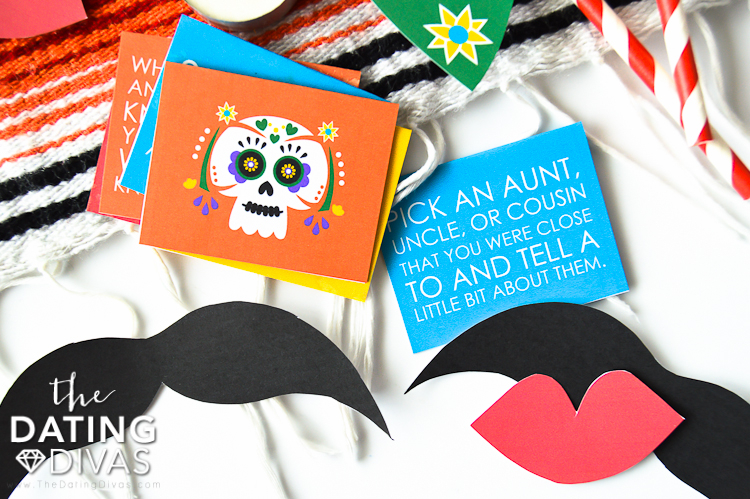 How great is all of that?! We really have included everything you need for a smashing friend or family gathering. Additionally, you could tweak this idea slightly to be a fun and fabulous date idea for two. Invite your sweetie using the invite and prep a two-person fiesta of fun!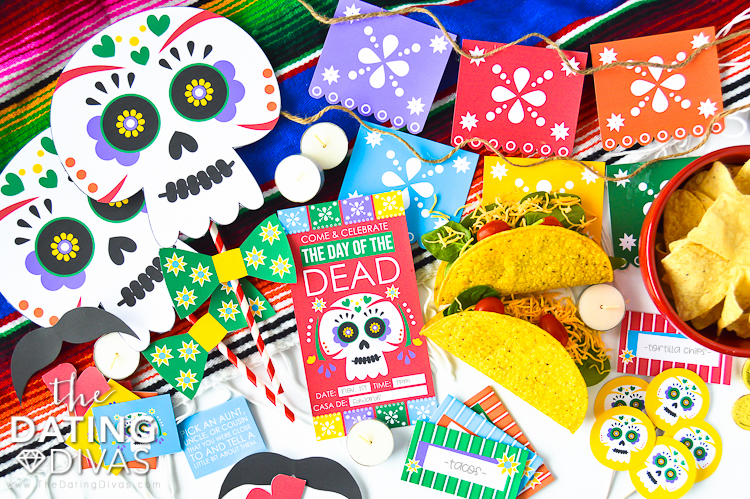 For even more great family fun, take a look at our Family Movie Night and our Year of Family Date Activities!
Day of the Dead Celebration Kit
Printables Designed by Elizabeth Edwards Exclusively for The Dating Divas