Indoor Fort Ideas for Couples
Bust out those blankets and get ready for date night! Remember the forts we all used to build as kids? Well, get ready for version 2.0 as we present an indoor date like never before! Our one-of-a-kind fort date contains everything you need to learn how to make a fort and comes with a super snazzy set of indoor games for adults. Even the nature-averse won't be able to resist these fort ideas as we've included a set of indoor camping activities that are truly top notch! Ready to check it out? Let's go!

Disclaimer: This post contains affiliate links. To learn more about 'em, click here.
But before we make for the marshmallows, we have to give a huge thanks to our very own Diva Elizabeth for creating such clever camping-themed printables for us! She totally took all of our fort ideas and ran with them. We're so 'fort'-unate to have her!

Blanket Fort Invite
We LOVE slipping our sweeties a little something to remind them of date night and this date's no different! Simply print on the paper of your choosing (we always recommend a good cardstock!) cut, and fill in the date and time for when all of your fort ideas will go down. Leave it somewhere for your spouse to find and you're ready to rock date night.

Fort Ideas Guide
Get ready, get set, get on with that fort building! Once you and your sweetie have come together, it's time to get that blanket fort built. We've included a fantastic and easy to use printable guide that will teach you how to make a fort in no time flat. Your guide also includes some terrific tips and fort ideas for ultimate building success! You'll definitely want to print off your own hard copy of the guide but here's a peek at what you'll find on it.

What You Need:
Pillows
Games
Snacks
Printables
How To Build:
Choose a room with plenty of space.
Establish a solid base using chairs, your couch, or even a coat-rack!
Drape your sheets over your base, pinning, clamping & tying as needed.
Fort Fun:
Grab your snacks, some fort-friendly items & your sweetie. It's date time!
Does that sound totally fun (and doable!) or what?! Once your blanket fort is built and you and your sweetheart are snug as a bug, it's time to whip out those indoor camping activities. We've included a set of some of the sweetest indoor games for adults you'll ever find, plus some indoor s'mores tags to REALLY take things to the next level. Keep reading and check them out!
Indoor Fort Ideas & Games
Fort Stories
If words are your jam and you live for scary stories around the campfire, this is the activity for you. Our indoor Fort Stories are packed with fill-in-the-blank phrases and will totally crank up the entertainment. Plus, we've included both a spooky and a silly version so there's something for everyone! Similar to a classic game of Mad Libs, one spouse will read the descriptions of the blank spaces (ie. "Give me an adjective"), while the other supplies the response. Once each of the blank spaces have been filled in, it's time to read your story from start to finish. Then switch and have your sweetie give their answers. No two stories will ever be the same!

Fort-Tac-Toe
Next up, a totally fort-friendly version of Tic-Tac-Toe! Complete with game board and space markers, we've included everything you need for hours of fun. Just like the original version of Tic-Tac-Toe, the goal of this game is to get three in a row. Take turns placing down your space markers and see who wins!

Indoor S'mores
No list of fort ideas would be complete without snacking and we've made it oh-so-easy! Our printable Indoor S'mores tags will help you create the perfect mini s'mores kit and is so easy to assemble. All you need is a few graham crackers, some chocolate bars, and marshmallows. Once you've got everything locked and loaded in your baggies, simply print, cut, and fold your tags. Attach them to the top of your plastic baggies (staples work great!) and bust out those bad boys whenever the time is right! How easy was that?!

More Fort Ideas
While the above ideas are oh-so-amazing, we've also included a few more of our indoor favorites! 

Take a look at the 4 ideas below for even more great fort ideas.
Packed to the brim with indoor games for adults, fort ideas, and indoor camping activities, this is the perfect option for some one-on-one time that's totally unique. Enjoy!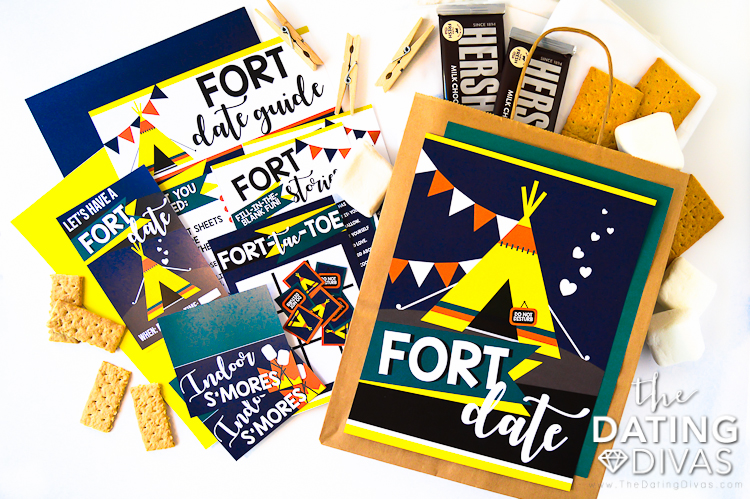 Fort Date
Printables Designed by Elizabeth Edwards Exclusively for The Dating Divas