Valentine's Day Scavenger Hunt Clues
This Valentine's Day scavenger hunt idea is full of romantic clues that will leave your spouse's mind and heart racing toward romance! Mission: Valentine Scavenger Hunt is a romantic scavenger hunt ideas for adults, meant to spice things up for Valentine's Day! Should your sweetie choose to accept their mission, you'll lead them to the secret destination (HINT: The bedroom!) with 5 missions and 5 romantic clues! when you use our love scavenger hunt riddles and printables it will be a sinch to pull together! Get ready to have fun and be validated all in one little package, because before the rewards are some intimacy building tasks that must be accomplished.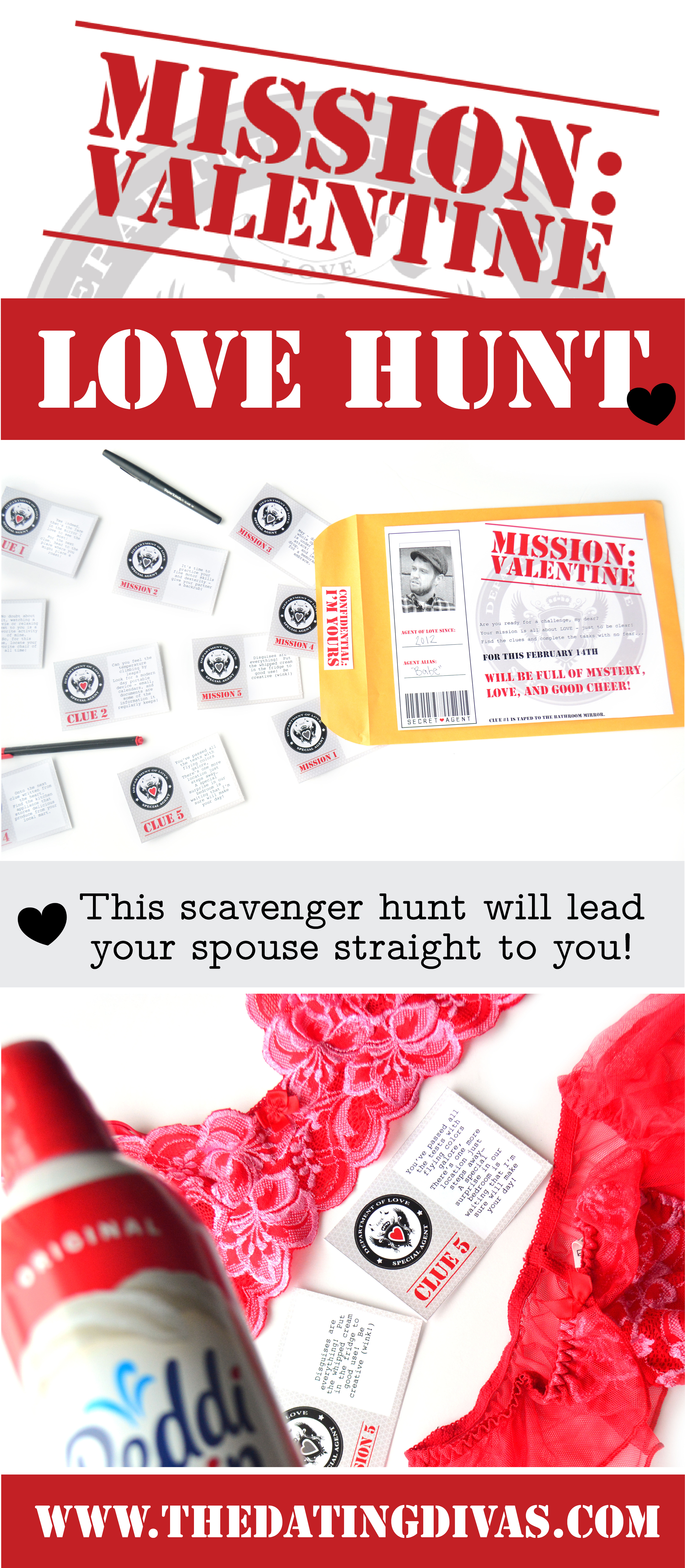 Disclaimer: This post contains affiliate links. To learn more about 'em, click here.
As I said, these are romantic scavenger hunt ideas for adults only! Just consider it "playtime" but with your sweetie. With that said, you wouldn't want any of these romantic riddles to get into the hands of someone else… so make sure you set the stage carefully. These love scavenger hunt riddles will have you both feeling more connected than ever! And the name of the game is that each "love mission" must be completed before opening up the clue cards.
Here's more info on how it all works, starting with the supplies list!
Valentine Scavenger Hunt Supplies:
Whether you're creating this scavenger hunt for your a boyfriend, or you're making this Valentine's scavenger hunt for your husband, you are going to be making the most of celebrating of love day! To get started on making these romantic scavenger hunt ideas a reality you are going to need to collect some supplies.
Mission: Valentine printable cards and tasks (download below!)
1 File folder or manilla envelope
Glue or tape adhesive
Scissors
Whipped cream
Any additional embellishments (You can use Washi tape for an extra pop of color!) or 5 envelopes for the clues.
Woohoo! Get ready this Valentine's Day scavenger hunt will create memories neither of you will ever forget!
Valentine Scavenger Hunt Instructions:
First, download, print, and cut out each printable element of the romantic scavenger hunt. Remember, these love scavenger hunt riddles are for your eyes only! So make sure you're covering your tracks.
Then, craft up a bit of suspense by filling out stats on your "secret agent." Have fun with it! If you are creating this scavenger hunt for your boyfriend fill it out using cute inside jokes or pet names. Just because this is one of our scavenger hunt ideas for adults doesn't mean you can't get a little playful. In fact, we encourage it! Make this romantic scavenger hunt your own!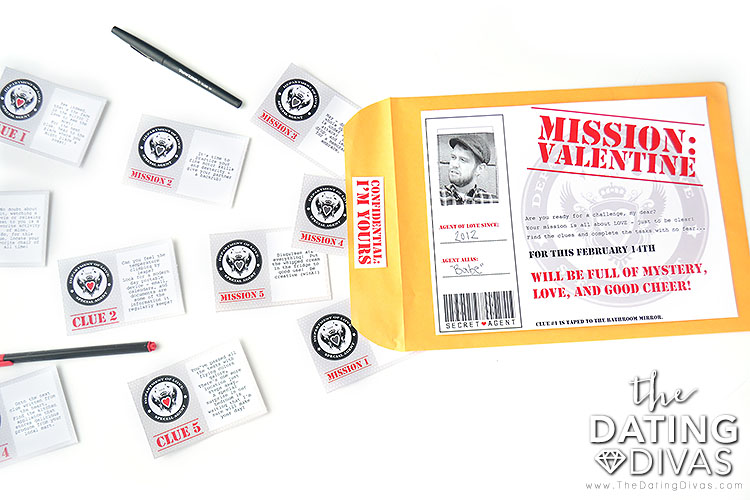 Romantic Scavenger Hunt Ideas
Next, place the invitation to play the game in a manila envelope decorated with "Confidential" signs. It really helps play up the suspense, doesn't it?! Your sweetie will be dying to get started when they see this! They have no idea what a fun Valentines scavenger hunt is in store!
Glue Task #1 to the back of Clue #1 or place Task #1 on the outside of an envelope and place Clue #1 on the inside for your sweetheart to open. Your sweetheart must successfully complete this mission challenge BEFORE the first Valentine scavenger hunt clue can be revealed! Tape this ensemble to a mirror.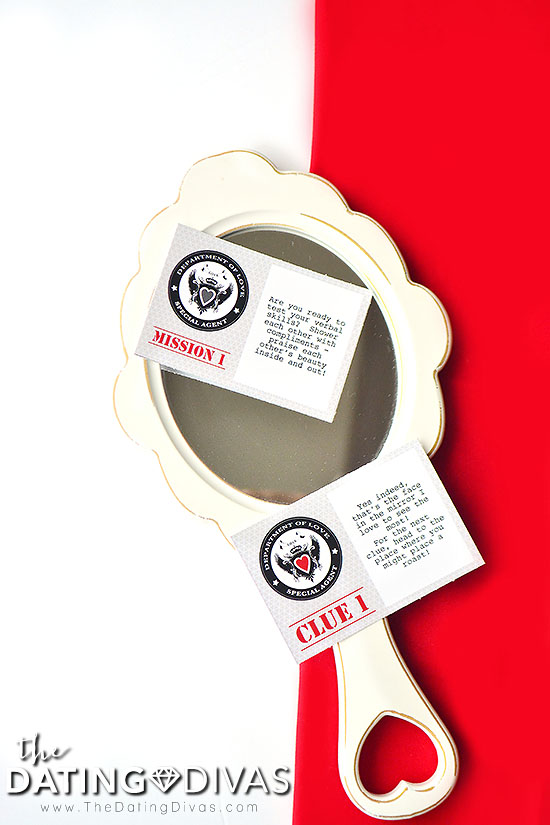 Repeat this process for the remaining task/clue cards and place all of the romantic scavenger hunt riddles in the appropriate places!
Scavenger Hunt Cheat Sheet
When creating a Valentine's scavenger hunt, one of the most important things you need to do is stay organized. With all of these printables and different romantic scavenger hunt ideas, you may need a cheat sheet to keep everything together. Here's a cheat sheet just in case you need it:
Valentine scavenger hunt Clue #1 leads to the oven.
Then, Clue #2 takes you to the computer.
Clue #3 points your love to his or her favorite chair.
Then, Clue #4 leads to the kitchen again, where you have to put the whipped cream to good use as mentioned in the task card!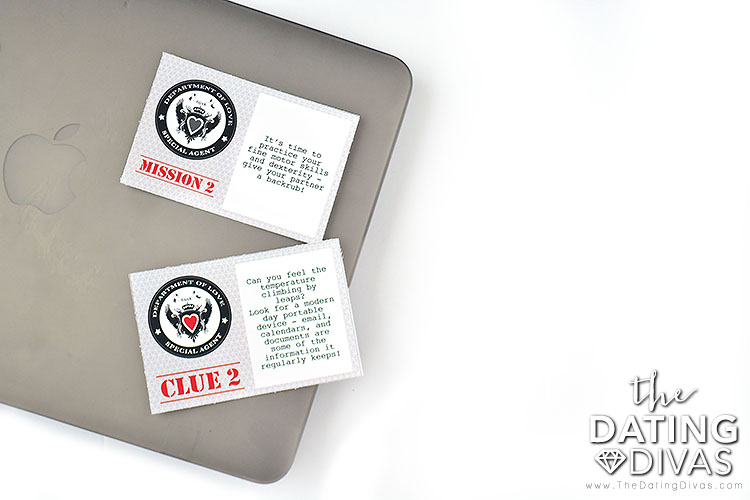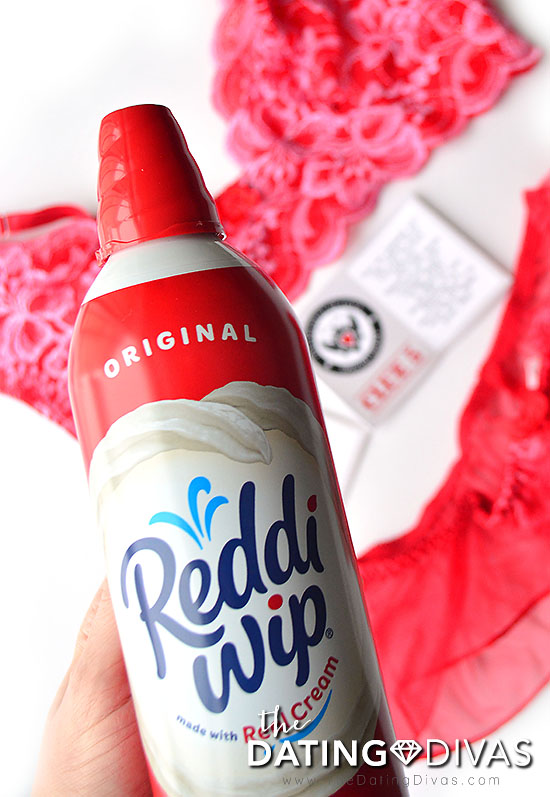 Finally all of the romantic scavenger hunt ideas have led to this: Clue #5 leads you to your final destinate… your bedroom! And that's where we will leave the rest of Mission Valentine to your imagination… wink! You did it, you made a successful Valentine's Day scavenger hunt!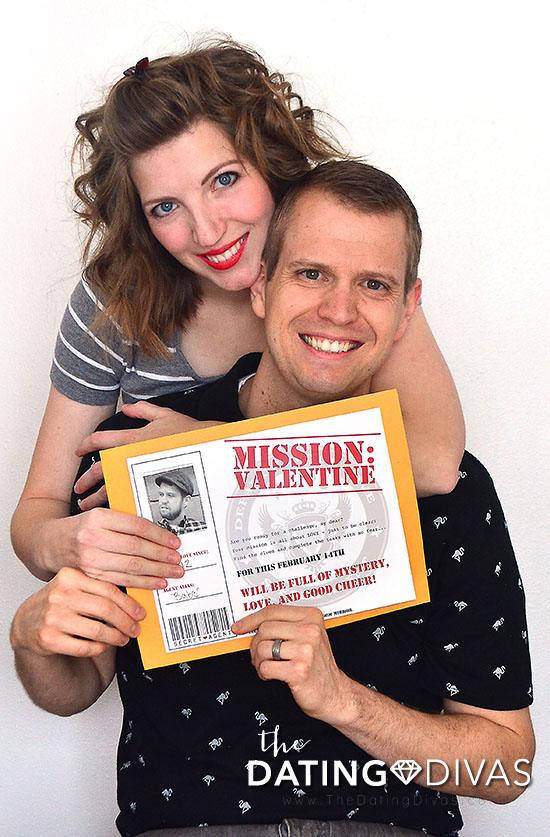 And that's a wrap, you've created a Valentine's Day scavenger hunt you both will never forget!
To get your romantic ideas flowing, even more, this Valentine's Day, you might think about a Valentine Glamping date, playing one of these bedroom games, or offering him a sensual massage. Have fun and come back again for some more great Valentine's Day ideas!
Mission: Valentine Printables
Printables Designed by Tasha @ Whimsicle Design Studio Exclusively for The Dating Divas