20+ Designs of Printable Wall Art!
Decorating a home can be SO fun, but SOOOO expensive, right? All the furniture, rugs, window treatments, and pillows add up. We are excited to bring you a super adorable and super affordable way to add life to your walls! Our Home Wall Art pack has just what you need to coordinate your home in a simple, classic style. We've created 24 unique prints to frame and hang in all the most important rooms, and there are so many prints to choose from, you'll never get bored with you decor!

The B-E-A-U-TIFUL wall art comes from the magic fingers of designer Carisa! She's created a gorgeous set of quotes and prints in a classic black and white color scheme, so it will match ANY color palette in your home and stay timeless as your preferences change. Visit her blog Messes to Memories to see more of her FAB work!
Are you ready to get decorating? When you download this set of home decor prints, you'll be getting 20+ designs for your home:
8 Prints for the Living Room
8 Prints for the Kitchen
8 Prints for the Master Bedroom
I know that's exciting, BUT the goodness doesn't stop there. We've given you even MORE options by providing the prints in THREE different sizes! In the pack you'll get each design in the following dimensions:
8×10 prints
16×20 enlargements
24×36 enlargements
Getting prints enlarged can be a little expensive, especially for the biggest size, so we recommend getting your 24×36 inch designs engineer printed at your local print store. Engineer printing only costs a few dollars and you will save big! A standard frame for this size is generally 24×30 inches but we've designed the prints so there is plenty of room for trimming to add versatility.
Printable Wall Art for the Living Room
The living room is one of the most important rooms because it's where we all LIVE! I know my first priority in decorating my home was the living room because that's where you spend most of your time, and it's the room your guests see when coming to visit. Our living room prints are a great way to add personality to your walls!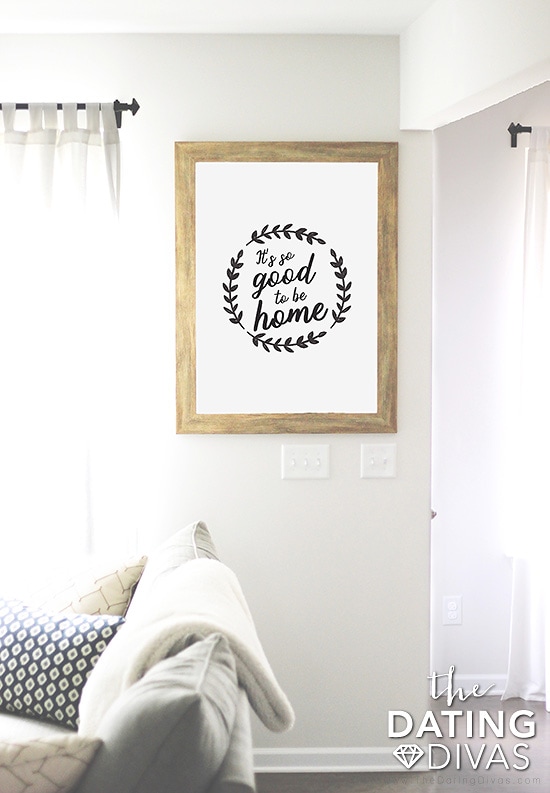 Use a dry erase marker on our Wifi print to let all your guests now about the network and password. This would be a great one for guest bedroom as well!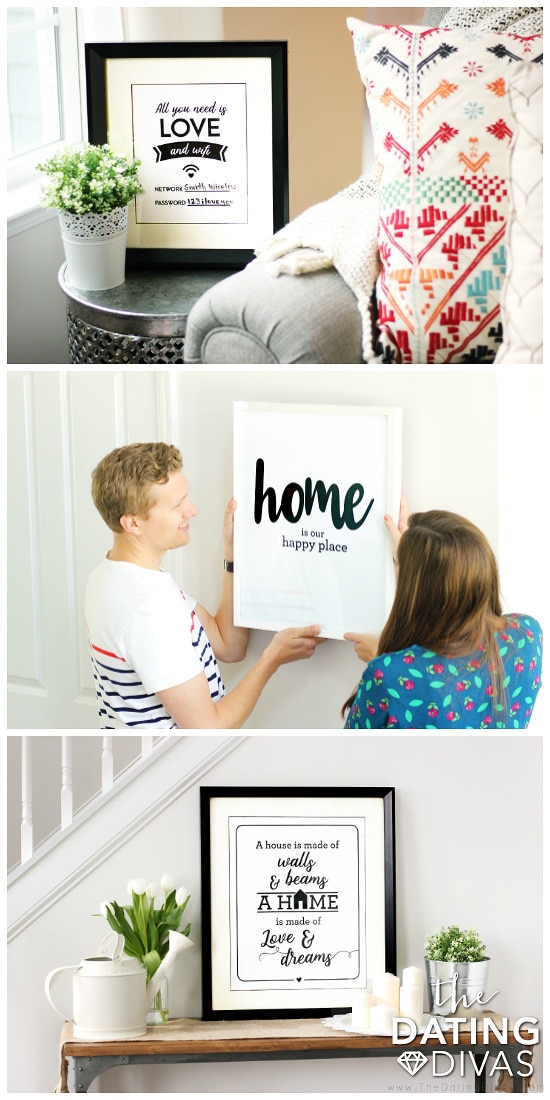 Printable Wall Art for the Kitchen
The kitchen should feel like a happy place (food=happy!!). The kitchen prints in this pack have practical AND useful designs to make meal planning, cooking and baking easier, and add a little fun. I am so excited to have this measurement conversion print in my cupboard, seriously so helpful when doubling or halving a recipe!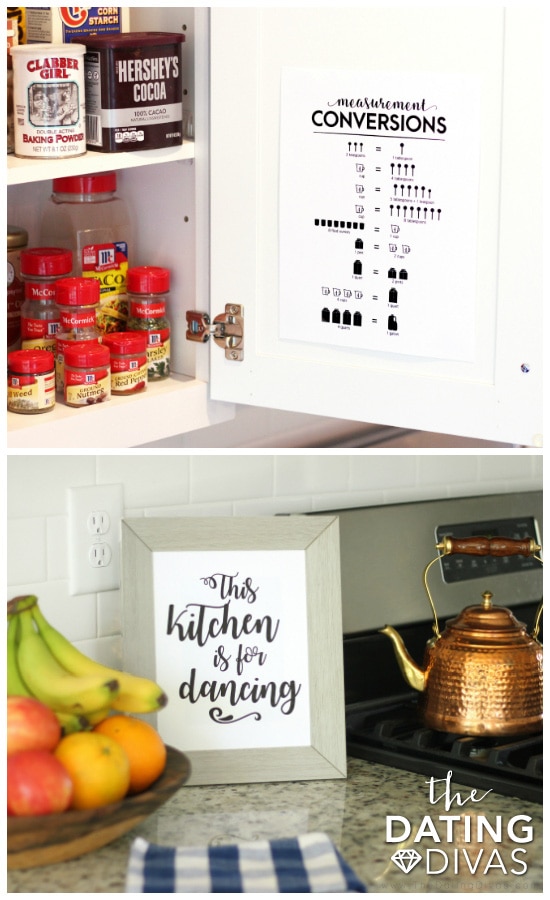 Plan out your weekly meals in style with the cute menu print! Just write your daily dishes with dry erase marker, and you can use it over and over again.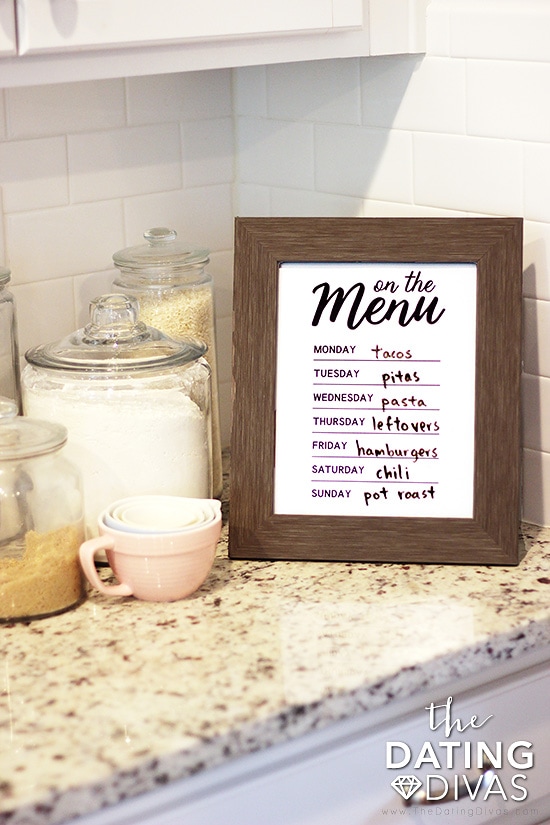 Printable Wall Art for the Master Bedroom
Make your master bedroom a place where you can feel the love! So much of the house is invaded by guests and kids, but this can be your sanctuary away from it all. Use the master bedroom prints to create a peaceful and romantic space for the two of you!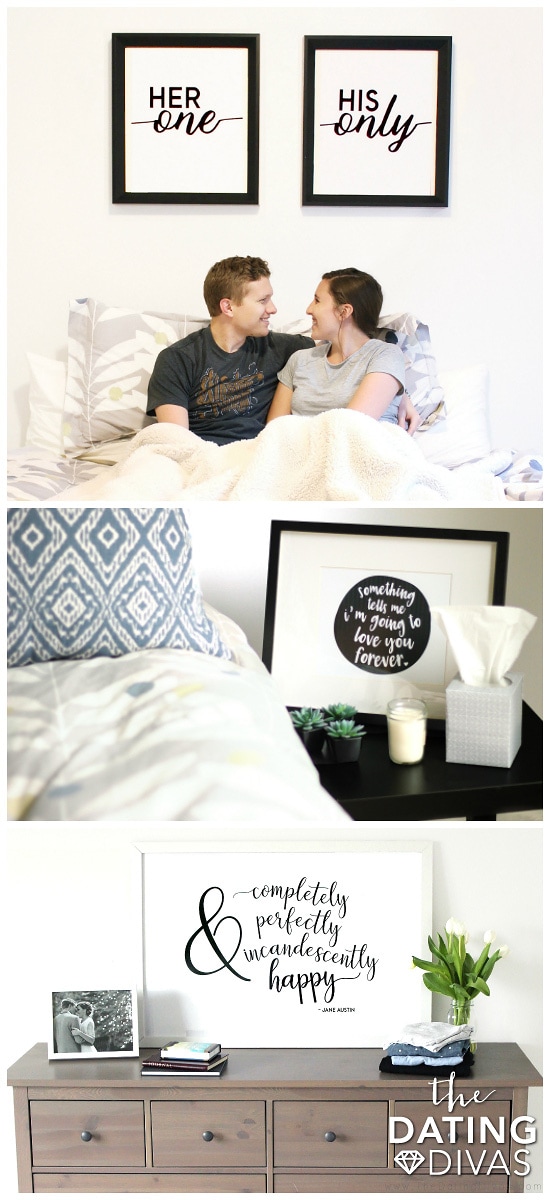 There you go! Spruce up the pad with these fun and elegant prints, and do it without blowing the budget! Your home will be a place everyone wants to come and spend time.
Buy the
Home Printable Wall Art Kit
for just $9.97!
(That's less than 50 cents a print! Woah!!!)



Looking for more ways to spruce up your master bedroom? Read about How Your Nightstand Can Help Your Marriage!
Add our Conversation Cards to your nightstand (next to one of the master bedroom prints!) to get you started on some pillow talk. Getting to know each other a little deeper is the perfect way to end the night with your sweetie!