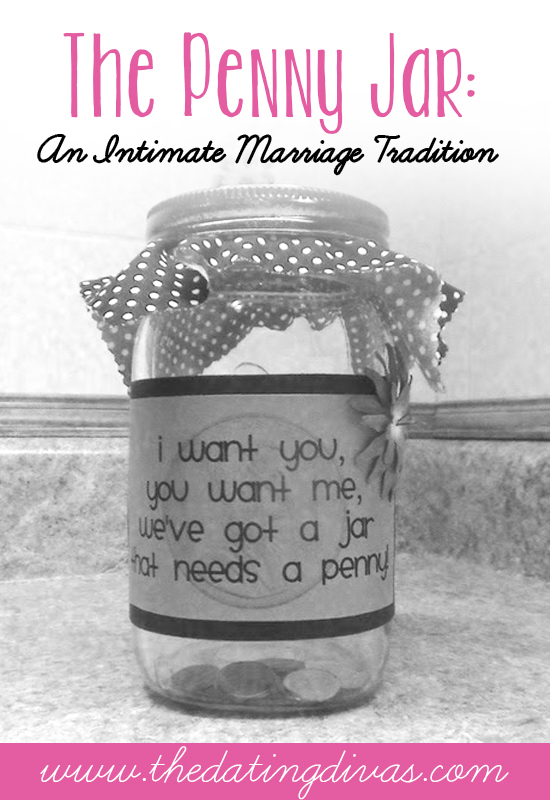 One of our readers, Mindi, sent in a super cute idea that we thought we should pass along! I will let her take over: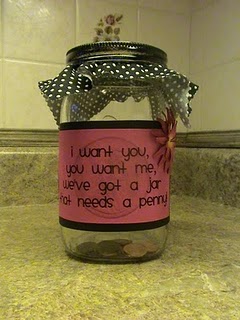 "I had a friend tell me something fun they did and I adapted it a little to be fun for me and my husband. It's a penny jar. Every time you "have-a-little-fun-in-the-bedroom", you put a penny in your jar. We started it with the new year and our goal is to top the number next year."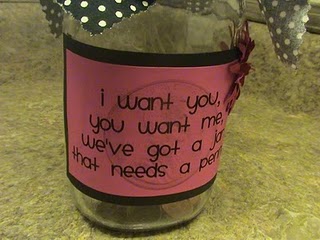 "There's all kinds of variations, though. If you want to put a quarter or even a dollar in you could use that money towards renting a movie or a date. Newlyweds could start it and have it going forever to see how many "it's" happened during your marriage. But, you could of course start it any time."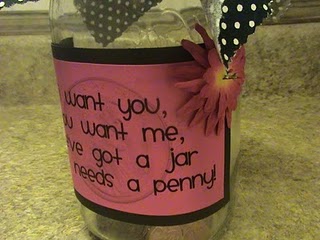 "It's also a good code name. i.e. "I want to put a penny in our jar. Should we put the kids to bed?" And no one would know what you were talking about! It was a pretty simple project to do and even my husband loves the idea! The project of making the jar itself was, as I said, pretty simple. Just print out the saying on paper, glue it on to some other paper, cut out some ribbon and glue it on, get a flower or something and glue it on, cut out some fabric also cutting a hole in the middle for the penny slot, and twist the lid on!" – Mindi
What a great idea, huh! Her "code" cracks me up! Thanks again, Mindi for sharing your "Penny Idea"!