Sexy Easter Bunny date night
After all of the Easter egg dyeing, deviled egg making, and family Easter photos, you might be in desperate need of an intimate date night with your sweetie! If you're looking to extend the Easter fun and hippity-hop all the way to the bedroom, you're in luck! We have created a fun and intimate Sexy Easter Bunny Date Night for you and your spouse to enjoy together!
So grab your spouse, and let's get going, because some bunny is bound to have the best Easter ever!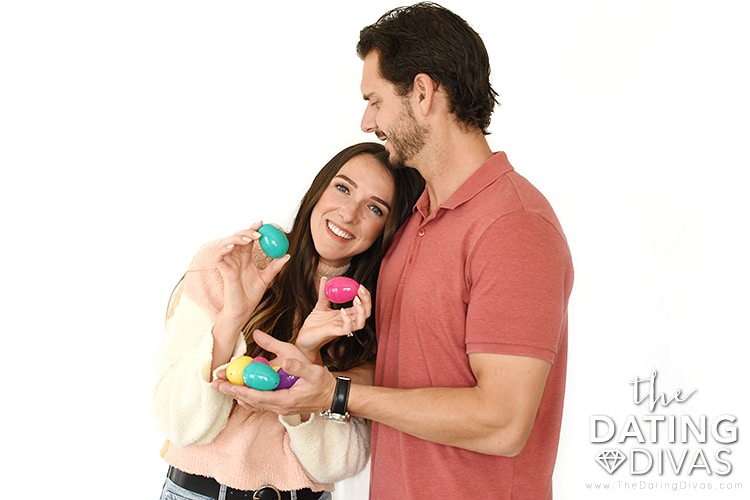 Disclaimer: This post contains affiliate links. To learn more about 'em, click here.
What You Will need for the sexy easter bunny date
In order to set yourself up for success with this egg-cellent Easter Bunny date idea, there are a few items you'll want to round up before you get started!
Here's what you will need:
Your FREE Sexy Easter Bunny Printables (linked below 😉)
Jellybeans (These Starburst ones are always a hit!)
Chocolates (You can never go wrong with these!)
Your smart phone (For some intimate Easter Bunny pictures)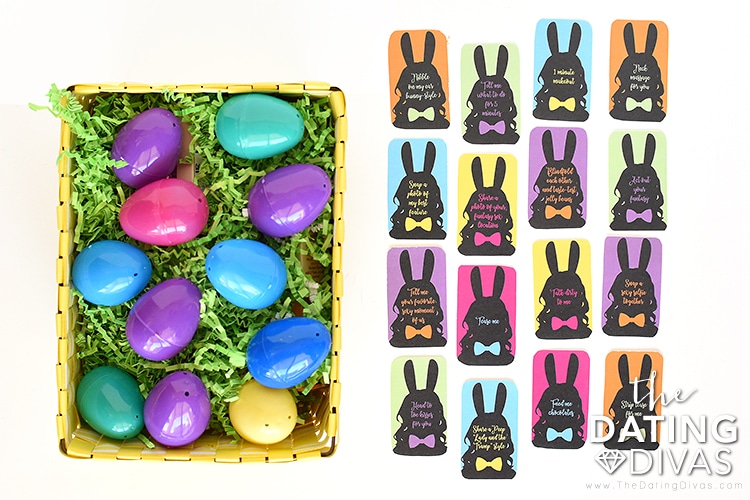 You could even snag a few of these jumbo Easter eggs and fill them with some of the "props" you might need to go along with some of the prompts, such as peeps or chocolates!
Or, if you're feeling exceptionally egg-cited for this date idea, you could even dress the part! These bunny accessories would be SO fun, and they would look extra amazing paired with some pink lingerie.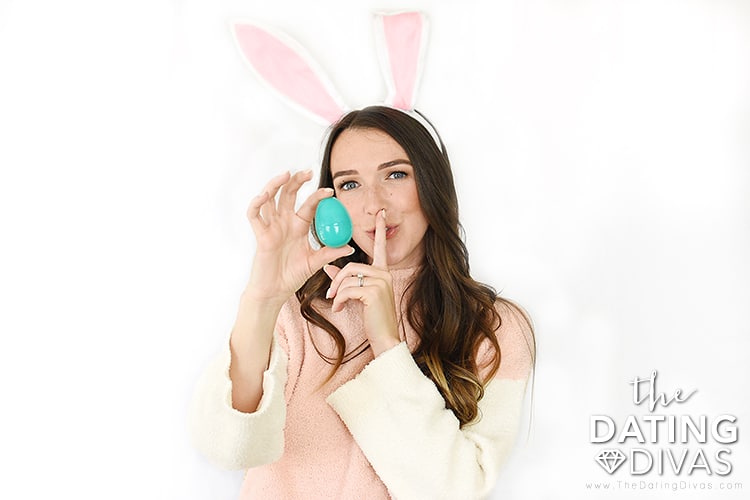 prepping the sexy Easter egg hunt
Let's go over how to prep this super sexy Easter egg hunt! First, you'll print all of the printables onto good-quality card stock, and cut them out! We have included a fun and sassy invitation as well as a bunch of intimate prompts for you. Seriously, how AMAZING are the little sexy Easter Bunny pictures?!
Then, you'll want to take each sexy Easter Bunny prompt and stuff them into the Easter eggs you will be using. Before you begin your Easter egg hunt, you can hide them around your home! You can choose to keep things just in your bedroom, or get a little adventurous by placing the eggs all around your house! Just make sure they don't fall into the hands of any little ones you might have in your home! 😉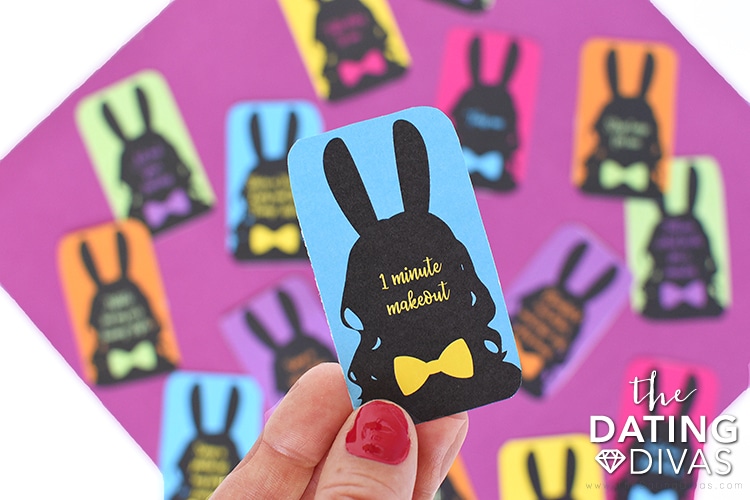 Sexy Easter Bunny Invitation
Of course we HAD to include a sassy "Hop Stuff" invitation for you to slip to your sweetie! You can leave this somewhere for them to find to let them know what's in store for later. They even have the ability to fill in the RSVP response and return it to you before the fun begins! Your spouse will be dye-ing to join this date night with you!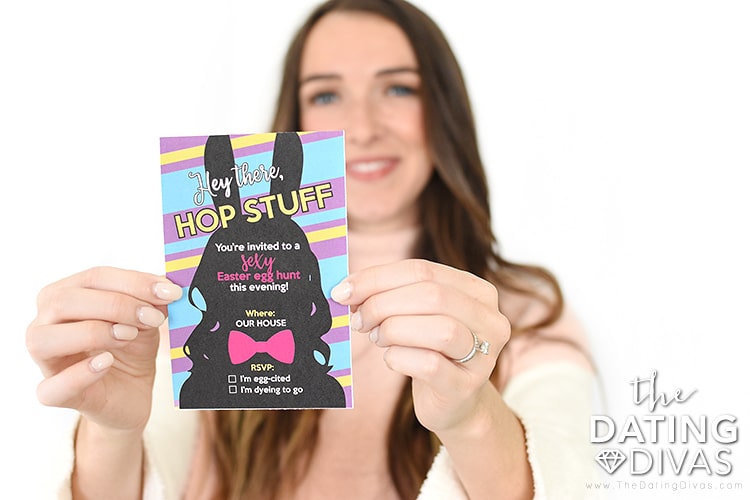 Sexy Easter Egg Hunt
So, are you two ready to get cracking on this sexy Easter egg hunt?! Here's how it works:
You and your spouse will set a time limit where you will both go on a hunt for the hidden Easter eggs! Collect as many sexy Easter eggs as you can find, and store them in your baskets. Once you have found all of the hidden eggs or have reached the time limit, you both will take your baskets to the bedroom! Once there, you will take turns opening up the Easter eggs and completing the given intimate prompts.
…And they lived hoppily ever after 😉.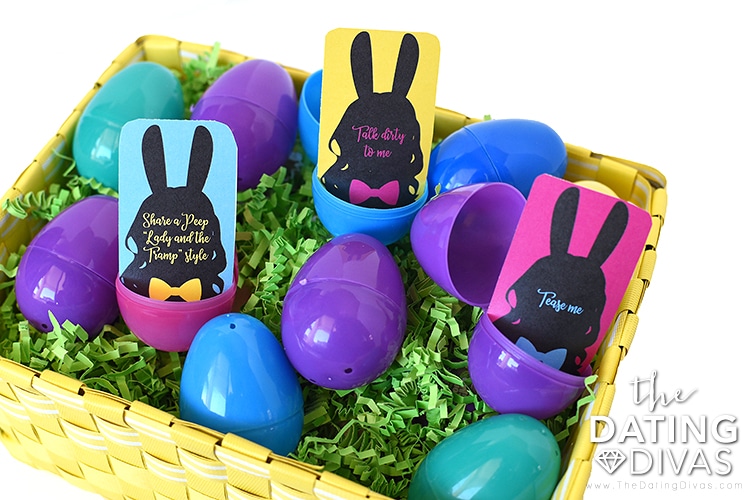 This is such a great way to get you out of your shell, isn't it?!
If you're looking for more Easter egg ideas, this glow-in-the-dark Easter egg hunt will be sure to light up the night! Or, if you want some super cute props to go with your bunny outfit, these Easter photo booth printables would make for perfect (adults-only) Easter photos!
Sexy Easter Bunny Date
Printables Designed by Lucette Campbell Exclusively for The Dating Divas