Simple Packing List Ideas and Tips
Packing for a trip stresses me out! My husband always says that if we forget something we can buy it when we get there but he clearly doesn't understand that I have favorites that I can't just grab anywhere. So to help YOU out, the Divas have collected our favorite things to bring with us on trips, the ones we'd really hate to leave at home, and we're just in time for Spring Break!! Check out our travel essentials to help you plan and pack for wherever (and however) your next adventure happens.

Disclaimer: This post contains affiliate links. To learn more about 'em, click here.
10 Luggage and Organizational Essentials
15 Travel Essentials for Your Carry-on
15 Travel Essentials for Warm Weather
15 Travel Essentials for Cold Weather
15 Travel Essentials for Entertaining the Kids
10 Luggage Essentials
Keeping yourself sane during Spring Break is so much easier with these bags and organizational ideas. Save these ideas on your traveling board on Pinterest!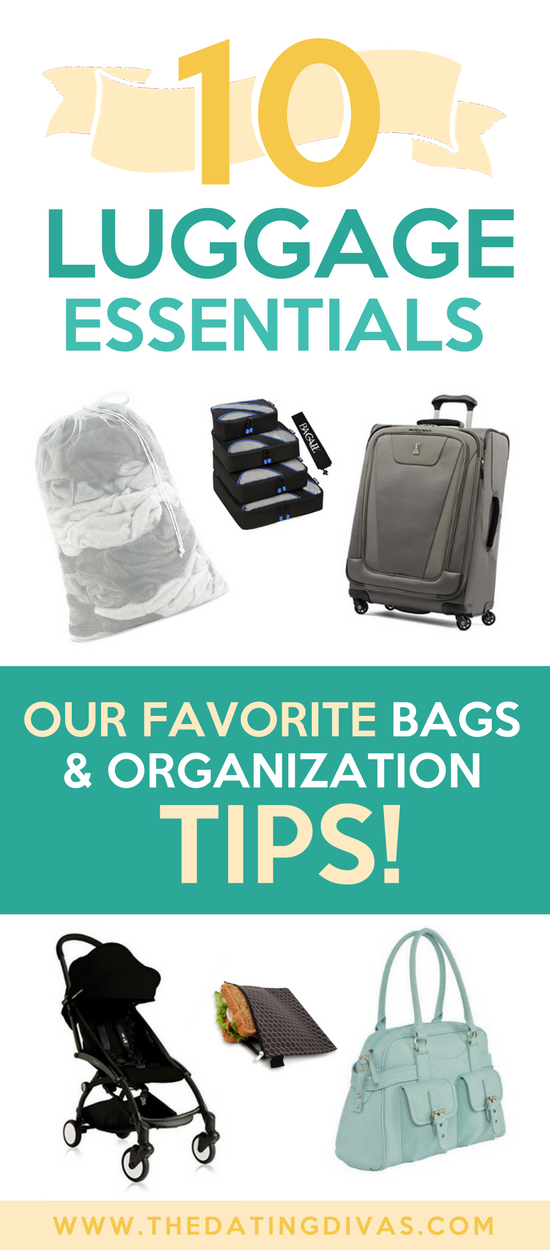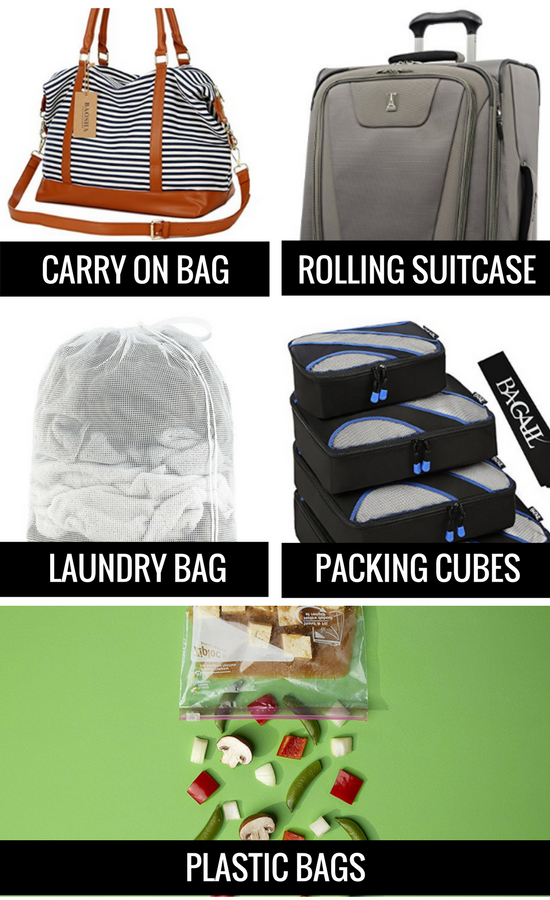 1. Carry On Bag – Cute enough to take out for the day and big enough to hold it all.
2. Rolling Suitcase – These are a favorite amongst flight crews for a reason, we've traveled all over the place and ours have been thrown around like crazy, they still look great!
3. Laundry Bag – Ideally, one for each person but even one is super useful to make sure everyone knows where dirty clothes go while on your trip.
4. Packing Cubes – Pack more in smaller spaces and keep it all organized, the type-A Divas (ahem… that's most of us) LOVE this idea!
5. Plastic Bags – Use simple (and cost-effective) gallon storage bags to organize outfits for kiddos so that when you're getting ready in the morning they can do more for themselves. Bonus if you include all the accessories like headbands and socks. For the littlest ones, it's helpful to pack two sets of clothes where the bottoms and tops each match each other, you can dress the baby in the morning and just stash the other contents of the bag in the car or a diaper bag for the inevitable messes!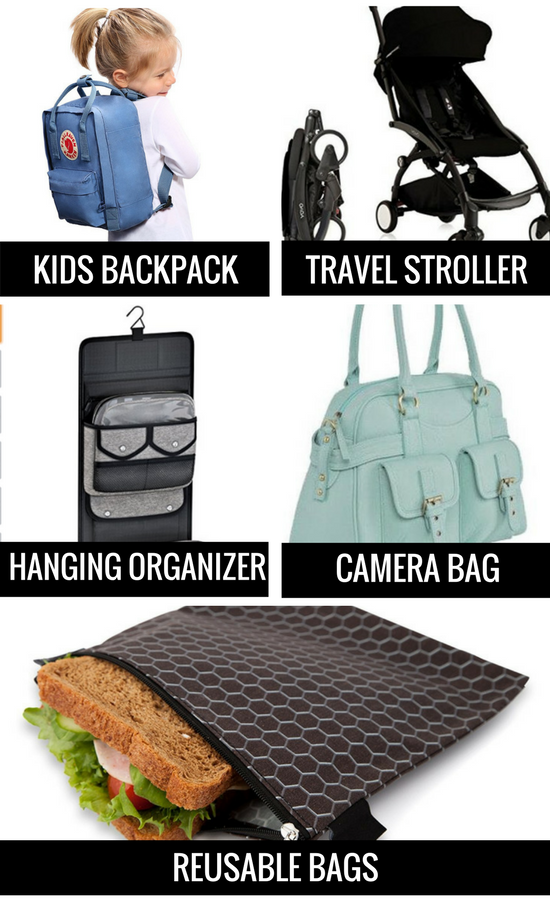 6. Kids Backpack – These cute backpacks come in all kinds of colors, so you can give each kiddo their own bag to keep track of, including snacks, toys or books.
7. Travel Stroller – It looks like a luxury stroller but packs up like an umbrella stroller and fits in the overhead bin of most airplanes!
8. Hanging Organizer – Having a hanging bag saves SO much space when you're living out of hotels or sharing bathrooms!
9. Camera Bag – Carry around your camera to make sure you're taking pictures and keeping track of all your memories.
10. Reusable Bags – When you grab a bag of goldfish and everyone wants some, these bags will be your lifesavers!
15 Travel Essentials for Your Carry-on
Get ready for lift-off, these airplane and airport necessities will make traveling a breeze.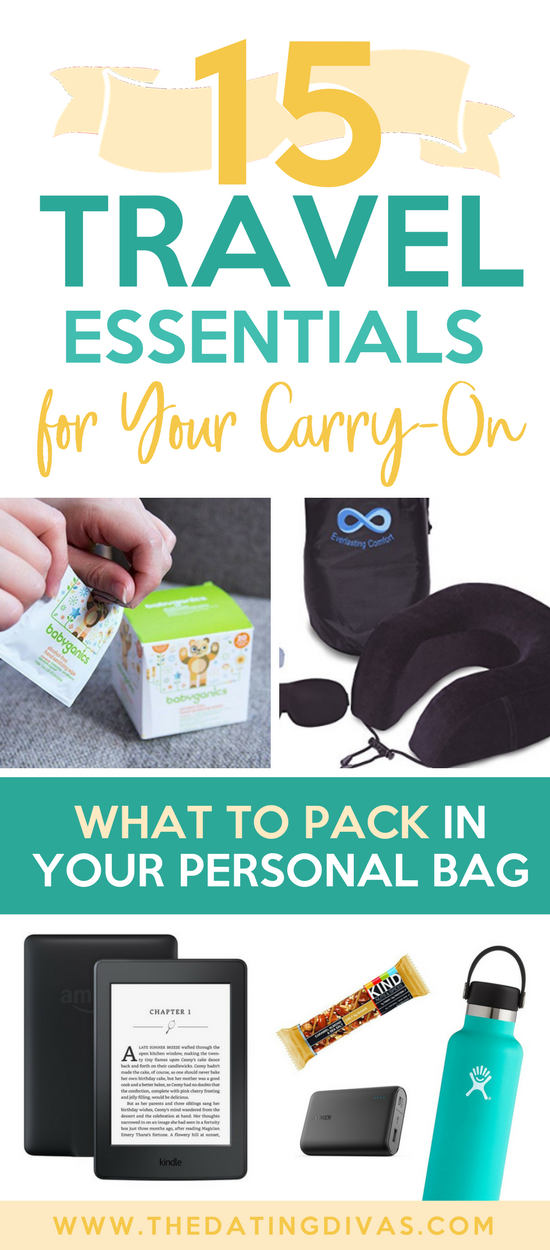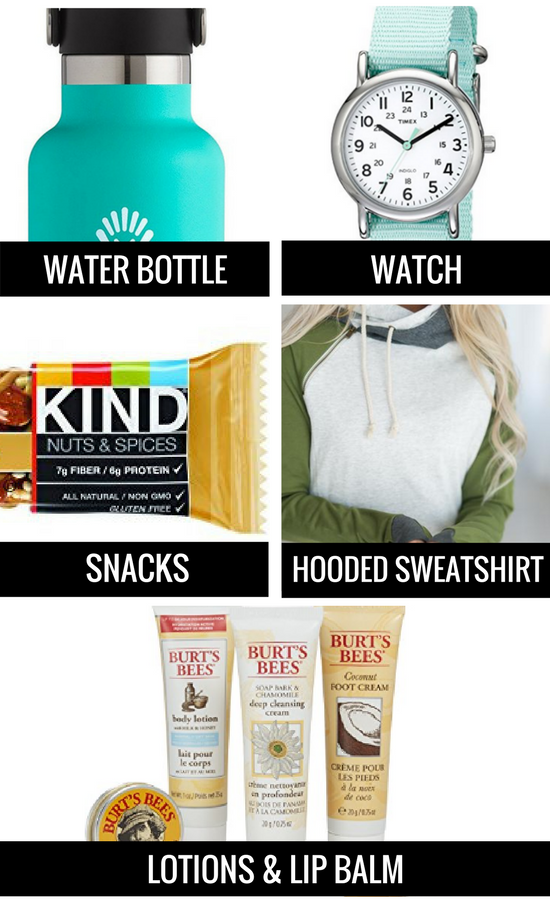 11. Water Bottle – Leak-proof, fun colors that keep your water cold for a crazy amount of time. Forgo $3.00 bottled water!
12. Watch – Somehow the cell phone clock never seems to be enough when you've got somewhere to be.
13. Snacks – Airport food is SO expensive. We love that these bars have ingredients you can pronounce AND they taste delicious.
14. Hooded Sweatshirt – Because you never know how chilly the plane or airport is going to be!
15. Lotions & Lip Balm – Airplane air can be so dry and it takes your skin some time to adjust to new environments. Totally essential.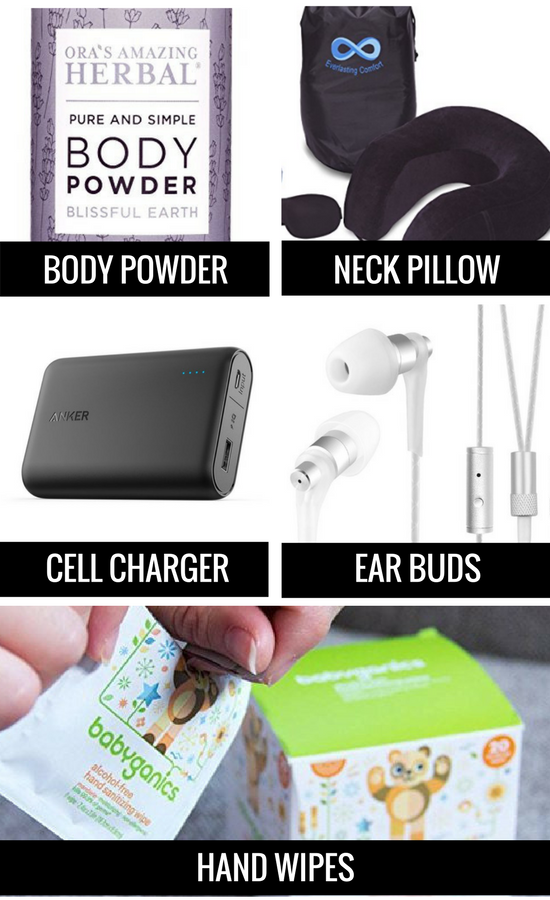 16. Body Powder – Because travel makes you grimy and even stinky, freshen up in just a few seconds before reaching your destination.
17. Neck Pillow – Alright, alright, it's NOT exactly essential but for long flights or extra long car trips, this can be such a neck-saver! If you're not bringing a pillow, try some ibuprofen instead, you'll probably need it!
18. Cell Charger – So you never have to sit next to a wall (or floor) outlet in a grungy back hallway again.
19. Ear Buds – Because obviously, you're going to need a little theme music for the perfect vacation.
20. Wipes – Ideal for families but everyone can benefit from a bit of cleansing in airports or truck stop bathrooms.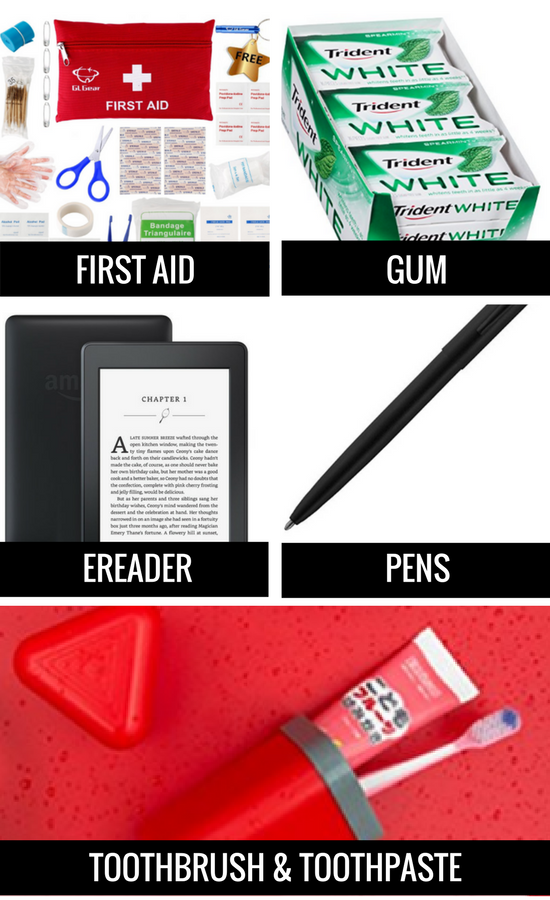 21. First Aid Kit – If you think this mini version is still a little excessive, at least grab a few bandages!
22. Gum – Ya know, for the ear popping – we suggest the individual bubble packed, hard-shelled kind so it doesn't get smushed and make a mess.
23. eReader – Catch up on the latest novel from your favorite author and then grab the next one too, so much easier to carry around than a bunch of books.
24. Pens – A pen that will always, always work and you never know when you might need to fill out a form or sign something – always good to have handy!
25. Toothbrush & Toothpaste – When your bags get lost, you're going to want to have the option to freshen your breath.
15 Travel Essentials for Warm Weather
Sandy beaches and higher temps are in your future and these are the best things to pack in your bag.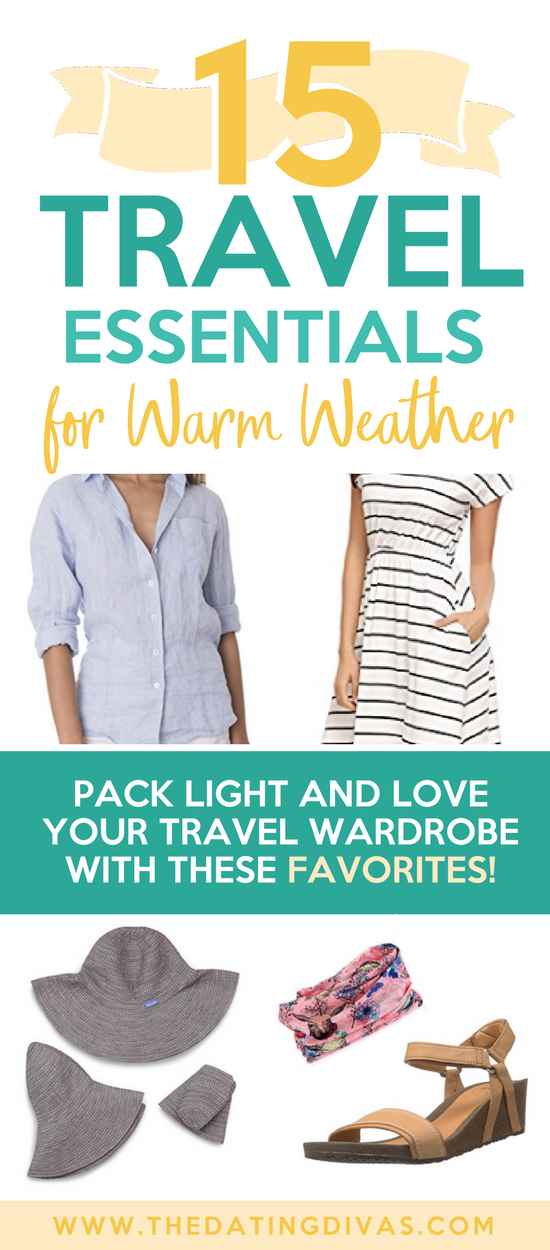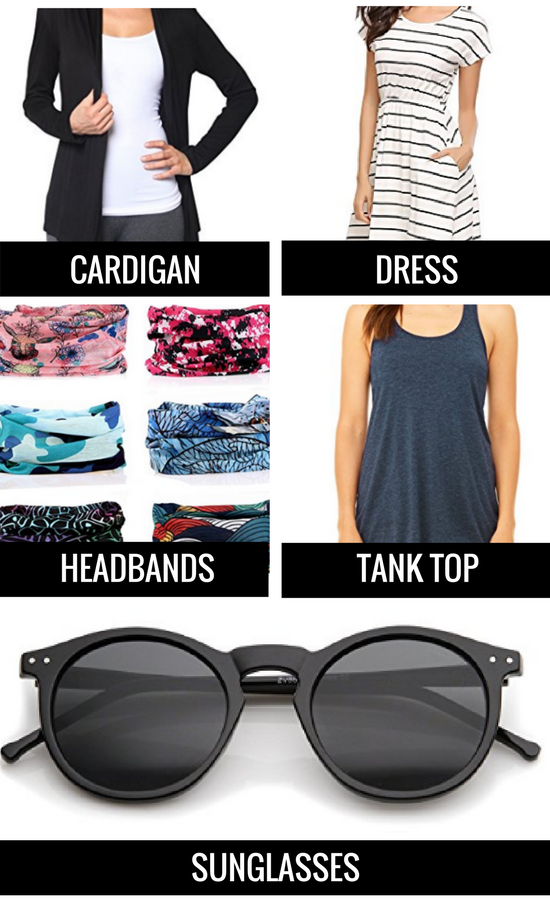 26. Cardigan – You never know when that cool breeze might sweep in, so be prepared with a cardigan that dresses up or down.
27. Dress – Dress it up or dress it down, you'll win either way and a huge bonus for travel, this dress has pockets!!
28. Headbands – Use it for literally everything. Dry your hands, clean your gear, wipe your sweat during a workout or keep the hair out of your face.
29. Tank Top – Long, soft and cute enough to wear alone, these tanks are the ultimate essential. We suggest grabbing multiple colors for all kinds of layering!
30. Sunglasses – Style and function meet with a cute pair of shades.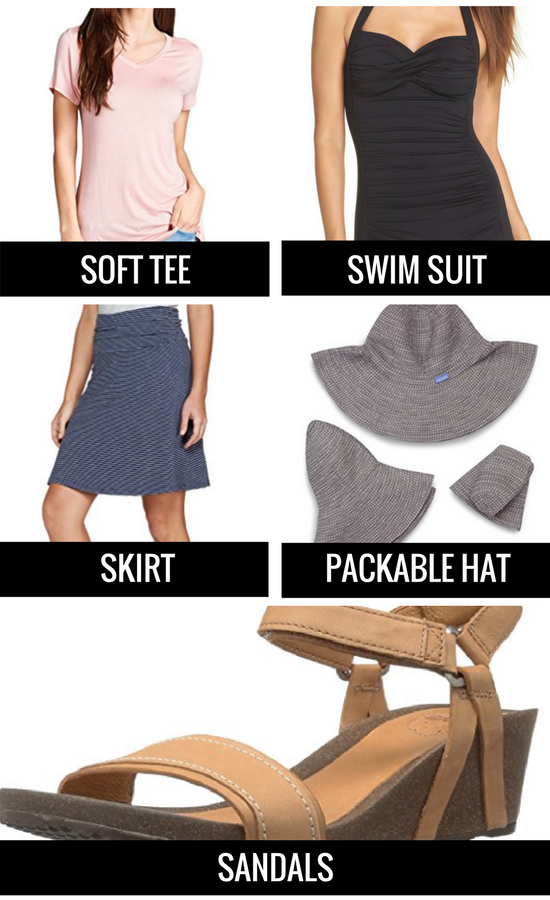 31. Soft Tee – Another layering essential, we recommend choosing a fabric with a slight pattern to hide stains.
32. Swimsuit – An all-time favorite for looking cute and being able to work hard. This suit fits the bill for higher intensity activities as well as lounging at the beach.
33. Skirt – For really, really warm days, skirts are an absolute must.
34. Packable Hat – Keep the sun off without taking up all your luggage space.
35. Sandals – Comfy enough to wear around all day and cute with a little wedge to make them work with a dress.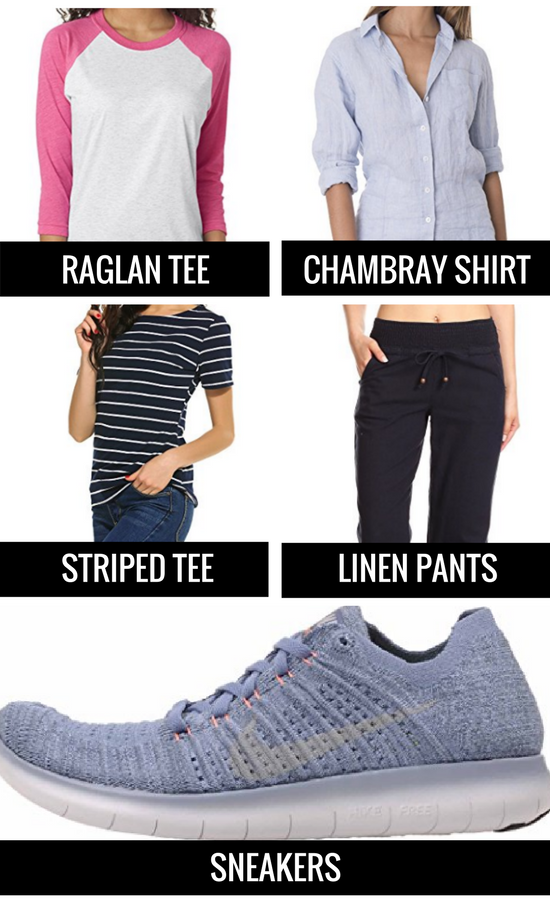 36. Raglan Tee – Perfect to wear to bed, on a casual day out or throw it on over a tank top at the beach. The Divas love these shirts so much we all having matching versions!
37. Chambray Shirt – Throw it on over a swimsuit or add it as an extra layer when things cool off a bit at night.
38. Striped Tee – Add a little bit of style to a simple wardrobe, that still goes with just about everything.
39. Linen Pants – Light and breezy pants that will keep you covered and cool in warmer climates.
40. Sneakers – An athletic shoe that can be worn without socks and still looks nice enough to wear in public. Also, they are the most cushiony and wonderful for long walks… your feet will thank you.
15 Travel Essentials for Cold Weather
Braving the chilliest climates? This packing list is built just for you with all our favorite cozy ideas.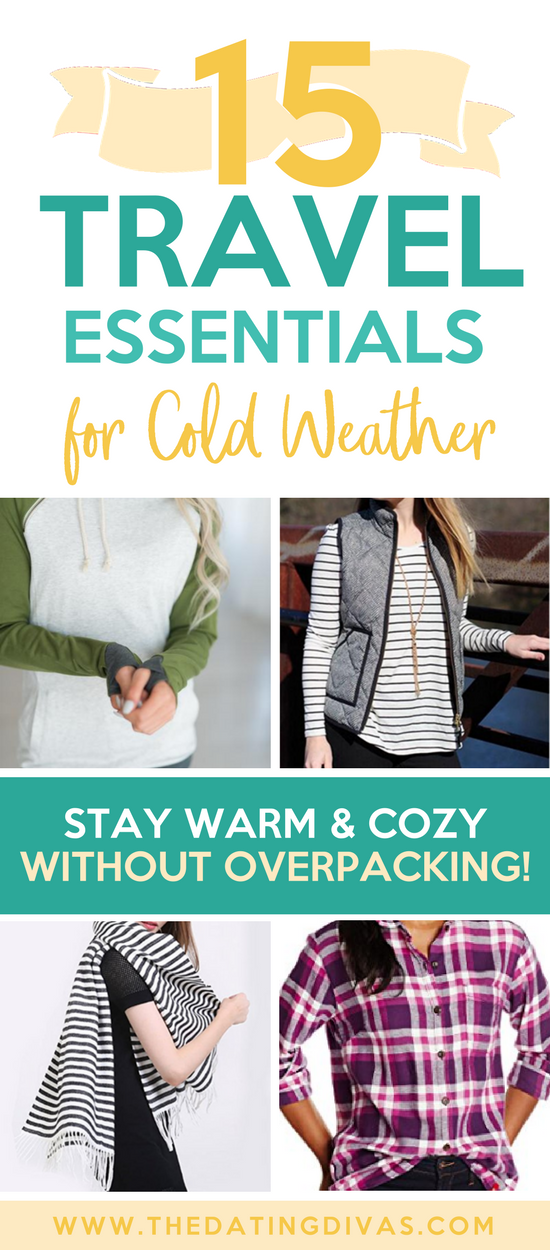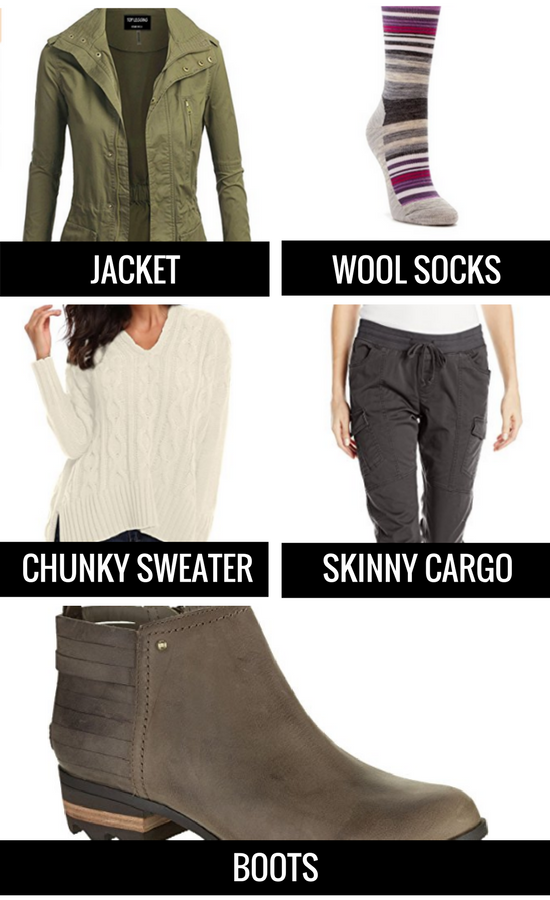 41. Jacket – A versatile jacket that holds up to just about any situation.
42. Wool Socks – Keep those toes extra warm with wool, plus if you need to wash them in the sink to wear again, they dry fast!
43. Chunky Sweater – Wear it on its own or layer it to keep extra warm!
44. Skinny Cargo Pants – Cute enough to wear around the city but comfy enough to wear on a hiking trail!
45. Boots – The closest you're ever going to get to functional and stylish.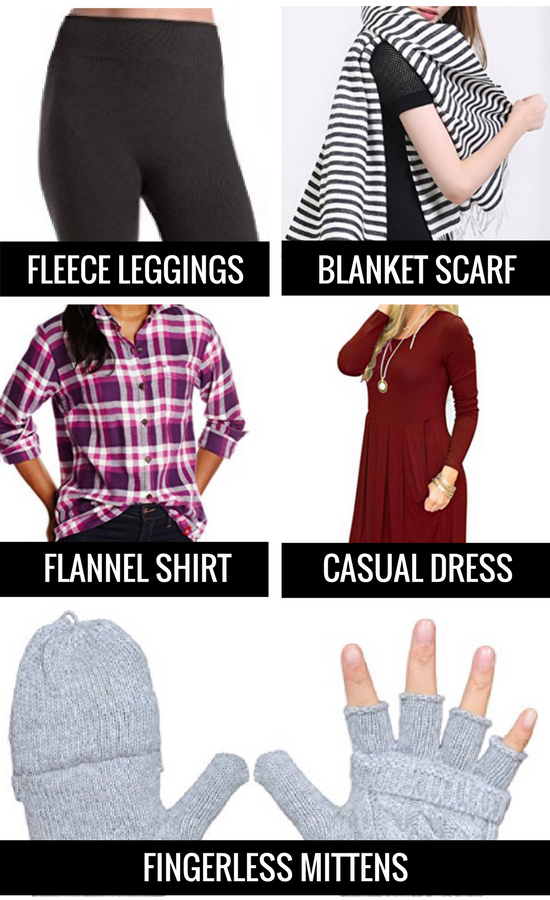 46. Fleece Leggings – Keep warm wearing these like long underwear under snow pants or a long dress or use them as PJs.
47. Blanket Scarf – Multi-purpose at it's finest! Blanket scarves and warm and versatile.
48. Flannel Shirt – The ultimate in cozy and perfect for layering, too.
49. Casual Dress – An everyday dress that's easy to pack and easy to wear.
50. Fingerless Mittens – Perfectly adorable and perfectly practical when you need to use your phone to snap a picture or figure out where you are.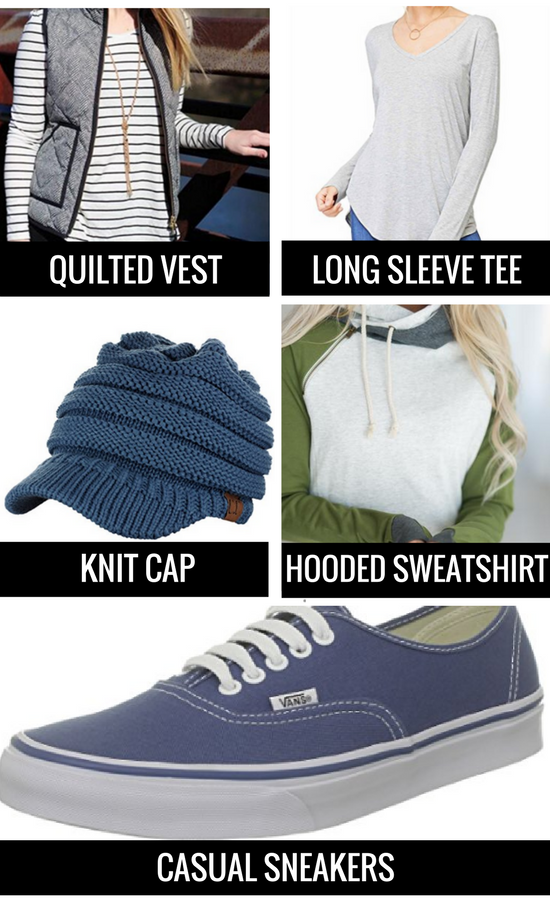 51. Quilted Vest – Keep a vest handy for a little extra warmth that's easy to remove if the day warms up.
52. Long Sleeve Tee – A wardrobe and travel essential for sure, a couple long sleeve tees make getting ready simple.
53. Knit Cap – The perfect winter hat – cozy, cute and completely functional. We love the pull through ponytail hole and the brim to keep active precipitation at bay!
54. Hooded Sweatshirt – Yeah, we're talking about this double-hooded sweatshirt again… it's a Diva favorite – just ask Tara how many she has 😉 – you're going to want to cozy up in this guy.
55. Casual Sneakers – Your basic walking shoe when you want to be a tourist but don't want to look toooo much like one.
15 Travel Essentials for Entertaining the Kids
Whether you're flying, driving or even just sitting around the house, these activities will keep kids of all ages busy and (mostly) quiet.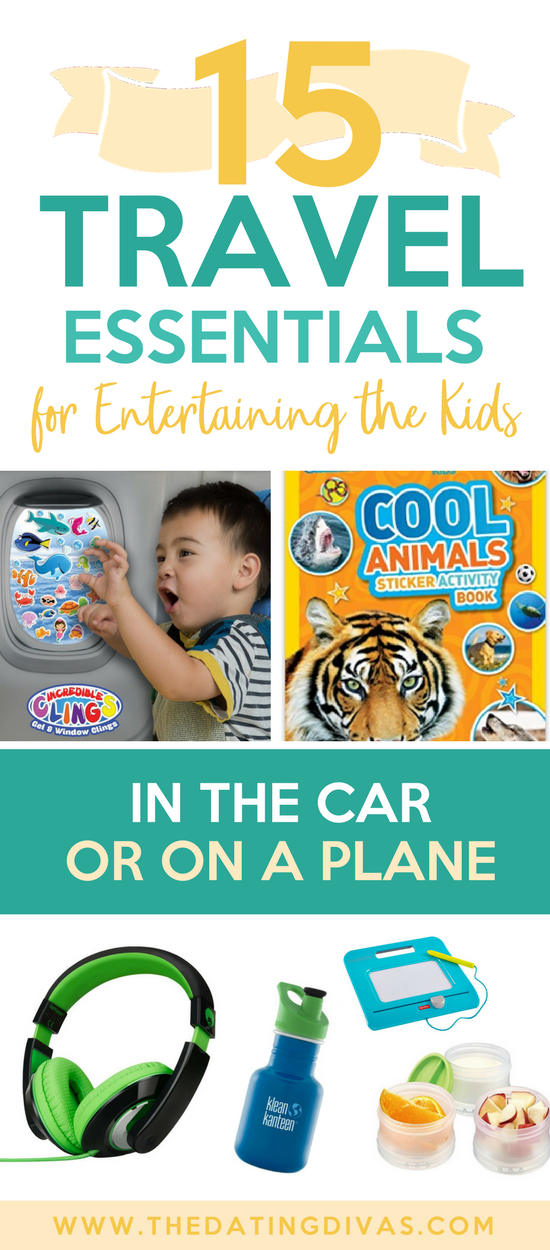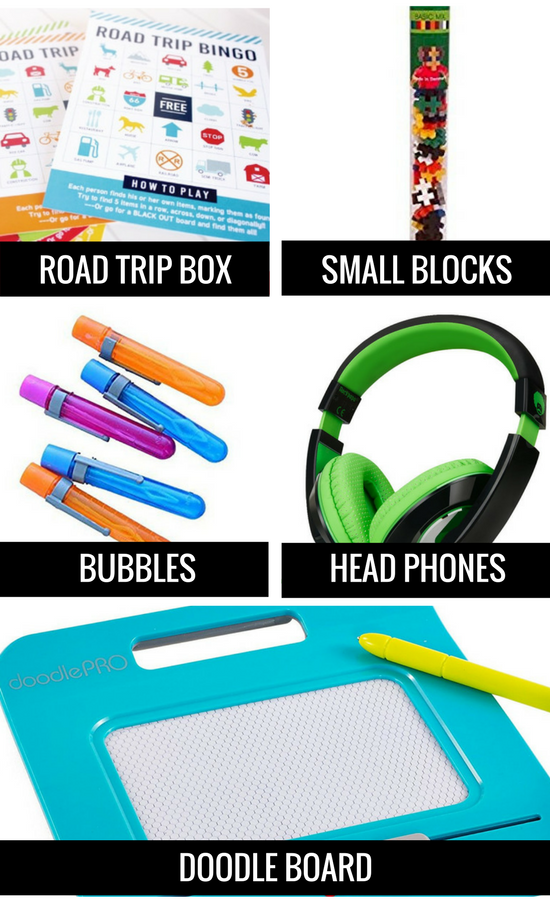 56. Road Trip Box – An entire pack of fun ideas and entertainment.
57. Small Blocks – These tiny blocks don't take up much room but they'll provide tons of entertainment.
58. Bubbles – Fun and simple idea for car trips (skip this one for plane rides!).
59. Headphones – Don't let plane or road noise get in the way of music or movies.
60. Doodle Board – Endless drawing so they never run out of paper or crayons.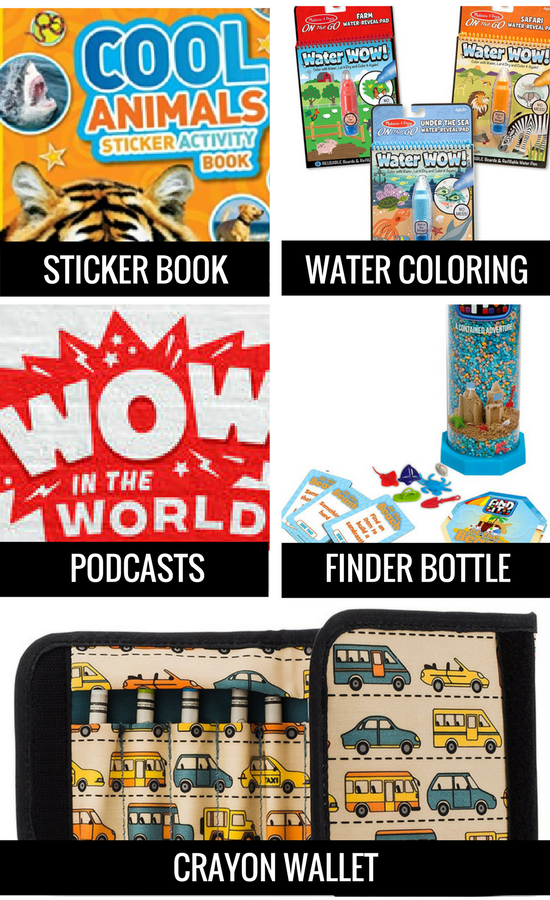 61. Sticker Book – These books are chock-full of educational and FUN ideas to keep the kids engrossed.
62. Water Coloring – Just add water and the fun with these never ends. They're a mess-free toddler toy!
63. Podcasts – Wow in the World is a fun podcast for families and it's especially perfect for those who are interested in traveling the world. Download a few episodes before your next trip.
64. Finder Bottle – Great for toddlers who have trouble playing on their own, these hidden object games are interactive and fun
65. Crayon Wallet – When they just have to have a few colors to make the perfect picture.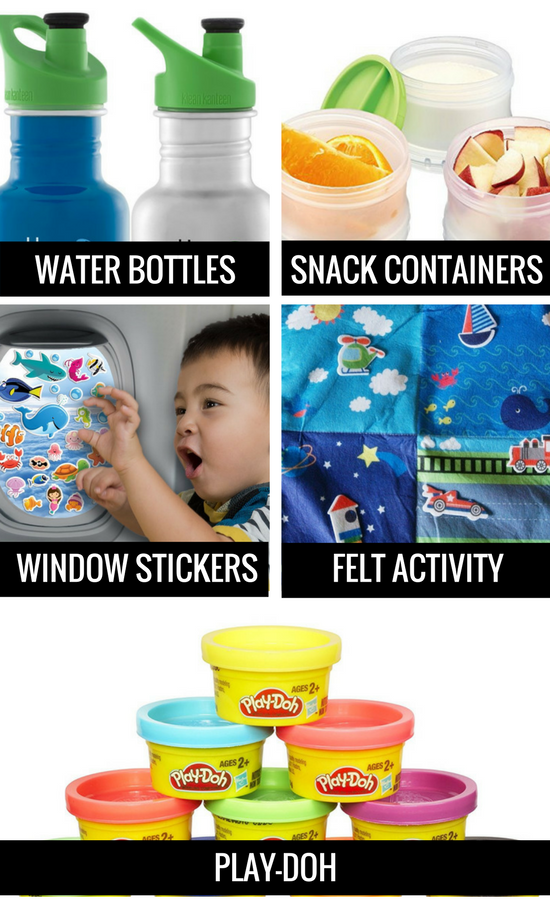 66. Water Bottles – Pretty colors, easy to clean and no gross water fountains, win and win! Plus, there's even a sippy cup version for the toddlers.
67. Snack Containers – Start using them with infant formula and then switch over to snacks. We love that each container has it's own separate lid so the cups work great stacked together OR split apart!
68. Window Stickers – Keep the little one busy with an activity right on the window.
69. Felt Activity – Simple, quiet fun that's even transportation-themed!
70. Play-Doh – Just a few colors in mini tubs will provide long silences as the kids entertain themselves on your next trip.
10 Essential Travel Tips from the Divas
We've got some tried and true ideas to help keep your vacation on track to be the best one yet!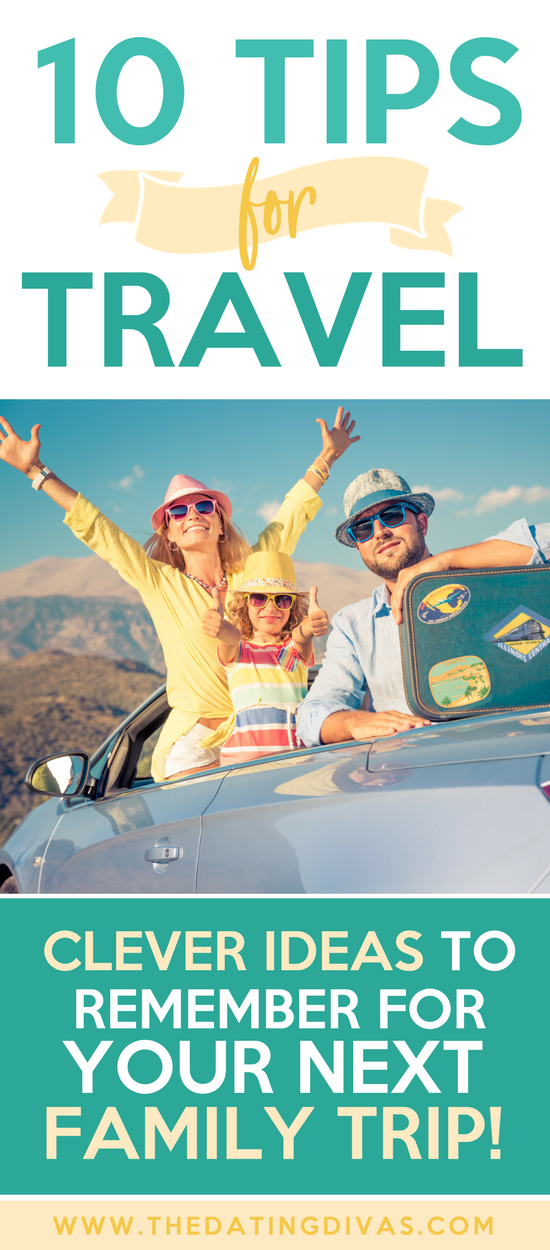 71. In-Flight Water – Bring that water bottle through security empty and then pass it to the flight attendant and ask them to fill it up for you. Fresh, germ-free water!
72. Cash – Always have some paper money on hand before your trip even starts. It's a good idea for each adult to have some.
73. Layers – Once you leave the house or hotel, be prepared for any eventuality by wearing layers, even if you think it's going to be hot!
74. Bulk Up – If you're traveling on a plane, wear bulkier items like boots, instead of packing them.
75. Camera Accessories – For near-perfect group photos, grab a cheap button remote and tripod and you'll love capturing the memories.
76. Quarter Roll – Bring some change to do laundry in case you've got a messier trip than you anticipated, you can almost always find a laundromat. Another option is to bring a small amount of laundry detergent and be prepared to wash clothes in the sink or tub.
77. Snacks – Nothing ruins a trip quite like a large appetite. Have non-perishable snacks handy in your bag or car at all times.
78. Locals – Get friendly with people from the area, just start by saying "Hi." Then, you can ask for tips about the area—the best restaurants, times to visit tourist attractions, even background info!
79. Plan Nothing – It can be tempting to make the most of your time in a place by staying busy every minute of every day, but don't be afraid to plan some time to relax too, it IS vacation after all.
80. Vacation Bucket List – To make sure everyone feels like they got the vacation they've been dreaming of, have each person choose one thing that they most want to do and create a family (or couple) bucket list specifically for that trip. Do everything you can to cross off each of those items.
Well, now you're ready with everything you need for the best Spring Break, yet! Don't forget these great ideas, save it on your Pinterest board!
Want more tips to make Spring Break (or ANY trip) absolutely perfect? Check out these 75 Spring Break Tips and if you're headed to 'The Most Magical Place on Earth' then you're gonna wanna browse these 75 Disney Tips & Tricks plus you'll find everything you need in our Disney Printable Pack.
SaveSave