Easy Homemade Ice Cream Recipe
I scream, you scream, we all scream for ICE CREAM! Get ready for a super cool date with your sweetheart. This fabulous homemade ice cream date is packed with super sweet eats and treats – just in time for summer. We've not only included an easy homemade ice cream recipe, but we've also added in fun games, activities, and extras! Yes, indeed, you'll never wonder how to make homemade ice cream ever again. Ready to check out all of the dreamy, creamy ice cream date goodness? Let's go!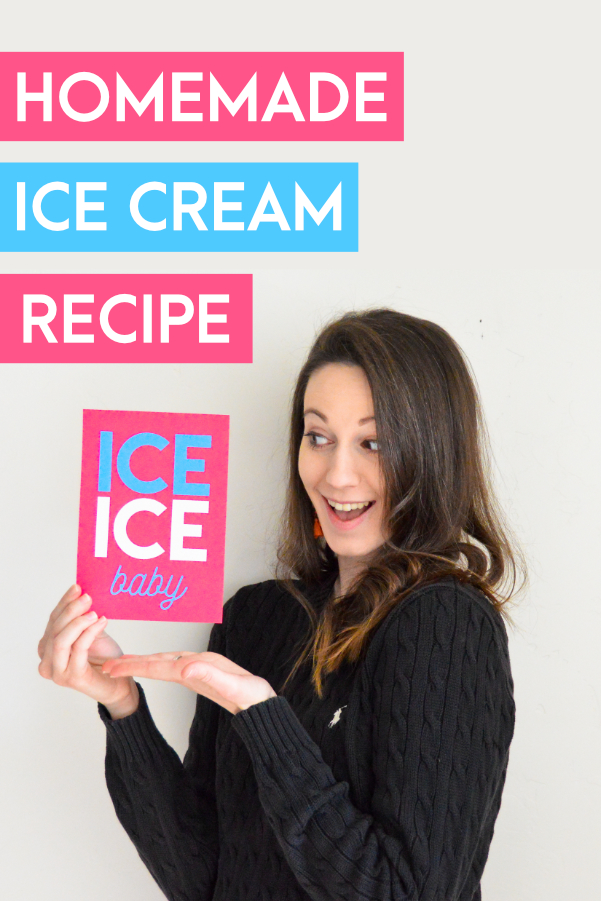 Disclaimer: This post contains affiliate links. To learn more about 'em, click here.
Before we answer your question of, "How do you make homemade ice cream?" we HAVE to give a designer shoutout to Diva Elizabeth. She helped make these ice cream date ideas a reality with her gorgeous designs!
What's Included in Your Printable Download?
Your own Homemade Ice Cream Recipe & Date ideas are super easy to assemble and even more fun to use! Yes, indeed, you may never want to purchase store-bought ice cream again. Take a look at the included items below, and keep reading through the post for a more detailed description of how to use each of them:
Easy Homemade Ice Cream Text Invite
How to Make Homemade Ice Cream Recipe
Ice Cream Rating Card
Pin the Cherry Game
Ice Ice Baby Printable Sign
Ice Cream Date Invite
We're all about easy over here, and that's why we've included a unique textable invite! This digital invitation will get your sweetie SO excited for your date. The best part of all? It requires absolutely NO printing or prep! Simply download the image and text it to your sweetheart. Easy, breezy, beautiful. We've also included a fun printable sign to display before your date begins!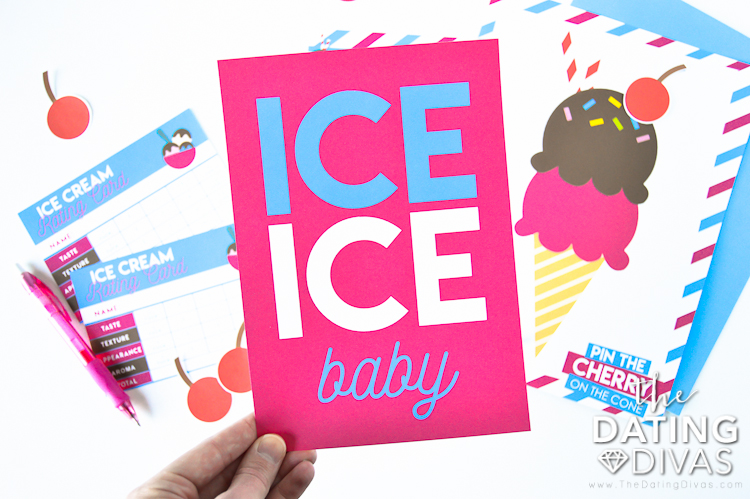 How to Make Homemade Ice Cream Recipe
You're probably wondering, "How do you make homemade ice cream? It must be so complicated!" Well, we've got some great news. It's easier than you ever thought possible! We promise this easy homemade ice cream recipe is soon to become a new fave. It only requires a few simple ingredients a couple of baggies. Before you know it, you'll be churning out your very own homemade creamy treats.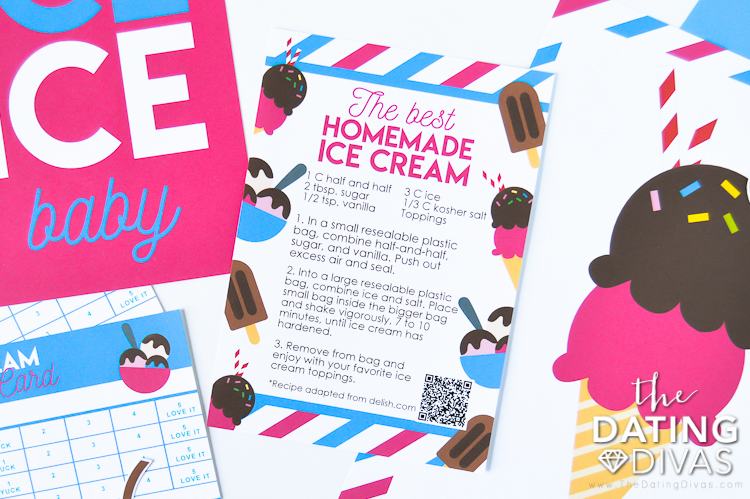 Ice Cream Date Rating Card
Learning how to make homemade ice cream is just the beginning of this crazy cool date. Once you've crafted your creamy treats, it's time to analyze those results! We've included two darling rating cards to help you decide just how successful your easy homemade ice cream recipe was. Fill in your answers and then share them with your sweetie!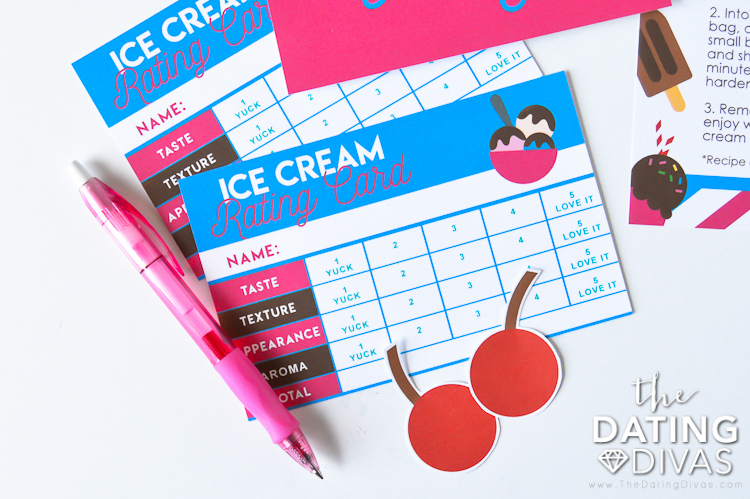 Pin the Cherry Ice Cream Date Game
End your evening with what's soon to become your favorite ice cream date game – Pin the Cherry on the Cone! This printable game is super similar to the classic Pin the Tail on the Donkey, but with one clever twist – it's totally ice cream themed! Take turns blindfolding each other and seeing who comes the closest to pinning the cherry on the correct spot. You could even raise the stakes by betting and wagering certain prizes!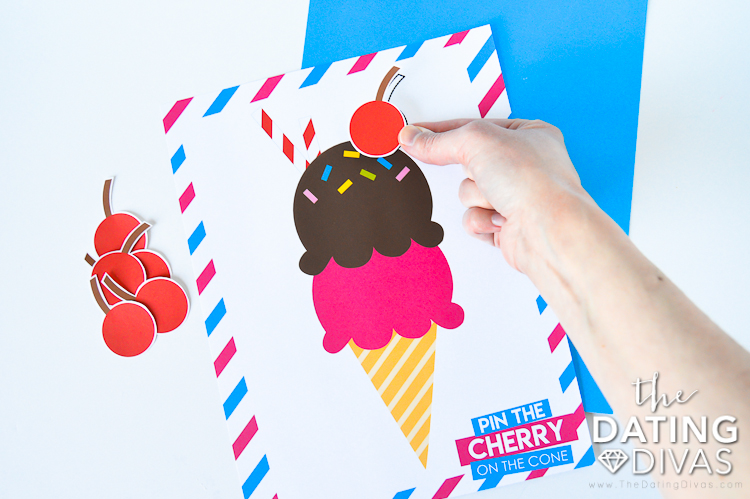 How fun is all of that?! We really have included everything you need for a totally cool homemade ice cream date for two. Additionally, you could tweak these ideas slightly and turn this into a super fun group date!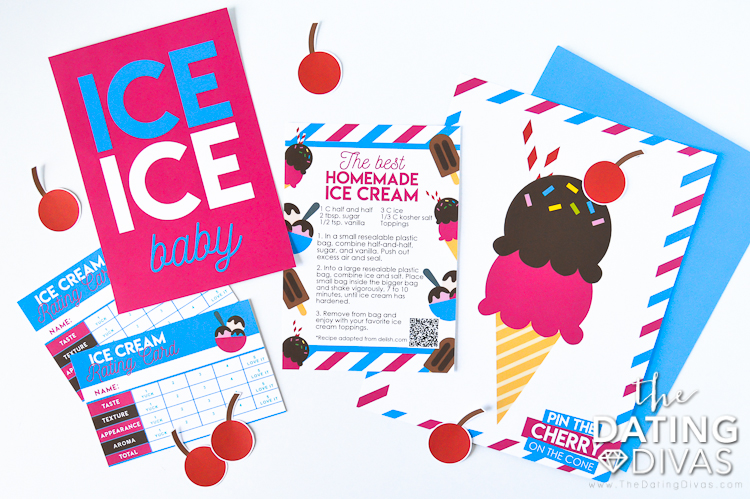 For even more great family fun, take a look at our Family Movie Night and our Year of Family Date Activities!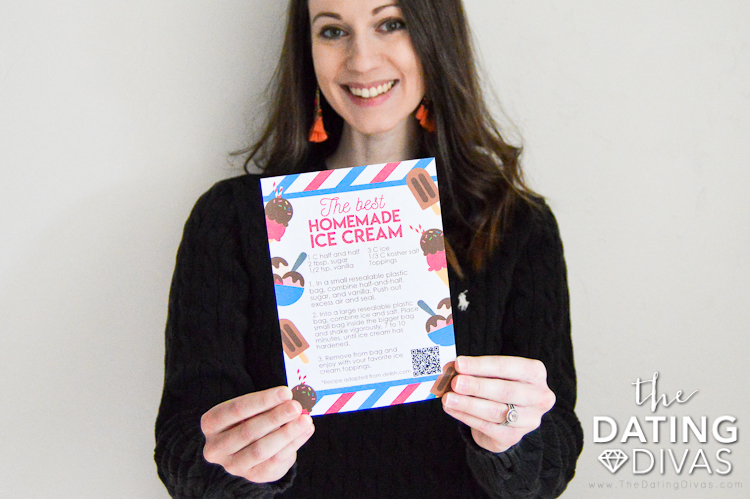 Homemade Ice Cream Date Digital Invite
Printables Designed by Elizabeth Edwards Exclusively for The Dating Divas
Homemade Ice Cream Recipe and Date
Printables Designed by Elizabeth Edwards Exclusively for The Dating Divas