YouTube Workout Videos
New year, new you! Shake off those holiday pounds and get a headstart on swimsuit season with our list of over 100 of the best YouTube workouts! Quick, easy, and totally doable in your living room, these free and fabulous workout videos are a definite must for busy folks on the go. Perfect for all levels, time-limits, and tastes, this is one list you'll want to sweat to and certainly one to save. You ready to rock that bod? Lace up your shoes and get ready, get set, get sleek!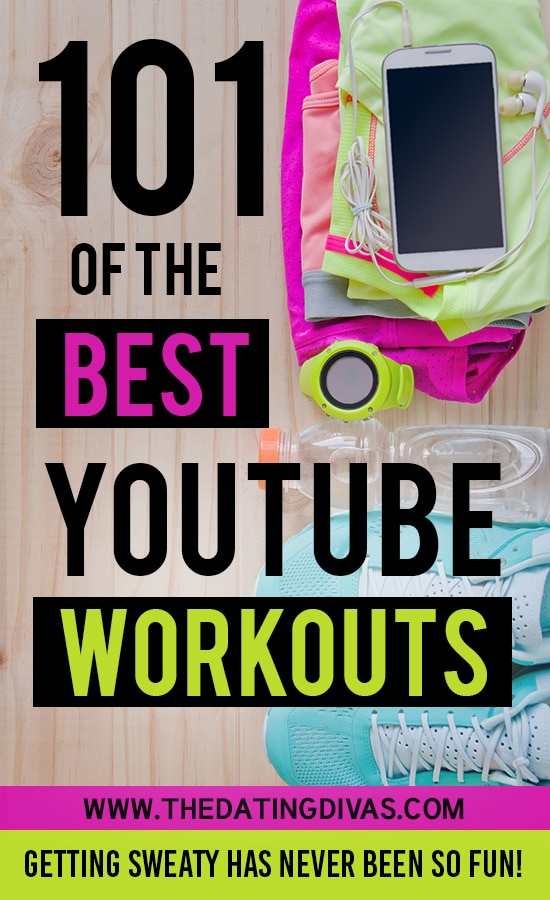 Disclaimer: This post contains affiliate links. To learn more about 'em, click here.
To help you pick your ideal workout of the day, we've organized our list into five heart-pumping categories!
18 Cardio YouTube Workouts
17 HIIT YouTube Workouts
22 Yoga YouTube Workouts
24 Sculpting & Toning YouTube Workouts
20 Stretch & Cooldown YouTube Workouts
Ready to feel the burn? Let's get our workout on!
18 Cardio YouTube Workouts
Guaranteed to get the blood flowing, these heart-loving cardio routines are a fantastic addition to any workout plan!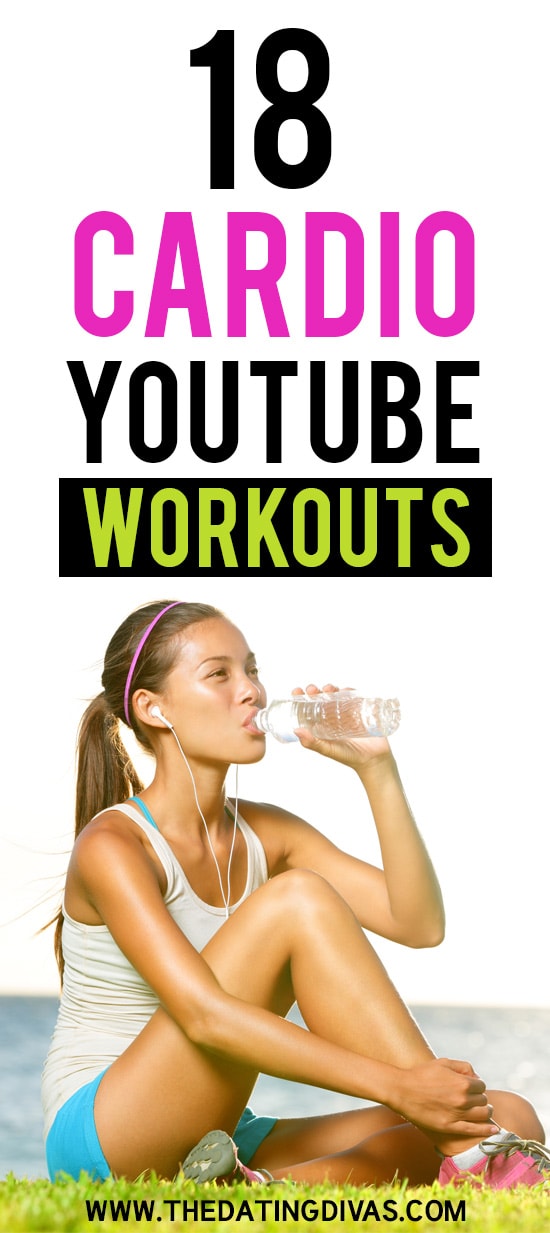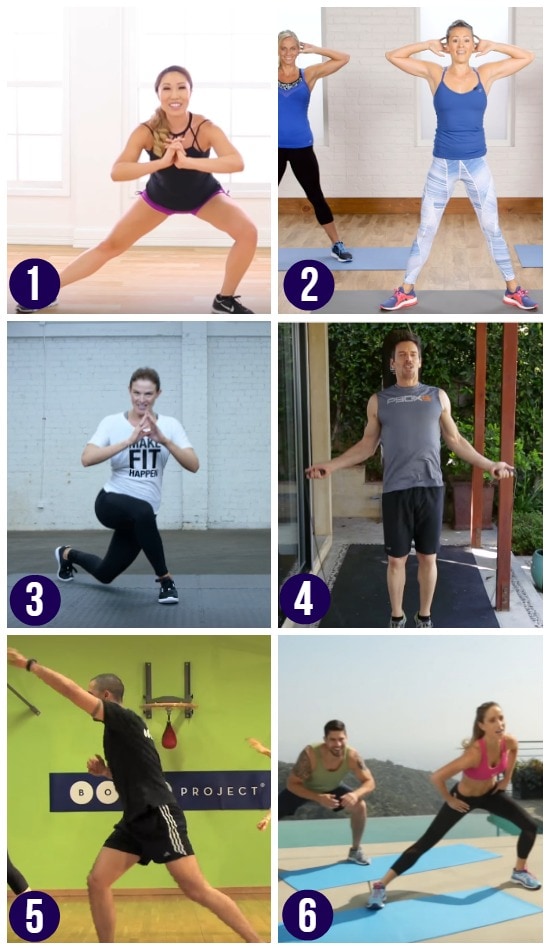 1. Cardio Beat (Blogilates) – Cassie Ho, famed creator of Pop Pilates, leads this short but sweat-inducing workout set to some killer jams!
2. 15-Minute Beginner's At-Home Cardio Workout (POPSUGAR Fitness) – New to Cardio? We've got you covered!
3. 30 Minute Metabolism Booster (Lucy Activewear) – 30 minutes has never hurt so good with this metabolism boosting workout!
4. 10 Minute Jump Rope Workout (Tony Horton Fitness) – P90x Creator Tony Horton will have you skipping rope and working up a sweat in no time flat!
5. 25 minute Interval Home Cardio Workout (Body Project) – 25 minutes and you're on your way to heart health and an ultra hot bod!
6. Cardio Slim and Sculpt (CosmoBody) – Shed the pounds and get that heart pumping with this slimming cardio video!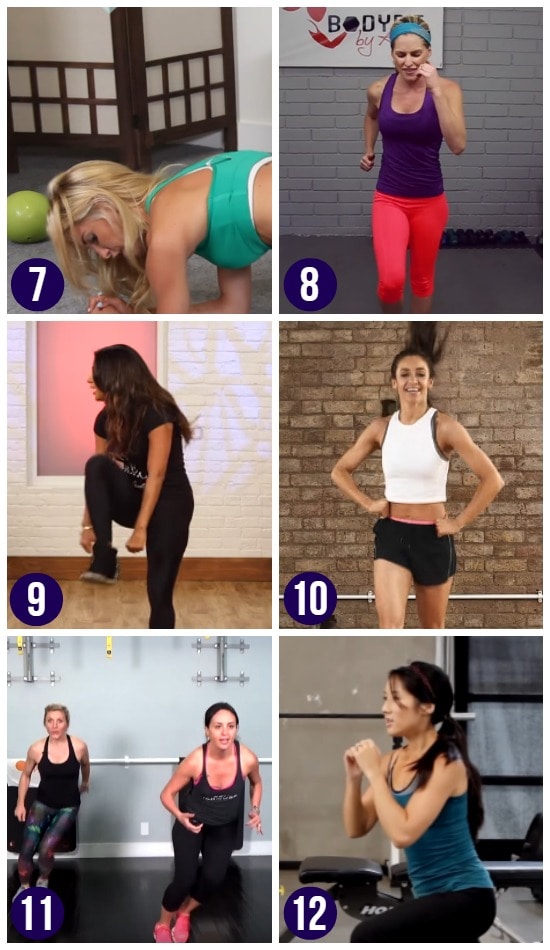 7. Minute Intense Cardio (XHIT Daily) – Intense meets awesome in this quick cardio workout from XHIT Daily!
8. 10 Minute Low Impact Cardio (BodyFit By Amy) – Bad knees? Bad back? Bad… anything? It's no problem with this low impact routine.
9. Beyonce-Inspired Dance Workout (POPSUGAR Fitness) – Unleash your inner Queen Bey and dance your way to fit!
10. Dance to Burn Fat (Icon UK) – Keep movin' and a groovin' with this specialized fat burning dance routine.
11. Lean in 15: Killer Legs and Cardio (HIPStudioTV) – Combining a killer leg workout with cardio is what makes this routine such a must.
12. Victoria's Secret Cardio Workout (XHIT Daily) – Learn the secrets of the Angels with this  go-to VS cardio workout!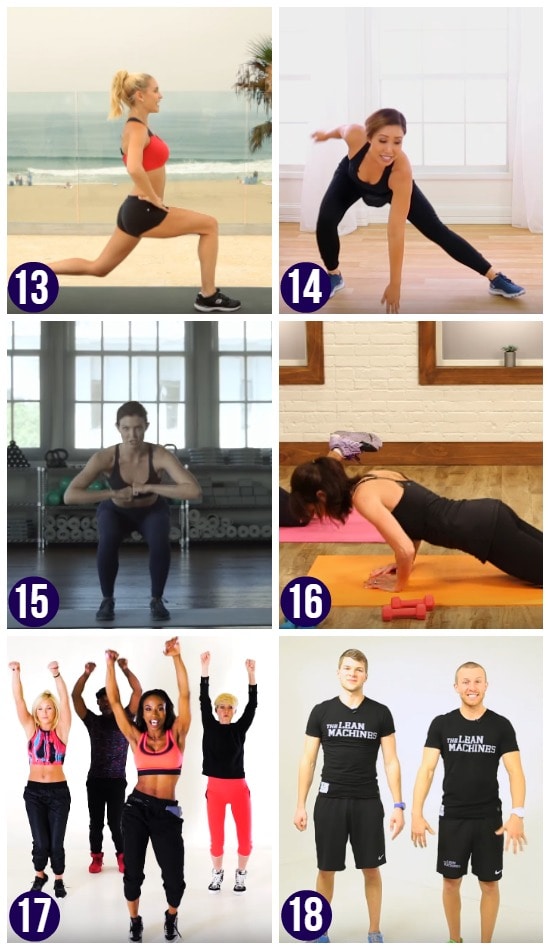 13. Full Body Cardio Workout (GymRa) – From head to toe, this video works it all!
14. Hip-Hop Fat Burn (Blogilates) – Drop it like it's hot while also shedding some major poundage!
15. 6 Minute Cardio: Core Conditioning (Lucy Activewear) – Six minutes of pure cardio core is the quickest way to get that six-pack!
16.  Cardio Pilates (POPSUGAR fitness) – Blending a fast-paced Pilates routine with cardio will get your heart pumpin' and calories bumpin'!
17.  7 Minute Sexy Hip Hop Dance Cardio (JJ Dance) – 7 minutes to sexy? We'll take it!
18. 10 Minute High-Intensity Workout (The Lean Machines) – Mix fast-paced with high intensity and you've got yourself an uber-effective workout in mere minutes.
17 HIIT YouTube Workouts
Short for High-Intensity Interval Training, these workouts are among the best ways to get extreme results, extremely fast.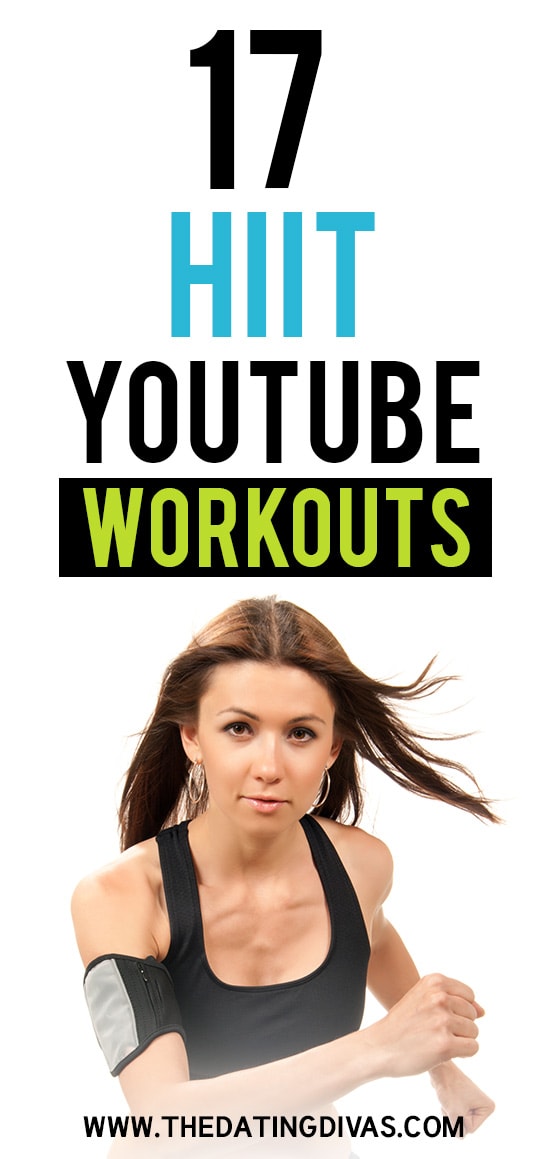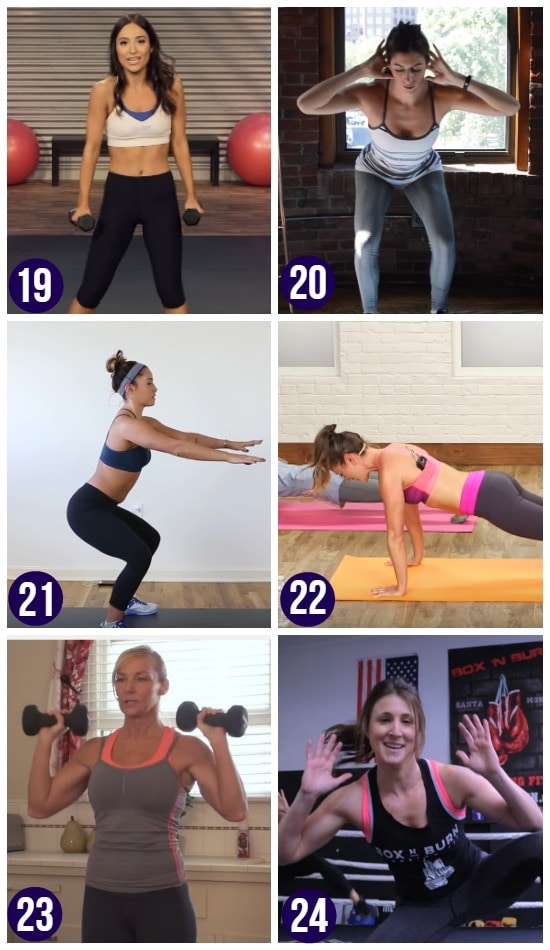 19. 25-Minute HIIT Total Body Burn Beginners Workout (BeFit) – This 25-minute high-intensity interval training workout give you the burn from head to toe!
20.  12-Minute Lower Body HIIT (Nicole Perry) – Work that lower half and work it well in only 12 minutes with this vid.
21. 9-Minute Heart Pumping HIIT Workout (Yoga By Candace) – Get the blood pumping in under ten minutes with this HIIT workout – perfect for busy women!
22. 20-Minute Bikini HIIT Workout (POPSUGAR Fitness) – Get a head start on swimsuit season with this quick and effective HIIT routine!
23. 15-Minute Total Body HIIT (Athlean-XX for Women) – Designed specifically for women, this total body, high-intensity routine will target those problem areas (and everything in between!)
24. Boxing HIIT Workout (Tone It Up) – Release that pent up aggression, while burning major calories, with this fun and unique boxing session!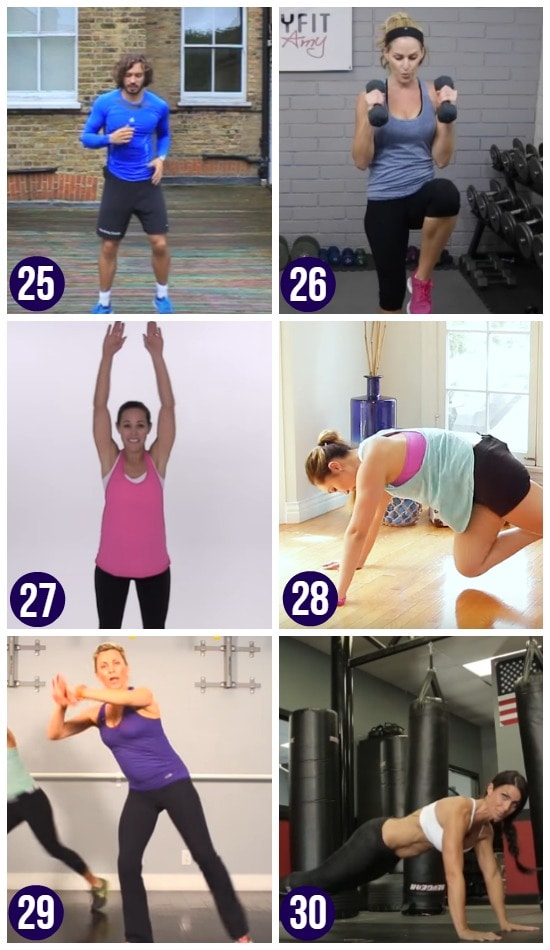 25. HIIT Home Workout for Beginners (The Body Coach TV) – No need for a gym with this home HIIT workout! That's an A+ in our book!
26. Strength and Cardio HIIT (BodyFit by Amy) – Strengthen all muscle groups and get your sweat on with this routine from BodyFit by Amy.
27. Beginner HIIT (MomsIntoFitness) – New to HIIT? This video's for you!
28. 8-Minute Cardio HIIT Workout (Blogilates) – Cardio HIIT in under ten minutes? Sounds so nice, let's do it twice!
29. Lean in 15 HIIT Workout with Prenatal Modifications (HIPStudio TV) – Soon to be mamas will love this get lean routine with special prenatal modifications.
30. 10-Minute Beginner HIIT Workout (kid-friendly!) (Athlean-XX for Women) – Still feeling like a HIIT newbie? Give this workout a go!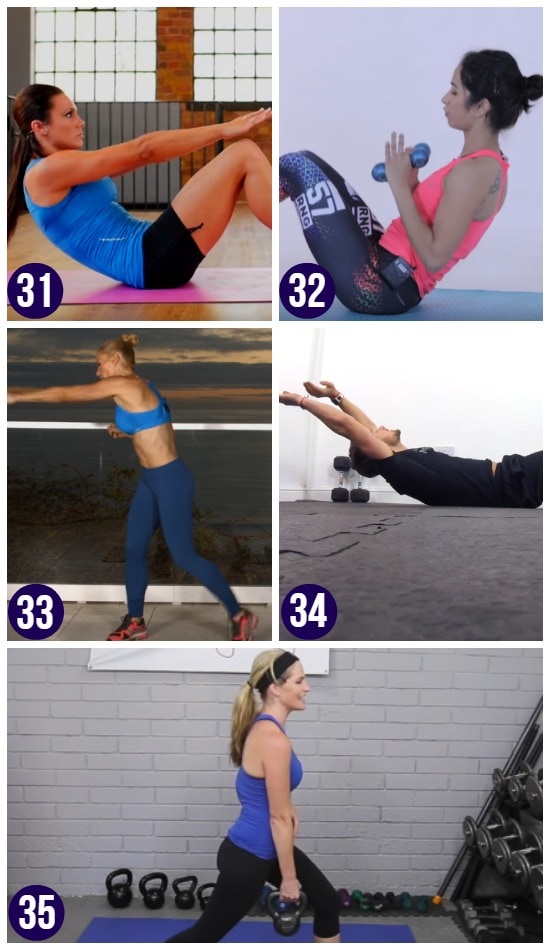 31. 7-Minute Total Body HIIT (Grokker) – Short on time? This total body workout will get the job done in mere minutes.
32. Upper Body HIIT (Stylecraze Fitness) – Get that upper body sculpted and strong with this upper body routine.
33. Tabata HIIT Workout (Gymra) – Get ready to do some fancy footwork with this Tabata HIIT fusion!
34. 10-Minute Home HIIT Workout (Tonic) – Shove the couches aside and prepare to break a sweat with this at-home, heart pumping workout.
35. 10-Minute Kettlebell HIIT (Body by Amy) – If you've never used a kettlebell, you're in for a treat!
22 Yoga YouTube Workouts
Lessened stress, stronger muscles, and more mindfulness are just some of the by-products of this time-tested form of exercise!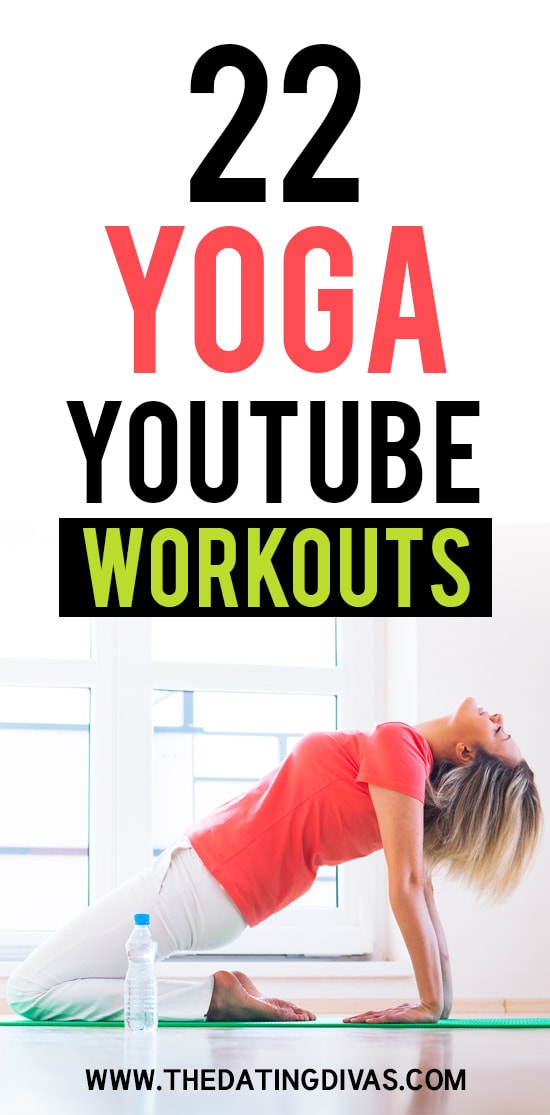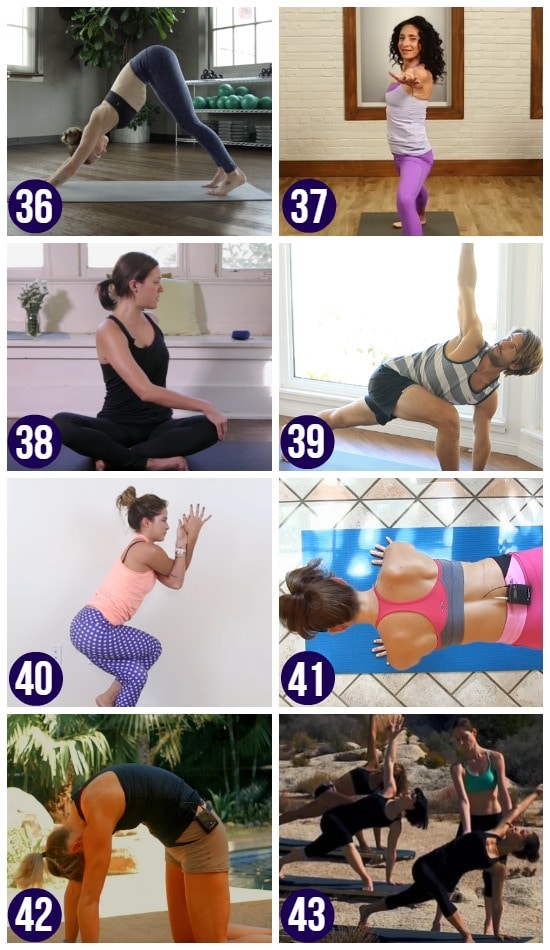 36. Morning Flow Sequence (Lucy Activewear) – Rise, shine, and get your deep breathing on with this AM sequence.
37.  Yoga Workout for the Ultimate Bikini Body (POPSUGAR Fitness) – Have yourself a swimsuit body all year round with this bikini body yoga flow.
38. Yoga for Complete Beginners (Yoga with Adriene) – Newbie yogis will love this in-depth combination tutorialand routine.
39. 30-Minute Vinyasa Flow (Yoga With Tim) – 30 minutes has never been such bliss.
40. 30-Minute Power Yoga Class (Yoga By Candace) – Composed of strong poses, otherwise known as asanas, this routine is a perfect way to calm the mind and strengthen the body.
41. Morning Yoga for Weight Loss (Psychetruth) – Looking to drop a few pounds? This is the routine for you!
42. Cardio Core Yoga (Five Parks Yoga) – Tighten that tummy and work those abs with this core-focused routine.
43. Yoga Weight Loss and Balance Workout (BeFit) – Balance issues or weight loss on the brain? This yoga flow targets both issues while promoting complete serenity.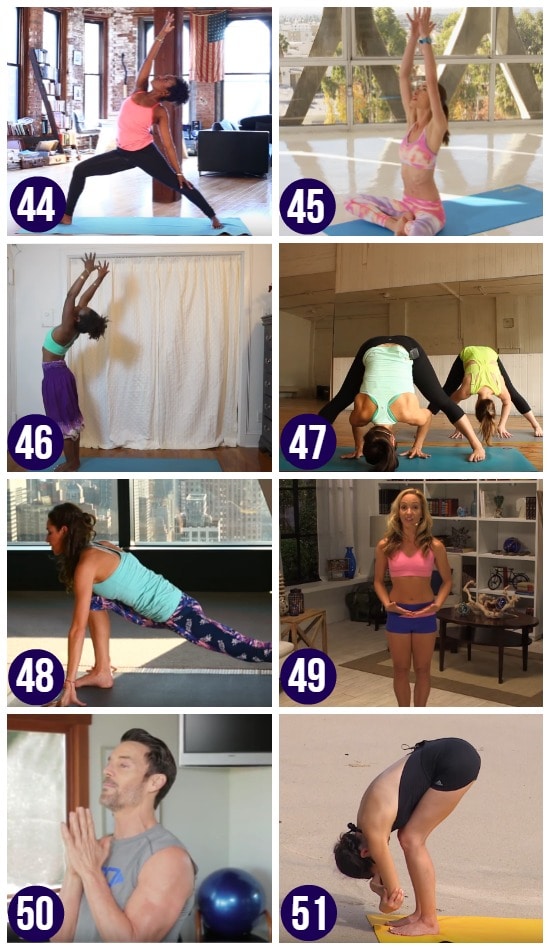 44. Vinyasa Yoga Class with Faith Hunter (Cody Online Fitness Videos) – Unleash your inner goddess with this fabulously flowy routine.
45. Wake Up Yoga (Tara Stiles) – Not a morning person? Not a problem! This routine will get you in the mood for the day and on your way!
46. Energizing Morning Flow (Faith Hunter) – Still feeling a bit groggy? This is one energizing flow that will work out the kinks!
47. Beginner and Intermediate Practice (Lululemon) – For those wanting to broaden their beginner practice, this beginner/intermediate routine is the one!
48. 30-Minute Stress-relief Yoga Flow (CosmoBody) – Lower the stress (and the fat producing hormone cortisol) with this relaxing yoga flow.
49. Yoga Basics Workout (BeFit) – Learn the basics of this ancient art with this simple, level 1 routine.
50. 20-Minute Daily Yoga Routine (Tony Horton Fitness) – Let Tony take you through the in's and out's of his personalized yoga flow with this 20-minute, semi-challenging video.
51. Feel Good Flow (Yoga with Adriene) – Increase your serotonin (ie. happy juice!) levels with this feel good yoga flow – perfect for down days.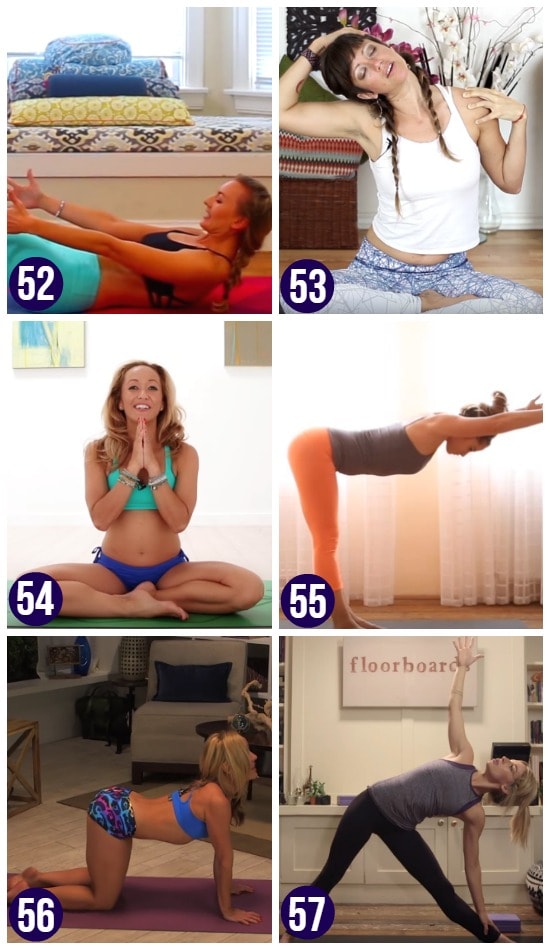 52. Advanced Morning Yoga Routine (Brett Larkin Yoga) – Start the day off right with this Advanced routine!
53. Quick Power Yoga Workout (Yoga TX) – If you're low on time but want to get moving, this quick yoga routine will come in handy!
54. Intense Yoga Flow (Kino Yoga) – Ready for a challenge? Give this intense yoga workout a go!
55. Yoga for a Quick Sweat (Yoga by Candace) – Get sweaty in a flash with this powerful yoga workout.
56. Beginner's Bikini Body Yoga Workout (BeFit) – Bust out the bikinis and maximize the muscles with this simple bikini body flow.
57. Toning Yoga (Tonic) – Tighten and tone, while getting your zen on, with this strengthening yoga workout.
24 Sculpting & Toning YouTube Workouts
Want to develop some major muscle? Perhaps you'd like a little tempting tone…Whatever your strength goal, these videos will get you there!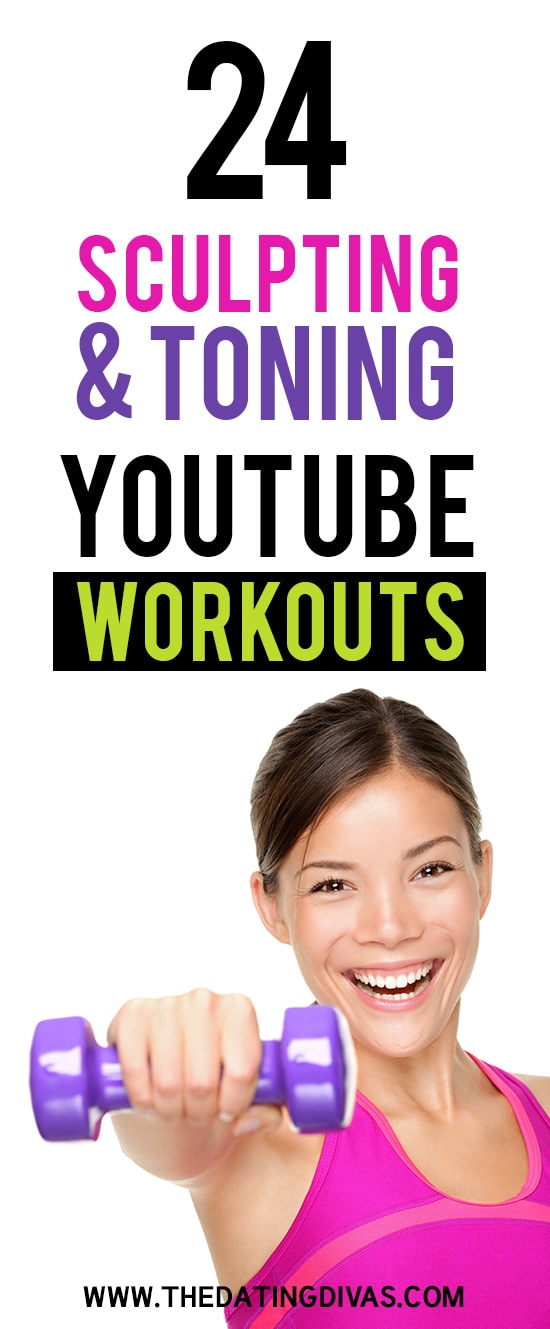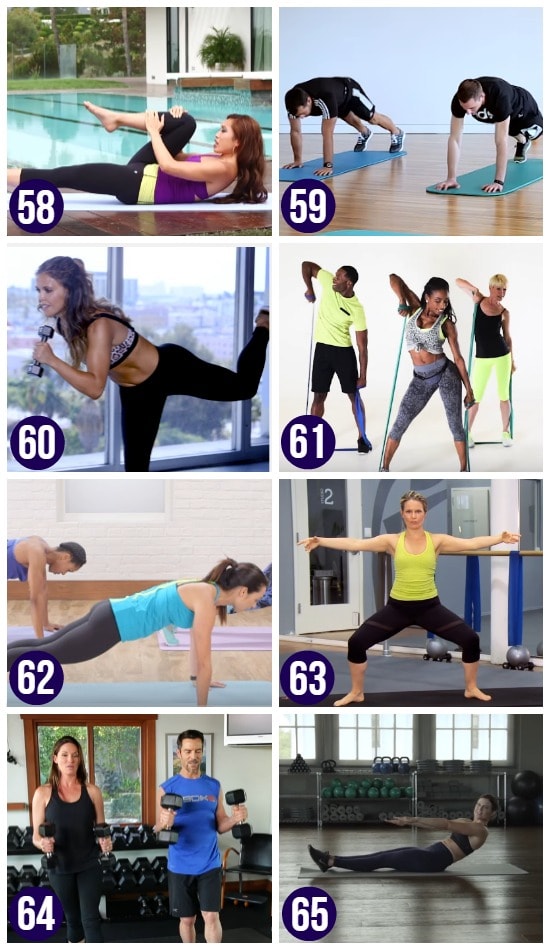 60. Total Body Tone Up (Tone It Up) – Tighten every inch of that bod with this Total Body Tone Up.
61. Total Body Resistance Bands Workout (JJ Dance) – Incorporate resistance bands for an extra challenge!
62. Total Body Sculpt and Tone (POPSUGAR Fitness) – Give those muscles a good workout with these moves!
63. 20-Minute Pilates Workout (Dreamingreen) – Improve your posture, flexibility and strength with this made-for-you Pilates routine!
64. Killer Arms Workout (Tony Horton Fitness) – Get bangin' biceps in no time with this routine from fitness legend, Tony Horton.
65. 6-Minute Pilates Abs (Lucy Activewear) – Hello, tight tummy.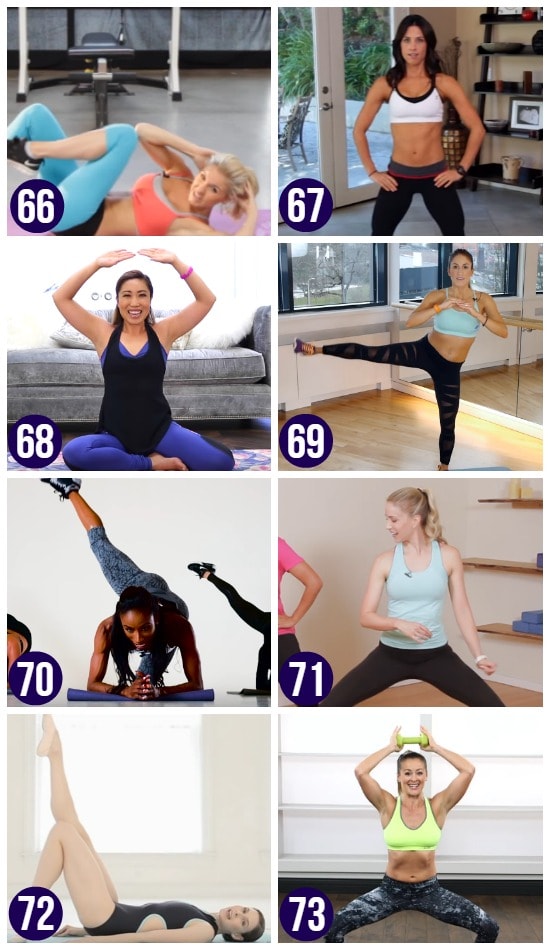 66. The 7 Best Ab Exercises (XHIT Daily) – Slim your midsection with these seven moves!
67. Luscious Legs Workout (Autumn Calabrese) – Say goodbye to thunder thighs and hello to long, luscious legs.
68. Weightless Arm Workout (Blogilates) – You don't need weights to tone up those arms!
69. 3-Minute Bikini Booty Workout (Runtastic Fitness) – We're dying over how quick this bikini body workout is!
70. 10-Minute Bangin' Booty Workout (JJ Dance) – Tighten that tush in ten minutes flat!
71. Thin Thigh Workout (New Beauty Magazine) – Looking to lose some inches in your legs? Look no further!
72. 15-Minute Ballet Beautiful Total Body Sculpt (BeFit) – Harness your inner ballerina and get sleeker at the same time.
73. 5 Minute Flat Belly Ab Workout (POPSUGAR Fitness) – We all want flat abs and this routine is one step closer to getting them!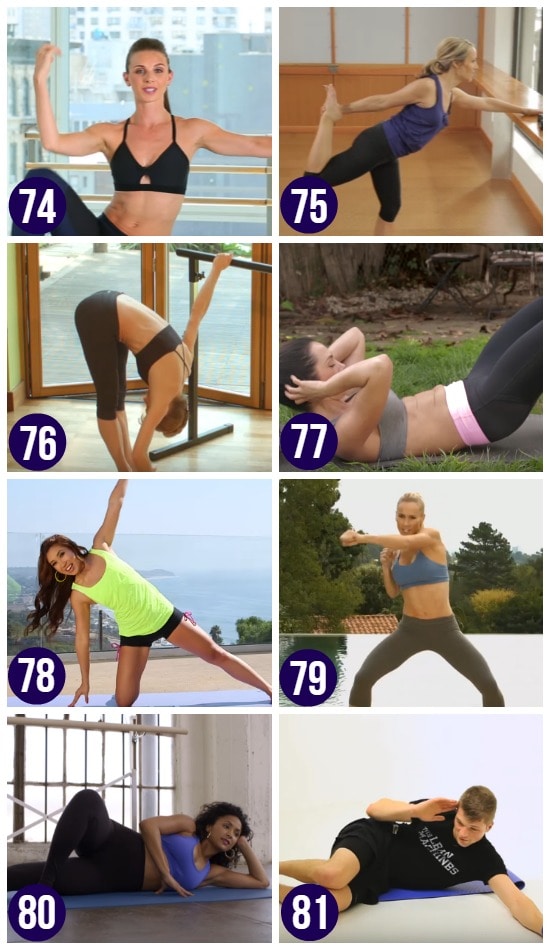 74. Fast Abs Workout (CosmoBody) – Short on time? This non-traditional ab workout is as quick as it is effective!
75. Slim Barre Workout (barre3) –  Barre lovers will love this YouTube version!
76. 15-Minute Body Sculpting Barre Workout (Sleek Technique) – Don't have a barre in your home? Don't worry! Simply use a chair back or counter and you are good to go.
77. Ab Workout for New Moms (Autumn Calabrese) – Autumn Calabrese shows new mommies how to get back into their skinny jeans with this excellent ab workout.
78. 10-Minute Muffin Top Workout (Livestrong Woman) – Lose those love handles with this 10-minute routine from LiveStrong Woman!
79. Beginner Sculpt Workout with Dumbbells (Gymra) – A newbie to strength training? This beginner routine incorporates dumbbells for an easy intro.
80. Booty Maker Pilates Workout 10 minutes (BeFit GO) – We're in love with this Pilates routine that focuses on giving us a better booty.
81. 10-Minute Ab Workout (Tonic) – It may be challenging, but this ten-minute ab workout is ultra effective.
20 Stretch & Cooldown YouTube Workouts
A healthy way to end any workout, these videos will have you increasing your flexibility and range of motion in no time!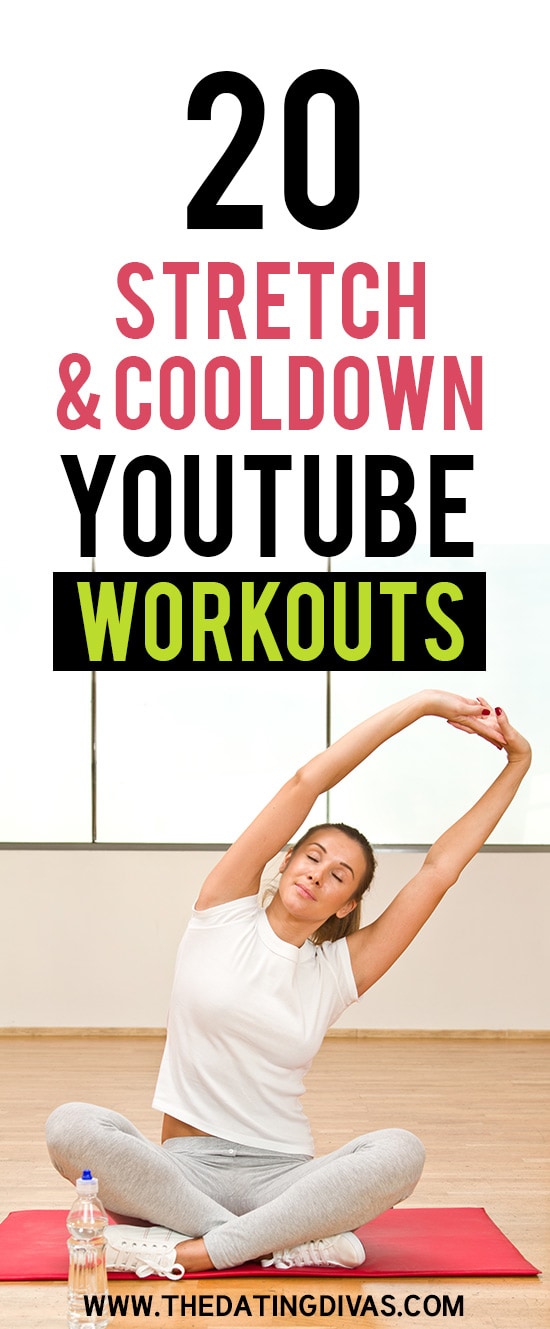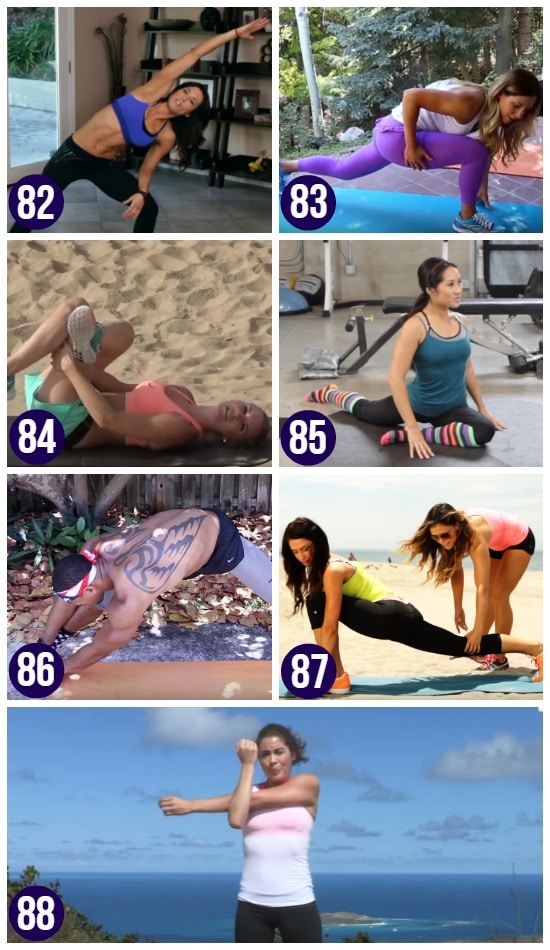 82. Dynamic Stretching Workout (Autumn Calabrese) – Dynamic stretching incorporates movement with stretches for ultimate results.
83. Post-Workout Cooldown (Ideal Shape) – The perfect cooldown for one of the above workouts, this will have you chillin' in no time.
84. Cooldown (Rebecca-Louise) – Bring that heart rate down with this quick and easy cooldown!
85. Stretching Routine (XHIT Daily) –  Increase your flexibility and overall health with this video!
86. Daily Stretching Routine (TpindellFitness) – Perfect for everyday use, you'll soon notice major results with this vid.
87. Post-Workout Stretch Routine (LiveStrong Woman) –  Give this unique cooldown a try and learn how to incorporate foam rolling into your physical routine!
88. How to Cool Down (FiT – Global Fitness Network) – Want to learn the basics of why and how to effectively cool down? You're in the right spot!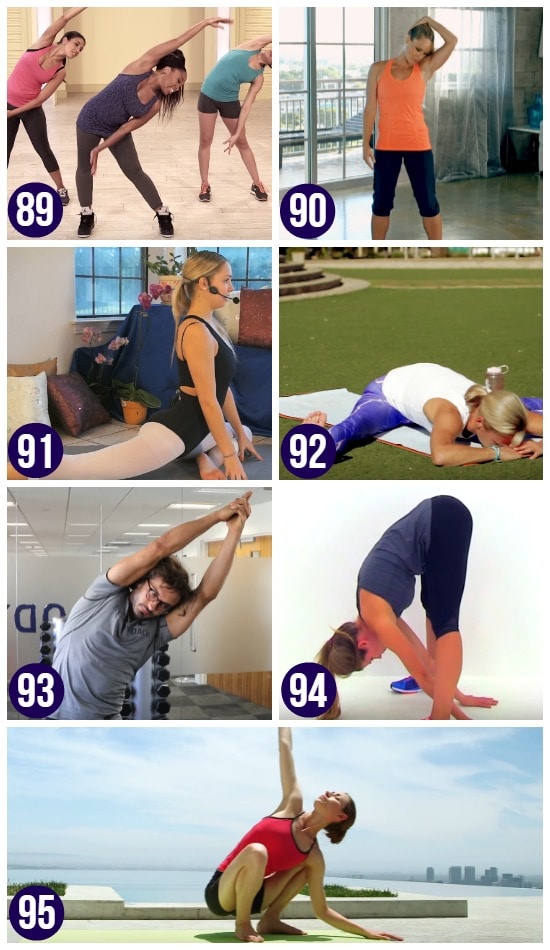 89. Dance Cooldown (BeFit) – Think cooldowns are boring? Think again.
90. Flexibility Training (Jessica Smith TV) – Flexibility requires discipline and training as much as any other form of exercise and this video will show you how to train hard!
91. Flexibility Stretches (Psychetruth) – Great for beginners or seasoned pros alike, this stretch routine is a great way to end any workout!
92. Post-Workout Deep Stretch Yoga (Five Parks Yoga) – Incorporate a little yoga into your stretch with this deep stretch from Five Parks Yoga.
93. HIIT Session Cooldown (The Body Coach) – Perfect for that after HIIT cooldown, this routine is a definite must.
94. Fast, 5-Minute Cooldown (Fitness Blender) – Need to head out the door? This uber-short cooldown routine will have you doing just that in no time flat!
95. Cooldown Routine (Livestrong Woman) –  One of our favorite routines, this incredibly short stretch incorporates yoga-like movements for ultimate stretch satisfaction.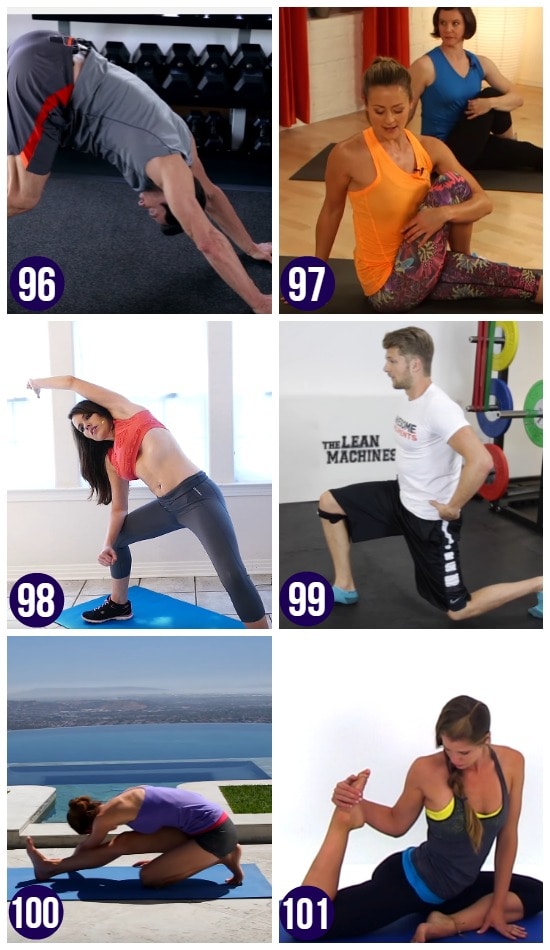 96. Quick Dynamic Stretching Routine (Tony Horton Fitness) – Keep it moving, but also get to stretching, with this dynamic routine from Tony Horton.
97. Full Body Stretching Workout (POPSUGAR Fitness) – Join host, Anna Renderer, in this full body routine that will leave you oh-so-relaxed!
98. 10-Minute Flexibility Workout (PsycheTruth) – Quick and effective, this 10 minute workout is the perfect way to end a workout or your day.
99. Flexibility and Mobility Workout (TheLeanMachines) – Improve both your flexibility and range of motion with this unique video from The Lean Machines.
100. Full Body Stretch Routine (Livestrong Woman) – You'll be long and lean from head to toe with this full body stretch!
101. Stress Calming Stretch Workout (Fitness Blender) – Get a double dose of goodness with this stretching AND stress reducing routine.
Sweaty yet? We thought so.
Before you go, we just HAVE to tell you about our favorite fitness and nutrition program that has done WONDERS for several of us Divas! We personally know the creator (a physical therapist) and his methods are pure, effective, and incredibly DOABLE! If you're looking for an amazing home fitness and nutrition program, definitely check out the Mommy Tummy Fix and Mommy Tummy Strong.
And use code MOMMY30 to take $30 off! (Such a good deal for everything you get!!)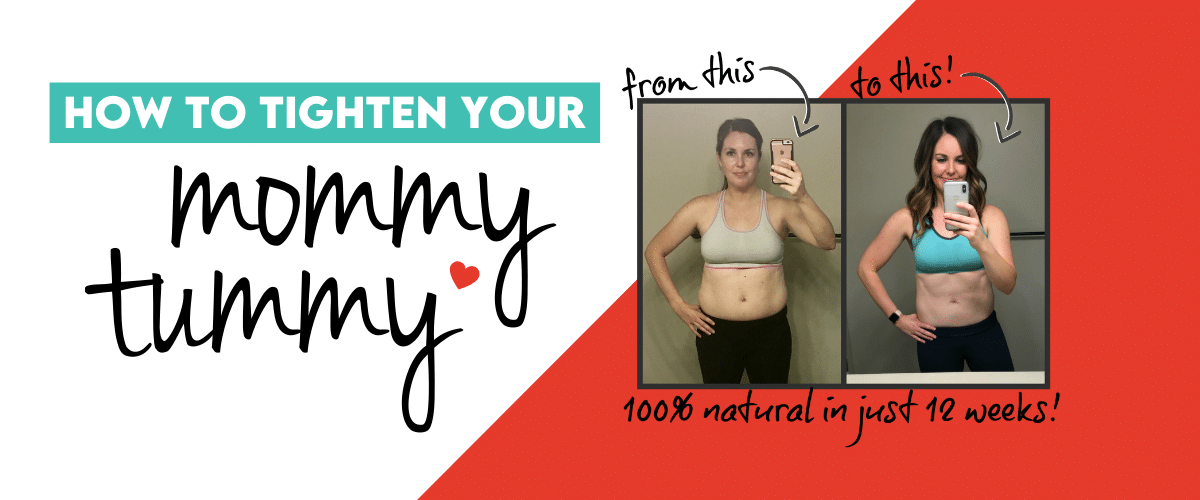 For even more calorie-blasting fun, be sure and check out our 100 Healthy Date Night Ideas and our list of 50 Healthy and Active Dates!