Low-Calorie Treats
Looking to satisfy your sweet tooth without sacrificing those skinny jeans? We'll help you do just that with our list of over 100 skinny desserts that are simple, sweet, and a treat to eat! These decadent desserts may be low in calories but they're high in flavor and make snitching seconds a-okay! Get ready for some mouthwatering goodness, with none of the guilt, as we present our list of low-cal goodies that are Diva-approved and oh-so-delish. Grab those forks and let's dive in!

Disclaimer: This post contains affiliate links. To learn more about 'em, click here.

18 Skinny Baked Desserts
22 Skinny Dessert Bites & Bars
20 Skinny Frozen Desserts
23 Skinny Dessert Drinks
18 Skinny Dessert Dips

Hungry yet? Bring on the goodies!
18 Skinny Baked Desserts
Cakes and cookies and muffins… oh my! Now you can truly have your cake, and eat too, with all of the taste and none of the guilt!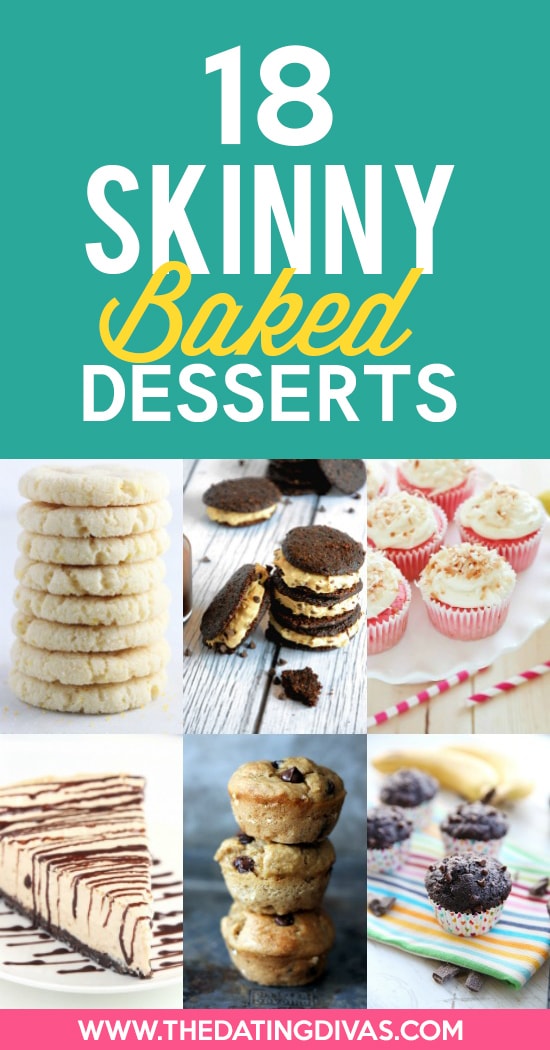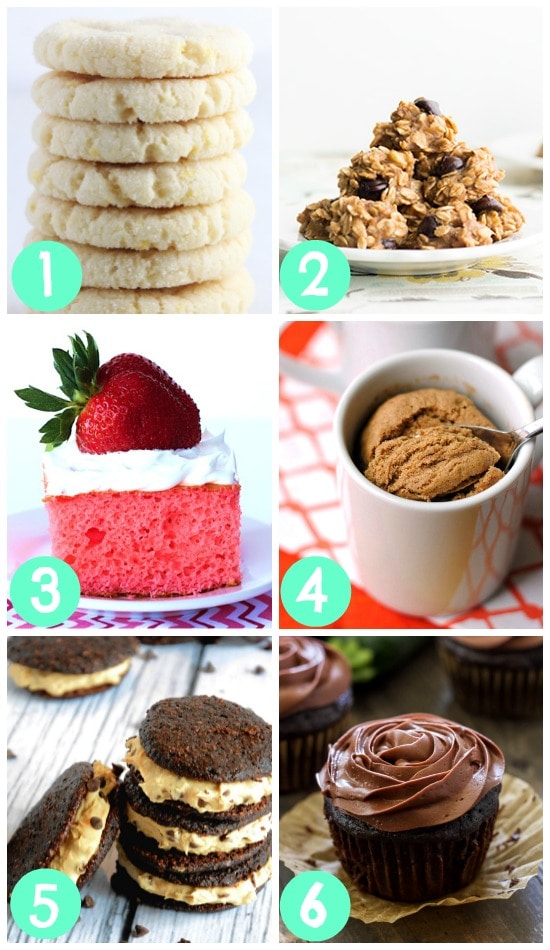 1. Lemon-doodles (Amy's Healthy Baking) – Wonderfully white with beautiful bursts of lemon, these skinny cookies are a fresh and fruity treat.
2. Monkey Oats Cookies (Skinny Mom) – We're not monkeying around! These low-calorie oat cookies are the bomb!
3. Strawberry Cake (The Frugal Girls) – Looking for a guilt-free treat that's both simple and sweet? You've found it!
4. Pumpkin Spice Mug Cake (Eat Yourself Skinny) – Who says pumpkin spice is just for fall. Treat yourself to a single-sized serving of this tasty concoction.
5. Cookie Dough Stuffed Whoopie Pies (With Salt & Wit) – If there's anything that could make cookie dough better, it's a skinny version that's sandwiched between two whoopie pies!
6. Chocolate Zucchini Cupcakes (Recipe Runner) – Sneak in some veggies to this chocolaty treat you can feel good about eating.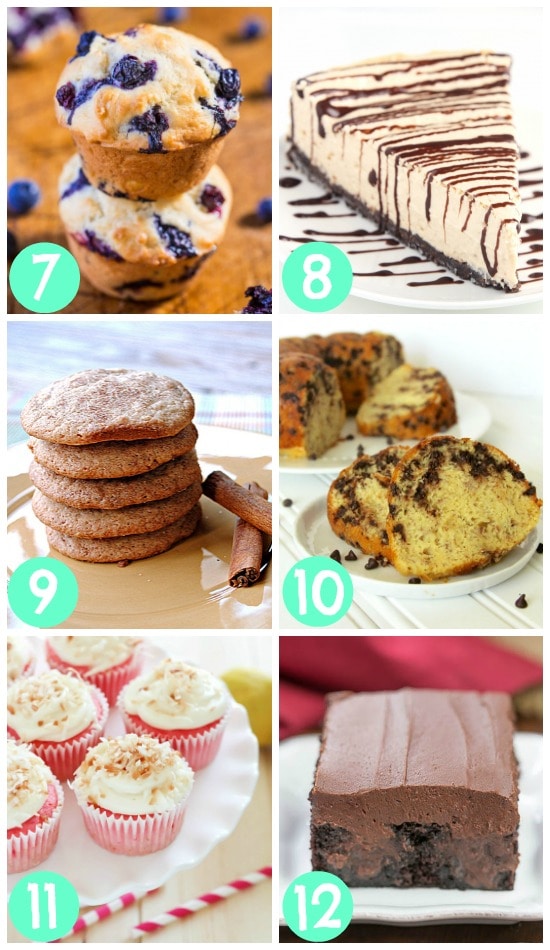 7. Blueberry Muffins (Averie Cooks) – Loaded with antioxidant-rich blueberries, and a host of other good-for-you ingredients, these blueberry muffins are about to make breakfast great again!
8. Peanut Butter Cheesecake (Amy's Healthy Baking) – Cheesecake and peanut butter, two things that are rarely associated with low-calorie treats, combine to make this decadent goodie the whole family will love!
9. Snickerdoodles (Eat Yourself Skinny) – Everybody's favorite cinnamony cookie returns in a skinnier version for a happier you!
10. Banana Chip Cake (Cooking With Ruthie) – You'll go 'bananas' over this ultra easy and oil-free low-calorie treat!
11. Strawberry Soda Cupcakes With Lemon Cream Cheese Frosting (Yummy Healthy Easy) – Get those bottles poppin' and inches droppin' with this frosting topped treat!
12. Triple Chocolate Poke Cake (That Skinny Chick Can Bake) – Triple. Chocolate. 'Nuff said.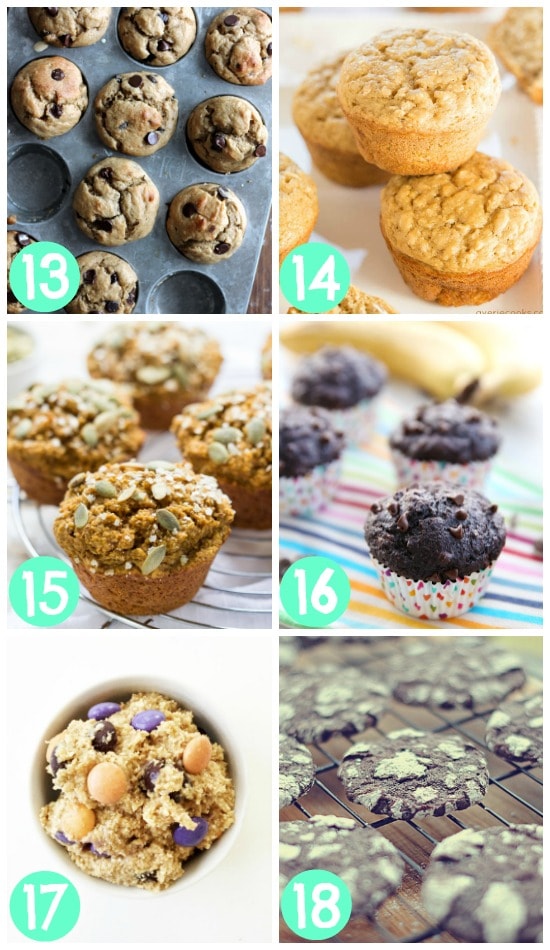 13. Banana Chocolate Chip Muffins (Ambitious Kitchen) – Say goodbye to that muffin top and hello to these muffins that will satisfy that sweet tooth without any guilt.
14. Oatmeal Brown Sugar Muffins (Averie Cooks) – The secret behind these sweet yet skinny treats? Dairy-free milk and yogurt. Who knew?!
15. Pumpkin Quinoa Muffins (Simply Quinoa) – Pumpkin lovers unite! These magic muffins will make your mouth water and have you saying quino-whaaat?!
16. Banana Fudge Muffins (Our Best Bites) – Bring on the fudge in one of our favorite forms: muffin!
17. Edible Monster Cookie Dough (The Skinny Fork) – Completely egg-free and totally edible, this recipe has us all sorts of wow.
18. Chocolate Crinkle Cookies (Eat Yourself Skinny) – Cute, crinkly, and incredibly simple, these chocolate cookies are the perfect afternoon treat.
22 Skinny Dessert Bites & Bars
Fabulously fun-sized, these grab-able goodies make for the perfect skinny snack!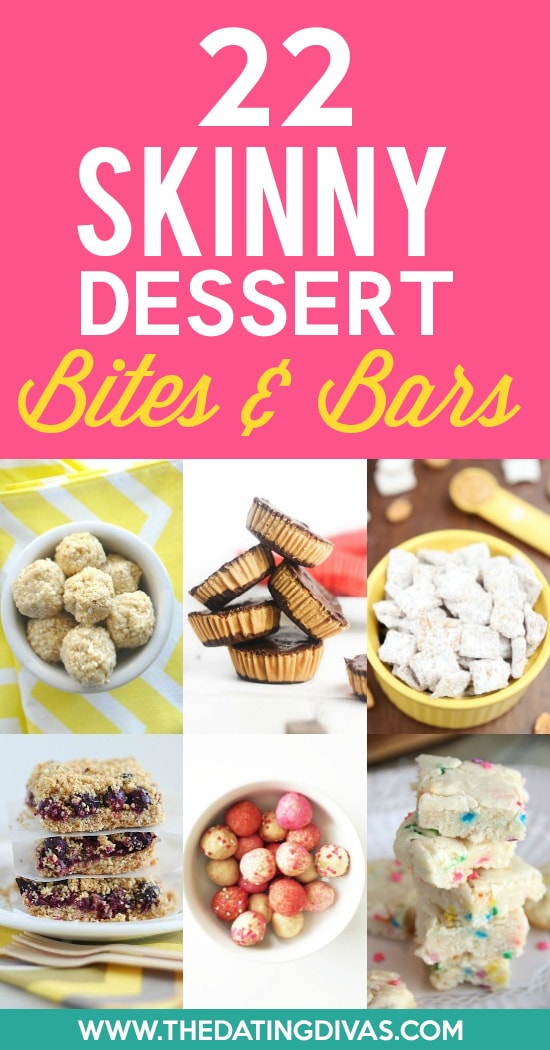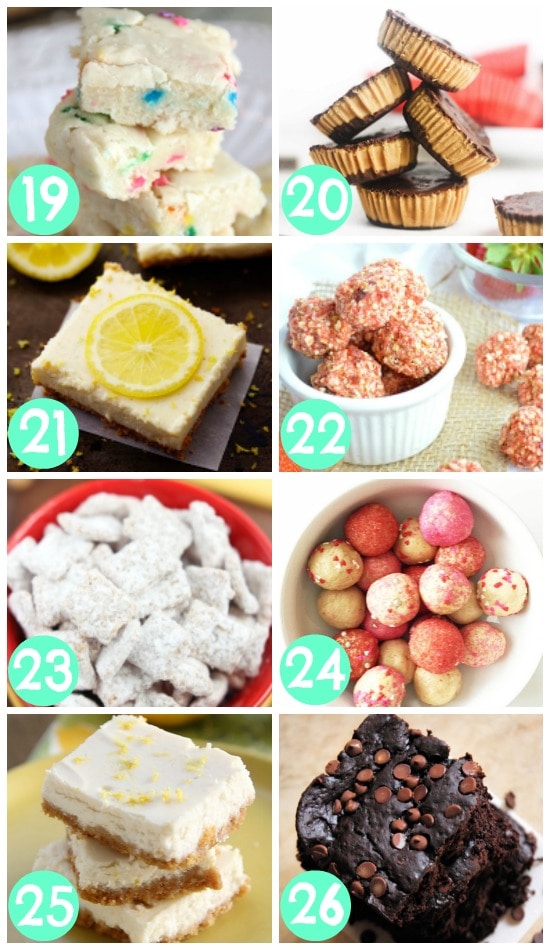 19. Funfetti Sugar Cookie Bites (Skinny Girl Standard) – Perfectly bite-sized, and fabulously FUN, you may want to consider hiding these little guys from the rest of the fam!
20. Dark Chocolate Peanut Butter Cups (It's Cheat Day Everyday) – A healthier twist on a classic treat, these lightened up PB&J cups are dreamy, creamy, and best of all: DARK.
21. Lemon Icebox Bars (The Recipe Critic) – Sublimely citrusy, these graham cracker based icebox bars are perfect for summer!
22. Strawberry Shortcake Bites (House of Yumm) – Covered in cashews and filled with goodness, these sweet strawberry bites are a definite win.
23. Peanut Butter Muddy Buddies (Amy's Healthy Baking) – A perfect treat for a gathering crowd, these low-cal Muddy Buddies are an A++!
24. Sugar Cookie Bites (The Skinny Fork) – Packed with healthier options like greek yogurt and whole wheat flour, these sugar cookie bites are a tantalizing treat.
25. Lemon Cheesecake Bars (Eat. Drink. Love) – Lemony goodness is taken to a whole new level with this skinny cheesecake version that is both cool and creamy.
26. Double Chocolate Brownies (Grounded and Surrounded) – Chocolate brownies that are low-calorie, gluten-free, AND contain no refined sugar?! Sign us up!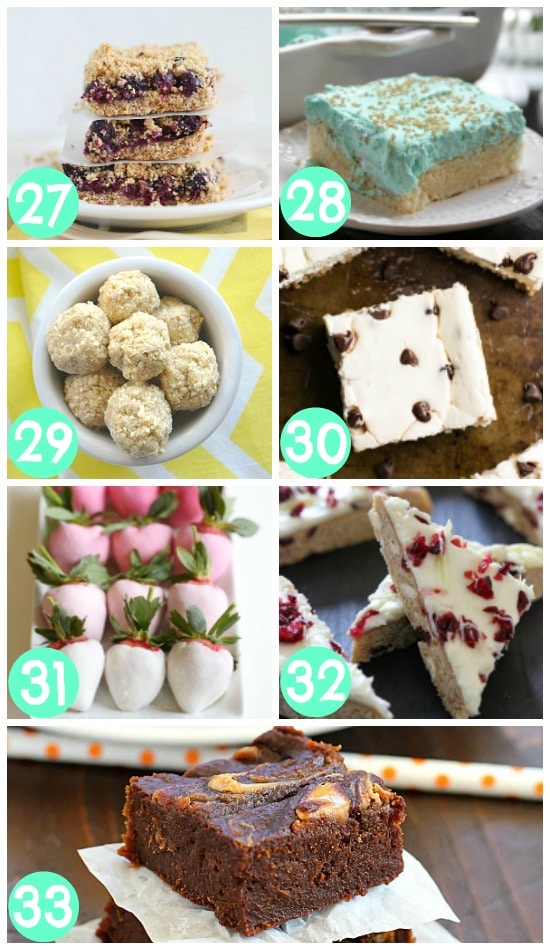 27. Blueberry Crumble Bars (Yummy Healthy Easy) – Filled with beautiful berries and topped with a crunchy crumble, these bars have us feeling like we're in blueberry heaven.
28. Sugar Cookie Bars (Skinny Girl Standard) – Give round cookies the boot in favor of bars with this lightened up treat!
29. Lemon Bites (House of Yumm) – Lemon lovers will be all over these waist-friendly bites that are bursting with flavor.
30. Chocolate Chip Cheesecake Bars (Amy's Healthy Baking) – These bars are not only loaded with protein, but absolutely gorgeous to look at thanks to a dark chocolate drizzle.
31. Yogurt Dipped Ombre Strawberries (Eat Yourself Skinny) – Swap out those chocolate dipped berries for a colorful treat that is as beautiful as it is healthy!
32. Cranberry Bliss Bars (Skinny Taste) – A little bit of bliss, and a lotta bit of guilt-free flavor make this skinny treat an absolute dream.
33. 3-Ingredient Peanut Butter Brownie Fudge (Yummy Healthy Easy) – Under five ingredients! What's not to love?!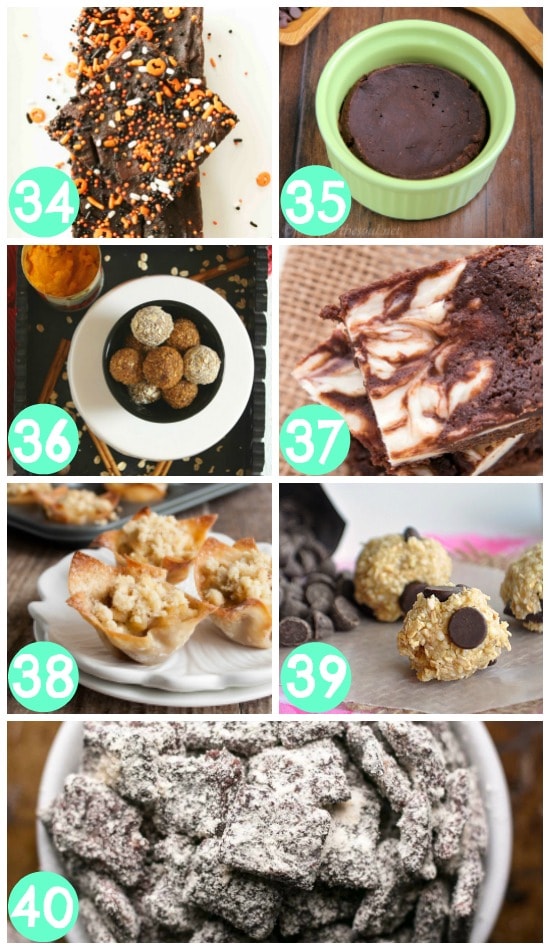 34. 3-Ingredient Pumpkin Spice Brownies (The Skinny Fork) – Pumpkin spice is oh so nice and the addition of chocolate is an added win!
35. Single-Serving Microwave Brownie (Amy's Healthy Baking) – Want a fat-friendly brownie that's perfect for one? You've come to the right place!
36. Pumpkin Chocolate Chip Energy Bites (Grounded & Surrounded) – Perfect for fall (or any time!) these energy bites are packed with nutrition and taste like a dream.
37. Cheesecake Brownies (Fitness Food Diva) – Chocolate lover? Cheesecake lover? You'll want to give this lightened recipe a go ASAP!
38. Apple Pie Wontons (The Merchant Baker) – Bite-sized and perfect for parties, these skinny wontons take apple pie to a whole new level.
39. Cookie Dough Bites (House of Yumm) – Spoons are so yesterday. Roll that dough into edible bites for a cookie dough treat that won't be beat!
40. Protein-Packed Puppy Chow (Amy's Healthy Baking) – Munchy, crunchy, and protein packed, this skinny-fied puppy chow is a go-to crowd please!
20 Skinny Frozen Desserts
Creamy, cool, and a bit on the chilly side, these frozen treats will keep you trim and slim all the year long!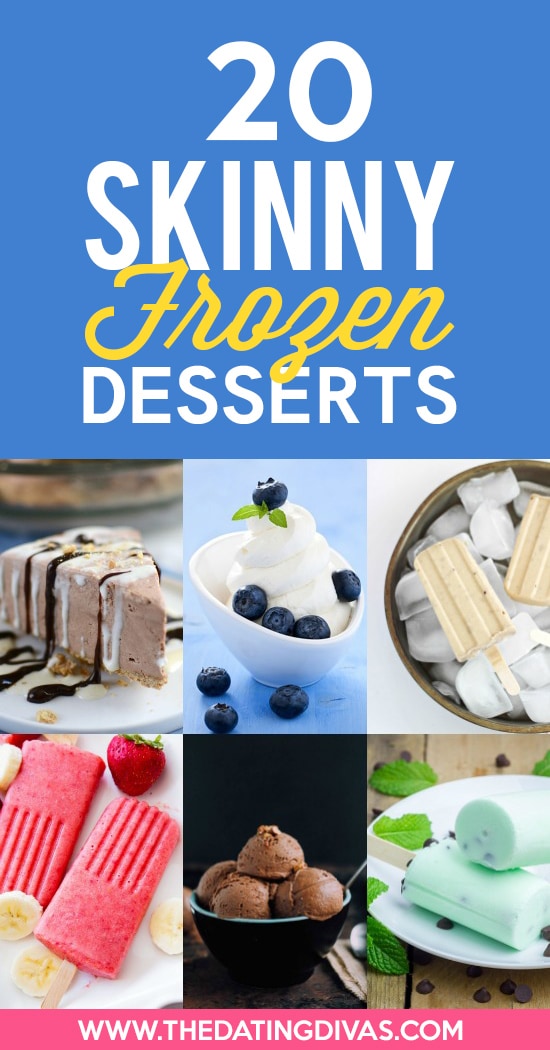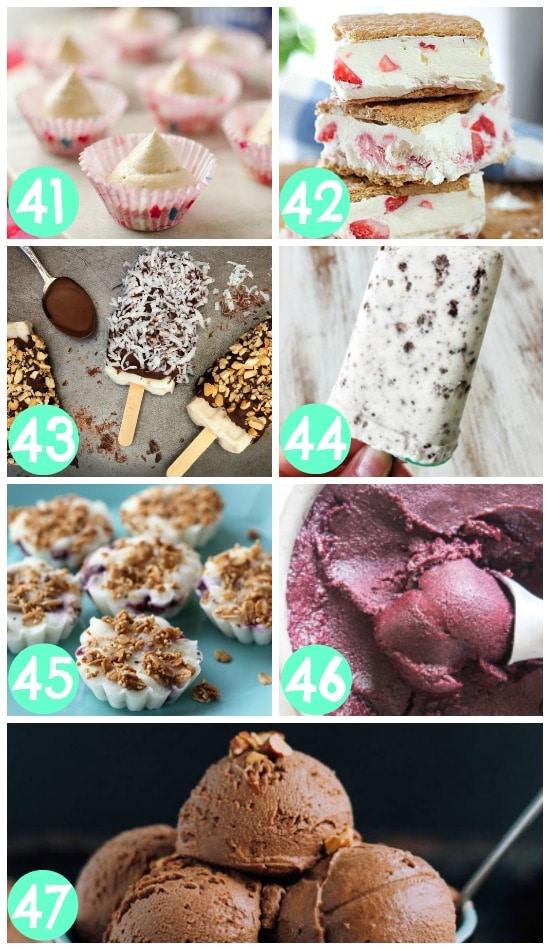 41. Peanut Butter Whips (The Creative Bite) – Just two simple ingredients, these frozen goodies are about to become your new favorite treat!
42. Strawberry Frozen Yogurt Treats (Laughing Spatula) – Stuffed between everyone's favorite cracker (the beloved graham) this cool snack is to die for.
43. Chocolate Dipped Banana Cream Pops (Skinny Ms.) – Tasty AND healthy? This recipe is both and one that will have you drooling in no time.
44. Cookies and Cream Popsicles (The Skinny Fork) – A mere 100 calories, this creamy treat is perfect for summer months!
45. Frozen Yogurt Bites (I Heart Vegetables) – 10 minutes and a few health conscious ingredients are all that's standing between you and bite-sized heaven.
46. Blueberry Frozen Yogurt (High Heels & Grills) – Ever had homemade blueberry frozen yogurt? We haven't either but we can't wait to give it a go!
47. Avocado Chocolate Sorbet (Destination Delish) – Don't let this green guy deter you from this frozen treat. The avocado not only adds unbelievable creaminess, but is a great way to sneak in some heart-healthy fat!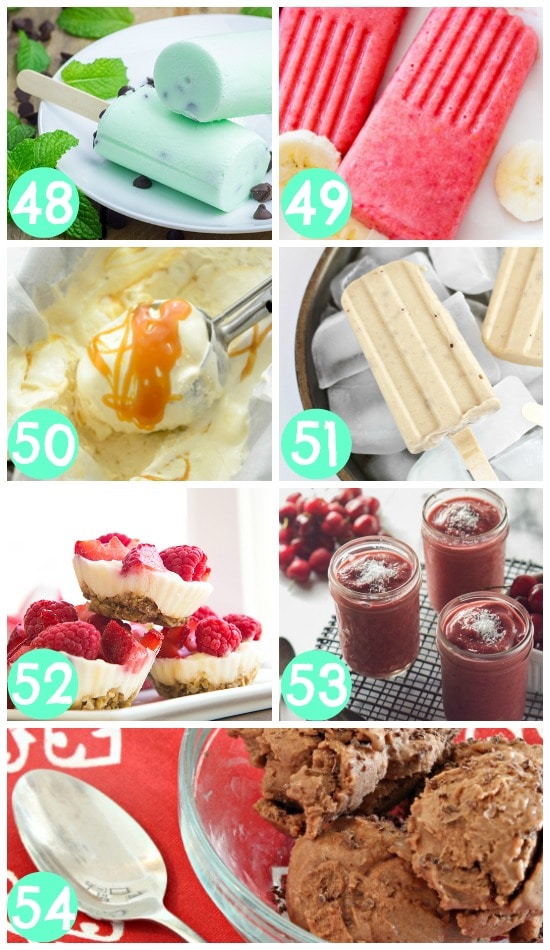 48. Mint Chocolate Chip Banana Popsicles (Skinny Ms.) – Beyond gorgeous, and oh-so-minty, these skinny popsicles are a definite must.
49. 3-Ingredient Strawberry Banana Popsicles (Sally's Baking Addiction) – Blend, pour, freeze, enjoy.
50. No-Churn Salted Caramel Ice Cream (Recipe Diaries) – You had our attention at 'Salted Caramel!'
51. Peanut Butter and Banana Yogurt Pops (Home Cooking Memories) – Looking for a little something-something that will satisfy both YOUR sweet tooth and those of your kidlets? Look no further!
52. FroYo Berry Bites (Skinny Ms.) – Bright, bold, and unbelievably refreshing, these frozen treats will cool you down in a hurry!
53. Coconut Cherry Sorbet (With Salt & Wit) – Four ingredients and a little bit of love combine to make this cool dessert that is simply sweet.
54. Chocolate Peanut Butter "Ice Cream" (The Happier Homemaker) – Nicer than ice cream, this unbelievably easy recipe will change the way you think about dessert.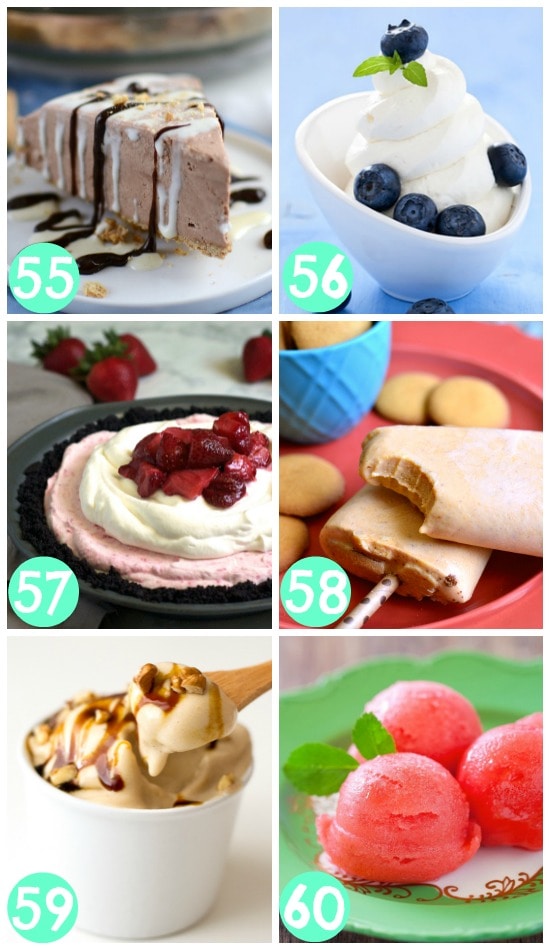 55. Frozen S'mores Pie (Crazy for Crust) – No access to a fire pit? No problem! With this skinny goodie, you can enjoy your favorite summer treat in pie-form, all the year long!
56. Creamy Vanilla Frozen Yogurt (Skinny Ms.) – Incredibly creamy and full of good-for-you probiotics, this yogurt based treat is sure to become a favorite.
57. Roasted Strawberry Ice Cream Pie (Turnip the Oven) – FULL of unbelievable strawberry flavor, this ice cream pie is absolutely a winner!
58. Pumpkin Pie Popsicles (Lemon Tree Dwelling) – Combine the flavors of fall in a treat built for summer with this one of a kind dessert. Throw them in our favorite popsicle mold for an even easier treat!
59. One-Ingredient Banana Ice Cream (Simple Vegan Blog) – One and done. Just perfect.
60. Watermelon Sorbet (Skinny Ms.) – Just watermelons and lemon, this skinny sorbet looks beyond divine.
23 Skinny Dessert Drinks
Slipping and slurping has never been so fun with these low-cal, high taste drinkable treats!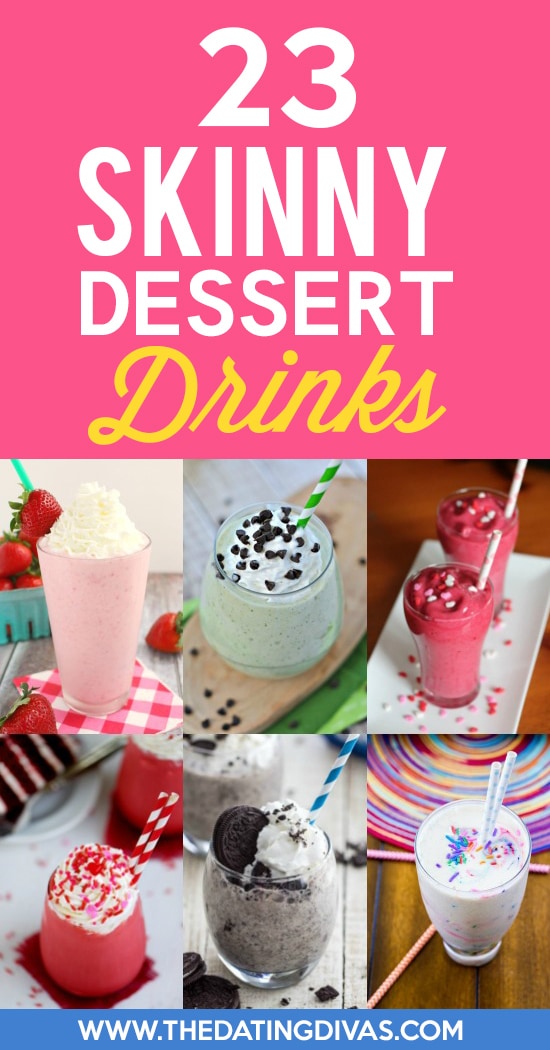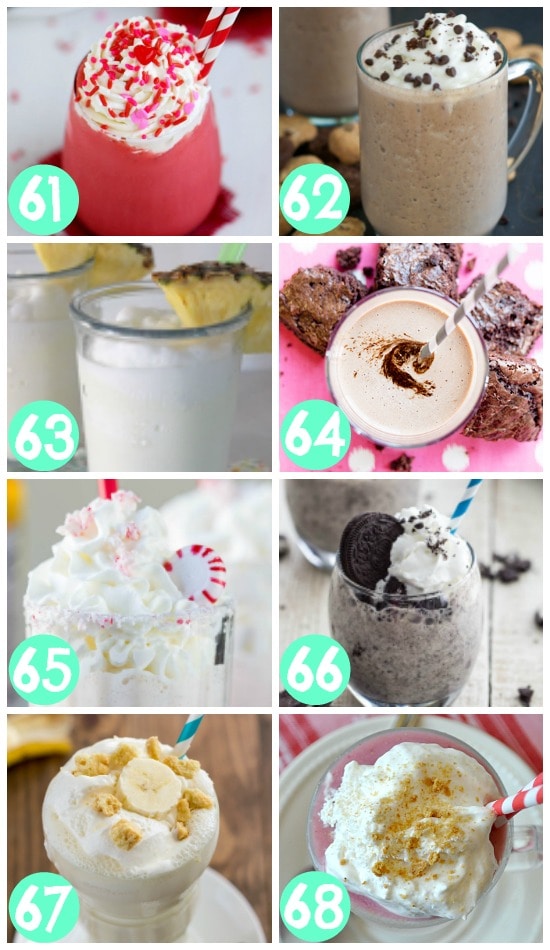 61. Red Velvet Shake (Mom on Timeout) – We love our red velvet and can't wait to give this skinny shake a sip!
62. Copycat Double Chocolate Chip Cookies and Cream Frappuccino (With Salt & Wit) – A lightened and brightened copycat version of the Starbucks fave, this frappuccino is simply magical.
63. Piña Colada Slushes (Pretty Providence) – Bring on the coconut! We can't wait to take a swig of this summery treat!
64. Brownie Batter Protein Smoothie (Skinny Mom) – Get in your daily protein allotment in the best way possible with this brownie batter infused goodie!
65. Peppermint Milkshake (Mariah's Pleasing Plates) – Please pass the peppermint cuz this shake is all about it.
66. Cookies and Cream Milkshake (The Recipe Critic) – Having the cookies and the cream with none of the guilt sounds like our kind of thing!
67. Banana Cream Pie Milkshake (Crazy for Crust) – Set your taste buds on this bad boy and you'll be in banana cream heaven for days!
68. Strawberry Cheesecake Smoothie (Something Swanky) – What's better than strawberry cheesecake? A smoothie version, of course.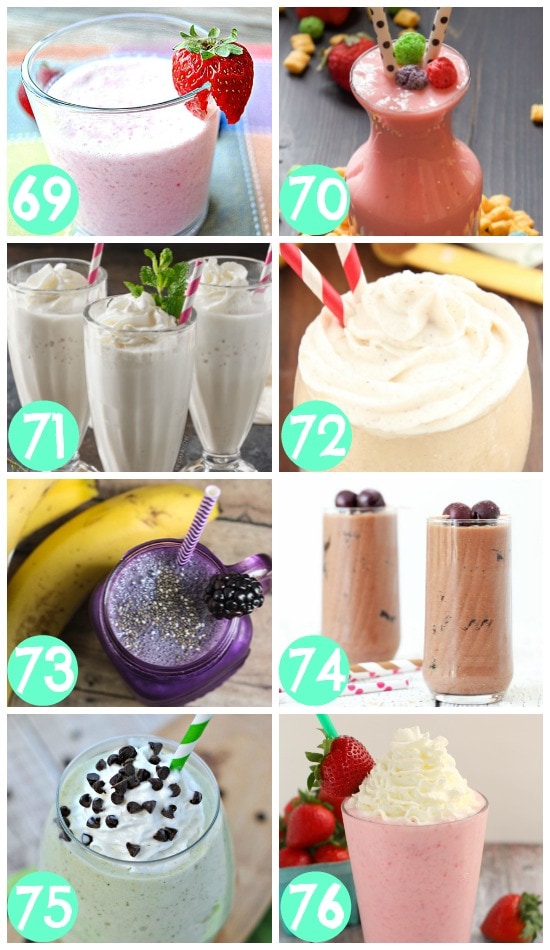 69. Mini Strawberry Milkshakes (Eat Yourself Skinny) – Sweet, petite, and practically perfect, you'll want to give these skinny minis a swig ASAP.
70. Captain Crunch Shake (With Salt & Wit) – Ahoy and down the hatch! We are SO excited this Captain Crunch shake exists!
71. Vanilla Bean Protein Milkshake (The Chunky Chef) – Vanilla bean paste and a few other not-so-secret ingredients combine to make this a work of protein-packed perfection!
72. Apple Pie Smoothie (Amy's Healthy Baking) – We may change the phrase to "As American as Apple Pie Smoothies" after this tasty, low-calorie treat!
73. Blackberry Banana Smoothie (Skinny Mom) – We know you'll be 'berry' pleased after sipping this sweet (and skinny!) smoothie.
74. Chocolate Cherry and Coconut Shake (LittleSugarSnaps) – Three of our VERY favorite ingredients blend together to create a shake that's as tantalizing as it sounds.
75. Shamrock Shake (Shugary Sweets) – Call it the luck of the Irish, but we think this green goodie is nothing short of magic.
76. Copycat Starbucks Strawberries and Cream Frappucino (Delightful E Made) – This copycat version of a traditional icy treat is full of flavor and 'berry' tasty!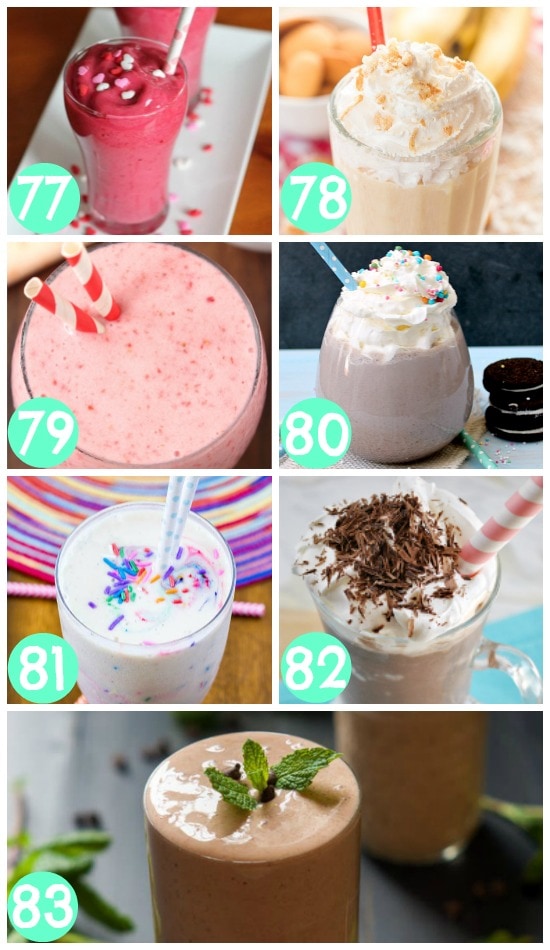 77. Raspberry Milkshake (Sober Julie) – So guilt-free and unbelievably red, this raspberry beverage is a yes, yes, YES!
78. Banana Cream Pie Protein Shake (Mariah's Pleasing Plates) – What better way to pack in the protein than with this dreamy, creamy, banana-y goodie?!
79. Strawberry Shortcake Smoothie (Amy's Healthy Baking) –
80. Oreo Shake (Earthly Taste) – Black and white (and with enough for two!) this low-calorie treat based off of everyone's favorite cookie is best when shared.
81. Funfetti Milkshake (Sally's Baking Addiction) – Guaranteed to please young and old alike, this funfetti milkshake is loaded with good-for-you ingredients and tastes like the real thing!
82. Frozen Hot Chocolate (Something Swanky) – Too hot for cocoa? Never.
83. Peppermint Patty Shake (With Salt & With) – The flavors of everyone's favorite candy is about to make a comeback in a very major way.
18 Skinny Dessert Dips
Stop, drop, and dip! These sweet and skinny spreads are fun to eat and won't break the calorie bank!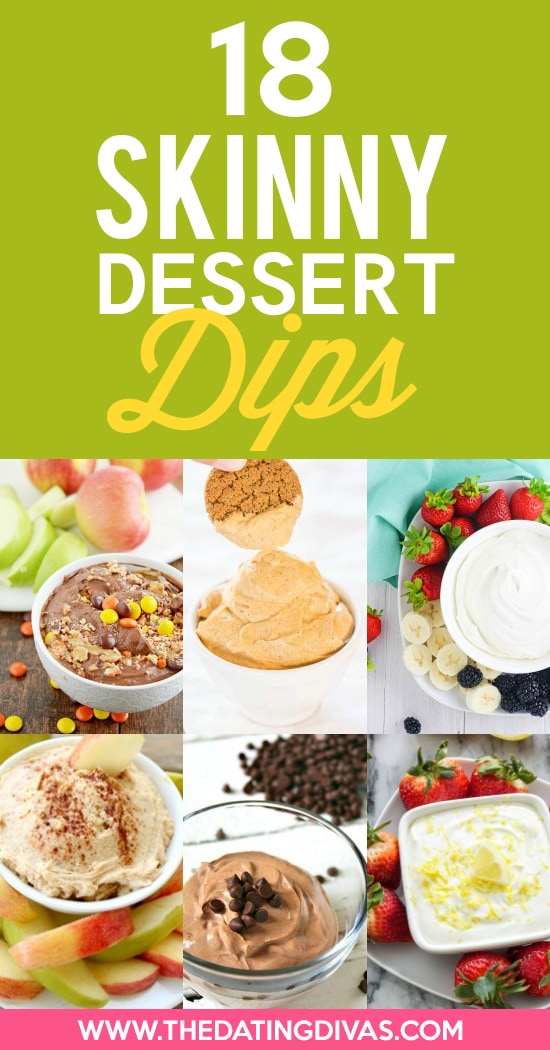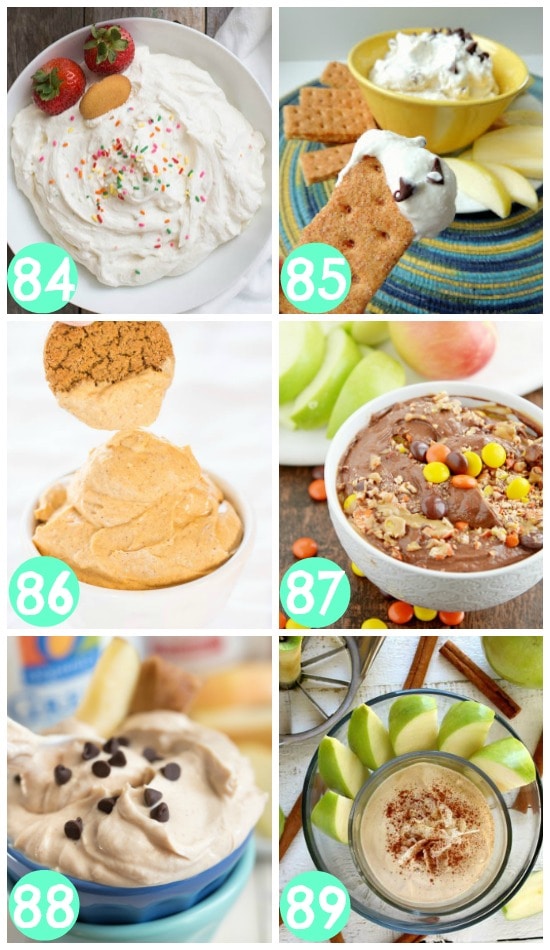 84. Funfetti Cake Batter Dip (Boys Ahoy) – We can't believe it's low-calorie! This skinny funfetti dessert dip will have you in awe too.
85. Chocolate Chip Cannoli Dip (The Frugal Foodie Mama) – Based off of the sweet, creamy, and calorie rich Italian treat, this cannoli dip is the perfect compromise!
86. Pumpkin Pie Dip (Averie Cooks) – Paired with crackers or cookies (the options are endless!) this spicy fall dip is a great way to 'spread' some autumn cheer!
87. Peanut Butter Brownie Batter Dip (Something Swanky) – The secret to this rich and creamy goodness? Low fat vanilla yogurt. Yum-diddly-umptious.
88. 3-Ingredient Peanut Butter Dip (Crazy for Crust) – Requiring only three ingredients that you probably already have on hand, this quick and easy dip can be enjoyed anytime!
89. Peanut Butter Fruit Dip for One (Grounded and Surrounded) – Filled with all sorts of deliciousness like coconut sugar and cinnamon, this single serving fruit dip is fantastic!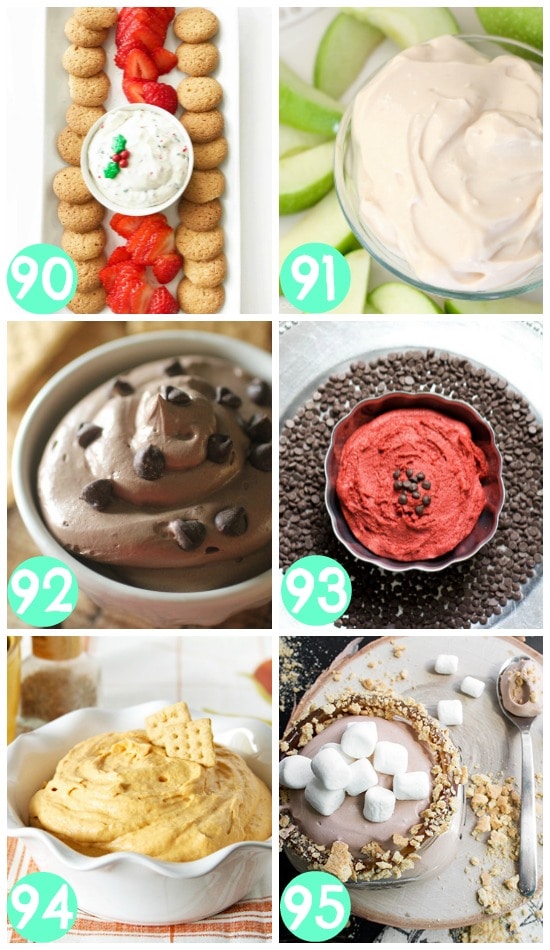 90. Sugar Cookie Dip (The Skinny Fork) – Why take the time to bake sugar cookies when you can whip up a dip in no time flat?!
91. Skinny Caramel Apple Dip (Creative Savings) – We're crazy for caramel, so this dessert dip has us practically dying.
92. Brownie Batter Dip (Dashing Dish) – Light cream cheese and cocoa take center stage in this skinny treat!
93. Red Velvet Cookie Dough Dip (With Salt & Wit) – We bet you can't guess the secret ingredient in this sinful dip… chickpeas for the win!
94. Pumpkin Fluff (Cooking With Ruthie) – Pudding and spice and everything nice. That's what pumpkin fluff is made of…
95. S'more Fluff (Skinny Mom) – Try this sweet, creamy treat the next time a craving for your favorite campfire snack strikes!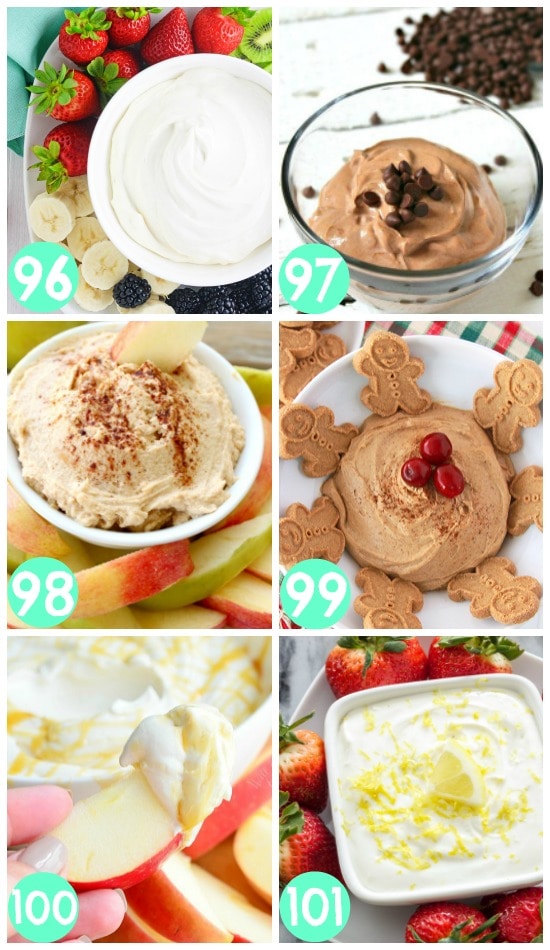 96. Cream Cheese Fruit Dip (It's Cheat Day Everyday) – Bright, white, and a perfect delight, this creamy dip pairs excellently with berries!
97. Chocolate Fruit Dip for One (Grounded and Surrounded) – Don't feel like sharing? With this single-serving chocolaty treat, you won't have to!
98. Cinnamon Peanut Butter Dip (Six Sisters' Stuff) – Sweetened with honey and packed with other good-for-you ingredients, this zippy peanut butter dip is guaranteed to hit the spot!
99. Gingerbread Dip (Cooking With Ruthie) – You don't need it to be Christmas to whip up a little gingerbread goodness!
100. Caramel Cream Dip (Will Cook for Smiles) – Easy, breezy, and so cream-cheesy, we can't wait to give this creamy dip a try!
101. Lemon Cheesecake Dip (Recipe Runner) – The perfect partner for fruit or graham crackers, this sunshiny treat will brighten your day in a snap!
Low in calories and high in YUM, these skinny desserts are about to make every day a tasty one! For even more healthy posts, be sure and take a look at our list of 101 Healthy Treats for Valentine's Day and 101 of the Best Youtube Workouts! Happy Snacking!
If you're pairing your healthy snacking with a new fitness routine be sure to check our Fitness Faves to help you with your fitness goals!
We highly recommend our favorite fitness and nutrition program that has done WONDERS for several of us Divas! We personally know the creator (a physical therapist) and his methods are pure, effective, and incredibly DOABLE! If you're looking for an amazing home fitness and nutrition program, definitely check out the Mommy Tummy Fix and Mommy Tummy Strong.
And use code MOMMY30 to take $30 off! (Such a good deal for everything you get!!)