Quick-to-Prep Costume Ideas For Couples! 
Life can get busy leaving not much time for creating a memorable Halloween costume for you and your spouse. We get it! Today we share with you 25 of the most creative and quick costume ideas for couples that are not only super creative but also easy to prep!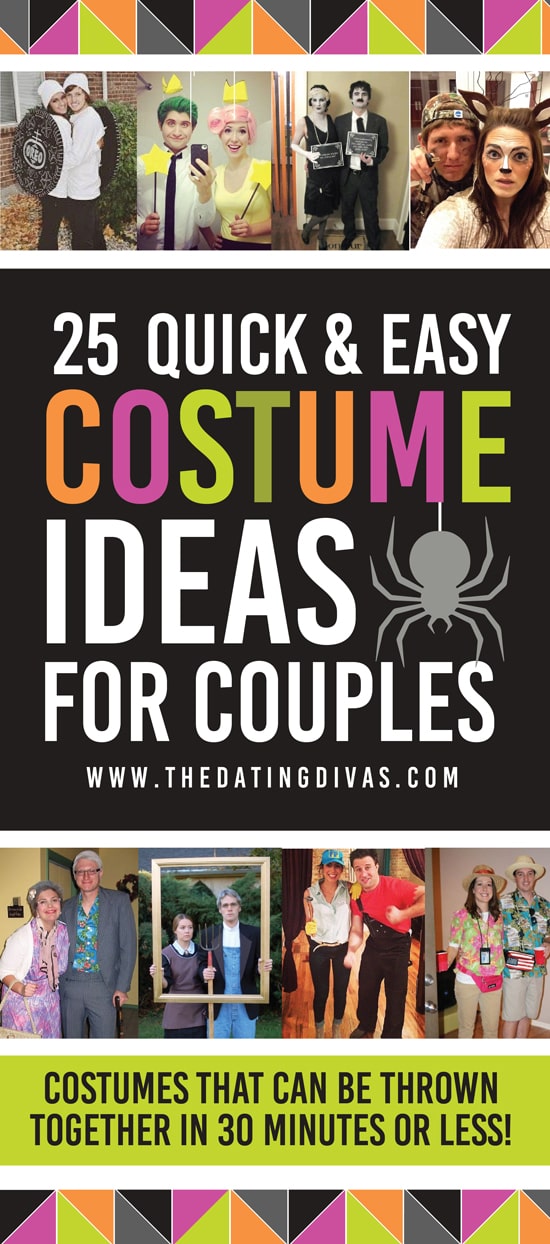 Put off finding a Halloween costume for you and your spouse? No worries! We have searched the internet for you and found 25 super creative couples that created Halloween looks that were both memorable and simple.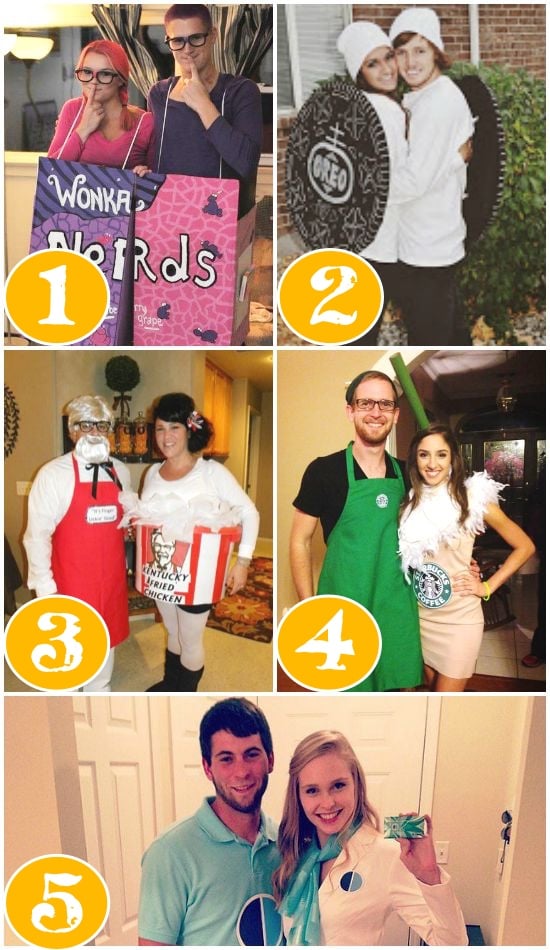 1. Nerds – Grab some large glasses and decorate a box to mimic a Nerds candy box and you've got a super fun costume!
2. Oreo Cookies – Pair white shirts with black pants and add a decorated Oreo cardboard cutout for a costume that is deliciously creative! 
3. Colonel Sanders & Fried Chicken – How fun is this? A red apron, some glasses and a white bearded wig gives you a quick Colonel Sanders. The Colonel needs his fried chicken! Decorate a round cutout like a popcorn bucket and you are set! 
4. Starbucks Couple – Print out the Starbucks logo and add it to an apron and a dress to create this classic costume! I love the frothy feather boa touch!
5. Orbitz Couple – This might be the easiest costume yet! Just add the famous Orbitz gum logo on your shirts, a mint scarf and give out packs of gum! Easy and fun!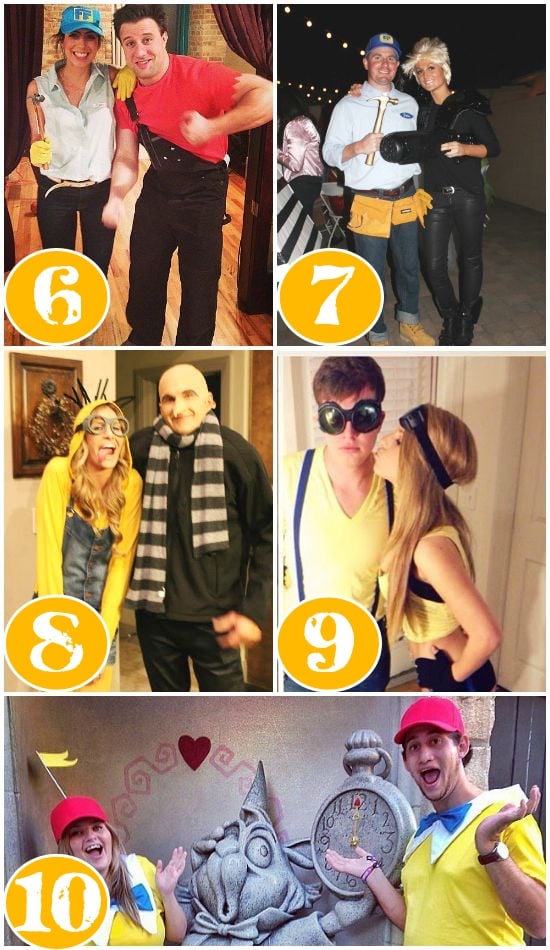 6. Fix-it Felix and Wreck It Ralph – Got a super strong spouse? A red t-shirt, messy hair and overalls gives you the perfect Wreck It Ralph. And for Felix – a hammer, yellow gloves and a hat! 
7. Fix-it Felix and Sergeant Calhoun – Taking more inspiration from the Movie Wreck It Ralph, you could do the love story couple of Fix-it Felix with Sergeant Calhoun. Felix will need a tool belt, hammer and hat while Sergeant Calhoun wears all black! 
8. Minion & Gru – The movie Despicable Me offers prime costume opportunities! For a minion – a yellow hoodie with overalls and goggles gives you a great costume! Your spouse can be Gru by wearing all black and adding a grey and black striped scarf. 
9. Minions – For more Despicable Me fun – you could both be minions! This couple kept it simple with yellow t-shirts, jeans, goggles and suspenders!
10. Tweedle Dee & Tweedle Dum – There is no more classic pair of characters than Tweedle Dee and Tweedle Dum. To pull off this costume, get matching red hats, yellow shirts and a big blue bow tie!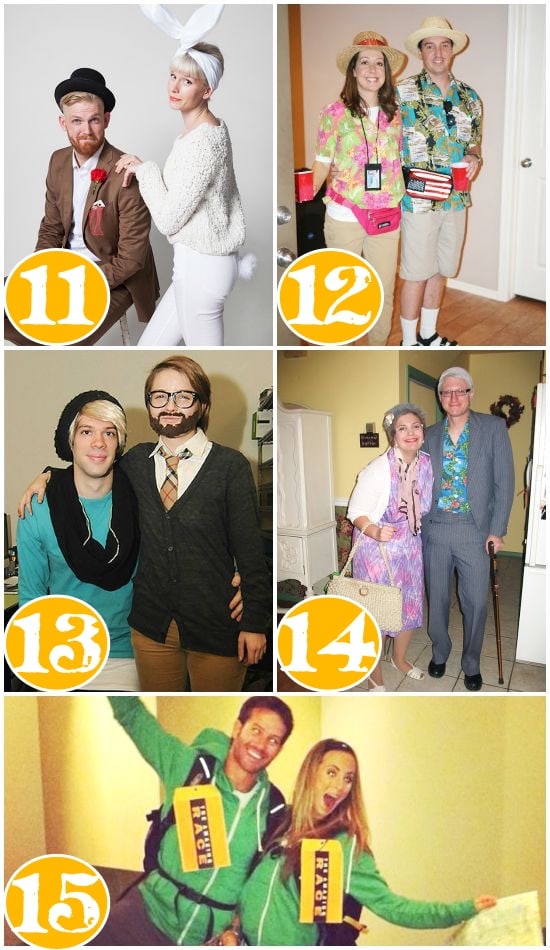 11. Magician & Rabbit – This couple got really creative with their coordinating costumes! For the magician – a top hat and suit coat keeps it very simple. For the rabbit – just wear all white (preferably something with texture), add a white head wrap for ears and attach a cotton tail. 
12. Typical Tourists – This costume couldn't get any easier! Get your tackiest Hawaiian shirt, wear socks with sandals, add a floppy sun hat and grab maps, sunglasses and cameras for accessories. Easy! 
13. Switch Looks – How clever is this? The couple dressed up as EACH OTHER! All you have to do is raid each others closets. Check out the link to see the before and after pictures – it is hilarious! 
14. Grow Old Together – Raid Grandma and Grandpa's closet to add to your age. Add some grey to your hair, grab a walker or cane and you have a costume! 
15. Amazing Race Contestants – I am a HUGE fan of the TV show The Amazing Race and being a contestant for a Halloween costume is super easy! Just wear workout clothes with a coordinating color and a large hiking backpack. The key to this costume is the Amazing Race envelopes which you can get for free from our Amazing Race Group Date Night!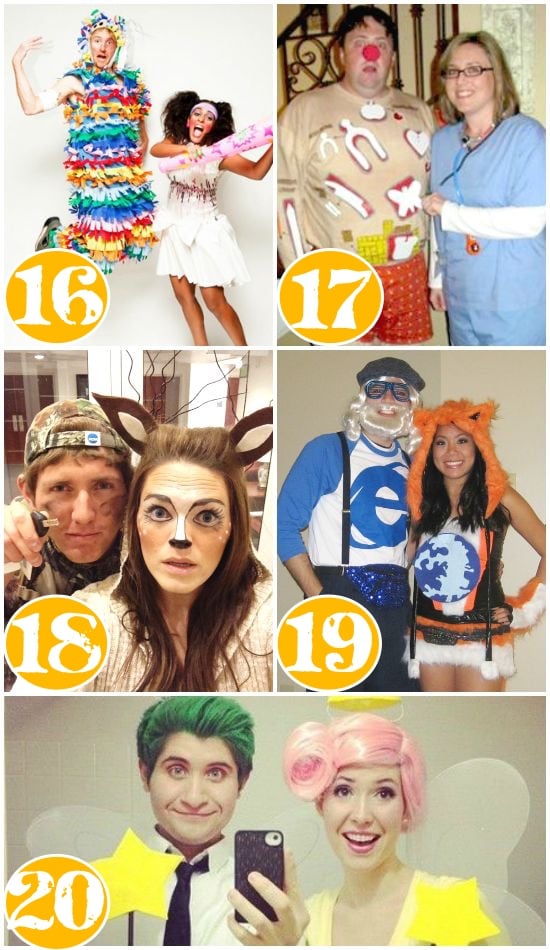 16. Piñata & Birthday Girl – This idea made me giggle! The birthday girl just needs pigtails and a bat (I like that this couple did a blow up one so no injuries!). For the piñata it looks like they did rows of colorful paper that they ripped into chunks. So fun! 
17. Operation Game – How fun is this? For a surgeon costume, all you need are scrubs and maybe some doctor accessories. For the game board, just cut the shapes from the game board onto paper and attach to a nude-colored shirt. This couple even added a red nose and boxers! 
18. Hunter & Deer – This is a costume many people can find right in their closet! For the hunter – pull out your camouflage attire. Then, for the deer – attach some ears to a headband and add a little face paint. You are set! 
19. Internet Browsers – Some people are so creative! For the technology-savvy couple you could go as Firefox and Internet Explorer! 
20. Cosmo & Wanda – With wings and a fun wig, this couple transformed into creative characters from the cartoon Fairly Odd Parents!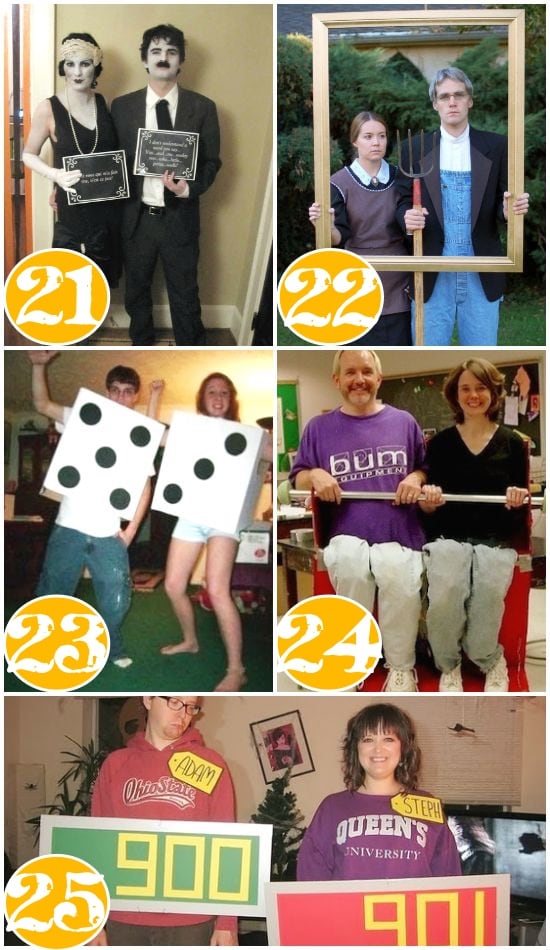 21.
Silent Film Stars
– 
Use face paint to pale your faces and then wear period black and white clothing. Finally, make some silent film cards. The tricky thing about this costume is staying in character all evening! 
22. American Gothic Painting – This classic painting can become an easy costume! Check out the original painting to match your attire and then grab a large frame and pitchfork for a unique and artsy costume! 
23. Pair of Dice – I have done this costume before and it was super easy! Cut out the bottom of 2 boxes and add holes for the head and arms. Then, cover it in white butcher paper and add dots. It was easy to do but we got a lot of compliments! 
24. Roller-Coaster Riders – I love optical illusion costumes! This post explains step by step how they created this silly roller-coaster riders costume from things they already had at home. 
25. Price is Right Contestants – Just make your own price-guessing signs, wear a college sweatshirt (optional) and you have a totally recognizable costume! You can even use our free printable name tags from our Price Is Right Date Night to add to the costume! 
There you have it! 25 ideas for a super quick costume for Halloween! Now the tricky part might be in deciding which one to do! If you didn't see one that you liked here, or you just want to keep looking we have even more couples costume ideas for you!
Check them out:
You are sure to find something for this Halloween and for many more to come!
AND if you're looking for some fun Halloween Party Ideas… look no further! Introducing…
Our NEW Whodunit Mystery Detective Game!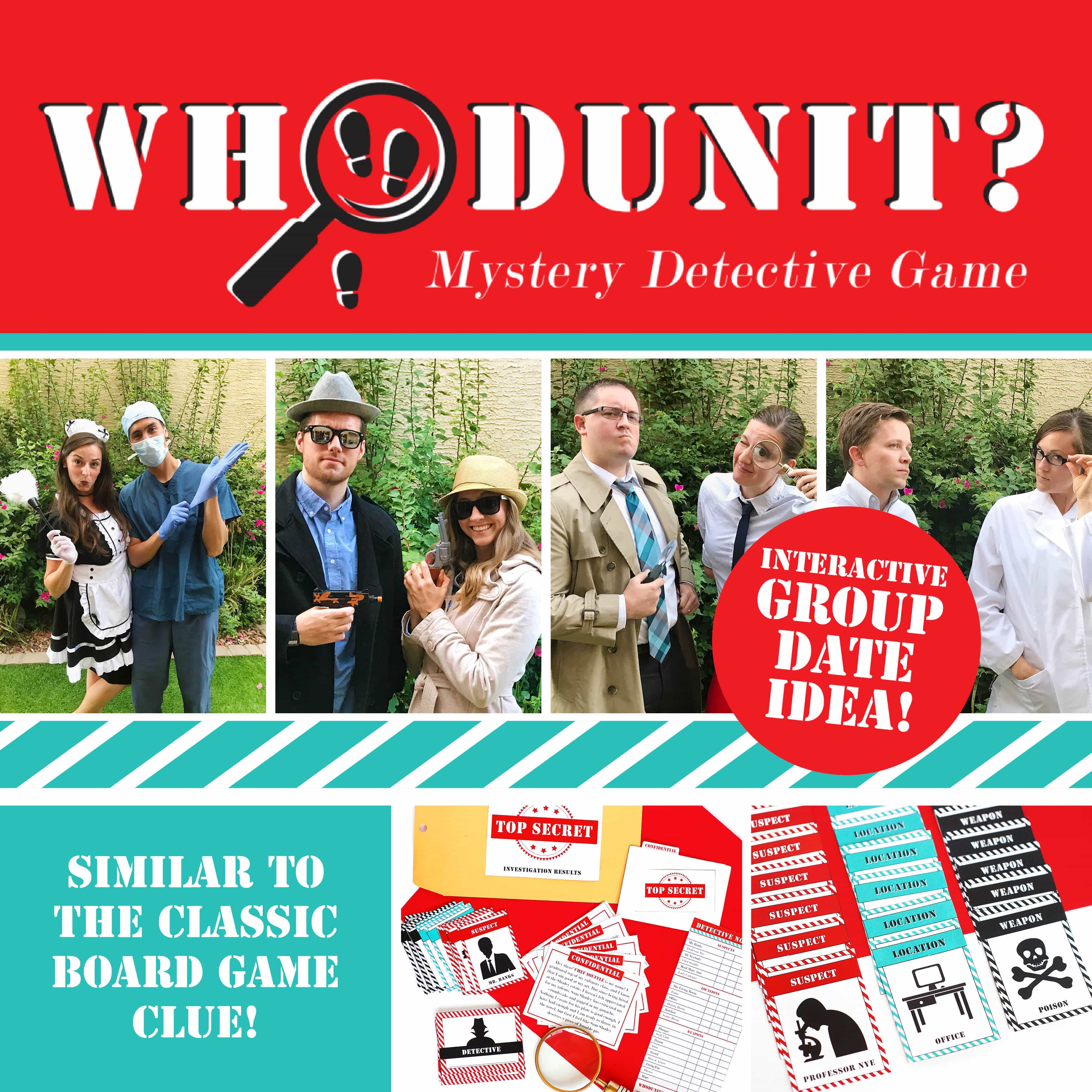 Here are all of the amazing resources available in this kit: 
Host's Guide – to make party planning a breeze
Invitations – includes both a paper and a digital version!
Name Tags – to identify each unique character
Character Role Cards – gives your guests a character background
Suspect, Location and Weapon Cards – to determine the crime committed
Room Labels – for the designated suspect areas
Detective Clue Sheets – To assist the detectives in solving the crime
Character Introduction Cards – for introductions at the party
Host Check List – to keep track of your party preparations
Guest List – to organize your guests and assign characters
Top Secret Envelope Labels – where the suspect's clues will be revealed
AND if you loved this, you HAVE to try our Murder Mystery Kit!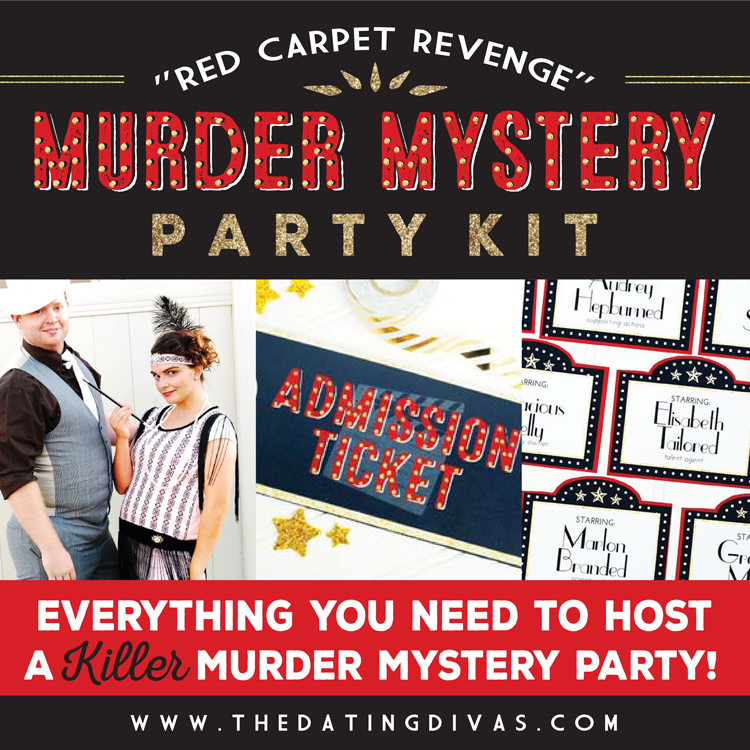 This 80 Page Murder Mystery Party Kit includes:
Hosting Ideas & Suggestions to make party planning a breeze.
Invitations personalized for each character with costume ideas!
Character Biographies to set the stage and story.
Name Tags to identify each unique character.
Table Cards & Food Tents to use if playing over dinner.
Task Cards for the characters to complete in each round.
Evidence Pieces to add intrigue and suspense!
Voting Ballots and Awards to vote for your favorite characters & suspects.
and much MORE!
HAPPY HALLOWEEN!