St. Patrick's Day Crafts for All Ages
For a minor holiday, St. Patrick's Day crafts really show up! I love all of the fun rainbow ideas and the variety available for St. Patrick's Day crafts for preschoolers to adults! Today we are going to be sharing some of the cutest crafts out there. You can start with whatever category is most interesting to you and HAVE FUN!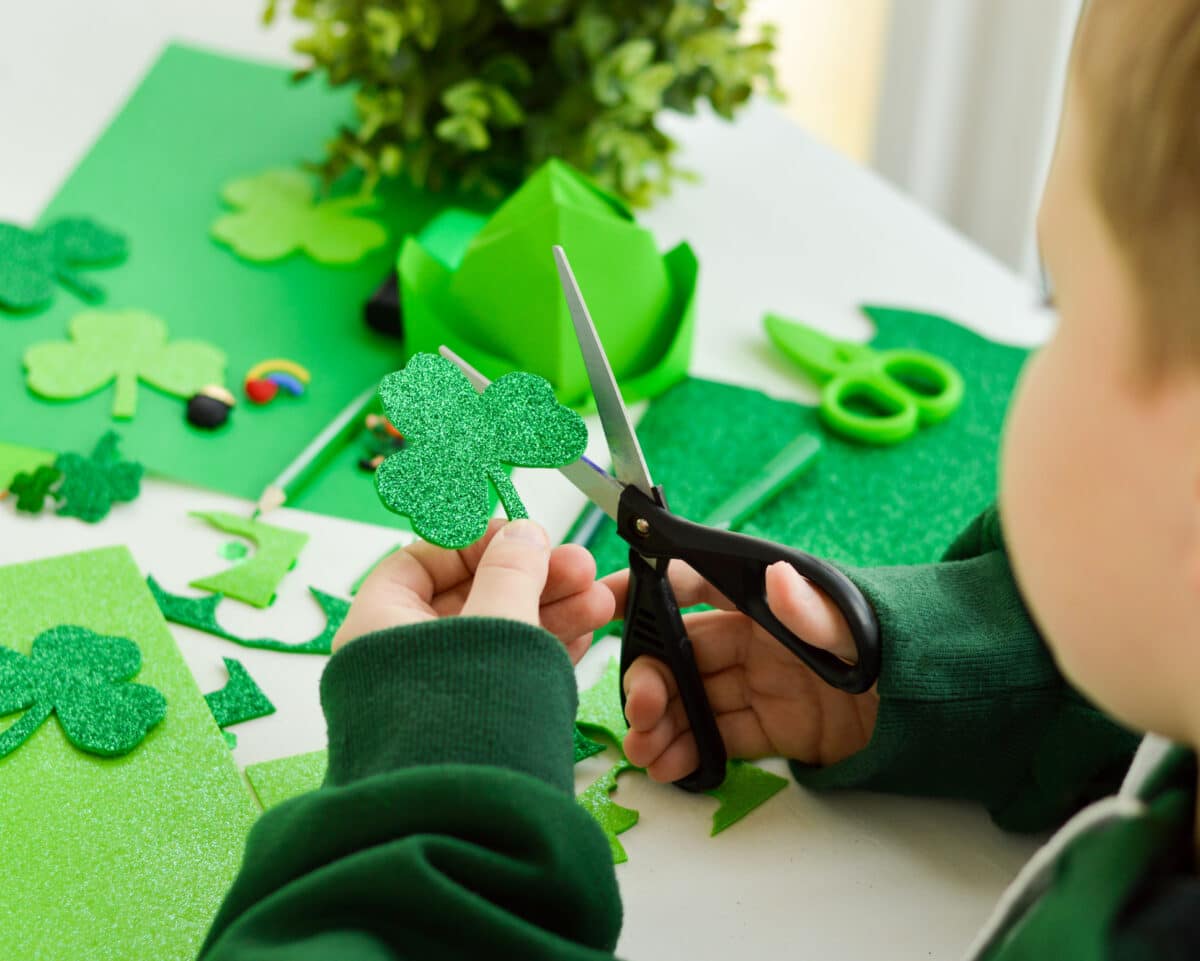 Table of Contents
Disclaimer: This post contains affiliate links. To learn more about 'em, click here.
St. Patrick's Day Decor and Crafts for Teens or Adults
1. Shamrock Wreath – Make a festive wreath with all of your green fabric scraps. This is a cute craft that doubles as St. Patrick's Day decor!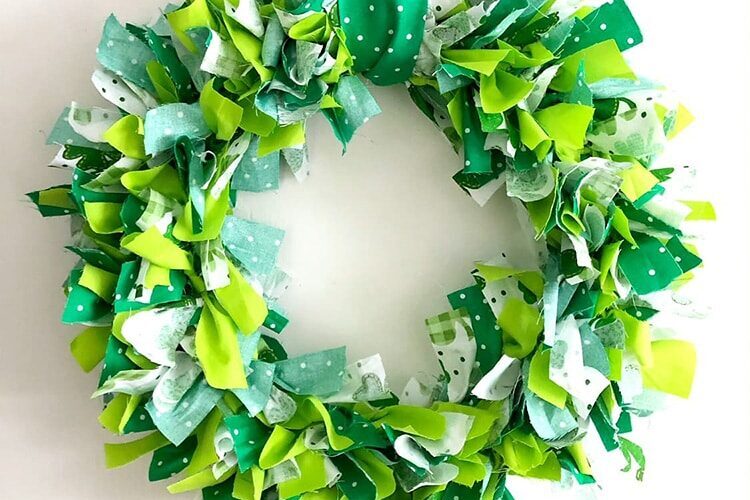 2. Irish Coffee Mug – You don't have to fill it with Irish coffee, but this cute mug would be a great craft with the teens in your life.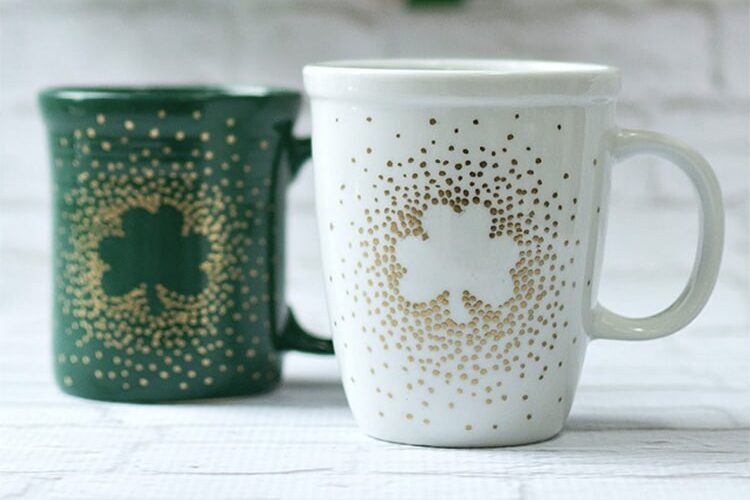 3. Lucky Shadow Box – This tutorial will teach you how to make adorable St. Patrick's Day decor using some scrap wood and only three other supplies!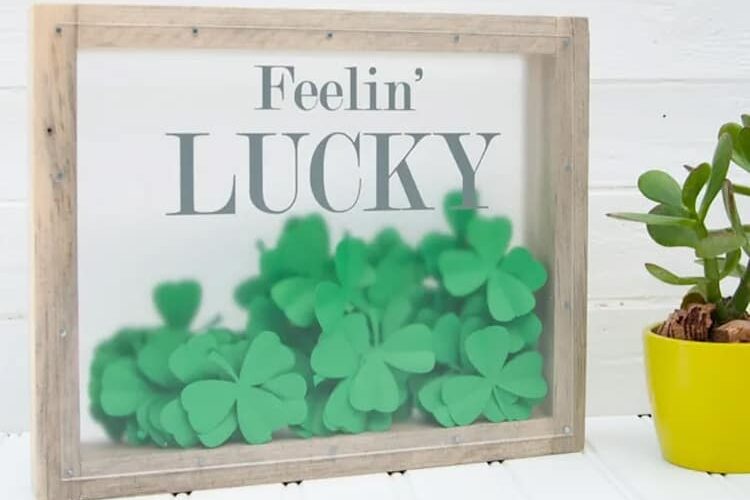 4. Quilled Shamrock – Learn a new skill with your teen and try making a quilled shamrock.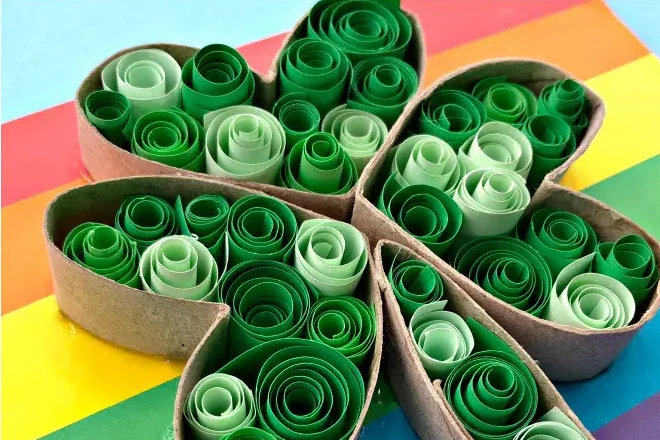 5. Lucky Tag for Gifts – Give the gift of (green) gratitude with this St. Paddy's craft idea. It's a free printable tag that you can slap on anything green, then have your teens deliver to their friends or teachers.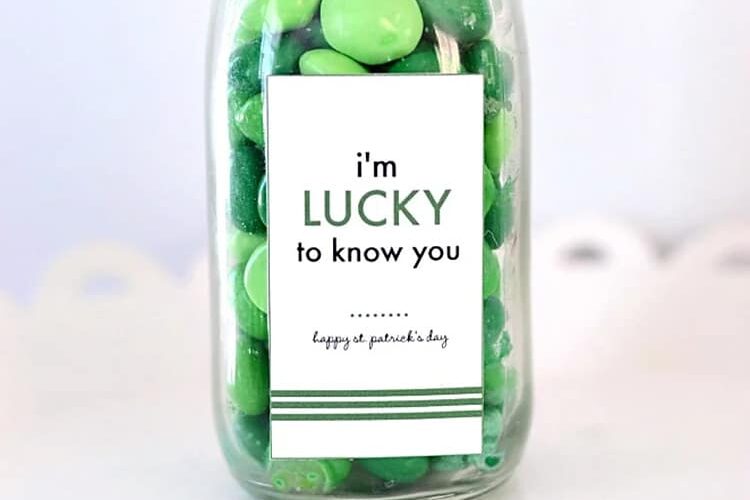 6. Pom Pom Garland – Grab that leftover green yarn and put the tweens and teens to work making homemade pom-poms for this adorable St. Patrick's Day decor.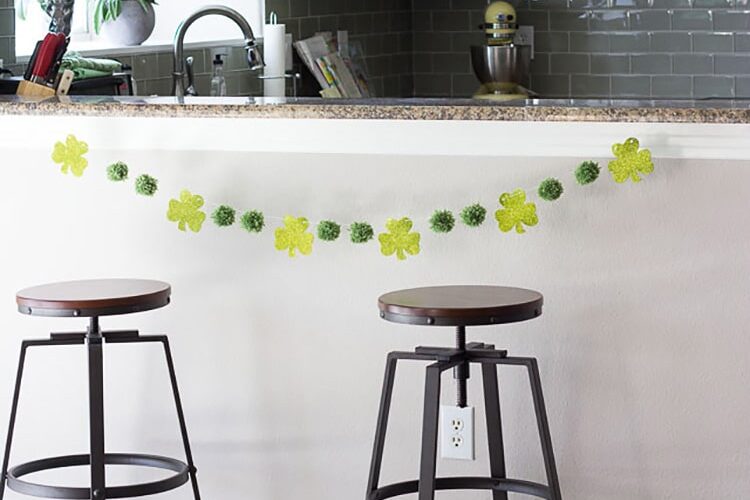 7. Monochromatic Shamrock – Make a chic piece of decor with this easy idea.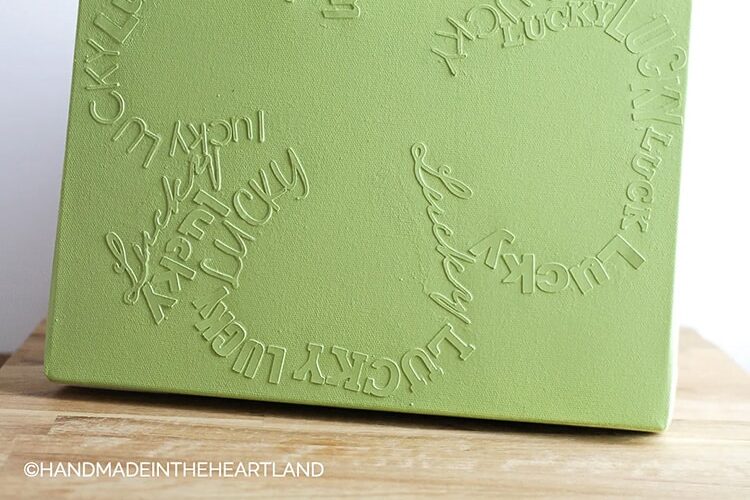 8. Coloring Pages – Advanced coloring pages are great for relaxing and creating art for your own house. This pattern will keep your older kids occupied while the corned beef cooks.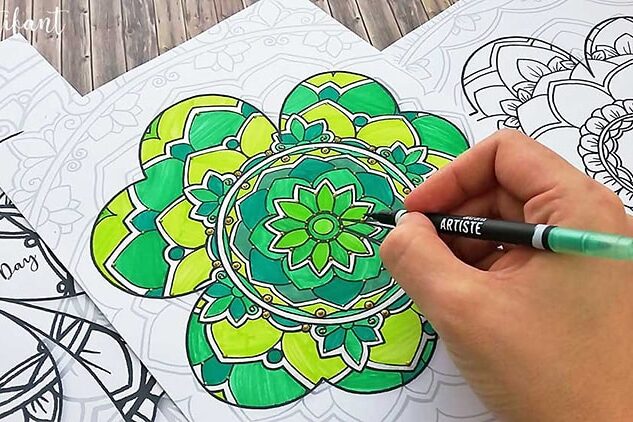 9. 3D Rainbow Shamrock – These easy crafts could be done while watching a fun show then adding to the table for a cute centerpiece.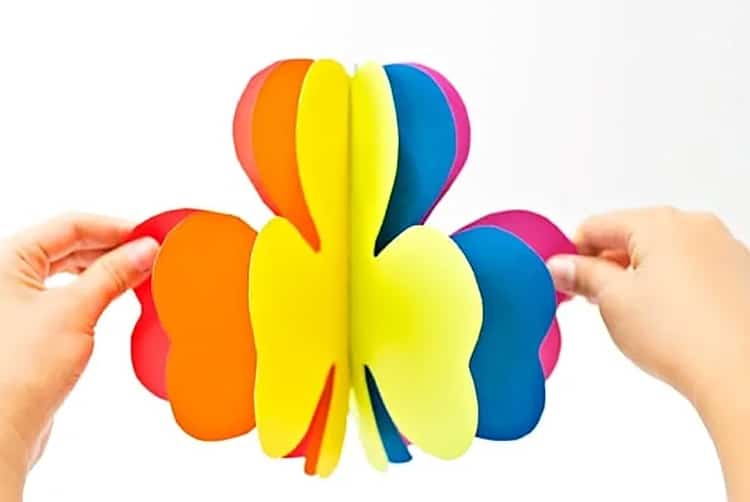 10. Rainbow Tassel Earrings – Help your teenagers create some St. Patrick's Day crafts and some new accessories with this tutorial.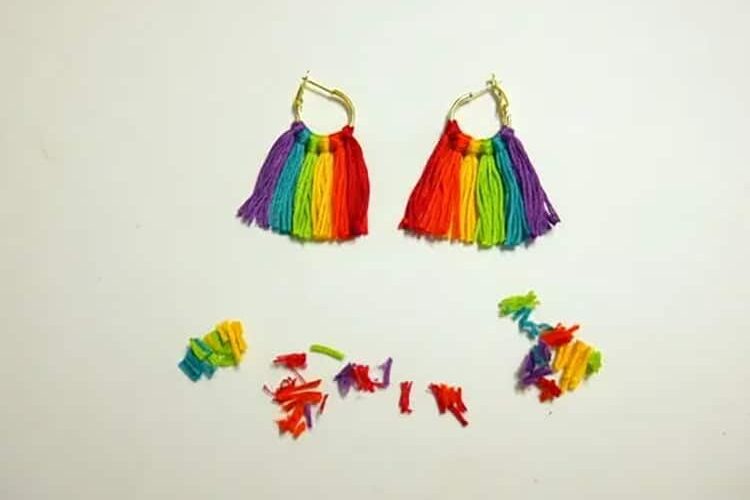 11. Sand Art Terrarium – Buy some fun shaped glasses, sand in the colors of the rainbow, and get ready to craft some trendy St. Patrick's Day decor.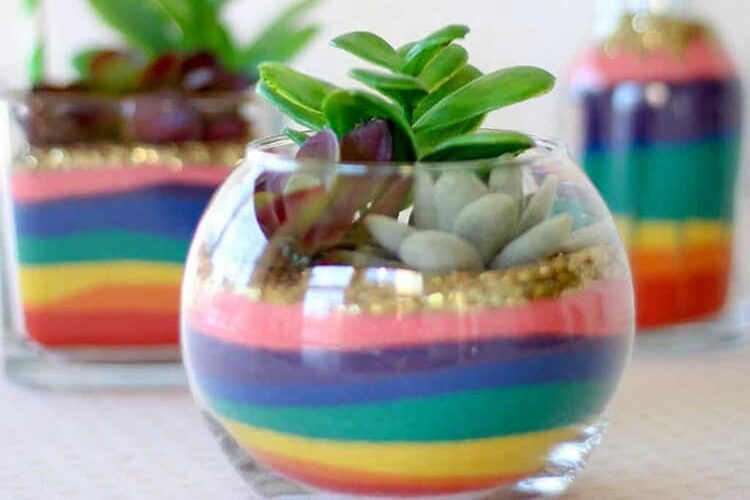 12. Rainbow Paper Shamrock – Use that extra construction paper you have around the house and teach your older kids how to make these fun rainbow shamrocks.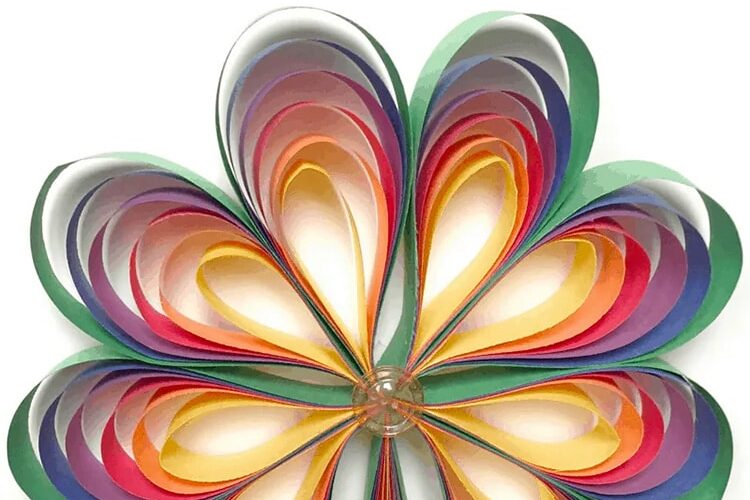 13. Shamrock Bath Bomb – Make an extra fizzy and fun St. Patrick's Day craft with this great tutorial for bath bombs.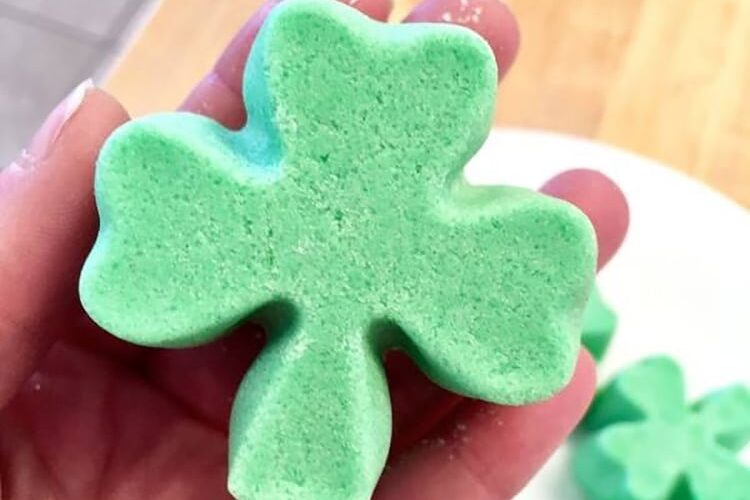 14. Ribbon Rainbow Wreath – Beautiful rainbows are synonymous with St. Patrick's Day crafts! Gather up your ribbons and create this fun take on a wreath.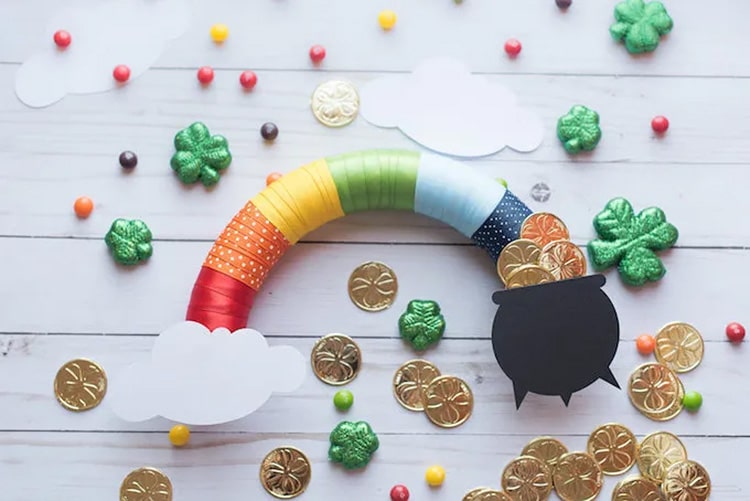 15. Rainbow Piñata – Detail-oriented teens will love this fun craft. Make mini piñatas for friends, place settings, or an exciting surprise.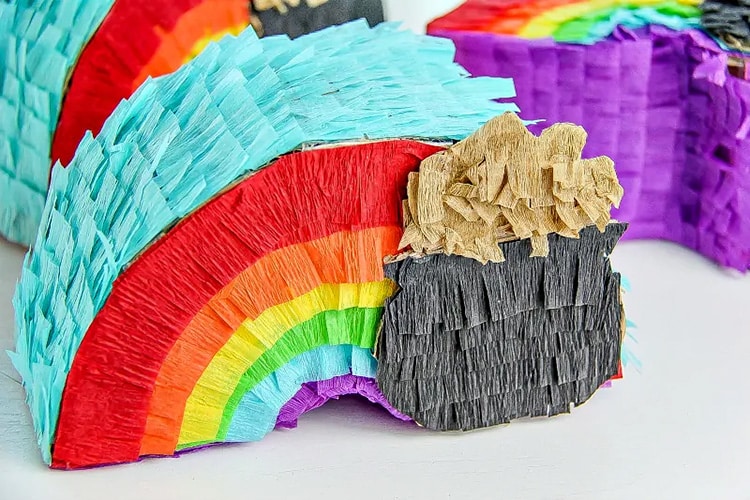 St. Patrick's Day Crafts for Kids
16. Shamrock Shirt – This easy St. Patrick's Day craft for kids only requires some paint, a pencil eraser, a shirt, and some freezer paper.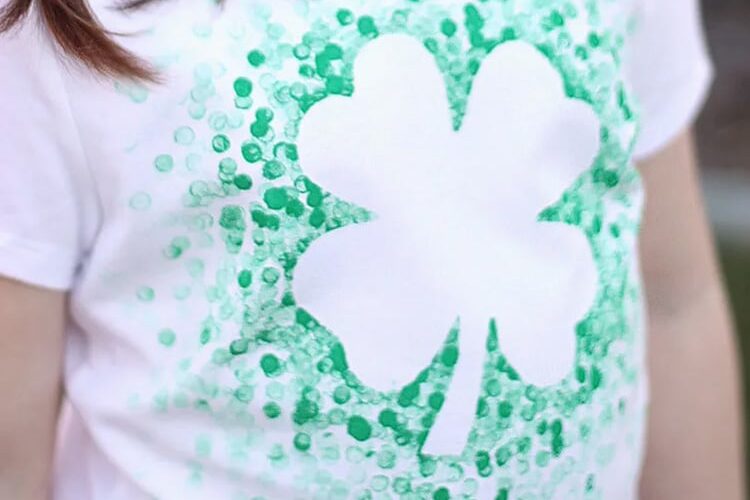 17. Puffy Beard – Shaving cream beards are one of the most perfect St. Patrick's Day crafts for preschoolers because it's quick and easy but also super fun to touch and smoosh!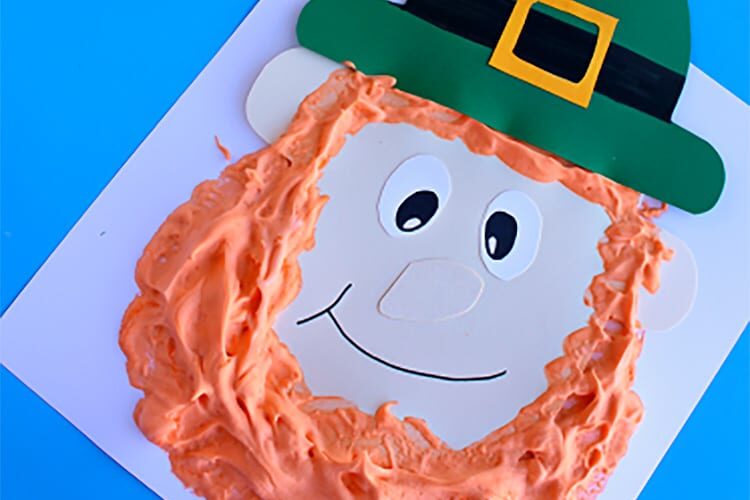 18. Name Rainbow – Turn your little's name into a sweet craft with a name rainbow activity.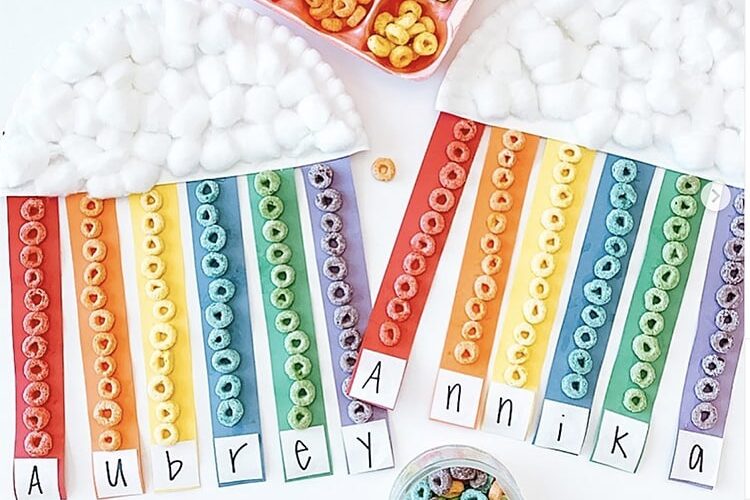 19. Craft Stick Rainbow – If you get rainbow-colored craft sticks, this whole craft goes so quickly! I love the simplicity of this St. Patrick's Day craft for kids.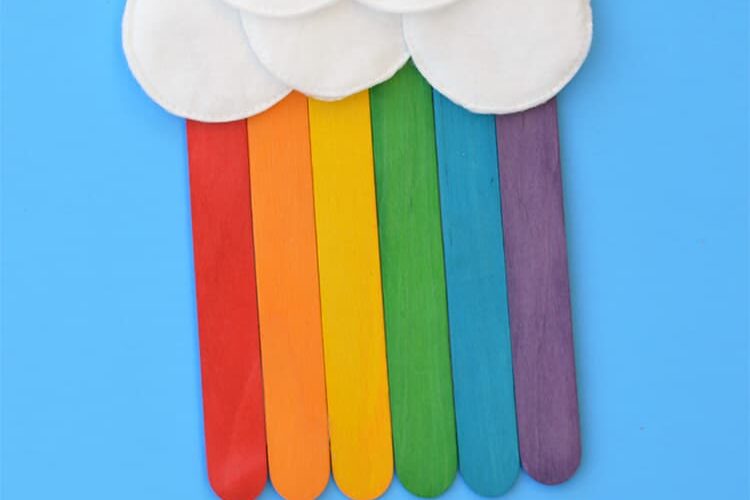 20. Toilet Paper Roll Clover – Gather up your leftover toilet paper tubes for this simple activity. You can spray paint them ahead of time, too. Don't forget the pony beads!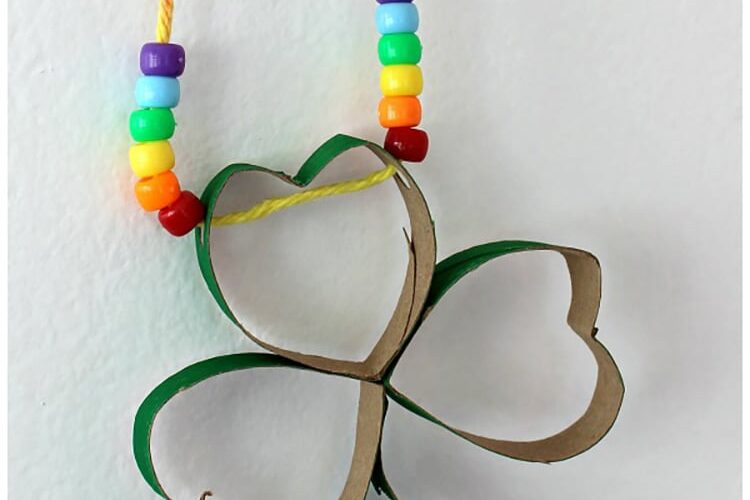 21. Glitter Slime – Slime and glitter, a kid's favorite toy, and a mom's worst nightmare. This recipe includes lots and lots of glitter. Make one of the best St. Patrick's Day crafts for kids together and don't feel bad when you dispose of it the week after.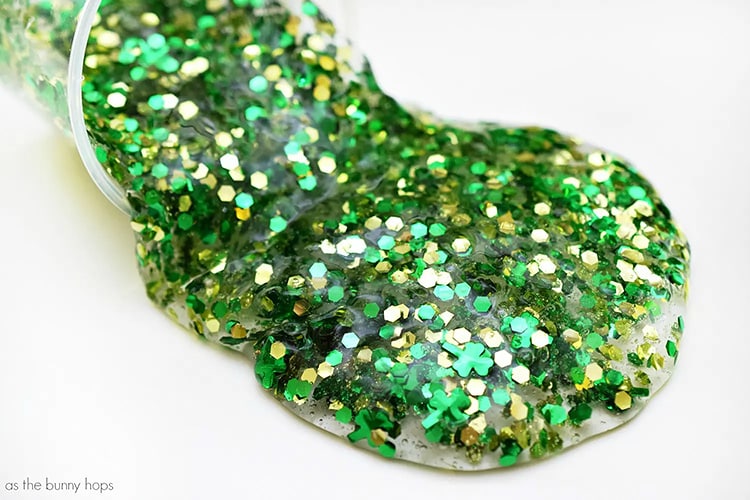 22. Moon Sand – This moon sand has a totally different texture than the one above. Guess you'll have to do both!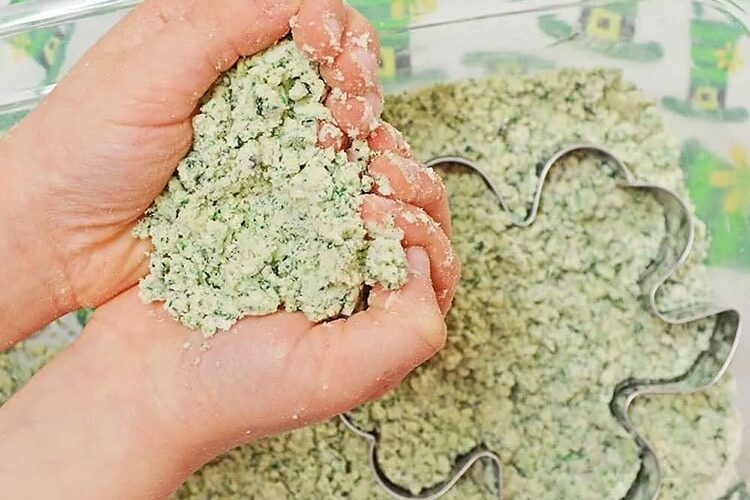 23. Oil Pastel Shamrock – Vivid colors from oil pastels make nice St. Patrick's day crafts with kids.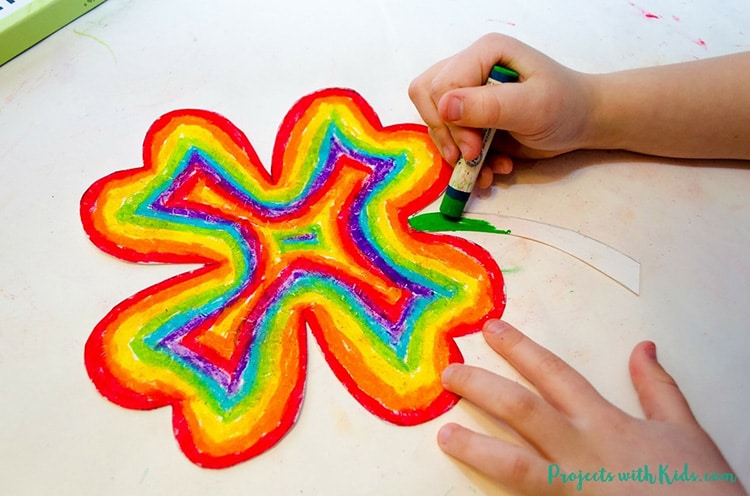 24. Fused Bead Rainbow Suncatcher – Make a fun rainbow suncatcher with this tutorial and a little oven magic.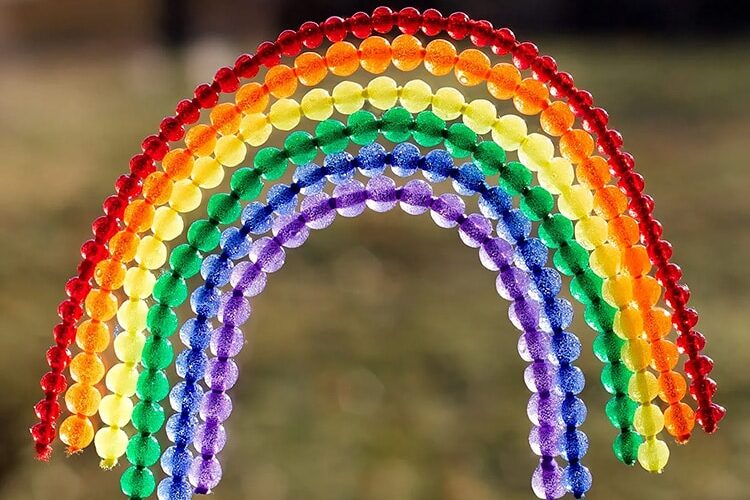 25. Rainbow Bracelet with Printable – Gifts don't have to be separate from St. Patrick's Day crafts. Make them one and the same with this sweet idea and gift tag.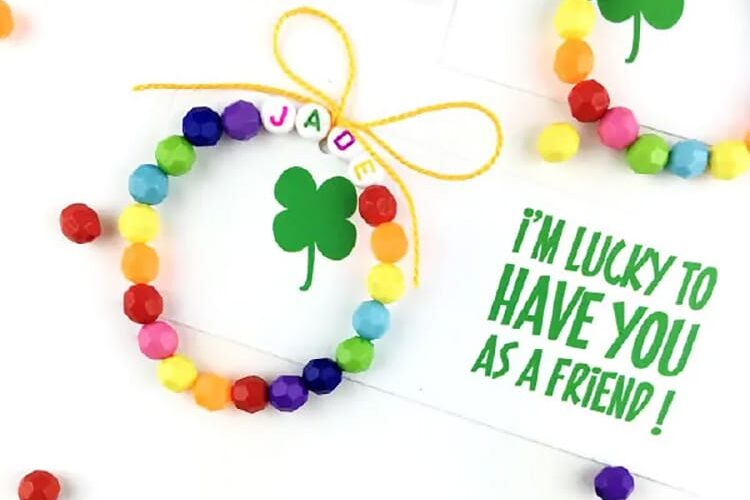 26. Dropper Rainbow Art – Grab a few droppers/pipettes and let your kids make some original art for St. Patrick's Day.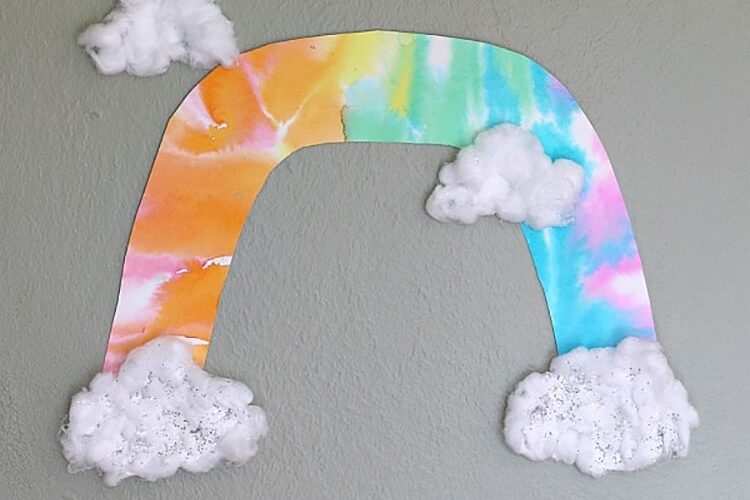 27. Shamrock Wand – You can (and should) make a wand for each holiday.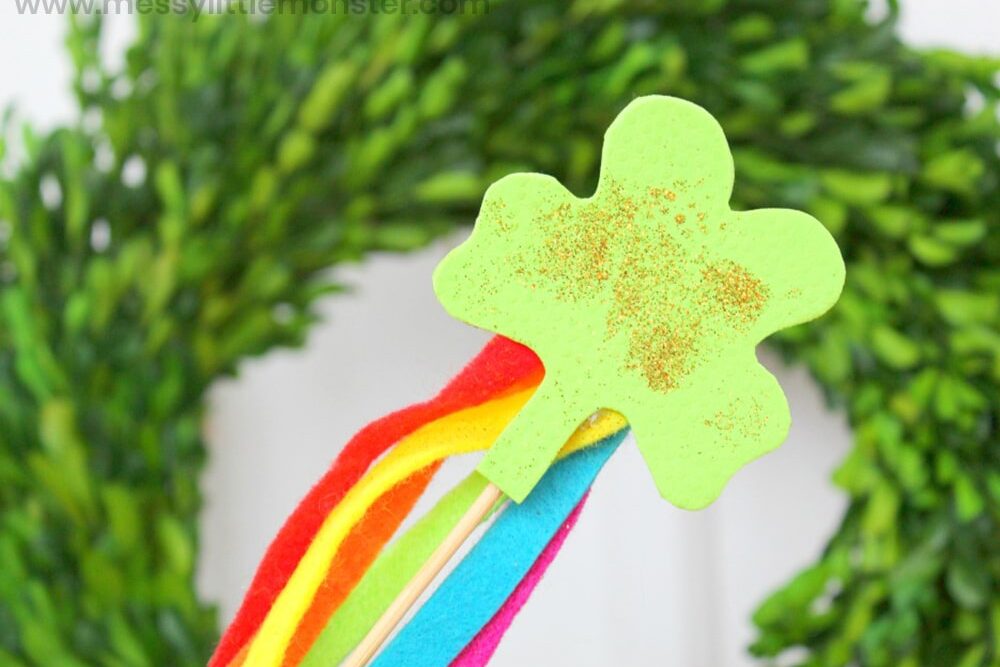 28. Salt Paint Shamrock – Salt painting is such a fun craft. You do need to prep the glue/salt in advance so that it can dry.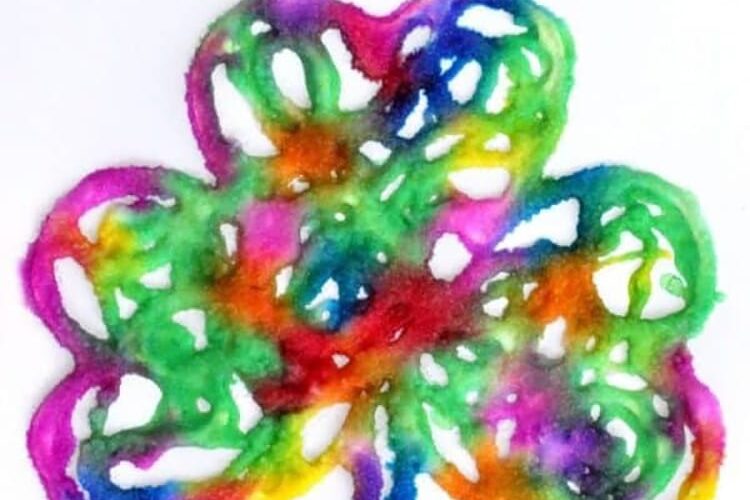 29. Shamrock Stones – Include kids in each part of this craft. Have them pick their stones and marker and draw their hearts for the shamrock leaves.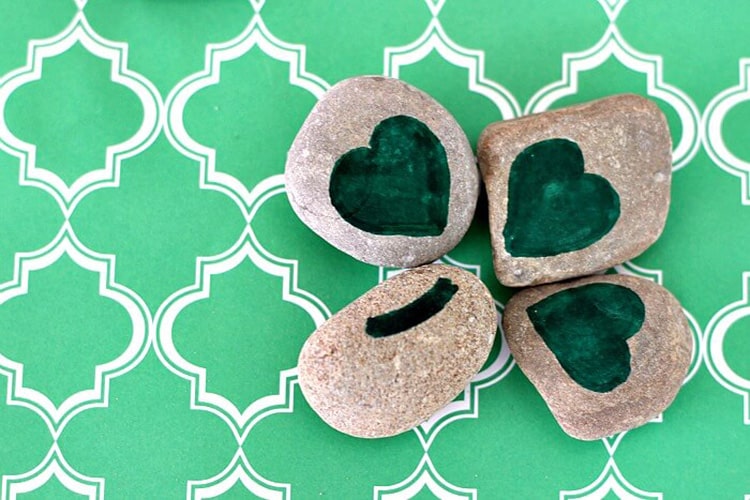 30. Shamrock Man – He's silly and easy. He's the shamrock man, and he's going to be a craft you can do year after year.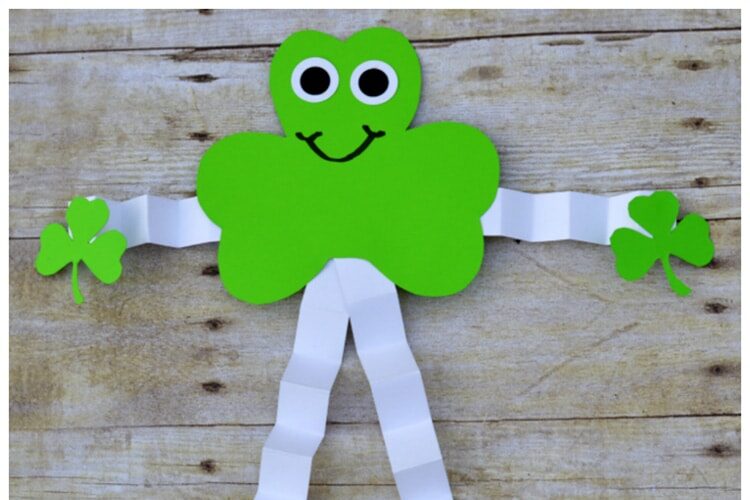 31. Rainbow Paper – I did not know this type of artistry was possible, but I am excited to try this craft with my kids!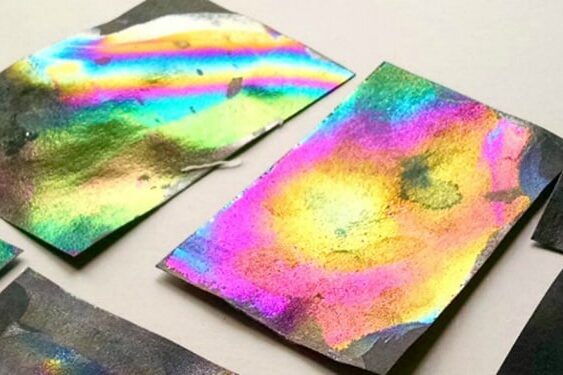 32. Leprechaun Ice Cream – Make a fun ice cream together and add in the Lucky Charms marshmallows to make it on theme.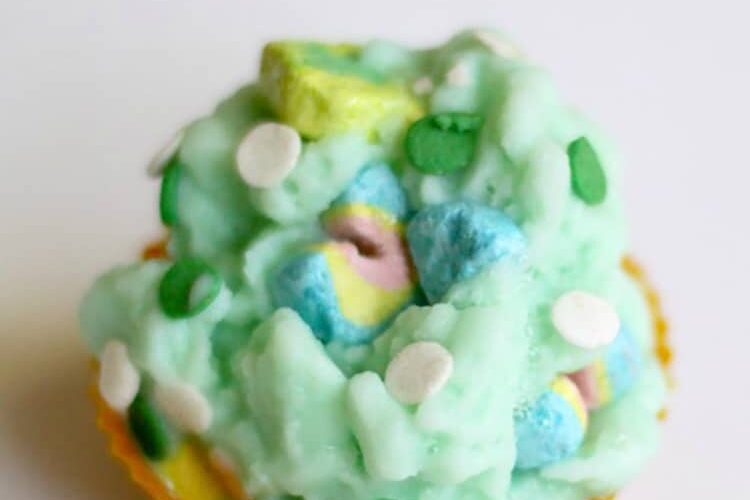 33. Leprechaun Lookers – Allow your kids to express their own individuality with some leprechaun binoculars made from toilet paper or paper towel rolls.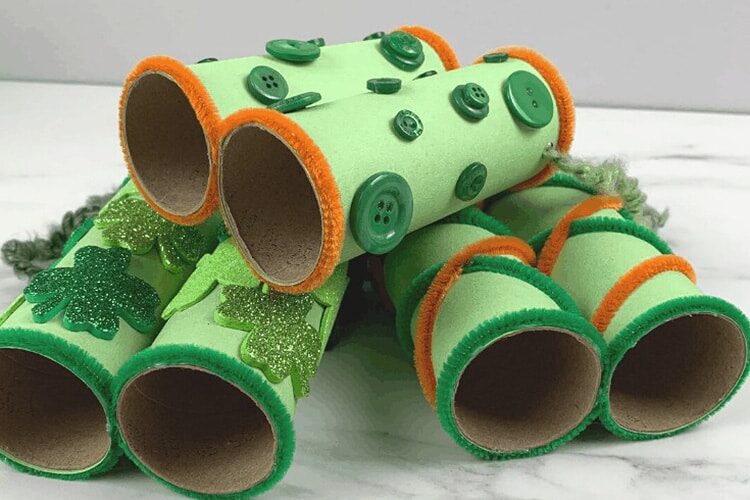 34. Rainbow Rain Stick – Let the soothing sound of rain trickle down through these cute rainbow sticks that your kids will love making.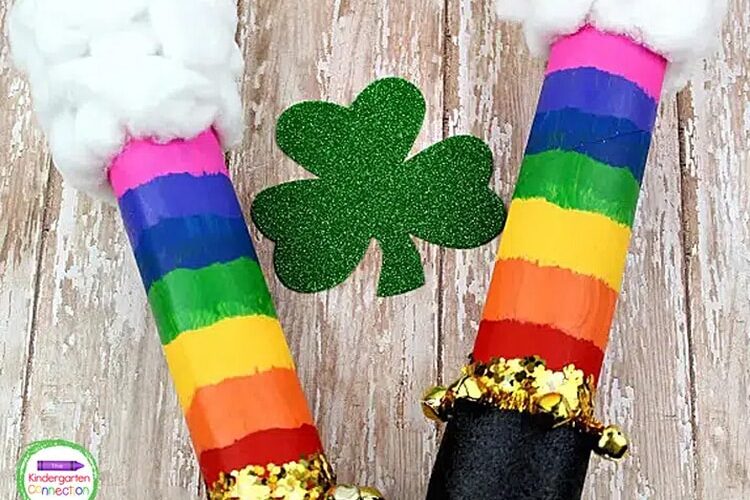 35. Pot of Gold – Yellow buttons make the perfect gold coins for this easy St. Paddy's craft.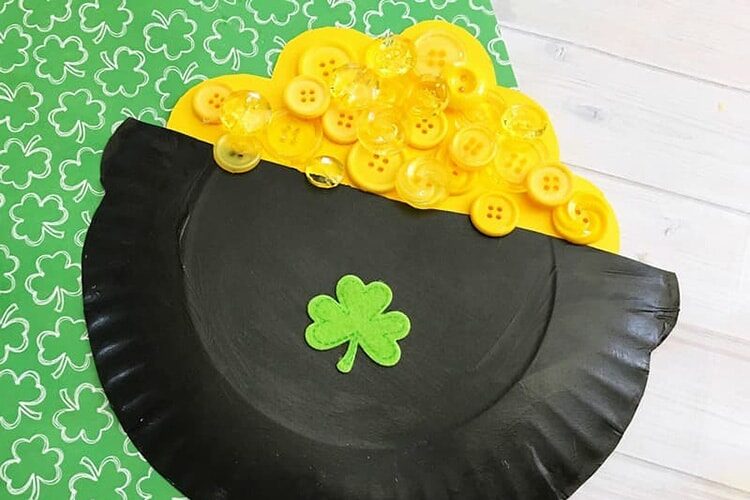 Learning Activities for St. Paddy's Day
36. Counting Rainbow Game – This fun game has so many different holiday elements in addition to teaching aim, color, and math!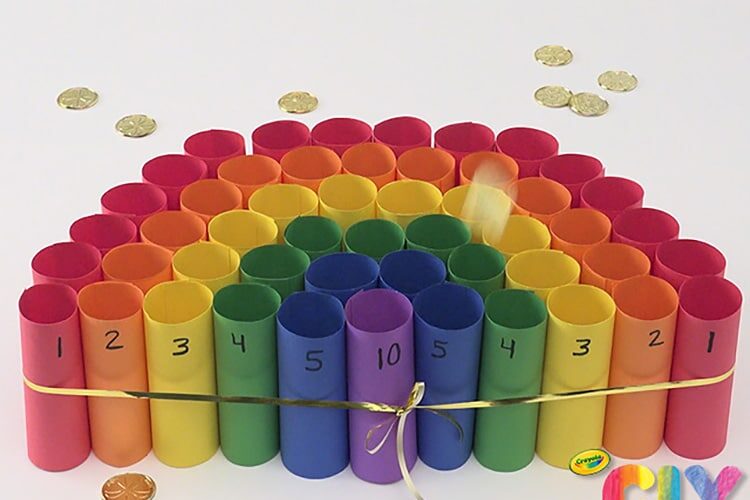 37. Borax Crystal Rainbow – Cutest crystal rainbow ever! My little girls would love to make their own crystals especially on a rainbow. Imagine using this in a leprechaun trap!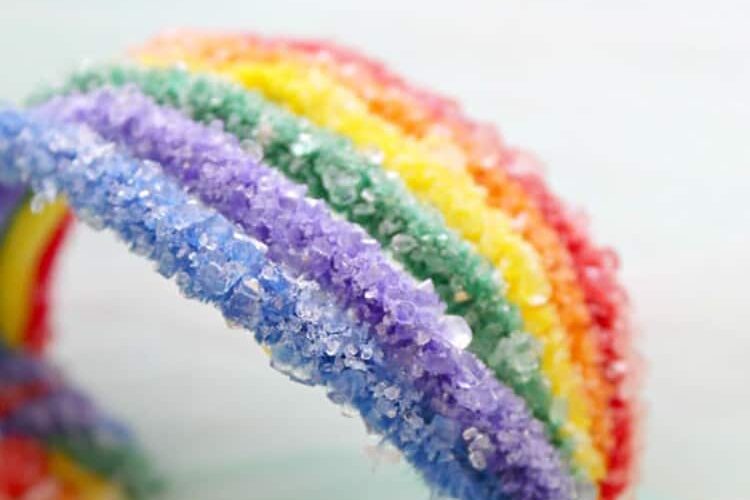 38. Slime in a Bag – You've made slime before, but have you ever experimented with making it in a bag? Learn alongside your kids a new way to get a favorite toy.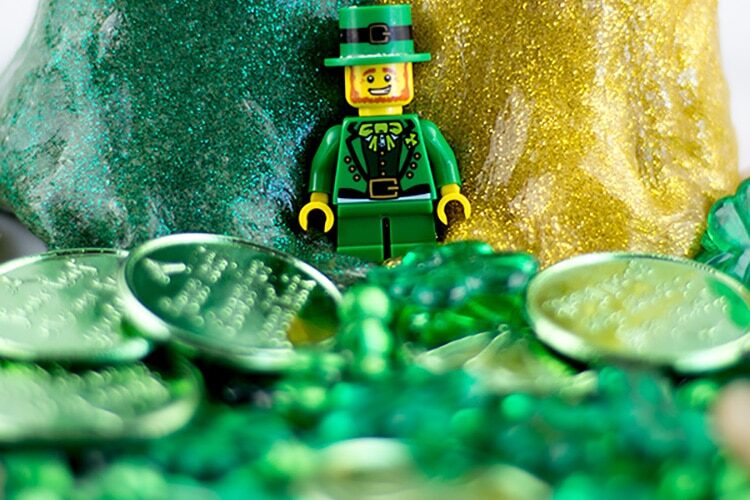 39. Sink the Pot – Push your little scientist to make a hypothesis about how many "gold coins" it will take to sink the pot into your slime pit.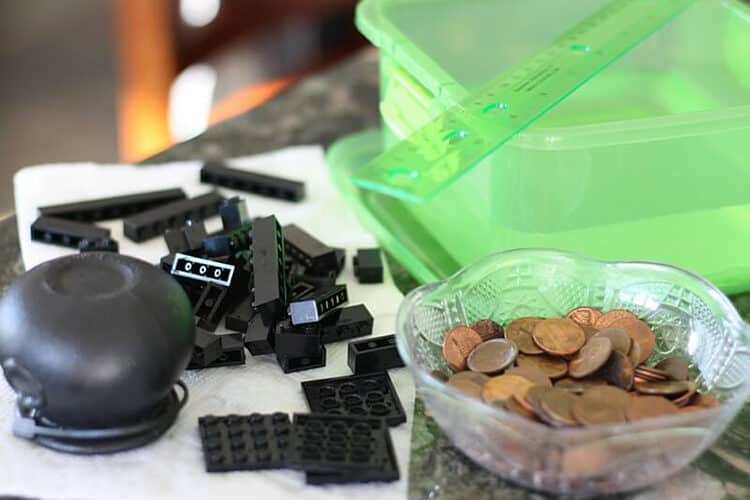 40. Sight Word Pots – This is a learning craft that can be used for years–just keep adding more letters to the pot. Kids love showing what they know, and this is a great opportunity to do "homework" through play.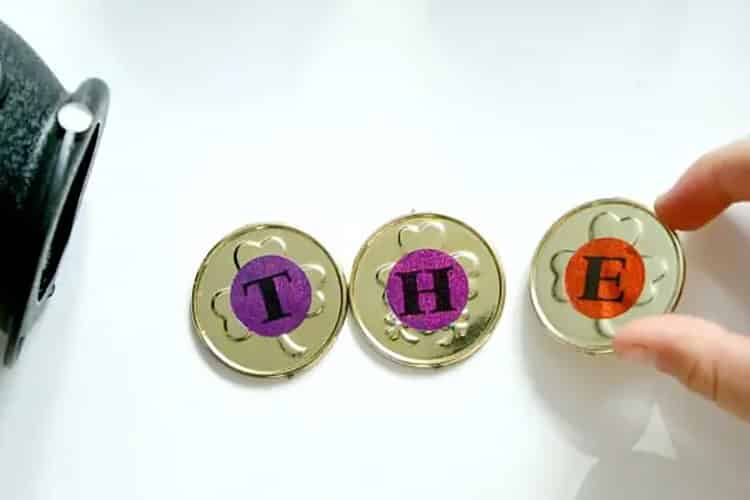 41. Contact Paper Suncatcher – What do overlapping colors make? Teach about color mixing as you make an easy shamrock suncatcher.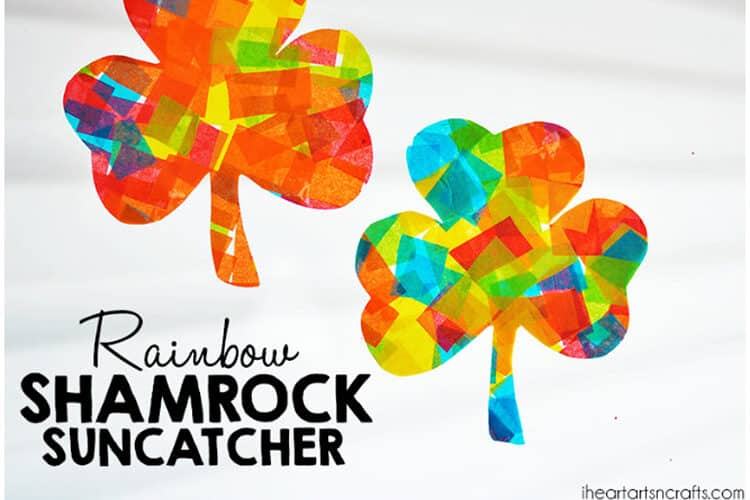 42. Tambourine – All the pieces of the holiday are here: green, rainbows, and gold! Teach your little ones about rhythm with this fun, musical craft.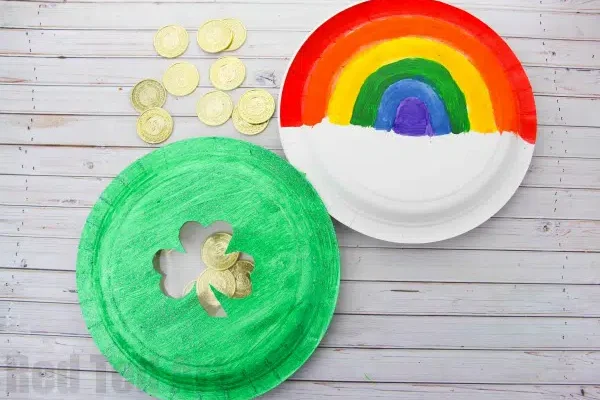 43. Rainbow Bookmarks – Use this St. Patrick's Day craft for preschoolers to teach the order of the rainbow and encourage more reading.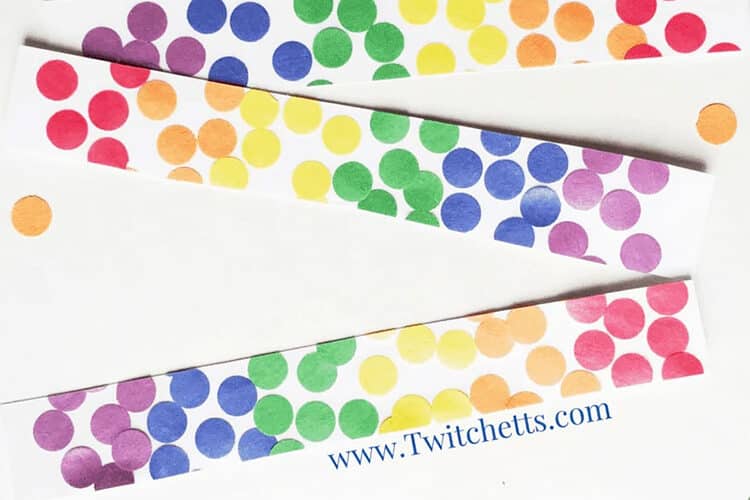 44. Salt Crystal Shamrock – St. Patrick's Day crafts for kids need to have high interest and this one does. Who doesn't want to see crystals grow!?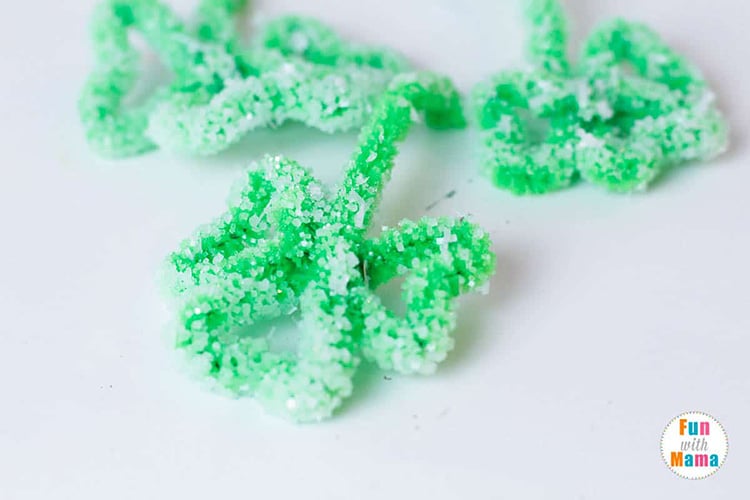 45. Rainbow Slime – Make slime a learning experience as kids measure the ingredients and learn what happens when colors mix.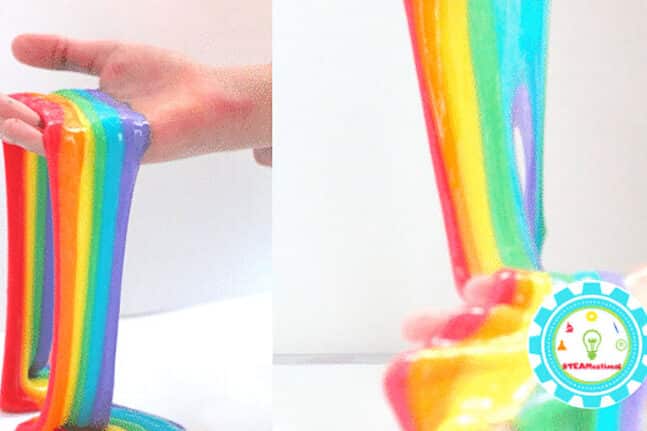 46. Fizzy Pots – Baking soda and vinegar are a staple in science activities! This craft is no different–just add some food coloring as well.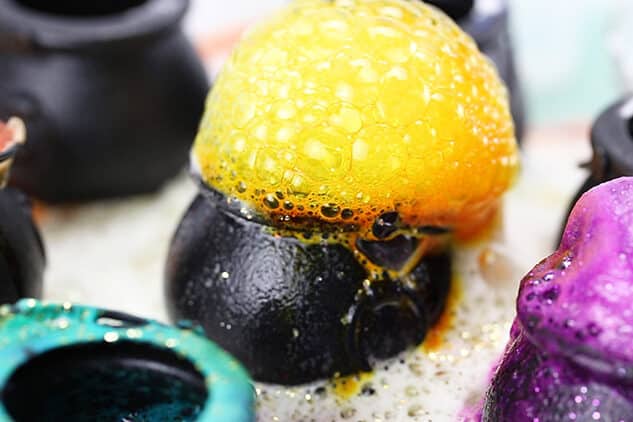 47. Skittles Density Rainbow – Taste the rainbow! But probably only before you begin! Have kids practice the scientific method using candy for a fun learning activity.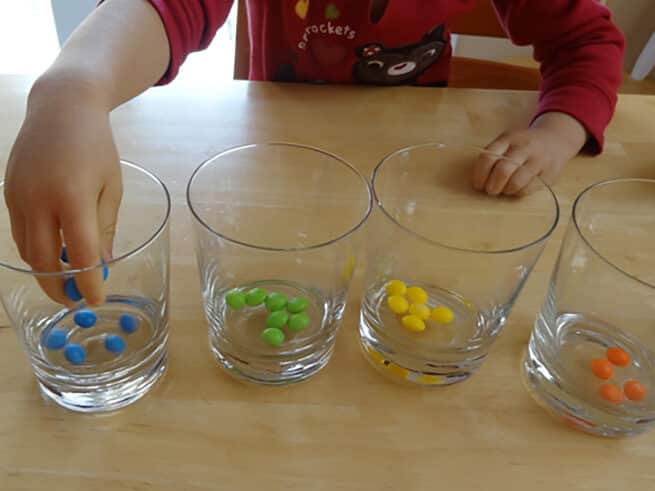 48. Shamrock Sprouts – This is a great plant science lesson to start with your kids. Have them track growth, and then, if you're daring, eat the sprouts they grew!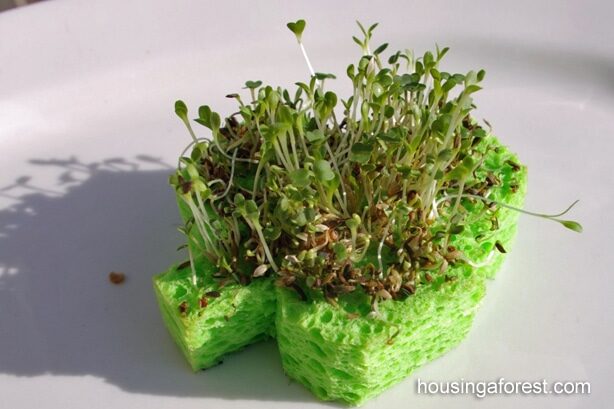 49. Calming Bottle – Learning how to manage big emotions is one of the BEST types of learning. Help kids of all ages with this calming bottle craft.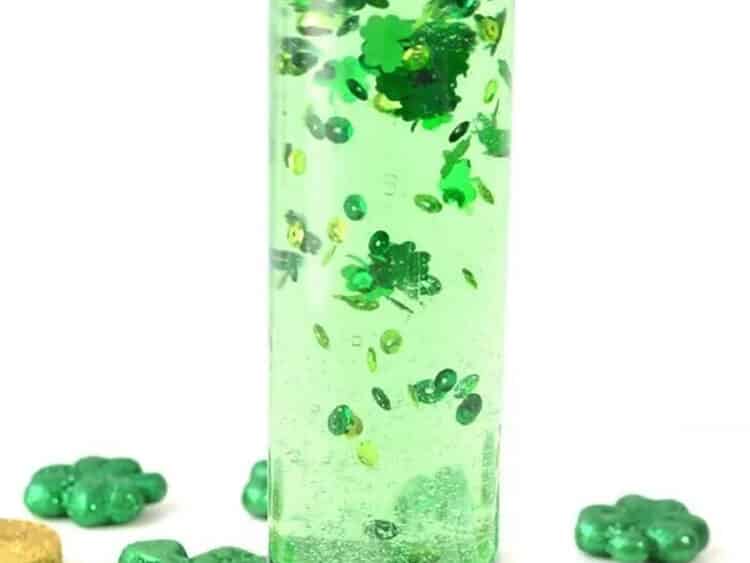 50. Alphabet Sort – This is just a great sensory experience for kids, and it also helps them learn how to match up the letters of the alphabet. Make learning fun this St. Patrick's Day!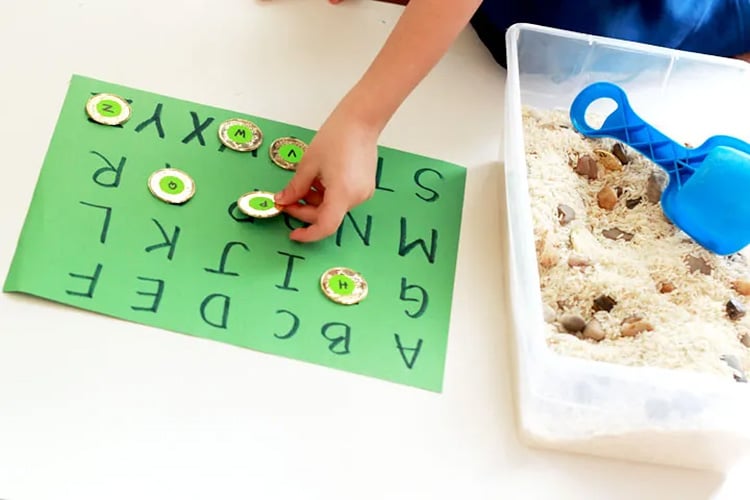 These bright and cheery crafts should keep you lucky all year long! Enjoy finding time to create with the ones you love.
For even more St. Patrick's Day fun, check out these Leprechaun Trap Ideas, free St. Patrick's Day Neighborhood Parade printables, and this adorable St. Patrick's Day Scavenger Hunt!