Start A New Sexy Anniversary Tradition
Do you and your spouse love starting new traditions? If so, you're in for a real treat! We've created a cute, sexy anniversary tradition that is bound to turn up the heat between the sheets … if you know what we mean! 🙂
Anniversaries are a good time to reflect, connect, and appreciate all you've been through together over the past year. We wanted to add a sexy spin to the celebrations with a tradition that you and your spouse can use every year to reminisce and celebrate the spicy moments shared together! And plan for some new steamy ones, too! Intrigued?! Discover how to start this sexy anniversary tradition with your spouse and how to use our awesome free printables, too! Let's dive in!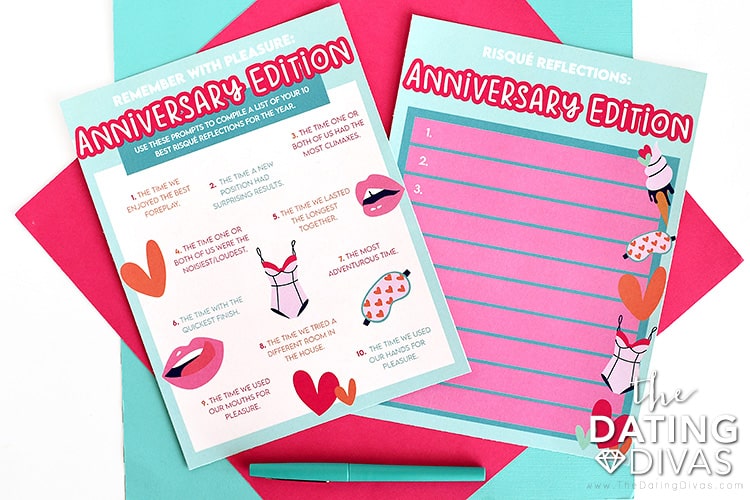 Disclaimer: This post contains affiliate links. To learn more about 'em, click here.

Sexy Anniversary Tradition: The Details
When it comes to celebrating anniversaries, typically, most couples start searching for traditional anniversary gifts or anniversary date ideas to spoil their other halves. Starting anniversary traditions together can add a little extra magic to the special day and also help you take the time to reflect on how far you've come.
There are many anniversary traditions you can start together that focus on the romance factor. You could read out your wedding vows, watch your wedding video or enjoy a dessert or cake similar to your wedding cake. The options are endless.
However, we wanted to focus on something a bit spicier! Because intimacy is always a huge win to celebrate, too! Basically, you and your spouse will take a very sexy walk down memory lane together, reflecting on the most epic steamy encounters of the year. Celebrate those earth-shattering experiences by compiling a list of your top 10 favorites!
Don't just stop there! Decide on some new, adventurous ideas you'd like to try together in the bedroom. Discuss what you're comfortable with and who will plan and initiate each idea. That way, there are no gaps in communication. Each spouse knows exactly what they'll be trying in the bedroom next. Make a to-do list and get busy ticking off those sexy deeds!
Don't worry; we've made it super easy for you to accomplish all of this … with our free printables, of course!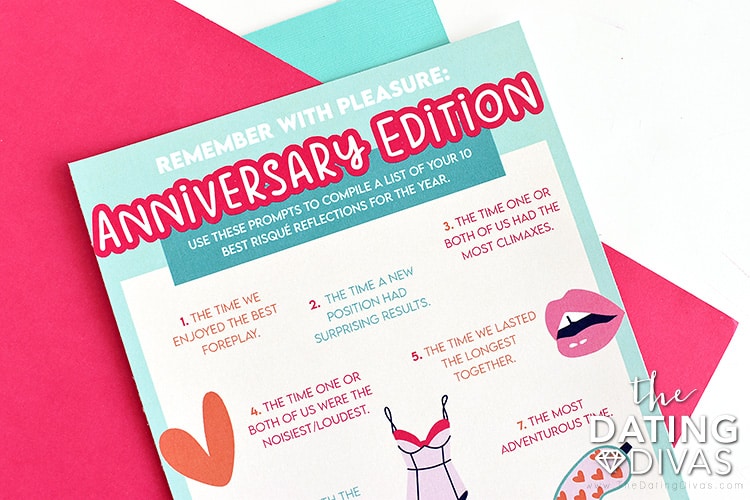 SEXY ANNIVERSARY TRADITION PRINTABLES
What's included:
A list of prompts to help you and your spouse reflect on and remember the sexiest encounters of the year.
A list to write down the top 10 spiciest moments you enjoyed together during the year.
A game of Keep or Toss to help you decide on 10 new sexy activities you'd like to try together in the bedroom.
A His and Hers list where you can split up the 10 new ideas you've decided on between yourself and your sweetie. This is so that each spouse is responsible for initiating 5 of the new sexy deeds together.
What you'll need:
The sexy anniversary tradition printables
Pens or pencils
How to use:
Download the printables by clicking the pink download button at the bottom of the post.
Print the Remember with Pleasure prompts, the top 10 Risqué Reflections list, the Keep or Toss game, and the His and Hers Sexy Check-Me list.
Cut out the individual Keep or Toss options and set them aside for later.
The finer details:
Read through each Remember with Pleasure prompt and take turns reflecting on the memories that surface. Decide on the best answer together. Don't rush the process. Relish in this moment of connection where you each reminisce on the intimate moments you've enjoyed together.
Once you've discussed your answers, write them down on the Risqué Reflections list. Take a moment to appreciate all the joy and intimacy you've shared over the past year.
Now it's time to plan for the year ahead! Pull out those Keep or Toss options and go through each one together. Create a pile of "Keep" ideas based on the option you are most excited to try out together.
Next, use the "Keep" pile to compile the Sexy Check-Me list. Take these final 10 ideas and decide on 5 each that you will be responsible for researching, planning, and initiating. Write your allocated deeds under the His and Hers sections.
The final and most important step: get started on that Sexy Check-Me list ASAP! 😉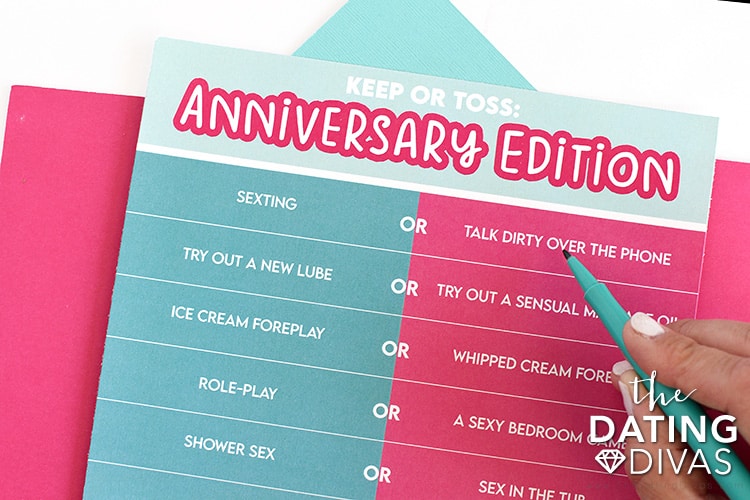 We hope you enjoy starting a new anniversary tradition together … especially one that brings fireworks to the bedroom!
We're kinda obsessed with anniversaries, so whether it's ideas for traditional anniversary gifts, anniversary date ideas, anniversary decorations, or even just DIY anniversary gifts, we've got 'em all!
However you choose to celebrate the milestone, the most important thing is to press pause and celebrate that you've made it through another year together on this wonderful, amazing journey called marriage!
Now go get busy checking off that sexy to-do list! 🙂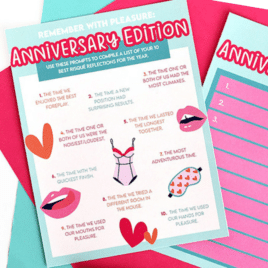 Sexy Anniversary Tradition
Printables Designed by Dawn Young Exclusively for The Dating Divas