At Home Valentine Dinner Ideas
Valentine's day is all about celebrating with your loved one. Choosing to stay home instead of going out for Valentine's day can be a great way to connect with your spouse! We absolutely LOVE the idea of a special Valentine's at home, but we understand that some might be a little sad that you're stuck at home for Valentine's. If that's you, chin up buttercup! We promise that a romantic dinner at home is something that you can get excited about! We're here to give you some fabulous tips for making a Romantic Valentine's dinner at home simple and special!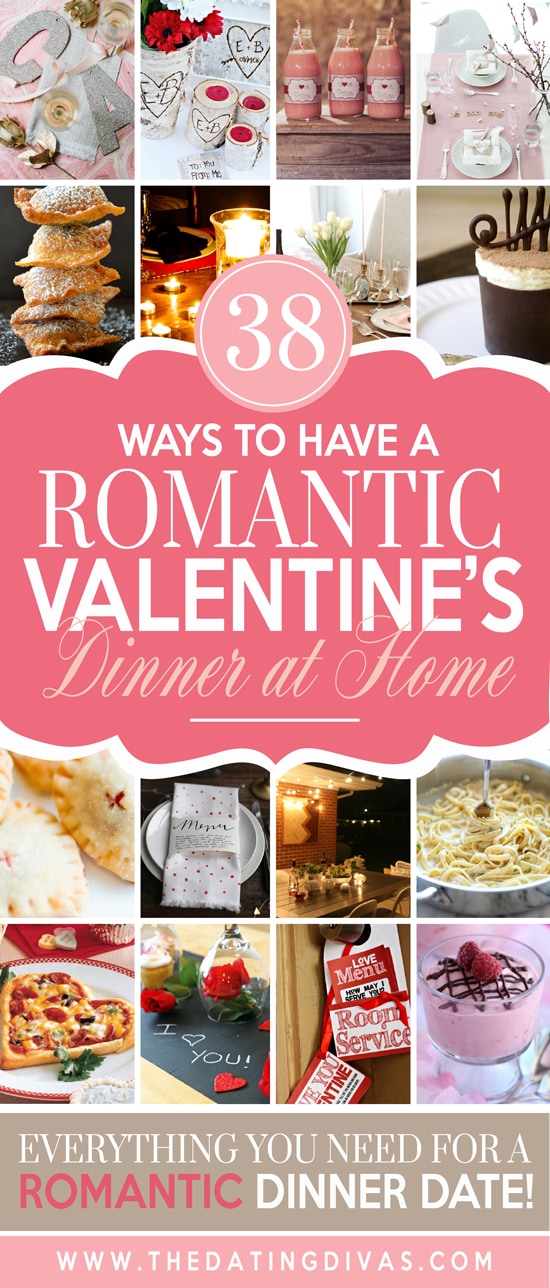 We've rounded ideas up to help create the perfect atmosphere to have a beautiful dinner and divided the inspiration up into 5 categories to make it easier for you to find what you need for your romantic Valentine's dinner!
Romantic Valentine's Dinner Table Settings

Romantic Valentine's Dinner Ideas

Romantic Valentine's Desserts

Romantic Valentine's Dinner Date Themes

Romantic Valentine's Dinner Lighting and Decor Ideas
Whether you stay at home on Valentine's because you are trying to save a little dough (that's us)… or because staying home is a nice, relaxing way to spend Valentine's day… you still want it to be a special night!
6 Romantic Valentine's Dinner Table Settings
The most important part of a romantic dinner… is the dinner! Right? So you want to make sure you've really set the setting for a relaxed and special dinner. If you create a unique and creative table setting, it is sure to send a message to your loved one… "I love you."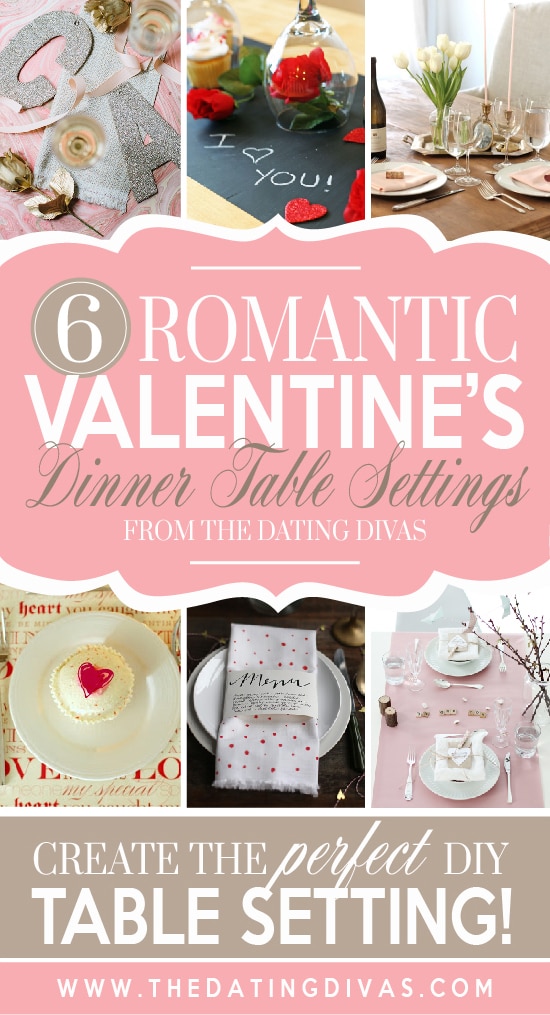 Here are some excellent tips on how to create a beautiful table setting for your romantic Valentine's dinner!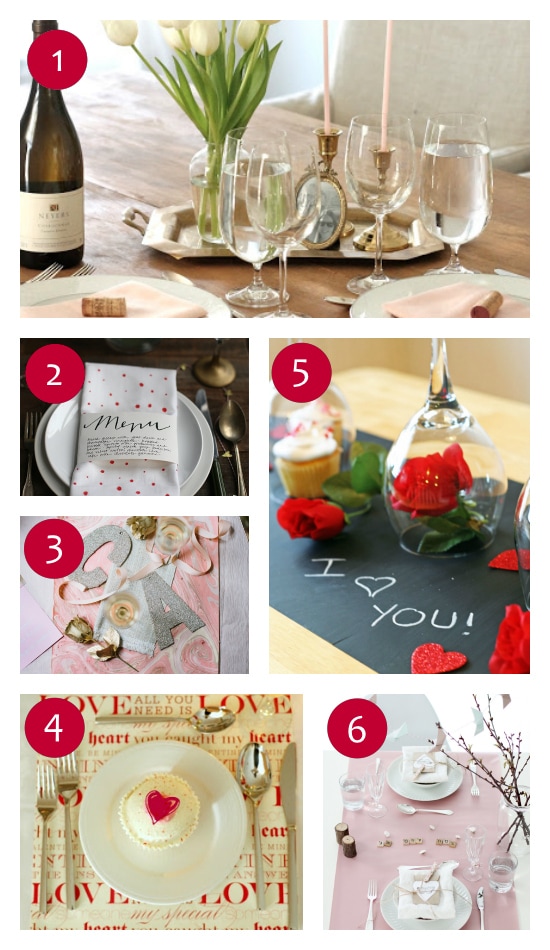 1. Simple Tulips and China–I love the little platter with the candle sticks, tulips and photo to make this simple table setting special.
2. Personalized Menu Napkin Holder–Dress up the table and make dinner special by preparing a cute little menu napkin holder.
3. Glitter and Glam Table–Glitter and spray paint are both tools you can use to make a table more glamorous.
4. Scrapbook Placemats–These are adorable, easy and inexpensive, but you can add so much style, personality and class just by finding some cute scrapbook paper!
5. Chalkboard Table Runner–Now this is a creative idea!! The goblets have 2 unique purposes, while the chalkboard table runner let's you make it personal.
6. Rustic Valentine's Day Setting–A rustic and romantic table setting using what you have. Who knew a little bit of washi tape and gift wrap could do wonders for a table!?
10 Romantic Valentine's Dinner Ideas
For your Valentine's dinner, you might want to try cooking a simple and romantic dinner in the kitchen together. You may or may not be an excellent cook, but here are some great dinner ideas that will get you thinking. For the last several years, my husband and I have actually made a date night out of finding the best recipes to try out for Valentine's day. That way we are both excited for our special dinner. Cooking in the kitchen is one of my favorite ways to connect with my husband… and we always enjoy dinner more after flirting in the kitchen 😉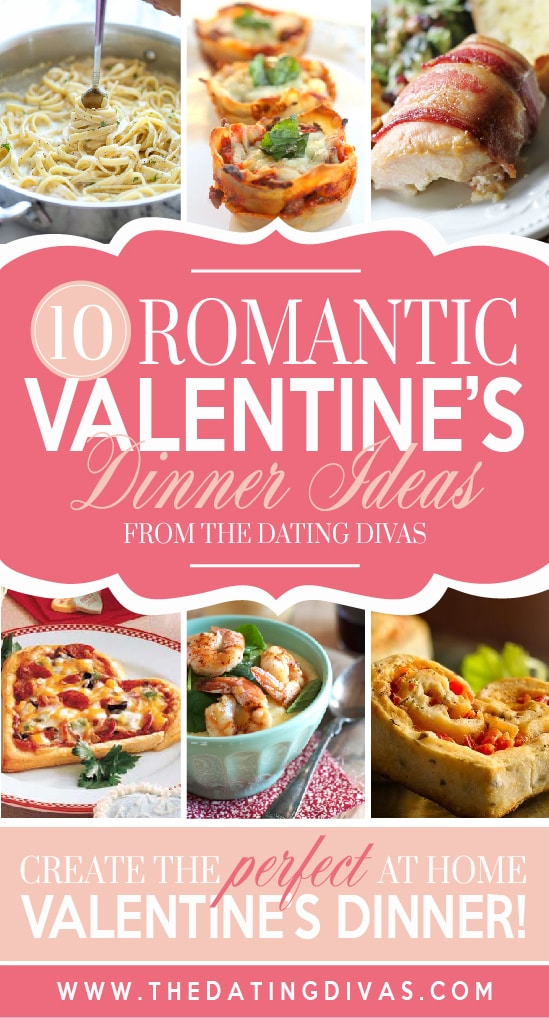 We've rounded up some simple, romantic meals that will help get you in the mood for a fun evening with your loved one!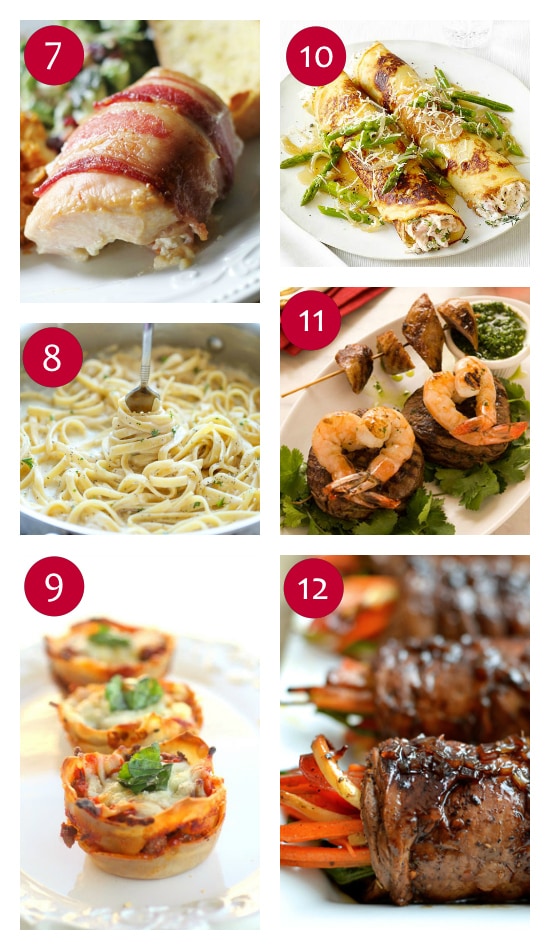 7. Chicken Cordon Bleu–This is a classic. I remember my husband made me Chicken Cordon Bleu for one of our very first Valentine's.
8. One Pot Garlic Parmesan Pasta–Fast, easy and romantic… Can you say "Lady and the Tramp?"
9. Lasagna Cupcakes–Make a fancy dinner, even fancier, by making individualized Lasagna cupcakes. Genius!
10. Chicken and Asparagus Crepes–Crepes are dainty, fancy and very unique. Plus you can dress them up and plate them so they look pretty! Very Valentines-y!!
11. Steak and Shrimp Skewers–I love the creative plating, using the shrimp to make pretty hearts!
12. Balsamic Glazed Steak Rolls–Um… pretty sure any husband would be in heaven with these babies…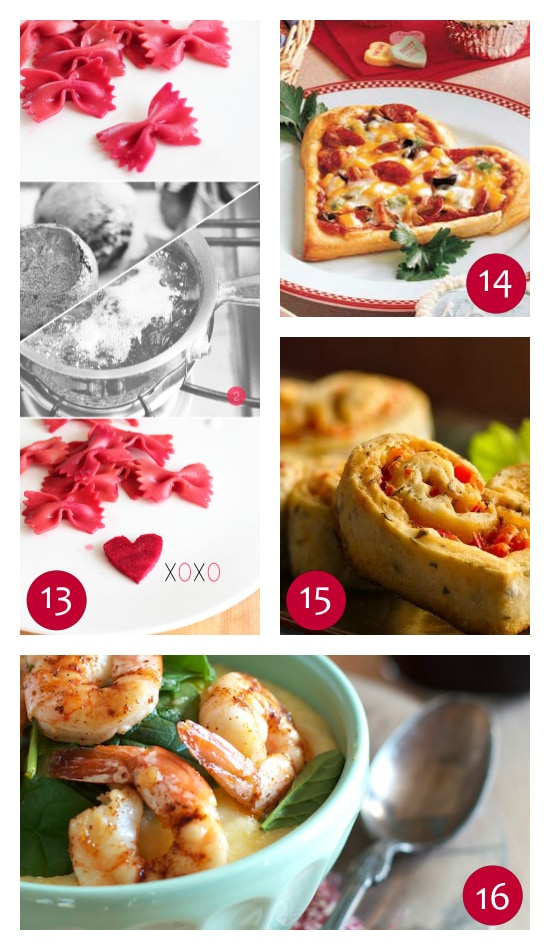 13. Pink Pasta–This is simple, fun and a great way to make dinner special.
14. Heart's Desire Pizza–For those who want to keep it super simple. A heart shaped pizza is always the answer.
15. Red Pepper Filled Hearts–These are just adorable and could be a great appetizer.
16. Chipotle Shrimp over Creamy Polenta–Now this is a fancy meal that will definitely set the mood.
8 Romantic Desserts
I know dinner is important. But let's be real! It's all about the dessert. There are a billion beautiful and romantic desserts out there. We just found 8 inspirational desserts to get your creative juices flowing.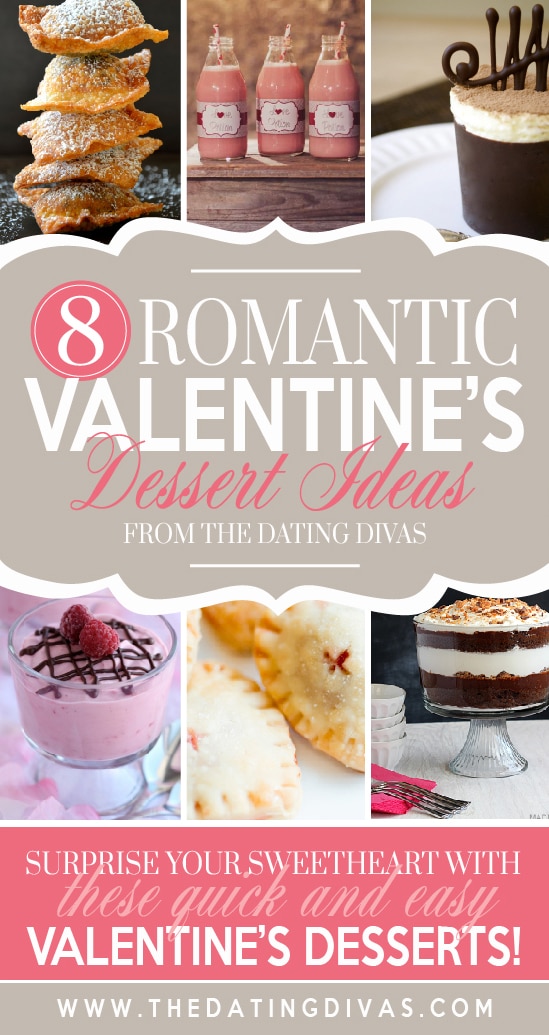 Any of these 8 choices would be the perfect dessert for Valentine's day!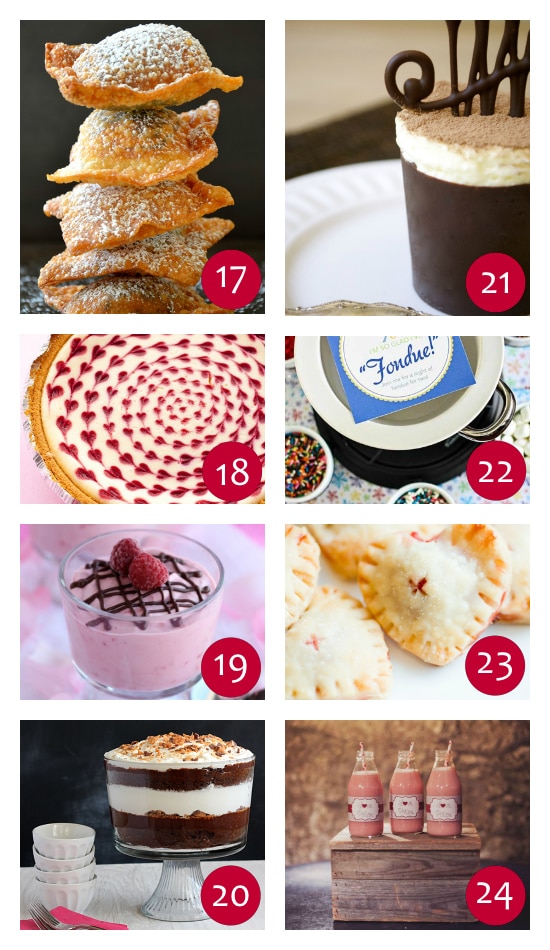 17. Chocolate Pillows–Need I say more? I'd like to sleep on one of these sometime. I bet I'd have sweet dreams!!
18. White Chocolate Raspberry Cheesecake–This is one of my favorite romantic desserts and I always request it on special occasions. Make your own or order in!
19. Raspberry Mousse–Mmmm… Now this, on the other hand, is my husband's favorite dessert. Really anything with raspberries and he is ecstatic!
20. Chocolate Trifle–Super easy dessert and so easy to make this look fancy! The options for the layers are really endless. 
21. Lemon Mousse in a Chocolate Cup–I am so excited to try making a Chocolate Cup now to serve a special dessert in. This dessert to me says "love."
22. Cupcake Fondue–Try this unique version or any fondue. It is definitely a romantic dessert.
23. Mini Heart Cookies–A super cute dessert that would be fun to make together or surprise your loved one with when they get home!
24. Love Potion–Cast a spell or get your guy with a little love potion!
8 Romantic Valentine's Dinner Date Themes
You might think themes are a little excessive, having a Valentines theme for your little party for 2 can make your romantic dinner fun and memorable.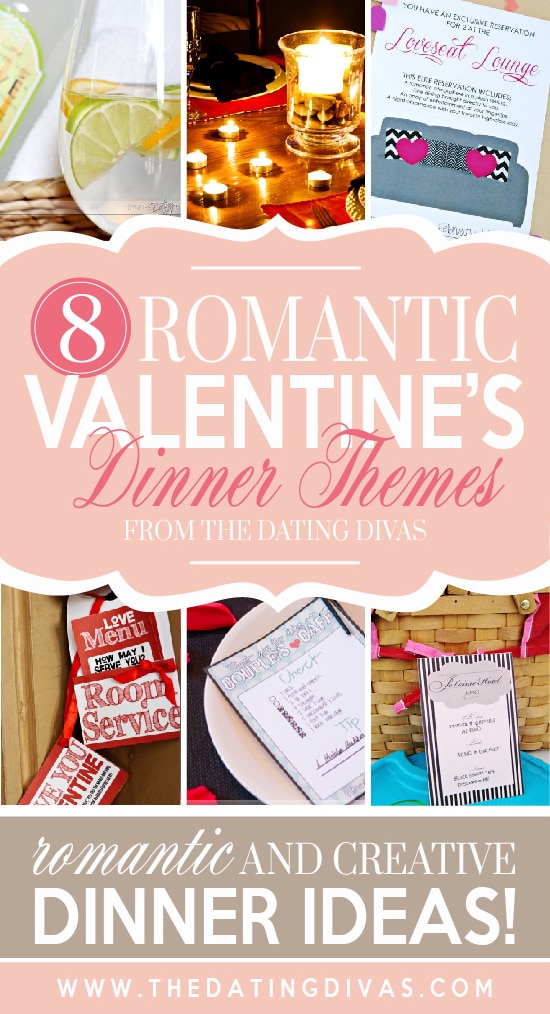 If you want to really take your Romantic Valentine's dinner to the next level, try out one of these amazing dinner themes! This will help you plan some fun activities for your evening…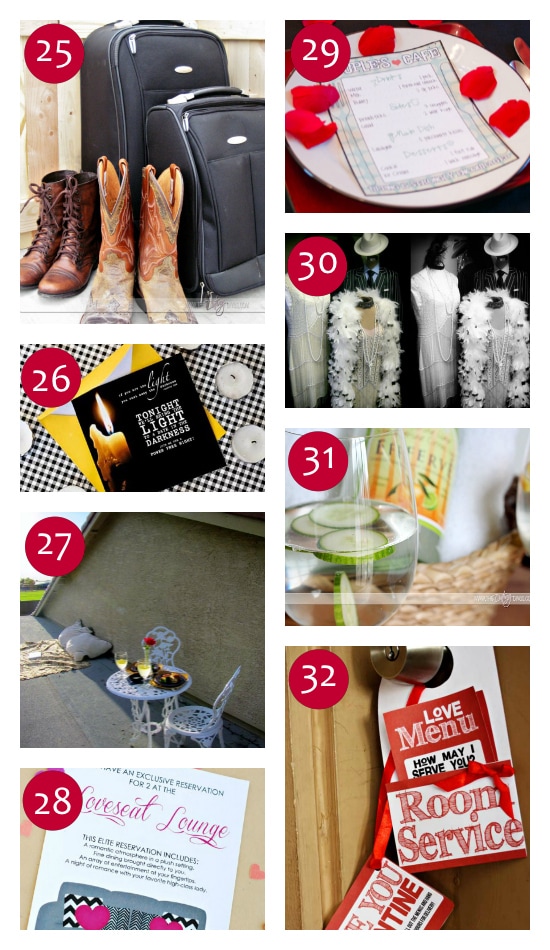 25. Je T'aime Hotel–Wishing you could travel for Valentine's day… turn you home into your favorite luxurious hotel.
26. Power Outage–Unplug. Have a special night without electronics, lights, etc. Be creative and use candles to light up your night!
27. Romantic Rooftop Date–This is definitely one you only want to do if you have a safe roof. But imagine how romantic it would be up there?
28. Loveseat Lounge–Need to kick back and relax? This is the perfect theme for your Valentine's day! Pair this date with take-out that you plate nicely so it's still a fancy dinner.
29. Couple's Cafe–Check out the printables to help you turn your dining room into a cozy couple's cafe.
30. Black and White Date–This is a fancy date theme that will really differentiate your Valentine's from any other date night!
31. Spa Night–I could really go for a Spa Night almost any night, but they are pretty rare. So a special Spa Night with my man would be very romantic!
32. Room Service–Yes, please!! See how to use these printable to make for a fantastic Valentine's date night.
6 Romantic Valentine's Dinner Lighting and Decor Ideas
One of the most important things you need to keep in mind is setting the mood with lighting and decor. These Valentine dinner ideas are gorgeous and inspirational!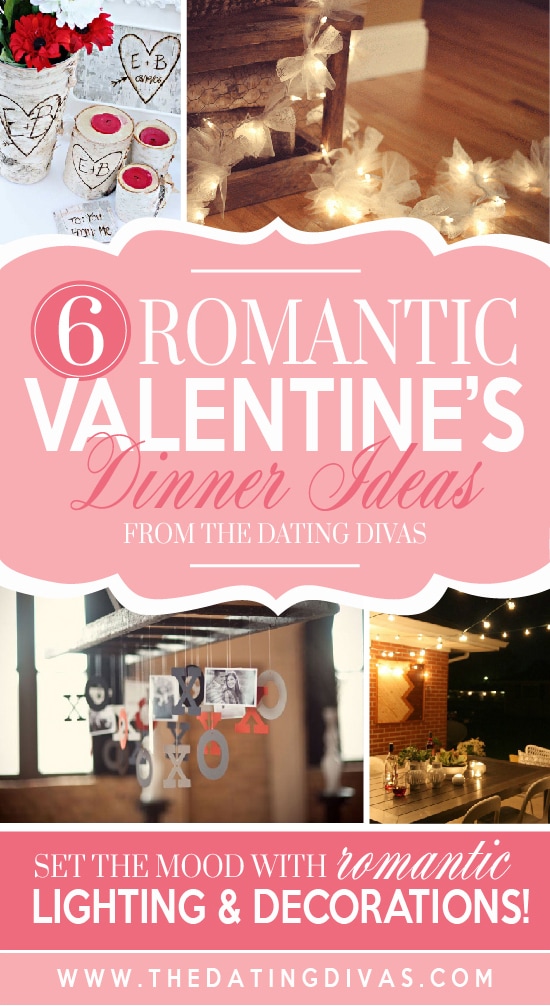 There are so many fun and unique ways to play with lights that help make your dinner at home special. We've rounded up some fabulous ideas to get you going, but be creative and see what you can come up with!! A lot of these ideas can double as beautiful gifts and keepsakes to remind you of your special Valentine's Day!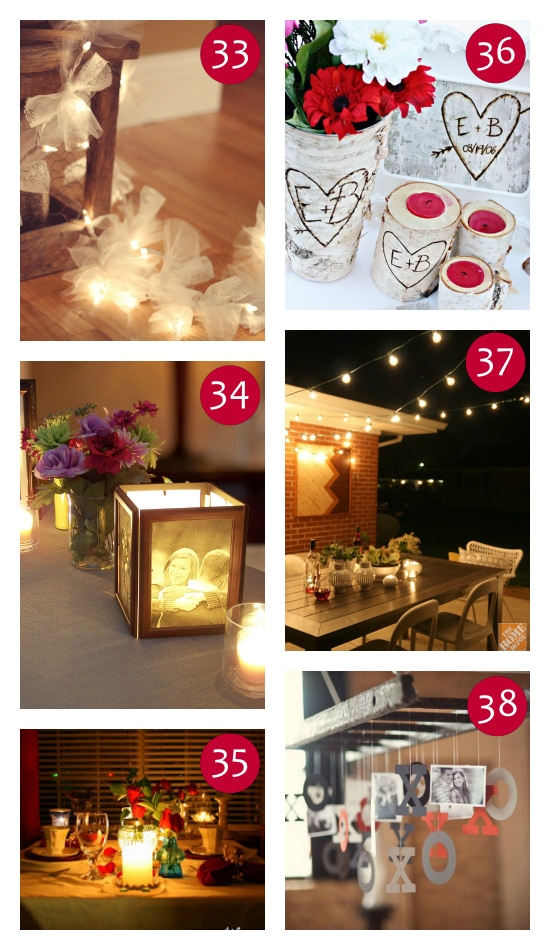 33. Firefly Christmas Lights–Make a trail to the bedroom with some tulle and Christmas lights! How romantic!!
34. Lit Photo Centerpiece–Special memories can be captured and turned into a centerpiece, which can double as a romantic gift!!
35. Romantic Fort–Build a romantic fort to have dinner and cuddle in…
36. Carved Tree Candles–These are adorable and could be so fun to have as decor in the bedroom for Valentine's day and as a reminder of your love for years to come!
37. Outdoor Light Canopy–I can't wait until we have our own home and can make an adorable patio with a light canopy. So pretty…
38. Hanging Decor–This is such a cute idea and totally customizable for you and your honey.
Diva's Romantic Valentine's Playlist
In addition to all the great ideas above, the divas have put together a playlist of their most favorite Romantic Love Songs that you can use to create a calm and romantic environment. A little background music will definitely help you and your man relax and enjoy the evening!