Weight Loss Challenge Ideas
Get ready to get sweaty! It seems when we make goals privately, it's difficult to keep them, right? BUT… when our spouse, friends, and family are involved there is a powerhouse of support to keep our eyes on the prize! That's why we've created the Couples Weight Loss Challenge! Packed with weight loss challenge ideas, this fun couples fitness challenge will help you lose weight and strengthen your body. Additionally, it will strengthen your marriage like never before! In addition, we have included a ton of free printables (like our fun weight loss chart and workout calendar) to help you on the journey. Similarly, we've included goal sheets and supportive notes to encourage you and your spouse along the way. Let's get going!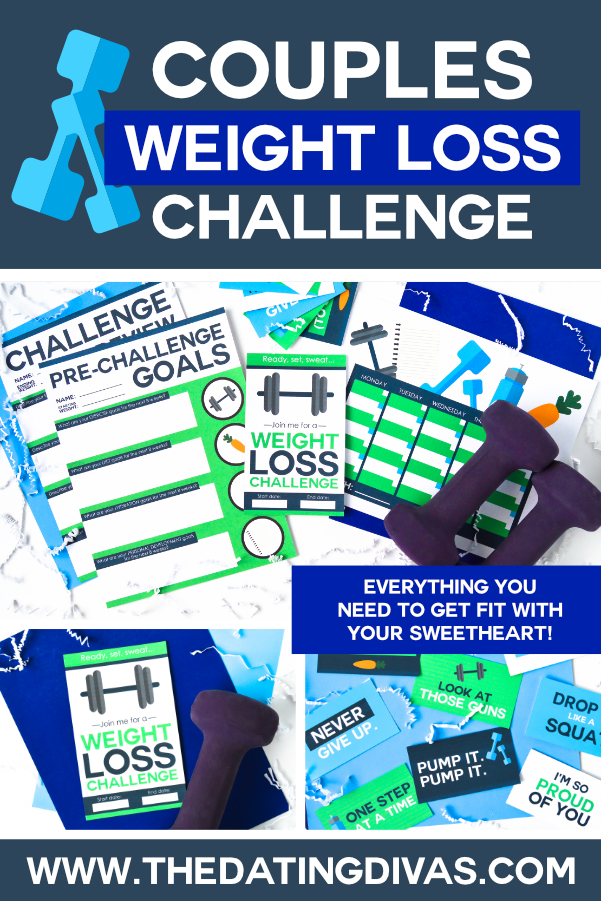 This post contains affiliate links. To learn more about 'em, click here.
Before we start, we have to give a shoutout to our own Diva Elizabeth. She did such a cute job on these printables for us! Feeling great and bonding as a couple! Win-win!!
Included Weight Loss Challenge Ideas & Printables
Your couples workout challenge includes SO many great bonuses and will get you and your spouse feeling great in no time! For example, take a look at all of the goodies below. After that, keep reading the post for a more detailed description of how to use each of them.
Couples Fitness Challenge Invite
Pre Weight Loss Challenge Ideas & Goal Sheet
Fun Weight Loss Chart & Calendar
Post Weight Loss Challenge Ideas & Goal Sheet
Inspirational Couples Weight Loss Notes
How fit-tastic are those?!
Couples Fitness Challenge Invite
Kick-off your Couples Weight Loss Challenge with an awesome couples workout challenge invitation. You could choose to do this as just a couple. However, you might consider inviting friends and family to join the challenge. After all, the more the merrier! Determine the starting date and the ending date (this is designed to be an 8-week challenge) and fill that info in on your invite. After that, send out this cute invitation, to other couples or just to your spouse.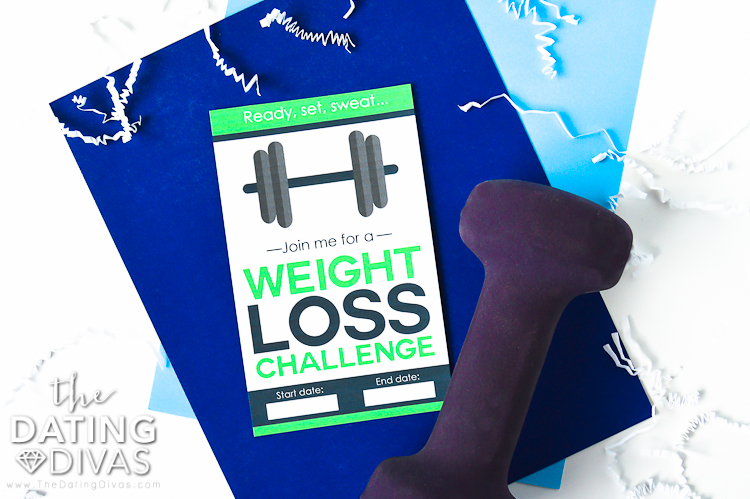 Pre Weight Loss Challenge Ideas & Goal Sheet
We've included TWO amazing goal sheets to help you get the most you can out of this couple's fitness challenge. For example, one is a Pre-Challenge goal sheet where you'll discuss your weight loss challenge ideas and plans. Subsequently, the other is a Challenge Review where you'll reflect on the past 8 weeks of your couple's workout challenge. Begin the challenge by sitting down and evaluating your goals on the Pre-Challenge Goals sheet. Be sure and record your starting weight at the top. After that, make sure to write down any concerns or ideas you may have. These steps are super important so don't skip them!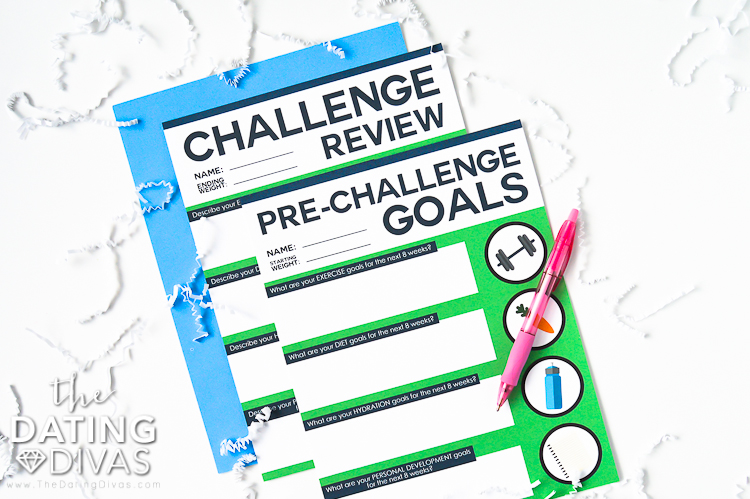 Fun Weight Loss Chart & Calendar
Once you've laid the groundwork for your challenge, it's time to get going! You'll want to make sure you have a reliable scale or tape measure to keep track of your progress. Additionally, everyone participating needs their own copy of the printable fitness calendar (which you can also use a fun weight loss chart!). Use it to map out what type of physical activity you will complete each day as well as any notes. It's important to keep track of all of the little success along the way! Moreover, if you're looking for some great at-home workouts, be sure and check out our list of 101 of the Best YouTube Workout Videos.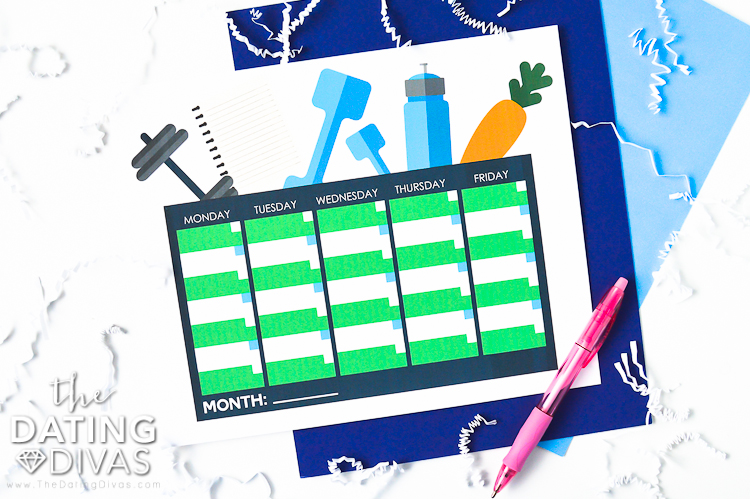 Inspirational Couples Weight Loss Notes
To help support your spouse (and all involved) during the challenge, we've added some adorable, supportive notes for a little boost of encouragement during your 8 weeks. Pass one off to your spouse after a difficult weigh-in, attach one to a water bottle for motivation, leave one in your spouse's lunch, or tape it to the fridge to remind yourself when late-night temptation comes your way! We promise they'll add the perfect motivational boost.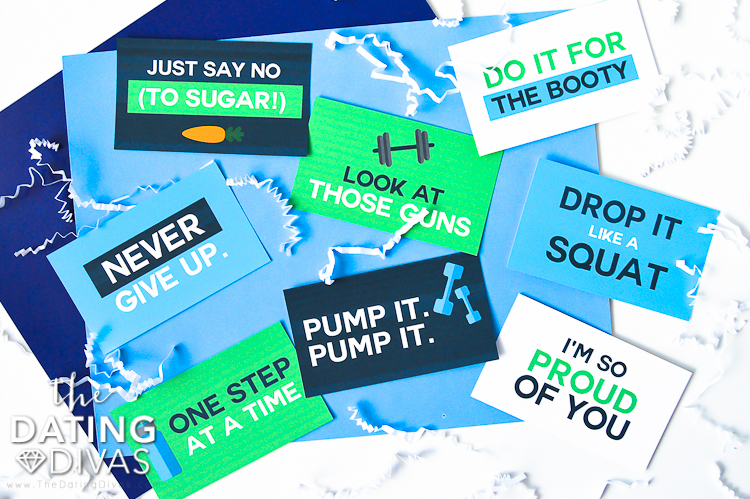 What are you waiting for?! These couple's workout challenge ideas are the perfect way to set goals with your spouse and stay active together. What's better than that?! For more ideas on ways to stay healthy, be sure, and check out our Healthy Living Round-Up and our list of 100 Healthy Date Night Ideas!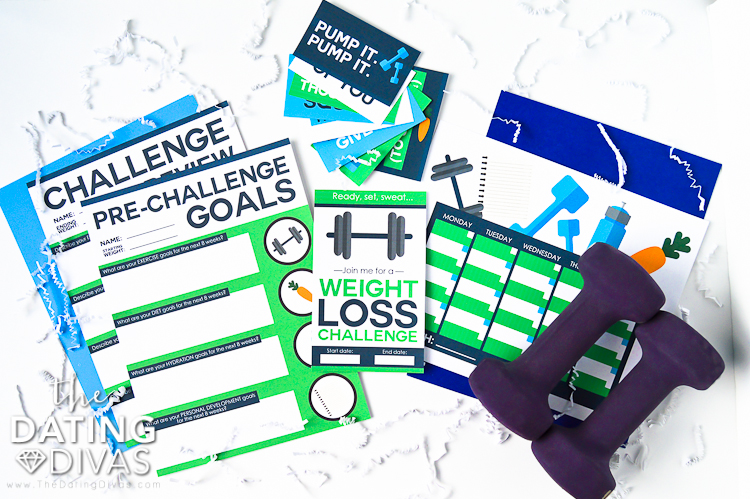 Oh and, before you go, we just HAVE to tell you about our favorite fitness and nutrition program that has done WONDERS for several of us Divas! We personally know the creator (a physical therapist) and his methods are pure, effective, and incredibly DOABLE! If you're looking for an amazing home fitness and nutrition program, definitely check out the Mommy Tummy Fix and Mommy Tummy Strong.
Use code MOMMY30 to take $30 off! (Such a good deal for everything you get!!)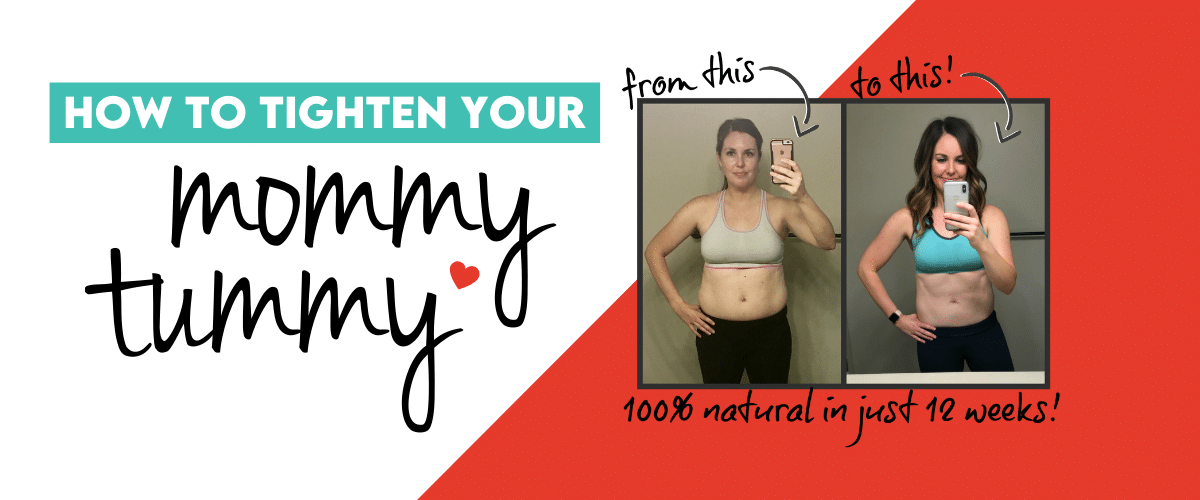 Couples Weight Loss Challenge
Printables Designed by Elizabeth Edwards Exclusively for The Dating Divas