Garage Sale Date for Couples
Summer–the season you and your spouse have been waiting for all year! Time to get out on some hot dates and enjoy all this beautiful world has to offer: hiking, swimming, camping, and barbecuing. And, can we add just one more thing to that list of warm weather dates? How about a Garage Sale Date?!
Now, just hear us out. Summer's the best, because not only do flowers bloom and blindingly white legs make their appearance, but people's stuff just ends up on their front lawns–and we get to wander through, haggle, and buy things! Score!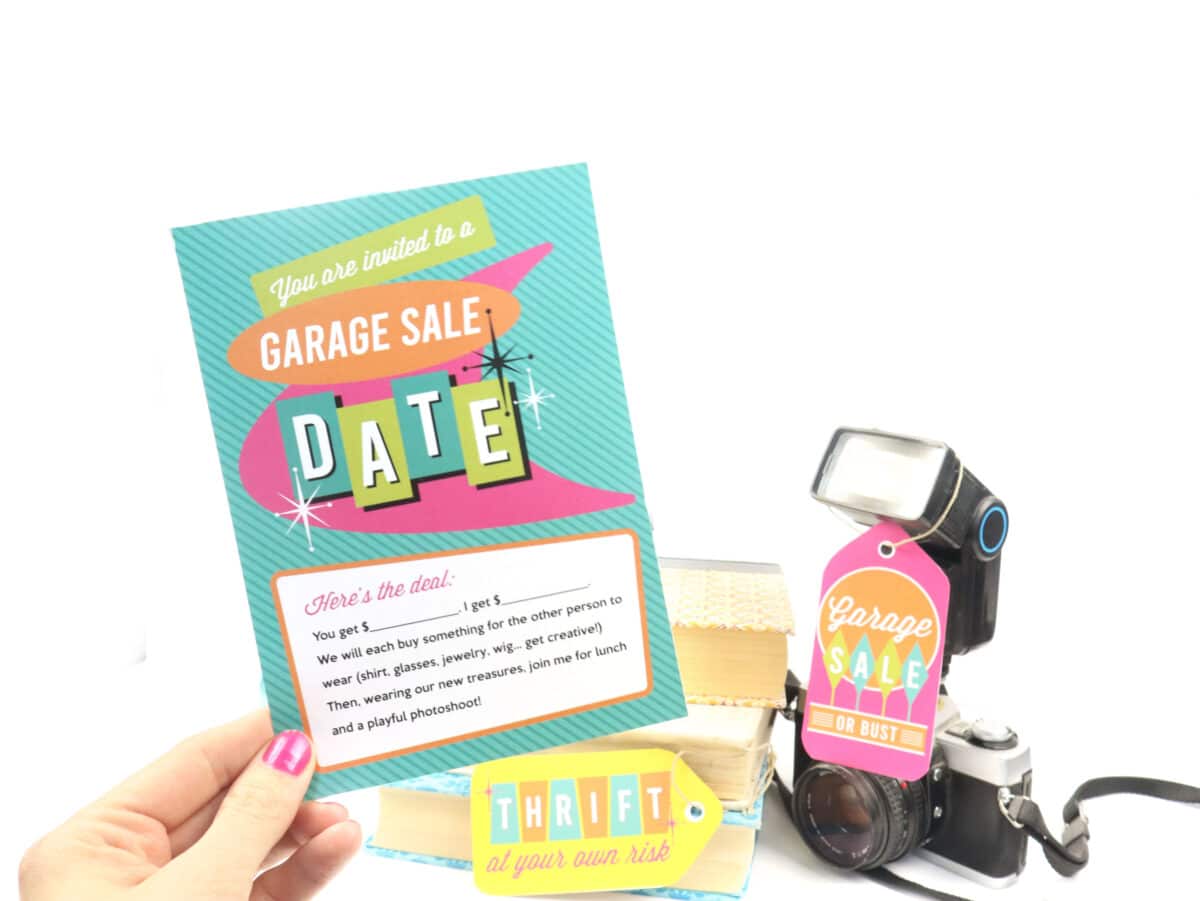 Disclaimer: This post contains affiliate links. To learn more about 'em, click here.
So, now picture this: it's another beautifully warm, bright summer Saturday morning, and you and your sweetie are wondering "What should we do today?"
As you lay in bed feeling all comfy and snuggly, you both realize you have two choices:
Go back to sleep. It's Saturday morning. Why are you even awake?!
Jump out of bed, and go on a Garage Sale Date!
We mean, c'mon… It's not a hard choice at all, right? There's junk out there that you totally need!!
Are you and your spouse people that always want to check out every garage sale you drive by? If not, you totally should start, because you just never know what wonderful junk you can discover! You can find so many treasures–everything you never knew you wanted!
With this retro-style date, we have all the FREE printables you and your spouse need to find all of the best gadgets and gizmos at your closest community garage sale and have an adorably fun day together. Check it all out below!
Garage Sale Printables
For this date, you and your spouse will begin by going garage sale shopping–for the other person! After buying your treasures, you will don your new finds and head out for a fun lunch date. Don't forget to take some hilarious pictures with our adorable photo booth props! Trust us; you will want to save these pictures forever!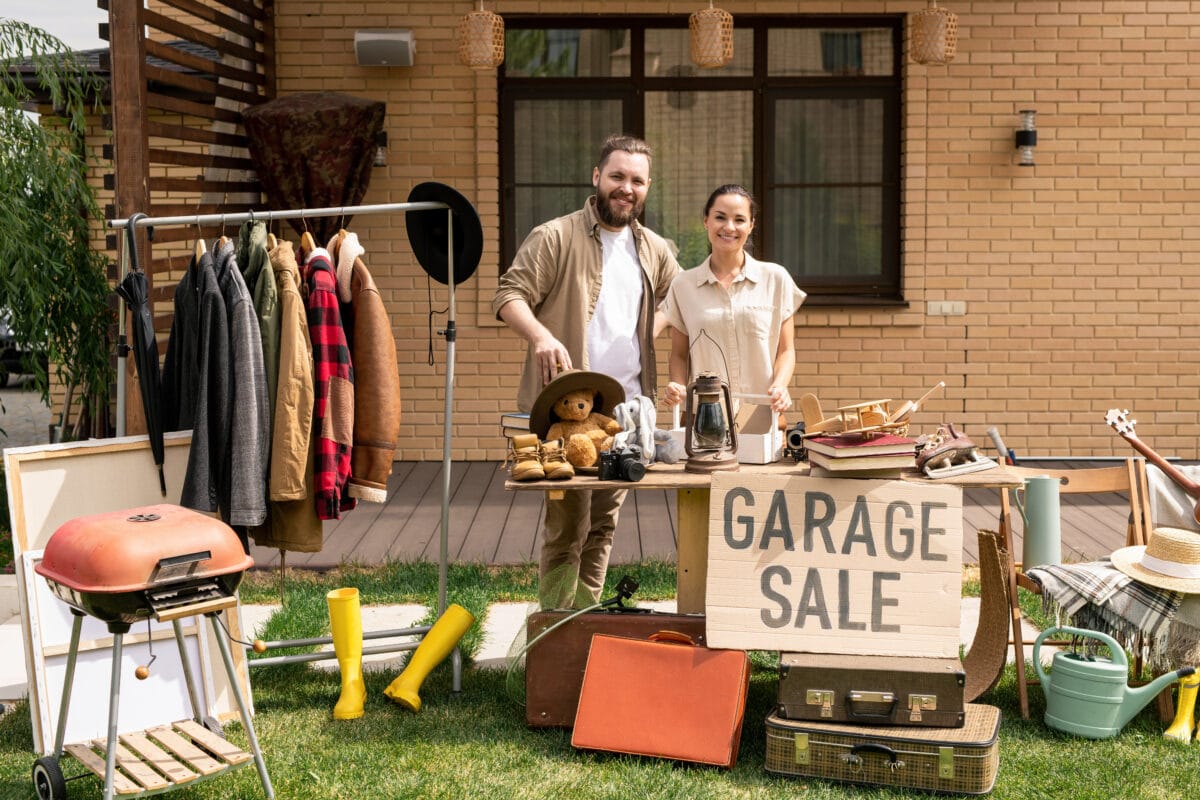 In the FREE printable download, you will find:
Garage Sale Invitation and Sales Tags
Cash Envelope
Photo Booth Props
Let's explore each of these individually, shall we?
Garage Sale Invitation & Sales Tags
It's time to get your sweetie all excited about your garage sale shopping date! Simply print and cut out the invitation and Sales Tags.
The invitation reads, "You are invited to a Garage Sale Date! Here's the deal: You get $___. I get $___. We will each buy something for the other person to wear. (Shirt, glasses, jewelry, wig — get creative!) Then, wearing our new treasures, join me for lunch and a playful photoshoot!"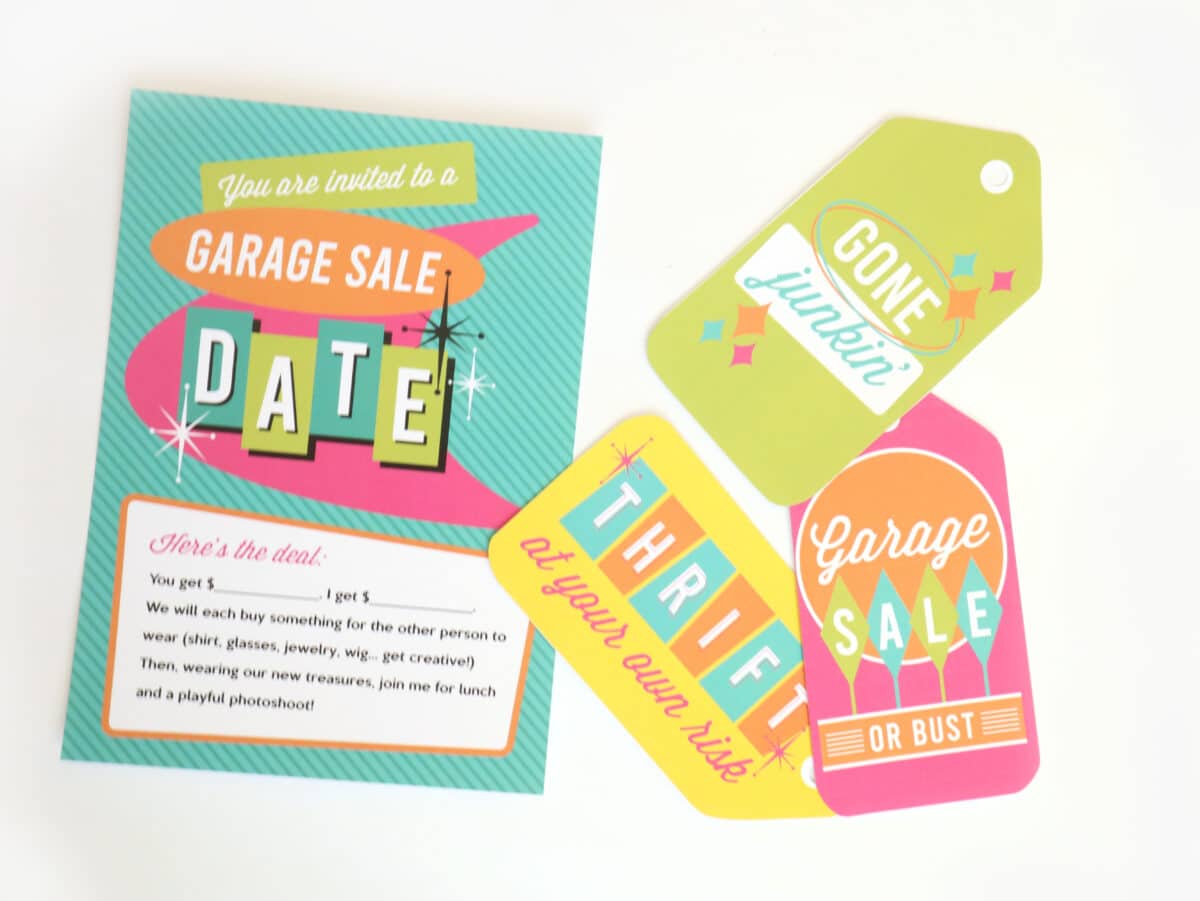 That's right! You each get to buy something for the other person to wear! Isn't that just so fun?! Now, decide how much money you will each get to spend, then fill out the dollar amount on the invitation in the space provided. Finally, give the invitation to your honey, or leave it somewhere for them to find. You can also leave the cute Sales Tags nearby for decoration.
If you want to leave it somewhere for them to find, try these fun ideas! You can decorate the steering wheel and dash of your lover's car by simply placing or taping on the invitation and Sales Tags. Another cute idea would be to tape the invitation and Sales Tags to the bathroom mirror. Both are sure to be places they will notice!
Cash Envelope
Since you are going to a garage sale, you will need some cash. But, even though many people use mobile payments nowadays, you shouldn't count on that being the case. Most garage sales still operate on cash only. So, of course, you will need a cute place to store that moolah!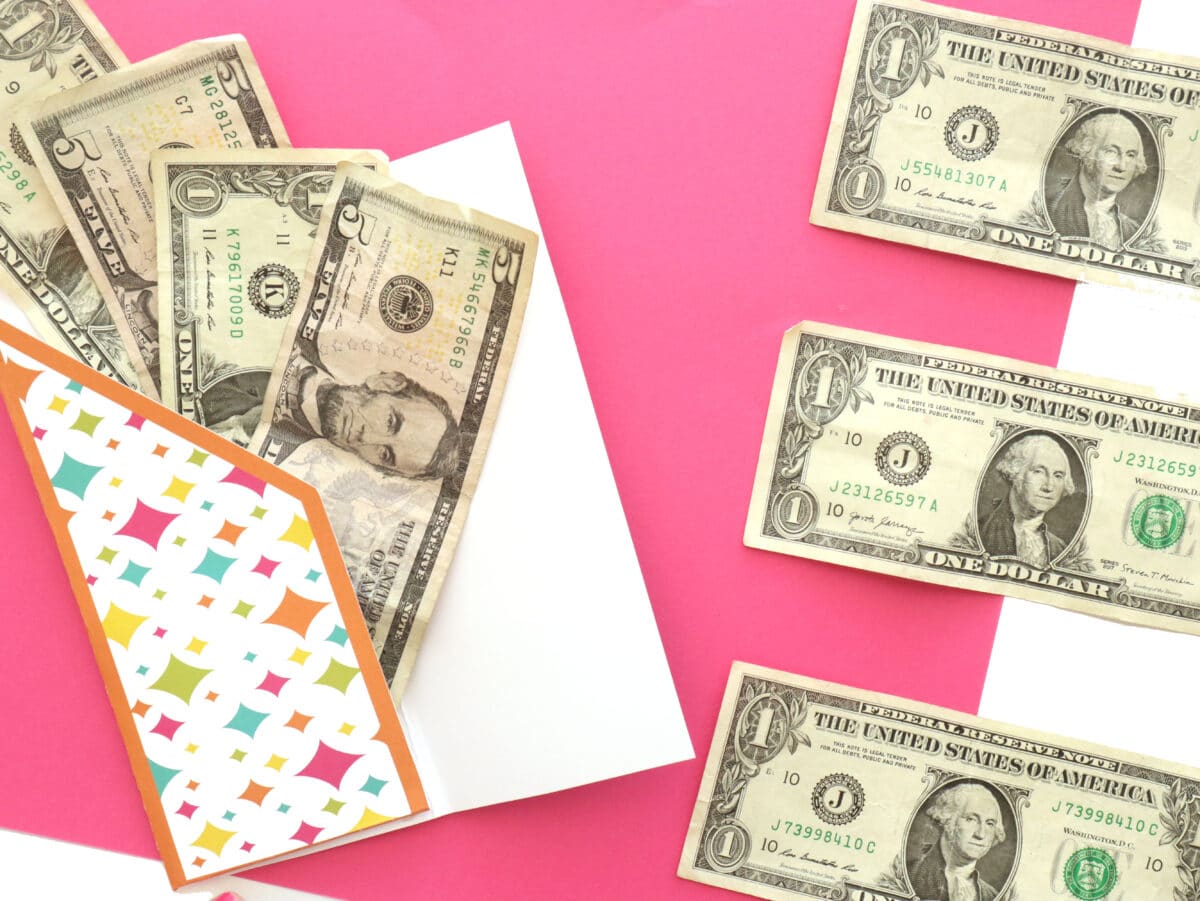 This darling cash envelope reads, "I like BIG SALES, and I cannot lie!" This envelope may or may not have you and your lover quoting song lyrics all day long! We promise it won't take long for one of you to point out a garage sale and say, "OMG! Becky, look at her garage sale! It is so big!" Don't say we didn't warn you! 😉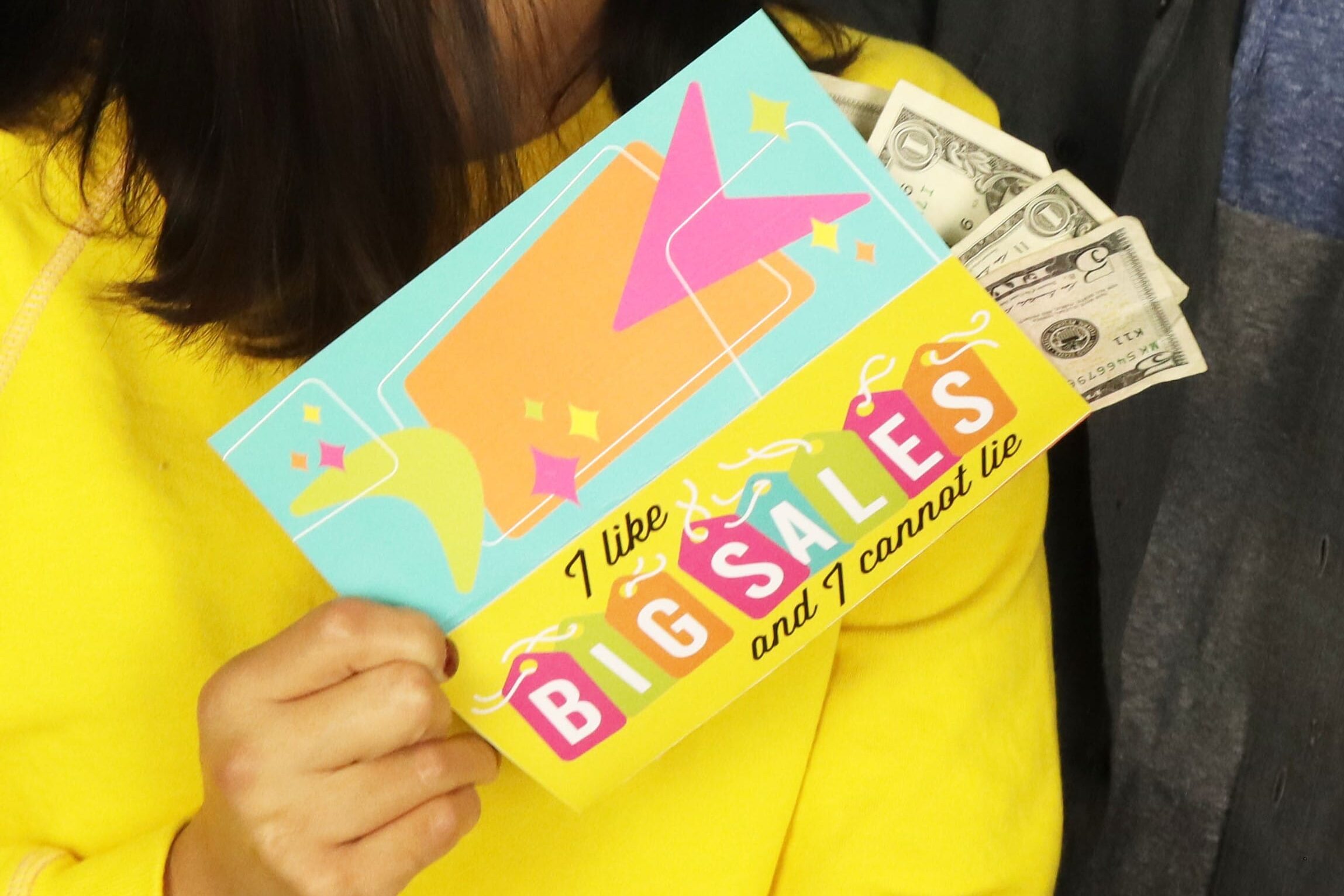 Print out the envelope twice, so each of you has one to carry your money. After printing, simply cut and follow the easy instructions on the printable to fold and glue your envelopes. Then, slip your bills inside.
Lastly, open your mobile browser and search for "garage sale near me." You are likely to stumble upon a variety of options, especially on a weekend with nice weather!
Photo Booth Props
So now that you have found a garage sale to visit, you are ready to start hunting for the best treasures for your sweetheart to wear. Be creative! Be daring! Some ideas could include a shirt, a wig, a hat, jewelry, glasses, etc. You are sure to find some absolutely wonderful things!
After discovering something for your love, pull out your cash envelope and purchase your awesome finds. If you feel the need to haggle, go for it! However, don't feel any pressure to do so if it makes you uncomfortable.
Now, it's time to present your treasures to each other! Remember to try to be a good sport and get ready for some laughs!
After donning your new accessories, it's time for a photoshoot! Make sure to print and cut out the delightful photo booth props to hold for the picture. They will add the perfect touch to your garage sale date photos!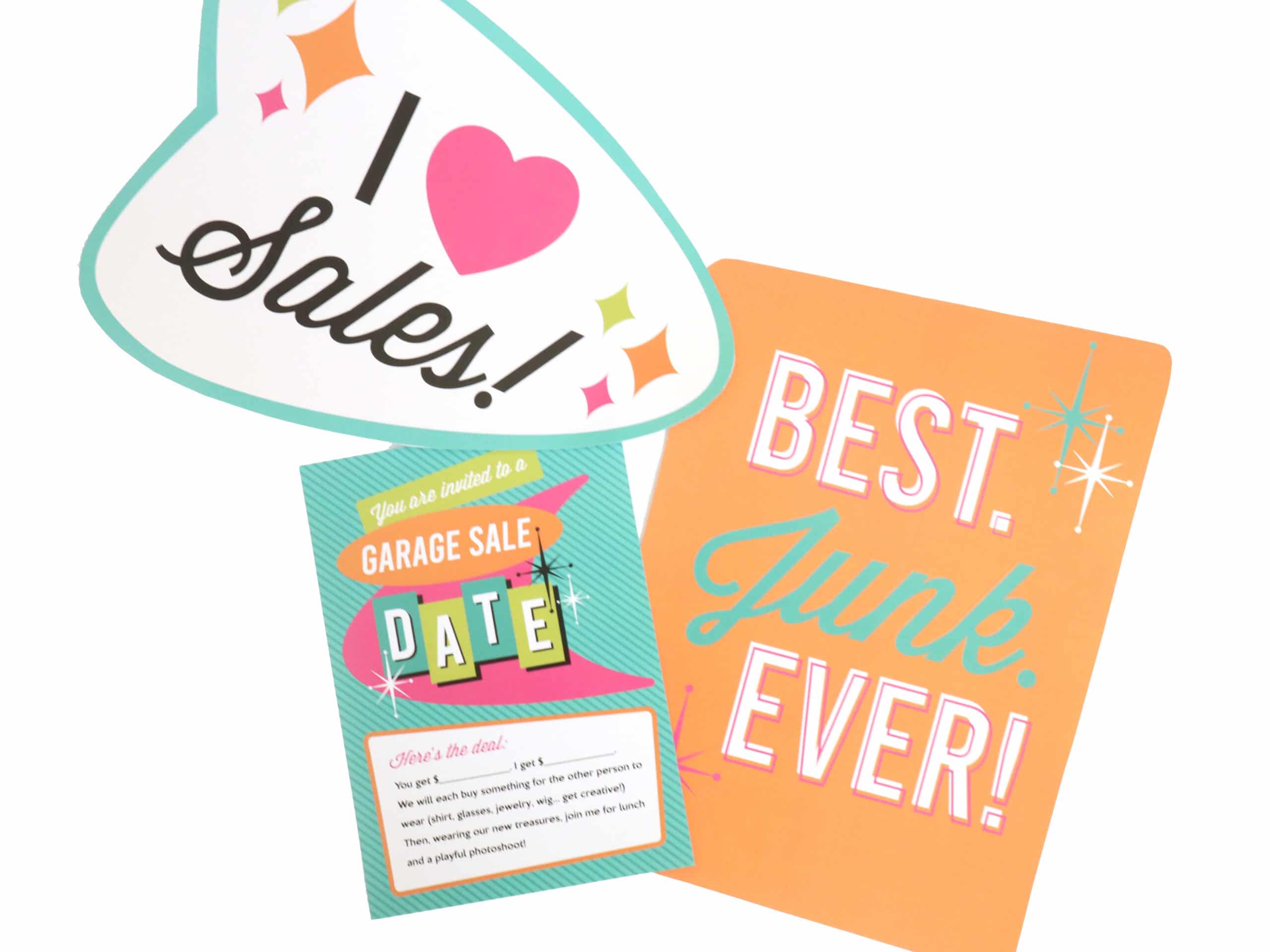 After taking pictures, it's time for you to head out on the town in your new accessories! You could remove your treasures for the lunch date, but it will be so much more fun and memorable if you keep them on. So be brave and enjoy this time with your sweetie!
Bonus: Bedroom Bargaining Game
Finally, it's time to wrap up your community garage sale shopping with some bargaining in the bedroom. Play a spicy game of Bedroom Bargaining This or That (instructions below!) You each get only one haggle… Use it well!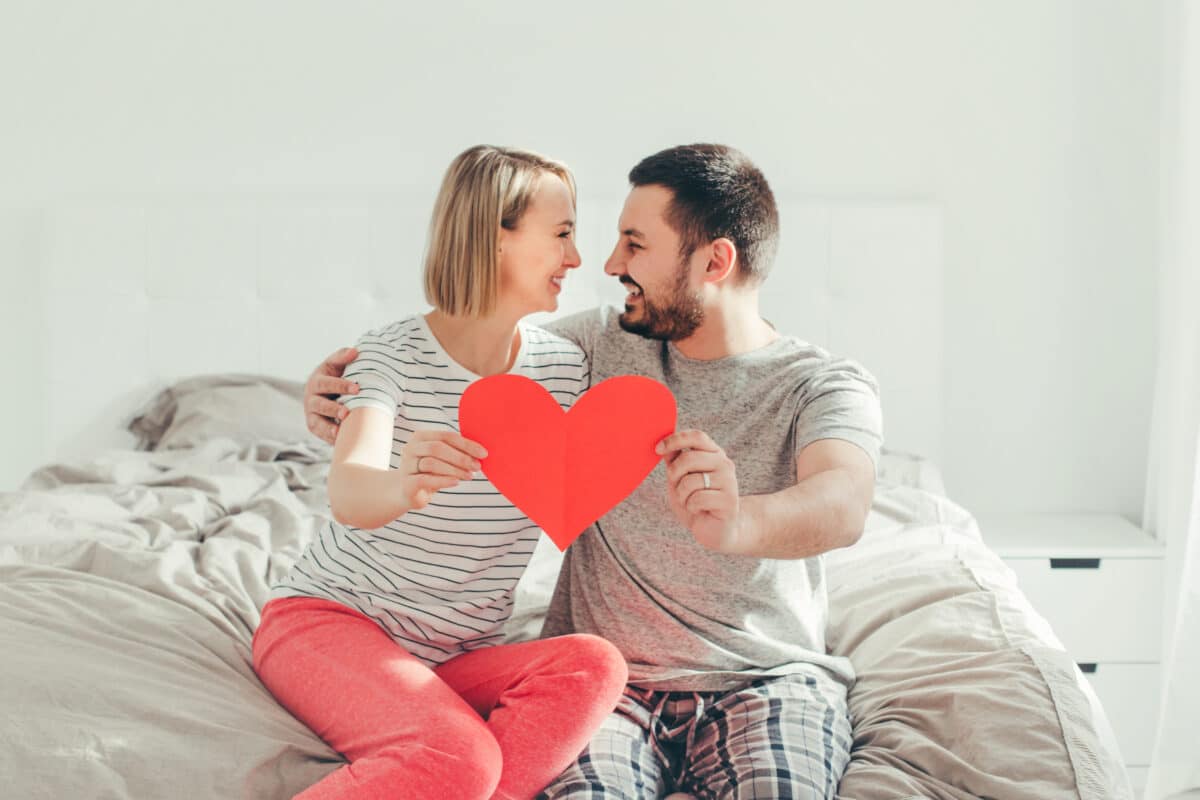 Begin the game of Bedroom Bargaining This or That by asking these questions. If you agree on the answer, then you get to follow through on your choice! If you don't agree, then it's out of the game. Want to use your haggle? If you don't agree on a question, you can use one haggle to get your way!
Bedroom Bargaining This or That Questions
Lights on OR Completely dark
Lingerie OR Nothing
Kissing lips OR Kissing neck
Sweet OR Spicy
Whipped cream OR Chocolate syrup
Quickie OR All night long
Be on top OR Be on bottom
New position OR New location
Focus on foreplay OR Go straight to dessert
Time To Go Junkin' at a Garage Sale!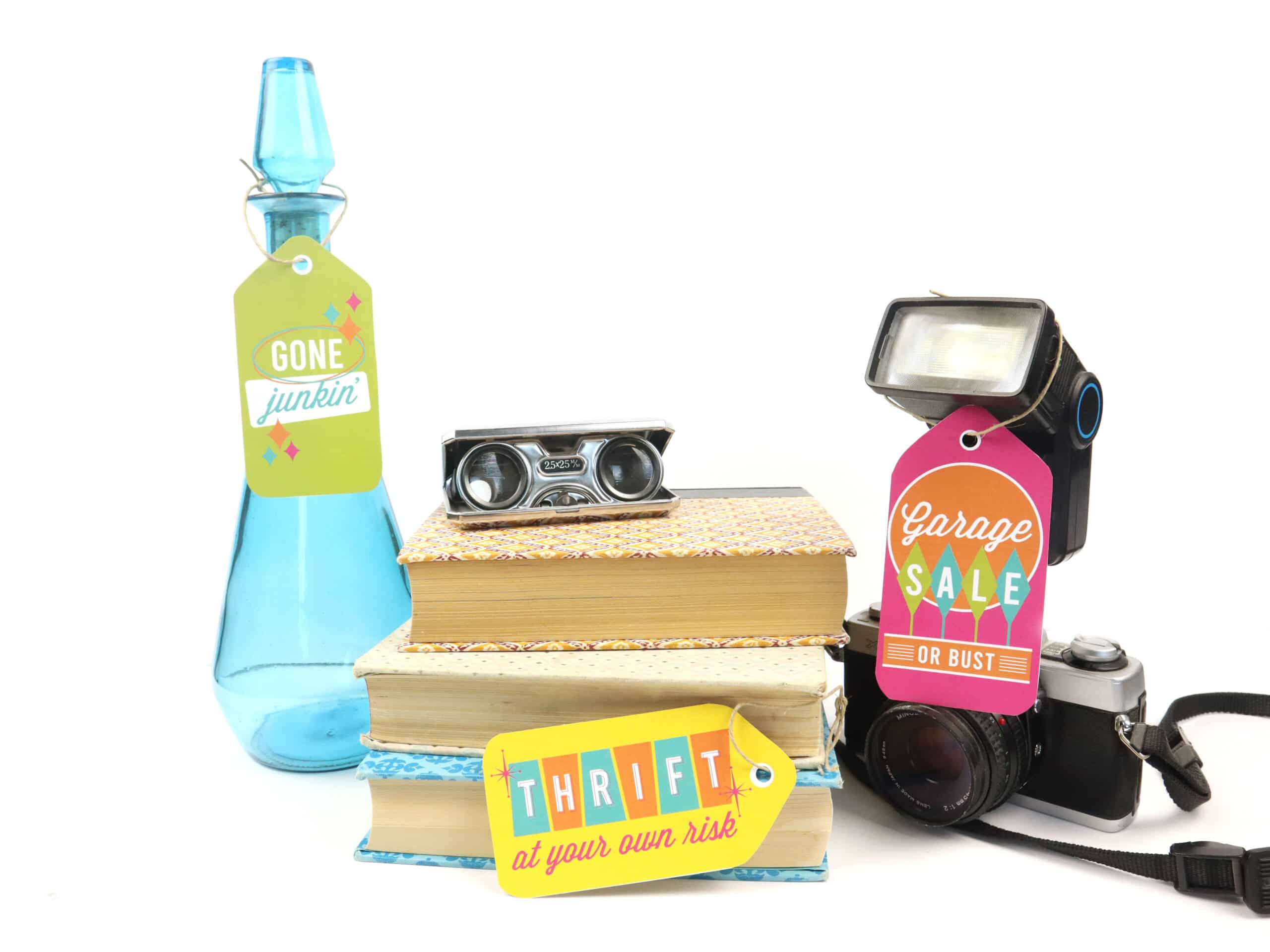 There you have it! The perfect Garage Sale Date for a wonderful summer day! You have all of the printables you need to make this a date you and your sweetheart will never forget–inside and outside of the bedroom!
Now, get out there, and may the garage sale odds be ever in your favor!
For even more bargaining fun, make sure to try out our Thrift Store Date. And looking for more summer date ideas? Look no further than this epic list of Romantic Summer Date Ideas.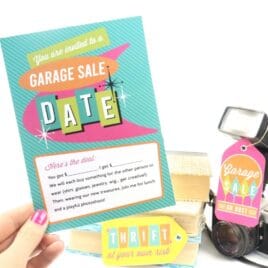 Garage Sale Date
Printables Designed by Lucette Exclusively for The Dating Divas