Mardi Gras Date Night Idea for 2
Mardi gras date nights might seem like they are reserved for the Louisana-luckies, but no more! Even if you and your sweetheart don't celebrate Carnival or Mardi Gras, you're going to want to with this sexy date night. We have a special sexy mardi gras game, and some New Orleans-inspired meal ideas to get your Fat Tuesday going! It may not be the same level as the Mardi Gras party floats and parades down south, but you're for sure going to earn some beads!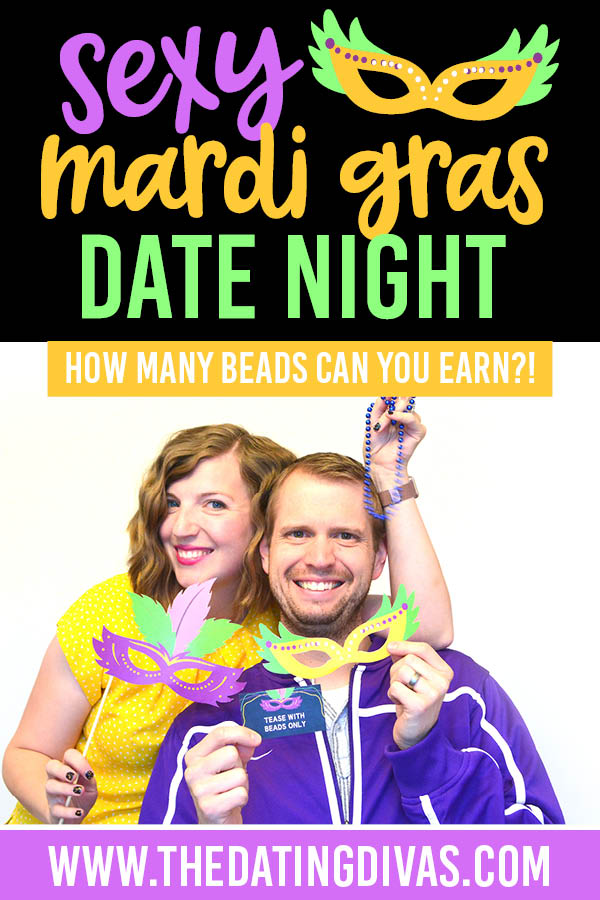 Sexy Mardi Gras Party for 2
To throw the perfect sexy Mardi Gras date night, you're going to need a few supplies. The ever-excellent Courtney of Paperelli has created the cutest printables to help you make this a memorable date night.
What's included
Invitation
Potential menu
Game instructions
Dubloons for prizes
Gamecards
Masques
Mardi Gras Date Invitation
The New Orleans Mardi Gras krewes are clubs who put together the mesmerizing floats and throws of Mardi Gras. Some of the krewes have been around since the early 1900s! For this reason, we thought it was perfect for including on your Mardi Gras date night. You want your "krewe" to last one hundred + years too! Invite your King or Queen to party with you and laíssez bon temp rouler (aka "let the good times roll!").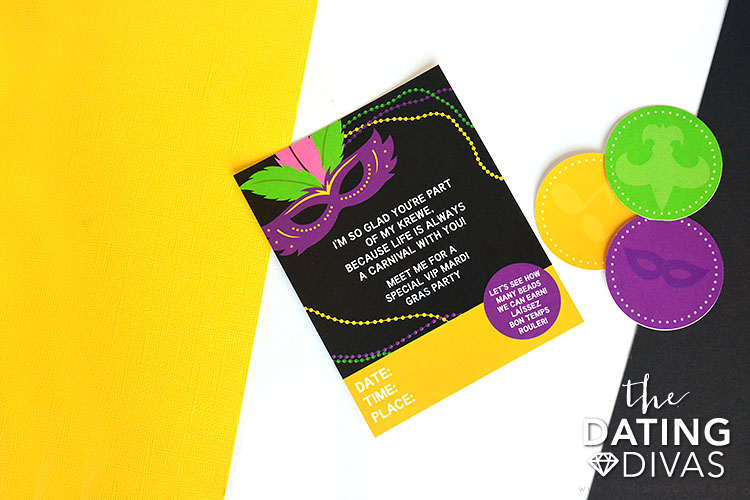 Don't forget to write in the time, date, and meeting place. You can plan to have the date in the comfort of your own home, or go big and set up a night out at a hotel!
Mardi Gras Ideas
Remember that classic song, the 12 days of Christmas? We tend to think it's the days leading up to Christmas, but it's actually the days after! What does this have to do with Mardi Gras? Well, the 12th day of Christmas signals that Carnival has begun. Mardi Gras signals that Carnival is ending and Lent is beginning. It's the last day that the people were free to let loose before committing to their restrictions during Lent! This is where the idea of Mardi Gras being a rowdy party came from. The name literally means Fat Tuesday.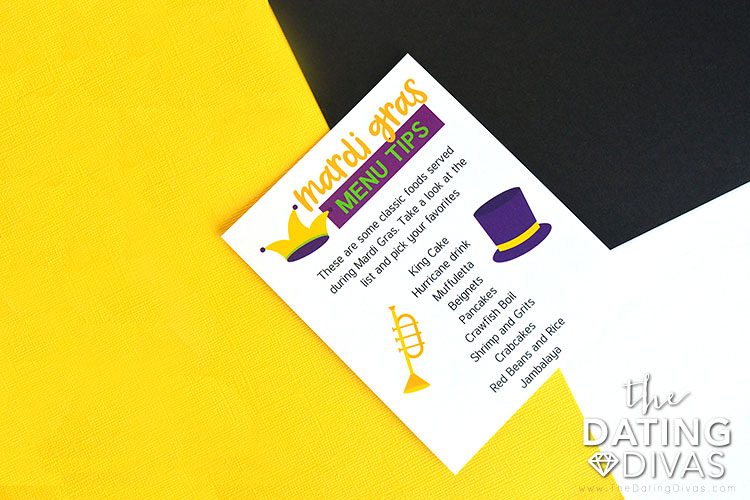 For your Mardi Gras date. you need to supply some food, and then we'll get to the rowdy part. 😉 Serve these classic foods at your Mardi Gras party. Maybe it's just me, but I feel like every party should center around the food! So this list is one of my favorite resources for Mardi Gras party ideas. Just google a few of the names that sound interesting and see if you can make (or order!!) some authentic garb.
Carnival Bedroom Game
This Mardi Gras date game is not one you're going to want to share with anyone but your love! Do you know how there are all those jokes, winks, and elbow nudges about earning beads at Mardi Gras? If you do your research, you'll see that the actual parades are meant to be family-friendly, but we're guessing there's some truth to the rumors. With that in mind, we created a Sexy Mardi Gras Party game just for you and your spouse!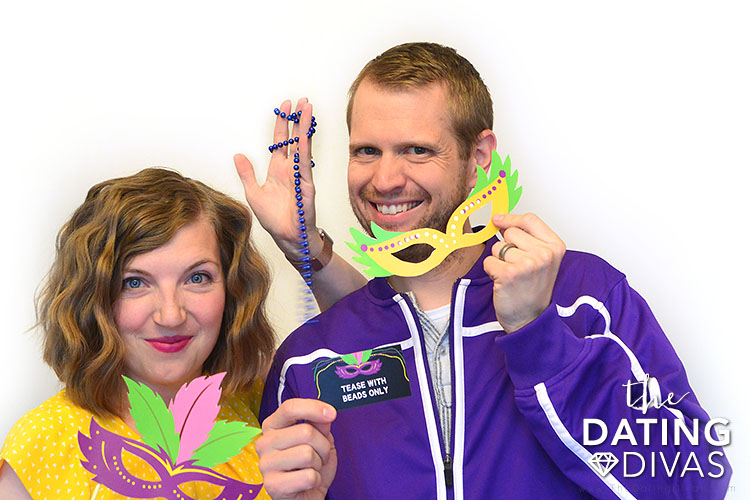 This Mardi Gras date idea can be done with those classic bead necklaces, but if you don't have time to order, we also have some printable doubloons in the pack. The tradition of the doubloons and necklaces began with the krewes wanting to have something to toss at parades. You can use a 2″ hole punch to punch out your doubloons for rewards.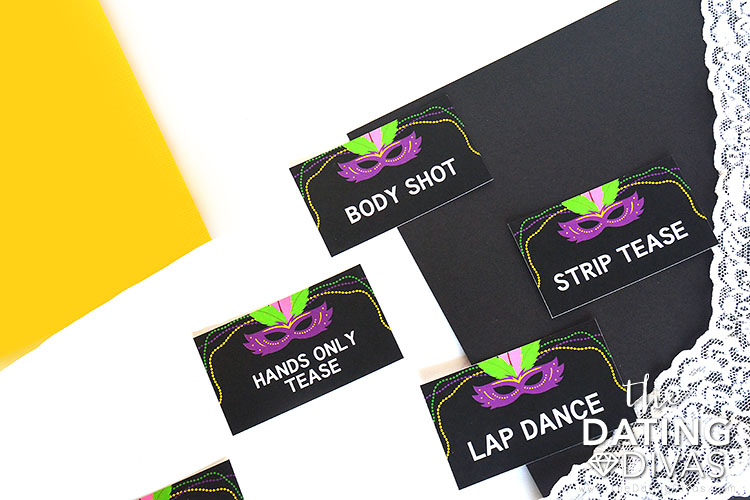 What exactly does your partner need to do to be rewarded? Make a "draw" pile with the cards that are on page 4 (there are 4 editable fields so you can make them say what you want!). Take turns turning the card over and revealing your assigned task. When you complete the task – make sure you get a prize! We'll be honest – everyone wins in this game 😉
Bedroom Masques
As a little bonus, we also have some cute masquerade inspired masques! Wear these to your sexy Mardi Gras date and keep the intrigue going. They are super cute, and you can choose whether to punch a hole in them and attach ribbons or tape it to a skewer.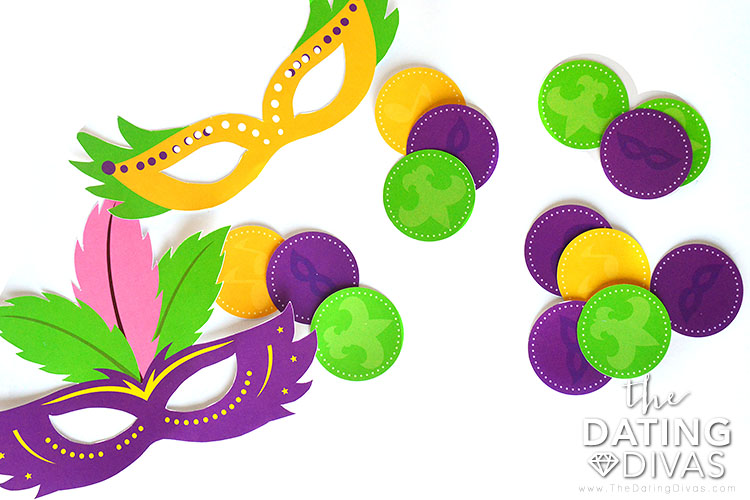 I used an Exacto knife to cut around the details and the eyes. These masks helped me answer my question about what to wear to a Mardi Gras party for 2! I'm sure your sweetie wouldn't mind if that's all you were wearing! 😉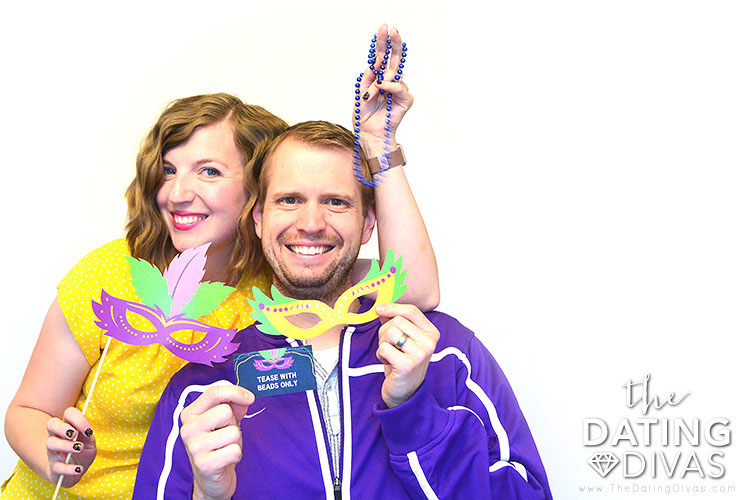 Enjoy your fun night together! If you need more intimacy ideas, you know we have your back! Check out our 2 Minutes in Heaven date or our Best Sexy Games for Couples.
Sexy Mardi Gras Date
Printables Designed by Paperelli Exclusively for The Dating Divas