Do You Know How to Build a Snowman?
Winter after the holidays seems… bleak. I know that I'm always checking for any sign peeking through the white blanket of snow. In order to help with the pointless searching too early in the year, we created a fun date that will help you enjoy the cold weather and remind yourself how to build a snowman with a SMILE. Tell your spouse that you have plans, but no babysitter is needed for this at-home date!  So dig out those snow-clothes and get ready for a snowman competition date night!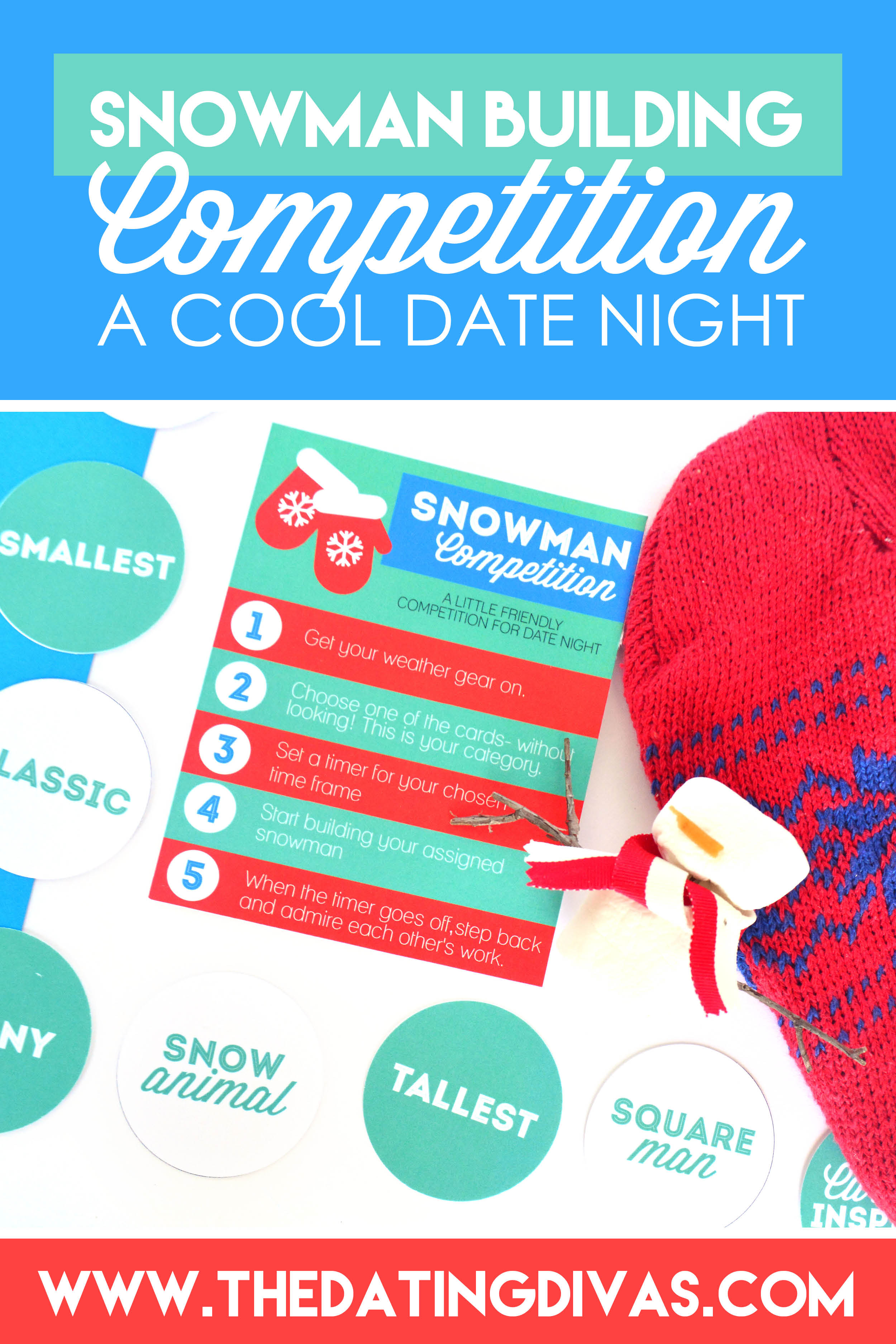 How to Build a Snowman Date Night
Sweet Diva Elizabeth created these to-die-for printables to make your date night run smooth as glass. Give your babe the cute little invite. We thought it would be fun to attach it to some of their cold-weather gear, and maybe even a new set of gloves. Of course, you're going to want to make sure you have some good packable snow before inviting – no one likes a dusty-snow snowman!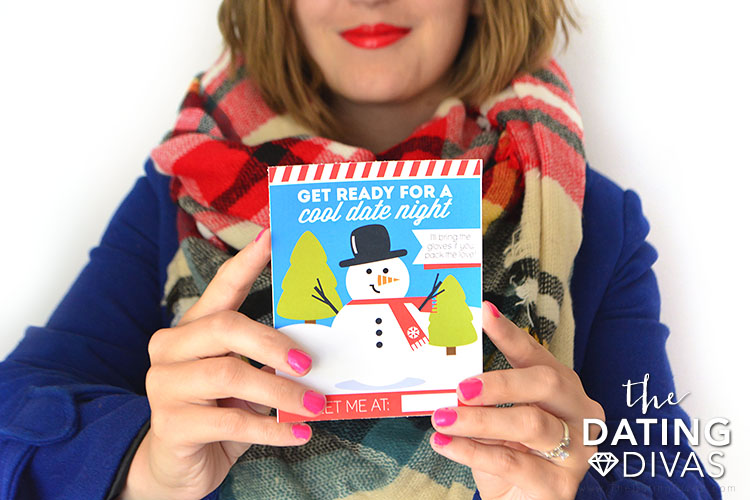 Prepping Your Date Night
This is no regular date where the instructions simply instruct "Build a snowman." Oh no. If you really want to know how to make a snowman then you have to get tricky! First, to prep, use a 2″ circle punch to cut out your categories. Then, on the night of the event, you and your spouse will each draw what type of snowman and decide how to go about building this snowman. You might get smallest or be asked to make snow sculptures of an animal! Only time will tell.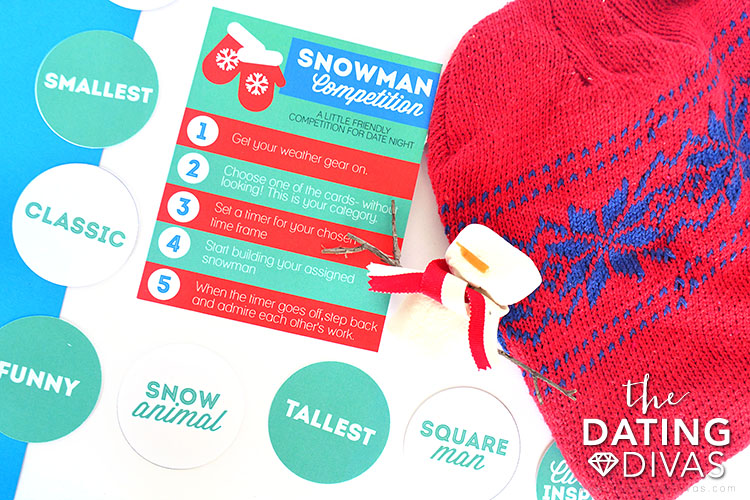 We worried a little about those of you in climates where there is no snow. Like ever. So if you need to mix this up to suit your needs you could always use marshmallows to make a snowman!
Build a Snowman Card Game
Once your outdoor snow sculptures have reached masterpiece quality, it's time to bring it inside. Grab some hot cocoa to warm up and prepare to build a snowman… with cards!
This fun little game is sure to entertain and you compete against each other to see who can build their snowman first. The "goal cards" can be cut out with that same 2″ punch that you used earlier. To make the game cards you just need to slice, fold, glue. DONE! Easy prep for some easy fun.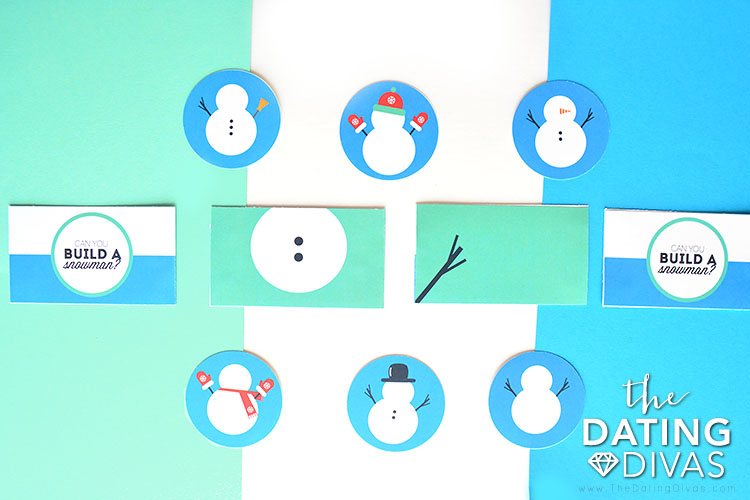 There are a few different ways that you could play this game, we call it "Can You Build a Snowman?" (Didn't want to steal Anna's theme song 😉 ).  We suggest printing off two sets of cards in order to have enough variety, but it can be played with just one, but you might have a draw.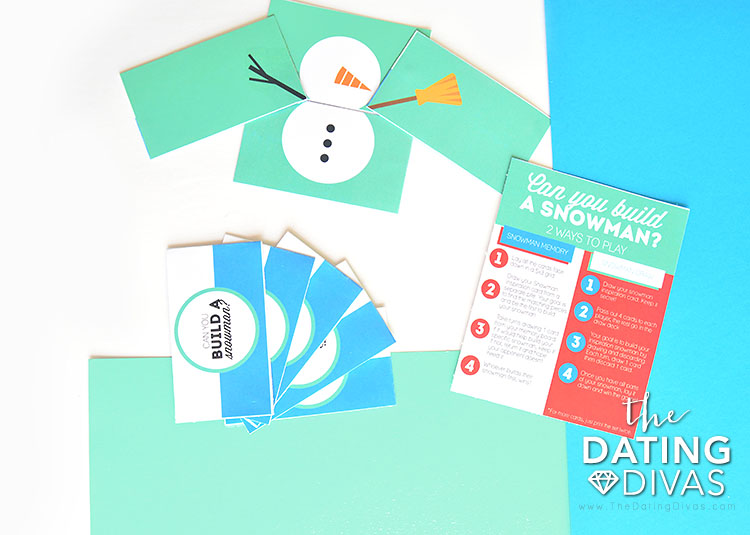 The first way is to play it "memory style".  Set up the cards in a grid (smaller if you only do one set) The instructions suggest a 3×5, but that will require 2 sets being printed. Each player will grab their snowman model (Keep it secret!) and try to find those parts. If you flip over a card and you don't need it, leave it on the board and hope your spouse doesn't need it either!
The second way to play is "Snowman Draw". Each person gets four cards and hopes they can draw/discard with luck and be the first to have all 4 pieces of the snowman inspiration.
Make Your Spouse Melt Intimate Invite
Once you've challenged each other's ability on how to build a snowman, get on the same side – of the bed! Give your love this sassy snowman card to let them know you are ready and willing to do a little lovin'. And don't be afraid to bring some themed treats into the bedroom: marshmallows, ice, whipped cream…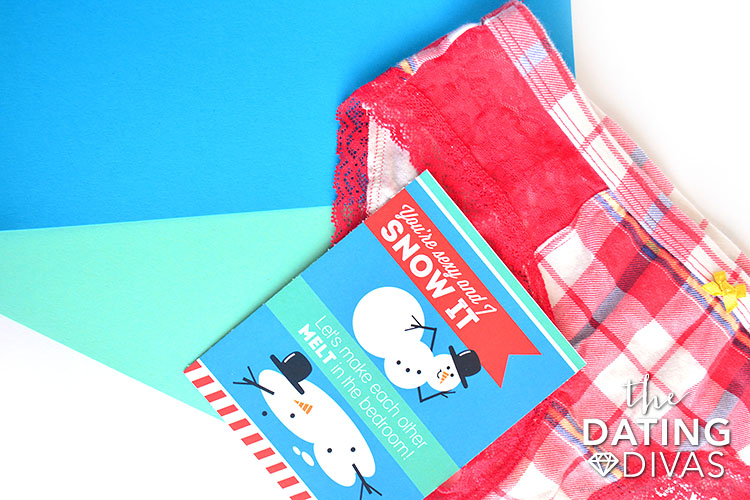 We love any date that gets us snuggled up – especially in the wintertime. So if you are looking for more dates to warm you up we suggest the Romantic Cuddle Kit for Two. And if you are just looking for more ways to have fun this winter, we have a great list of Fun Winter Date Ideas.
How to Build a Snowman Date Night
Printables Designed by Elizabeth Exclusively for The Dating Divas