Anniversary Scavenger Hunt for Your Spouse
Do you think scavenger hunts are just for kids? No way! In this post, we'll show you how to make a romantic anniversary scavenger hunt for your spouse that you can do ALL at-home and that leads to a romantic picnic for two. Unquestionably, this would be a perfect anniversary date idea! It's simple, romantic, and allows you to spend quality time with your favorite person in the world. Not to mention, this anniversary celebration idea is quarantine-friendly! Since you can't go out and celebrate at a fancy restaurant, this is the next best thing! And, because we love you, we came up with everything you need to pull off this adorable anniversary date, including the scavenger hunt riddles that will lead your sweetie to the picnic! Using these scavenger hunt clues, you will create the ultimate surprise for your anniversary!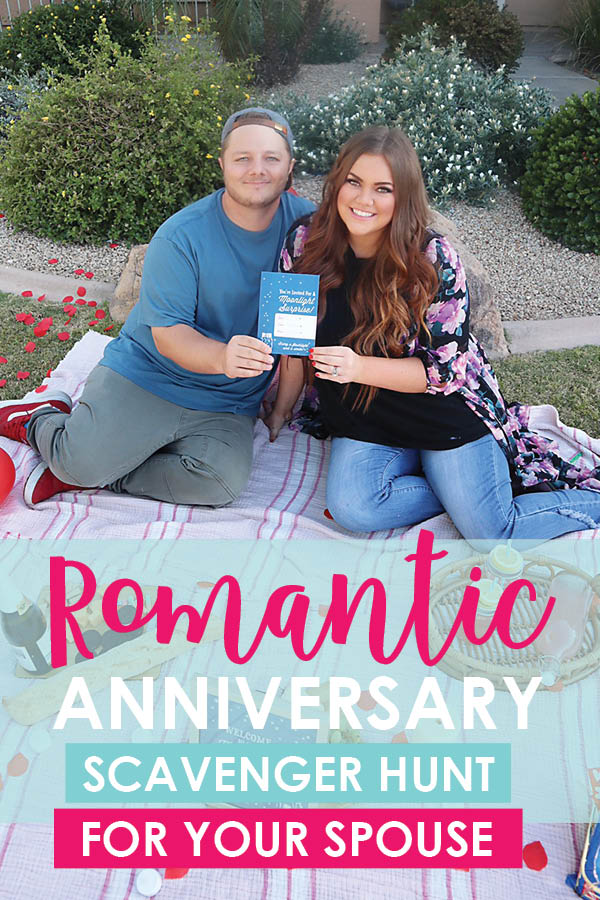 Disclaimer: This post contains affiliate links. To learn more about 'em, click here.
By the way, this adult scavenger hunt is the perfect way to celebrate your anniversary with your one and only. Why? Because it's so easy to put these creative scavenger hunt riddles together since we did all the work for you! Of course, you can totally let your sweetheart think you made them up yourself! 😉
We do want to thank our lovely designer Kristin of CdotLove, who created these beautiful free printables. She did such a good job, right?!
Now let's dive into how to do this scavenger hunt!
An Anniversary Scavenger Hunt for Adults
If you don't already know how to do a scavenger hunt, we've got you covered! To start, download and cut out the printables below. Next, prep your at-home picnic by gathering the items you need for this adult scavenger hunt. Keep in mind that when choosing a location for your romantic picnic, it's all about finding a place where you and your love can relax and enjoy each other's company with minimal distractions. We recommend your front yard, back yard, or even your bedroom!
Once you know where you'll be having your romantic picnic, plan a time where you want your sweetheart to start the scavenger hunt. You'll want to be nowhere to be seen during that time so that you are the surprise waiting at the end.
When it's time for the hunt, and you have set up your romantic anniversary picnic, leave the invitation for your sweetie to find. Then you can sit back and relax at the picnic spot as they follow each of the scavenger hunt clues and riddles throughout the house. Ultimately, they will end up with the best anniversary gift of all… YOU!
Prepping the Romantic Scavenger Hunt
Prepping the romantic scavenger hunt riddles is easy peasy! You will need six paper bags, picnic food, and your free printables! Firstly, we recommend choosing foods that are portable and won't make a mess. For example, grapes, cheese, crackers, chocolate, drinks, etc. might be good choices. Then, once you have printed out your bag tag, fill each bag with a different picnic food! As your sweetie finds their way to each clue, they will gather the bags as they go. Listed below are the locations the printable clues will take your spouse. If any of these locations don't work for your home, we've added six blank scavenger hunt cards that you can fill out instead.
The Car
The Fridge
Stove or BBQ
Bathroom
Sofa
Backyard
The Little Details 
To create a romantic atmosphere for your at-home anniversary picnic date, consider getting creative with adorable heart-shaped desserts and foods. Use cookie cutters to create heart shapes out of sandwiches, fruit, or cheese! Now that you know how to arrange the actual scavenger hunt, let's take it up a notch! Add rose petals, candles, and play romantic music to help set the mood.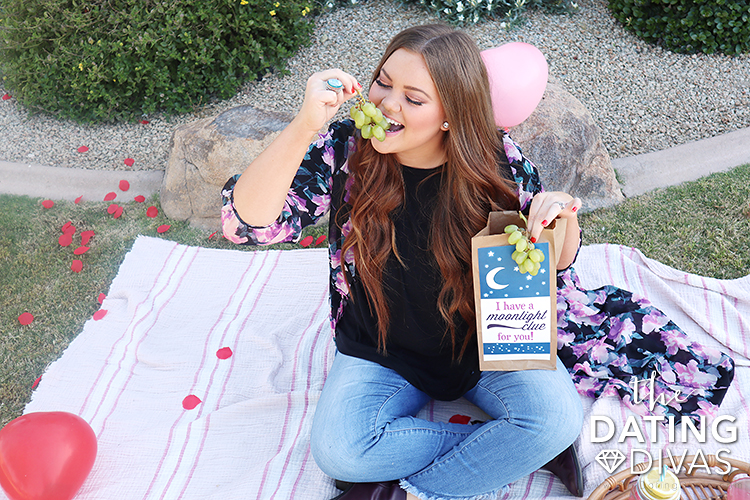 When it's time for your anniversary scavenger hunt to begin, leave the invitation and the first clue bag together for your love to find. You can print directly onto the bag (instructions included) OR print the clue tag and then glue it onto the front of your paper bag. Don't forget to attach the scavenger hunt riddles to the bottom of each bag and place them in the correct places! In case it wasn't already obvious, this romantic anniversary scavenger hunt will be a total hit!
How to Use the Scavenger Hunt Riddles
We know creating riddles to a scavenger hunt is intimidating, but don't stress. We have done it all for you with the printables below! Plus, you'll see how easy and cute they are to use when you download them. As a sneak peek, one of the scavenger hunt riddles says, "Man, you're quick and right on my path! For your next clue, look in the bath!" See? So easy! Send your sweetie on a hunt with these scavenger hunt clues (for adults, of course), leading to 5 different places in your home!
Once all of the clues and bags have been collected, the last clue card will lead your sweetheart to YOU! From there, let the romantic moonlight picnic begin!
Romantic Picnic for Two
Additional items that your sweetie doesn't find on the romantic scavenger hunt you can have ready and waiting for them in your picnic basket. As it begins to get dark, consider adding some star gazing, smooching, and picnic snacking to really make this an unforgettable at-home anniversary!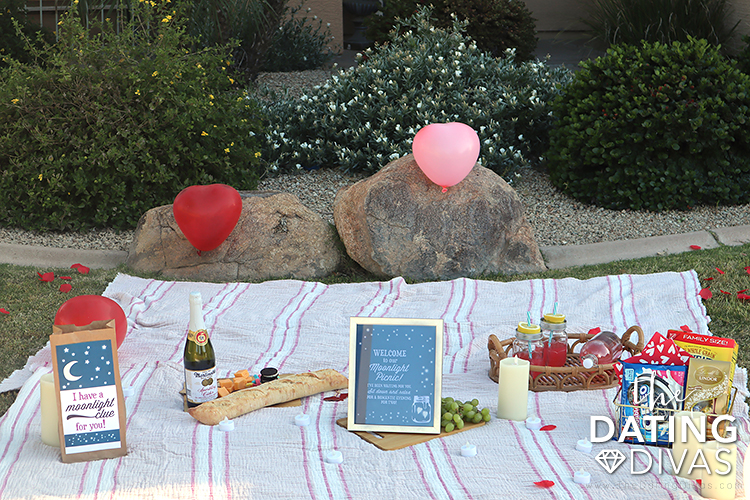 Don't forget to bring along some battery-operated candles to your moonlight picnic so you can set the mood. In short, there's nothing more romantic than a candlelit dinner with your spouse! As the night goes on, take some time to live in the moment and celebrate your special anniversary with connection, communication, and romance. What could be better than that?!
Ending Your Anniversary Scavenger Hunt
Congratulations! Your sweetheart has solved all the scavenger hunt riddles, and you've surprised them with a romantic picnic. The rest of the night is yours to reflect on how far you've come in your marriage! If you want to, you could also bust out some Anniversary Game Questions OR Intimate Questions to Ask Your Spouse during the remainder of your picnic. Without question, both will provide you with a quality conversation!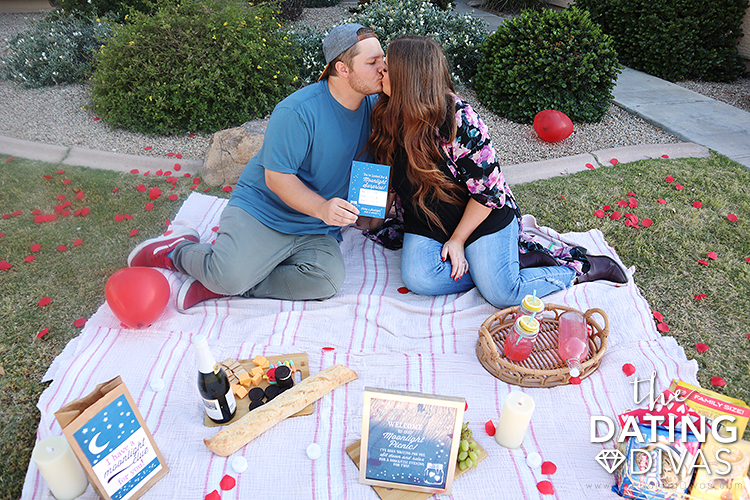 If you have an anniversary coming up, we highly recommend this at-home (and quarantine-friendly) anniversary date! Even if it's not your anniversary, this hunt is still the perfect at-home date!
All in all, these scavenger hunt riddles (made just for adults!) will help show your sweetheart just how much you adore them and like seeing them smile. We hope you enjoy putting together this scavenger hunt! And Happy Anniversary!