Romantic Date Ideas for Couples
When it comes to romance ideas, we've got them. I mean, we are The Dating Divas after all! Truth be told, romancing your spouse (and being romanced) is one of the best things ever. But here's a little secret: you don't need to make some grand or expensive gesture to show your sweetie how much you care. Sometimes, the best romantic ideas are cheap and easy, and we've gathered them right here for ya! Do you want to learn how to better romance your spouse? Keep reading!
To make browsing all of these romantic ideas even easier, we've divided our list into the following categories:
Let's dive in!
Disclaimer: This post contains affiliate links. To learn more about 'em, 

click here

.
Romantic Ideas

for Date Night

For those of you looking for romantic dates at home, we have a list of our favorites below! These are full of fun, cheap, and easy ways to show a little love to your significant other. Just click on the title to get to the post.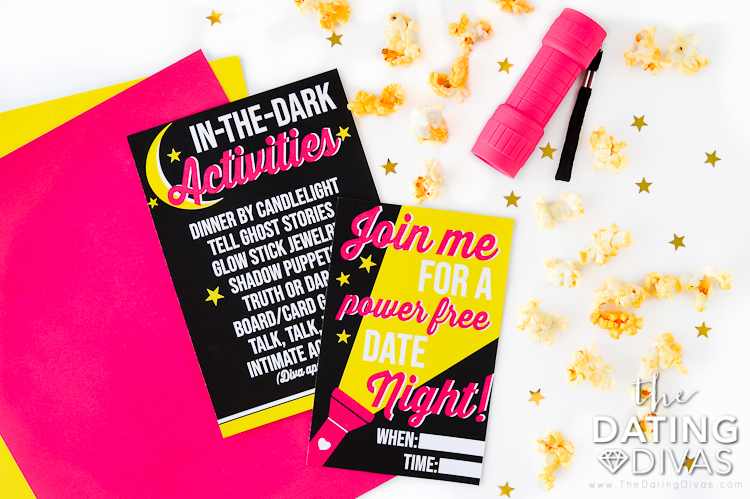 1. Power Outage Date – What better way to fuel the fire than to turn off all electronics for the night? Enjoy an evening completely focused on each other!
2 . Make Out In Car Date – Hop in the car and turn the A/C on blast because your night is about to get steamy…
3 . Aphrodisiac Blind Taste Test – This fun date will enhance intimacy, creating a sexual atmosphere and intimate date night you will want to do over and over again!
4 . The Love Shack – Turn your bedroom into your very own Love Shack and escape for a romantic date!
5 . Spa Night – If you like the idea of pampering your spouse, you are going to LOVE this idea! Take time out to take care of yourself and also to take care of your relationship.
6 . Couple's Cafe – Turn any meal into a romantic evening of dining for two! Just add your dinner items to the menu and get ready to cash in some kisses for your services!
7 . Je T'iame Hotel – If you can't get away for the weekend, bring the vacation to your home for a STAYcation.
8 . Star Light, Star Bright – You don't have to leave your home for this date! Simply take a step outside your back door and look up at the night sky.
9 . Spouse Sleepover – You may sleep together every night, but do you ever 'sleepover?' Well, you should! Give this fun idea a go!
10 . Moonlight Picnic – Toast each other under the moon and stars and fall in love all over again.
Easy Romance Ideas
If you're looking for an easy way to help your sweetheart feel loved, this section is for you! Below, you'll find a variety of romantic ideas and dates that you and your sweetie can do in no time at all. Plus, prep work is a breeze. Check them out!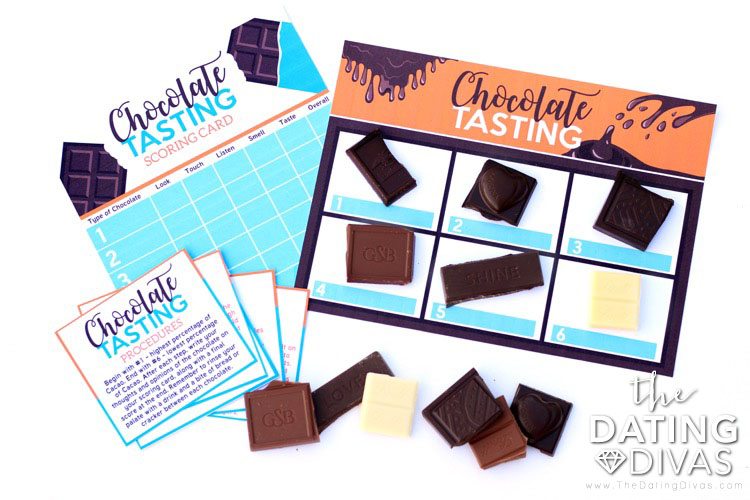 1 . Chocolate Tasting Date – Is there anything more romantic than chocolate? This creamy treat takes center stage on this date.
2 . Romantic Picnic – Pack a basket and have yourselves a romantic picnic for two. Printables included!
3 . Indoor Picnic Date – Outdoor picnics are fun but this one takes things to a whole new level. Perfect when you're looking for romantic date ideas on a rainy day!
4 . Fondue Date Night – Does your sweetie make you melt? Show them just how much with this tasty date.
5 . Romantic Movie Date – Invites, activities, and spicy bedroom ideas are included in this start-to-finish romantic fun and relaxing date night.
6 . Indoor Fort Date – Create a fort (just for two!) and string it up with lights for the perfect indoor escape.
7 . Taste the Rainbow Date – If the rainbows and butterflies are missing from your relationship, you HAVE to give this date idea a go.
8 . You've Stolen a Pizza My Heart – Looking for a romantic idea that includes pizza? You've found it!
9 . Patio Prom Date – Dance the night away under the stars with this darling date idea.
10 . Recreate Your First Date – Bring the romance back in no time at all with this blast from the past date.
Romantic Ideas for Him
If you're looking for romantic date ideas just for him, you've come to the right place. These ideas are inexpensive, easy, and SO thoughtful! Your guy will love feeling spoiled and special. Take a peek at the following ideas!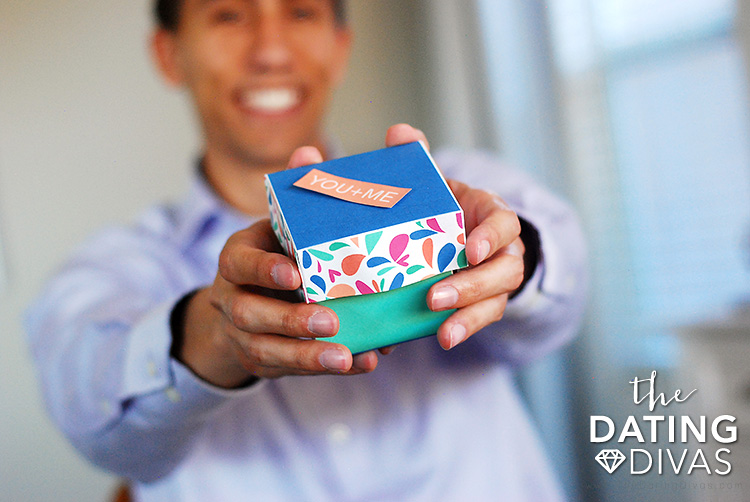 1 . Explosion Box Love Note – Are you exploding with love? Then show it!
2 . Cuddle Kit for 2 – Let your spouse know your intentions for a night of cuddlin', snugglin', and lovin' with this cuddle kit basket. A little prep makes for a LOT of cuddling!
3 . The Romance Planner – Take the guesswork out of your relationship and plan your way to greater romance!
4 . Passport to Love – Whisk your sweetie away on a world tour, all without leaving your couch or buying a pricey ticket!
5 . I Love You Posters – Tell your spouse just how much you love them with these oversized posters.
6 . All About You Basket – Show your spouse how much you know and love them with this All About You kit.
7 . 50 Reasons Why I Love You Jar – One reason is never enough, so show your sweetie FIFTY reasons why you think they're the greatest.
8 . 7 Days of Spoiling – Sometimes it takes more than a day to increase the love. So that's why we've created this week-long kit to help do just that!
9 . Open When Letters – Give the gift of your thoughts and time with these handwritten letters for every occasion.
10 . Couple's Journal – Record the good as well as the bad for a truly unique bonding experience.
Quick Romance Ideas for Her
Hang onto your hats because these romantic date ideas were designed especially for HER! They are so easy and sweet, they will mean the world. Check out the following ideas and get ready to sweep your lover right off her feet!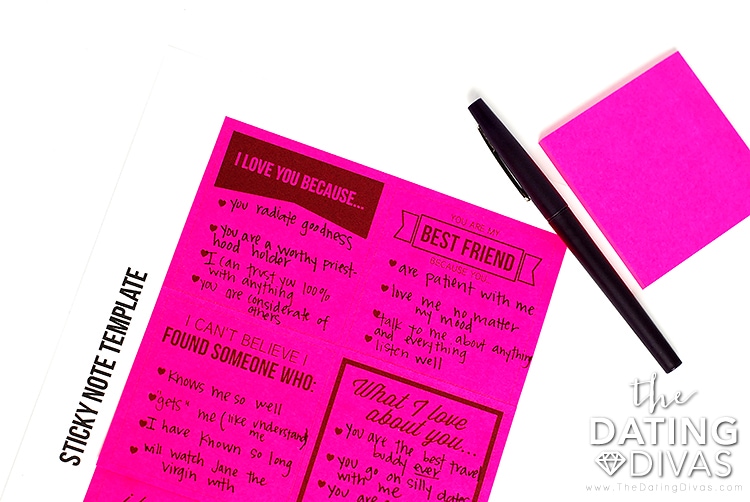 1 . 100 Things I Love About You Notes – Use sticky notes to tell your sweetie 100 things you love about them!
2 . Love Sticky Notes – With over 100 darling notes to choose from, this printable sticky note pack is a super-easy way to spread the love.
3 . Soda Pop Tags – "Pop" on by to tell your darling you think they're "soda"-lightful (and so much more!).
4 . Sweet Treat Love Notes – Say "I love you" with these quick and sweet treat note ideas.
5 . I've Kissed the Ground – A quick surprise that's perfect for Valentine's Day (or anytime you need to crank up the romance), this idea is one of our favorites.
6 . Romance Emergency Box – Are you stuck in a rut and experiencing a romance emergency? This is the idea for you!
7 . Conversation Starter Cards – Trying to find the right words to build up your relationship? Give these conversation starters a go!
8 . Romantic Picture Texts – We're obsessed with this romantic text message picture pack and we know you will be too.
9 . Minute to Reconnect Sticks – If all you've got is a minute, these Minute to Reconnect Sticks are exactly what you need!
10 . Pillow Talk Conversation Starters – Some of the best conversations happen in the bedroom. But if you're having trouble finding the words, these conversation starters will help you get there!
Romantic Ideas for the Bedroom
Finally, what is a date night at home without some sweet lovin'? Click through these sexy, fun, and romantic ideas and have a great time heating things up in the bedroom.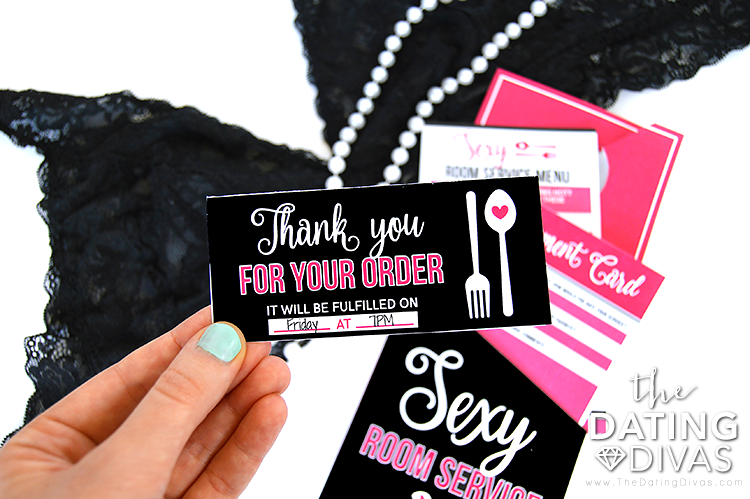 1 . Sexy Room Service – Treat your spouse to the highest service possible: ROOM SERVICE. This is perfect for a night in!
2 . 5 Senses Sexy Gift – Show your sweetie how much you love them with this SEXY version of our classic printable gift.
3 . Sexy Jenga Game – See how your love stacks up with this sexy version of a classic stacking game.
4 . Ultimate Intimacy Kit – Bursting with sexy activities and ideas, this intimacy pack will take your sex life from 0-60!
5 . Spicy Book of Love – Filled with sweet and sassy coupons, this printable book of love is the perfect way to light your sweetheart's fire.
6 . Love is Sweet Bedroom Game – A personal favorite among all the divas, this sweet bedroom game will help you make the moves and bring you closer together.
7 . Sexy Conversation Starters – What's your spouse's ultimate fantasy? These conversation starters will help you find the answers.
8 . 2 Minutes in Heaven – The name says it all on this one! So prep this date and earn your own 2 minutes of heaven!
9 . Sexy Surprise Tease – Lead your spouse on a spicy trail of teases that ends in the bedroom!
10 . Chocolate Checkers – Chocolate really is the ultimate romantic treat. That's why this bedroom idea gets two thumbs up!
Is that a fantastic list of romantic date ideas or what?! We covered romantic ideas for him, romantic ideas for her, quick romance ideas, fun romantic date night ideas, and so much more! For even more goodies, be sure and check out these posts next: