Have a Spicy Night with Sexy Twister
There is no way we are going to let a blasé sex life kill the romance in our bedroom. One of the fun, low-stakes ways to spice it up your sex life is to add in a game. Now we don't want to dampen the mood by detailing tons of instructions, so today we are sharing an old classic turned into something a little more risque. Enter: Sexy Twister!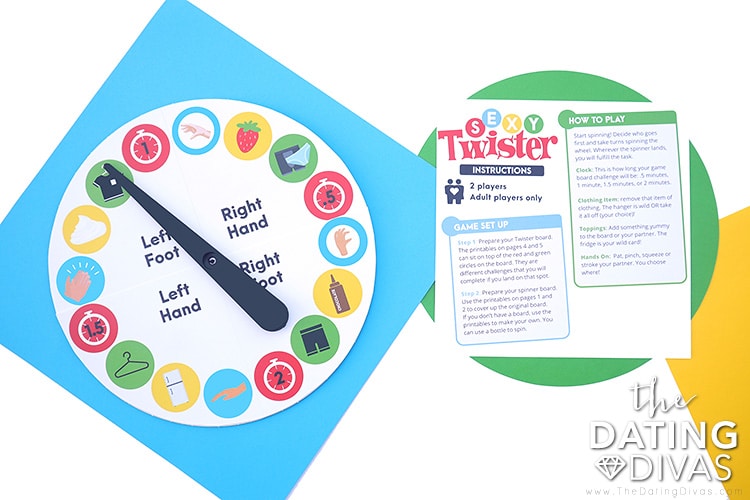 Disclaimer: This post contains affiliate links. To learn more about 'em, click here.

Table of Contents
Sexy Twister Prep
There is very little prep here. You can pull out your Twister game or make your own! (If you need to DIY your board, find some red, blue, yellow, and green paper and place it in a 4 x 6 pattern.)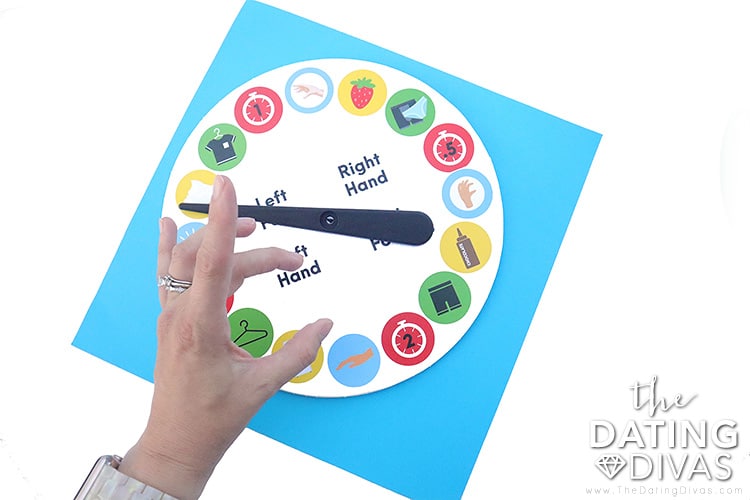 Once your board is good to go, start assembling the FREE printables we've created (linked below). Pages 3 and 4 of your printable download have a new spinner board. Cut along the edges of each half-circle, then use some tape to attach it to the spinner that came with your game.
Don't forget to look over the items on your new sexy Twister spinner. You may need to get a few supplies, such as:
Strawberries
Whipped Cream
Something to use as your Wild Card (honey, flavored lube, caramel, etc.)
Now if you don't have the spinner, just tape the pieces together and use a bottle to spin!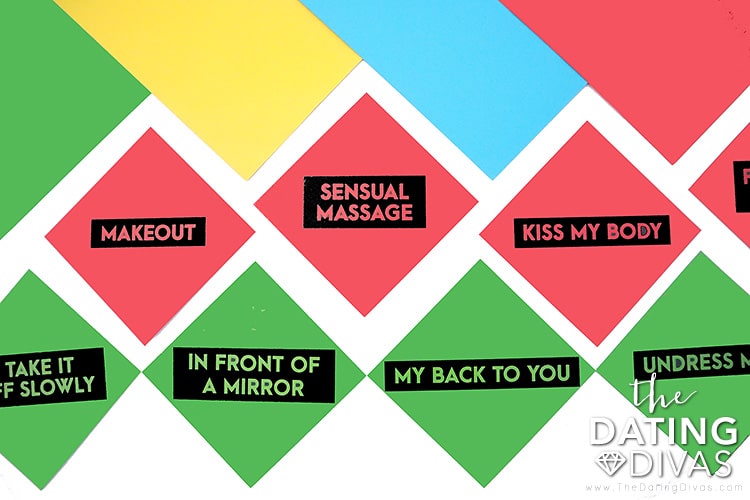 The red and green spaces on the floor game board are also going to get a makeover. Cut out the diamonds on pages 5 and 6 of your printables, then attach them to your board. Please one diamond per circle.
As an alternative option, you could take a sharpie to your Twister game mat and write these prompts on yourself. Totally up to you!
How to Play Naked Twister Game
There are some easy instructions for Sexy Twister on page 2 of your printable, but we'll review it for you here too!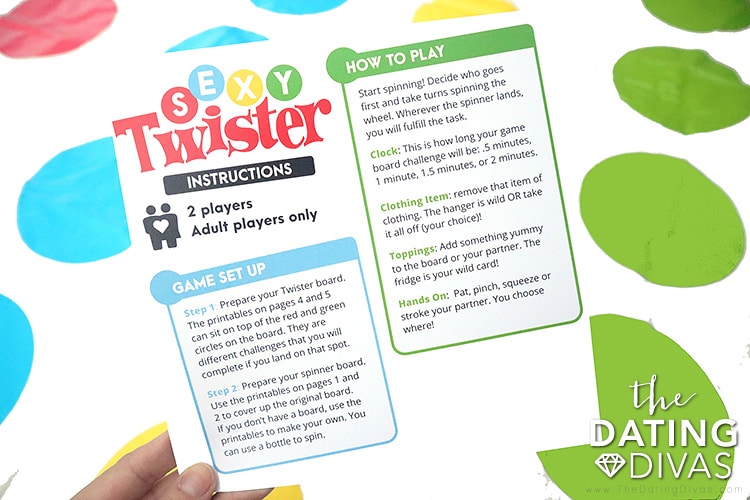 Decide who will go first and take the first spin. Wherever it lands, do that task.
If it lands on a red, the timer will show you how long you will do the action that's been placed on the board. For example, if you get ".5" that equals 30 seconds. Then if you place your right hand on the red space that says "eye contact," you get some eye-on-eye with your lover for 30 seconds.
If the spinner lands on a green, you will see an image of a clothing item such as a shirt, pants, underwear, and an empty hanger (which means it's all coming off. Yay for naked Twister!) The green spaces on the board will tell you exactly how those items of clothing will be removed. For example, you might put your right foot on the space that says "Dance it off." Get shaking as those bottoms fall right off your booty!
Any yellow spot on the spinner will give you a "topping" to add to the board or your partner.
Blue spots on the sexy Twister spinner show a little physical touch!
Left foot–pat your babe's peach!
Right hand–squeeze your spouse!
Right foot–pinch that cutie!
Left hand–stroke your sweetie!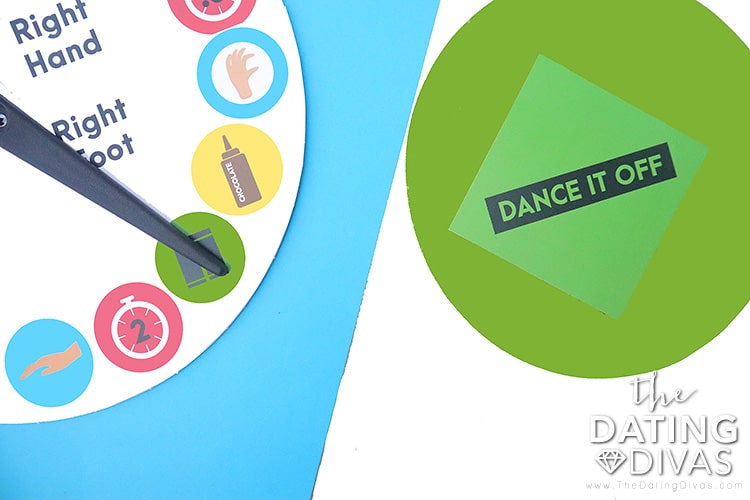 Spicing Up Your Sex Life
The obvious goal of Sexy Twister is to get twisted in love, and then let it go even further in the bedroom! What we love about a good sexy game is that it doesn't always have to be steamy and romantic. Some laughs and flirty foreplay are what we're all about!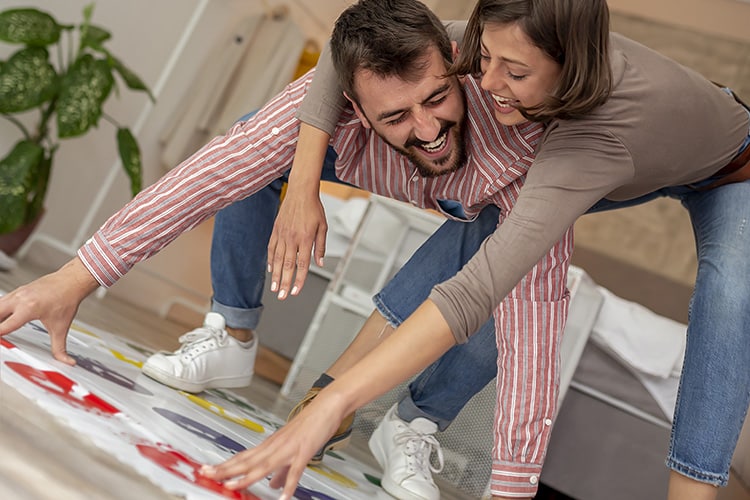 If you enjoy this bedroom game, you're going to want to check out some of our other favorite sexy games:
OR, checkout ALL of our favorite Classic Games Turned Sexy Strip Games.
Game on!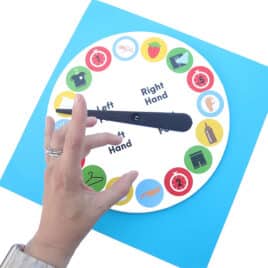 Sexy Twister
Printables Designed by Courtney @ Paperelli Exclusively for The Dating Divas